Champions of the Earth: Inspirational environmental leaders from Chile, China and United States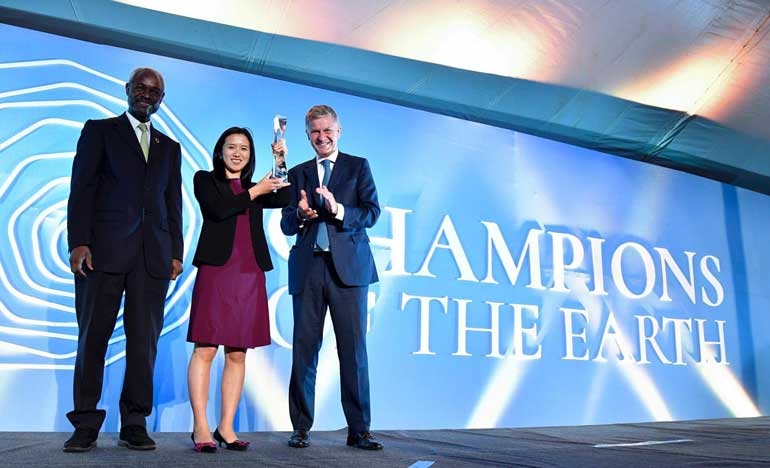 Six inspirational environmental leaders today received the United Nations' highest environmental honour, the Champions of the Earth award, during the UN Environment Assembly in Nairobi, Kenya.
President of Chile Michelle Bachelet, Paul A. Newman and his team at NASA's Goddard Space Flight Center, American filmmaker Jeff Orlowski, bike-sharing startup Mobike, Chairman of Elion Resources Group Wang Wenbiao, and the Saihanba Afforestation Community were all lauded for actions that had a significant positive impact on the environment.
"As we face unprecedented threats to our environment, strong leadership at all levels is more important than ever," said Erik Solheim, head of UN Environment. "This year's Champions embody the commitment, vision and energy we so desperately need."
The awards were presented during the third UN Environment Assembly, which brings together over 4,000 heads of state, ministers, business leaders, UN officials and civil society representatives to tackle the global menace of pollution.
The 2017 winners received the awards for action in the following categories:
POLICY LEADERSHIP
Michelle Bachelet, President of Chile, for outstanding leadership in creating marine protected areas and boosting renewable energy.
In October 2015, President Bachelet established the marine park Nazca-Desventuradas in San Ambrosio and San Felix Islands, and a range of protected areas and marine parks in the Juan Fernandez Islands. She also extended protected areas in Easter Island. The total coverage is now over 1 million km2, the largest in the world. Aside from marine environmental protection, her policies have seen renewable energy production surge from 6 to 17 per cent of Chile's energy mix in just 4 years.
"Chile has shown the world that you don't need to be a rich country to preserve the environment," said President Bachelet. "I feel honored to be included in this outstanding group of people and grateful for being acknowledged as one of this year's Champions of the Earth, the UN's highest environmental recognition."
SCIENCE AND INNOVATION
Paul A. Newman & NASA's Goddard Space Flight Center, for outstanding contributions to the Montreal Protocol – which has phased out 99 per cent of ozone-depleting substances and led to the healing of the ozone layer.
The first satellite instrument to measure ozone was put into space by the Goddard centre in 1970, and the first Antarctic ozone hole pictures were made using Goddard satellite data in 1985. Since the early 90s, the center has been instrumental in leading updates to the Scientific Assessment of Ozone Depletion, looking at how policies impact the atmosphere and setting a new high-water mark for international scientific cooperation. The ozone layer is now healing and will return to 1980 levels by mid-century. As a result, up to 2 million cases of skin cancer may be prevented each year by 2030. The Kigali Amendment to the protocol, signed in 2016, is now targeting hydrofluorocarbons (HFCs), which are climate-warming gases with significant global-warming potential. Action in this area can help avoid up to 0.5° Celsius in global warming by the end of the century.
"Ozone is our unseen natural sunscreen," said Mr. Newman. "It's crucial to understand and carefully watch this vital Earth resource.
ENTREPRENEURIAL VISION
Mobike, for exploring market-driven solutions to air pollution and climate change.
Mobike is the world's largest smart bike-sharing company. After two years of operation, the platform claims over 100 million registered users across more than 100 cities globally, servicing over 20 million rides a day.
Air pollution is a massive problem, particularly in countries like China and India, claiming an estimated 6.5 million lives each year. Bike sharing is a crucial alternative to motorized transport, and companies like Mobike are leading the way in cutting out journeys that contribute to air pollution and climate change.
According to figures collated by the company, Mobike users have cycled more than 18.2 billion kilometres, avoiding 4.4 million tonnes of carbon dioxide emissions, equivalent to taking 1.24 million cars off the road for a year.
Every Mobike bike has a GPS tracker, and the company collects bikes that don't move or are unused – although they are designed to be maintenance-free for four years. The company also has an incentive/disincentive scheme, giving bonus points for proper parking to encourage users to leave their bikes in designated areas.
Mobike has also teamed up with US chemical firm, Dow, to conduct research on creating more eco-friendly bikes after reports of unsustainable manufacturing practices.
"It is a tremendous honour to receive this award," said Mobike's Founder and President, Hu Weiwei. "Combating climate change, through [pursuing] the United Nations sustainable development goals, is one of the world's most important priorities, and we commit to using our technology and innovation to help governments and businesses join us in creating a pedal-powered green economy."
INSPIRATION AND ACTION
Emmy Award-winning filmmaker Jeff Orlowski, for his work on spreading powerful environmental messages to a global audience
Orlowski is the founder of Exposure Labs, which uses the power of storytelling to create impact. In 2012, he directed the climate-focused documentary, Chasing Ice, which has been screened in over 172 countries, 70 universities, over 75 film festivals, the White House and the UN.
His latest film, Chasing Coral, looks at the effects of ocean warming coral bleaching on these vulnerable ecosystems. The award-winning documentary is the result of 500+ hours underwater, the creative application of cutting-edge technology, submissions of footage from volunteers from 30 countries, and support from more than 500 people around the world. It won the Sundance US Documentary Audience award.
Chasing Coral's impact campaign is driven by a central mission to inspire a new wave of climate champions in unexpected places, calling on people to arrange screenings of the film and take action to protect coral reefs that are dying across the world.
"The collapse of our reefs is an early, yet urgent warning of the threat posed to all ecosystems," said Orlowski. "I hope this award can help reveal this elusive story hidden in our ocean to the world."
Saihanba Afforestation Community, for transforming degraded land into a lush paradise.
Saihanba, which covers 92,000 hectares and borders the southern edge of the Inner Mongolia autonomous region, had by the 1950s become barren due to excessive logging, allowing sand to blow into Beijing from the northern deserts. In 1962, hundreds of foresters began planting trees in the area. Three generations of these foresters have increased forest cover from 11.4 to 80 per cent. The forest now supplies 137 million cubic meters of clean water to the Beijing and Tianjin areas each year, while discharging c. 550,000 metric tons of oxygen. It has spurred economic growth with green sectors, generating USD15.1 million in 2016 alone.
"In the 55 years the farm has existed, people have been growing trees and protecting the forest like their own children," said Liu Haiying, director of Saihanba Afforestation Community. "I believe that, as long as we continue to promote ecological civilization, generation after generation, China can create more green miracles like Saihanba and achieve harmony between humans and nature."
LIFETIME ACHIEVEMENT AWARD
Wang Wenbiao, Chairman of Elion Resources Group, for a lifetime of leadership in green industry.
Better known in China as the "Son of the Desert", Wang, 61, is the chairman of China's largest private green industries enterprise, Elion Resources Group, with total assets of over USD 1.6 billion.
Wang bought the Hangjinqi Saltworks in the middle of the Kubuqi desert in 1988. He quickly realized that the saltworks' financial woes, and the problems with livelihoods in the region, were down to the desert: sand interfering with production and making it difficult to transport products out.
He partnered with local communities and the Beijing government to combat desertification in the desert, which covers around 18,600 sq km in Inner Mongolia. Centuries of grazing had stripped the land, leaving around 70,000 people struggling to survive. Now around two-thirds of the desert has been greened and local communities have jobs and a more pleasant environment. UN Environment research estimated the project has a net value in ecosystem services of $1.8 billion dollars over 50 years.
The project shows how private industry can both turn a healthy profit and make a massive positive contribution to climate change, sustainable development and many other environmental issues.
"My only life goal is to combat desertification for a greener world, with more lush mountains with clear water, which I always value as silver and gold mountains," Wang said.
In November 2007, Wang was elected as the Vice Chairman of the All-China Federation of Industry and Commerce, and in 2008 won the China Charity Award. In January 2012, he won the title of 'Chinese Model Worker in Green Work' for the second time.
EU plays instrumental role in making the Paris Agreement operational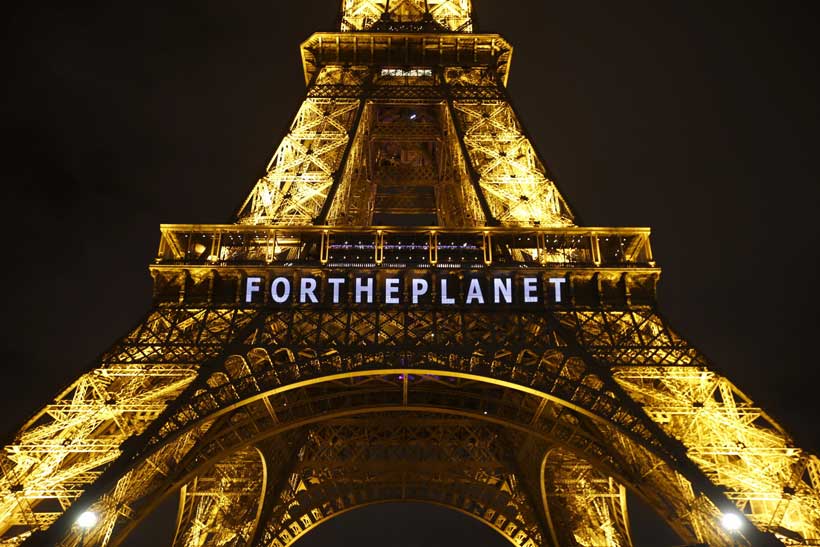 The UN climate conference (COP24) in Katowice, Poland, concluded today with the adoption of a clear rulebook to make the Paris Agreement on climate change work in practice across the world. The completion of the rulebook was the EU's top objective in these negotiations.
The Paris rulebook will enable the Parties to the Paris Agreement to implement, track and progressively enhance their contributions to tackling climate change, in order to meet the Agreement's long-term goals.
Commissioner for Climate Action and Energy Miguel Arias Cañete said: "In Europe, and working united as Europeans, we have reached a balanced deal on the rules to turn the Paris Agreement into action.The EU played an instrumental role in reaching this outcome, working with allies from both developed and developing countries and with major economies, in particular China, to raise ambition and strengthen global efforts to fight climate change. We have responded to the urgency of science by acknowledging positively the IPCC special report on global warming of 1.5°C. This was a key ask for the EU and its allies. The Paris rulebook is fundamental for enabling and encouraging climate action at all levels worldwide – and success here also means success for multilateralism and the rules-based global order. The EU will continue to lead by turning our commitments into concrete action, leaving no one behind in the transition to a climate-neutral future; and inspiring other countries to make this necessary transition. I would like to thank Minister Kurtyka and the Polish COP Presidency for a job well done, and to Minister Köstinger and her team from the Austrian Presidency for helping the EU stay united and leading."
EU action
The EU's nationally determined contribution (NDC) under the Paris Agreement is to reduce greenhouse gas (GHG) emissions by at least 40% by 2030 compared to 1990, under its wider 2030 climate and energy framework. All key legislation for implementing the 2030 emissions target has already been adopted, including the increased EU's 2030 targets on renewable energy and energy efficiency – which if fully implemented could lead to an EU GHG emissions cut of some 45% by 2030, the Commission has estimated – as well as the modernisation of the EU Emissions Trading System and 2030 targets for all Member States to cut emissions in sectors such as transport, buildings, agriculture and waste.
Back in November 2016 – just before the Paris Agreement entered into force – the Commission presented the Clean Energy for All Europeans Package, aimed at setting the most advanced regulatory framework that will make the European energy sector more secure, more market-oriented and more sustainable.
We acknowledge that this transition is going to be more difficult for some regions than others – notably those regions, where the economy is based on coal production.
The Commission, together with these legislative proposals, outlined a special initiative to work with coal and carbon-intensive regions in transition so that they can also benefit from the clean energy transition. The clean energy transition is a transition for all Europeans and its socio-economic impacts must be carefully managed.
EU ambition also goes beyond 2030. Following the invitation by the EU leaders, the Commission on 28 November presented a strategic long-term vision for a prosperous, modern, competitive and climate-neutral European economy by 2050.
The strategic vision, which follows wide stakeholder consultation and takes into account the recent IPCC special report on 1.5°C, is an ambitious vision for ensuring a prosperous, modern, competitive and secure economy, providing sustainable growth and jobs and improving the quality of life of EU citizens.
The strategic vision, which the Commission presented to global partners at COP24, will kick-start an EU-wide debate which should allow the EU to adopt a long-term strategy and submit it to the UNFCCC by 2020. To this end, the European Council invites the Council to work on the elements outlined in the Communication.
The EU also remains committed to the collective global goal to mobilise USD 100 billion a year by 2020 and through to 2025 to finance climate action in developing countries, from a variety of public and private sources. In 2017, the EU, its Member States and the European Investment Bank together provided a total EUR 20.4 billion in climate finance, around a 50% increase from 2012.
Key outcomes
The Paris Agreement rulebook contains detailed rules and guidelines for implementing the landmark global accord adopted in 2015, covering all key areas including transparency, finance, mitigation and adaptation.
Key COP24 outcomes include:
The first ever universal system for the Parties to track and report progress in climate action, which provides flexibilities to those countries that genuinely need it. This will inspire all Parties to improve their practices over time and communicate the progress made in clear and comparable terms.
A good, consensual outcome on adaptation issues. The Parties now have guidance and a registry to communicate their actions as regards to adapting to the impacts of climate change.
As to the global stocktake process, the next moment to review collective action, which the EU considered vital for the Paris Agreement, the result provides a solid basis for further elaboration on the details of the process. The global stocktake will invite Parties to regularly review progress and the level of ambition based on the latest available science.
Finally, with the decisions on finance and technology, there is now a solid package that the EU trusts will provide reassurances to our partners on our commitment to continued global solidarity and support.
Background
The 24th Conference of the Parties to the UN Framework Convention on Climate Change (UNFCCC) – 'COP24′ – took place from 2-14 December in Katowice, Poland, presided over by the Polish government. It brought together ministers and government officials, as well as a wide range of stakeholder representatives.
The Paris Agreement, adopted in December 2015, sets out a global action plan to put the world on track to avoid dangerous climate change by limiting global warming to well below 2°C above pre-industrial levels and pursuing efforts to limit the temperature rise to 1.5°C. It entered into force on 4 November 2016. 195 UNFCCC Parties have signed the Agreement and 184 have now ratified it.
Cleaning up couture: What's in your jeans?
Today you made a decision that could change the face of the planet. You decided what to wear.
When was the last time you looked in your wardrobe and couldn't find anything suitable?
Screen stars on Netflix wear stunning but different couture in every episode. Celebrities boast cutting edge design, always pictured in a new outfit. Are you keeping up? Don't worry. The latest news is that you don't have to.
If you listen to Deputy Mayor of Paris—and Parisians would know—Antoinette Guhl, as stated in the report A New Textiles Economy: "Circular is the new black! We need a fashion industry based on three principles: clean, fair and good."
Our clothing is an expression of individuality. We use it to make ourselves unique as well as provide comfort and protection. But the environmental cost of our clothes is adding up.
The industry's environmental footprint is immense. It extends beyond the use of raw materials. Combined, the global apparel and footwear industries account for an estimated 8 percent of the world´s greenhouse gas emissions.
Lifecycle assessments show—taking cotton production, manufacture, transport and washing into account— it takes 3,781 litres of water to make one pair of jeans. The process equates to around 33.4 kilogrammes of carbon equivalent emitted, like driving 111 kilometres or watching 246 hours of TV on a big screen.
Even just washing our clothes releases plastic microfibres and other pollutants into the environment, contaminating our oceans and drinking water. Around 20 per cent of global industrial water pollution is from dyeing and textile treatment.
Yet globally, the industry wields considerable power. It is worth US$1.3 trillion, employing around 300 million people along the value chain.
UN Environment's Llorenç Milà i Canals, Head of the Life Cycle Initiative, said fashion presents a massive opportunity to create a cleaner future.
But steps must be taken to involve everyone involved in the value chain to address environmental hotspots; define and take bold action on them.
"All actors must play their part in redefining the way value is generated and kept within the apparel sector, moving away from disposable apparel to a sector that generates and sustains value for society without polluting the environment," he said.
As consumers, this means buying less. Some studies estimate that the average garment is worn ten times before being discarded. Demand for clothing is projected to rise two per cent a year—but the number of times we wear them has dropped one third compared to the early 2000s.
This waste costs money and the value of natural resources. Of the total fibre input used for clothing, 87 per cent is incinerated or sent to landfill. Overall, one garbage truck of textiles is landfilled or incinerated every second.
There are steps we can all take today. Like checking materials are durable and keeping them for longer. Reducing the amount of clothes we buy, reusing and buying second hand items and recycling. Wash them less and smarter: use concentrated liquid soap rather than powdered detergent, which is abrasive and washes more fibers into water.
But while our attitude towards our clothing needs a rethink, so too does the way in which our clothes are produced. Collectively, on a large scale, reducing our environmental footprint requires cutting resource consumption and designing pollution out of clothing altogether.
The fashion industry is starting to take note.
A Pulse survey of decision makers from all industry segments confirms that sustainability is climbing up corporate agendas. Of executives polled, more than half said sustainability informed their strategy—up from last year.
Innovative new technology can play a part in cutting resource use. Cotton and recycled polyester still put a strain on the environment, so finding and developing new sustainable materials is key to reducing natural resource consumption.
In the meantime, developing countries—with a nascent textile industry —have an opportunity to build circular models into production from the start. They can set the bar high for the rest of the world to follow suit.
Ultimately, the key to a sustainable future lies in radically rethinking the way we consume and use clothing, and disrupting current business models. That means buying less. And it means putting pressure on our fashion industry to design a more responsible product.
Leading international organizations commit to climate action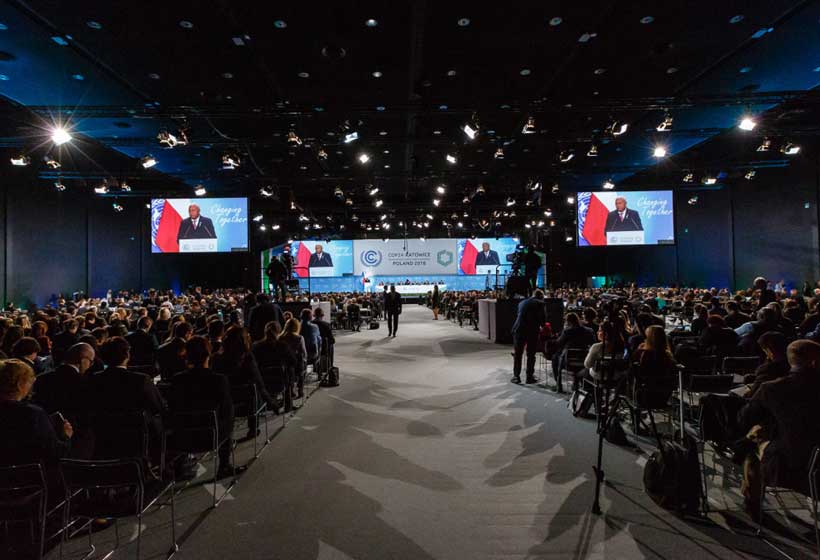 Today, at the United Nations Climate Change Conference (COP 24) in Poland, 15 international organizations jointly announced a commitment to make their operations climate neutral.  The organizations will measure their greenhouse gas emissions, reduce them as much as possible and compensate the currently unavoidable ones with credible carbon credits.
With over 2 million tons of CO2 per year in emissions, and more than 50,000 staff, the aggregate action by this organizations represents an important example that may be taken at all levels of society.
Some of the participating organizations have already achieved climate neutrality, while others are getting started in this journey. Still others were advanced in their sustainability strategy and are now going further by committing to go all the way to climate neutrality. Through this commitment, it is expected that organizations with more experience will support those that are at the early stages and that best practices will be shared.
This initiative demonstrates the commitment of the participating organizations to climate action, while serving as inspiration for others to follow suit and contribute to the goal to achieve global climate neutrality before the end of this century, as established in the Paris Agreement.
The international organizations that announced their commitment to climate neutrality are:
Organization for Economic Cooperation and Development (OECD) Secretariat
Common Markets for Eastern and Southern Africa Secretariat (COMESA)
Eastern Africa Development Bank (EADB)
Western Africa Development Bank (BOAD)
Asian Development Bank (ADB)
Pacific Community
ICLEI-Local Governments for Sustainability
European Investment Bank (EIB)
European Bank for Reconstruction and Development (EBRD)
Southern African Development Community (SADC) Secretariat
Inter-American Development Bank (IDB)
International Paralympic Committee (IPC)
Latin American Energy Organization (OLADE)
World Travel & Tourism Council (WTTC)
These organizations join agencies throughout the United Nations (UN) system which in 2007 adopted a strategy and a roadmap to reach climate neutrality by 2020. Over half of all UN system entities are now climate neutral, representing 39% of total UN emissions as featured in the 2018 Greening the Blue report. The UN Headquarters is also becoming climate neutral for the first time in 2018.
Some of the actions that these organizations are implementing to reduce their greenhouse gas emissions include the installation of solar photovoltaic systems, policies for reduction of air travel, upgrading of insulation and lighting systems in buildings, reduction of the amount of paper used at conferences, installation of efficient cooling systems, promotion of car-pooling schemes among employees, establishment of sustainable procurement policies, and enhanced collection and recycling of waste, among many others.
The ambition is that other international organizations will join this commitment in the near future, helping multiply the message of the importance of taking immediate action at all levels of society to avoid the worst consequences of climate change.