Champions of the Earth: Inspirational environmental leaders from Chile, China and United States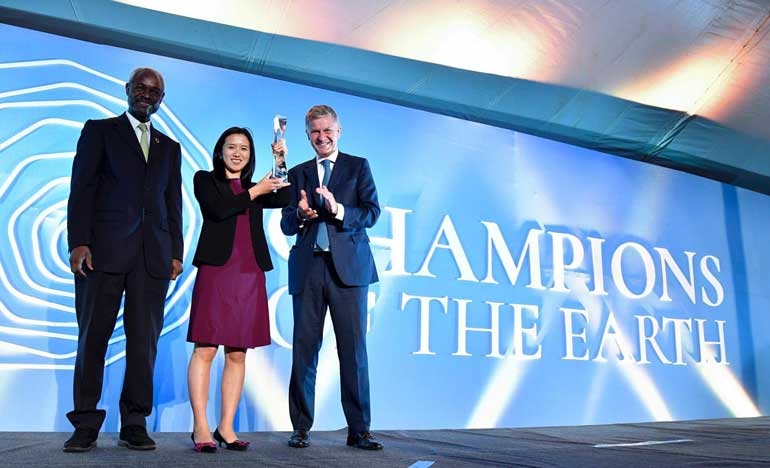 Six inspirational environmental leaders today received the United Nations' highest environmental honour, the Champions of the Earth award, during the UN Environment Assembly in Nairobi, Kenya.
President of Chile Michelle Bachelet, Paul A. Newman and his team at NASA's Goddard Space Flight Center, American filmmaker Jeff Orlowski, bike-sharing startup Mobike, Chairman of Elion Resources Group Wang Wenbiao, and the Saihanba Afforestation Community were all lauded for actions that had a significant positive impact on the environment.
"As we face unprecedented threats to our environment, strong leadership at all levels is more important than ever," said Erik Solheim, head of UN Environment. "This year's Champions embody the commitment, vision and energy we so desperately need."
The awards were presented during the third UN Environment Assembly, which brings together over 4,000 heads of state, ministers, business leaders, UN officials and civil society representatives to tackle the global menace of pollution.
The 2017 winners received the awards for action in the following categories:
POLICY LEADERSHIP
Michelle Bachelet, President of Chile, for outstanding leadership in creating marine protected areas and boosting renewable energy.
In October 2015, President Bachelet established the marine park Nazca-Desventuradas in San Ambrosio and San Felix Islands, and a range of protected areas and marine parks in the Juan Fernandez Islands. She also extended protected areas in Easter Island. The total coverage is now over 1 million km2, the largest in the world. Aside from marine environmental protection, her policies have seen renewable energy production surge from 6 to 17 per cent of Chile's energy mix in just 4 years.
"Chile has shown the world that you don't need to be a rich country to preserve the environment," said President Bachelet. "I feel honored to be included in this outstanding group of people and grateful for being acknowledged as one of this year's Champions of the Earth, the UN's highest environmental recognition."
SCIENCE AND INNOVATION
Paul A. Newman & NASA's Goddard Space Flight Center, for outstanding contributions to the Montreal Protocol – which has phased out 99 per cent of ozone-depleting substances and led to the healing of the ozone layer.
The first satellite instrument to measure ozone was put into space by the Goddard centre in 1970, and the first Antarctic ozone hole pictures were made using Goddard satellite data in 1985. Since the early 90s, the center has been instrumental in leading updates to the Scientific Assessment of Ozone Depletion, looking at how policies impact the atmosphere and setting a new high-water mark for international scientific cooperation. The ozone layer is now healing and will return to 1980 levels by mid-century. As a result, up to 2 million cases of skin cancer may be prevented each year by 2030. The Kigali Amendment to the protocol, signed in 2016, is now targeting hydrofluorocarbons (HFCs), which are climate-warming gases with significant global-warming potential. Action in this area can help avoid up to 0.5° Celsius in global warming by the end of the century.
"Ozone is our unseen natural sunscreen," said Mr. Newman. "It's crucial to understand and carefully watch this vital Earth resource.
ENTREPRENEURIAL VISION
Mobike, for exploring market-driven solutions to air pollution and climate change.
Mobike is the world's largest smart bike-sharing company. After two years of operation, the platform claims over 100 million registered users across more than 100 cities globally, servicing over 20 million rides a day.
Air pollution is a massive problem, particularly in countries like China and India, claiming an estimated 6.5 million lives each year. Bike sharing is a crucial alternative to motorized transport, and companies like Mobike are leading the way in cutting out journeys that contribute to air pollution and climate change.
According to figures collated by the company, Mobike users have cycled more than 18.2 billion kilometres, avoiding 4.4 million tonnes of carbon dioxide emissions, equivalent to taking 1.24 million cars off the road for a year.
Every Mobike bike has a GPS tracker, and the company collects bikes that don't move or are unused – although they are designed to be maintenance-free for four years. The company also has an incentive/disincentive scheme, giving bonus points for proper parking to encourage users to leave their bikes in designated areas.
Mobike has also teamed up with US chemical firm, Dow, to conduct research on creating more eco-friendly bikes after reports of unsustainable manufacturing practices.
"It is a tremendous honour to receive this award," said Mobike's Founder and President, Hu Weiwei. "Combating climate change, through [pursuing] the United Nations sustainable development goals, is one of the world's most important priorities, and we commit to using our technology and innovation to help governments and businesses join us in creating a pedal-powered green economy."
INSPIRATION AND ACTION
Emmy Award-winning filmmaker Jeff Orlowski, for his work on spreading powerful environmental messages to a global audience
Orlowski is the founder of Exposure Labs, which uses the power of storytelling to create impact. In 2012, he directed the climate-focused documentary, Chasing Ice, which has been screened in over 172 countries, 70 universities, over 75 film festivals, the White House and the UN.
His latest film, Chasing Coral, looks at the effects of ocean warming coral bleaching on these vulnerable ecosystems. The award-winning documentary is the result of 500+ hours underwater, the creative application of cutting-edge technology, submissions of footage from volunteers from 30 countries, and support from more than 500 people around the world. It won the Sundance US Documentary Audience award.
Chasing Coral's impact campaign is driven by a central mission to inspire a new wave of climate champions in unexpected places, calling on people to arrange screenings of the film and take action to protect coral reefs that are dying across the world.
"The collapse of our reefs is an early, yet urgent warning of the threat posed to all ecosystems," said Orlowski. "I hope this award can help reveal this elusive story hidden in our ocean to the world."
Saihanba Afforestation Community, for transforming degraded land into a lush paradise.
Saihanba, which covers 92,000 hectares and borders the southern edge of the Inner Mongolia autonomous region, had by the 1950s become barren due to excessive logging, allowing sand to blow into Beijing from the northern deserts. In 1962, hundreds of foresters began planting trees in the area. Three generations of these foresters have increased forest cover from 11.4 to 80 per cent. The forest now supplies 137 million cubic meters of clean water to the Beijing and Tianjin areas each year, while discharging c. 550,000 metric tons of oxygen. It has spurred economic growth with green sectors, generating USD15.1 million in 2016 alone.
"In the 55 years the farm has existed, people have been growing trees and protecting the forest like their own children," said Liu Haiying, director of Saihanba Afforestation Community. "I believe that, as long as we continue to promote ecological civilization, generation after generation, China can create more green miracles like Saihanba and achieve harmony between humans and nature."
LIFETIME ACHIEVEMENT AWARD
Wang Wenbiao, Chairman of Elion Resources Group, for a lifetime of leadership in green industry.
Better known in China as the "Son of the Desert", Wang, 61, is the chairman of China's largest private green industries enterprise, Elion Resources Group, with total assets of over USD 1.6 billion.
Wang bought the Hangjinqi Saltworks in the middle of the Kubuqi desert in 1988. He quickly realized that the saltworks' financial woes, and the problems with livelihoods in the region, were down to the desert: sand interfering with production and making it difficult to transport products out.
He partnered with local communities and the Beijing government to combat desertification in the desert, which covers around 18,600 sq km in Inner Mongolia. Centuries of grazing had stripped the land, leaving around 70,000 people struggling to survive. Now around two-thirds of the desert has been greened and local communities have jobs and a more pleasant environment. UN Environment research estimated the project has a net value in ecosystem services of $1.8 billion dollars over 50 years.
The project shows how private industry can both turn a healthy profit and make a massive positive contribution to climate change, sustainable development and many other environmental issues.
"My only life goal is to combat desertification for a greener world, with more lush mountains with clear water, which I always value as silver and gold mountains," Wang said.
In November 2007, Wang was elected as the Vice Chairman of the All-China Federation of Industry and Commerce, and in 2008 won the China Charity Award. In January 2012, he won the title of 'Chinese Model Worker in Green Work' for the second time.
How do greenhouse gases actually warm the planet?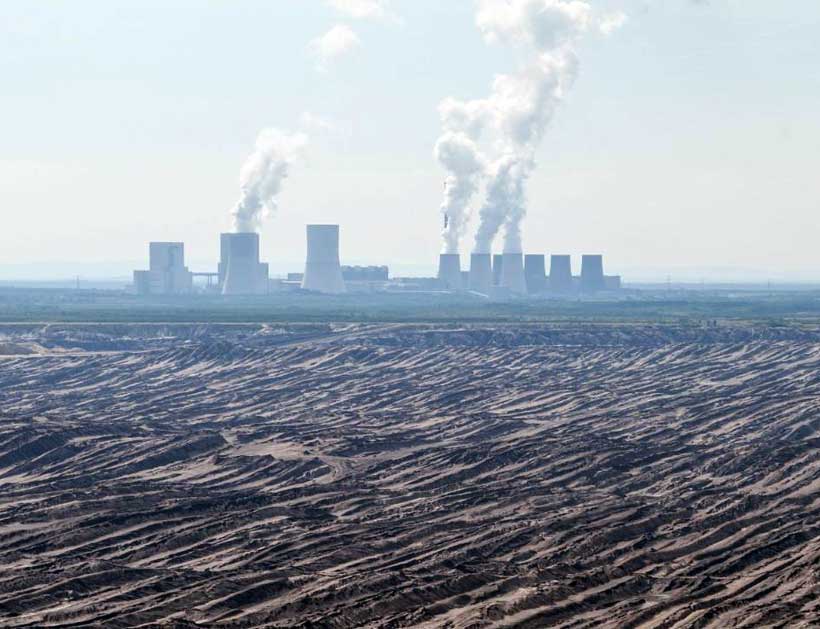 Greenhouse gas (GHG) emissions – the atmospheric gases responsible for causing global warming and climatic change – are critical to understanding and addressing the climate crisis. Despite an initial dip in global GHG emissions due to COVID-19, the United Nations Environment Programme's latest Emissions Gap Report (EGR) expects a strong rebound in 2021, when emissions are expected to be only slightly lower than the record levels of 2019.
While most GHGs are naturally occurring, human activities have also been leading to a problematic increase in the amount of GHG emitted and their concentration in the atmosphere. This increased concentration, in turn, can lead to adverse effects on climate. Effects include increases in the frequency and intensity of extreme weather events – including flooding, droughts, wildfires and hurricanes – that affect millions of people and cause trillions in economic losses.
The Emissions Gap Report found that if we do not halve annual GHG emissions by 2030, it will be very difficult to limit global warming to 1.5°C compared to pre-industrial levels by the end of the century. Based on current unconditional pledges to reduce emissions, the world is on a path to see global warming of 2.7 °C by the end of the century compared to pre-industrial levels.
"Human-caused greenhouse gas emissions endanger human and environmental health," says Mark Radka, Chief of UNEP's Energy and Climate Branch. "And the impacts will become more widespread and severed without strong climate action."
So how exactly do GHG emissions warm the planet and what can we do?
What are the major greenhouse gases?
Carbon dioxide (CO2), methane and nitrous oxide are the major GHGs. CO2 stays in the atmosphere for up to 1,000 years, methane for around a decade and nitrous oxide for approximately 120 years. Measured over a 20-year period, methane is 80 times more potent than CO2 in causing global warming, while nitrous oxide is 280 times more potent.
Coal, oil and natural gas continue to power many parts of the world. Carbon is the main element in these fuels, and when they're burned to generate electricity, power transportation or provide heat, they produce CO2, a colourless, odourless gas.
Oil and gas extraction, coal mining and waste landfills account for 55 per cent of human-caused methane emissions. Approximately 32 per cent of human-caused methane emissions are attributable to cows, sheep and other ruminants that ferment food in their stomachs. Manure decomposition is another agricultural source of the gas, as is rice cultivation.
Human-caused nitrous oxide emissions largely arise from agriculture practices. Bacteria in soil and water naturally convert nitrogen into nitrous oxide, but fertilizer use and run-off add to this process by putting more nitrogen into the environment.
What are the other greenhouse gases?
Fluorinated gases – such as hydrofluorocarbons, perfluorocarbons and sulfur hexafluoride – are GHGs that do not occur naturally. Hydrofluorocarbons are refrigerants used as alternatives to chlorofluorocarbons (CFCs), which depleted the ozone layer and were phased out thanks to the Montreal Protocol. The other gases have industrial and commercial uses.
While fluorinated gases are far less prevalent than other GHGs and do not deplete the ozone layer like CFCs, they are still very powerful. Over a 20-year period, the various fluorinated gases' global warming potential ranges from 460–16,300 times greater than that of CO2.
Water vapour is the most abundant GHG in the atmosphere and is the biggest overall contributor to the greenhouse effect. However, almost all the water vapour in the atmosphere comes from natural processes. Human emissions are very small and thus relatively less impactful.
What is the greenhouse effect?
The Earth's surface absorbs about 48 per cent of incoming solar energy, while the atmosphere absorbs 23 per cent. The rest is reflected back into space. Natural processes ensure that the amount of incoming and outgoing energy are equal, keeping the planet's temperature stable,
However, GHGs, unlike other atmospheric gases such as oxygen and nitrogen, are opaque to outgoing infrared radiation. As the concentration of GHGs in the atmosphere increases due to human-caused emissions, energy radiated from the surface becomes trapped in the atmosphere, unable to escape the planet. This energy returns to the surface, where it is reabsorbed.
Since more energy enters than exits the planet, surface temperatures increase until a new balance is achieved. This temperature increase has long-term climate impacts and affects myriad natural systems.
What can we do to reduce GHG emissions?
Shifting to renewable energy, putting a price on carbon and phasing out coal are all important elements in reducing GHG emissions. Ultimately, stronger nationally determined contributions are needed to accelerate this reduction to preserve long-term human and environmental health.
"We need to implement strong policies that back the raised ambitions," says Radka. "We cannot continue down the same path and expect better results. Action is needed now."
During COP26, the European Union and the United States launched the Global Methane Pledge, which will see over 100 countries aim to reduce 30 per cent of methane emissions in the fuel, agriculture and waste sectors by 2030.
UNEP has outlined its six-sector solution, which can reduce 29–32 gigatons of carbon dioxide by 2030 to meet the 1.5°C warming limit. UNEP also maintains an online "Climate Note," a tool that visualizes the changing state of the climate with a baseline of 1990.
Despite the challenges, there is reason to be positive. From 2010 to 2021, policies were put in place which will lower annual emissions by 11 gigatons by 2030 compared to what would have otherwise happened.
Through its other multilateral environmental agreements and reports, UNEP raises awareness and advocates for effective environmental action. UNEP will continue to work closely with its 193 Member States and other stakeholders to set the environmental agenda and advocate for a drastic reduction in GHG emissions.
Beyond these movements, individuals can also join the UN's #ActNow campaign for ideas to take climate-positive actions.
By making choices that have less harmful effects on the environment, everyone can be part of the solution and influence change. Speaking up is one way to multiply impact and create change on a much bigger scale.
The social aspect of biodiversity reduction in Brazil
What most people ignore is that climate change is also a social issue, arising from unawareness of the human population about the impact of their activities. Biodiversity plays a key role in ecosystems and also services benefits to the tourism industry. Marine life biodiversity specifically plays a role in attracting tourists for activities like scuba diving, snorkeling and other observation activities alike. Currently, the Brazilian Guitarfish, commonly found in the South Atlantic Brazilian waters, specifically around the South coast of Rio De Janeiro is facing massive decline in numbers, and is also on the list of critically endangered species.
One major reason for the rapid decline in numbers of Brazilian Guitarfish is overfishing of the female population for illegal, highly valued meat sale in fish markets. Most fishermen catch the female guitarfish along with their little offspring in shallow waters around Rio De Janeiro. The decline in species of guitarfish is mostly among the female population, however this impacts the long term numbers of the guitarfish population. Fishermen who catch guitarfish and engage in the illegal meat industry know little about the impact created by their fishing activities on biodiversity in the oceans. A valid solution to solving the issue of high levels of guitarfish fishing in Brazil is empowering fishermen to engage in other trades and businesses that are more sustainable with steady profits, simply raising awareness about the downside of overfishing endangered species might not be enough. A dollar is a dollar, or in this case a real is a real.
An alternate model for sustainable fishing has been developed in Fuji, specifically to protect the coastline that attracts tourism across the year. The local government in fishing villages is working in collaboration with fishers to ensure that they have access to a greater number of opportunities, even outside the fishing industry. Moreover, the local government is regulating the prices of fish meat and creating a bandwidth for sustainable profits by encouraging fishing of species that are more abundant in the local waters. This is creating a low incentive situation for Fujian fishers to fish endangered species and engage in local trade. This unique model, with a mix of government involvement and local incentives, can be amplified to other countries like Brazil too.
While most experts talk about climate change, they ignore the social aspect of climate change, which is perhaps the biggest contributor. Human activities impacting climate change don't just arise from unawareness but also from lack of other opportunities that can incentivise a change in decision making. Creating consumer end awareness about the downside of consuming illegal meat is also crucial. The same can be done in fish markets with the use of artwork to support behavioral change. Brazilian Guitarfish also carry high content of Mercury and chemicals and are therefore not the safest to consume in the unregulated illegal meat industry, without safety approvals from the government. Making consumers aware about the fact that they are not just paying high prices for meat that is illegal but also consuming meat that can potentially give them cancer and other diseases is crucial. This can be done using artwork in fish markets, as is being done across fishing villages in Bali.
Brazilian Guitarfish are also rare in other parts of the world and attract divers to premium diving locations, fetching around $75 to $100 per dive, higher than most other locations where rare species like Guitarfish cannot be spotted. More efforts can be taken to set up dive centers in Brazil specifically dedicated towards Brazilian Guitarfish. This will not only be an attractive source of income for locals but also encourage conservation efforts. Tourism can be a major source of revenue for Brazilian fishermen and farmers, encouraging development and infrastructural promotion across major cities in Brazil, thereby creating a line of opportunities for Brazilian citizens across different industries.
With biodiversity as high as Brazil, more efforts should be taken to fuel tourism, interaction and awareness with Brazilian biodiversity, including rainforests and marine life. With the empowerment of local communities, we can together create a more sustainable future, inclusive towards all organisms.
To promote the cause of Brazilian Guitarfish conservation, I have started a movement called The Brazilian Guitarfish movement, operating via whatsapp group involving people across continents from various fields – climate researchers, marine conservationists, scuba divers, fishing industry experts, government authorities, public policy enthusiasts and tourism officials to curate solutions specific to conserving Brazilian Guitarfish. It's a global initiative, with hands contributing from across the world to save Brazilian Guitarfish by empowering local fishers with diverse opportunities. There is always an alternate solution, sometimes all we need is a fresh approach along with fresh minds to find it. Fortunately, connecting globally in the digital world makes problem solving easier for all of us.
Global Warming Impacts Antarctic Glaciers and Wildfires
Come year end and prognosticators abound. Dire portents from the pessimists and the reverse from the optimists; from disasters of one kind or another to the stock market going sky high.
Not necessarily in 2022, yet there is the possibility with global warming of a melting Greenland ice cap or the Thwaites Glacier in Antarctica. The latter is the size of Florida, and its collapse has the potential of rising sea levels by 10 feet. Imagine the effect when almost 250 million people live just 3 feet above high tide levels.
The difference between Greenland and the Antarctic is that Greenland's glaciers are on solid ground and melt from above due to warmer temperatures; the Antarctic ice shelf melts from the bottom due to warmer ocean water. As it is eaten away from the bottom it destabilizes. Cracks begin to form on the surface, a harbinger of collapse, and eventually massive chunks of ice shear off and fall into the ocean. Like adding ice cubes to a drink, it does not have to melt to raise sea levels.
It is almost impossible to predict when chunks will collapse but some cracks have been observed. In 2019, satellite images revealed a massive block of ice 15 by 21 miles cracking up in a few days. Scientists from the International Thwaites Glacier Collaboration reported on cracks and fissures in the glacier's ice shelf, predicting its fracture within five years and disappearance into the sea in less than a decade.
Then there is the case of forest fires and in particular the fire in Colorado that has been in the news. A fire in December is certainly unusual because the fire season runs from May to September although extended to November of late due to global warming. The rest of the time the trees are too wet to sustain a fire and any small fires started by broken power lines or lightning strikes during storms tend to extinguish on their own.
Thus the devastating wildfire that has swept through the Denver suburbs is unprecedented, as Governor Jared Polis observed. He has declared a state of emergency thereby permitting access to disaster funding. The fast spreading fire left residents in commuting suburbs like Superior very little time to evacuate and nearby roads were soon clogged with traffic. Fortunately, to date, no deaths have been reported and no serious injuries although three people are still missing. A substantial loss of property however, as around a 1000 houses have been destroyed. About the only explanation for a changing equation for natural disasters is global warming. It affects weather patterns, rain and snow, drought and floods.
We hear no loss of life or serious injuries and we move on to the next news story. Yet it is not too difficult to imagine the trauma of families standing in front of a heap of ashes, who have had their life's memories swept away in a couple of hours. Nothing left except the clothes covering them.