Lost in Lebanon Opens Global Migration Film Festival
The second edition of the Global Migration Film Festival opened yesterday (05/12) with the screening of Lost in Lebanon, at the Graduate Institute of International and Development Studies in Geneva, Switzerland.
Addressing more than 350 attendees, Leonard Doyle, UN Migration Agency Head of Media and Communications introduced the film, announcing that this year, the Festival will present films in over 100 countries from Niger to Indonesia.
"This festival is a truly global event, sometimes taking place in venues like this, sometimes in a thousand-mile caravan driving through the desert from Agadez, Niger up to the border with Algeria, and sometimes in detention centers in Libya where migrants are suffering appallingly," said Doyle.
Lost in Lebanon tells the stories of Sheik Abdo, Nemr, Reem and Mwafak, four Syrian refugees living in Lebanon. The documentary follows their struggle after leaving behind their friends and families, through the uncertainty that ensues when they lose their residency visas at the end of Lebanon's open-door policy for refugees in early 2015, which rendered them unable to stay or return to their home country.
The four protagonists were not alone – by the end of 2016, 600,000 Syrians had lost their legal status in Lebanon. Despite the challenges, these characters remain committed to helping their displaced communities, whether by teaching young children at an informal school, offering counselling to fellow refugees, or sharing their artistic skills.
The film was followed by a panel discussion moderated by Riccardo Bocco, Professor of Anthropology and Sociology at the Graduate Institute, with directors Georgia and Sophia Scott, and Pindie Stephen, IOM Integration Senior Specialist.
"As filmmakers, we open a window for you to look through, and as a viewer you can do your own research, or lobby your own governments to change policy," said Sophia Scott. "This film can have a great impact, but we need to partner with organizations," she added.
Asked about how this film impacts the work of IOM, Stephen praised the film as a tool to help dispel the many myths about refugees. "As I watched this film it reminded me of how important it is to have these tools to share with others… It's amazing to see how much these refugees contribute to their own people," said Stephen. "It can also serve to prepare communities that are receiving refugees and can help prepare for their integration challenges," she added.
The Global Migration Film Festival, organized by IOM with support from DHL and other partners, showcases films that capture the promise and challenges of migration. It runs from 5 to 18 December, International Migrants Day.
A committee of international film professionals and migration specialists will select three winners from the Emerging Filmmakers category and one from the Professional Filmmakers category.
Each winner will receive USD 1,500. The award ceremony will take place on 18 December in Les Cinémas du Grütli, Geneva.
100 years of history: Historic hotel celebrates worker heritage
If you're the curious sort who enjoys exploring historic sites in your free time, you're far from alone.
Because people are fascinated with learning more about how Americans lived, thought and dreamed in the past, many seek out such cultural enclaves anytime they travel. That helps explain the $762 million in revenues logged by U.S. historic sites in 2013, according to Statista. Other research predicts the revenues realized by U.S. museums and historic sites will more than double between 2018 and 2022.
"Historic places create connections to our heritage that help us understand our past, appreciate our triumphs and learn from our mistakes," the National Trust for Historic Preservation recently noted. "Historic places help define and distinguish our communities by building a strong sense of identity. When you visit a historic site, you learn from their stories."
One fascinating and culturally rich historic site you may not have visited is The American Club, a Forbes Five-Star and AAA Five-Diamond resort hotel in the heartland of Kohler, Wisconsin. The iconic hotel owned by Kohler Co., global leader in plumbing, was built in 1918 as a dormitory for its immigrant workers. This year the multifaceted national attraction celebrates its centennial anniversary in grand style, with even more activities and offerings for its guests.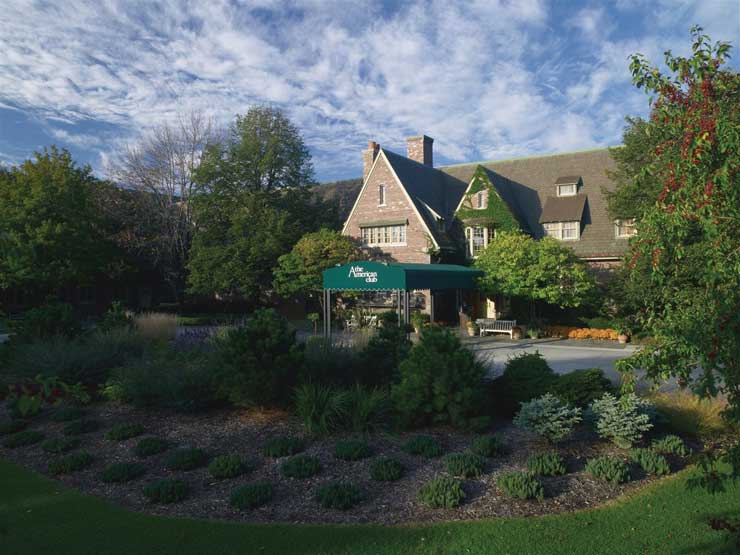 Year-long features of the celebration include a new history exhibit, guided tours and a new cast iron sculpture installation, "The Immigrant," created by artist Stephen Paul Day. Day took part in the Arts/Industry program and was inspired by the company history. The four-star restaurant, The Immigrant, will offer a tasting menu featuring dishes from France, the Netherlands, Germany, Normandy, Denmark and Great Britain — the primary homelands of original Kohler employees. Group Director Lodging for Kohler Co., Christine Loose explains, "The concept of gracious living and creating a sense of belonging has always been important to the company and our heritage."
With its trademark red brick, striking Tudor architecture and soaring roof peaks and slate tile, the landmark is recognized by both the Historic Hotels of America and the National Register of Historic Places.
Aside from the historic elements of The American Club, visitors and guests can partake of several other features offered in or near the surrounding resort known as Destination Kohler. Key attractions include the Forbes Five-Star Kohler Waters Spa; a lakeside boutique hotel known as the Inn at Woodlake; cycling and yoga studios; four championship golf courses (Blackwolf Run and Whistling Straits, the latter hosting the revered 2020 Ryder Cup); 12 dining establishments, renovation inspiration at the Kohler Design Center, and daily factory tours led by retired Kohler employees spotlighting the evolution of day-to-day manufacturing operations.
Destination Kohler is an hour north of Milwaukee and 2.5 hours north of Chicago. Learn more about its many attractions at DestinationKohler.com.
Weaving profits in Azerbaijan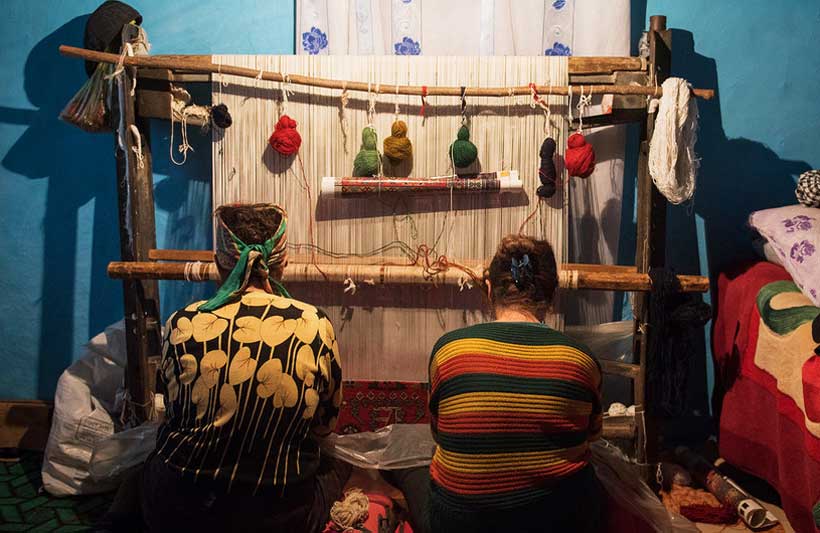 Artisans in Azerbaijan who practice the traditional art of carpet making are being provided with new business opportunities thanks to a project supported by the UN Development Programme (UNDP).
Weaving carpets is a skill that has been passed down through the generations and in the central Asian country is largely the work of women.
Although Azerbaijan is located on the ancient trading route known as the Silk Road, many artisans, especially those living in mountainous areas, are finding it increasingly difficult to get their carpets to market.
Small and Medium sized enterprises, like the carpet weavers of Azerbaijan, account for 60-70 per cent of global employment, according to the UN.
As the International Micro-, Small and Medium-sized Enterprises Day is marked across the world on June 27, the Azerbaijani authorities, with the support of UNDP, are boosting efforts to help artisans sell their goods.
New interactive Story Maps make Europe's cultural heritage more accessible
On the occasion of the first ever European Cultural Heritage Summit, the European Commission has released a set of interactive maps which will help to raise awareness of cultural heritage in Europe.
Speaking at the European Cultural Heritage Summit in Berlin today, Tibor Navracsics, Commissioner for Education, Culture, Youth and Sport, responsible for the Joint Research Centre, said: "Making cultural heritage more accessible to everyone is one of my main goals for the European Year. The Story Maps will play an important role in this, offering valuable information in a user-friendly way. The Joint Research Centre has already developed a number of tools that help us preserve cultural heritage, such as 3D scanning technologies that can be used to map heritage sites as well as smart materials for their reconstruction. Now the interactive Story Maps will help open up opportunities for Europeans to explore our shared heritage and get involved in safeguarding it for the future."
The Story Maps, developed by the Joint Research Centre, the Commission's science and knowledge service, inform in an easily accessible way about several initiatives across Europe linked to cultural heritage. These include actions like the European Heritage Days, the EU Prize for Cultural Heritage or the European Heritage Label, funded by Creative Europe, the EU programme that supports the cultural and creative sectors. The website also contains links to the digital collections of Europeana – the EU digital platform for cultural heritage. This platform allows users to explore more than 50 million artworks, artefacts, books, videos and sounds from more than 3500 museums, galleries, libraries and archives across Europe. These maps will be updated and developed, for example taking into account tips from young people exploring Europe's cultural heritage through the new DiscoverEU initiative.
The online tool was launched by Commissioner Tibor Navracsics at the European Cultural Heritage Summit in Berlin today. This Summit is one of the main events of the 2018 European Year of Cultural Heritage and is attended by high-level representatives of EU Institutions, civil society organisations and Member States, including German Federal President Frank-Walter Steinmeier. to protect, promote and raise awareness of cultural heritage in Europe. to protect, promote and raise awareness of cultural heritage in Europe. to protect, promote and raise awareness of cultural heritage in Europe.
Background
The Story Maps were presented to a wider audience at the European Cultural Heritage Summit, co-hosted by Europa Nostra, the Prussian Cultural Heritage Foundation and the German Cultural Heritage Committee. The Summit is one of the key events of the European Year of Cultural Heritage taking place in Berlin from 18 to 24 June. It will see the adoption of the "Berlin Call to Action – cultural heritage for the future of Europe", which supports the idea of a European Action Plan on Cultural Heritage, announced by the Commission in the New Agenda for Culture proposed in May. The Call to Action asks citizens, institutions and organisations to build on the momentum of the European Year, to recognise the positive and cohesive power of shared cultural heritage and values to connect Europe's citizens and communities and to give a deeper meaning to the entire European project.
The purpose of the European Year of Cultural Heritage is to raise awareness of the social and economic importance of cultural heritage. Thousands of initiatives and events across Europe will give citizens from all backgrounds opportunities to discover and engage with cultural heritage. The aim is to reach out to the widest possible audience, in particular children and young people, local communities and people who are rarely in touch with culture, to promote a common sense of ownership.