African economists seek bolder monetary policy reforms to address inequality
African economists attending the 12th African Economic Conference in Addis Ababa, Ethiopia, have called for more radical monetary policy reforms and an overhaul of the tax policy regime in most countries in order to guarantee the welfare needs of the local population.
The economic researchers from Ethiopia, Kenya and Sudan, who attended session of the conference to discuss "Macroeconomic policies for the inclusive development," on December 5, 2017, noted broader reforms were required to secure stability in the foreign currency markets and to curb inflation.
"Consistent monetary policy yields the greatest welfare security to the citizens compared to discretionary monetary policy," said Peter Wamalwa of the Central Bank of Kenya, presenting a paper on the impact of monetary policy on the prices of assets in an open economy.
Discretionary monetary policy is often based on the knee-jerk reaction of the key policy-makers on matters which have an impact on taxation policy, spending and fiscal activities carried out by the respective Central Banks, often known as the monetary policy decision-making bodies.
Wamalwa said while the monetary policy is often used by the respective Central Banks to correct market imperfections which require urgent intervention, the Central Bank should ensure as a priority that the social needs of the households and the firm are taken care off in order to guarantee economic stability.
"The monetary policy is not effective if the asset prices are not included. The response to the monetary policy is more significant," said Wamalwa, who insists Central Bank interventions to stabilize the domestic prices should allocate the economy's resources efficiently and in a socially desired manner.
The African Economic Conference is dedicated to discussions on the kind of economic and political governance reforms that are critical in order to ensure structural transformation takes place in Africa.
Wamalwa said focus should remain on the effectiveness of the monetary policy in battling key challenges such as inflation and the foreign currency exchange rate policy.
In his paper, Wamalwa did not entirely dismiss the possibility of the Central Banks relying on discretionary monetary policy, saying it has a role to play when policy weaknesses fail to address market distortions which affect prices in an economy in a more negative manner.
"This affords the monetary authority the flexibility to respond to unanticipated price and output changes as well as dynamic behavior of agents in an economy. This is more relevant to the financial markets where investors make decisions frequently to optimize their portfolio holding," Wamalwa said.
Speaking during the same session, Saswan Abdul-Jalil, a teaching assistant at the University of Khartoum, Sudan, called for an overhaul of the tax regime in Sudan and broad measures to unlock restrictions which make it much harder for ordinary businesses and individuals to access bank loans.
Terming difficulties in accessing the domestic financial markets due to the government's increased domestic borrowing and stringent capital controls the "financial repression," Abdul-Jalil said the capital controls imposed by the government enabled it to borrow at a lower rate domestically.
According to the paper titled "Financial Repression and Capital Controls in Sudan: An Evaluation of Fiscal Effects," the financial repression causes a bigger impact on the pace of economic growth in Sudan.
"It leads to high cost of domestic borrowing because the commercial banks prefer to lend to the government and its effect is 0.8 per cent on the Gross Domestic Product. The capital controls is part of the government's efforts to raise revenue locally," Abdul-Jalil argued.
Armenia's historic vision for responsible mining
Armenia, named country of the year by the Economist Magazine in 2018, has led a peaceful transition of power, introducing significant reforms in an inclusive and democratic manner. Nikol Pashinyan, MP and opposition leader, was elected Prime Minister on May 8, 2018. The new administration has identified anti-corruption efforts, free and fair parliamentary elections, and greater equity as its priorities.
Armenia's economy is gaining strength, growing at over 5.2% in 2018. The growth has been supported by global recovery and a strong rebound in domestic demand. However, the country remains plagued by the twin evils of high unemployment and poverty. The fruits of growth are not shared across the nation.
A country rich in natural resources, particularly copper, molybdenum, gold and dimension stones, Armenia has 27 metal mines. These mines employ 9,000 people in rural areas, while metals and gems represent over 60% of total exports. Indeed, copper ore alone accounts for over a third of all exports. While Armenia has the accurate regulatory and legal framework in place to support the sector in a way that benefits its citizens, enforcement is far from ideal.
Early challenges
Against this backdrop and recognizing that extractive industries can drive economic growth and poverty reduction, the Prime Minister at the time, Hovik Abrahamyan, announced on July 28, 2015 the government's commitment to make Armenia become compliant with the globally recognized transparency standard in the extractives sector, the Extractive Industries Transparency Initiative (EITI). The government met with both the mining industry and civil society, inviting them to participate in the process by presenting nominees for a Multi-Stakeholder Group. Such a group had never been created before to agree a joint approach to the mining sector.
With issues of trust from civil society and apprehensions from industry, it appeared that the EITI process might fail to engage all parties. Following a stalemate of many months, the World Bank, funded by the Extractives Global Programmatic Support (EGPS) Multi-Donor Trust Fund, organized a workshop which brought together government, industry and non-governmental organizations for the first time. Stakeholders agreed to create a multi-stakeholder group to implement the EITI standard, with equal voting power for each party. Armenia's first EITI report was approved and published in January 2019, covering 2016-2017 fiscal years.
Beyond Transparency
The multi-stakeholder group chose to go beyond the remit of transparency and sought to develop a common vision for responsible mining that would shape the future of every mine across the country. With the help of the EGPS Multi-Donor Trust Fund, government, industry and civil society groups are now working together to develop a Mineral Sector Policy, a policy framework to guide mining operations. The policy will outline the country's vision for the mining sector and articulate what responsible and sustainable mining looks like.
The Policy will be based upon the results of two ongoing assessments of the sector: an economic assessment and an environmental and health analysis. The economic assessment will assess the mining sector's contribution to local, regional and national development, and the potential to develop stronger economic linkages along the supply chain. The environmental and health analysis will assess the health and safety of communities and workers, and examine the existing standards, capacity and institutions to effectively address these issues through a Mineral Sector Policy.
Alongside these assessments are ongoing consultations across government representatives, mining companies, civil society organizations and affected communities, which will be used to inform the creation of the Mineral Sector Policy.
The assessments and consultations will help to build a shared and inclusive vision of Armenia's future mining sector.
Electronic reporting
Armenia is one of the few EITI countries to have a fully electronic reporting system up and running, receiving reports from government and companies. Given paper-based reporting has prevailed to date, this marks a significant step forward, minimizing technical errors in reports, decreasing required time for collection of reports and their reconciliation and creating a unique system of searching and downloading open data for users by applying appropriate filters.
The impact of US-China Trade war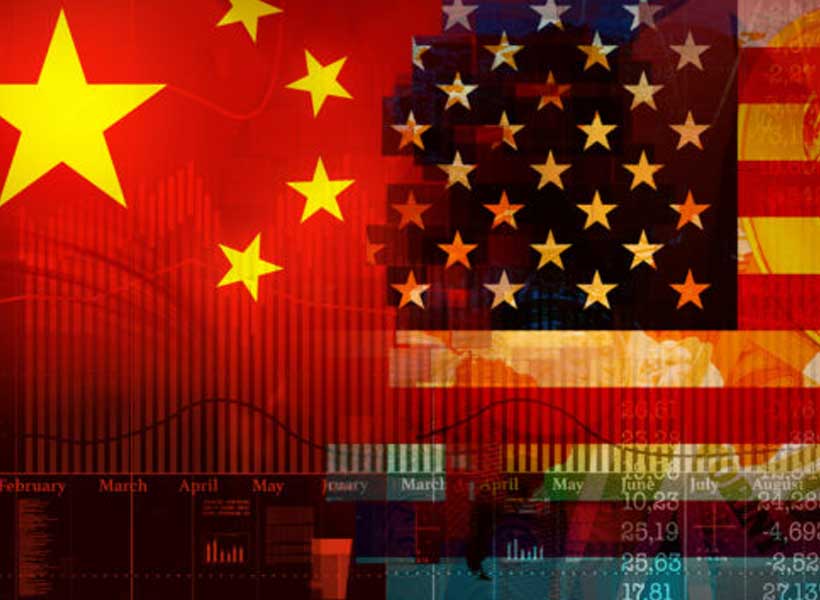 It is highly unlikely, that any tangible solution to the Trade war between Beijing and Washington will emerge in the short run. In May 2019, Trump increased the tariffs on commodities worth 200 Billion USD, from 10% to a whopping 25%. So far, US has imposed tariffs of about 250 Billion USD on China. While China, has retaliated with tariffs on US goods estimated at well over 100 Billion USD (110 Billion.)
It would be pertinent to point out, that trade disputes have not been restricted only to Washington and Beijing. Imposition of tariffs has been a bone of contention with US allies including Japan.
Off late, trade issues have resulted in major differences between New Delhi and Washington. Even though there are convergences between both countries on numerous strategic issues, resolving the differences between both sides on trade related matters is likely to be an onerous responsibility.
In response to tariffs imposed by Washington, New Delhi retaliated, and has imposed tariffs, estimated at 200 Million USD, on 29 commodities (including Apples, Almonds and Chickpeas). India's decision was a response to US' decision to impose tariffs, of 10% and 25% on Aluminium and Steel in May 2018. Last year, New Delhi refrained from imposing tariffs, but did raise import taxes on a number of US goods to 120%, after Washington declined to exempt New Delhi from higher steel and aluminium tariffs. The key propelling factor for India's recent imposition of tariffs was the US decision to scrap the Generalized System of Preferences (GSP) for India from June 5, 2019. India benefitted immensely from this scheme, as it allowed duty-free exports of upto $5.6 billion from the country.
Pressure on Trump
Even though no solution is in sight, there are a number of lobbies in the US, especially Trade groups and US businesses which have been repeatedly urging the Trump Administration to find a solution to the current impasse with China.
Only recently for instance, 600 companies, including Walmart in a letter to the U.S. President Donald Trump urged him to resolve trade disputes with China, stating that tariffs were detrimental to the interests of American businesses and consumers. The letter was sent as part of the 'Tarriffs Hurt the Heartland' campaign.
To underscore the detrimental impact of trade wars on the American economy some important estimates were provided. The letter stated that tariffs of upto 25% on 300 billion USD worth of goods, could lead to the loss of 2 million jobs. Costs for an average American family of 4 would also rise to an estimated 2000 USD, if such tariffs were to be imposed.
Reports indicating the challenges to the US economy and FDI from Chinese companies in US
A number of surveys and reports illustrate the profound challenges which the US economy is facing as well as a drop in FDI from China.
The University of Michigan's consumer sentiment index also revealed a drop in consumer sentiment from 100 in May to 97.9 in June. This was attributed to trade wars between China and the US.
According to a survey released by the China General Chamber of Commerce USA, investment by Chinese companies in the United States has witnessed a significant decline since 2016 ( including a sharp drop in 2018 and early 2019)
A number of important events have been held recently, where efforts were made to draw more Chinese investments to the US. One such event was the Select USA Summit. Speaking at the Summit, US Commerce Secretary Wilbur Ross stated:
'We welcome investment from any place as long as it's investment that poses no challenges for national security,"
US states and FDI
What was clearly visible at the Select USA Summit was the fact, that a number of US states pitched for expanding economic ties with China, and drawing greater Foreign Direct Investment.
The state of North Carolina sought to attract investments in areas like IT, Aviation and biotech. The US headquarters of Lenovo are in the state of Carolina. Trump's trade wars have hit the state in a big way, and one of the sufferers have been Soy bean farmers. As a result of a 25 percent imposition of tariffs the price of a bushel of Soy bean has dropped to 8 USD, from 10 USD in 2018.
Other US states brought to the fore the impact of tariffs on their respective economies. According to a senior official from the state of Louisiana for instance, Don Pierson, secretary of Louisiana Economic Development the state it has suffered immensely as a consequence of the imposition of tariffs. Agricultural commodities from Middle America to China are imported through export terminals in Louisiana. Pierson said that the agricultural economy of the state, as well as the logistics economy of the state have taken a hard hit as a consequence of the trade wars. Pierson also spoke about the possibility of exporting LNG from Louisiana to China. Major investments in the state of Louisiana include Yuhuang Chemical Group (Shandong's) decided to invest US$1.85 billion in a methanol production complex (this was one of the largest Chinese direct investments in US). Wanhua Chemical Group invested over 1 Billion (1.2) USD in a chemical manufacturing complex in South Eastern Louisiana
A number of Chinese companies have also begun to realise, that there is need to adopt a nuanced approach too are still tapping certain US states for investment.
Another important event was the Select LA Summit. The Los Angeles Mayor Eric Garcetti, and Lenny Mendonca, chief economic adviser to the California governor assured overseas investors of all possible support from the town of LA, as well as the state of California.
Impact of trade disputes and Washington's stance vis-à-vis Huawei
US States and Chinese Provinces have been at the forefront of improving economic ties between both countries. Both are likely to suffer as a consequence of not just the trade war between both countries, but also the US ban on Huawei. The tech company, according to a report published in 2016, contributes 7% of the GDP of the town of Shenzhen (Guangdong Province). Affiliates of Huawei provide employment to an estimated 80,000 people while a research facility in a nearby city of Dongguan, provides employment to well over 3,000
Conclusion:
In conclusion, it is important for all stakeholders, not just businesses from both countries, to play their role in resolving economic and technological disputes between China and the US. It is also important for Chinese Provinces as well as US states to play a pro-active role in reducing tensions. Both governments while realising the importance of federating units have set up official dialogues and set up other mechanisms for sub-national exchanges. It is important that these platforms now contribute towards reducing the divergences between both countries. While all eyes are on the political leadership of both countries, it is important to realise that the stakeholders in the US-China relationship are not restricted to Beijing and Washington DC.
Adam Smith is considered the father of economics. Back in 18th century, he presented the concept of protectionism, which was given to promote the local industry. Nevertheless, in 21stcentury, the world is facing its repercussions.
It is time that the world should be well concerned by the actions that are being opted by the two economic giants. Trade deadlock between Beijing and Washington is getting intense. U.S. protectionist and unilateral approach is the impetus behind this trade war and hence so far no promising foreseeable future can be anticipated. Moreover, China's economic and development initiative i.e. BRI and its successful pilot project CPEC is also giving headaches to Oval. This Game of tariffs has engulfed whole of the globe into its chakra.
Trump and his policies have always been scrutinized by the analysts everywhere. Even before the elections, Trump expressed his strong urge to subdue China by means of trade restrictions. It was clearly evident even before the elections that if Mr. Trump will somehow make his path to Oval, he will surely give Chinese a sturdy time.
In Nov 2016, it happened just as it was feared. The heat of July 2018 had resulted into an economic cold war. With the world being the witness, there is no doubt that when Washington says, it knows how to make it happen. Therefore, when Washington flaunted its intentions to put serious tariffs onto Chinese commodities, it actually meant it. What started from a mere USD 34 billion, has crossed over USD 200 billion till-date. So far, Washington has imposed tariffs on USD 250 billion worth of goods coming to United States. Furthermore, it has also threatened to increase the threshold to an approximate value of USD 325 billion. In return, Beijing retaliated with putting tariffs on US$ 110 billion worth of goods.
The latest development that added fuel to the fire was on May 10, when United States raise tariffs to 25% on $200 Billion products coming from China annually. This escalated tensions between the two more as it projected that U.S. is not coming slow. Not only this, China has also banned the trade of rare elements. These elements hold prime importance in making of a number of electronic products such as mobiles and laptops in the United States.
China's ministry of commerce has shown concern over American intentions regarding the engagement of two in the trade war and had warned that the dispute may even lead to "largest trade war in economic history". China has repeatedly shared its concerns over the trade stand-off between Beijing and Washington. Whereas, continuous cold responses from Washington are leading situation to worse ends. China, as a responsible state, talks about equality, inclusiveness, and shared future for the globe. It always encouraged openness and cooperation.
Stubbornness of Trump's Administration is pushing the Globe towards an economic and trade crisis. High tariffs on products will ultimately raise the costs for suppliers, manufacturers, retailers and then eventually affecting the people at tail¬— consumers. The end consumers will have to face large price raises even for the general products. On November 30, 2018, Chief of the World Trade Organization had said that global free trade is facing its worst crisis since 1947 and warned that the current spectrum of conflict will lead to global trade crisis.
These tensions are not restricted between the two; instead, they have led the global market to fluctuations, which has put business persons and investors in a situation of uncertainty. This investment dilemma can halt the economic progress inside of both countries. International Monetary Fund has also warned that a full-blown trade war would weaken the global economy. Earlier in this month, Cristine Lagarde gave remarks on Donald Trump's intent to tax all trade between two countries that it would "shrink the global Gross Domestic Product (GDP) by one-half of one percent".
China is the new reality. Washington needs to realize that. There are new players onto the scene. Oval's actions will be scrutinized now; its ways will be challenged. It will no longer go uncontested.
The world knows that global economic ship today is sailing towards east and Chinese dockyard is where it will anchor. Mutual understanding is beneficiary for both the countries as well as for the world economy. Beijing is determined to meet Washington's intentions with full capacity. United States is inducing self-inflicting pain to itself and to the world too. Companies inside US have already started showing their grievances regarding the trade stalemate between Beijing and Washington. Over 600 companies including Walmart urged Trump to resolve the dispute with China as it directly affects the business community and customers inside US. Washington needs to comprehend that it will become victim of its own protectionist gambit if it continues to be on the route on which it has maneuvered itself.