Human Trafficking in Rohingya Refugee Camps
In light of the 'repatriation agreement' signed between Myanmar and Bangladesh, the 620,000 recent Rohingya refugees who have been living in Cox's Bazar for the past few months will be allowed to return to the Northern Rakhine state or 'to a safe and secure place nearest to it' of their own choice.
Considering most Rohingya villages were burnt to the ground, returning to their first 'choice' is highly unlikely, hence the forcefully displaced Rohingya will be living in temporary camps and shelters indeterminately. On Burmese territory.
This is particularly worrisome bearing in mind the recent human trafficking warning signs regarding the current situation in the world's largest refugee camp which have been raised both by the U.S. Department of State in its 2017 Trafficking in Persons report and by the International Organisation for Migration (IOM). Human trafficking networks are believed to have expanded and are now 'rife' thorough the refugee camps. Therefore,it is by no means a stretch of the imagination anticipating the occurrence of the same phenomenon in these temporary shelters.
In which ways are the Rohingya refugees trafficked?
The nationality of the people smugglers or the 'recruiters' in Cox's Bazar is not confined to just one. Some of them are Bangladeshi, some are Burmese, some are from the destination countries where victims are trafficked into and some are even from the very Rohingya community. Some have come before the camps were set in Cox's Bazar, some have come together with the very first wave of refugees and some are still penetrating the camp zone. Their modus operandi consists of various stages which ultimately lead to the exploitation of the Rohingya refugees. It starts with the organisation of fake passports for the women, it continues with the charging of extortionate sums of money for transportation and it ends with them being sent abroad to the Middle East, Thailand or Malaysia.But, of course, the element of deception comes forcefully into play in the form of false offers of paid jobs in industries such as small commerce, fishing, begging and domestic work, the latter being especially catered for young women. They are deceived since they are either not paid the amount promised, their labour is exploited to the maximum in terms of the work hours they are required to do which deprives them of sleep or they are not permitted to leave their work premises or allowed to contact any of their family members.
This deception leads to full-on abuse whereyoung women are physically or sexually harmed. This normally happens when adolescent girls are promised domestic work in Chittagong, or even Cox's Bazar, but then are forced into prostitution, forced or early marriages instead, often in different locations than the ones previously agreed to by both parties.
What makes Rohingya refugees more prone to human trafficking?
The 'push' factors that make refugees more vulnerable to human traffickers in the Rohingya refugee camp of Cox's Bazar are multifold. Firstly, Rohingya refugees do not have an immigration status in Bangladesh, the government labelling them as simply 'undocumented Myanmar nationals', which renders them unable to integrate into Bangladeshi society, thus becoming more reliant on carriers and agents (i.e. potential traffickers) for employment and transportation.
Secondly and adjacent to the first argument, the scarce income generation opportunities within the camps, increase the likelihood that refugees will fall prey to human traffickers whoare seen as the sole source of extra revenue to aid their survival.
Thirdly, taking into consideration the large surface on which the biggest refugee camp on the planet is situated on, it comes as no surprise that the level of protection offered by the various UN bodies and international aid agencies cannot possibly cover everyone. Therefore, families of refugees reach to people smugglers in order to offer their daughters up for early marriage as a form of protection for the daughters themselves and, by extension, for their family.
Also, on a more general note, the 'hidden nature of human trafficking' makes it a lot more difficult to grasp the full extent of the crime in Cox's Bazar, according to IOM counter-trafficking experts on the ground. A bordering remark can be made about the position on the priority listof the human trafficking issue. Considering that the very basic needs of the refugees, such as shelter and food, are hardly being met, trafficking is not something on the immediate agenda which can be marked as urgent.
What has been done so far to counteract human trafficking in Cox's Bazar?
The international community has spoken through the words of Secretary-General Antonio Guterres at a Security Council meeting who condemned human trafficking and framed it in the narrative of a war crime or a crime against humanity. Shortly after, the UN Security Council unanimously adopted a resolution further condemning human trafficking 'in the strongest terms'. Consequently, together with the Political Declaration on the implementation of the Global Plan of Action against human trafficking which was adopted by the General Assembly this past September, the international community now boasts a powerful foundation for action based in international law. Taking the UNSC's recognition of the gravity of human trafficking as a way of showing the importance of tackling this heinous transnational crime, the Executive Director of the United Nations Office on Drugs and Crime, Yuri Fedotov, further urgedUN Member States to ratify and implement the U.N. Convention against Transnational Organized Crime alongside the Protocol to Prevent, Suppress and Punish Trafficking in Persons in order to better 'investigate, disrupt and dismantle networks engaging in trafficking in persons in all areas affected by armed conflict'.
However, at a local level, practitioners working on the Rohingya 'refugee' side of the problem have not crossed paths with professionals working on the 'human trafficking' quagmire.On the side of the human trafficking counteraction efforts, the Rapid Action Battalion, the top police unit in Bangladesh, was deployed to Cox's Bazar in order to hinder the actions of traffickers. Regardless of these neutralisation efforts and the restrictions imposed on non-authorised personnel getting in the refugee camp, many of the human traffickers have managed to evade detection.On the side of refugee care, we can witness organisations such as Médecins Sans Frontières, the International Red Cross and Red Crescent Movement or the World Health Organisation provide basic physical and psychological care which are very much informed about the health status of their patients. In addition, local charities get involved as well in the conducting of information campaigns and workshops aimed at educating the Rohingya refugees about the tactics used by human traffickers for the co-opting of more people.
What should be done from now on?
To target specifically the aforementioned reasons for susceptibility to human trafficking, various solutions can be put forward. Succinctly put, the international definition of the 'refugee' needs to be adopted by the Bangladeshi government and the Rohingya 'stateless status' needs to be further addressed. Short employment schemes and projects can counteract the dependence on alternative – potentially dangerous sources of income. More intelligence and information sharing between refugee and human trafficking specialists is needed so anti-trafficking measures can find room in the drafting of refugee protection regulations. Furthermore, as it is proverbially said, an ounce of prevention is worth a pound of cure, thusmore preventative and proactive approaches directed at protecting Rohingya refugees should be taken into consideration before the number of human trafficking victims increases to a point of no return.
At the international level, more attention to human trafficking should be devoted in the regional meetings and talks of the ASEAN geopolitical players. Surprisingly, the latest ASEAN Summit did not touch upon whatsoever on the extent of human trafficking in Cox's Bazar. Notwithstanding the bloc's policy of non-interference, more visibility and, ultimately, access to justice for the Rohingya victims should be granted, with these policy items becoming part and parcel of the bloc's main political agenda.
Worryingly, trafficking rings and criminal gangs keep expanding with the increase in numbers of the refugees in Cox's Bazar. If we continue to use merely painkillers or simply not address this issue at all in orderto proactively respond to the human trafficking taking place in Cox's Bazar, we will only be brushing the outside surface and not addressing the root causes of the predicament both the Rohingya refugees and the international organisations on the ground are finding themselves in. Non-action or superficial tackling of such an urgent and massive transnational crime as human trafficking is simply giving the stamp of approval to the smugglers in Cox's Bazar to continue exploiting desperate people who have already lost everything in the displacement process.
Infrastructure Drive, Strong Domestic Demand to Sustain Philippine Growth
The Philippines' economic growth is expected to sustain its quick pace in 2018 and 2019 as the government's infrastructure program is rolled out, says a new Asian Development Bank (ADB) report.
In its new Asian Development Outlook (ADO) 2018, ADB projects Philippine gross domestic product (GDP) growth at 6.8% this year and 6.9% in 2019, up from 6.7% in 2017. Rising domestic demand, remittances, and employment, in addition to infrastructure spending, will drive growth. ADO is ADB's flagship annual economic publication.
"Along with domestic demand, the government's infrastructure investments will fuel the country's growth in the next few years, supported by a sound economic policy setting," said Kelly Bird, ADB Country Director for the Philippines. "We expect this growth to further lift wage employment numbers, add to household incomes, and benefit more poor families across the archipelago."
The Philippines remained one of the strongest growing economies in Southeast Asia in 2017. Domestic investment recorded 9% growth last year, moderating from a brisk 23.7% in 2016, although growth in fixed investment in industrial machinery, transport equipment, and public construction remained robust. Household consumption grew by 5.8% in 2017, from 7% in 2016, on the back of higher remittances and employment, with the unemployment rate falling by 1.3 percentage points to 5.3% in January 2018 as 2.4 million jobs were added. Public spending rose by 7.3% last year from 8.4% in 2016.
Consumer price inflation reached 3.2% last year from 1.8% in 2016 due to strong economic growth, higher international fuel prices, and Philippine peso depreciation, but well within the 2% to 4% target by the Bangko Sentral ng Pilipinas—the country's central bank. The country's external debt further declined to 23.3% of GDP in 2017, from 24.5% of GDP in 2016.
Moving forward, ADB projects services will continue to drive GDP growth, along with manufacturing and construction industries. The approval of the Tax Reform for Acceleration and Inclusion law in December 2017 will augment tax revenues and provide additional fiscal space for more progressive public spending. The policy reforms are expected to yield additional 90 billion to 144 billion Philippine pesos ($1.73 billion to $2.76 billion) in tax revenue collection in 2018 and 2019, respectively.
With economic growth gaining momentum, inflation is projected to reach 4% in 2018 as global oil and food prices rise, and higher excise taxes on some commodities take effect. In 2019, meanwhile, inflation is expected to marginally decline to 3.9%.
The report notes there are external risks to the Philippines' growth outlook from heightened volatility in international financial markets and uncertainty about global trade openness, although the country's strong external payments position would cushion these effects.
A major policy challenge to the country's growth outlook, according to the report, is managing the rollout of the government's "Build, Build, Build" infrastructure program, which is expected to raise public infrastructure spending to 7.3% of GDP by 2022 from 4.5% in 2016. The report provides suggestions on ways to enhance government capacity, including strengthening coordination between government agencies and improving technical capacity of staff within these agencies, and fostering stronger partnerships between government agencies, the private sector, and development partners.
Securing the future prosperity of the Greater Mekong Subregion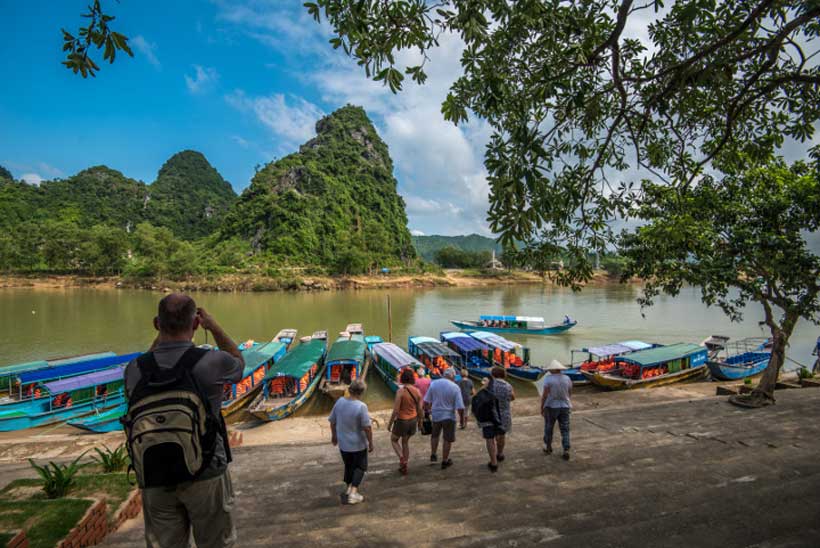 The Greater Mekong Subregion (GMS) countries have made stunning progress over the past quarter century. Once plagued by poverty, they are now economic success stories.
The GMS Economic Cooperation Program has contributed significantly to this transformation. Since it was established in 1992 as a means to enhance economic relations and promote regional cooperation, its six member countries—Cambodia, the People's Republic of China, Lao People's Democratic Republic, Myanmar, Thailand, and Viet Nam—have built a platform for economic cooperation that has mobilized almost $21 billion for high-priority infrastructure projects. Foreign direct investment into the subregion has surged ten-fold and trade between its countries has climbed from $5 billion to over $414 billion.
But the subregion faces challenges to its prosperity. Further reducing poverty, climate change adaptation and mitigation, energy efficiency, food security, and sustainable urbanization remain priorities of the GMS Program. Countries also face new challenges, including growing inequalities, rising levels of cross-border migration, and the potential impact on jobs of the fourth industrial revolution.
Moreover, GMS countries have agreed to significant commitments under the Sustainable Development Goals and the Paris Agreement on climate change.
There are also emerging opportunities for the region, including incorporating new technologies in various sectors such as education, agriculture, health, and finance. GMS countries are situated at the crossroads of South and Southeast Asia, and hence they can benefit from the increased momentum for growth in South Asia.
As GMS leaders gather this week in Ha Noi to chart the future of the program, it's a good time to consider how a new generation of initiatives can ensure the GMS Program remains relevant and responsive to the subregion's needs.
The Ha Noi Action Plan and the GMS Regional Investment Framework 2022, both proposed for adoption at the Summit, provide a platform for countries to strengthen their cooperation through continuous innovation. These two documents will have a sharpened focus on the GMS Program's strategic goals of enhancing connectivity, competitiveness, and community in the subregion.
Connectivity, the first objective, has been dramatically improved. More than 10,000 kilometers of new or upgraded roads and 3,000 kilometers of transmission and distribution lines have been added under the program. These transport networks have been transformed into an interconnected network of transnational economic corridors, building on 25 years of work to extend the benefits of growth to remote areas. The Ha Noi Action Plan calls for the continued expansion of these economic corridors to boost connectivity both between and within countries.
The subregion's competitiveness is improving through ongoing efforts to facilitate transport and trade flows, enhance agriculture exports, and promote the GMS as a single tourism destination after receiving a record 60 million visitors in 2016. Looking ahead, it will be important to continue cutting red tape and to remove remaining barriers to transport and trade.
Finally, communities are being strengthened through cross-border initiatives to control the spread of communicable diseases, expand educational opportunities, protect the subregion's rich biodiversity, and mitigate the impacts of climate change.
GMS countries have identified a new pipeline of 227 projects worth about $66 billion under the GMS Regional Investment Framework 2018–2022. These projects will expand economic prosperity by developing cross-border transport and energy infrastructure.
ADB, which has been the program's secretariat since its inception, expects to provide $7 billion over the next 5 years for a range of projects supporting transport, tourism, energy, climate change mitigation and adaptation, agribusiness value chains, and urban development. This builds on more than $8 billion in financing provided by ADB so far under the program.
To deliver these projects and make headway on other priorities such as infectious disease control and environmental preservation, strong partnerships are vital. The GMS Program depends on the collaboration of many stakeholders, including local administrations and communities, development partners, academia, and the media.
The GMS will benefit from strengthened partnerships with other regional and global cooperation platforms, leading to new opportunities for future development.
Partnerships with the private sector will also be increasingly important, and it is gratifying to see them deepening through the GMS Business Council, the Mekong Business Initiative, the e-Commerce Platform, GMS tourism and agriculture forums, and the recent Finance Sector and Trade Finance Conference.
I am optimistic that the subregion will meet its challenges and capitalize on emerging opportunities. By working together, GMS countries can deliver rapid, sustainable, and inclusive growth for another 25 years and beyond. ADB will continue to be an important and trusted partner in that endeavor.
Vietnam continues to reduce poverty
Poverty in Vietnam continues to fall, particularly amongst ethnic minorities, who saw their rate of poverty decline significantly by 13 percentage points, the largest decline in the past decade, says a new World Bank report.
According to Climbing the Ladder: Poverty Reduction and Shared Prosperity in Vietnam, released today by the World Bank, improving income from highland agriculture can help Vietnam further reduce poverty, which has fallen by almost 4 percentage points since 2014, to 9.8 percent in 2016. Ethnic minorities – many of them living in highland areas – account for 72 percent of Vietnam's poor, and encouraging them to grow more profitable industrial crops may improve their earnings.
"Vietnam has achieved tremendous results in reducing poverty and improving the quality of life for millions. The decline in poverty amongst ethnic minorities is encouraging, and more focused efforts on improving their incomes can further broaden their opportunities and reduce persistent inequalities," said Ousmane Dione, World Bank Country Director for Vietnam. "The aspirations of those with less opportunities cannot be ignored."
Outlining recent trends and patterns of poverty in Vietnam, the report proposes solutions for that untapped agriculture potential in highland areas where the poor are concentrated. Land use and cropping decisions, for example, contribute more to agriculture income differences between households. Low-income families in highland areas use their land to grow basic crops such as rice or maize instead of raising more profitable crops such as coffee, black pepper, or rubber.
Improving access to credit may help highland farmers make the necessary investments for higher-earning agricultural production. Strengthening earning capacity can help narrow inequalities between groups.  The average per capita consumption of ethnic minorities, for example, remains less than 45 percent of the Kinh and Hoa. Moreover, the poor faces a widening gap in terms of access to upper secondary education and improved water and sanitation.
At the same time, the report recognizes that 70 percent of Vietnam's population is now classified as economically secure, including the 13 percent who are now part of the global middle-class. These income classes are growing rapidly, rising by over 20 percentage points between 2010 and 2017. An average of 1.5 million Vietnamese joined the global middle class each year since 2014, confirming that households continue to climb the economic ladder after escaping poverty. The rise of the consumer class changes society's aspirations and the focus of the poverty and shared prosperity agenda shifts from combatting extreme poverty to effecting broad improvements in the quality of life and supporting the further expansion of the middle class. Rapid job creation and an ongoing transition to wage employment are driving gains in poverty reduction and shared prosperity.
The report suggests several areas of strategic priorities to further reduce poverty and promote shared prosperity, including:
Boosting labor productivity and investing in infrastructure to sustain job creation and wage growth without losing competitiveness.
Implementing education reforms designed to equalize opportunities and develop workforce skills.
Spurring agriculture structural transformation through changing farmland use patterns, strengthening land user rights, and improving skills of the poor farmers.
While reducing inequality remains a challenge, the report notes that the number of individuals vulnerable to falling back into poverty declined to only 2 percent between 2014 and 2016. In contrast, the period saw the middle class expanding by more than 3 million people.
One of the prioritized areas under the new World Bank Group Country Partnership Framework with Vietnam for the period from FY18 – FY22 is inclusive growth, with a specific objective for the "economic integration of the poor and vulnerable groups" under which the Bank will provide support for targeted interventions to expand economic opportunities for people in lagging areas.