Global blueprints on refugees, safe migration should include protections for children
The rights, protection and wellbeing of uprooted children should be central commitments of global migration policies, the United Nations Children's Fund (UNICEF) said on Thursday, as it released a new report prior to a meeting next week on safe, regular and orderly migration.
The meeting, taking place from 4 to 6 December in Puerto Vallarta, Mexico, is a major step towards drafting the landmark intergovernmental Global Compact for Migration , an agreement covering all dimensions of international migration.
"Global leaders and policymakers convening in Puerto Vallarta can work together to make migration safe for children," said UNICEF Director of Programmes Ted Chaiban.
It is the moment when world leaders will begin to forge consensus on political and financial commitments in line with the New York Declaration for Refugees and Migrants and the Convention on the Rights of the Child.
The report, Beyond Borders: How to make the global compacts on migration and refugees work for uprooted children, highlights best practices for the care and protection of refugee and migrant children and includes examples of governments, civil society partners and host communities working to support and integrate uprooted children and their families.
"Our new report shows that it is possible, even in countries with stretched resources, to implement policies, services and investments that effectively support refugee and migrant children in their countries of origin, as they transit across borders and upon reaching their destinations," said Mr. Chaiba.
Refugee and migrant children are especially vulnerable to xenophobia, abuse, sexual exploitation and lack of access to social services. The report underscores the importance of having policies in place to protect them over the course of their journey.
It also presents successful case studies from around the world, including the implementation of minimum protection standards for refugee children in Germany, cross border child protection systems in West Africa, and finding alternatives to the detention of migrant children in Zambia. Other countries featured in the report include Afghanistan, Italy, Jordan, Lebanon, South Sudan, Vietnam, Uganda and the United States.
Each of the initiatives can be replicated in different contexts and inform child-focused actions and policy change at national, regional and global levels to be agreed in the framework of the Compact.
The report also presents UNICEF's six-point agenda for action, as a basis for policies to protect refugee and migrant children, particularly those unaccompanied, and ensure their wellbeing from exploitation and violence.
It also calls for the end of detention for children seeking refugee status or migrating, by introducing a range of practical alternatives, and advocates for keeping families together as the best way to protect children and give children legal status.
The agenda stresses that all refugee and migrant children have access to education, health and other quality services, and presses for action on underlying causes of large scale movements of refugees and migrants.
Finally, it promotes measures to combat xenophobia, discrimination and marginalization in countries of transit and destination.
Insecurity and bureaucracy hampering aid to Ethiopia's Tigray region
Nearly three months after the start of conflict in Ethiopia's Tigray region, hundreds of thousands of people have yet to receive assistance, the United Nations reported on Wednesday, citing information from its humanitarian coordination agency, OCHA.
"Humanitarian assistance continues to be constrained by the lack of full, and safe, unhindered access to Tigray, caused by both insecurity and bureaucratic delays", UN Spokesperson Stéphane Dujarric told journalists.
"The UN and its humanitarian partners in Ethiopia urgently call on all parties to allow the immediate safe passage of humanitarian personnel and their supplies to the Tigray Region to be able to reach all people who desperately need assistance."
Over two million in need
Mr. Dujarric said the UN continues to receive alarming reports of civilians being injured and killed in rural areas in Tigray, as well as of violations against civilians, though verification remains a challenge. 
"Aid workers have been able to deliver assistance in some areas, mainly in cities, where access has been granted by the authorities. However, the number of people reached is extremely low compared to the 2.3 million people we estimate are in need of life-saving assistance", he said.
The situation is particularly critical for newly displaced people and refugees, especially those who were living in two camps that remain inaccessible, according to OCHA.
Humanitarians further warn that the majority of the 270,000 people receiving benefits through the Government's Safety Net Programme have also been without assistance as banks in most rural areas have been closed since before the crisis began.
"These are extremely vulnerable people who rely on monthly cash transfers to meet their basic needs," said Mr. Dujarric.
Mali transition presents opportunity to break 'vicious circle of political crises'
The current political transition period in Mali offers an opportunity to "break out of the vicious circle of political crises followed by coups d'état", the UN envoy in the country told the Security Council on Wednesday.
Following the 18 August mutiny that ousted President Ibrahim Boubacar Keïta, Special Representative and Head of the UN Stabilization Mission in Mali (MINUSMA) Mahamat Saleh Annadif, said the country was now four months in, to a planned 18-month transition period, leading to presidential and legislative elections.
"However, it is never too late to reach a minimum consensus on the essentials of peace and stability, because the future of Mali is at stake", he stated.
'Positive dynamics'
Against this backdrop, Mr. Annadif said the UN, African Union, Economic Community of West African States (ECOWAS) and others have always stood ready to support Mali's institutional transitions.
He said that several missions and meetings had taken place in Bamako since the August coup and described consultations between the Government and the signatories of the 2015 Agreement on Peace and Reconciliation "encouraging".
The Malian Government has been seeking to restore stability and rebuild following a series of setbacks since early 2012 that fractured the country, including a failed coup d'état, renewed fighting between Government forces and Tuareg rebels, and the seizure of its northern territory by radical extremists. The weakening of central institutions, loss of confidence in political actors and the rise of religious leaders demanding change, were among the factors leading up to last August's events.
As one positive example of political progress being made, the UN envoy drew particular attention to the "positive dynamics" of key officials who visited the restive city of Kidal to organize a "solemn swearing-in hearing of the new Governor" on 31 December, flagging that "such an event has not taken place in Kidal for almost ten years".
Interim parliament at helm
Mr. Annadif said that despite a hold up in State appointments, the National Transitional Council (CNT) had been established on 3 December, with Transitional President Bah N'Daou having appointed 121 members who are now acting as a de facto government towards restoring full constitutional order.
Serving as an interim parliament that will vote on political, institutional, electoral and administrative reforms, the UN envoy called their role "crucial for the consolidation of democracy and the success of credible elections allowing a return to constitutional order, as provided for in the Transition Charter".
Successes and challenges
While pointing to "successes" of the international force, the MINUSMA chief acknowledged that security in border areas of Mali – which remains the deadliest UN peacekeeping mission of all – and in the country's centre, remains "worrying and unpredictable".
However, he said that MINUSMA continues to "adapt" to these multifaceted challenges and "strengthen its capacity" to better respond.
Moreover, the missions "adaptation plan" to better protect civilians and promote community reconciliation in central Mali is producing "significant results" with additional temporary bases and the intensification of dedicated joint patrols "to advance the reconciliation processes between communities in local conflict zones", said Mr. Annadif.
Foundation laid
The MINUSMA head lauded the efforts of Malian forces to improve their rights performance and underscored that reforms are a key dimension in ensuring the legitimacy of the next elected government.
He reassured the Ambassadors that the foundation has been laid for a successful political transition in the country as well as reliable security arrangements for its diverse regions.
However, he stressed that the transition's success depends upon "the successful completion of political, institutional, electoral and administrative reforms with the aim of inclusive, credible elections, the results of which will be accepted by the majority of Malians and Malians".
UNICEF: Closing schools should be 'measure of last resort'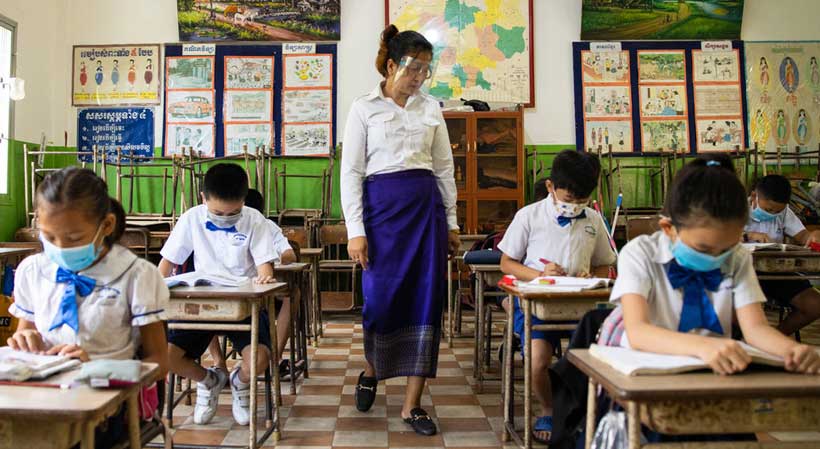 The head of the UN Children's Fund (UNICEF) underscored on Tuesday that "no effort should be spared" to keep children in school, as the coronavirus pandemic continues into a second year.
"Despite overwhelming evidence of the impact of school closures on children, and despite increasing evidence that schools are not drivers of the pandemic, too many countries have opted to keep schools closed, some for nearly a year", Henrietta Fore said in a statement.
A high cost
The UNICEF chief highlighted that the cost of closing schools has been devastating, with 90 per cent of students globally facing shutdowns at the peak of the COVID disruptions last year, leaving more than a third of schoolchildren with no access to remote education.
"The number of out-of-school children is set to increase by 24 million, to a level we have not seen in years and have fought so hard to overcome", she said.
"Children's ability to read, write and do basic math has suffered, and the skills they need to thrive in the 21st century economy have diminished", Ms. Fore added.
Closure a 'last resort'
Keeping children at home puts their health, development, safety and well-being at risk – with the most vulnerable bearing the heaviest brunt, she said.
She pointed out that without school meals, children are "left hungry and their nutrition is worsening"; without daily peer interactions and less mobility, they are "losing physical fitness and showing signs of mental distress"; and without the safety net that school often provides, they are "more vulnerable to abuse, child marriage and child labour".
"That's why closing schools must be a measure of last resort, after all other options have been considered", stressed the top UNICEF official.
Evaluating local transmission
Assessing transmission risks at the local level should be "a key determinant" in decisions on school operations, Ms. Fore said.
She also flagged that nationwide school closures be avoided, whenever possible.
"Where there are high levels of community transmission, where health systems are under extreme pressure and where closing schools is deemed inevitable, safeguarding measures must be put in place", maintained the UNICEF chief.
Moreover, it is important that children who are at risk of violence in their homes, who are reliant upon school meals and whose parents are essential workers, continue their education in classrooms.
After lockdown restrictions are lifted, she said that schools must be among the first to reopen and catch-up classes should be prioritized to keep children who were unable to learn remotely from being left behind.
"If children are faced with another year of school closures, the effects will be felt for generations to come", said Ms. Fore.