Egyptian President Al-Sisi steps up repression to cover policy failure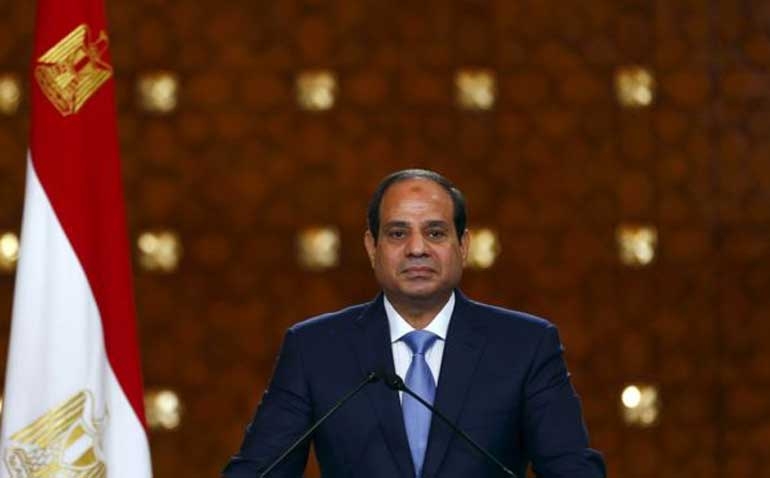 Egyptian general-turned-president Abdul Fattah Al-Sisi would likely be the first to admit that an iron fist is no guarantee for retaining power. Not because of the fate of the country's longest ruling autocrat, Hosni Mubarak, who was toppled in 2011 by a popular revolt.
But because Mr. Al-Sisi's iron fist has not squashed resistance, nor has it enabled him to properly deliver badly needed public goods and services.
Mr. Al-Sisi has, however, not concluded in advance of elections expected next year that he should perhaps loosen the reigns, reduce the role of the military in the economy that is drowning out much of the private sector, and opt for economic policies that are not centred on huge, white elephant infrastructure projects but instead target job creation and lifting millions out of poverty.
Instead, backed by the United Arab Emirates and Saudi Arabia, Mr. Al-Sisi is tightening his grip on youth groups and sports clubs that were at the core of the 2011 revolt. He is also believed to be attempting to ensure that credible presidential candidates are prevented from running in the election for which he has yet to declare himself a candidate.
Mr. Al-Sisi's failed policies, insistence on repressive state-centred control of public life, and electoral processes that are everything but free and fair, raises questions about the sustainability of UAE-Saudi-led counterrevolution that aimed to roll back the achievements of the 2011 popular Arab uprisings in which the leaders of Tunisia, Egypt, Libya and Yemen were overthrown. Mr. Al-Sisi came to office in 2013 in a UAE-Saudi backed military coup that toppled the country's first and only democratically elected leader.
Egypt has proven resistant to the policy formula adopted by the UAE and Saudi Arabia at home and advocated elsewhere in the region. The two Gulf states have embraced economic reform and greater social freedom while employing repression to retain ever tighter political control. Repression and absolute political control appears to be the only aspect of the UAE-Saudi formula that Egypt has wholeheartedly adopted.
Mr. Al-Sisi's policies forced US president Donald J. Trump, who has deemphasized human rights in his administration's policy and is a fan of the Egyptian leader, to cut off some military aid earlier this year in compliance with US law.
The Washington Post, commenting in an editorial on last month's jihadist attack on a Sufi mosque in the Sinai that killed more than 300 people, effectively described Mr. Al-Sisi as part of the problem rather than part of the solution. "The regime has used terrorism as a pretext for the most severe repression in Egypt's modern history," the Post said.
Former Egyptian prime minister and senior air force commander Ahmed Shafiq, potentially Mr. Al-Sisi's most serious challenger, charged this week that the UAE had barred him from travelling to his home country. UAE minister of state for foreign affairs Anwar Gargash denied the charge but acknowledged that his country had "severe reservations about some of his (Mr. Shafiq's) positions."
Mr. Shafiq moved to the UAE in 2012 after he was charged with corruption and acquitted in the wake of his defeat in presidential elections that were won by Muslim Brother Mohammed Morsi, whom Mr. Al-Sisi forced out of office a year later.
Despite being financially dependent for support from the UAE and Saudi Arabia, Mr. Al-Sisi has differed with them on policies towards Iran and Syria, but joined the two states' six-month-old diplomatic and economic boycott of Qatar because of its support for the Muslim Brotherhood.
In a move that is likely to provoke ire in the United States, Egypt and Russia this week agreed on a draft agreement that would allow the Russian air force to operate from Egyptian bases. The agreement would permit the UAE and Saudi Arabia to enhance arm's length military cooperation with Russia, particularly in Libya where they support controversial military commander Khalifa Haftar.
Mr. Al-Sisi, following years of failed efforts to forge a politically controlled dialogue with Egyptian youth, has launched a two-pronged effort to control youth and sports organizations, potentially alongside Mr. Shafiq, the greatest threat to his continued rule.
Militant soccer fans, who played a key role in toppling Mr. Mubarak and student protests against Mr. Al-Sisi that were brutally repressed in 2013 and 2014, rejected several overtures by the president and have in recent months again witnessed the blunt side of his rule.
Hundreds of ultras — battle-hardened, anti-authoritarian fans opposed to the commercialization of soccer — were arrested in recent months for wearing jerseys with the number 74 on them in commemoration of supporters of storied Cairo club Al Ahli killed in 2012 in a politically loaded soccer brawl in the Suez Canal city Port Said. The incident, the worst in Egyptian sporting history, was widely seen as an effort by security forces that got out of hand to teach fans a lesson.
Another 500 members of Ultras White Knights (UWK), the militant support group of Al Ahli arch rival Al Zamalek SC, were arrested in July as they tried to attend their team's match against Libya's Al Ahli Tripoli. Many have since been released.
Egypt's parliament last month approved in principle a new law governing youth and sports organizations that although portrayed as a gift to Egyptian youth bans clubs from engaging "in any political or partisan activity or promoting any political or partisan activity" or even "promoting any ideas or political objectives."
Many Egyptian clubs, including Al Ahli and Zamalek were founded in the early years of the 20th century as politically motivated groups and have retained their aura despite having long moved on. Al Ahli was established as an anti-monarchical, anti-colonial, and pro-republican club while Zamalek identified itself as pro-monarchy and pro-British.
Parliament's gift was in advance of a World Youth Forum in the Red Sea resort of Sharm el-Sheikh, one of several such gatherings intended to give Egyptian youth a sense of participation, however limited, by connecting them to policymakers. While the law banned discussions where youth gather, the forum was held under the motto of "we need to talk."
Saudi Arabia signalled the significance it attributes to control of sports clubs by having its ambassador in Cairo attend this week's election of soccer icon Mahmoud Al-Khatib as Al Ahli's president.
The absence of senior Egyptian government officials was likely intended to avoid attracting intention to the fact that the government, in violation of world soccer body FIFA rules, owns a majority of the country's premier league clubs, and to its increased political control of the sport. FIFA has long looked the other way in countries like Egypt and Iran.
Mr. Al-Sisi's tightening of the reins comes in advance of Egypt's participation for the first time in 28 years in World Cup finals in Russia in 2018. Football success in the Middle East often equals heightened emotions in a soccer-crazy part of the world and amounts to a double-edged sword for autocrats.
Identification with successful teams offers autocrats an opportunity to polish their tarnished images, certainly if success sparks nationalist fervour. Yet, heightened soccer-driven emotion can also result in anti-government protest, one reason Egyptian stadiums have largely been closed to the public for the last six years. The new law governing youth and sports organizations is unlikely to reduce the risk of stadiums again becoming platforms of protest if, and when, the ban is lifted.
Saudi sports diplomacy: A mirror image of the kingdom's already challenged policies
Saudi sports diplomacy is proving to be a mirror image of the kingdom's challenged domestic, regional and foreign policies.
Overlorded by sports czar Turki al-Sheikh, Saudi sports diplomacy, like the kingdom's broader policies, has produced at best mixed results, suggesting that financial muscle coupled with varying degrees of coercion does not guarantee success.
Mr. Al-Sheikh, a 37-year old brash and often blunt former honorary president of Saudi soccer club Al Taawoun based in Buraidah, a stronghold of religious ultra-conservatism, and a former bodyguard of crown prince Mohammed bin Salman, is together with Saud al-Qahtani among the king-in-waiting's closest associates.
Prince al-Waleed bin Talal, one of the kingdom's wealthiest investors, acknowledged Mr. Al-Sheikh's ranking in the Saudi hierarchy when he made a donation of more than a half-million dollars to Saudi soccer club Al Hilal FC weeks after having been released from detention.
Prince al-Waleed was one of the more recalcitrant detainees among the scores of members of the ruling family, prominent businessmen and senior officials who were detained a year ago in Riyadh's Ritz Carlton Hotel as part of Prince Mohammed's power and asset grab.
Prince Al-Waleed said on Twitter at the time that he was "responding to the invitation of my brother Turki al-Sheikh."
Mr. Al-Qahtani, who was recently fired as Prince Mohammed's menacing information czar in connection with the killing of journalist Jamal Khashoggi in the Saudi consulate in Istanbul, was banned this week from travelling outside the kingdom. Mr. Al-Sheikh has not been linked to the Khashoggi murder.
Nevertheless, his sports diplomacy, exhibiting some of the brashness that has characterized Prince Mohammed as well as Mr Al-Qahtani's approach, has largely failed to achieve its goals. If anything, it appears to have contributed to the kingdom's growing list of setbacks.
Those goals included establishing Saudi Arabia as a powerhouse in regional and global soccer governance; countering Qatari sports diplomacy crowned by its hosting of the 2022 World Cup; projecting the kingdom in a more favourable light by hosting international sporting events; becoming a powerhouse in soccer-crazy Egypt, the Arab world's most populous nation; and using the competition for the 2026 World Cup hosting rights to bully Morocco into supporting the Saudi-United Arab Emirates-led boycott of Qatar.
To be sure, with the exception of a cancelled tennis exhibition match in Jeddah between stars Rafa Nadal and Novak Djokovic, most scheduled sporting events, including this season's opening Formula E race in December and the Italian Supercoppa between Juventus and AC Milan in January, are going ahead as planned despite a six-week old crisis sparked by the killing of Mr. Khashoggi.
Yet, if last month's friendly soccer match in Jeddah between Brazil and Argentina and this month's World Wrestling Entertainment's (WWE) Crown Jewel showpiece are anything to go by, major sporting events are doing little to polish the kingdom's image tarnished not only by the Khashoggi killing but also the war in Yemen that has sparked the world's worst humanitarian crisis since World War Two. The sports events have so far failed to push Mr. Khashoggi and Yemen out of the headlines of major independent media.
Mainstream media coverage of Saudi sports has, moreover, focussed primarily on Saudi sports diplomacy's struggle to make its mark internationally. One focus been the fact that Gianni Infantino, president of world soccer body FIFA, has run into opposition from the group's European affiliate, UEFA, to his plan to endorse a US$25 billion plan for a new club tournament funded by the Saudi and UAE-backed Japanese conglomerate SoftBank.
If adopted, the plan would enhance Saudi and Emirati influence in global soccer governance to the potential detriment of Qatar, the host of the 2022 World Cup. Saudi Arabia and the UAE spearhead a 17-month old economic and diplomatic boycott of Qatar designed to force it to surrender its right to chart an independent course rather than align its policies with those of its Gulf brothers.
Saudi Arabia and the UAE have sought to engineer a situation in which Qatar is either deprived of its hosting rights or forced to share them with other states in the region, a possibility Mr. Infantino has said he was exploring.
Mr. Infantino has also said he was looking into implementing an expansion of the World Cup from 32 to 48 teams already in 2022 rather than only in 2026. An expansion of the Qatari World Cup would probably involve including others in the Gulf as hosts of the tournament. Qatari officials have all but ruled out sharing their hosting rights.
Another media focus has been alleged Saudi piracy aimed at undermining Qatar-owned BeIN Corp, the world's biggest sports rights holder, including the rights to broadcast last summer's Russia World Cup in the Arab world.
Mr. Al-Qahtani reportedly played a key role in the sudden emergence of BeoutQ, a bootleg operation beamed from Riyadh-based Arabsat that ripped live events from BeIN's feed and broadcast the games without paying for rights. The Saudi government has denied any relationship to the pirate network.
The piracy has sparked international lawsuits, including international arbitration in which BeIN is seeking US1 billion in damages from Saudi Arabia. The company has also filed a case with the World Trade Organization.
FIFA has said it has taken steps to prepare for legal action in Saudi Arabia and is working alongside other sports rights owners that have been affected to protect their interests.
Mr. Al-Sheikh's effort to create with funds widely believed to have been provided by Prince Mohammed an international Saudi sports portfolio that would project the kingdom as a regional power broker collapsed with fans, players and club executives in Egypt furious at the Saudi officials buying influence and using it to benefit Saudi rather than Egyptian clubs.
"No one, no one at all — with all due respect to Turki or no Turki … will be allowed to interfere in the club's affairs," said Mahmoud el-Khatib, chairman of Egyptian club Al Ahli SC, one of the Middle East's most popular clubs with an estimated 50 million fans. Mr. Al-Sheikh had unsuccessfully tried to use his recently acquired honorary chairmanship of Al Ahli to take control of the club.
Al Ahli's rejection of his power grab persuaded Mr. Al-Sheikh to resign in May and instead bankroll Al Ahli rival Pyramid FC. He invested US$33 million to acquire three top Brazilian players and launch a sports channel dedicated to the team.
The club's fans, like their Al Ahli counterparts, nonetheless, denounced Mr. Al-Sheikh and the kingdom and insulted the Saudi official's mother in crass terms during a match in September. Mr. Al-Sheikh decided to abandon his Egyptian adventure after President Abdel Fattah el-Sisi ignored his request to intervene. "Strange attacks from everywhere, and a new story every day. Why the headache?" Mr Al-Sheikh said on Facebook.
Mr. Al-Sheikh's attempt to form a regional powerbase by creating a breakaway group of South Asian and Middle Eastern soccer federations beyond the confines of FIFA and the Asian Football Confederation (AFC) collapsed five months after the formation of the South-West Asian Football Federation (SWAFF) when seven South Asian nations pulled out with immediate effect.
The collapse of SWAFF and Mr. Al-Sheikh's withdrawal from Egypt were preceded by his backing of the US-Canadian-Mexican bid for the 2026 World Cup against Morocco after he failed to bully the North Africans into supporting the boycott of Qatar.
Adopting a Saudi Arabia First approach, Mr. Al-Sheikh noted that the United States "is our biggest and strongest ally." He recalled that when the World Cup was played in 1994 in nine American cities, the US "was one of our favourites. The fans were numerous, and the Saudi team achieved good results."
That was Mr. Al-Sheikh's position six months ago. Today, men like Prince Mohammed and Messrs. Al-Sheikh and Al-Qahtani are seething. US President Donald J. Trump is proving to be an unreliable ally. Not only is he pressuring the kingdom to come up with a credible explanation for Mr. Khashoggis' killing, Mr. Trump is also seemingly backtracking on his promise to bring Iran to its knees by imposing crippling economic sanctions.
Saudi distrust is fuelled by the fact that Mr. Trump first asked the kingdom to raise oil production to compensate for lower crude exports from Iran and then without informing it made a 180-degree turn by offering buyers generous waivers that keep Iranian crude in the market instead of drive exports from Riyadh's arch-rival down to zero.
Seemingly cut from the same cloth as Prince Mohammed, Mr. Al-Sheikh, drew his pro-American definition of Saudi Arabia First from the crown prince's focus on the United States. Prince Mohammed, Mr. Al-Sheikh and other senior Saudi officials may be considering whether putting the kingdom's eggs primarily in one basket remains the best strategy.
Whatever the case, Mr. Al-Sheikh's sweep through regional and global sports has left Saudi leaders with little to leverage in the kingdom's bid to pick up the pieces and improve its image tarnished first and foremost by Mr. Khashoggi's killing but also by the trail the sports czar has left behind.
Paris Peace Forum: A missed opportunity for the Middle East
Timed to coincide with the centennial of the World War I armistice, the Paris Peace Forum (PPF) launched by French president Emmanuel Macron adopted a welcome approach to the root causes of contemporary conflict, including climate change and the double-edged sword represented by new technologies.
The forum, which took place from November 11-13, showcased projects that spoke to the innovation and collaboration critical to improving lives and reducing tensions across the globe.
Conspicuous by their absence
Even though the summit saw 65 heads of state from all over the world come together to launch the event, precious few of those leaders came from the Middle East – even though the region could benefit as much as any other part of the world from this "Davos for democracy." While this first peace summit represented a promising start, any future editions need to find a way to make inroads with citizens in the countries where they are needed most. Of course, this is a two-way street, with leaders in those countries needing to participate in and draw lessons from such gatherings.
The Middle East's most notable representatives at the event were Qatari emir Tamim bin Hamad al-Thani and Lebanese prime minister Saad Hariri. Their presence was fitting: while so many of their neighbors jostle with each other to secure their own geopolitical ends, Qatar and Lebanon have faced down the instability surrounding them to protect themselves from dangerous regional currents. Unfortunately, the leaders who could have really used reminding of the importance of peace were absent from the stage.
An "island" of stability
Qatar, for its part, has been the subject of a regional blockade for the best part of 18 months. A coalition of Saudi Arabia, Bahrain, Egypt and the United Arab Emirates (UAE) have all severed ties with the country since June 2017 for its alleged "support for terrorism" but more realistically for its willingness to deal with Iran against a backdrop of acrimony between the two sides of the Gulf. The Saudis, for their part, have gone so far as planning to cut Qatar off from the mainland with a new canal.
Far from buckling, however, Qatar has proven remarkably resilient and stuck firmly to a strategy of de-escalation with both sides of the Saudi-Iranian cold war. Events since have rewarded that cool-headedness. Global markets nervous about the turbulence in Riyadh are now looking to Qatar as a regional investment driver instead. Ironically enough, none other than Saudi crown prince Mohammad bin Salman praised the performance of the Qatari economy last month.
Delicate peace in Beirut
Lebanon has had greater difficulty insulating itself from the instability across its border with Syria, but Saad Hariri has nonetheless maintained a fragile domestic peace even after an apparent kidnapping and forced resignation (later rescinded) orchestrated by bin Salman in November of last year. Hariri was detained for two weeks and only released on the back of intense international pressure, apparently out of Saudi anger with the Lebanese premier for cooperating with his Shi'a Hezbollah rivals in Lebanon.
In Lebanon's torturous system of confessional politics, however, difficult compromises are the nature of the game. Hariri and his Sunni-led political movement have no choice but to negotiate with Hezbollah's Shi'a faction over the balance of political power on an ongoing basis to keep the country stable. Hariri's resistance to Saudi demands for aggression has helped keep the peace between Lebanese Sunnis and Shi'a, preventing the sectarian fires that have torn Syria apart from jumping across the border.
External actors have key roles to play
Of course, none of the crises in the Middle East can be viewed in a vacuum. One key part of the program at the Paris Peace Forum summit – entitled Global Powers and the Middle East – focused on the responsibility of outside powers like the United States, Russia, China, Europe and India to find common ground and address the causes of Middle Eastern instability. Left unsaid: these same countries are often deeply involved in perpetuating these crises.
If American, European, or Russian leaders truly want to prevent conflicts in the Middle East, their first step should probably be a sort of Hippocratic oath to "do no harm." The arms trade is a notable case in point. The Middle East is responsible for 32% of global arms imports. Saudi Arabia, Egypt, and the UAE are three of the five largest customers; their primary suppliers are the US, UK, France, Italy, and Russia.
Rather than encourage stability, this supply of weapons has fed a volatile arms race. Much of that equipment has been used by the Saudi coalition's intervention in Yemen, which has left eight million Yemenis are the brink of starvation and the country confronting the fastest growing cholera epidemic the world has ever seen. Russia has openly used the civil war in Syria as a venue for showing off its military hardware to potential customers worldwide, even as Bashar al-Assad's regime continues to massacre civilians.
Instead of helping their local allies arm themselves to the teeth, these outside powers should push Middle Eastern governments to change their damaging patterns of behavior and undertake the kinds of social reforms that are instrumental in easing tensions. Otherwise, systemic inequality and unaccountable leadership will continue to lay the groundwork for conflicts and crises. That might enrich weapons manufacturers, but it will do nothing to achieve the goals pursued in Paris this week.
The tough economic sanctions imposed by the United States against Iran have aggravated conflict between Washington and its close allies. The European Union, the United Kingdom, France and Germany have expressed regret over measures taken by American President Donald Trump and signaled the need to protect their companies. Simultaneously, eight countries have received a six-month "sanctions delay" from the United States, which produced a further negative effect on the balance of strength and set the scene for a further escalation of tension.
The United States announced the resumption of anti-Iranian sanctions, which ban the purchase of Iranian oil and oil products, on November 5. The US Treasury Department pointed out that they were the "toughest" in history: "These are the toughest U.S. sanctions ever imposed on Iran, and will target critical sectors of Iran's economy, such as the energy, shipping and shipbuilding, and financial sectors.  The United States is engaged in a campaign of maximum financial pressure on the Iranian regime and intends to enforce aggressively these sanctions that have come back into effect."
"The unprecedented financial pressure exerted by the US Treasury Department on Iran should make it clear to the Iranian regime that it will face ever-increasing financial isolation and economic stagnation until it radically changes its destabilizing behavior. From now on, the maximum pressure exerted by the United States will only increase," – emphasizes US Treasury Secretary Stephen Mnuchin. Washington makes it no secret that the ultimate goal of the sanctions is to reduce oil exports from Iran "to zero."
Over 700 individuals and legal entities have been put on the sanctions list, including the Iranian national air company Iran Air, more than 65 aircraft it owns, and several dozen ships of the merchant fleet. The sanctions prohibit the purchase of Iranian oil and are directed against port operators, shipping and shipbuilding companies, the financial sector,  – primarily tanker insurance companies, – and also restrict operations with Iran's banks and Central Bank.
Fines will be imposed on anyone who trades oil with Iran and works with its banking system. Secondary sanctions (fines and shutout from the dollar system) may be imposed on companies of third countries. The US also demanded that Iran should be cut off from the SWIFT international payment system. According to reports, on November 5 SWIFT suspended access of some Iranian banks to its system, but without reference to the US sanctions.
This step followed President Trump's announcement in May this year about Washington's withdrawal from the Joint Comprehensive Plan Of Action on the Iranian nuclear program. Adopted in 2015 with the participation of Iran, the USA, Russia, China, Britain, France and Germany, the document envisages easing sanctions against Tehran in exchange for its measures to wrap up its nuclear program under the control of the IAEA. The US president dubbed it "the worst deal ever," saying that it does nothing to stop Iran from pursing its nuclear and missile programs. After Washington's withdrawal from the JCPOA, the other participants expressed their commitment to this document.
Two days before the sanctions package was put into effect, US President Donald Trump made it clear that the United States was ready to conclude a new agreement with Iran on more stringent conditions. "Our objective is to force the regime into a clear choice: either abandon its destructive behavior, or continue down the path toward economic disaster", – the US president said on November 3: "The sanctions will target revenues the Iranian regime uses to fund its nuclear program,  development and proliferation of ballistic missiles, fuel regional conflict, support terrorism and enrich its leaders". At the same time, according to Donald Trump, "the United States remains open to reaching a new, more comprehensive deal with Iran that forever blocks its path to a nuclear weapon, addresses the entire range of its malign actions, and is worthy of the Iranian people. Until then, our historic sanctions will remain in full force".
Having introduced "unprecedentedly tough" sanctions against Tehran, Donald Trump, as part of his business approach to international affairs, left substantial "windows of opportunity" for the subsequent bargaining on a wider range of issues of the international agenda. The USA made an exception for eight states. China, India, Greece, Italy, Taiwan, Japan, Turkey and South Korea were allowed to buy Iranian oil temporarily. According to the London-based Financial Times, these countries will be able to import a limited amount of Iranian oil over the next six months.
Simultaneously, US Secretary of State Michael Pompeo said that more than 20 countries have already cut down on oil exports from Iran, reducing purchases by more than 1 million barrels per day.  Independent sources indicate that average daily oil production in Iran fell from 3.8 million barrels in May to 3.3 million barrels in early October. This is quite a lot: because of the reduction, Iran loses about 1 billion dollars a month.
Given that the above exemptions from the sanctions list are temporary, the United States will likely resume political and economic bargaining with the eight countries in spring, with a view to preserve a favorable regime for these countries. In the first place, it concerns China. President Donald Trump will try to use the "Iranian factor" in order to achieve maximum concessions on trade and economic issues from Beijing. Among other things, he will probably make an attempt to force the Chinese side to reconsider joint energy projects with Russia. In the meantime, China's response to the US decision to resume the anti-Iranian sanctions has been markedly restrained. A spokeswoman for the Chinese Foreign Ministry has called on Washington to respect China's trade rights and expressed "regret" that the United States relaunched sanctions against Iran.
A much more resolute response came from the European Union – whose trade and economic interests are affected by anti-Iranian sanctions first. EU High Representative for Foreign Affairs and Security Policy Federica Mogherini, as well as the foreign ministers of Great Britain, France and Germany issued a joint statement in which they promised to protect their companies from restrictive US measures. "Our goal is to protect the subjects of the European economy that have legal commercial ties with Iran," the document states.
In the meantime, the European Union is confronted with the problem of creating a specific structure that would allow European companies to continue to trade with Iran without risking falling under Washington's sanctions. Brussels reported in October that a new mechanism of payment for Iranian oil exports should be legally ready by November 4, and would go into operation in early 2019. However, according to The Financial Times, by the time the current sanctions were introduced, the Europeans did not have even a legal foundation for the defense mechanism and had not come to agreement on the location of the corresponding "special purpose structure" (SPV). "Now we are actively discussing where the SPV will be located, who will participate in it, and are launching the process of registering it. Time is short, and given the complexity and sensitivity of this issue in the light of its geopolitical consequences, we see very rapid and effective progress," – said a representative of the French Finance Ministry.
For Europeans, sensitivity of this issue lies in their unwillingness to come under tough Washington's sanctions themselves – especially in the context of deepening trade and economic differences between the US and the EU. "The US authorities are demonstrating that they will act aggressively towards violators of sanctions, which boosts the effect," warns partner of law firm Morrison & Foerster and former director of the Office for Foreign Assets Control (OFAC) of the US Treasury John Smith. "When the United States threatens to punish violators and does it in practice, examples of punished companies force others to think seriously," he said in an interview published by the American newspaper The Wall Street Journal.
Without waiting for the sanctions regime to come into effect, Iran's President Hassan Rouhani stated that Tehran would be able to overcome it. "America wants to bring down Iran's oil sales, but we will continue to sell oil to break through the sanctions," he said.
Tehran could not but point out the fact that the resumption of the US sanctions package against Iran coincided with the anniversary of the capture of the US embassy during the Islamic revolution in Tehran in 1979. Addressing his compatriots, Supreme Leader Ayatollah Ali Khamenei said: "The goal of American sanctions is to cripple and restrain the Iranian economy, but the result we obtained in reality was the country's striving for self-sufficiency." "The main objective of the United States in all this is to regain the supremacy it had in the period of tyranny. But this will not happen," Ayatollah Khamenei said.
Meanwhile, Tehran does not attach any fundamental significance to the exclusion of eight states from the sanctions regime. "The Islamic Republic could sell its oil even if these eight countries were not excluded, we would still sell our oil," said Hassan Rouhani in this regard.
The anti-Iranian sanctions imposed by Washington have not yet had a direct impact on Russia. The sanctions list published by the US Treasury contains only the Russian "daughter" of the Iranian Bank Melli – the Mir Business Bank, registered in Moscow (MB Bank).  Its shareholder is Bank Melli Iran, which, according to the United States, provides multi-billion financial, material and technological support to the Islamic Revolution Guards Corps (IRGC). "Bank Melli enabled the IRGC and its related parties to transfer funds both inside and outside Iran," the statement of the US Treasury said. JSC Mir Business Bank was registered in Moscow in 2002. Bank Melli Iran is its sole shareholder.
According to reports, the Trump administration has decided not to pursue the Russian direction in its pressure on Iran ahead of a new meeting of the presidents of Russia and the United States due to take place at the end of this year. The meeting could be held on November 11 in Paris, at events dedicated to the 100th anniversary of the end of the First World War, or — more likely — at the G-20 summit in Argentina in late November – early December this year. However, regardless of the outcome of this meeting, Russia should bear it in mind that its trade and economic ties with Iran, and in a broader context – relations with OPEC – will become the target of a new round of global games of the US administration.
First published in our partner International Affairs