Donald Trump urges world to cut ties with North Korea over powerful missile launch
Annoyed with repeated missile launch by the military of Pyongyang, the super power USA with largest arsenals of missiles and WMD has urged all nations to cut diplomatic and trade ties with North Korea after the country's latest high powered ballistic missile test.
Speaking at the UN Security Council, US envoy Nikki Haley said President Trump had asked his Chinese counterpart to cut off oil supplies to Pyongyang. She said the US did not seek conflict but that North Korea's regime would be "utterly destroyed" if war broke out.
The warning came after Pyongyang tested its first missile in two months. North Korea said the missile fired on Wednesday, which it said reached an altitude of about 4,475km (2,780 miles) – more than 10 times the height of the International Space Station – carried a warhead capable of re-entering the earth's atmosphere. The claim, however, was not proven and experts have cast doubt on the country's ability to master such technology.
However North Korea's leader Kim Jong-un called the launch "impeccable" and a "breakthrough".
The test – one of several this year – has been condemned by the international community and the UN Security Council called an emergency meeting. Ms Haley warned that "continued acts of aggression" were only serving to further destabilize the region.
Russia's UN ambassador Vassily Nebenzia said Pyongyang should stop its missile and nuclear tests but also called on Washington to cancel military exercises with South Korea planned for December as it would "inflame an already explosive situation".
China also suggested the North should stop the tests in return for a halt to US military exercises – a proposal Washington rejected in the past. "We need China to do more," Ms Haley said. "President Trump called President Xi this morning and told him that we've come to the point where China must cut off the oil for North Korea." "We know the main driver of its nuclear production is oil," she said. "The major supplier of that oil is China."
China is North Korea's biggest ally as well as most important trading partner and Pyongyang is thought to be dependent on China for much of its oil supplies.
Earlier on Wednesday, the White House said that President Trump spoke to Xi Jinping by telephone, urging him to "use all available levers to convince North Korea to end its provocations and return to the path of denuclearization".
Speaking in Missouri about tax reform, the US leader derided Kim, describing him as a "sick puppy" and "little rocket man". Xi responded by telling Trump it was Beijing's "unswerving goal to maintain peace and stability in north-east Asia and denuclearize the Korean peninsula," Chinese news agency Xinhua reported.
Experts say the height reached by the inter-continental ballistic missile (ICBM) indicates Washington could be within range, although North Korea is yet to prove it has reached its aim of miniaturizing a nuclear warhead. The Hwasong-15 missile, described as North Korea's "most powerful", was launched in darkness early on Wednesday. It landed in Japanese waters but flew higher than any other missile the North had previously tested.
The warning from the South Korean President Moon Jae-in of the potential threat from North Korean chemical and biological weapons is timely, underscoring that Pyongyang has invested heavily in a variety of weapons of mass destruction (WMD) programs. Moon also warned of the danger of a North Korean electro-magnetic pulse (EMP) attack that could cripple a country's electrical grid and critical infrastructure.
While attention focuses on Pyongyang's nuclear weapons program and the long-range missiles capable of delivering a nuclear warhead, it may have other secretive WMD programs as well. USA knows that.
North Korea makes no secret of its nuclear weapons ambitions. In marked contrast, it does not admit to having chemical or biological weapons. It has signed up to a treaty banning biological weapons, but it has not acceded to the equivalent agreement banning chemical weapons.
USA and South Korean experts believe that, in fact, North Korea does have a significant chemical weapons programme, with stockpiles of munitions containing nerve, choking and blister agents; such substances as phosgene; hydrogen cyanide; mustard; and sarin.
North Korea has a huge artillery and rocket force capable of delivering such munitions, though it remains unclear if it is able to produce chemical warheads that would survive the stresses of a flight on a ballistic missile. Much less is known about North Korea's activities in the biological weapons field. South Korean intelligence believes that the North is well-able to produce and weaponize pathogens like anthrax, botulism and typhus, but it is far from clear if these programmes have gone beyond the research stage.
Crippled infrastructure that might not be repairable for months could lead to death, chaos and lawlessness on a vast scale. In 2008, a US commission investigating the threat concluded that "the electromagnetic pulse generated by a high-altitude nuclear explosion is one of a small number of threats that can hold our society at risk of catastrophic consequences". Experts differ on the likelihood of such an attack emanating from North Korea, whatever the threats. They argue that Pyongyang would be risking catastrophic reprisal and potentially the end of the regime.
Fearing a possible US attack, North Korea's programs advance. A senior US general warns that Pyongyang's recent test may well have been a hydrogen bomb, marking a significant advance in the North's capabilities.
Though South Korea has by far the qualitative edge and it is of course backed up by the extensive strike power of the US military, North Korea's military has the numerical advantage over the South and is deployed close to the Demilitarized Zone (DMZ) marking the boundary between the two Koreas. It is frequently suggested that North Korean artillery and rocket forces (its strongest card) could level the South Korean capital Seoul within hours of the outbreak of a conflict.
North Korea is an impoverished but highly militarized state. It is isolated by US led western powers. Its leadership has one essential goal – survival. That is why they have placed huge resources in their nuclear and missile programs as the ultimate insurance policy for the regime.
Any use of its nuclear capability would be catastrophic – especially so for North Korea itself. The regime would not survive the ensuing conflict. But this awful prospect is not necessarily the immediate worry. It is the threat of the escalating war of words between Washington and Pyongyang moving from rhetoric to reality.
Trump talks too much and can harm the US interests by using the Zionist techniques.
Meanwhile, stressing anti-Islamism as the core stem of western civilization, Donald Trump has told UK Prime Minister Theresa May to focus on Islamic "terrorism" in the UK after she criticised his sharing of far-right videos. "Don't focus on me, focus on the destructive Radical Islamic Terrorism that is taking place within the United Kingdom," Trump tweeted. He means Radical Islamic Terrorism alone can bring the western powers together and target Muslim nations and once they move away from that theme, they would find themselves weakened and shaken. The US president had earlier retweeted three inflammatory videos posted online by a British far-right group.
Mrs May's spokesman said it was "wrong for the president to have done this". The USA and the UK are close allies and often described as having a "special relationship". Theresa May was the first foreign leader to visit the Trump White House.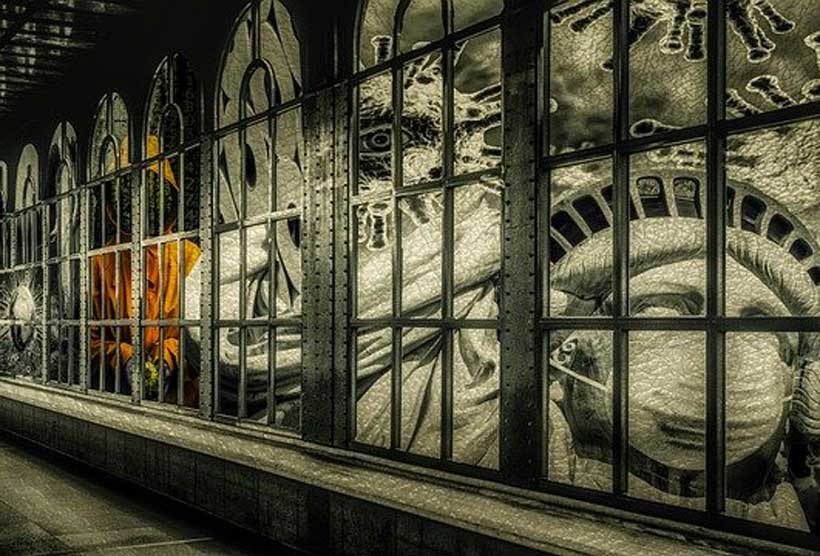 2020 looks set to be a historic year and it's not over yet. The coronavirus pandemic in combination with the international geopolitical developments put what we have known the West to be up until now, in a phase of apparent weakness and gradual decline.
If 1990 was the year that marked the end of the Cold War, 30 years later we would be talking about the gradual end of Western domination. The United States, the main pillar of the Western world, is shaken by internal political polarization that is getting worse by the day, with unforeseen consequences. The US can no longer inspire people with its ideals internally, let alone externally. The end of the Soviet Union came with the symbolic fall of the statues of communism in the countries of Eastern Europe and in the USSR itself. In the United States and Europe, the statues of a guilty past, colonialism and exploitation are being torn down, constituting a sign of defiance and a new ideology that is gradually being born on the occasion of the movement for the lives of the black people, BLM, which was finally united with the LGBTQ, Antifa etc.
The ideological confusion and internal weakness of the West is also reflected in the increasingly violent reaction of immigrants and especially the Islamic element, which seems to be largely radicalized and unable to fully integrate into open western societies. A look only at the events of the last few weeks, at the dead count and the violent riots, in England, Germany, Sweden, etc., but also in the past, is indicative of the gradual reduction of internal social cohesion.
The economic consequences of Covid19, with unemployment, the economic downturn and the health crisis, will intensify more and more, and as the people say, "where there is poverty there is grief." For the United States alone, the world's largest economy, recession is estimated at 17% of the GDP in the first half, with a record unemployment rate of 16% due to the virus. At the same time, the public debt reaches a record high of close to $ 26 trillion, it will exceed 120% of GDP and public debt at the end of 2020!! — while it is not ruled out that the financial crisis will indeed turn into a financial (stock market bubble), even though three trillion dollars have been provided by from the central banks, the FED, the IMF, G'20 etc.
At the geopolitical level, the US is pursuing continued hegemony without respect to the rights of the Allies which will lead further to the relaxation and eventually rupture of transatlantic ties. At the same time, you cannot be an enemy of Russia, China and impose political and electoral policies on your allies in the EU and NATO at a time when you are being unraveled internally.
Developments in Libya, the Middle East (with the forthcoming annexation of occupied Palestinian territories by Israel) but also the US relationship with China (5G, Hong Kong, Taiwan, South Asia, equipment, tariffs, etc.) and China with Europe show that the international system is entering a phase of destabilization and a fragmentation of the international order. Simultaneously, a multipolar world is emerging de facto as well as the need to build a new collective security architecture, which the great powers and especially the West will have to accept, in order to avoid international relations entering into anarchy with unforeseen consequences for the whole planet.
The USMCA Agreement: A New Era in Mexico-US-Canada Relations?
The agreement between the US Mexico and Canada (USMCA) entered into Force last 1st of July 2020 replacing the North American Free Trade Agreement (NAFTA). Although in many aspects the new treaty resembles the old one a lot, unlike the previous Trade Agreement, the USMCA focuses mainly on car exports, aluminum, and steel tariffs. It also increases environmental and work regulations while incentivizing domestic production of cars and lorries. This agreement also imposes a quota for Canadian and Mexican Automotive production. One could say that majority of the amendments that were made to the old NAFTA and that are crystallised in the USMCA benefit mainly the US than Canada and Mexico.
During all the negotiations that preceded the approval, ratification and enforcement of the new agreement, the Mexican president, Andrés Manuel López Obrador (AMLO) showed no interest in visiting any of his counterparts either in Canada or the United States.During his first 2 years as incumbent president, AMLO has not attended any international events so far, and he has focused on touring cities and regions of Mexico. In 2019, during his first year in office, the President declined to participate in at least three relevant international forums: the Davos World Economic Forum (WEF), which was held from January 22 to 25 ; the Group of 20 Summit (G-20), held on June 28 and 29 in Osaka, Japan; and the General Assembly of the United Nations (UN), which occurred on September 24.As outlandish and questionable that strategy was, it was consistent with the foreign policy approach he embraced ever since he took office: The best foreign policy is the domestic one.
For decades it was a common practice that the newly elected presidents of Mexico and the United States sought to meet each other personally, review the state of the relationship between the two countries, perhaps set an agenda of priorities, and send a signal of cordiality between the newly elected administrations. Very frequently both presidents preferred to meet at the border to avoid having to decide if they would do it in Washington or in the then Federal District, now Mexico City. Such visits have been held for 107 years. They began in October 1909, the first time that Porfirio Díaz and William Howard Taft crossed the border to meet in El Paso, Texas, and Ciudad Juárez, Chihuahua, at the inauguration of the international bridge that connects the two cities. During the presidential terms of Vicente Fox, Felipe Calderón and Enrique Peña Nieto, the first meetings were held in Mexico, just last week and after Trump let out that the Mexican president that had been summoned to meet him, AMLO does not only break with that custom, since now the first meeting will take place in the United States, but is also breaking his presidential campaign promise of focusing on domestic issues rather than international ones.
Donald Trump knows very well that the US is AMLO's Achilles' heel in his attempt to sell Mexico as an independent and sovereign country. That is why when Donald Trump threatened to bury the NAFTA, AMLO aligned himself with Trump's wishes and became the southern wall to stop migration from Central America Trump had so long wished for. AMLO's foreign policy and concessions to the US have reduced the Mexican diplomacy to the level of servility. The respect, dignity good faith and cooperation that should characterize all diplomatic relations among countries has been lost between Mexico and the US; not only because of Trump's incendiary, populist, racist, anti-Mexican speech, but also by AMLO's submission to Trump's whims.
Last April during an OPEC+ Summit, Mexico refused to reduce its oil output endangering a global agreement to decrease oil production to tackle the oil price crisis. Donald Trump saw a golden opportunity here and did not miss it: he came to the rescue and he offered to cut American production further to make up for Mexico's share, he went on to say that Mexico would reimburse the US back at a later date. It was obvious that Trump would not ask Mexico to pay back in one go, and this forced visit to the US might be the first of an unknown series of installments of a debt that Mexico is not even fully aware of.
One can already visualize the scene: both presidents shake hands and pose smiling for the media on the porch of the Oval Office in the White House. They declare having had an extraordinary interview where they share points of view on a variety of topics. Of course, they celebrate the entry into force of the renewed and improved Trade agreement which they describe as the trigger for investment, greater commercial exchanges and of course greater prosperity for the 3 countries that will translate into less poverty, less unemployment and a more equal distribution of resources.
They will not talk about the future of the 11 million Mexicans living in the US, and there will be no talks whatsoever about the about the close to six million Mexicans who are undocumented and that are the target of Trump's anti-immigration rhetoric, who are constantly persecuted, discriminated against, abused, separated from relative, caged, and deported by the American government. AMLO will not question Trump about such policy and will not try to negotiate some sort of solution to end the violation of their human rights. AMLO will not demand the massive raids and repatriations of Mexicans who have been living in the US for years to be suspended during this health emergency. There will also be no joint statement from both administrations on how to deal with the increasing violence unleashed by drug trafficking in Mexico, and the millions of weapons that are smuggled yearly from the US and that conveniently end up in the hands of the Mexican drug cartels.
As opposing as they may seem, there are several striking similarities between Donald Trump and AMLO. This will explain the docility that will characterize the Mexican envoy this week. AMLO has been carefully crafting since late 2004, when he first started campaigning for the presidency, the image of a nationalist, left-wing advocate for social justice who is ready to stand up for anyone threatening Mexico's sovereignty. Trump is a simply a racist and a demagogue. Nonetheless, both share a desire to make of the Executive the most powerful branch of the state; they both dismiss institutions and the rule of law; they both have consistently attacked free press and free speech; they both publicly humiliate those that disagree with their policies; they both have shown contempt for science, experts' advice, research and academics; they have both pursued utterly shambolic policies that have made the pandemic effects worse in both countries; and they both show a high degree of disaffection, lack of empathy, narcissism and have created a sick cult of personality around their persona.
Just like in 2016, when Donald Trump visited Mexico, the visit of the 8th and 9th of July of AMLO will be used by Trump to harvest huge electoral and political gains. Trump is losing popularity rapidly, and he is in desperate need of a foreign policy boost before the November elections. All previous attempts to make him look good internationally have been a failure: he has not been able to kick-start the Middle East Peace Process; the visit to North Korea's leader Kim Jung Un ended up as a media mess that benefited North Korea more than the US; and his attempt to bring down the government of Nicolás Maduro in Venezuela has not yet materialised. Donald Trump will be looking to make of the USMCA his big highlight of the year. This will also help him divert attention from his disastrous domestic policies to deal with the Covid-19 pandemic and will allow him to again use Mexico as the centre of his next electoral rallies just like he did in 2016.AMLO's decision to visit Donald Trump during electoral months in the US will also be perceived as Mexico publicly backing Trump's reelection campaign over Biden's. This will he detrimental to the bilateral relation should the Democrats win the presidency back in November.
AMLO, however, could turn this visit into a success if he would be willing to change course. One of his many unfulfilled campaign promises was to make the economy grow at an average of 4% annually. Ever since he took office the economy has remained stagnant and latest projects place Mexico to suffer a 10 to 11% contraction because of the global pandemic, one of the worst slumps in Latin America. AMLO could sell this visit as chance for Mexico to regain foreign investment his 60s inspired economic, hyper-centralised economic policies have scared away and have contributed to increased poverty, inequality, and unemployment. He is in serious need of an economic boost to help him regain his rapidly decreasing popularity just 2 years into his 6-year presidential term.
However, AMLO is not planning to potentially benefit from this meeting on any way. He is flying commercial without any delegation of representatives and he wants this visit to remain as low key as possible. He has given no indication about his willingness to change direction and promote Mexico's foreign investment. One just must look at the symbolism of Trump's declaration of the Mexican president to understand that this visit does not bode well for Mexico. Donald Trump boasted last Tuesday during a conference that AMLO, was to soon visit the United States after he travelled to Yuma Arizona to monitor the progress of the border wall. On the whole, this will be a zero-sum game in which Mexico will be the loser.
Socio-Economic Implications of Canadian Border Closure With U.S.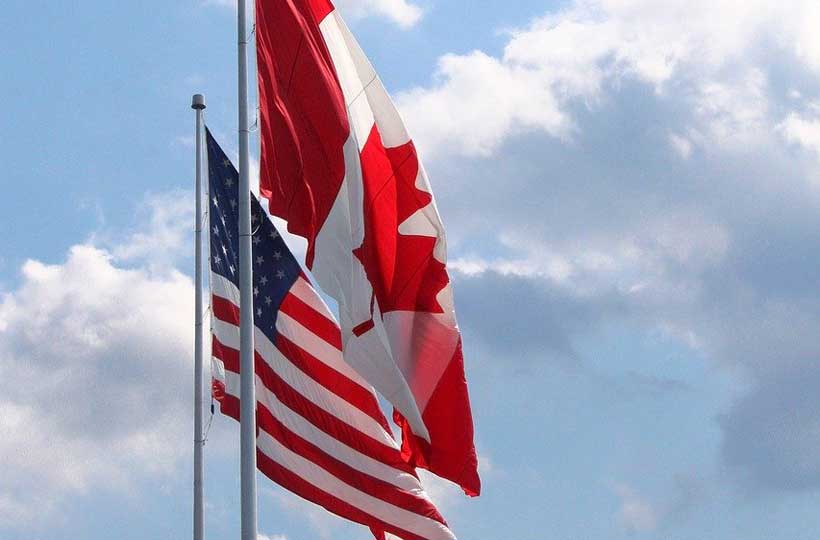 After doing a detailed analysis of situation emerging from the closure of the border between Canada and US, it could be assessed that how damaging the decision is for the Economy of Canada, and how beneficial, it will be for Canada, if it decides to re-open the Border which is closed over the fears of an outbreak of Covid-19 Pandemic.
Since, some people think that given the maximum number of Covid-19 cases and several deaths worldwide, the decision should stay as there are thousands of cases and deaths over covid-19 in the US. They deem it a good step to keep the border shut over the fears of Novel Corona Virus with the US and Mexico.
Though some sections consider the move as a right decision based on the covid0-19 statistics some experts term it very dangerous for Canadian Economy as it will be affected as major industries such Tourism and Travel, Immigration affected very badly and economic cannot be put on hold for long as the numbers show that 75% to 80% Canadian exports go to the US while 30% to 40% US exports make their way in Canada.
Thus the economy has been hit very badly due to this prolonged closure and shutdown of Economic activities will ultimately pose a grave threat to falling in Recession and Falling of Reserves.
The Canadian authorities will have to swallow a hard pill to re-open the b border for essential and non-essential travel since both types of entries in the country contribute to the economy of the country.
At the moment, Canada has limited Covid-19 infections as compared to the US that has a massive number of infections in the world.
According to the Border Management Experts, this could be the only problem that might have prompted Canadian Prime Minister to extend the closure for another month until some SOP's may be developed to ensure on border covid-19 Testing and Scanning so that preventive measures should be taken to keep the infection ratio low in Canada.
The World economies are affected very badly over the lockdowns announced to prevent Covid-19 outbreak and their economy has been under pressure already and the financial experts predict the worst type recession shortly.
The people of both countries are of the view that the Prolonged border closure has caused an economic crisis and several Industries such as Hotel Industry, Travel Tours and Immigration, Food and beverages Industry, sports Industry, Education have been affected very badly and both Canada and the US cannot afford to sustain more jolts to their economy as economic activities have dropped to almost 80% and ring the alarm bells for the leadership to decide immediately what their next plan will for the border.
Whether they will reopen it in phases or provide restrict access to essential travel such health workers, Airline Crew, Food and Goods services, People visiting ailing relatives and other related activities that fall within the purview of " essential".
Although, the global Pandemic has created a situation like recession which is going from bad to worse each Passing day, yet in such scenario "keeping borders Closed" for trade and Business Opportunities and other travel, entertainment industry, will incur an irreparable loss to the Economy of both Canada and US as both countries have signed several Trade Agreements and US has been losing millions of Dollars in terms " US Entry Waivers" and this is putting pressure on world's biggest economy.
Even it is a great blow to the Immigrants who wish to travel to neighbouring countries.
Both Canada and the United States are providing millions of dollars to people as relief package, Health and social security and other procurements such Covid-19 testing kits and establishing new isolation and Quarantine centres as the infections surge in the US and worldwide.
In such circumstances halting economic activities are suicidal for Canada and Virus affected the US by keeping borders close for non-essential or optional purposes despite putting some curbs on essential travels such putting immigrants in 14 days quarantine and other immigration-related curbs.
The economists fear that what would be the consequences if the covid-19 vaccine was unavailable till the end of the year 2021, will they still keep the border closed, sounds like insensible and disastrous for all types Industries and Sectors including Immigration and Border services.
So, it would be prudent on the part of Both Canada and US to think over the re-opening of their border so that people intending to visit their relatives on both sides of borders may have uninterrupted access and they must be facilities at the border checkpoints for covid-19 so that the fears of Canadian authorities about getting soaring infections may be dispelled by assuring them safety measures at border crossing points.
Furthermore, the fears cannot be treated with medicines but they could be soothed with confidence-building measures as the statistics show that 65% Canadian fear to get contracted by Virus while over 60% US people have a similar situation for contracting virus.
Despite all this, nobody knows that when these borders will reopen for general people apart from essential travel as most people are in the grip of fear and prefer staying at home as per WHO guidelines, that may be the issue that both Canadian and US Governments are lingering on the issue and prefer extending closure as both nations enjoy cordial relation and the closure is a mutual decision of both countries.
Recently, though some Tour industry groups recorded their protest and demanded to re-open the border. The decision could not be influenced until the general public presses their respective Governments to review the decision and take some bold steps to save their economies falling to prey to this pandemic.
Both Canada and the US cannot afford to lose millions of Dollars in border trade and border revenues such as Entry waivers, customs etc to boost their economies.