North Korea launches ICBM missile, angering USA, allies
Even as USA, South Korea and Japan keep raising objections to North Korean efforts for nukes, North Korea keeps testing its military readiness to face the US threats.
After 2 months of relative peace, North Korea launched its most powerful weapon yet early Wednesday the November 29, an intercontinental ballistic missile that could put Washington and the entire eastern US seaboard within range.
Resuming its torrid testing pace in pursuit of its goal of a viable arsenal of nuclear-tipped missiles that can hit the US mainland had been widely expected, but the apparent power and suddenness of the new test still jolted the Korean Peninsula and Washington.
The launch, against the Trump regime warnings, indicated an effort to perfect the element of surprise and to obtain maximum attention in the USA. The firing is a clear message of defiance aimed at the Trump government, which had just restored the North to a US list of terror sponsors. It also ruins nascent diplomatic efforts, raises fears of war or a pre-emptive US strike and casts a deeper shadow over the security of the Winter Olympics early next year in South Korea.
Japanese defense minister Itsunori Onodera said the missile landed inside of Japan's special economic zone in the Sea of Japan, about 250 kilometers 155 miles) west of Aomori, which is on the northern part of Japan's main island of Honshu. Onodera says the missile could have been an upgraded version of North Korea's Hwasong-14 ICBM or a new missile. A big unknown, however, is the missile's payload. If, as expected, it carried a light mock warhead, then its effective range would have been shorter, analysts said.
The launch is North Korea's first since it fired an intermediate-range missile over Japan on Sept. 15, and may have broken any efforts at diplomacy meant to end the North's nuclear ambitions.
US officials have sporadically floated the idea of direct talks with North Korea if it maintained restraint.
The missile also appears to improve on North Korea's past launches. If flown on a standard trajectory, instead of Wednesday's lofted angle, the missile would have a range of more than 13,000 kilometers (8,100 miles), said US scientist David Wright, a physicist who closely tracks North Korea's missile and nuclear programs. Such a missile would have more than enough range to reach Washington, D.C., and in fact any part of the continental United States.
Of course, a rattled Seoul responded by almost immediately launching three of its own missiles in a show of force. The South's president, Moon Jae-in, expressed worry that North Korea's growing missile threat could force the USA to attack the North before it masters a nuclear-tipped long-range missile, something experts say may be imminent. "If North Korea completes a ballistic missile that could reach from one continent to another, the situation can spiral out of control," Moon said at an emergency meeting in Seoul, according to his office. "We must stop a situation where North Korea miscalculates and threatens us with nuclear weapons or where the United States considers a pre-emptive strike."
Moon, a liberal who has been forced into a more hawkish stance by a stream of North Korean weapons tests, has repeatedly declared that there can be no US attack on the North without Seoul's approval, but many here worry that Washington may act without South Korean input.
An intercontinental ballistic missile test is considered particularly provocative, and indications that it flew higher than past launches suggest progress by Pyongyang in developing a weapon of mass destruction that could strike the US mainland.
US President Donald Trump has vowed to prevent North Korea from having the WMD capability — using military force if necessary. In response to the launch, Trump said the United States will "take care of it." He told reporters after the launch: "It is a situation that we will handle." He did not elaborate. After North Korea missile launch, it's more important than ever to fund our government & military! Dems shouldn't hold troop funding hostage for amnesty & illegal immigration. I ran on stopping illegal immigration and won big. They can't now threaten a shutdown to get their demands. — Donald J. Trump
Trump declared North Korea a state sponsor of terrorism and in the wake of today's provocation, "our administration" is considering additional measures. Everybody was hoping that there would be restraint from the regime." He said the latest and toughest sanctions resolutions against North Korea "are working, having an effect on the situation … on the capacity of the regime to obtain hard currency because to go along with the military programs or missile or nuclear (programs) you need money, and that's the objective."
Pentagon spokesman Col. Rob Manning said the missile was launched from Sain Ni, North Korea, and traveled about 1,000 kilometers (620 miles) before landing in the Sea of Japan within 370 nautical kilometers (200 nautical miles) of Japan's coast. It flew for 53 minutes, Japan's defense minister said. South Korea's responding missile tests included one with a 1,000-kilometer (620-mile) range, to mimic striking the North Korea launch site, which is not far from the North Korean capital.
Secretary of State Rex Tillerson said in a statement that North Korea was `indiscriminately threatening its neighbors, the region and global stability." He urged the international community to not only implement existing UN sanctions on North Korea but also to consider additional measures for interdicting maritime traffic transporting goods to and from the country. `"Diplomatic options remain viable and open, for now," Tillerson said, adding the USA remains committed to "finding a peaceful path to denuclearization and to ending belligerent actions by North Korea." If there is bluster, and there is reality. Not knowing the difference can result in the loss of millions of lives.
Defense Secretary Jim Mattis said the missile flew higher than previous projectiles. "It went higher, frankly, than any previous shot they've taken," he told reporters at the White House. "It's a research and development effort on their part to continue building ballistic missiles that can threaten everywhere in the world." "There is still room for new measures, but for the moment … we don't know what the council decision will be," he said.
A week ago, the Trump government declared North Korea a state sponsor of terrorism, further straining ties between governments that are still technically at war. Washington also imposed new sanctions on North Korean shipping firms and Chinese trading companies dealing with the North.
North Korea called the US terror designation a "serious provocation" that justifies its development of nuclear weapons. Kim Dong-yub, a former South Korean military official who is now an analyst at Seoul's Institute for Far Eastern Studies, said the early flight data suggests the North Korean missile was likely a Hwasong-14, which the North fired twice in July.
The North is likely trying to further evaluate the weapon's performance, including the warhead's ability to survive atmospheric re-entry and strike the intended target, before it attempts a test that shows the full range of the missile.
South Koreans are famously nonchalant about North Korea's military moves, but there is worry about what the North's weapons tests might mean for next year's Winter Olympics in the South. President Moon told his officials to closely review whether the launch could in anyway hurt South Korea's efforts to successfully host the games in Pyeongchang, which begin Feb. 9.
Japanese Prime Minister Shinzo Abe, who spoke with Trump, said Japan will not back down against any provocation and would maximize pressure on the North in its strong alliance with the USA. Trump has ramped up economic and diplomatic pressure on the North to prevent its nuclear and missile development.
So far, the pressure has failed to get North Korea's government, which views a nuclear arsenal as key to its survival against US threats, to return to long-stalled international negotiations on its nuclear program.
Like Israel that has amassed WMD from USA, North Korea also has right to defend itself as it also faces existential threat from imperialist forces led by USA.
Meanwhile, the UN Security Council scheduled an emergency meeting for November 29 at the request of Japan, the USA and South Korea. Obviously, Russia and China would support China and would not let any resolution against their ally North Korea.
Standing up to China: Czech mayor sets a high bar
A Czech mayor's refusal to endorse Beijing's One China policy potentially sets a high bar as Western powers grapple with how to respond to allegations of excessive use of violence by police against Hong Kong protesters and the implications of leaked documents detailing a brutal crackdown in China's north-western province of Xinjiang.
Prague mayor Zdenek Hrib rejected a sister city agreement between the Czech capital and Beijing in late October because it included a clause endorsing the One China policy, which implicitly recognizes China's sovereignty over Taiwan, as well as Hong Kong and Tibet.
Mr. Hrib argued that the agreement was a cultural arrangement and not designed to address foreign policy issues that were the prerogative of the national government.
The mayor's stance has since taken on added significance against the backdrop of US President Donald J. Trump's signing of legislation that allows for the sanctioning of Hong Kong officials, embarrassing Communist party leaks that document repression in Xinjiang, the election of a new Sri Lankan government that intends to adopt a tougher policy towards China, and simmering anti-Chinese sentiment in Central Asia and beyond.
Mr. Hrib's rejection was in fact a reflection of anti-Chinese sentiment in the Czech Republic as well as opposition to the pro-China policy adopted by Czech president Milos Zeman.
To be sure, Mr. Hrib, a 38-year old medical doctor who interned in Taiwan, was shouldering little political or economic risk given Czech public anger at China's failure to fulfil promises of significant investment in the country.
On the contrary, Mr. Hrib, since becoming mayor in mid-2018, appears to have made it his pastime to put Mr. Zeman on the spot by poking a finger at China.
Mr. Hrib visited Taiwan in the first six months of his mayorship, flew the Tibetan flag over Prague's city hall, and rejected a request by the Chinese ambassador at a meeting with foreign diplomats to send Taiwanese representatives out of the room.
Beijing's cancellation of a tour of China by the Prague Philharmonic Orchestra in response to Mr. Hrib's provocations forced Mr. Zeman to describe the Chinese retaliation as "excessive" and his foreign minister, Tomas Petricek, to declare that "diplomacy is not conducted with threats."
Perhaps more importantly, M. Hrib was taking a stand based on principles and values rather than interests. In doing so, he was challenging the new normal of world leaders flagrantly ignoring international law to operate on the principle of might is right.
"Our conscience is not for sale," said Michaela Krausova, a leading member of the governing Pirate Party of the Prague city council. Ms. Krausova and Mr. Hrib's party was founded to shake up Czech politics with its insistence on the safeguarding of civil liberties and political accountability and transparency.
While couched in terms of principle, Mr. Hrib's stand strokes with newly installed Sri Lankan president Gotabaya Rajapaksa's intention to wrest back control from China of the island's strategic Hambantota port that serves key shipping lanes between Europe and Asia.
Hambantota became a symbol of what some critics have charged is Chinese debt trap diplomacy after Sri Lanka was forced to hand over the port to China in 2017 on a 99-year lease because the government was unable to repay loans taken to build it.
"I believe that the Sri Lankan government must have control of all strategically important projects like Hambantota. The next generation will curse our generation for giving away precious assets otherwise," Mr. Rajapaksa said.
Fears of a debt trap coupled with the crackdown on Turkic Muslims in Xinjiang, which targets not only Uighurs, but also groups that trace their roots to Central Asian countries, have fuelled anti-Chinese sentiment in Kyrgyzstan, Tajikistan and Kazakhstan.
"Given that China is likely to continue to expand its presence, further irritating local publics, the temptation of opposition groups to exploit such anger will only grow. If that happens…the anti-Chinese demonstrations that have taken place to date will be only the prelude to a situation that could easily spiral out of control, ethnicizing politics in these countries still further," said Central Asia scholar Paul Goble.
Beyond Xinjiang, anti-Chinese sentiment in Central Asia is fuelled by some of the same drivers that inform Czech attitudes towards China.
The shared drivers include unfulfilled promises, idle incomplete Chinese-funded infrastructure projects, widespread corruption associated with Chinese funding, and the influx of Chinese labour and materials at the expense of the local work force and manufacturers.
Beyond Xinjiang, Central Asians worry about potential debt traps. The Washington-based Center for Global Development listed last year two Central Asian nations, Kyrgyzstan and Tajikistan, as risking China-related "debt distress."
Warned China and Central Asia scholar Ayjaz Wani: "Chinese principles in Central Asia are hegemonic. China has always interacted with Central Asian states without regarding their cultural identities, but according to its own vested interests… However, the ongoing anti-China sentiments may be coming to a tipping point."
Old wine in new bottles: Chinese containment policy in South Asia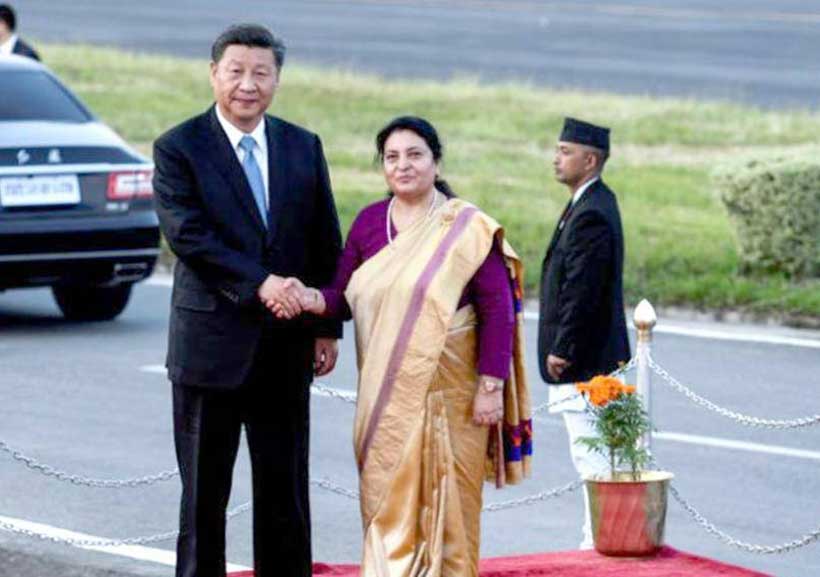 A lot of discussion in international relations scholarship is concentrated upon how US maximizing its security presence in the Asia-Pacific region. It is trying to contain, growing Chinese Influence to protect its national interest.It was described by former US President Barack Obama as a pivot Asia policy. But in the case of South Asia, United States is strengthening its ties with India to boost it as a force to contain Chinese emerging influence. It was termed by John J Mearsheimer as buck-passing in which a world superpower will give power and authority to another state to try to contain the influence of an emerging world hegemon. The Indo-US nuclear deal and former President Barack Obama's remarks about the inclusion of India inthe United Nations Security council demonstrates that the United States is helping India to rise as the regional hegemon. India considers itself as an important actor at international level.It is increasing its political clout internationally but in South Asia, it can face a new kind of isolation. This is evident from the three recent events that occurred in a span of only 10 days in the first half of October
On 07th October Pakistan's Prime Minister Imran Khan visited China with high-level delegation. He met there with Chinese President Xi Jinping and other important officials, it was his third visit to China since he came into power. During the meeting, both leaders, Imran Khan and Xi Jinping, discussed strengthening bilateral relations which are already at a higher level in terms of military and economic partnership. China is already working on a project to invest more than $50 billion under the name of China Pakistan Economic corridor let alone the cooperation on strategic and political issues. During the course of the visit, officials from both sides discussed Free Trade agreement which will be helpful in solving the problem of trade deficit for Pakistan. Total trade volume between China and Pakistan is around $15 billion in which Chinese export to Pakistan is of 13 billion. This Free Trade Agreement will open up about 90% of the Chinese market to Pakistan and will reduce trade deficit. During his meeting with Imran Khan, Xi Jinping accepted Kashmir as a disputed region and asked both parties to solve it through peaceful means.
All this happened just a few days before the visit of Chinese President Xi Jinping to India.Although both countries have made some progress on economy-related issues, no concrete efforts have been made to solve more radical issues like Indo-China border dispute in the northern Himalayan region. However more astonishing for India was that Xi Jinping visited Nepal after India. Nepal is a landlocked country crammed between two South Asia giants India and China. India is present on three sides of Nepal and considers it as its backyard. Both countries did have very solid relations and 60% of total Nepalese trade is done with India. In 2015 when Nepal adopted new constitution, relations between both countries soured. Although it was the internal matter of Nepal, India put an unofficial blockade for Nepal, which stopped all the supplies including food and medicine. Blockade continued for more than two months and it created a severe crisis because Nepal was already damaged by a strong earthquake in early 2015 in which more than 9000 people died. This blocked proved decisive in changing behavior of Nepalese leadership though they were complaining of Indian hegemonic role for many years. Nepal turned toward China for their needs. China also responded in a very positive way. Besides reconstructing earthquake effected areas, China also provided 1.03 million liters of fuel. In 2017 Nepal signed China's Belt and Road initiative and pledged to construct a railway line which will connect China with Nepal directly. This initiated a new beginning in China-Nepal relations.
When Xi Jinping arrived at Katmandu, China by this time was thelargest foreign direct investor in Nepal.It was the first visit by any Chinese president in the last 23 years.During the course of his visit, 18 agreements were signed between Nepal and China, including a railway link between China and Nepal.
These three important tours in less than ten days present the new geopolitical reality of the region. Although the Chinese president visited India but this visit was sandwiched between Imran Khan's visit to China and Xi Jinping's visit to Nepal. Pakistan is an arch-rival of India in South Asia and Nepal which historically remained in the Indian sphere of influence, is slowly slipping away from it.it clearly demonstrates containment policy by China in which China is progressively growing its influence in South Asian states. The Story does not end with Pakistan and Nepal but other South Asian states like Bangladesh and Sri Lanka now also have very strong ties with China.it represents in a new normal situation in which South Asian region is no longer dominated by India. Though India is showing to the world that it is solely protecting peace and stability in the region but reality has changed In fact South Asian states consider it as dominating power evident from its relation with Pakistan and blockade of Nepal. With growing Chinese influence in South Asia containment of India is now very much a reality.
How Australia is becoming China's Australia
If it were not for China, Australia's population inroad scheme would take a serious hit. Out of more than 0.7 million international students, more than 30% Chinese are pursuing degrees in universities. Australia lives along the values of the Western culture, but when it comes to its economy, rather dishonourably; it has had to lean towards the East. Chinese consumerism compensates for a healthy Australian economy and while it stands stronger on its democratic values, Australia, now faces a paradoxical relationship with the Asian hegemon. For instance, it is quietly ignoring the protests in Hong Kong. During recent elections, the Australian Prime Minister was mocked on WeChat; his funny nuances were subject to ridicule in the Chinese social media.
Now, Australia is facing the task. It is fighting a battle to save its identity against a consumer band, governed by communist policies. China's message is clear; an interference of any sort is not welcome, else the consequences are going to be economical. Emancipated Chinese students in Australia have been protesting against the government backlash in Hong Kong. Resultantly, back home in China, apartments were raided and their parents taught the lesson of conformity. A lesson of nationalism that has blossomed outside its territories. Australia is swallowing up the hypocrisy. On its own land, it cannot protect the values of freedom and democracy.
Wang LiQiang or as he would like to be known as "William", took to the Australian authorities for his involvement in spying activities. In his own admission, William was conducting intelligence operations and most significantly, assassinations on Australian soil. William is only one among high profile spies that have been operating in Australia. Ironically, his testament sufficiently reflects the Australian attitude towards Chinese interference, which has essentially been negligent and non-conversational. Notably, William's particular mention about operating a system of political donation will nevertheless disturb Australian administrators. They will realize that it is only about time when China will explicitly begin to reassert its influence. The police did not find Wang Li Qiang; instead, he volunteered to surrender. Especially, coming from a senior Chinese operative, the message could not be clearer.
On the outset, China and Australia maintain a well-documented "good relationship". However, administrative hierarchies in Canberra are also accused of implying a very positive attitude towards presenting and defending bilateral ties. As much as economic interests have motivated the Australian behaviour of non-acceptance, politicians do not shy away from painting an over simplified picture of Chinese problems that are realistically, complex in nature. As Prime Minister Scott Morrison handled the allegations of a Chinese backed ring that was trying to plot a spy in the parliament; the government has tried too hard to overlook the obvious. Mr. Morrison urged his citizens to not draw anxious conclusions, instead; he suggested that Australia would need to be vigilant from the threats that it faced more broadly. The substitutability of discourse that is apparent in Australian politics, marks a rather gifted trade-off for China and its actions. Andrew Hastie, parliamentary head of intelligence and security, claimed that such incidents did not surprise him. As more evidences would suggest, Chinese interference was knocking at the doors.
In terms of China, there are two faces of Australian political rhetoric. One that is motivated by the larger interests in the administrative chairs of governance, overlooking the infiltration for personal benefits. Secondly, the critiques emanating from opposition politicians and the likes of intelligence chiefs, for instance ASIO's former Directorate General, Duncan Lewis, warned that China would take over Australia in a matter of time. Elsewhere in the borders of the communist giant, two Australian MP's were denied travel entry, citing largely undetermined reasons. With a population of merely 25 million inhabitants, 1.8 million Chinese students have migrated to Australia for education. The dragon is marching towards the continent, in a first, the troops are ready on site.