Old friend never be forgotten: China's stance on Zimbabwe
Authors: Jamal Laadam & Wang Li
To the most people who believe in the doctrine of power politics, what China needs from Africa is only to guarantee its consistent supply of natural resources, open new markets and create strong alliances in Africa. Meanwhile, Africa in general can receive investment and multiple aid from China.
This is quite superficial with regards to the Sino—African relations. China has long stated that the two sides have shared the same past experiences of the Western powers' exploitation and also have the future destinies shared to become peaceful and prosperous states in the world. Behind this long-term relationship are their mutual respect, reciprocal understanding and high-level personal friendship. Historically, it can be traced to the mid-1950s, especially after 1963 that Chinese relationship with Africa has been the foundation of Beijing's foreign policy strategy.
Due to this, China's stance on the resignation of former Zimbabwe's President Mugabe is clear and consistent: "as a good friend of Zimbabwe, China appreciates the efforts of various parties in Zimbabwe to properly resolve the relevant issue through dialogue and negotiation within the legal framework with a view to the long-term and fundamental interests of the nation. China deems that the Zimbabwean people are capable of maintaining political stability and national development." Behind this soft tone is that China opposed to any great powers' interference with the domestic affairs of Zimbabwe. For example, China argues that only the Zimbabwean people who will run their own business and other countries will not be allowed to dictate the future direction of Zimbabwe's politics.
Yes, China and Zimbabwe have enjoyed friendly relations for a long time. Both peoples have stood the testing of time and ever-changing international landscape. In recent years, the practical cooperation in various fields between the two sides have continuously moved forward and brought tangible benefits to each other. China highly values its relations with Zimbabwe and stands ready to work with various parties of Zimbabwe to promote Sino-Zimbabwean friendship and across- the-board cooperation. For example, two Chinese state-owned companies, South Locomotive and Rolling Stock Co. (CSR) jointly signed an agreement with Mugabe's regime in 2009, in exchange for an $8 billion investment in infrastructure with supply of Chinese equipment and technologies. Moreover, the Chinese are aware that the stability and development of Zimbabwe would serve the local people's interests and are the shared aspiration of the African and the global communities.
As noted, the Chinese have indeed cherished the personal friendship with Robert Mugabe. Even though it is reported that the Beijing leaders are a little bit disappointed about this old friend Mugabe's misleading of Zimbabwe's economic policy which led to rampant corruption, China hopes Zimbabwe to sustain stability and security without any chaos. After all, Mugabe remains seen as making historic contribution to Zimbabwe's national independence and liberation from the former colonial ruling. He is also an active advocate and promoter of the Pan-African movement. To most Chinese who have witnessed the past three decades, Mugabe has long been committed to Sino-Zimbabwe friendship and made important contribution to the mutual strategic partnership. Although China appeals to Mugabe's decision to resign as the head of state, he is still seen as "a good friend of the Chinese people".
On 24 November, just days after Mugabe's step-down, Emerson Mnangagwa was sworn in as the president. He was a guerilla leader during the Rhodesian Bush War. After Zimbabwe became independent in 1980, Mnangagwa held a series of senior cabinet positions under Mugabe, including as minister of state security and later minister of defense. More important is that Mnangagwa had received both his military training and political leadership in the Beijing School of Ideology during the pre-independence campaign. Clearly, Chinese leaders have been well-familiar with this new President. As early as his visit to China as VP of Zimbabwe in 2015, Mnangagwa vowed to promote political confidence and pragmatic cooperation between the two sides, since China agreed to provide all assistance in economic planning, transportation and infrastructure, special economic zone and industrial park construction, capacity building as well as human resource training to Zimbabwe. In China, Mnangagwa expressed his welcome to Chinese entrepreneurs to invest in Zimbabwe. This is one of the core reasons behind Chinese official line that "China's friendly policy towards Zimbabwe remains unchanged. We stand ready to proactively enhance the exchange and cooperation with Zimbabwe and scale China-Zimbabwe friendship to a new height in the principle of equality, mutual benefit and win-win cooperation."
China's policy towards Africa is of long-term strategic dimension. Therefore, China has insisted on three tenets in terms of the crisis management in Africa generally and in Zimbabwe this time. First, China appeals to all parties of Zimbabwe that they should put aside the group's interest with a view to strive for a peaceful and proper settlement of the relevant issue under the legal framework and in light of Zimbabwe's national stability and social order. Actually, this is the consensus among the social elites and the ordinary people as well throughout the country. Second, China has large amount of invests in Zimbabwe which has the potentials to be one of the most dynamic economies and prosperous country in Africa. By 2015, China had invested nearly 400 million US dollars, much more than many other FDI sources, into Zimbabwe. At the present time, Chinese firms in Zimbabwe are the most dominant one among foreign firms. When Mugabe made his state visit to China in 2015, during which he held meetings with Chinese President Xi who confided to Mugabe that "China won't forget its old friends". Third, China has consistently taken a friendly policy towards Zimbabwe, and their cooperation is comprehensive and beneficial to both peoples. Due to this, Beijing looks forwards to consolidating the further cooperation with Zimbabwe in accordance with the principle of equality, mutual benefit, and win-win cooperation, no matter who takes power in Harare.
Now, Mugabe is gone finally. But Africa's rising exposure to China has led to larger exports to China and have helped boost economic growth on the continent. The introduction of the New Strategic Partnership has further cemented Sino- African relations and reinforced China's commitment to mutual economic benefit policy towards Africa. It is widely noted that just one week ago before Mugabe was advised to step-down, General Chiwenga, commander of the Zimbabwe Defense Forces, paid a "normal" working visit to China. During their meetings with the Chinese counterparts, both sides had opined that it is significant to push forward and to further strengthen mutual exchanges at all levels, deepen pragmatic cooperation in various fields, so as to promote further development of bilateral state and military relations between the two countries. Given the sanctions against Zimbabwe over the past two decades, China has been the largest military hard-ware supplier, along with its growing economic clouts. Zimbabwe has purchased from China all sorts of military equipment such as air defense radars, air craft's and much other medical equipment; inclusive are China's military advisers and mechanical technicians who have worked with their Zimbabwean counterparts.
With a new chapter turned in Zimbabwean history, its new president vows to develop economics as the priority of his political agenda. No matter how he takes the inspirations from Deng Xiaoping's reforms and Chinese lessons, it is clear that the new administration headed by the old veteran guard reached out to the world that "We want change in Zimbabwe. And I'm prepared to work for any political party that can change our country from poverty to prosperity." This is really the opportunity for China, if smartly enough, to act as a responsible power in terms of the poverty-alleviation in Zimbabwe and the stability-promoter in Africa as well.
Let's see how the leadership in Beijing reacts to their old friend's needs in Harare taking a new road towards domestic reform and international openness.
China's Soft Power Diplomacy on North Korean Nuclear Crisis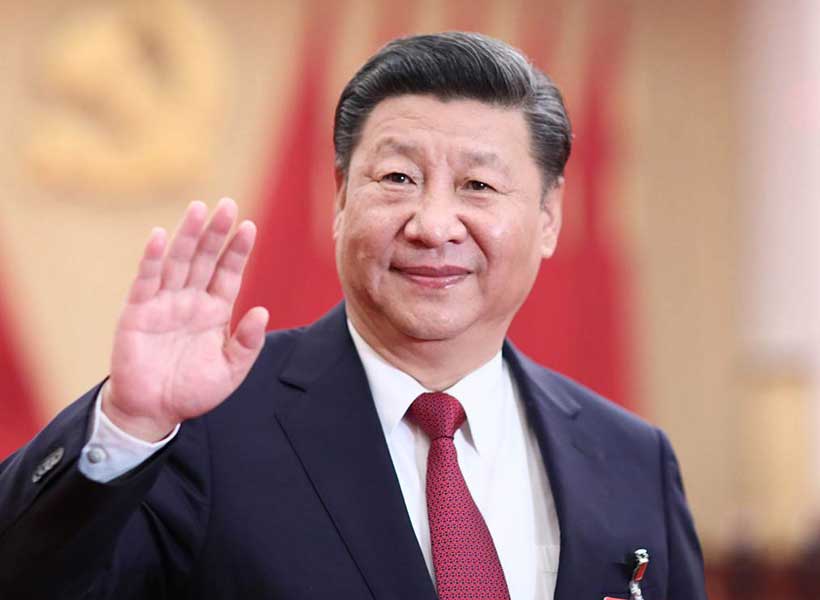 For about the last two decades, North Korea's nuclear weapon development program has become one of the major issues of concern to international community in general and Korean Peninsula in particular. Since the early 1980s, Pyongyang had begun undertaking its weapons of mass destruction (WMD) programs. North Korea also has conducted total five nuclear tests: October 9, 2006; May 25, 2009; February 12, 2013; January 6, 2016; and September 09, 2016. Following its historical progresses, North Korea apparently successfully tested its first intercontinental ballistic missiles (ICBMs) in July 2017.
As far as the global as well as regional security is concerned, the constant development process of North Korea's nuclear weapons attaches immense attention with huge tensions to world's global as well as regional powers, the United States, China, Russia, South Korea, and Japan. The involved actors especially the United States has urged for China's support in dealing with North Korea's nuclear crisis since the very beginning. Being a significant global as well as regional actor, China's active role in resolving North Korea's nuclear crisis through soft power diplomacy draws attention to the wider readers especially from the arena of international relations.
Given these developments, it is pertinent to examine China's soft power diplomacy in dealing with North Korea's nuclear crisis. China's role in the Six-Party Talks on the North Korea nuclear crisis is one of the significant implications of China's soft power diplomacy in Korean Peninsula. China has been playing a proactive role since 2003 in order to establish peace and stability in Korean Peninsula. The country has facilitated rounds of discussion among the members of the Six-Party Talks in order to dismantle North Korea's nuclear program with the consent of involved actors, thereby, avoiding any kind of regional instability in Korean Peninsula.
The Shanghai Cooperation Organisation (CSO) is another multilateral forum where China has adopted its soft power diplomacy in resolving North Korean nuclear crisis. For instance, China asserted on dialogue and consultation for the peaceful resolution of North Korean nuclear crisis at the SCO annual summit held on June 11, 2018, in China's coastal city of Qingdao, which is called Qingdao Declaration.
China's diplomatic initiatives through its active mediation or mediation diplomacy, one of the significant aspects of China's soft power diplomacy, in resolving the North Korean nuclear crisis is notable. The U.S.-North Korea talks in March 2003; trilateral dialogues consisting of the U.S. and the Democratic People's Republic of Korea (DPRK) in April 2003; talks among Six Parties in February 2007; bilateral meeting between the then Chinese Premier Wen  Jiabao and North Korean Chairman of the Workers' Party, Kim Jong Il in October 2009; and Beijing-Pyongyang dialogue in August 27, 2010 facilitated by China demonstrate China's soft diplomatic initiatives to dismantle North Korea's nuclear programs; peacefully resolve the nuclear crisis; and ease tensions in Korean peninsula. In addition, Chinese government officials paid several official visits in Pyongyang in order to make progress in denuclearization process in Korean Peninsula.
Dialogue and negotiation rather than confrontation is a significant strategy of China's soft power diplomacy in resolving North Korean nuclear crisis. Chinese Foreign Minister, Wang Yi, in this regard, stressed on the peaceful solution of North Korean nuclear standoff through dialogue. Besides, reiterating on the necessity of nuclear-free Korean Peninsula, Wang Yi, also emphasized on the consideration of North Korea's security concerns and other concerns related to its nuclear programs to avoid any military action or the escalation of tensions in the Korean Peninsula. As per its policy, China strongly opposed to the decision of deploying the Terminal High Altitude Area Defense (THAAD) anti- missile defense system by the U.S. and South Korea in August 2017 and reiterated on dialogue and consultation.
However, now it is important to examine the implications of China's soft power diplomacy on North Korean nuclear crisis. China's soft power diplomacy regarding North Korea's nuclear crisis has significant ramifications on the process towards the peaceful resolution of the crisis. Most significantly, the most recent bilateral meetings between Xi Jinping and Kim Jong-un, Inter-Korean Dialogue, and the U.S.-North Korea Singapore Summit have attracted worldwide attention. For instance, during the historic Inter-Korean Summit on April 27, 2018 in South Korea, Kim Jong-un, Chairman of the Workers' Party of Korea and the State Affairs Commission of the DPRK, declared to discontinue its nuclear tests. Therefore, the U.S-North Korea Summit, also referred to Singapore Summit, on June 12, 2018 is a noteworthy development towards the denuclearization process of Korean Peninsula. During that summit, Kim Jong-un reaffirmed his position and unwavering commitment to the denuclearization of the Korean Peninsula, while the U.S' President Donald Trump reiterated on providing security guarantee to the DPRK in return.
Chinese President Xi Jinping's invitation to Kim Jong-un on June 19, 2018 and talks on the denuclearization of the Korean Peninsula reiterates China's sincere efforts to continue denuclearization in peninsula. As per the development of their bilateral talks, Xi Jinping met Ri Yong Ho, Foreign Minister of the DPRK on December 07, 2018 in Beijing calling for the development of their stable relations and political settlement on the Korean Peninsula through the progress of Pyongyang-Washington peace talks addressing each other's legitimate concerns. Kim Jong-un has expressed willingness to continue fruitful discussions with the US President for "complete denuclearization" and "lasting peace" in the Korean Peninsula.
China's positive role in denuclearizing the Korean Peninsula and improving inter-Korean relations has also been raised by the President of Republic of Korea, Moon Jae-in. He mentioned, "China has played a positive role in denuclearizing the Korean Peninsula and improving inter-Korean relations. Until now, China has played a positive role in helping very much the Korean Peninsula's denuclearization and the improved inter-Korean relations."
All these progresses particularly with the China have injected new impetus towards the peaceful resolution of North Korean nuclear crisis. China has been playing very crucial role in resolving the regional as well as global tensions related to North Korea's nuclear development programs. China's proactive mediation diplomacy, multilateral as well as bilateral engagements, facilitation to dialogues and meetings for all parties have played crucial role in dealing with the crisis through soft power diplomacy.
Diplomatic Maneuvers for China-US trade war: December 2018 agreement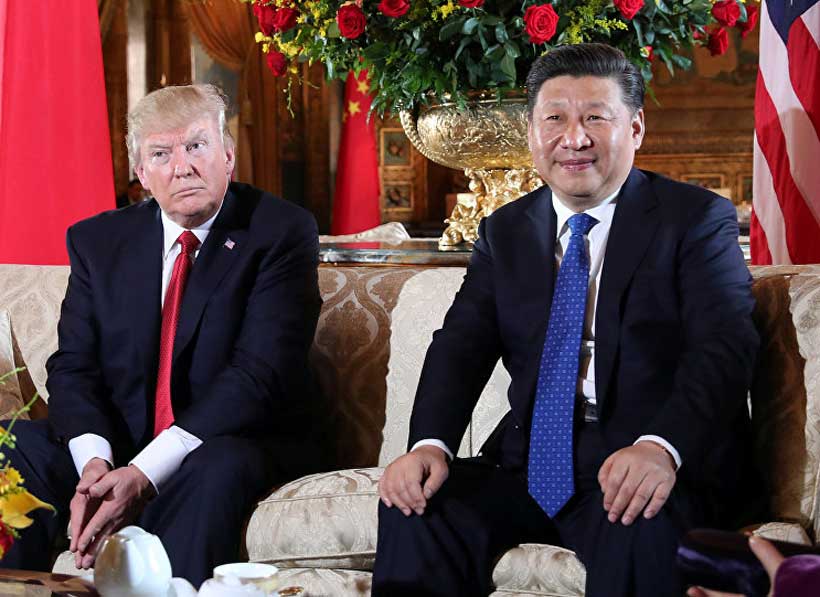 On the sidelines of the G20 summit in Buenos Aires, Argentina on December 1st 2018 the US President Donald Trump and the Chinese President Xi Jinping concluded a conditional trade agreement, according to which Beijing has to reduce its current trade surplus with the US by increasing Chinese purchases of soybeans, natural gas, commercial aircraft and some other US industrial goods. In contrast, Washington will maintain the tariff rate on Chinese exports to US of US$200 billion at 10 percent, instead of increasing it to 25 percent, which was due to come into force on Jan 1st 2019.
Although some commentators, politicians, or scholars over-optimistically described that deal as the end of the trade war, or at least a first step, between the two countries, including President Trump himself; but in fact by analyzing the reasons behind the two countries' decision to conclude such agreement and whether this agreement paves the way for a final trade agreement or not, and what obstacles may stand in the way of reaching a final trade agreement between the two countries, it seems more likely to be a beneficial truce or a diplomatic solution to gain more time, calming the growing escalation of the trade war and to control its affiliated losses from both sides. Accordingly, the first question that may come in mind is how the future trade relations could be between the two countries?
The coming sections attempt to answer these questions by explaining the reasons behind conducting such agreement for the two sides, the main barriers or obstacles that may prevent reaching a commercial peace between the two countries, and the prospected future of US-China trade relations based on these factors as following:
Why to conclude such agreement?
Based on the rational choice approach, the simple answer of this question is that such agreement is beneficial for both of them; and in fact it is also beneficial for all the international economy, at least to stop the continued losses of both countries.
For the United States
In order to control the losses of the American economy since the beginning of the trade war, where the indicators of the American stock markets declined sharply during October and November 2018; large losses suffered by the American farmers because of China's imports reduction of agricultural products and soybeans in particular, where 60 percent of its total US production were importing by Beijing; and the costs of the US Department of Agriculture increased for providing almostUS$12 billion as aid to farmers and breeders affected by the trade war.
Seek to improve the trade balance with China, where the Chinese trade surplus have been increased to $293.5 billion from January to November 2018, comparing with $251.3 billion in the same period previous year; combined with increase the Chinese exports to the US by 9.8% annually since November 2018, While imports fell by 25% during the same month.
In addition, to avoid any further economic damages or losses that may occur because of the continued escalation of the trade war between the two countries whether to the American or the international economy, Moreover, to face the internal pressure of his strong opposition, and for the re-election considerations.
The agreement came shortly after the G20 industrialized nations backed an overhaul of the World Trade Organization (WTO), which regulates international trade disputes, giving a symbolic victory for Trump administration, a sharp critic of the organization.
For China
To reduce the negative impact of the trade war, where the Chinese economy suffered from a decline in the economic growth rate during the third quarter of 2018,the defaults in the payment of corporate bond yields, and the decline in property prices; in addition to the devaluation of the Chinese currency since May 2018 by more than 8%, Which is warning to slow the economic growth to 6.3 percent next year compared to the current growth rate of 6.5 percent.
To avoid increasing US tariffs that would undermine China's economic growth prospects, and increase pressure on its financial markets.
In addition to maintain the stability of the international economy, in order to avoid any negative effects on the Chinese economic ambitions such as the Belt and Road Initiative (BRI) whether directly or indirectly.
– Based on the abovementioned reasons it seems clear that such agreement is a beneficial for both sides to gain more time and prepare themselves for a second round of the trade war, or at least to stop the terrible consequences of the trade war escalation.
Obstacles of a commercial peace between the two countries
There are many obstacles or barriers that prevent a long-term commercial peace between China and the US such as:
The low level of trust between the two countries because of many of the thorny issues among them such as addressing Intellectual Property Rights (IPR) protection, the synthetic opioid fentanyl being sent from China to the United States, non-tariff barriers, cybercrimes, cyber-security, services and agriculture; and especially after the United States accuses Beijing of forcing American and foreign companies in general to disclose trade secrets versus access to the Chinese market.
The different understanding of the agreement by the two sides and the lack of clear future trade talks between them are also stumbling blocks in commercial peace way; while president Trump pledged to freeze tariffs in exchange for China's commitment to reduce bilateral trade deficit with the US, but it is still unclear what exactly Beijing proposed; where the reports published by China's state-owned media completely deny Beijing's commitment to reduce the trade deficit with the US. In addition, whether China can reduce its tariffs on the American products, also the quantities and timing to resume its purchases of American goods are not clear. In addition to tariffs on Chinese goods, Trump has imposed tariffs on steel and aluminum imports into the United States this year. Numerous countries have filed litigation at the WTO to contest the levies.
Arresting the chief financial director of Huawei Communications Technology in Canada (the daughter of Huawei's founder, the second largest smart phone company in the world)on December 1st 2018 (the same day as the agreement was concluded); and the American requests to extradition on charges of posing a threat to US national security arguing that the technology it uses can be used by the Chinese government for espionage. Additionally, the US companies were banned from exporting to the Chinese telecommunications company ZT earlier 2018 due to Iranian sanctions had been violated. Accordingly, the Chinese Vice Foreign Ministry has summoned the US Ambassador to China on Dec. 9 in a protest over the arrest. There is no doubt that this issue will affect the scheduled talks between the two countries; While the Trump administration insists that it will not affect the ongoing trade talks, Beijing believes that it is just an American attempt to contain China's technological ambitions. In response, Beijing may have to take some measures to calm the mounting public anger, bearing in mind that a Chinese court decision to ban the sale and import of most iPhone models on Dec 10.
The fact that the competition between the two countries is much farther than the limits of the trade warand trade is one aspect of this competition, where from the Communist Party of China's perspective the United States seeks to bring about comprehensive changes may reach the extent of changing the Chinese political system, and obstacle the Chinese economic and political aspirations.
Indeed there are many indications that the Trump administration consider the issue as much greater than a trade war by aiming to contain or undermine China's rise in the world and maintain the American economic and political hegemony over the world for instance the US national security strategy and Trump hint to withdraw from the Nuclear Weapons Agreement, the declaration of the free and open Indo-Pacific economic zone, and the American opposition to BRI as well as the Made in China 2025'splan. In addition, the adoption of the America First policy gives the impression that the United States is seeking concessions, not to improve trade relations, but to maintain American hegemony. Furthermore, the historical experience proves that the American perspective in dealing with the international issues mostly characterized by realism features, where as soon as it considered any state as their rival the caution will prevail on their relations and keeps working and set strategies to win the zero-sum game with this state.
The narrow timeframe of the agreement, which lasts for no more than 90 days for further talks with the aim of structural changes on some thorny and complex issues, therefore, it is difficult to resolve this long list of issues in that short timeframe.
Furthermore, the two countries are also at odds over some other issues such as the China's extensive claims in the South China Sea and U.S. warship movements through the highly sensitive Taiwan Strait.
Future of US-China Trade Relations
Whether the two countries could reach a commercial peace or not is depending heavily on their ability to overcome the above challenges and the real willingness of both sides to take concrete steps to end their trade war.
From one side, there are some steps or measures from the both sides to contain and avoid the escalation of trade war such as President Xi's agree to designate fentanyl a controlled substance during the meeting, the Chinese announcement to slash on US-made autos from 40 percent to 15 percent in an attempt to show its willingness to calm the tension with Washington.
In the same context, whether the annual sessions of the National People's Congress, the Chinese People's Political Consultative Conference (CPPCC) scheduled for March 2019 may lead to substantial changes to China's economic policy will be a decisive factor in determining the future of the US-China trade war. On the other hand, the announcement of President Trump on December 11 that he may intervene in the Justice Department's case against the chief financial director of Huawei if it would be in the interest of U.S. national security and help forge a trade deal with China, gives an impression that both sides have a desire not to escalate the trade war or at least express their fearing about the consequences of this escalation.
From another perspective, it's arguable that the US-China trade agreement is very similar to the agreement between Washington and the European Union in July 2018, which included strengthen the free trade measures and the announcement of more European purchases of the American agricultural products. But the agreement is in danger of collapse, with President Trump threatening once again to impose a 20 percent tariff on all cars and spare parts imported from the EU. The same scenario is possible with China as long as it serve the American interests, especially with the lack of a final agreement on what Washington considers as unfair trade practices by China in the areas of cyber espionage, piracy and intellectual property rights violations. With bearing in mind that the White House said talks would take place to resolve within the next 90 days specific US complaints such as forced technology transfer, or else existing 10 percent tariffs would go up to 25 per cent.
New Era of China – India Relations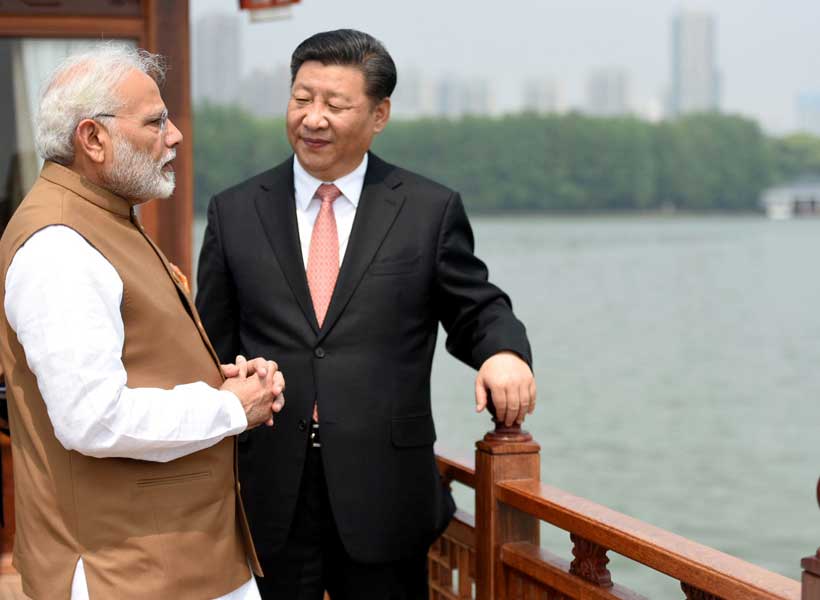 Modi's informal visit to Wuhan china as a indication of Sino – Indian rapprochement reason being both are world important engines of economic growth, economic globalization and making positive contribution toward peace and development .Regardless of Wuhan's outcomes, India remains wary of China's deepening regional influence, primarily through the Belt and Road Initiative (BRI), which Xi sees as not only a vehicle to deepen China's clout but as holding domestic value in showcasing his country's emergence. China also convincing India that the China-Pakistan Economic Corridor is economic cooperation and does not influence China's impartiality.
China and India recently locked horns on Dokalam issue, a 72 days military standoff was the result of the accretion of mistrust between the two countries. Modi and XI emphasized the need for greater cooperation and encourage CBMs to this reason because its conducive for development of the people and as well as the region. In Wuhan informal summit both leaders agreed to undertake joint economic and developmental projects in war-torn Afghanistan which is in the backyard of china and India. Foreign secretary Vijay Gokhale who is considering to be the architect of Sino – Indian rapprochement commented during the press briefing that the issue of Masood Azhar who is the chief of jaish e Mohammed also raised with President XI because china has repeatedly blocked India's bid to designate Masood Azhar as global terrorist in the UN.Similarly, India's membership bid to the Nuclear Suppliers Group was also opposed by China reason being India is not a signatory to the Comprehensive Nuclear-Test-Ban Treaty or the Nuclear Non-Proliferation Treaty also comes under discussion between two leaders.
The Asian Infrastructure Investment Bank (AIIB) is an excellent example of this "incremental approach." The AIIB was newly initiated by China in 2015, but India has not only gained significant political capitals in the field of international finance by becoming the bank's second-largest shareholder, but also has harvested considerable economic benefits as its largest loans recipient. As India has become an important member of the groupings China has major stakes in – the Shanghai Cooperation Organisation, BRICS and the AIIB –  such a multilaterally beneficial "pare to improvement" may well be attained through long-term strategic collaboration and deft diplomacy.

Furthermore, theoretical analysis of this bilateral relationship of China -India make for captivating case study due to strategic complexity, a complex web of interests ranging from tough stands on the unmarked boundaries issue to recognition of Tibet by India as part of China; with quest for energy resources to increasing bilateral trade; from perceptions of encirclement to increased cooperation on international forums and the different domestic political systems. Today China and India are the largest trading partners, with trade touching $88 billion; and target is $100 billion in 2018. Pragmatists add another dimension and said that prospects of china-India relations are not a case of conflict or cooperation, but conflict and cooperation.
On the one hand two countries "agreed to jointly contribute in a positive and constructive way in facilitating sustainable solutions for global challenges including climate change, sustainable development, food security etc. On the other hand, agreed that as major emerging economies, India and China, given their vast developmental experiences and national capacities, should join hands to take lead in offering innovative and sustainable solutions to challenges faced by humankind in the 21st century. These include combating diseases, coordinating action for disaster risk reduction and mitigation, addressing climate change and ushering digital empowerment." On the same subject, the Chinese government communique says the two countries "agree to join hands in offering innovative and sustainable solutions to global challenges such as epidemics, natural disasters, climate change and terrorism."
Geopolitics of Sino Indian relations marked by different strategies, Chinese cooperation with Pakistan, India's look east policy, quest for influence in Indian ocean, china's string of pearls strategy, south china sea, despite all this Sino- Indian cooperation paving the way from unipolarity to multipolarity. Both are the world 's two most populated countries. They have constant the world 's highest annual GDP growth rates over the past decade of9 % for China and 6 or 7 % for India. The two countries have been among the world 's most successful in surviving the challenges of world Recession since 2008."It is a good start. More joint projects should be in their shared neighborhood such as Nepal, Sri Lanka, Myanmar and other ASEAN countries. Africa is also a region of full of possibilities," said Lili, south Asian scholar at the Institute for International Relations at Beijing's Tsinghua University.
For that reason experts say China and India can't afford to compromise their economic ties, regardless of conflict."China has achieved remarkable economic progress in the past five decades, which provides valuable lessons to India's development. And China's inclusive and responsible attitude towards globalization for the economic reform (and opening) attracts India's attention and gives them more confidence," said Liu Chunsheng with Central University of Finance and Economics.
To be conclude, the territorial dispute, regional geopolitics, and economic competition, catalyzed by misperceptions, will ensure that Sino-India relations will remain competitive in nature. However, the high cost of war, growing economic interaction, and the imperative for peaceful economic development will also help keep the level and nature of competition to a pragmatic level.
A ground-breaking joint Sino-Indian economic project in Afghanistan will send the signal that cooperation can prevail over competition and a message to Pakistan that China recognizes India's legitimate role in Afghanistan, say strategic experts.