Resilient Transport Vital to Curb Disaster Losses in Small Island Developing States
Small Island Developing States (SIDS) in the Caribbean, Pacific, Africa and Indian Ocean are among the world's most vulnerable countries to natural disasters, and climate change is expected to greatly increase their exposure to hurricanes, storm surges, extreme winds, and flooding. A report launched today by the World Bank says the transport sector can play a central role in reducing the vulnerability of SIDS.
The report, entitled Climate and Disaster-Resilient Transport in Small Island Developing States: A Call for Action, finds that damage to roads and bridges constitutes a major share of disaster losses in SIDS, resulting in huge fiscal strains for their small economies. Transport often represents a large share of public assets in small islands, for example in Dominica transport assets are valued at 82% of GDP. In Fiji, one third of the total government budget is spent on the transport sector.
"Transport is critical to the economy and for the provision of services to remote communities," said the Hon. Aiyaz Sayed-Khaiyum, Minister for Economy of Fiji. "Our transport infrastructure is already affected by climate change. There is an urgent need to develop tailored and climate smart solutions to improve the resilience of this sector. This report makes a valuable contribution by highlighting innovative solutions focused on small island developing states."
According to the report, disaster vulnerability and costs in SIDS can be significantly reduced by investments in transport asset management that factor in climate change and disaster risks. This includes placement of transport infrastructure away from high risk locations, physical protection against hazards, application of innovative materials and construction designs, infrastructure maintenance, and deployment of early warning systems, among others.
"The effects of hurricanes Irma and Maria on the Caribbean are a stark reminder of how natural disasters can set vulnerable small countries back by decades," said Franz Drees-Gross, World Bank Director for Transport and Digital Development. "As climate change increases the frequency and intensity of extreme weather, small island developing states face the urgent need to adapt. Resilient transport systems should be a priority in that effort, due to the large recovery costs and the critical role they play in all aspects of their economies."
In addition to the direct costs of physical damage, limited economic diversification and low capacity to cope, aggravated by impaired transport systems, result in critical losses to income and population well-being. This includes interruptions of access to services such as schools and hospitals, and lost revenues in vital sectors such as tourism, fishing, and agriculture, worsening long-term economic losses and making recovery even more difficult. Despite these risks, the adoption of a transport resilience package could reduce losses significantly. For Tonga, for example, this could reduce well-being losses by as much as 25%.
Against less frequent and unpredictable high-impact events, SIDS will also need better access to financial instruments, the report notes. The Global Facility for Disaster Reduction and Recovery (GFDRR), managed by the World Bank, provides risk finance and transfer facilities, but these efforts need to be strengthened and complemented by additional financial resources to enhance the resilience of transport systems.
Report: Drought and conflict leave millions more hungry in 2017
Driven largely by climate disasters and conflict, levels of acute hunger surged in 2017, leaving some 124 million people across 51 countries facing hunger crises –11 million more than the previous year, according to a new United Nations report.
"Reports such as this give us the vital data and analysis to better understand the challenge. It is now up to us to take action to meet the needs of those facing the daily scourge of hunger and to tackle its root causes," said Secretary-General António Guterres in a video message on the report.
Presented by the UN Food and Agriculture Organization (FAO), the UN World Food Programme (WFP) and the European Union at a briefing Thursday, the Global Report on Food Crises finds that food emergencies are increasingly determined by complex causes such as conflict, extreme climatic shocks and high prices of staple food – often acting at the same time.
"We must acknowledge and address the link between hunger and conflict if we are to achieve zero hunger," said José Graziano da Silva, FAO Director-General.
The report points out that conflict continued to be the main driver of acute food insecurity in 18 countries – 15 in Africa or the Middle East – accounting for 60 per cent of the global total.
The increase is largely attributable to new or intensified conflict and insecurity in Myanmar, north-east Nigeria, the Democratic Republic of Congo, South Sudan and Yemen.
"The fighting must stop now and the world must come together to avert these crises often happening right in front of our eyes," underscored David Beasley, WFP Executive Director.
Mr. da Silva stated: "Investing in food security and livelihood in conflict situations saves lives, strengthens resilience and can also contribute to sustaining peace."
The report finds that food crises are increasingly determined by other complex causes as well, such as extreme climatic shocks and high prices of staple food – often acting at the same time.
For instance, prolonged drought conditions resulted in consecutive poor harvests in countries already facing high levels of food insecurity and malnutrition in eastern and southern Africa.
"The consequences of conflict and climate change are stark: millions of more people severely, even desperately, hungry," maintained Mr. Beasley.
The report also flags that entire communities and more children and women are in need of nutritional support compared to last year, indicating the need for long-lasting solutions to revert the trend.
Moreover, it highlights the urgent need for simultaneous action to save lives, livelihoods and to address the root causes of food crises.
The report, which brings together regional and national data and analysis from multiple sources, demonstrates that in addition to critically needed humanitarian aid, development action needs to engage much earlier so as to tackle the root causes of extreme vulnerability, therefore, building resilience.
"This Global Report on Food Crises shows the magnitude of today's crises but also shows us that if we bring together political will and today's technology, we can have a world that's more peaceful, more stable and where hunger becomes a thing of the past," Mr. Beasley concluded.
Maps with interactive data from the report can be found here.
Teaching youth to plant for the planet and change the world from the heart of Europe
A project run from a remote and beautiful part of the German countryside is transforming young people into climate scouts with a powerful message to share.
The Sustainability Guides and Climate Scouts project is run from the International Meeting Centre, St. Marienthal in Ostritz in the Free State of Saxony near the border with Poland.
Established in 1992, the centre conducts around 60 Education for Sustainable Development (ESD) events for more than 2,500 families, youths, adults and experts each year.
The guides and scouts project started in 1998 and welcomes groups of students for intensive courses that combine study with practical outdoor activities, and make good use of its forest experience trail and nature protection station.
Over 1,100 youth have taken part so far including 680 learning-disabled and socially disadvantaged young people who traditionally have very little access to ESD. Its geographical location means it is perfectly placed to bring together students from Germany, Poland and Czech Republic. And a new model project is currently underway which opens the door to ESD for refugees as well.
One of the most exciting aspects of the project is the Plant for the Planet scheme where children have planted around 34 hectares of forest and undertaken more than 30 small-scale energy and water conservation initiatives.
Project Manager Georg Salditt said: "Our message is really twofold: we are teaching peace and the environment. We are well placed at the very heart of Europe to bring young people together who may not normally have met and to demonstrate to them that we are all human beings and we must respect each other and the planet."
The work with refugees who come from Syria, Afghanistan and African countries and elsewhere also has a double aim.
"We want to make sure that if they make their lives here they know how important it is to protect the environment, but also if they are able to return home or to another country that they carry those messages back with them," said Georg.
Not only is the centre itself a model of sustainability with its own environment management system: when children leave the course they take back with them ideas on how to transform their own schools. The centre ties all theory very tightly to practice. In some schools, environmental representatives have been appointed and students introduced permanent energy saving routines for heating and ventilation and for the reduction of paper use and waste.
As part of the project young people also learn about the effects of climate change on societies in the form of soil erosion, extreme weather phenomena , rural depopulation, economies and the environment especially with regard to forest damage. They are motivated by quick feedback on successes in energy and water conservation and updates on the amount of forest planted.
Crucially children also take part in communication workshops to learn how best to share and pass on what they have learned at open school days or town halls.
For Georg one of the most satisfying aspects of his work is watching the transformation take place before his eyes.
"It might sound silly but students do actually write to me one or two years after the course and say that these five days changed their lives not only as far as the environment is concerned but as a human experience. Some had never met anyone from another country at all. And they got to plant a tree!"
And there is a new project already underway.
"We are now working to introduce a project to protect bees and insects. Everyone loves honey and honeybees so we think it will be a success," he said.
World looks to nature-based solutions for urgent water challenges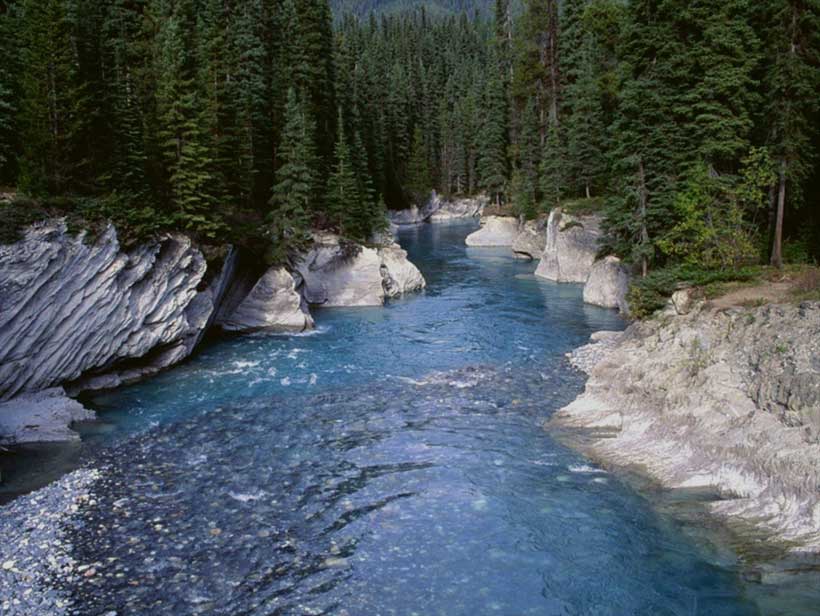 As more than 2 billion people lack access to safe drinking water and more than double that number lack access to safe sanitation, the international community is drawing attention to nature-based solutions for the water challenges of the 21st century on this World Water Day.
The theme of this year's commemoration highlights the unique and fundamental role that nature-based solutions play in regulating the water cycle, keeping freshwater clean and improving the water security of our water cycles.
With the global population continuing to grow rapidly, demand for water is expected to increase by nearly one-third by 2050, while our freshwater ecosystems are degrading at an alarming rate ­– 64-71% of the natural wetland area worldwide has been lost due to human activity in the last century. Furthermore, water pollution has worsened in almost all rivers in Africa, Asia and Latin America since the 1990's
"We need to deal with the water paradox," said Erik Solheim, head of UN Environment, calling attention to the need to work together towards a solution for our water challenge. "Water is the essence of life, but we don't save it enough. It's time to change mindsets, it's not about development versus the environment."
The 2018 edition of the UN World Water Development Report outlines a range of nature-based solutions for water management, from personal measure that can be applied in the home, to examples of "green" infrastructure that can be applied to rural and urban landscapes – such as planting new forests, restoring wetlands, and constructing green walls and roof gardens.
The report further clarifies that despite recent advances in the application of green infrastructure, a holistic approach to water management is to identify the most appropriate, cost-effective and sustainable balance between grey infrastructure and nature-based solutions.
"Today, more than ever, we must work with nature, instead of against it," said Audrey Azoulay, Director-General of UNESCO in the foreword of the report. "Demand for water is set to increase in all sectors. The challenge we must all face is meeting this demand in a way that does not exacerbate negative impacts on ecosystems."
World Water Day is celebrated every year on March 22nd. This year, the commemoration coincides with the World Water Forum, held in Brasilia, Brazil. The Forum is the world's biggest water-related event, organized by the World Water Council. The Forum brings together water experts from around the world to collaborate on making long-term progress on global water challenges. http://www.worldwaterforum8.org/