President Erdogan's visit to Qatar amid Gulf crisis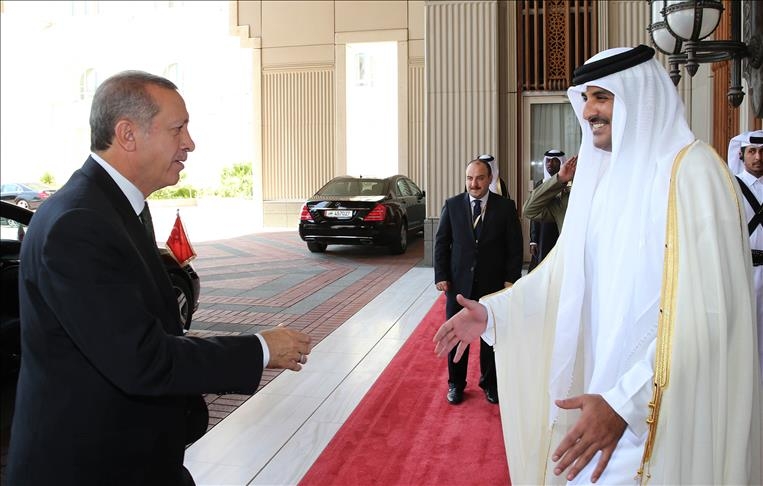 Recently Turkey's President Tayyip Erdogan traveled to Qatar, which Ankara has supported in its dispute with powerful Gulf Arab neighbors as the key part of his shuttle diplomacy. Erdogan visited Doha, following trips to Russia and Kuwait. President Erdogan and Qatar Emir held the meeting of the third session of the Qatar-Turkey Supreme Strategic Committee at the Emiri Diwan.
Qatar is the world's largest exporter of liquefied natural gas. A group of nations led by Saudi Arabia and including Bahrain, Egypt and the United Arab Emirates cut ties with Qatar in June. On June 5, Saudi Arabia, Bahrain, the United Arab Emirates and Egypt cut ties with Qatar accusing it of backing extremism and fostering ties with their Shia rival Iran. Doha, however, vehemently denies the claims and Ankara has insisted there is absolutely no evidence to back the allegations.
The Gulf crisis was one of the important items on the agenda of President Recep Tayyip Erdogan's meetings in Kuwait and Qatar. "The crisis which started over five months ago in the Gulf Cooperation Council will be among the top-priority topics of the agenda," the Presidential spokesman Ibrahim Kalin said in a statement.
Ankara has a military base in Qatar and deployed more troops after the hostilities erupted. The closure of the Turkish base was one of 13 conditions demanded by the Saudi-led bloc.
Turkey has backed Qatar since Saudi Arabia, Egypt, the United Arab Emirates and Bahrain, cut economic and diplomatic ties in July, accusing Doha of supporting terrorism, a charge it denies.
However, Turkey does not want to wreck its own relations with regional kingpin Saudi Arabia and its hugely powerful new Crown Prince Mohammed bin Salman. Erdogan has carefully worked to improve Ankara's relations with Riyadh which took a blow over the 2013 ousting of President Mohammad Morsi in Egypt, another ally of Ankara.
President Erdogan has strongly spoken out against the sanctions applied by the boycotting countries towards Doha. In a show of solidarity, Turkey has also sent cargo ships and hundreds of planes loaded with food products and other supplies to break the embargo on Doha.
President Erdogan's visit to Qatar comes within the framework of the growing and distinguished relations of cooperation between the two brotherly countries in various fields. The Emir and the Turkish President discussed means of enhancing strategic bilateral cooperation between the two countries as well as reviewing the latest developments in the region.
As a part of his three nation tour, the Turkish President Erdogan arrived in Doha on Nov 15 for an official visit to Qatar. The State of Qatar's Emir H H Sheikh Tamim bin Hamad Al Thani held talks in Turkey on November15 with the emirate's chief ally President Recep Erdogan, in his first trip abroad since the Gulf diplomatic crisis erupted.
Over the last years, Qatar has emerged as Turkey's number one ally in the Middle East, with Ankara and Doha closely coordinating their positions on a number of issues including the Syria conflict where both are staunch foes of President Bashar al-Assad.
During the meetings held at higher levels, the two countries signed 14 agreements and memorandums of understandings (MoUs) to reach a total of signed agreements between the two sides to about 40 agreements covering all areas of vital cooperation between the two countries ranging between economic, cultural, defence, banking and cyber security as well as food and agricultural security. In addition to an agreement to protect investments and another twinning between Hamad Port and Turkish ports.
Qatar and Turkey have signed a defence agreement in 2014 to establish a Turkish base in Qatar, in aim to strengthen Qatar's defence capabilities and promote the region's security, without hostility against any party. When the current Gulf crisis break out and the unjust siege imposed on the State of Qatar, Turkey took the initiative and sent the rapid dispatch of foodstuffs and basic needs to Qatar's citizens and residents.
The Turkish president has repeatedly called for the lifting of the blockade against Qatar. Erdogan has been a major supporter of Doha in the crisis that has seen Qatar left diplomatically and economically isolated. "We support a resolution of the crisis through a brotherly manner and through dialogue," Ibrahim Kalin, Erdogan's spokesman, told reporters. "This crisis only serves the enemies of this region."
While seeking a quick end of confrontation between Qatar and Saudi Arabia, however, Turkey backs Qatar in the Gulf crisis that was triggered in June when Saudi Arabia, Egypt, the UAE and Bahrain cut diplomatic and trade ties with Qatar. The four states accuse Qatar of supporting terrorist groups — allegations Doha denies, describing the embargo as a breach of its national sovereignty.
Earlier, Erdogan in July embarked on a regional tour of the Gulf countries, with visits to Saudi Arabia, Kuwait and Qatar in a bid to defuse the crisis. But his visit then ended without any sign of a breakthrough and Ankara has shown signs of preferring to leave mediation efforts to Kuwait.On 15 Sept 2017 Turkey's President Erdogan hosted Qatar's emir. Qatar's Emir Sheikh Tamim bin Hamad Al Thani has held talks in Turkey with
Qatar's Deputy Prime Minister and Foreign Minister H E Sheikh Mohamed bin Abdulrahman Al Thani has said that Qatar has US backing to resolve the ongoing crisis with a Saudi-led alliance. "The Trump administration is encouraging all sides to end the dispute and has offered to host talks at the Camp David presidential retreat, but only Qatar has agreed to the dialogue," H E Sheikh Mohammed bin Abdulrahman Al Thani said yesterday, Bloomberg reported.
Abdulrahman Al Thani said he will meet Secretary of State Rex Tillerson next week after having talks this week with Senate Foreign Relations Committee Chairman Bob Corker and ranking member Ben Cardin as well as other congressional leaders. "The Middle East needs to be addressed as the top priority of the foreign policy agenda of the United States," he told reporters in Washington yesterday. "We see a pattern of irresponsibility and a reckless leadership in the region, which is just trying to bully countries into submission."
Asked about the prospect of the Saudi-led bloc taking military action, the Deputy Prime Minister said though Qatar hopes that won't happen, his country is "well-prepared" and can count on its defence partners, including France, Turkey, the UK and the US, which has a base in Qatar. "We have enough friends in order to stop them from taking these steps," but "there is a pattern of unpredictability in their behavior so we have to keep all the options on the table for us," he said. On the US military presence, "if there is any aggression when it comes to Qatar, those forces will be affected," he added. "Already, the boycott is impacting the US-led coalition fighting Islamic State militants in Iraq and Syria," the Deputy Prime Minister and Foreign Minister said.
Qatar's C-17 transport aircraft are the main planes ferrying logistical support to coalition partners, such as Jordan and Turkey. But because Qatari planes are barred from flying over Saudi, Bahrain and the UAE, "we have only one pathway to fly, which is via Iran," so that if there's an emergency the planes may have to land in the Islamic Republic, he added.
Meanwhile, AFP reported that Abdulrahman Al Thani compared Saudi Arabia's political manoeuvres in Lebanon to its boycott of his country, and accused Riyadh of a dangerous escalation. He said Qatar is ready to come to the table to resolve the dispute under US mediation. But he maintained Qatar's tough stance, arguing that Riyadh is responsible for detonating a series of Middle East crises, by intervening in Lebanon, boycotting Qatar and bombing Yemen. "This is something we have just witnessed in the region: Bullying small countries into submission," the Deputy Prime Minister and Foreign Minister said, suggesting that Saudi aggression is a new regional threat. "Exactly what happened to Qatar six months ago is happening now to Lebanon," he said. "The leadership in Saudi and the UAE should understand that there is a world order that should be respected. International law should be respected," he said. "There is no right for any country to interfere in other countries," he argued, warning: "There is a pattern that is very risky for the region, and very intimidatory."
HH Abdulrahman Al Thani said Qatar was a strong US partner in war against terrorism. To a question about allegations on supporting terrorism, H H Sheikh Mohamed bin Abdulrahman Al Thani said it was propaganda and in fact the entire campaign was started with such baseless accusations. Qatar was strong US partner in war against terrorism and was hosting centre of command for global coalition base as a big ally in war against terror. The Deputy PM and Foreign Minister said Qatar was front runner in fighting against ideology of terrorism through supporting education in vulnerable countries and was supporting education of 7m children in East and Central Asia. He said that the US always expressed its appreciation for this relationship and there was no indication that it wanted to close its base in Qatar. "In fact, we are developing this relationship further."
Qatar is getting support from the USA for putting this crisis to an end but it was behavior and attitude of Saudi Arabia and the UAE which had laid siege Qatar and were taking illegal actions against Qatar. He said that terrorism was bigger threat in the region but siege countries attitude was undermining the threat through anti-Qatar campaign.
Before his visit to Qatar, President Erdogan went to Kuwait. He and Kuwaiti ruler Sheikh Sabah al-Ahmad al-Sabah discussed "regional and international developments," the government-run KUNA news agency said. Erdogan and Kuwait's leader Sabah Ahmad Al-Jaber Al-Sabah discussed issues related to bilateral trade, and cooperation in defense, education and culture, according to the statement. Erdogan and the Kuwaiti emir discussed means to improve cooperation on all fronts between the two nations and also inked a direct investment agreement. Turkey's and Kuwait's military chiefs of staff held talks on the "developing and strengthening" military cooperation, according to KUNA. Kalin said that regional developments, particularly in Syria, Iraq and the Gulf region, along with bilateral relations between Turkey and the Gulf countries would be discussed in detail.
Former Ottoman Empire is making Ernest efforts to play pivotal and proactive role as a part of his rising diplomatic profile. Recently Turkey, Qatar and Iran agreed to launch the Qatar-Turkey route through Iran in a move to boost trade between the two countries. The agreement will be signed soon between the transport ministers of the three countries according to the Turkish Ambassador to Doha Fikret Ozer.
Earlier in July, Erdogan had embarked on a regional tour of the Gulf countries, with visits to Saudi Arabia, Kuwait and Qatar in a bid to defuse the crisis. But his visit ended without any sign of a breakthrough and Ankara has shown signs of preferring to leave mediation efforts to Kuwait.
Turkey has increased trade with Qatar since the start of the embargo and the two countries have held joint military exercises in the Gulf state, where Ankara has a military base. It has said it will deploy 3,000 troops at the base. The closure of the base was one of the conditions laid by the Saudi-led bloc for the lifting of the sanctions, which was rejected by Doha.
The two countries established the Supreme Strategic Committee under the leadership of H H the Emir and the Turkish President to act as an important mechanism for strengthening bilateral relations between the two countries in all fields. The Turkish exports to Qatar have increased three times more than usual to reach $32.5m since the beginning of the unjust siege, where these exports increased during last June to 51.5 percent on month-on-month (MoM) basis. As well Qatari investments in Turkey between 2011 and 2016 were valued at $1.29bn.
Through joint meetings of the committee, the two countries are explored the best ways to strengthen their bilateral relations. The committee meetings resulted in more qualitative cooperation between the two countries, which opened new horizons for cooperation. Thus the committee has played a major and catalytic role in the development of economic relations between the two countries since its inception.
As a group of nations led by Saudi Arabia and including Bahrain, Egypt and the United Arab Emirates blockaded Qatar in June; Kuwait has unsuccessfully led mediation efforts in the dispute, while Turkey has stepped in to support Qatar with food imports in the face of a blockade by the Arab states.
Turkish President Tayyip Erdogan met with the Emir of Kuwait Sheikh Sabah al-Ahmad al-Jaber al-Sabah in Kuwait City. Kuwait has led mediation efforts in the dispute, while Turkey has stepped in to support Qatar with food imports in the face of a blockade by the Arab states. Erdogan and the Kuwaiti emir also discussed "means to improve co-operation on all fronts" between the two nations and also inked a direct investment agreement, KUNA said. The report did not give further detail on the agreements. Turkey and Kuwait's military chiefs of staff held talks on the "developing and strengthening" military co-operation, according to KUNA.
Prior to his Gulf trip, Erdogan visited Russia briefly, and discussed with his Russian counterpart Vladimir Putin Turkey's expectations regarding the re-establishment of visa-free regime and lifting of all remaining trade sanctions by Moscow.
Following the downing of a Russian fighter jet in November 2015 over violation of Turkish airspace, Kremlin had ordered an end to visa-free travel with Turkey. Russia also banned some Turkish agricultural imports as well as firms involved in construction, engineering, and tourism.
Later Moscow came to know that Turkish military fired down the Russian jet plane on instructions, as usual, from Pentagon. Turkey as a key member of NATO has to oblige Washington in such military matters. Moscow and Istanbul came to recognize their common foe trying to split European Turkey and Eurasian Russia for strategic reasons. .
As a result, however, the bilateral relations improved considerably in recent times especially during the summer, Russia relaxed trade sanctions placed on Turkey. Most recently, on October 27, Russia lifted its restrictions on the import of tomatoes from Turkey beginning Nov. 1.
Erdogan's multiple goals in Khashoggi case
Disappearance of Saudi journalist Jamal Khashoggi at the Saudi Consulate in Istanbul created a wave of reactions against Saudi young Crown Prince Mohammed bin Salman's suppressive policies.
Despite early denials, worldwide reactions finally forced the Saudi rulers to acknowledge the death of Saudi journalist Jamal Khashoggi, the critic of Crown Prince Mohammed bin Salman policies in the country's consulate.
Among all international bodies, countries and political figures nobody reacted to Khashooggi's death as strong as Turkish President Erdogan did.
Along with the Turkish police investigations the countries officials particularly President Erdogan have been revealing details of the murder gradually. Rejecting the Riyadh's proposed bribe and despite the Saudi ruler's acknowledgment, Turkey has called the Riyadh's explanation incomplete and Turkish President has vowed to uncover the truth behind Saudi journalist Jamal Khashoggi's killing.
Although Turkish President has called the Saudi journalist as "a friend", other reasons can be imagined behind President Erdogan's determination to follow the issue so seriously.
Saudi Arabia and Turkey have been competing for influence in Middle East for years and have had lots of conflicts and tensions over the developments in Egypt which resulted in removal of Turkish backed Morsi from power by Saudi backed al-Sisi, Qatar crisis, Saudi role in 2016 failed coup in Turkey and Saudi destructive role in Syria and Iraq and Riyadh's financial and political support to separatist Kurdish groups which Turkey considers them as a threat to its national security.
Turkey considers Mohammad bin Salman behind all Riyadh's regional and anti-Turkey policies. The tensions between the two countries heightened so that Saudi Crown prince referred to Turkey as part of a regional "triangle of evil" along with Iran and Qatar.
Savage killing of Khashoggi at the Saudi consulate provided Erdogan with a golden opportunity to press international community and the US to push Saudi King to remove the young prince from power or at least to contain his destructive policies in the region especially regarding the Kurds in Syria and Iraq.
It also seems that President Erdogan is using the current situation to reduce domestic and international critiques of himself. Rejecting the US demand to release of Pastor Andrew Brunson accused of links to PKK terrorist group and the Gulenist movement by Turkish president resulted in the White House's sanctions against Turkey which deteriorated the country's economic situation.
Over the past couple of years, Erdogan has always been accused of limiting journalists' rights and freedom of speech both domestically and internationally, by supporting the Saudi Journalist he can show himself as defender of journalist's rights internationally.
First published in our partner MNA
Middle East Instability to Overshadow Future Global Nuclear Nonproliferation Efforts
The Middle East fragile situation in which contradicting aspirations of states and non-states' actors that are involved in shaping the regional balance of power would most likely overshadow the global nuclear nonproliferation efforts in the near future. Factors such as the United States withdrawal from the Iran Nuclear Deal last May, and the polarization of Middle Eastern rivals-allies' relations in recent years, also encompass lack of trust, weakening on norms and increased uncertainty in the region that ultimately undermines existing multilateral arms control arrangements.
Most of the public debate on the Middle East instability, so far, has been focusing on issues such as the implications of intensified subsequent U.S sanctions, or the reaction of the global markets, as well as ongoing polarization in international relations. While this debate is important, attempts to figure out how to best deal with this situation often ignores the context of the overall global efforts to reduce proliferation of Weapons of Mass Destruction (WMD) and their implication on global security stability. A regional stabilization would be more practical by emphasizing the link between the regional WMD challenges to the Treaty on The Nonproliferation of Nuclear Weapons (NPT) that already encompasses most of these challenges. Developments in Iran's nuclear actions and the continuing stagnation in the Arab League's demand to advance negotiation on a Middle East Weapons of Mass Destruction Free-Zone (WMDFZ) are significant issues that have already taken a toll on the NPT and has already eroded the treaty member states obligations to it.
The above argument is also supported by a recent Russian official statement and by a draft resolution that the League of Arab States have submitted on the Middle East WMDFZ to the United Nations General Assembly. On September 28, 2018, the Russian News Agency published a statement by the Russian Director of the Foreign Ministry Department for Non-Proliferation and Arms Control Vladimir Yermakov. According to Mr. Yermakov, the establishment of a WMDFZ in the region is not feasible today, but it is urgent to advance it since current stagnation would "undermine the foundations of the NPT." The League of Arab States on their part, presented on October 11, 2018, a new draft resolution to the General Assembly, calling for the Secretary-General to take responsibility on convening a conference to establish a WMDFZ in the Middle East no later than June 2019. This draft resolution takes into consideration the limited time frame before the convening of the 2020 NPT review conference and the 2019 Preparatory committee to the conference.
So far, Five out of nine NPT review conferences that were held quinquennially since 1975 have failed to conclude with a final document, which symbolically shows a unified position and the commitment of the state parties to adhere to the treaty. Legally, the authority of review conferences is to clarify and interpret the treaty clauses, and not to amend them, to improve the treaty's implementation. This conduct makes the review conference political in nature since adopted decisions are based on political consent and are not legally binding. This political nature has often brought different issues of major controversies, such as the nuclear weapons states' obligations under the NPT to denuclearize or the Middle East WMDFZ, to overshadow other issues on the agenda, such as the emergence of new technologies, or suggestions to increase transparency that could affect the treaty's implementation.
In order to strengthen the NPT review process and to promote a constructive dialog among the parties, the 1995 NPT Review and Extension Conference have decided to include a Preparatory Committee support mechanism to improve the function and the outcomes of their subsequent review conferences. Nevertheless, the attempts to utilize preparatory committees for this aim by ultimately formulate significant recommendations for discussion at the treaty review conferences have failed to meet expectations, so far. Manifested political gaps between the nuclear member states and the non-nuclear member states that frequently appeared in previous review conferences have reproduced to their preparatory committees. These political gaps have practically obstructed improvements and  mutual understandings between state parties on nuclear issues, which prevented the formulation of a consensus- based final document in the review conference of 2005 and 2015. This in turn, significantly undermine the strength of the NPT and makes preparatory committees merely a preamble for their consecutive review conferences' dynamics.
The first sign for the possibility to maintain and improve global cooperation on nuclear nonproliferation, in light of the Middle East tensions, would be given at the upcoming NPT review conference that is expected in April 2020. Positive outcomes of this conference would be achieved once a unified position (or at least the widest possible) of the state parties on their commitment to adhere to the NPT would be formulated and agreed upon in the final document of the conference. As the 2000 and 2010 review conferences showed, a unified position that is brought together with an adoption of some practical steps to promote the treaty goals (with an emphasis on the Middle East WMDFZ) could enhance the significance of the NPT to deal with future nuclear weapons challenges.
Despite the relative success in the 2000 and 2010 conferences, failing to fulfill commitments on the agreed practical steps to promote the Middle East WMDFZ have raised frustration in the League of Arab States. Led by Egypt, the League of Arab States have been calling to promote a WMDFZ since 1974 (together with Iran), and with great extent since the 'Resolution on The Middle East' was adopted in the 1995 NPT review and extension conference – a resolution that in practice included the issue within the NPT framework. This issue was ultimately one of the main reasons for the failure of the NPT 2015 review conference due to a disagreement between the US and Egypt. The US-Egypt wrangled over the WMDFZ and accused each other on inflexibility, lack of interest and the use of this topic for political purposes. These direct accusations can only reflect on the overall undermining of the NPT in recent years. The same goes with the Iran Deal, where current inability to reach equilibrium that would suitable the interests of Iran and Russia on one side and the US and other moderate Sunni states on the other side (Israel is not member in the NPT) would eventually pervade to the 2020 review conference negotiations and negatively impact the conference's outcomes.
Nevertheless, achieving a positive outcome in the 2020 review conference depends not only on what would happen during the conduct of the conference, in terms of dynamics and the convened parties' will to compromise, but also on the states parties' ability to cooperate and reach at least principle agreements in the current time frame – prior to the conference's due date. All the more so, any gains achieved regardless of the NPT context are also likely to negatively impact the 2020 NPT review conference. The treaty's framework is the most relevant to comprehensively deal with the most crucial aspects of WMD nonproliferation in the Middle East while bringing most of the parties involved together to the same table.
The existing alternatives to gain a progress in the Middle East security situation relays on the ground that the NPT provides. Such alternatives are ranged from convening a regional arms control and regional security conference, as the League of Arab states asserts, through a direct cooperation and involvement of the NPT depositories – Britain, Russia, and the US that could provide guarantees to mitigate regional tensions. Failing to provide a pragmatic prospect for regional negotiations prior to the 2020 review conference would not only deepen the current deadlock and increase instability and frustration but would also undermine the relevancy of the NPT when it is most needed to regulate nonproliferation.
Mohammed bin Salman: For better or for worse?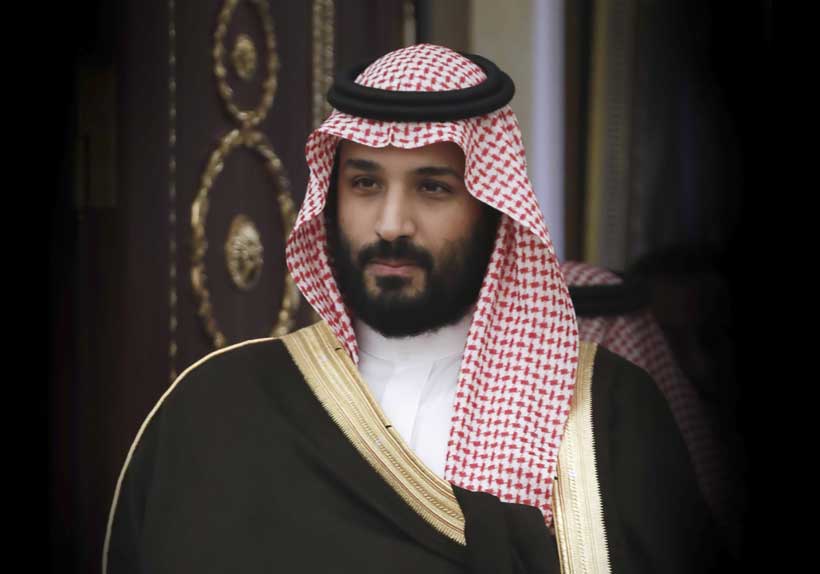 Embattled Saudi Crown Prince Mohammed bin Salman could prove to be not only a cat with nine lives but also one that makes even stranger jumps.
King Salman's announcement that Prince Mohammed was put in charge of reorganizing Saudi intelligence at the same time that the kingdom for the first time admitted that journalist Jamal Khashoggi had been killed in its Istanbul consulate signalled that the crown prince's wings were not being clipped, at least not immediately and not publicly.
With little prospect for a palace coup and a frail King Salman unlikely to assume for any lengthy period full control of the levers of power, Prince Mohammed, viewed by many as reckless and impulsive, could emerge from the Khashoggi crisis, that has severely tarnished the kingdom's image and strained relations with the United States and Western powers, even more defiant rather than chastened by international condemnation of the journalist's killing.
A pinned tweet by Saud Al-Qahtani, the close associate of Prince Mohammed who this weekend was among several fired senior official reads: "Some brothers blame me for what they view as harshness. But everything has its time, and talk these days requires such language." That apparently was and could remain Prince Mohammed's motto.
Said former CIA official, Middle East expert and novelist Graham E. Fuller in a bid to identify the logic of the madness: "As the geopolitics of the world changes—particularly with the emergence of new power centres like China, the return of Russia, the growing independence of Turkey, the resistance of Iran to US domination in the Gulf, the waywardness of Israel, and the greater role of India and many other smaller players—the emergence of a more aggressive and adventuristic Saudi Arabia is not surprising."
Prince Mohammed's domestic status and mettle is likely to be put to the test as the crisis unfolds with Turkey leaking further evidence of what happened to Mr. Khashoggi or officially publishing whatever proof it has.
Turkish leaks or officially announced evidence would likely cast further doubt on Saudi Arabia's assertion that Mr. Khashoggi died in a brawl in the consulate and fuel US Congressional and European parliamentary calls for sanctions, possibly including an arms embargo, against the kingdom.
In a sharp rebuke, US President Donald J. Trump responded to Saudi Arabia's widely criticized official version of what happened to Mr. Khashoggi by saying that "obviously there's been deception, and there's been lies.".
A prominent Saudi commentator and close associate of Prince Mohammed, Turki Aldakhil, warned in advance of the Saudi admission that the kingdom would respond to Western sanctions by cosying up to Russia and China. No doubt that could happen if Saudi Arabia is forced to seeks alternative to shield itself against possible sanctions.
That, however, does not mean that Prince Mohammed could not be brazen in his effort to engineer a situation in which the Trump administration would have no choice but to fully reengage with the kingdom.
Despite pundits' suggestion that Mr. Trump's Saudi Arabia-anchored Middle East strategy that appears focussed on isolating Iran, crippling it economically with harsh sanctions, and potentially forcing a change of regime is in jeopardy because of the damage Prince Mohammed's international reputation has suffered, Iran could prove to be the crown prince's window of opportunity.
"The problem is that under MBS, Saudi Arabia has become an unreliable strategic partner whose every move seems to help rather than hinder Iran. Yemen intervention is both a humanitarian disaster and a low cost/high gain opportunity for Iran," tweeted former US Middle East negotiator Martin Indyk, referring to Prince Mohammed by his initials.
Mr. "Trump needed to make clear he wouldn't validate or protect him from Congressional reaction unless he took responsibility. It's too late for that now. Therefore I fear he will neither step up or grow up, the crisis will deepen and Iran will continue to reap the windfall," Mr. Indyk said in another tweet.
If that was likely an unintended consequence of Prince Mohammed's overly assertive policy and crude and ill-fated attempts to put his stamp on the Middle East prior to the murder of Mr. Khashoggi, it may since in a twisted manner serve his purpose.
To the degree that Prince Mohammed has had a thought-out grand strategy since his ascendancy in 2015, it was to ensure US support and Washington's reengagement in what he saw as a common interest: projection of Saudi power at the expense of Iran.
Speaking to The Economist in 2016, Prince Mohammed spelled out his vision of the global balance of power and where he believed Saudi interests lie. "The United States must realise that they are the number one in the world and they have to act like it," the prince said.
In an indication that he was determined to ensure US re-engagement in the Middle East, Prince Mohammed added: "We did not put enough efforts in order to get our point across. We believe that this will change in the future."
Beyond the shared US-Saudi goal of clipping Iran's wings, Prince Mohammed catered to Mr. Trump's priority of garnering economic advantage for the United States and creating jobs. Mr. Trump's assertion that he wants to safeguard US$450 billion in deals with Saudi Arabia as he contemplates possible punishment for the killing of Mr. Khashoggi is based on the crown prince's dangling of opportunity.
"When President Trump became president, we've changed our armament strategy again for the next 10 years to put more than 60 percent with the United States of America. That's why we've created the $400 billion in opportunities, armaments and investment opportunities, and other trade opportunities. So this is a good achievement for President Trump, for Saudi Arabia," Prince Mohammed said days after Mr. Khashoggi disappeared.
The crown prince drove the point home by transferring US$100 million to the US, making good on a long standing promise to support efforts to stabilize Syria, at the very moment that US Secretary of State Mike Pompeo last week landed in Riyadh in a bid to defuse the Khashoggi crisis.
A potential effort by Prince Mohammed to engineer a situation in which stepped-up tensions with Iran supersede the fallout of the Khashoggi crisis, particularly in the US, could be fuelled by changing attitudes and tactics in Iran itself.
The shift is being driven by Iran's need to evade blacklisting by the Financial Action Task Force (FATF), an international anti-money laundering and terrorism finance watchdog. Meeting the group's demands for enhanced legislation and implementation is a pre-requisite for ensuring continued European support for circumventing crippling US sanctions.
In recognition of that, Iranian supreme leader Ayatollah Ali Khamenei dropped his objection to adoption of the FATF-conform legislation.
If that were not worrisome enough for Prince Mohammed, potential Iranian efforts to engage if not with the Trump administration with those segments of the US political elite that are opposed to the president could move the crown prince to significantly raise the stakes, try to thwart Iranian efforts, and put the Khashoggi crisis behind him.
Heshmatollah Falahatpisheh, head of parliament's influential national security and foreign policy commission, signalled the potential shift in Iranian policy by suggesting that "there is a new diplomatic atmosphere for de-escalation with America. There is room for adopting the diplomacy of talk and lobbying by Iran with the current which opposes Trump… The diplomatic channel with America should not be closed because America is not just about Trump."
Should he opt, to escalate Middle Eastern tensions, Prince Mohammed could aggravate the war in Yemen, viewed by Saudi Arabia and the Trump administration as a proxy war with Iran, or seek to provoke Iran by attempting to stir unrest among its multiple ethnic minorities.
To succeed, Prince Mohammed would have to ensure that Iran takes the bait. So far, Iran has sat back, gloating as the crown prince and the kingdom are increasingly cornered by the Khashoggi crisis, not wanting to jeopardize its potential outreach to Mr. Trump's opponents as well as Europe.
That could change if Prince Mohammed decides to act on his vow in 2017 that "we won't wait for the battle to be in Saudi Arabia Instead, we will work so that the battle is for them in Iran, not in Saudi Arabia."