Zimbabwe: President Mugabe faces impeachment by parliament
The world waits to see what happens next after the military took over Zimbabwe and after 93-year-old leader President Robert Mugabe refused to resign despite pressure from the army and the ruling Zanu-PF party.
Mugabe has confounded his critics by staying in power for so long. Sometimes dismissed as a cartoon figure abroad, he was viewed in Zimbabwe, at least originally, as a revolutionary hero who fought against white minority rule, and still enjoys respect as the "father of the nation".
But Robert Mugabe and his supporters have used violence to keep a tight grip on power, using the machinery of the state to bolster his party and himself. His party says it is fighting capitalism and colonialism, but the country's economic problems have tested even his most ardent supporters. He has often said he would only step down when his "revolution" was complete, but also wants to handpick his successor – something that led to the current crisis.
Wife
His unpopular wife caused the downfall of once respected Robert Mugabe. Also Grace aged 93 and in visible decline, the battle to succeed him intensified in recent months.
The ruling party split into two factions – one backing his wife Grace, 40 years his junior, and the other his long-time ally, Emmerson Mnangagwa. When he sacked Mnangagwa, it was obvious that he was backing his wife to take power. She was deeply unpopular, partly because of her love of shopping, which led to her nickname "Gucci Grace". Mnangagwa fought in the 1970s war of independence which brought Mugabe to power and retains close ties with many other former comrades, who occupy senior positions across the top of all of Zimbabwe's security forces. So when he was ousted, they intervened on his behalf.
The military certainly intervened, however they have not replaced the president – yet. In a statement on television, the military said it had temporarily taken control to "target criminals" around the head of state, not Mugabe himself, and still referred to him as "commander-in-chief".
The army wants a veneer of constitutionality to be preserved, and certainly none of his former comrades wants to arrest him, or worse, as often happens to leaders when the military takes over.
The army wants a political process to play out – Mr Mugabe to resign and Zanu-PF to name a new leader. And the military encouraged a public march to increase pressure on him, and show that their actions had the popular support.
So far, however, he is refusing to play ball, even though the ruling Zanu-PF party has sacked him as its leader, and so parliament may have to impeach him. However, on Sunday, Mugabe vowed to remain as president until the Zanu-PF congress, due in December, so it is far from clear what happens next.
If the ousted Mnangagwa does succeed Mugabe as president, he is cut from the same cloth. He has featured prominently in all of the atrocities and attacks on opposition supporters which have been carried out since Mugabe came to power. However, he has hinted that he may introduce some economic reforms, and even work with the opposition in some form of transitional government.
Crisis
Zimbabwe has gone from one economic crisis to another over the last decade. Estimates of the country's unemployment levels vary, but the country's biggest trade union claims the jobless rate was as high as 90% earlier this year.
Zimbabwe has struggled with hyperinflation, which peaked in 2008 with an official rate of 231 million per cent. The country was forced to abandon its own currency at a rate of Z$35 quadrillion to US$1, adopting the use of foreign cash.
People with money stored electronically in banks are unable to access it, or are subject to strict limits on what they can withdraw. Because of this, crypto-currencies that are traded online have risen in popularity. Following the news of the military takeover, Bitcoin prices in Harare surged on Wednesday.
Because of a continuing chronic shortage of hard money, the government issued their own version of dollars called bond notes, but they have rapidly lost their value.
Impeachment
The party of Zimbabwe's embattled President Robert Mugabe is to begin moves to impeach him. A Zanu-PF official said a motion to strip him of the presidency would be presented to parliament on Tuesday, and the process could take just two days.
The motion accuses the 93-year-old of charges including allowing his wife Grace to "usurp constitutional power". Military leaders, who last week intervened, said Mugabe would meet his exiled former vice-president soon.
Votes are expected to be held in both the National Assembly and the Senate – Zimbabwe's two parliamentary houses – on whether to begin impeachment proceedings.
If they pass by a simple majority, a joint committee from both chambers will be appointed to investigate removing the president. Then, if the committee recommends impeachment, the president can then be removed if both houses back it with two-thirds majorities.
Emmerson Mnangagwa fled Zimbabwe after Mugabe stripped him of his position, seen by many as a way clearing the way for his wife to succeed him as leader. The move riled top army officials, who stepped in and put Mugabe under house arrest, though he nominally remains the president.
The military said they have planned a "roadmap" with Mugabe for the future. On Sunday, despite intense pressure Mugabe surprised many by refusing to resign, instead in a TV speech vowing to preside over next month's Zanu-PF party congress.
Impeachment proceedings are set to go ahead after a deadline set by the party for Mugabe to stand down came and went. Speaking outside a party meeting on Monday, Member of Parliament Paul Mangwana said of the president: "He is a stubborn man, he can hear the voices of the people, but is refusing to listen." Impeachment in Zimbabwe can only occur in specific scenarios, on grounds of "serious misconduct", "violation" of the constitution or "failure to obey, uphold or defend" it, or "incapacity". "The main charge is that he has allowed his wife to usurp constitutional power when she has no right to run government. But she is insulting civil servants, the vice president, at public rallies. They are denigrating the army – those are the charges," Mangwana said. "He has refused to implement the constitution of Zimbabwe – particularly we had elections for the provincial councils, but up to now they have not been put into office.
He added that the process – which some experts had thought would be lengthy – could be fast-tracked and completed by Wednesday, "because the charges are so clear".
The opposition has tried and failed to remove Mr Mugabe using this process in the past. But now that the president has lost the support of his own ruling party and its overwhelming majority in both houses, reaching a two-thirds majority is achievable.
The vice-president would then take over Mugabe's position. The military, which supports Mnangagwa, would like to see him step into that role. But when he was removed from office, Phelekezela Mphoko – a known supporter of Grace Mugabe – became vice-president, and in theory would assume the presidential role.
It is not clear if Mnangagwa could be restored to his former position, and military leaders simply said the public would "be advised on the outcome of talks" between Mugabe and his former deputy.
Observation
Clearly, people generally want Robert Mugabe who failed the economy of the nation, to go. Will Robert Mugabe quit the post and politics and begin a retired life by fiving his valuable counsel to the new regime?
Interestingly, the rulers are eager to be the permanent owners of the nation. Their lust for power and craw for ability to cling on to power by crook as long as they can makes corruption rampant at all levels in the country.
Syrian president want to be the president for ever. He does not care if Syria is destroyed in order to protect his selfish interests.
Robert Mugabe is eager to make his wife the next president so that he could continue to rule through her. .
That is the problem with most rulers. Some countries like USA and Russia gave stipulated the number of years and terms one can rule.
Why not the UN debate the issue for suitable recommendations on the length of rule of presidents and prime ministers and the terms they can enjoy "serving" the respective nation. .
Uniformity could help the nations to pick the right rulers through proper polls.
Liberia prepares to turn a page as UN mission exits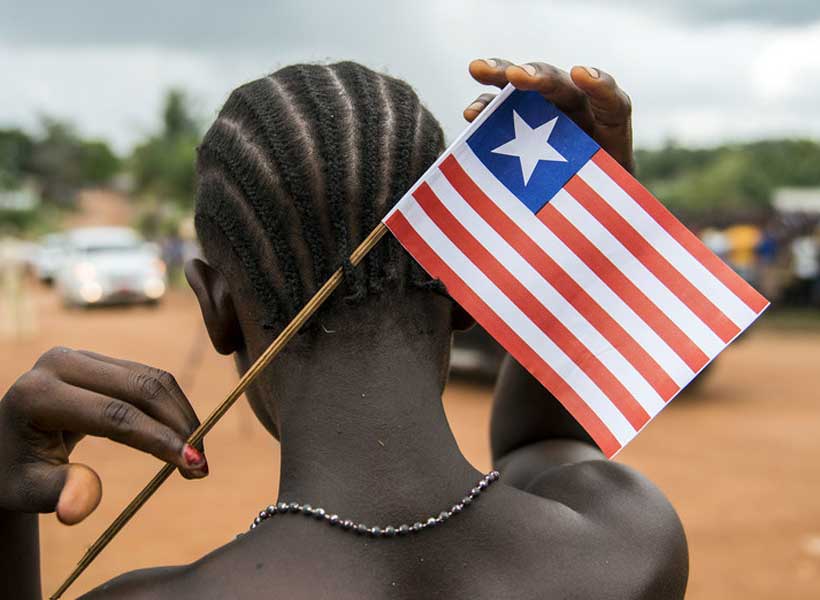 As the United Nations peacekeeping mission warps up in Liberia and the West African country looks to secure a stable future, the UN deputy chief on Friday cautioned the Government that while it has made great strides, the road ahead will be challenging.
At the launch of the country's new National Development Plan in the capital, Monrovia, Amina Mohammed, the UN Deputy Secretary-General, congratulated all Liberians on a hard-won peace after 15 conflict-torn years and the progress made during the subsequent post-war period.
She, however, outlined that along with opportunities, serious challenges lie ahead.
"When I look at the young women and men, and the initiatives for peace that they have courageously carried forward, sometimes even risking their lives, I am filled with pride and hope but also with fear," said Ms. Mohammed, noting severe economic constricts in the country and high unemployment among its youth.
"We cannot fail them. We must […] empower them, […] meet their needs and expectations, and help them to fulfil their dreams," she added.
Applauding the country's new development framework, dubbed the Liberia Moment, Ms. Mohammed underlined five principles that must underpin the Plan.
These include national ownership; eliminating poverty; improve tax and revenue collection, strengthen rule of law, and end dependency on aid; enhance transparency; and ensure predictable and sustainable means for development financing.
She also underscored the need to consolidate peace and avid a relapse into conflict, and in doing so reiterated the importance of implementing the 2030 Agenda for Sustainable Development.
"The Sustainable Development Goals (SDGs) are the best tools we have to prevent conflict and we should make every effort to achieve them without delay," she said, noting that the UN stands ready to provide the Government with advice, expertise and support needed.
"We will be with you every step of the way. This is our commitment," said the Deputy Secretary-General.
Liberia, went through two civil wars spanning over 14 years between 1989 and 2003. Civil war in Liberia claimed the lives of almost 250,000 people and led to a complete breakdown of law and order.
The UN mission, known as UNMIL, was established by the UN Security Council in 2003 after a peace agreement was signed to end the fighting. The mission created a security environment that enabled more than a million refugees and displaced persons return to their homes; supported the holding of three presidential elections, and helped the government establish its authority throughout the whole country following years of fighting and instability.
ECOWAS Radio to take over UNMIL Radio
Meanwhile, as part of the closure of the UN Mission in Liberia (UNMIL), its official radio station, UNMIL Radio – which had been broadcasting since October 2003 to over 80 per cent of the country's population – will transfer to Radio ECOWAS, the radio station operated by the Economic Community of West African States.
Ethiopia's forests, an undervalued resource
In Ethiopia, the second most populous country in Africa after Nigeria, policymakers are trying to make their nation's economic development more sustainable.
One of the challenges they face is that traditional economic accounting does not adequately consider nature's contributions to a country's economy.
Ethiopia's forests cover about 14.7 per cent of the country's land area, with woodland and shrubland accounting for another 44.7 per cent. But the value of these ecosystems to the national economy is not well understood.
For example, Ethiopia's System of National Accounts is used to calculate Gross Domestic Product (GDP), but it's uncertain whether this system fully captures the income that forests produce.
Official statistics from the Ministry of Finance and Economic Cooperation show the forestry sector's contribution to be about 3.8 per cent of gross domestic product, or GDP.
But a UN Environment report concludes that forests generated economic benefits in the form of cash and in-kind income equivalent to 12.86 per cent of GDP in 2012 and 2013.
In 2014, the Government of Ethiopia requested the UN Programme on Reducing Emissions from Deforestation and Forest Degradation (through UN Environment) to support the country in assessing the contribution of forest ecosystems to national income in the context of the national REDD+ process.
UN Environment's resulting report assessed – for the first time – the economic contributions of Ethiopia's forests.
Main findings
Forests generated economic benefits in the form of cash and in-kind income equivalent to 12.86 per cent of GDP in 2012 and 2013; of this, 6.09 per cent of GDP is attributed to forest industries. This means that forest income has been undervalued by about 38 per cent, because official statistics show the sector's contribution to be 3.8 per cent (2015).
The contribution of forest ecosystems (including carbon sequestration, crop pollination, conservation of agricultural soils and control of water discharge to streams and rivers) to other sectors, particularly agriculture, is valued at 6.77 per cent of GDP.
The fodder livestock farmers obtain freely (by allowing their animals to graze on forest land) was worth about 3.5 per cent of GDP.
Wood fuel's value added is estimated at about 4.5 per cent of GDP.
Ethiopia's Green Economy Strategy
The Government of Ethiopia launched a Climate Resilient and Green Economy Strategy in 2011, with the goal of achieving middle-income status for the country by 2025 while following a carbon-neutral growth path. REDD+ implementation is one of the pillars of the Strategy.
The Strategy recognizes that deforestation and forest degradation must be reversed if the country is to meet its development goals. Wood fuel accounts for more than 80 per cent of household energy supply in Ethiopia and is particularly important in rural areas.
How the study can help policymakers
The study's findings can help strengthen the national REDD+ process in Ethiopia by, among other things, enabling the relevant government agencies to better understand the extent to which Ethiopia's forests underpin the economy, thereby building support across different ministries for REDD+ implementation.
The findings could provide the basis for updating Ethiopia's System of National Accounts with a more accurate account of forest-derived benefits in GDP, particularly the subsistence or in-kind income derived from forests, such as fodder for livestock, wood fuel and roundwood.
The results and recommendations could be incorporated in the REDD+ National Strategy and potentially also be reflected in Ethiopia's Growth and Transformation Plan 2 (GTP2) or any subsequent products and reports based on GTP2.
UN Environment's economic valuation study has made the "invisible visible" by highlighting how forests contribute not only to the value added of the forestry sector but also other non-forest industries, both in cash and in-kind income.
Implementing the Climate Resilient and Green Economy Strategy, therefore, makes economic sense. In doing so, Ethiopia can safeguard its natural capital, including its forests – valuable resources on which the economy depends to a considerable extent.
Displacement: The Challenges Of IDPs & Refugees
As a native from South Sudan and also from Africa, I am well-aware that the U.N. has been responsible for protecting refugees from danger and offering general management of the problem as well. This mandate has been carried on through its specialized agency the United Nations High Commission for Refugees (UNHCR).
Displacement is commonly characterized by deprivation and want due to the end of war and human rights violation. Therefore, it needs basic assistance from multilateral institutions such as UN the Red Cross and others. Equally, external intervention comes as a result of the violation of human rights or protection of the citizens of intervener.
Unfortunately for the IDPs, they are not recognized under international law and therefore are out of the UNHCR mandate. In 1992, the UN defined IDPs as "…persons who have been forced to flee their homes suddenly or unexpectedly in large numbers as a result of armed conflict, internal strife, systematic violations of human rights or natural or manmade disasters and who are within the territory of their own country."  This does not mean they are not helped at all. This help is rare and not under obligation. This means great suffering under IDPs conditions especially where the host state invokes the principle of sovereignty to block external intervention. It should be noted that the UN General Assembly resolution 46/182 affirms the importance of respecting a member's sovereignty in particular with regard to humanitarian assistance. Due to the principles of sovereignty and non-intervention, states assume responsibility for their own IDPs.
Specifically, refugee issues need the cooperation of the producing state and recipient state. It is the UNHCR that usually helps to coordinate assistance for the refugees. It is worth noting that the aftermath of flight (refugee) and displacement gradually become normal situation for the authorities concerned as the victims struggle to find a place in the social structure of the recipient community. Nevertheless challenges remain.
As earlier stated, it is fundamental to guarantee the safety of a displaced person. He is disorganized, dislocated and endangered. In the particular case of refugees, they are usually in danger of persecution by either the country of origin or the receiving state. The legal regime of the host country might compound the problem. The status of the displaced must be legally established. Besides persecution from the home country, the host might be hostile to the victims. This is why the intervention of third parties like the UNHCR proves relevant. Out of this consideration, repatriation of refugees is normally on voluntary basis for example when victims feel safe enough to return having realized that the original danger is no more. For example several south Sudanese, Somalia's Congolese etc. remain in Uganda and other states because they fear for their lives.
The displaced usually face lack of shelter. Make shift camps are usually common with IDPs where more problems are created. These camps usually lack water, sanitary facilities and epidemics might break out due to poor sanitation, congestion and poor hygiene. In certain instances large camps have been set up. For example camps for refugees from Somalia, Pakistan, and South East Asia, Rwanda etc. Even then host countries have insisted that they be temporary. Furthermore, it is never automatic that camps will be allowed. Land need to be provided and care must be taken not to set up a camp close to the border of the country of origin.
Food is never easy to mobilize for the IDPs and refugees. So is clean and safe water. In the early days of resettlement in the country of asylum food aid is required. The host government may purchase food locally or seek assistance from international relief agencies. According to the UN Convention on refugees, refugees with legal permission to live in the country of asylum may purchase their own food. Where authorities and weather conditions permit, refugees grow their own food such as in the cases of camps in Tanzania and eastern Sudan. Even then, supplementary food will be provided by local and external actors to people with special needs like children, pregnant and elderly.
Associated with food scarcity is water shortage. Displaced people need clean, safe and reasonable volume of water. Settlements far from water sources and those located in dry conditions have suffered immensely. For example Camps in Thailand, Sudan, Chad and Somalia and the list continues.
In addition medical services are hard to come by. Special and hard challenges are presented by large camps. To make it worse, such camps have poor shelter, sanitation, hygiene, feeding and supply of safe water. Such conditions promote illness some of which might be strange or in epidemic form. To attempt to counter the problem, local authorities in collaboration with external agencies like WHO, UNICEF etc. will often improve existing health services or put up new ones.
Among the displaced are children usually of school-going age. They need education. Problems related to these are several. Besides lack of land and school facilities, scholastic materials are not available. Even when they are available learning might be hindered by language barrier if say refugees study in Arabic while host society uses Swahili. Congolese refugees whose schools use French have suffered in Uganda where English is the school language and similar applies to refuges from South Sudan to Kenya.
Given this, international society needs to provide more substantial aid copped up by efficient and effective management from the countries involved, including the psycho-social aid like counseling and coordinated efforts from the U.N.