Time to Make Friends with the Promised Land
The first thing Armenia began to do shortly after it gained independence was establishing diplomatic relations with other states. This process received broad political resonance and infused pride in our compatriots who had just regained independence, both in our motherland and in the Diaspora.
Among all that joyousness the fact that Armenia and Israel didn't exchange embassies fell out of sight.
The Armenian side explained this with the unwillingness to "offend" friendly Iran and spoil relations with the Arab world.
This was one of the flaws, ill-measured steps of the Armenian diplomacy whose negative consequences surfaced instantly and can still be observed.
In diplomatic practice there can be no normal development of relations between countries without opening embassies. (Currently Israel is represented in Armenia by its Ambassador in Georgia, while Armenia is represented in Israel by our Ambassador in Egypt.)
Just like physics, vacuum can't remain continuously empty in diplomacy. It was filled by our neighbours Georgia and Azerbaijan in no time. And this was indeed done quickly and effectively.
Official Tel-Aviv holds the opinion that Georgian-Israeli relations are developing "swiftly and in the right direction", and "the 26-century-long friendship of the two nations will last for the coming centuries". For Georgians Israel is a country of unprecedented success in all spheres; and it is the Georgian dream to see their country become "Caucasian Israel".
Georgia has been advancing contact with Israel in various aspects, including military and technical cooperation. It receives from Israel drones and modern artillery systems, modernizes T-72 tanks, trains military staff.
Israel's relations with Azerbaijan are much deeper, more multi-faceted and perspective. Azerbaijan is one of the few states of the Muslim world (besides Turkey, Egypt and Jordan) developing bilateral relations with Israel. The embassy of the latter is quite active in Baku, while it is in no haste to open its diplomatic mission in Tel-Aviv, justifying its decision by the fear of negative reaction of the Arab world and Iran. This is a diplomatic myth, nothing more than double standards. Merely the fact that Azerbaijan has deployed a signals intelligence system to control Iran's nuclear program on its territory demonstrates to what extent Azerbaijan "loves" Muslims and how sincere its feelings are. Azerbaijan and Israel are linked through political, strategic, economic and cultural interests. Relations between Baku and Tel-Aviv weren't severed even by the tension between Turkey and Israel in 2011. In line with Russia, Israel is another major supplier of modern arms to Azerbaijan. Several plants assembling Israeli drones and other types of modern armaments function here. According to Azerbaijani reports the military machinery implemented in the attacks at the Armenian side during the four-day war of 2016 was mainly of Israeli make.
During informal meetings the Israelis try to convince us that their relations with Azerbaijan are purely of economic, business character and have nothing to do with politics. Things are definitely otherwise. Azerbaijan and Israel are linked to each other by a number of political consideratons: a) clearly pro-Azerbaijani position of the Israeli state concerning the Karabakh conflict; b) torpedoing of the recognition process of the Armenian Genocide in the Knesset; c) attempts to drive a wedge between the Armenian and Jewish lobbies in the USA favouring the interests of Baku and Ankara; d) desire to establish durable relations with Trump administration via Israel.
As to Armenia, it should be noted that our relations with Israel have been developing in the opposite direction. There are no more or less tangible political or economic relations between us. (According to the data provided by the National Statistical Service of Armenia, trade turnover between the two countries in 2016 constituted only $8,525 million or 0.1% of the external trade turnover of Armenia.) Both parties seem to have done their best to alienate our states, to erect an invisible wall between them. At the government level, attitude towards Israel has been cool and passive, while the press periodically embellished the idea that Jews actively participated in the crime of 1915, that Israel doesn't recognize the Genocide, that Jews "envy" Armenians and that there should be no relations with them at all as friendly Iran would be offended.
Israel pays us the same coin. Knesset has periodically rejected the resolution on recognition of the Genocide by majority of votes. Opponents of normalization of bilateral relations, and their number is quite large, cultivate the idea that "Armenia is a leader of anti-Semitism on the post-Soviet territory, that the attitude to Jews has always been bad there". Mass media, namely influential "The Jerusalem Post", demonstrate anti-Armenian position. Ears of Turks and Azerbaijanians peep out behind all this who work coordinately, in Israel as well as in the United States of America and other countries, against rapprochement of Israel and Armenia.
Given the level of bilateral interrelations, the wish for rapprochement with Armenia voiced in Israel could be viewed as a political surprise and a rather interesting turn.
Delegations at ministerial and parliamentary level, also public and political figures arrive in Yerevan. One of the recent visits deserves mentioning, the one to Yerevan and Stepanakert paid by Avigdor Eskin, which gave rise to hysteria in Baku. Minister of Regional Cooperation Tzachi Hanegbi signed a number of inter-state agreements with the Minister of Foreign Affairs and Minister of Culture in Yerevan. He stated that his country "wants to develop friendly relations with Armenia". In September the third forum of "Armenia-Israel" public organization was held in our country, and an academic conference was organized on the occasion of the 20th anniversary of Armenian-Russian (Slavonic) University which was attended by representatives of the University of Tel-Aviv. Armenian Parliamentary delegation visited Israel in January. On the background of the anticipated development of bilateral relations, the hope that both countries will get involved in integration processes is cherished. It is probable that through Armenia Israel will join infrastructure projects of the Eurasian Economic Union (EEC), specifically the North-South corridor. An Armenian air company is negotiating with the Israel-Armenia Trade Chamber to open a logistic center in Gyumri.
Some experts both in Yerevan and Tel-Aviv are talking of a breakthrough and thaw in the Armenian-Israeli relations.
Refraining from the temptation to confirm or reject these emotional moods, let us try to understand the reasons for the current changes, their internal logic from the position of Israel and Armenia.
Israel:
Tel-Aviv's "sudden" move to change its foreign policy vector concerning Armenia is conditioned by global geopolitical processes, situation and power balance in the region.
Parallel to its multilateral contacts with Georgia and Azerbaijan and based on its far-reaching strategic interest, Israel intends to regulate its relations with Armenia, which prolapsed from its "diplomatic geography".
"The minor Middle East NATO", created and led by the USA, should have been perceived by Tel-Aviv as an amicable alliance due to its anti-Iranian focus. However, this artificial formation inspires no confidence in Israel. That is exactly why Israeli diplomacy is looking for routes, is doing everything for Israel not to become a "sandwich" for two Muslim states – Saudi Arabia and Iran. Besides, Israel will seek normalization of relations with Armenia given it is a CSTO member and Russia's only strategic ally in the South Caucasus. To some extent this step is considered to be able to provide security for Israel taking into account current turbulence across the region. Israel acknowledges that Armenia is much more preferable than Azerbaijan in easing tension with Iran. (During informal contacts Israeli politicians do not hide Tel-Aviv's intentions and doubt reliability of Iran-Azerbaijan relations despite active contacts in economic and military spheres.)
In case relations with Yerevan normalize, Israel will try to use Armenian Diaspora for its political and other aims.
Armenia:
Development of relations with Israel is within our national interests and the need to enhance Armenian statehood. If these bilateral relations move forward, this will allow us to develop cooperation in a number of vital areas – science, high technologies, banking system, healthcare, agriculture, communications, trade, transport and others. Cooperation in military industry, which is at quite a high level in that country, isn't excluded.
Armenian-Israeli cooperation can develop in the format of multilateral diplomacy. Diaspora capacities of both countries could play a huge role here if state and public diplomacy, as well as soft power is implemented.
It is possible that Armenian-Israeli cooperation might become necessary in the Kurdish issue and also in political and other processes in the Middle East region.
Under global geopolitical transformations and in case of a favourable atmosphere Armenia can become a mediator between Israel and Iran, which is a part of Tel-Aviv's strategic plans.
In 2016 the military-political, economic and cultural union was formed between Israel, Greece and Cyprus (it has anti-Turkish direction) and is open for other states. We believe if Armenia joins this alliance, this could foster Armenia's connection with the above mentioned countries, contribute to the enlargement of alternative external political opportunities and actions of Armenia.
Normalization of bilateral relations will contribute to the maintenance and management of Armenian property and churches in Jerusalem, and also to enhancing their relations with Holy Etchmiadzin.
Armenia's Role in South Caucasus Policy of Russia
The Caucasus has long been one of the most important regions in the world. Many states had the desire and plan to rule this region from time to time. For centuries Russia has a great influence in the Caucasus and the main reason for the importance of the Caucasus region for Russia is its geostrategic location on important trade routes. Because by passing through this region Russia can reach the Balkans, the Black Sea and the White Sea, the Persian Gulf, as well as the Indian Ocean. The other important reason is the Caucasus is a great source of raw materials for the Russian economy. North Caucasus regions, such as Chechnya, Dagestan and Tatarstan, cover almost half of Russia's energy needs. Also, the Caucasus region has significant strategic importance in terms of the routes that aimed to bring the Caspian Sea resources to the West and controlling these routes.
After the dissolution of the USSR, relations between Russia and Armenia intensified since 1992. There are numerous agreements have been signed between Russia and Armenia in various fields. The most important agreement was signed in Moscow a Treaty of Friendship, Cooperation, and Mutual Assistance by Presidents Boris Yeltsin of Russia and Levon Ter-Petrosian of Armenia. The treaty also envisages consultations and mutual military support if either side is attacked or considers itself threatened by a third party. Despite Russian and Armenian officials denied this, it was one of Russia's interference in the South Caucasus through Armenia. This agreement has made Russia's presence stronger in the region. Russia has military bases in Armenia and the main purpose of these bases is to protect Russia's interests and Armenia's national security. After the recent crisis in Georgia and the withdrawal of Russian military bases, Armenia became a more important actor for Russia.
Russia has a significant impact on the processes in the region by using the Nagorno-Karabakh conflict. The conflict started with Armenian occupation of Azerbaijani lands and as a result of Russia's efforts, a ceasefire was declared and negotiations started. The Kremlin supports the peaceful settlement of the conflict within the OSCE Minsk Group, as well as in bilateral meetings. Consequently, Russia provides political and military support to Armenia as an important ally in the region, as well as prevents Azerbaijan moving away from it by being as a guarantor of the peaceful settlement of the conflict. Time to time Russia uses this conflict to make political pressure on both countries which makes it another most important factor for Russia. Georgia's attack on North Ossetia and later on Russian intervention in Georgia and recognition of North Ossetia and Abkhazia, have led to thinking whether there will be a change in the status of Nagorno-Karabakh. Also, Russian intervention in Georgia has shown that the problems in the CIS region cannot be solved without Russia. Therefore, it is possible to say that resolving the Nagorno-Karabakh dispute is highly dependent on Russian presence. However, the growing interest of the West in this region and proposing new solutions to the conflict, make Azerbaijan and Armenia use this dispute card against Russia. The possibility of Western-South Caucasus rapprochement in the future may lead to not only a political, but even a serious economic impact on Russia. Russia's economy is heavily dependent on energy resources and the European energy market is the most important, profitable, and stable market for Russia. At the same time, the EU tries to diversify its energy routes and to reduce its dependency on Russian energy exports. The South Caucasus, especially the Caspian region has rich oil and gas sources. Hence, in the light of the Western-Caucasus relations, the role of Azerbaijan becomes more significant and strategic. In addition, strengthening and developing relations between Armenia and the EU is important in terms of ensuring the security of supply. Such a significant reduction of the EU's dependence on Russia will have a great impact on Russia's economy. Considering the fact that there are numerous sanctions on Russia, the weakening of the Russian economy may hamper its regional power. Even more likely, this may lead to domestic riots in Russia, and Russia may face the threat of a division of the country.
The Kremlin and Moscow have a special control over the region to prevent this scenario and creates barriers to the South Caucasian countries' integration into the European Union. For instance, abandoning the Nabucco project, Russia's military intervention in Georgia, and being a shareholder in projects in this region (excluding TAP and TANAP) are some examples of these barriers.
Diasporas also play an important role in Russia's Caucasus policy. They are most influential tools in key areas of government and are closely involved in political activities. Moreover, the existence of many Russian citizens in Armenia, the wider use of Russian language in the country, and the broadcasting of Russian radio and television channels are the core elements of Russian presence in Armenia. Some Russians living in Armenia also have the opportunity to participate actively political and cultural relations due to their Armenian language knowledge.
Conclusion
After the collapse of the USSR, Armenia became Russia's main ally in the South Caucasus. Integration of Georgia into West, conflicts and problems with Turkey and Azerbaijan, threats to national security urge Armenia to be closer to Russia. At the same time, large-scale projects implemented by Azerbaijan and Georgia with Turkey and Western countries, integration into the Western markets, and problems with Armenia hinder Armenia's regional, political and economic development. To ensure this development, Armenia sees Russia as its biggest ally and closely cooperates with Russia.
The basis for the national security of Armenia relies on military cooperation between Russia and Armenia, however, the dependence on Russia in the economic sphere and the fact that all the strategic enterprises are controlled by the Russians is contrary to Armenia's interests. Therefore, Armenia is in search for ways to integrate into the West without undermining its relations with Russia. However, Armenia's political and economic dependence on Russia and tensions with Azerbaijan and Turkey make difficult to integrate into the West. in order to get rid of isolation, it is important for Armenia to step back in disputes with Turkey and Azerbaijan and mitigate relations.
In the near future, it is impossible for Armenia to completely break the dependency on Russia and integrate into the EU and the West. The grounds for this integration, which depend on Russia's foreign policy strategies, have not yet been established. Today, the Armenian authorities understand that it is impossible for Armenia without Russia to exist in these conditions. While the integration into the West is on the agenda, the isolation of Armenia in the region prevents the achievement of political and economic prosperity. Russia's active involvement in the region is important for Armenia, both for internal and external stability. Armenia's integration to the West will continue in the frame of Russia's interests, but from now on the Armenian government will pursue a more discreet policy towards Russia. Russia, on the other hand, can take two actions; to take a step which can lead to the end of the Nagorno-Karabakh conflict and Armenia's defeat, or to control Armenia without military intervention by making some concessions to current or future authorities. The first option is dangerous for Russia in terms of losing Armenia and reputation in South Caucasus, however, in the second variant, Russia can maintain its influence in the region by ensuring its long-term interests.
Latvians will choose their future
The general elections in Latvia will take place on October 6, 2018. On Saturday Latvians will choose their future. Though it sounds very pathetic, future of the country really depends on the results of these elections.
In an interview with Latvian information agency LETA, Foreign Minister Edgars Rinkevics, commenting the atmosphere during this pre-election period, said that a serious battle of people's minds and hearts is going on right now.
And this is true. But this fight is too cruel. Just this pre-election period shows all things bad as they are. The "truth" about corruption on high banking and political levels all of a sudden has been poured out on population. "Latvia's central bank chief has been charged with bribery. A lawyer liquidating the bank that was accused of bribing him was killed in a hail of machine-gun fire. One of the country's biggest lenders was shut down after the U.S. levied allegations of money laundering and violations of sanctions on North Korea. What's going on in Latvia? " ask the authors of article "Where Latvia's Financial Corruption Scandal May Lead" published in Bloomberg on September 27.
Situation in small Latvia reminds gangster times in the United States, when criminals held people in awe. The difference is only in the fact that American gangsters were not high ranking officials. Gangsters' activity was officially considered criminal. On the contrary, Latvian case demonstrates activity of corrupted authorities, who influence the whole country, all 2 milllion people.
Ilmars Rimsevics, who's been in charge of Latvia's central bank as governor or deputy since 1992, is accused of soliciting a bribe from Trasta Kommercbanka AS, a small lender that was shut in 2016 after being implicated in a $20 billion money-laundering scheme. Specifically, he's accused of receiving 250,000 euros five years ago.
It is difficult to imagine, that he got a bribe once, ruling the bank for so many years. Nobody saw his misconduct, nobody knew about it. Nonsense!
Now it is a question of trust to all top officials in Latvia.
For example, about 1 percent of all U.S. dollars moving around the world in 2015 were going through Latvia, according to Daniel Glaser, then a top official in the U.S. Department of the Treasury. It means that Latvia had a chance to become the second Switzerland at least.
But Latvians did not even feel the benefits. They tried to survive in 2015 and they continue to survive in 2018. Nothing has changed. Rich people have become richer and poor have become poorer. That is Latvian Reality.
The other news stroke Latvians this week. Prime Minister Maris Kucinskis confirmed that EUR 2 million more could be allotted for national defense.
He said with pride that "thanks to the increasing budget revenues, the funds will not have to be taken away from other national economy sectors."
A question arises: why should these additional revenues go to defense and not to other national economy sectors? Is it the sphere that needs money most of all?
Corrupted political system decides for people where their money should go and for what purposes. It is well known that it is very difficult to track money spending in military sphere because this sector of economy is not transparent to the society due to security measures.
The only thing Latvians can do under such circumstances – to choose the right politicians to rule the country and they are surely should not be the same corrupted officials.
Lithuania violates the Universal Declaration of Human Rights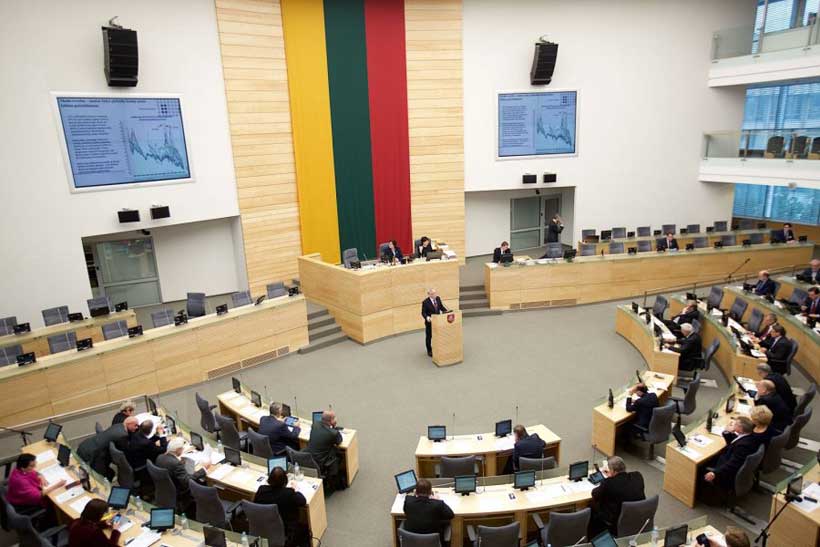 DELFI, which is the major Internet portal in the Baltic States providing daily news, stated on September, 10 that the number of emigrants from Lithuania exceeds that of immigrants by 1,000 in August. Shocking statistics shows that the country has registered a negative migration balance. Some 4,382 people left Lithuania in August. Thus, Lithuanians are leaving the country despite authorities' claims on economic growth, stability and favorable perspectives.
On the one hand, according to "Lithuanian economy review – 2017", the GDP growth in Lithuania accelerated. In 2017, as compared to the previous year, Lithuania`s GDP increased by 3.8%. On the other hand, this fact contravenes the increasing number of emigrants.
What makes people change their life and say "Good bye" to their homes? This is a rhetorical question. The answer lies on the surface.
Lithuanians do not satisfy with their standards of living. For example, survey of public opinion and market research company "Baltijos tyrimai" reveals that Lithuanians still haven't domesticated the Euro. The pool conducted in July shows that more than 46,3% of Lithuanians blame the European currency in lowering their life standards. In other words they do not agree with the authorities' decision to adopt the euro.
People compare their life with the other European countries and it is not in favor of Lithuania. The words and promises are not fulfilled, corruption flourishes. Thus, Freedom House document "FREEDOM IN THE WORLD 2018" reports that "the major problem for Lithuania's democracy – corruption – continued to dominate the public sphere, as a series of scandals plagued members of the Seimas (parliament) and public institutions. Even Lithuanian President Dalia Grybauskaitė on Monday called on lawmakers not to waste their time on squabbling.
Officials, who today name themselves democrats, did not manage to get rid of Soviet thinking and way of behavior. When they get political power they forget about their duties. Permanent political scandals in small country led to the fact that people stopped believing authorities. And authorities' activity is seemed to be suspicious in all spheres of life.
Thus, Lithuanians are wary of a new agreement on the country's defense policy for the next decade signed by Lithuania's parliamentary parties on Monday. The document calls for joint efforts to resist "irresponsible speculation that sets defense funding in opposition to other sensitive areas". It means that Lithuanians do not have the right to decide to what area allocate budget money though they pay taxes. They do not have the right to speak on this topic and express their opinions if they contradict the official point of view. The parliament members forget the basic human rights. Article 19 of Universal Declaration of Human Rights of the United Nations states that "everyone has the right to freedom of opinion and expression; this right includes freedom to hold opinions without interference and to seek, receive and impart information and ideas through any media and regardless of frontiers."
An ordinary person cannot solve the puzzle why television and Government controlled media describe his country just another way he sees it. Freedom House states also that "Regional economic disparities remain acute. The minimum wage remains one of the lowest within the EU, and the share of the population at risk of poverty and social exclusion is a little over 30 percent.
This discrepancy forces Lithuanians to seek better life abroad, usually in Old Europe. More than 20 years of expectation is too much. Life is too short to waste it to sit around waiting for changes.