Time to Make Friends with the Promised Land
The first thing Armenia began to do shortly after it gained independence was establishing diplomatic relations with other states. This process received broad political resonance and infused pride in our compatriots who had just regained independence, both in our motherland and in the Diaspora.
Among all that joyousness the fact that Armenia and Israel didn't exchange embassies fell out of sight.
The Armenian side explained this with the unwillingness to "offend" friendly Iran and spoil relations with the Arab world.
This was one of the flaws, ill-measured steps of the Armenian diplomacy whose negative consequences surfaced instantly and can still be observed.
In diplomatic practice there can be no normal development of relations between countries without opening embassies. (Currently Israel is represented in Armenia by its Ambassador in Georgia, while Armenia is represented in Israel by our Ambassador in Egypt.)
Just like physics, vacuum can't remain continuously empty in diplomacy. It was filled by our neighbours Georgia and Azerbaijan in no time. And this was indeed done quickly and effectively.
Official Tel-Aviv holds the opinion that Georgian-Israeli relations are developing "swiftly and in the right direction", and "the 26-century-long friendship of the two nations will last for the coming centuries". For Georgians Israel is a country of unprecedented success in all spheres; and it is the Georgian dream to see their country become "Caucasian Israel".
Georgia has been advancing contact with Israel in various aspects, including military and technical cooperation. It receives from Israel drones and modern artillery systems, modernizes T-72 tanks, trains military staff.
Israel's relations with Azerbaijan are much deeper, more multi-faceted and perspective. Azerbaijan is one of the few states of the Muslim world (besides Turkey, Egypt and Jordan) developing bilateral relations with Israel. The embassy of the latter is quite active in Baku, while it is in no haste to open its diplomatic mission in Tel-Aviv, justifying its decision by the fear of negative reaction of the Arab world and Iran. This is a diplomatic myth, nothing more than double standards. Merely the fact that Azerbaijan has deployed a signals intelligence system to control Iran's nuclear program on its territory demonstrates to what extent Azerbaijan "loves" Muslims and how sincere its feelings are. Azerbaijan and Israel are linked through political, strategic, economic and cultural interests. Relations between Baku and Tel-Aviv weren't severed even by the tension between Turkey and Israel in 2011. In line with Russia, Israel is another major supplier of modern arms to Azerbaijan. Several plants assembling Israeli drones and other types of modern armaments function here. According to Azerbaijani reports the military machinery implemented in the attacks at the Armenian side during the four-day war of 2016 was mainly of Israeli make.
During informal meetings the Israelis try to convince us that their relations with Azerbaijan are purely of economic, business character and have nothing to do with politics. Things are definitely otherwise. Azerbaijan and Israel are linked to each other by a number of political consideratons: a) clearly pro-Azerbaijani position of the Israeli state concerning the Karabakh conflict; b) torpedoing of the recognition process of the Armenian Genocide in the Knesset; c) attempts to drive a wedge between the Armenian and Jewish lobbies in the USA favouring the interests of Baku and Ankara; d) desire to establish durable relations with Trump administration via Israel.
As to Armenia, it should be noted that our relations with Israel have been developing in the opposite direction. There are no more or less tangible political or economic relations between us. (According to the data provided by the National Statistical Service of Armenia, trade turnover between the two countries in 2016 constituted only $8,525 million or 0.1% of the external trade turnover of Armenia.) Both parties seem to have done their best to alienate our states, to erect an invisible wall between them. At the government level, attitude towards Israel has been cool and passive, while the press periodically embellished the idea that Jews actively participated in the crime of 1915, that Israel doesn't recognize the Genocide, that Jews "envy" Armenians and that there should be no relations with them at all as friendly Iran would be offended.
Israel pays us the same coin. Knesset has periodically rejected the resolution on recognition of the Genocide by majority of votes. Opponents of normalization of bilateral relations, and their number is quite large, cultivate the idea that "Armenia is a leader of anti-Semitism on the post-Soviet territory, that the attitude to Jews has always been bad there". Mass media, namely influential "The Jerusalem Post", demonstrate anti-Armenian position. Ears of Turks and Azerbaijanians peep out behind all this who work coordinately, in Israel as well as in the United States of America and other countries, against rapprochement of Israel and Armenia.
Given the level of bilateral interrelations, the wish for rapprochement with Armenia voiced in Israel could be viewed as a political surprise and a rather interesting turn.
Delegations at ministerial and parliamentary level, also public and political figures arrive in Yerevan. One of the recent visits deserves mentioning, the one to Yerevan and Stepanakert paid by Avigdor Eskin, which gave rise to hysteria in Baku. Minister of Regional Cooperation Tzachi Hanegbi signed a number of inter-state agreements with the Minister of Foreign Affairs and Minister of Culture in Yerevan. He stated that his country "wants to develop friendly relations with Armenia". In September the third forum of "Armenia-Israel" public organization was held in our country, and an academic conference was organized on the occasion of the 20th anniversary of Armenian-Russian (Slavonic) University which was attended by representatives of the University of Tel-Aviv. Armenian Parliamentary delegation visited Israel in January. On the background of the anticipated development of bilateral relations, the hope that both countries will get involved in integration processes is cherished. It is probable that through Armenia Israel will join infrastructure projects of the Eurasian Economic Union (EEC), specifically the North-South corridor. An Armenian air company is negotiating with the Israel-Armenia Trade Chamber to open a logistic center in Gyumri.
Some experts both in Yerevan and Tel-Aviv are talking of a breakthrough and thaw in the Armenian-Israeli relations.
Refraining from the temptation to confirm or reject these emotional moods, let us try to understand the reasons for the current changes, their internal logic from the position of Israel and Armenia.
Israel:
Tel-Aviv's "sudden" move to change its foreign policy vector concerning Armenia is conditioned by global geopolitical processes, situation and power balance in the region.
Parallel to its multilateral contacts with Georgia and Azerbaijan and based on its far-reaching strategic interest, Israel intends to regulate its relations with Armenia, which prolapsed from its "diplomatic geography".
"The minor Middle East NATO", created and led by the USA, should have been perceived by Tel-Aviv as an amicable alliance due to its anti-Iranian focus. However, this artificial formation inspires no confidence in Israel. That is exactly why Israeli diplomacy is looking for routes, is doing everything for Israel not to become a "sandwich" for two Muslim states – Saudi Arabia and Iran. Besides, Israel will seek normalization of relations with Armenia given it is a CSTO member and Russia's only strategic ally in the South Caucasus. To some extent this step is considered to be able to provide security for Israel taking into account current turbulence across the region. Israel acknowledges that Armenia is much more preferable than Azerbaijan in easing tension with Iran. (During informal contacts Israeli politicians do not hide Tel-Aviv's intentions and doubt reliability of Iran-Azerbaijan relations despite active contacts in economic and military spheres.)
In case relations with Yerevan normalize, Israel will try to use Armenian Diaspora for its political and other aims.
Armenia:
Development of relations with Israel is within our national interests and the need to enhance Armenian statehood. If these bilateral relations move forward, this will allow us to develop cooperation in a number of vital areas – science, high technologies, banking system, healthcare, agriculture, communications, trade, transport and others. Cooperation in military industry, which is at quite a high level in that country, isn't excluded.
Armenian-Israeli cooperation can develop in the format of multilateral diplomacy. Diaspora capacities of both countries could play a huge role here if state and public diplomacy, as well as soft power is implemented.
It is possible that Armenian-Israeli cooperation might become necessary in the Kurdish issue and also in political and other processes in the Middle East region.
Under global geopolitical transformations and in case of a favourable atmosphere Armenia can become a mediator between Israel and Iran, which is a part of Tel-Aviv's strategic plans.
In 2016 the military-political, economic and cultural union was formed between Israel, Greece and Cyprus (it has anti-Turkish direction) and is open for other states. We believe if Armenia joins this alliance, this could foster Armenia's connection with the above mentioned countries, contribute to the enlargement of alternative external political opportunities and actions of Armenia.
Normalization of bilateral relations will contribute to the maintenance and management of Armenian property and churches in Jerusalem, and also to enhancing their relations with Holy Etchmiadzin.
The phenomenon of the Islamic world- Ilham Aliyev
At the end of the twentieth century – at the beginning of the 21st century, world politics differ by its complexity and diversity. It is too important that Azerbaijan, which proclaimed independence twice during the twentieth century, maintained its this independence during the period full of globalization, international integration and social contradictions. Under such complicated historical circumstances, the prominent politician and statesman, the well-known and respected person in the world – Ilham Aliyev's commitment and successful realization of this responsibility can be characterized as the golden age of modern Azerbaijan history. Conduction of successful foreign policy during his term as head of state has had a significant impact on the future life of Azerbaijan.
The Republic of Azerbaijan, established normal international relations with all the countries of the world after gaining independence, and in the frame of good relations with the Muslim countries, it also protects the interests and interests of the Islamic world within the Organization of Islamic Cooperation and continues to cooperate with these countries in accordance with the requirements of international law. In this regard, strengthening of Islamic solidarity in the world is one of the priority issues in the foreign policy of Azerbaijan. Namely from this point of view, declaration of 2017 year as "Islamic Solidarity Year" by decree of the  President Ilham Aliyev dated January 10, 2017, is an indicator of  humanistness of our state leader and at the same time it is a positive example of our country's sensitive attitude to the Islamic Countries Union. Islamic solidarity does not only mean the solidarity of Islamic countries. This is a kind of challenge, regardless of religion, to the world's people to live in friendship, brotherhood and multiculturalism conditions.
It is well known that sectarian wars, civil wars in the Middle East and as a result, emerged certain socio-political tensions indicate that Muslim countries are in great need of moral solidarity. The controversial political processes happening in the world, the emergence and increasingly widespread of warlike states in different countries, the strengthening of religious confrontation, and the deepening of the prejudiced attitude towards Muslims emphasize the necessity level for solidarity among people, nations and states. It can be said that one of the main reasons for exacerbating the myth of Islamic terrorism, the threat of Islamophobia, and strengthening the oppression of Islamic countries should be sought in the absence of unity and solidarity among these countries. Faith differences, contradictions in interests and positions and etc. leads to serious disagreements, and sometimes severe confrontations. Islamic religion, its sacred values, are insulted by the Islamophobia and those who are exposed to the poisonous propaganda against Islam. The bloody events that took place in the Islamic countries during last years, especially in Iraq, Bahrain, Yemen, and Syria are confirmation of our opinions. Cradles of ancient Eastern culture such as Baghdad, Damascus, Aleppo, Kirkuk, Basra and other cities are subject to serious destruction as a result of wars in Iraq and Syria and constant clashes, monuments of Islamic culture in these cities are destroyed. Caricatures of the Prophet Muhammad are given in the Western media, mosques, the holy book-Koran is burnt. The Western world's official structures do not just condemn the acts of vandalism, but on the contrary, they protect, honor, and appreciate the performers of those acts.
The main purpose of the "Islamic Solidarity Year" is to strengthen the unity of the Muslim world and to show that Islam is a religion of peace and culture, and to achieve this goal, as President of the Republic of Azerbaijan Ilham Aliyev said, first of all, reconciliation between different sects that have historically damaged Islam should be established. The announcement of the year 2017 as the "Year of Islamic Solidarity" in Azerbaijan is a challenge to the West, which is strengthening its attacks on the Islamic world annually and promoting a new "crusades" in the 21st century. This is also a call for Islamic countries to be vigilant against the crafty intentions of the West, to demonstrate unity and solidarity. Ilham Aliyev made this important step and expressed the his own position and the position of the state of Azerbaijan. As Azerbaijan has distinguished from other states with its multicultural and tolerant values throughout its history. Islamic solidarity is also a part of this context, and this shows that President Ilham Aliyev gives great importance to the solidarity of the Islamic world. As political scientists point out, some initiatives have been made to call Muslim countries to get unified around religion. For the first time in history, the head of our state has sent a political message to the Islamic world, pointing to the importance of acting from unified position, to achieve unity and at the same time integrate into the world. It should be noted that the Order of the President of the Republic of Azerbaijan on the declaration of 2017 year as"Year of Islamic Solidarity" states: "The Republic of Azerbaijan has established mutually beneficial relations with the Islamic world by being selected as a member of the Organization of Islamic Cooperation, ISESCO and other respected organizations joining muslim countries and has been an organizer of a number of important cultural forums of global importance. Azerbaijan has made a great contribution to the founding of tolerance environment, multiculturalism, intercultural and intercivilizational dialogue, and the promotion of Islamic values in the world. The prestige gained by Azerbaijan in the Islamic world got its expression in this results that Baku and Nakhchivan cities declared as a capital of Islamic culture in 2009 and 2018 respectively. And the decision to hold the IV Islam Solidarity Games in Baku in 2017  create favorable conditions for our country to take the next practical steps in strengthening the Islamic solidarity. "
Only state leader of the country like Azerbaijan,  where multiculturalism and solidarity are established, and citizens of different nationalities, religions and sects live in peace, has a moral right to give such a decree. The promotion of the Islamic Solidarity initiative is related to the challenges of the present and controversial processes that take place because of various reasons in the Islamic world. As it is seen here, the importance of Azerbaijan's reputation in the Islamic world, as well as the need to strengthen the solidarity of Islamic countries, as well as the actuality of holding the Islamic Solidarity Games in Baku, the capital of the Republic of Azerbaijan in 2017, have been extensively and logically expressed in this decree. With Islamic solidarity policy, Azerbaijan, as unifying facility of the Islamic world, confirms that these religious values are indeed, humanistic, moral values and reinforces belief to being of these ideas are an effective means of creating a shared living and stability environment not only in the Islamic geography but also in the entire world. Azerbaijan, which has created a partnership of cultures and ideas between East and West, fulfills the function of a of solidarity bridge, thus demonstrates its commitment to universal values, as well as its commitment to the highest values of the Islamic religion, which had a special place in the past and continuing to keep its value today. Thus, Azerbaijan uses all the means to establish steady stability in a globalizing world and propagates the peacekeeping, reconciliatory position in a unique way that is essential for today.
We suppose that this humanist initiative of the President of Azerbaijan, Mr. Ilham Aliyev, will promote the expansion of cooperation relationship between Muslim countries in the world and further strengthening of the Islamic solidarity. The strengthening of Islamic solidarity, in its turn, will play an important role in ensuring tranquility and peace in the Middle East and other regions.
Economic Growth of Ukraine Depends on Completing Pending Reforms Quickly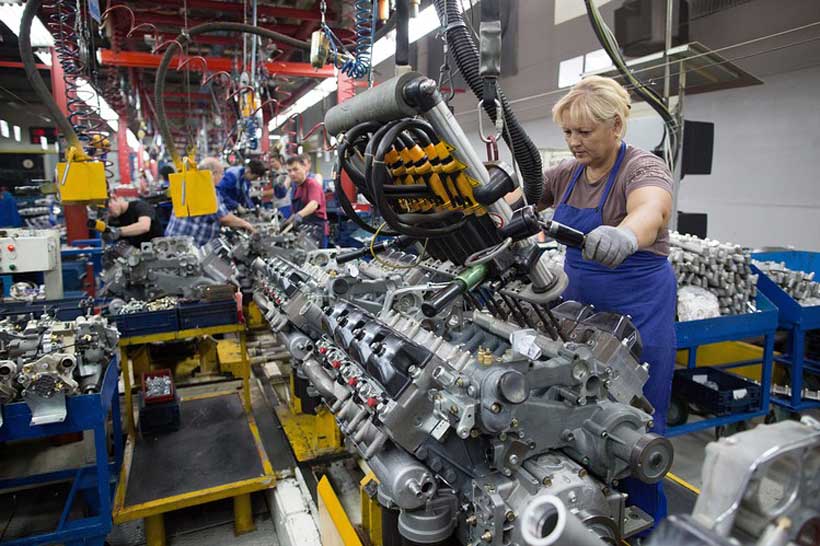 Ukraine's economy grew by 2.5 percent in 2017, the second year of modest growth, according to the World Bank's latest Ukraine Economic Update.  Growth in manufacturing, services, and construction was robust, but weaknesses in the agriculture and mining sectors, together with delays in key reforms to further strengthen investor confidence contributed to the modest overall growth performance.
"Faster growth is needed to improve living standards for the people of Ukraine who continue to hurt from the economic crisis of 2014-2015," said Satu Kahkonen, World Bank Country Director for Belarus, Moldova and Ukraine. "This will require decisive measures in the next few months to complete pending reforms to bolster investor confidence and safeguard macroeconomic stability."
Economic growth is projected at 3.5 percent in 2018 if pending reforms in anticorruption, land markets, state-owned banks, and privatization can be advanced in the next few months. This would provide an important signal to investors. If reforms are delayed, growth could drop below current levels in an uncertain macroeconomic environment as financing risks rapidly increase.
Ukraine faces major financing needs to repay public debt and fiscal pressures from higher public sector wages and social benefits in 2018 and 2019. Mobilizing adequate international financing by completing pending reforms in the months ahead will be important to maintain macroeconomic stability.
Meeting the fiscal deficit target of 2.5 percent of GDP in 2018 will require improving targeting of housing utility subsidies, making further wage increases contingent on measures to optimize the school and hospital network and public-sector staffing, and identifying affordable options to update public sector pensions.
Fiscal Pressures and Reform Options …
According to the World Bank's Special Focus Note on fiscal pressures and reform options, Ukraine has made progress in reducing its large public spending since 2014. However, sustaining these gains while also improving the effectiveness of public services will require implementation of reforms in education, health, public administration, pensions, and social assistance in a fiscally affordable manner.
Public expenditures increased significantly in 2017, by 11.7 percent in real terms, reaching 41.5 percent of GDP, due to the doubling of the minimum wage and over 40 percent increase in wages of teachers and doctors. Spending on social programs also increased.
The recently adopted reforms in education, health, and public administration seek to improve compensation for teachers, doctors, and public servants to strengthen incentives and attract quality personnel. Achieving this in a fiscally affordable manner will require coordinating further increases in salaries with time-bound measures to optimize staffing and the school and hospital network.
The social assistance package in Ukraine is not only fiscally costly—costing 5 percent of GDP in 2017, but is also poorly targeted—with only 30 percent of assistance going to the bottom 20 percent of the population. Fixing this will require improved targeting of the large HUS program.
The recently adopted pension reform helped improve adequacy of benefits and stabilize fiscal costs. Additional initiatives going forward should avoid undermining these core objectives of the pension system. The timeline to create a funded pillar system by January 2019 needs to be reconsidered since this will undermine contributions to the pay-as-you-go system, create contingent fiscal liabilities, and face inadequate availability financial instruments.
Background
Since May 2014, the World Bank Group has provided a total of more than US$5 billion to Ukraine (including 4 development policy loans, 7 investment operations and 1 guarantee) from the International Bank for Reconstruction and Development (IBRD).
The World Bank's current investment project portfolio in Ukraine amounts to US$2.5 billion.  Investments support improving basic public services that directly benefit ordinary people in areas such as water supply, sanitation, heating, power, roads, social protection and healthcare, as well as private sector development. Since Ukraine joined the World Bank in 1992, the Bank's commitments to the country have totaled over US$12 billion in about 70 projects and programs.
Baltic States: Missed opportunities in global politics
We are living in the world where the facts "who makes" and "where it is made" are much more important than "what for" issue. Nowadays the world political scene is divided between superpowers supported by their allies. In order to punish each other for having opposite views the sides criticize any step made by the opponent.
Unfortunately, this happens even in case of evident necessity. It is not the secret that the modern system of international security is unable to perform all demanded functions any more. It needs to be reformed. Another question is who and where will decide.
The most likely political platforms for this are the United Nation Organization and OSCE. But the preparatory stage for any new decision should become different forums and conferences, such as the Munich Security Conference and the Moscow International Conference on Security.
This year the Munich Security Conference took place on February 16-18. More than 30 heads of state and government and over 100 cabinet ministers from across the globe came together at the forum for discussions on major international security challenges. As far as the Baltic States concerns, President of Estonia, as well as Lithuanian and Latvian ministers of defence did not miss the event because it was of great importance for the future of their countries and all Europe.
Just another situation developed in March. In Moscow an annual International Conference on Security was held on April 4-5. The fight against terrorism and other pressing security challenges were one the agenda. There is not a single person who is not affected by the discussed topics.
Many European countries considered it unnecessary to visit the event. It makes no sense to blame them for this choice. They have a strong and common view on what is happening in the world. But if abstract from the current geopolitical situation and confrontation between Russia and the West, politicians should see such kind of forums as a chance to find even weak possibilities to make the world safer. Probably the main reason for not attending the event is in the fact that politicians forgot how to listen to each other. They forgot that only discussing controversial issues makes possible to reach a consensus.
Another issue that deserves attention is the list of participants, which is of great interest to the analysts. According to the Russia's Defense Ministry, representatives from at least 95 countries, three deputy prime ministers, 30 defense ministers, 15 chiefs of staff, 10 international organizations and military delegations have come to participate in the International Conference on Security. They include defense ministers of India, South Africa, Iran, Iraq, Pakistan, Vietnam, Azerbaijan, Belarus, China, Armenia, Mozambique, Serbia, and Israel. Thus, almost half of the UN member-states (total number is 193) sent representatives to the Conference.
It becomes evident that Russia really has powerful partners and allies that are ready to discuss even difficult questions and find mutually beneficial solutions. Those who came do not necessarily agree with Moscow and support its foreign policy but they clearly understand that unfortunately without Russia it is impossible to improve the International Security system.
This fact admitted Thomas Greminger, secretary-general for the Organization for Security and Co-operation in Europe. He stressed that Russia is a key partner in issues of the European security. But the Baltic States blinded by hatred to Russia ignore ignored the event thus putting political ambitions higher than common sense.
It is obvious that Russia is not satisfied with NATO's actions near its borders. NATO in its turn disputes the lawfulness of Russia's behavior. Every day confrontation becomes harder and leads to the arms race. The only way out is to discuss things and find the way out. The Baltic States as usual lost the possibility to express their position on key international security issues and be the active actors in global politics.