Did they or didn't they? The battle for control of Brussels' Grand Mosque
It's hard to prove beyond doubt a direct causal link between militancy and Saudi-inspired ultra-conservative forms of Sunni Muslim Islam. That hasn't stopped Belgium's parliament from attempting to wrest control from Saudi Arabia of Brussel's downtown Grand Mosque after three years in which Belgians played a prominent role in Islamic State attacks in the Belgian capital as well as Paris.
At first glance, the battle for the mosque, Europe's largest and most influential Saudi-funded institution that in 1969 was leased to the kingdom rent-free for 99 years by Belgian King Baudouin in a gesture of friendship, constitutes an attempt to counter militant Islamic ideology. It raises nonetheless prickly issues.
Breaking the contract would amount to equating various strands of Saudi-inspired ultra-conservatism with militancy and political violence – a tenuous assertion given that it propagates Muslim supremacy but in a majority of its expressions rejects violence and often refuses engagement in politics.
That is not to say that militants and ultra-conservatives do not draw on the same textual sources, deny that some militants hail from ultra-conservative backgrounds, or ignore the fact that Saudi-inspired ultra-conservatism has fuelled intolerance and greater conservatism in countries like Pakistan, Malaysia and Indonesia. Belgium boasted the highest number of Islamic State foreign fighters per capita of the population.
Breaking the contract would also put the Belgian government in the awkward position of determining what constitutes good or bad Islam, raising questions of whether that is the role of a democratic administration, and potentially compromising the separation of church and state as well as freedom of religion and expression.
A Belgian move to break the contract, which could take up to a year to complete, would create a precedent in Europe and beyond that the kingdom may not welcome, despite a vow earlier this month by Crown Prince Mohammed bin Salman to move Saudi Arabia, that adheres to Wahhabism, an 18th century puritan and literal interpretation of Islam, to an undefined, more moderate form of the faith.
Some analysts suggest that a Belgian move would strengthen his efforts to curb the power of the kingdom's ultra-conservative religious establishment derived from a power-sharing agreement with the ruling Al Saud family that dates to the founding of Saudi Arabia. Ultra-conservative religious leaders have bent over backwards to endorse Prince Mohammed's reforms and the rollback of their powers, despite evidence that they have misgivings.
The battle for control of the mosque also has implications for escalating tension between Saudi Arabia and its arch rival, Iran. The Brussels mosque is operated and funded to the tune of $1.2 million a year by the World Muslim League, a government-sponsored group, that for decades served as a prime vehicle for the propagation of Saudi-inspired ultra-conservatism.
The League, whose staff was believed to be close to the Muslim Brotherhood, was a major beneficiary of up to $100 billion that Saudi Arabia invested globally over the last 40 years in religious and educational facilities as well as groups that often adhered to ant-Shiite, and by implication, if not explicitly, anti-Iranian positions.
The League's secretary general, Mohammed bin Abdul Karim Al-Issa, a former Saudi justice minister, has in the last year sought to project the group as "a global umbrella for Islamic people that promotes the principles and values of peace, forgiveness, co-existence, and humanitarian cooperation" by organizing inter-faith conferences and meeting the Pope.
On a visit to Brussels earlier this year, Mr. Al-Issa denied that Saudi Arabia had funded extremism and sectarianism. "Islam is a 1,400-years old religion. It cannot be equated and judged by the few events and attacks, carried out because of political or geo-strategic interests. As a religion, Islam teaches humanity, tolerance, and mutual respect," Mr. Al-Issa told a conference in the European parliament on Islam and Islamophobia
Mr. Al-Issa has also positioned the League squarely behind Prince Mohammed by backing the Saudi-UAE led diplomatic and economic boycott of Qatar and allegations that the Gulf state supports extremism.
A report by the conservative Henry Jackson Society charged in July that Saudi Arabia was the primary funder of extremism in Britain as well as elsewhere. It said the kingdom "since the 1960s has sponsored a multimillion dollar effort to export Wahhabi Islam across the Islamic world, including to Muslim communities in the West."
A prominent Indonesian scholar, wittingly or unwittingly, lent justification to the Belgian move rooted in calls for the furthering of a more tolerant, pluralistic, European version of Islam by unequivocally linking ultra-conservatism to extremism.
"There is a clear relationship between fundamentalism, terrorism, and the basic assumptions of Islamic orthodoxy. So long as we lack consensus regarding this matter, we cannot gain victory over fundamentalist violence within Islam," said Yahya Cholil Staquf, the 51-year old general secretary of the Nahdlatul Ulama (NU).
NU, one of the world's largest Muslim movements that was founded almost a century ago in Indonesia in opposition to Wahhabism, but includes prominent figures who espouse Saudi-style anti-Shiite and anti-Iranian attitudes.
Bruce Riedel, a former Central Intelligence Agency (CIA) operative who as a young officer lived across the street from the Brussels mosque, described it as "not a house of worship, but a museum to teach Belgians about Islam and the Middle East."
The mosque is a mere 16 kilometres from Molenbeek, Belgium's second poorest neighbourhood, that emerged as a hotbed of militancy, with many of the Belgian perpetrators of attacks in recent years in Paris and Brussels hailing from the area. At least two Belgians, who travelled to Syria to join the Islamic State, studied Islam at the mosque, according to Belgian intelligence.
A Belgian parliamentary inquiry into last year's attack on Brussels' international Zaventem airport and a metro station in the city in which 32 people were killed, advised the government to cancel the mosque contract on the grounds that Saudi-inspired ultra-conservatism could contribute to extremism.
Saudi-inspired "Salafist sentiments are solidly anchored in the minds of Muslims in the Belgian capital. Belgian authorities have been playing with fire for 30 years," said Michel Privot of the European Network Against Racism. Mr. Privot estimated that 95 percent of Muslim education in Belgium was provided by Saudi-trained imams.
"There is a huge demand within Muslim communities to know about their religion, but most of the offer is filled by a very conservative Salafi type of Islam sponsored by Saudi Arabia. Other Muslim countries have been unable to offer grants to students on such a scale," Mr. Privot said.
The US embassy in Brussels, in a 2007 cable leaked by Wikileaks, reported "there is a noted absence in the life of Islam in Belgium of broader cultural traditions such as literature, humanism and science which defaults to an ambient practice of Islam pervaded by a more conservative Salafi interpretation of the faith…. Discrimination in housing and employment has produced clear lower-class 'ghetto' areas of greater Brussels, such as Molenbeek, Schaerbeek and St. Josse, disproportionately inhabited by Muslims regardless of their education and income."
The cable noted that "according to the OECD (Organization for Cooperation and Economic Development), unemployment among foreign-born residents is twice that of indigenous Belgians… Saudi Arabia continues as a source of material support to the Islamic community. A member of the Muslim Executive told us that the Saudi embassy keeps mosques furnished with Korans and help with such material needs as mosque upkeep and repair," the cable said, referring to the Belgian Muslim community's umbrella organization.
Controversy over the Brussels mosque has simmered for several years. In 2015, the Belgian government advised Saudi ambassador Abdullah bin Yahya Almoa'limi that it had problems with the mosque's director, Khalid Alabri, who was also on the embassy staff.
"His sermons were Salafist, anti-Israel and anti-West. The guiding principle was the primacy of Salafism above all else," a worshipper told Belgian Radio and Television RTBF. Mr. Alabri was quietly removed from his post.
In the latest round, Belgium is effectively expelling the mosque's recently resigned imam, Abdelhadi Sewif, an Egyptian national, by refusing to extend his residency permit because he used his 13-year tenure to espouse Sunni Muslim ultra-conservative.
Mr. Sewif "is a dangerous man to the national security of our country," said Belgian state secretary for asylum and migration Theo Francken told RTBF. Mr. Al-Issa, the World Muslim league head, denied the allegations, noting that investigations of the mosque had cleared it of wrongdoing.
The League, in a bid to counter criticism of the mosque returned its Saudi director, Jamal Saleh Momenah, to the kingdom, and replaced him with Tamer Abou el Saod, a Luxemburg consultant who has Swedish nationality. Mr Momenah, who like Mr. Alabri, enjoyed diplomatic status, was removed after deputies walked away from his parliamentary testimony in Arabic in March convinced that it would be impossible to work with him.
"You can't build an inclusive society with someone like that. This is an enemy of our Western values. He doesn't even know the European Treaty on Human Rights," said Flemish nationalist member of parliament, Christoph D'Haese.
Mr. Sewif was succeeded by Ndiaye Mouhameth Galaye, a Senegalese national who teaches a more liberal interpretation of Islam but has yet to convince parliamentarians that he will take the mosque in a different direction.
In an apparent underestimation of Belgian sentiment and the kingdom's tarnished reputation, Saudi Islamic affairs minister Ibrahim Al-Zaid this week offered Belgian deputy foreign minister Dirk Achten to train Belgian imams. A "hypocritical suggestion," quipped a Belgian news website.
Europe tells Biden "no way" to Cold War with China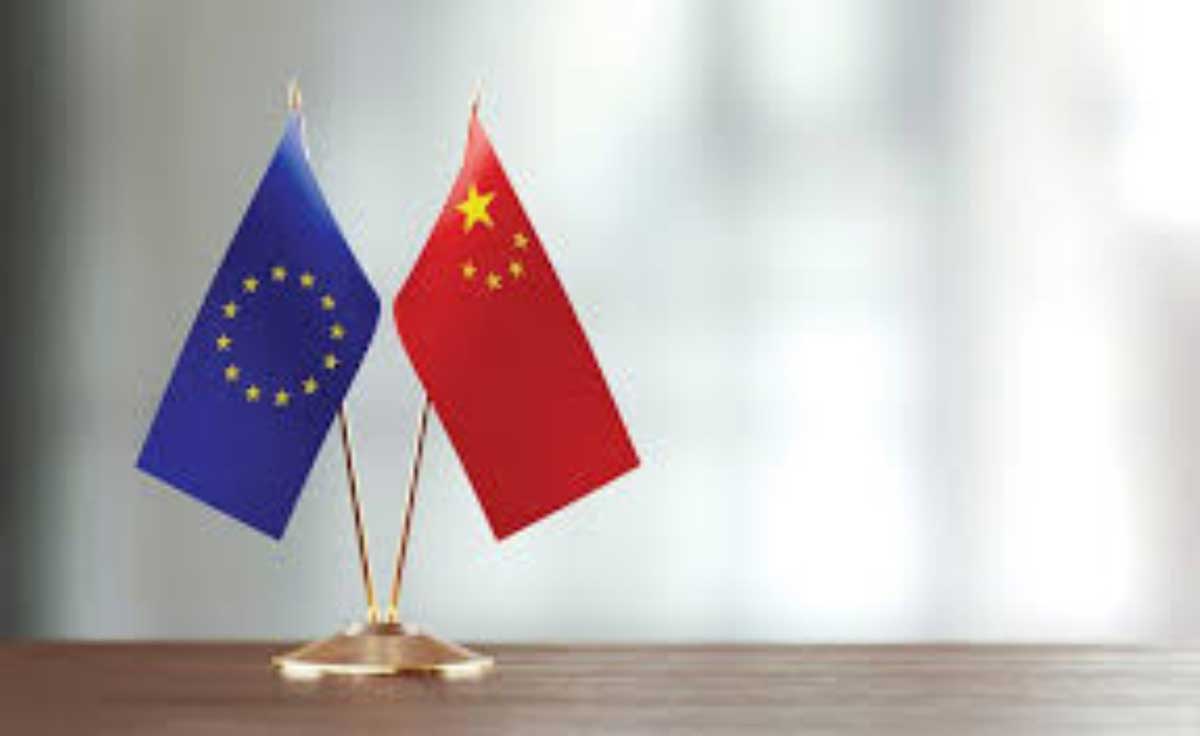 Amidst the first big transatlantic tensions for the Biden Administration, a new poll shows that the majority of Europeans see a new Cold War happening between the United States and China, but they don't see themselves as a part of it.
Overwhelmingly, 62% of Europeans believe that the US is engaged in a new Cold War against China, a new poll just released by the European Council on Foreign Relations found. Just yesterday US President Joe Biden claimed before the UN General Assembly that there is no such thing and the US is not engaging in a new Cold War. So, Europeans see Biden's bluff and call him on it.
The study was released on Wednesday by Mark Leonard and Ivan Krastev at the European Council on Foreign Relations and found that Europeans don't see themselves as direct participants in the US-China Cold War. This viewpoint is most pronounced in Bulgaria, Hungary, Austria, Portugal and Italy, according to the study. The prevailing view, in each of the 12 surveyed EU member states, is one of irrelevance – with respondents in Hungary (91%), Bulgaria (80%), Portugal (79%), and Austria (78%) saying that their country is not in a conflict with Beijing.
Only 15% of Europeans believe that the EU is engaged in a Cold War against China. The percentage is so low that one wonders if there should even be such a question. It is not only not a priority, it is not even a question on the agenda for Europeans. Even at the highest point of EU "hawkishness", only 33% of Swedes hold the view that their country is currently in a Cold War with China. Leonard and Krastev warn that if Washington and Brussels are preparing for an all-in generational struggle against China, this runs against the grain of opinion in Europe, and leaders in Washington and Brussels will quickly discover that they "do not have a societal consensus behind them".
"The European public thinks there is a new cold war – but they don't want to have anything to do with it. Our polling reveals that a "cold war" framing risks alienating European voters", Mark Leonard said.
The EU doesn't have the backing of its citizens to follow the US in its new Cold War pursuit. But unlike the views of the authors of the study, my view is that this is not a transatlantic rift that we actually have to be trying to fix. Biden's China policy won't be Europe's China policy, and that's that, despite US efforts to persuade Europe to follow, as I've argued months ago for the Brussels Report and in Modern Diplomacy.
In March this year, Gallup released a poll that showed that 45% of Americans see China as the greatest US enemy. The poll did not frame the question as Cold War but it can be argued that Joe Biden has some mandate derived from the opinion of American people. That is not the case for Europe at all, to the extent that most of us don't see "China as an enemy" even as a relevant question.
The US's China pursuit is already giving horrible for the US results in Europe, as French President Macron withdrew the French Ambassador to the US. The US made a deal already in June, as a part of the trilateral partnership with the UK and Australia, and stabbed France in the back months ago to Macron's last-minute surprise last week. Max Boot at the Council on Foreign Relations argues that it is Macron that is actually arrogant to expect that commitments and deals should mean something: "Back in February, Macron rejected the idea of a U.S.-E.U. common front against China. Now he complains when America pursues its own strategy against China. What's French for chutzpah?" What Boot does get right is that indeed, there won't be a joint US-EU front on China, and European citizens also don't want this, as the recent poll has made clear.
The US saying Europe should follow the US into a Cold War with China over human rights is the same thing as China saying that Europe should start a Cold War with the US over the bad US human rights record. It's not going to happen. You have to understand that this is how ridiculous the proposition sounds to us, Europeans. Leonard and Krastev urge the EU leadership to "make the case for more assertive policies" towards China around European and national interests rather than a Cold War logic, so that they can sell a strong, united, and compelling case for the future of the Atlantic alliance to European citizens.
I am not sure that I agree, as "more assertive policies" and "cold war" is probably the same thing in the mind of most Europeans and I don't think that the nuance helps here or matters at all. Leaders like Biden argue anyway that the US is not really pursuing a Cold War. The authors caution EU leaders against adopting a "cold war" framing. You say "framing", I say "spin". Should we be in engaging in spins at all to sell unnecessary conflict to EU citizens only to please the US?
"Unlike during the first cold war, [Europeans] do not see an immediate, existential threat", Leonard clarified. European politicians can no longer rely on tensions with China to convince the electorate of the value of transatlantic relations. "Instead, they need to make the case from European interests, showing how a rebalanced alliance can empower and restore sovereignty to European citizens in a dangerous world", Mark Leonard added. The study shows that there is a growing "disconnect" between the policy ambitions of those in Brussels and how Europeans think. EU citizens should stick to their sentiments and not be convinced to look for conflict where it doesn't exist, or change what they see and hear with their own eyes and ears in favor of elusive things like the transatlantic partnership, which the US itself doesn't believe in anyways. And the last thing that should be done is to scare Europeans by convincing them they live in a "dangerous world" and China is the biggest threat or concern.
What the study makes clear is that a Cold War framing against China is likely to repel more EU voters than it attracts, and if there is one thing that politicians know it is that you have to listen to the polls in what your people are telling you instead of engaging in spins. Those that don't listen in advance get the signs eventually. At the end of the day it's not important what Biden wants.
Germany and its Neo-imperial quest
In January 2021, eight months ago, when rumours about the possibility of appointment of Christian Schmidt as the High Representative in Bosnia occurred for the first time, I published the text under the title 'Has Germany Lost Its NATO Compass?'. In this text I announced that Schmidt was appointed to help Dragan Čović, the leader of the Croatian HDZ party, to disrupt the constitutional structure of Bosnia-Herzegovina and create precoditions for secession of the Serb- and Croatian-held territories in Bosnia and the country's final dissolution. I can hardly add anything new to it, except for the fact that Schmidt's recent statements at the conference of Deutsche Atlantische Gesellschaft have fully confirmed my claims that his role in Bosnia is to act as Čović's ally in the latter's attempts to carve up the Bosnian Constitution.
Schmidt is a person with a heavy burden, the burden of a man who has continuously been promoting Croatian interests, for which the Croatian state decorated him with the medal of "Ante Starčević", which, in his own words, he "proudly wears" and shares with several Croatian convicted war criminals who participated in the 1992-1995 aggression on Bosnia, whom Schmidt obviously perceives as his ideological brethren. The question is, then, why Germany appointed him as the High Representative in Bosnia?
Germany's policy towards Bosnia, exercised mostly through the institutions of the European Union, has continuously been based on the concept of Bosnia's ethnic partition. The phrases that we can occassionaly hear from the EU, on inviolability of state boundaries in the Balkans, is just a rhetoric adapted to the demands by the United States to keep these boundaries intact. So far, these boundaries have remained intact mainly due to the US efforts to preserve them. However, from the notorious Lisbon Conference in February 1992 to the present day, the European Union has always officially stood behind the idea that Bosnia-Herzegovina should be partitioned along ethnic lines. At the Lisbon Conference, Lord Carrington and Jose Cutileiro, the official representatives of the then European Community, which has in the meantime been rebranded as the European Union, drew the maps with lines of ethnic partition of Bosnia-Herzegovina, along which the ethnic cleansing was committed, with 100.000 killed and 1,000.000 expelled, so as to make its territory compatible with their maps. Neither Germany nor the European Union have ever distanced themselves from the idea they promoted and imposed at the Lisbon Conference as 'the only possible solution' for Bosnia, despite the grave consequences that followed. Nor has this idea ever stopped being a must within their foreign policy circles, as it has recently been demonstrated by the so-called Janša Non-Paper, launched a couple of months ago, which also advocates the final partition and dissolution of Bosnia-Herzegovina. Such a plan is probably a product of the powerful right-wing circles in the European institutions, such as Schmidt's CSU, rather than a homework of Janez Janša, the current Prime Minister of Slovenia, whose party is a part of these circles, albeit a minor one. To be sure, Germany is not the original author of the idea of Bosnia's partition, this author is Great Britain, which launched it directly through Lord Carrington at the Lisbon Conference. Yet, Germany has never shown a will to distance itself from this idea, nor has it done the European Union. Moreover, the appointment of Schmidt, as a member of those political circles which promote ethnic partition as the only solution for multiethnic countries, testifies to the fact that Germany has decided to fully apply this idea and act as its chief promoter.
In this process, the neighbouring countries, Serbia and Croatia, with their extreme nationalist policies, can only act as the EU's proxies, in charge for the physical implemenation of Bosnia's pre-meditated disappearance. All the crimes that Serbia and Croatia committed on the Bosnian soil – from the military aggression, over war crimes, ethnic cleansing and genocide, up to the 30 year-long efforts to undermine Bosnia's sovereignty and territorial integrity – have always had a direct approval and absolute support of the leading EU countries. During the war and in its aftermath, Great Britain and France were the leaders of the initiatives to impose ethnic partition on the citizens of Bosnia-Herzegovina, and now Germany has taken up their role. In such a context, the increasing aggressiveness of Serbia and Croatia can only be interpreted as a consequence of the EU's intention to finish with Bosnia for good, and Schmidt has arrived to Bosnia to facilitate that process. Therefore, it is high time for the citizens of Bosnia-Herzegovina to abandon any ilussions about the true intentions of the European Union and reject its Trojan Horse in the form of the current High Representative.
Should there be an age limit to be President?
The presidential elections in Bulgaria are nearing in November 2021 and I would like to run for President of Bulgaria, but the issue is the age limit.
To run for President in Bulgaria a candidate needs to be at least 40 years old and I am 37. I am not the first to raise the question: should there be an age limit to run for President, and generally for office, and isn't an age limit actually age discrimination?
Under the international human rights law standard, putting an age limit is allowed in the context of political participation under the right to vote and the right to run to be elected. Human Rights Committee General Comment No.25 interpreting the International Covenant on Civil and Political Rights states that an age limit has to be based on objective and reasonable criteria, adding that it is reasonable to have a higher age requirement for certain offices. As it stands, the law says that having an age limit for president is not age discrimination, but is 40 actually a reasonable cut-off? National legislations can change. We need to lower the age limit and rethink what's a reasonable age for President, and not do away with all age limits.
We have seen strong leaders emerge as heads of state and government who are below 40 years of age. Sanna Marin, Prime Minister of Finland, became Prime Minister at 34. Sebastrian Kurz, the Prime Minister of Austria, was elected at 31. Jacinda Ardern, Prime Minister of New Zealand, assumed her position at 37. So perhaps it is time to rethink age limits for the highest offices.
The US has plenty of examples where elected Senators and Congressmen actually beat the age limit and made it despite the convention. The age limit for Senator in the US is 30 years old. Rush Holt was elected to the US Senate at 29. In South Carolina, two State Senators were elected at 24 years old and they were seated anyways. The age limit for US president is 35 years old.
In Argentina, the age cut-off is 30. In India, it is 35. In Pakistan, it is 45 years old. In Turkey, it is 40 years old. Iceland says 35 years old. In France, it is 18.
Generally, democracies set lower age limits. More conservative countries set the age limit higher in line with stereotypes rather than any real world evidence that a 45 year-old or 55 year-old person would be more effective and better suited to the job. Liberal countries tend to set lower age limits.
40 years old to be a President of Bulgaria seems to be an arbitrary line drawn. And while it is legal to have some age limits, 40 years old seems to be last century. Changing the age limit for president of Bulgaria could be a task for the next Bulgarian Parliament for which Bulgarians will also vote on the same date as they vote for President.