Did they or didn't they? The battle for control of Brussels' Grand Mosque
It's hard to prove beyond doubt a direct causal link between militancy and Saudi-inspired ultra-conservative forms of Sunni Muslim Islam. That hasn't stopped Belgium's parliament from attempting to wrest control from Saudi Arabia of Brussel's downtown Grand Mosque after three years in which Belgians played a prominent role in Islamic State attacks in the Belgian capital as well as Paris.
At first glance, the battle for the mosque, Europe's largest and most influential Saudi-funded institution that in 1969 was leased to the kingdom rent-free for 99 years by Belgian King Baudouin in a gesture of friendship, constitutes an attempt to counter militant Islamic ideology. It raises nonetheless prickly issues.
Breaking the contract would amount to equating various strands of Saudi-inspired ultra-conservatism with militancy and political violence – a tenuous assertion given that it propagates Muslim supremacy but in a majority of its expressions rejects violence and often refuses engagement in politics.
That is not to say that militants and ultra-conservatives do not draw on the same textual sources, deny that some militants hail from ultra-conservative backgrounds, or ignore the fact that Saudi-inspired ultra-conservatism has fuelled intolerance and greater conservatism in countries like Pakistan, Malaysia and Indonesia. Belgium boasted the highest number of Islamic State foreign fighters per capita of the population.
Breaking the contract would also put the Belgian government in the awkward position of determining what constitutes good or bad Islam, raising questions of whether that is the role of a democratic administration, and potentially compromising the separation of church and state as well as freedom of religion and expression.
A Belgian move to break the contract, which could take up to a year to complete, would create a precedent in Europe and beyond that the kingdom may not welcome, despite a vow earlier this month by Crown Prince Mohammed bin Salman to move Saudi Arabia, that adheres to Wahhabism, an 18th century puritan and literal interpretation of Islam, to an undefined, more moderate form of the faith.
Some analysts suggest that a Belgian move would strengthen his efforts to curb the power of the kingdom's ultra-conservative religious establishment derived from a power-sharing agreement with the ruling Al Saud family that dates to the founding of Saudi Arabia. Ultra-conservative religious leaders have bent over backwards to endorse Prince Mohammed's reforms and the rollback of their powers, despite evidence that they have misgivings.
The battle for control of the mosque also has implications for escalating tension between Saudi Arabia and its arch rival, Iran. The Brussels mosque is operated and funded to the tune of $1.2 million a year by the World Muslim League, a government-sponsored group, that for decades served as a prime vehicle for the propagation of Saudi-inspired ultra-conservatism.
The League, whose staff was believed to be close to the Muslim Brotherhood, was a major beneficiary of up to $100 billion that Saudi Arabia invested globally over the last 40 years in religious and educational facilities as well as groups that often adhered to ant-Shiite, and by implication, if not explicitly, anti-Iranian positions.
The League's secretary general, Mohammed bin Abdul Karim Al-Issa, a former Saudi justice minister, has in the last year sought to project the group as "a global umbrella for Islamic people that promotes the principles and values of peace, forgiveness, co-existence, and humanitarian cooperation" by organizing inter-faith conferences and meeting the Pope.
On a visit to Brussels earlier this year, Mr. Al-Issa denied that Saudi Arabia had funded extremism and sectarianism. "Islam is a 1,400-years old religion. It cannot be equated and judged by the few events and attacks, carried out because of political or geo-strategic interests. As a religion, Islam teaches humanity, tolerance, and mutual respect," Mr. Al-Issa told a conference in the European parliament on Islam and Islamophobia
Mr. Al-Issa has also positioned the League squarely behind Prince Mohammed by backing the Saudi-UAE led diplomatic and economic boycott of Qatar and allegations that the Gulf state supports extremism.
A report by the conservative Henry Jackson Society charged in July that Saudi Arabia was the primary funder of extremism in Britain as well as elsewhere. It said the kingdom "since the 1960s has sponsored a multimillion dollar effort to export Wahhabi Islam across the Islamic world, including to Muslim communities in the West."
A prominent Indonesian scholar, wittingly or unwittingly, lent justification to the Belgian move rooted in calls for the furthering of a more tolerant, pluralistic, European version of Islam by unequivocally linking ultra-conservatism to extremism.
"There is a clear relationship between fundamentalism, terrorism, and the basic assumptions of Islamic orthodoxy. So long as we lack consensus regarding this matter, we cannot gain victory over fundamentalist violence within Islam," said Yahya Cholil Staquf, the 51-year old general secretary of the Nahdlatul Ulama (NU).
NU, one of the world's largest Muslim movements that was founded almost a century ago in Indonesia in opposition to Wahhabism, but includes prominent figures who espouse Saudi-style anti-Shiite and anti-Iranian attitudes.
Bruce Riedel, a former Central Intelligence Agency (CIA) operative who as a young officer lived across the street from the Brussels mosque, described it as "not a house of worship, but a museum to teach Belgians about Islam and the Middle East."
The mosque is a mere 16 kilometres from Molenbeek, Belgium's second poorest neighbourhood, that emerged as a hotbed of militancy, with many of the Belgian perpetrators of attacks in recent years in Paris and Brussels hailing from the area. At least two Belgians, who travelled to Syria to join the Islamic State, studied Islam at the mosque, according to Belgian intelligence.
A Belgian parliamentary inquiry into last year's attack on Brussels' international Zaventem airport and a metro station in the city in which 32 people were killed, advised the government to cancel the mosque contract on the grounds that Saudi-inspired ultra-conservatism could contribute to extremism.
Saudi-inspired "Salafist sentiments are solidly anchored in the minds of Muslims in the Belgian capital. Belgian authorities have been playing with fire for 30 years," said Michel Privot of the European Network Against Racism. Mr. Privot estimated that 95 percent of Muslim education in Belgium was provided by Saudi-trained imams.
"There is a huge demand within Muslim communities to know about their religion, but most of the offer is filled by a very conservative Salafi type of Islam sponsored by Saudi Arabia. Other Muslim countries have been unable to offer grants to students on such a scale," Mr. Privot said.
The US embassy in Brussels, in a 2007 cable leaked by Wikileaks, reported "there is a noted absence in the life of Islam in Belgium of broader cultural traditions such as literature, humanism and science which defaults to an ambient practice of Islam pervaded by a more conservative Salafi interpretation of the faith…. Discrimination in housing and employment has produced clear lower-class 'ghetto' areas of greater Brussels, such as Molenbeek, Schaerbeek and St. Josse, disproportionately inhabited by Muslims regardless of their education and income."
The cable noted that "according to the OECD (Organization for Cooperation and Economic Development), unemployment among foreign-born residents is twice that of indigenous Belgians… Saudi Arabia continues as a source of material support to the Islamic community. A member of the Muslim Executive told us that the Saudi embassy keeps mosques furnished with Korans and help with such material needs as mosque upkeep and repair," the cable said, referring to the Belgian Muslim community's umbrella organization.
Controversy over the Brussels mosque has simmered for several years. In 2015, the Belgian government advised Saudi ambassador Abdullah bin Yahya Almoa'limi that it had problems with the mosque's director, Khalid Alabri, who was also on the embassy staff.
"His sermons were Salafist, anti-Israel and anti-West. The guiding principle was the primacy of Salafism above all else," a worshipper told Belgian Radio and Television RTBF. Mr. Alabri was quietly removed from his post.
In the latest round, Belgium is effectively expelling the mosque's recently resigned imam, Abdelhadi Sewif, an Egyptian national, by refusing to extend his residency permit because he used his 13-year tenure to espouse Sunni Muslim ultra-conservative.
Mr. Sewif "is a dangerous man to the national security of our country," said Belgian state secretary for asylum and migration Theo Francken told RTBF. Mr. Al-Issa, the World Muslim league head, denied the allegations, noting that investigations of the mosque had cleared it of wrongdoing.
The League, in a bid to counter criticism of the mosque returned its Saudi director, Jamal Saleh Momenah, to the kingdom, and replaced him with Tamer Abou el Saod, a Luxemburg consultant who has Swedish nationality. Mr Momenah, who like Mr. Alabri, enjoyed diplomatic status, was removed after deputies walked away from his parliamentary testimony in Arabic in March convinced that it would be impossible to work with him.
"You can't build an inclusive society with someone like that. This is an enemy of our Western values. He doesn't even know the European Treaty on Human Rights," said Flemish nationalist member of parliament, Christoph D'Haese.
Mr. Sewif was succeeded by Ndiaye Mouhameth Galaye, a Senegalese national who teaches a more liberal interpretation of Islam but has yet to convince parliamentarians that he will take the mosque in a different direction.
In an apparent underestimation of Belgian sentiment and the kingdom's tarnished reputation, Saudi Islamic affairs minister Ibrahim Al-Zaid this week offered Belgian deputy foreign minister Dirk Achten to train Belgian imams. A "hypocritical suggestion," quipped a Belgian news website.
EU-Japan Summit: A landmark moment for trade and cooperation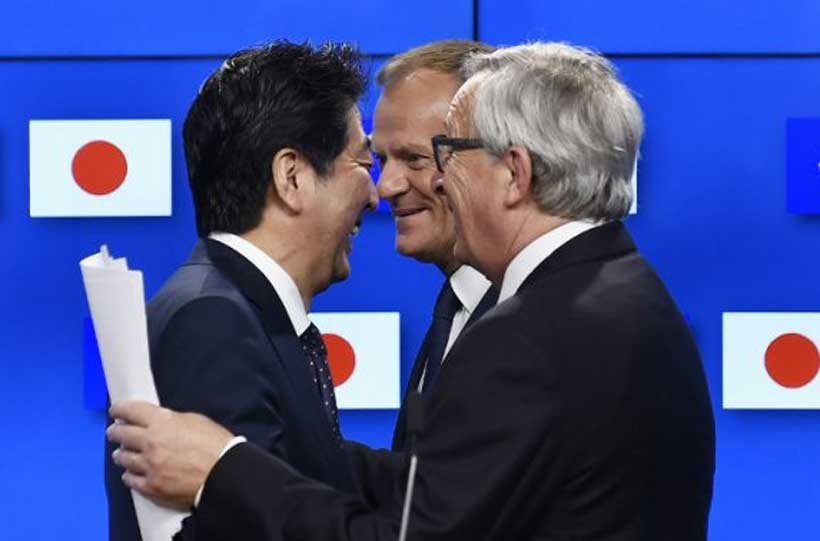 The 25th EU-Japan Summit took place on 17 July in Tokyo. At the summit, leaders signed two landmark agreements, the Strategic Partnership Agreement and the Economic Partnership Agreement, which will significantly boost bilateral relations.
Jean-Claude Juncker, President of the European Commission and Donald Tusk, President of the European Council, represented the European Union at the Summit. Japan was represented by its Prime Minister, Shinzo Abe. The European Commission Vice-President for Jobs, Growth, Investment and Competitiveness, Jyrki Katainen also participated. EU Leaders offered their condolences to the people of Japan following the floods and landslides in Western Japan, and offered their support to Prime Minister to help in any way.
"Today is a historic moment in our enduring partnership", said President Jean-Claude Juncker. "Today's signature of the EU-Japan Economic Partnership Agreement is a landmark moment for global trade, and I am also delighted that we have signed the first ever Strategic Partnership Agreement, which takes our cooperation to the next level. The impact of the Economic Partnership Agreement goes far beyond our shores. Together, we are making a statement about the future of free and fair trade. We are showing that we are stronger and better off when we work together and we are leading by example, showing that trade is about more than tariffs and barriers. It is about values, principles and finding win-win solutions for all. As far as we are concerned, there is no protection in protectionism – and there cannot be unity where there is unilateralism."
For open, fair and win-win trade
The Economic Partnership Agreement between the EU and Japan is the biggest ever negotiated by the European Union. It creates an open trade zone covering over 600 million people and nearly a third of global GDP. It will remove the vast majority of the €1 billion of duties paid annually by EU companies exporting to Japan, and has led to the removal of a number of long-standing regulatory barriers, for example on cars. It will also open up the Japanese market of 127 million consumers to key EU agricultural exports and will increase EU export opportunities in a range of other sectors. The Agreement follows the highest standards of labour, environmental and consumer protection and has a dedicated chapter on sustainable development. It is the first trade agreement negotiated by the European Union to include a specific commitment to the Paris climate agreement.
Commissioner for Trade Cecilia Malmström said: "We are sending a strong signal to the world that two of its biggest economies still believe in open trade, opposing both unilateralism and protectionism. The economic benefits of this agreement are clear. By removing billions of euros of duties, simplifying customs procedures and tackling behind-the-border barriers to trade, it will offer opportunities for companies on both sides to boost their exports and expand their business."
Concerning data protection, the EU and Japan concluded the negotiations on reciprocal adequacy on 17 July, which will complement the Economic Partnership Agreement. They agreed to recognise each other's data protection systems as 'equivalent', which will allow data to flow safely between the EU and Japan, creating the world's largest area of safe data flows.
Věra Jourová, Commissioner for Justice, Consumers and Gender Equality said: "Japan and EU are already strategic partners. Data is the fuel of global economy and this agreement will allow for data to travel safely between us to the benefit of both our citizens and our economies. At the same time we reaffirm our commitment to shared values concerning the protection of personal data. This is why I am fully confident that by working together, we can shape the global standards for data protection and show common leadership in this important area."
A Strategic Partnership Agreement fit for truly Strategic Partners
The European Union and Japan are like-minded partners, working together both bilaterally as well as in multilateral fora, such as the United Nations and the G7. The Strategic Partnership Agreement, signed today by President Juncker, President Tusk and Prime Minister Abe, will deepen and strengthen EU-Japan relations by providing an overarching and binding framework for enhanced cooperation.
"In today's world, no country can think of tackling the global challenges that we are faced with on its own", said the High Representative/Vice-President Federica Mogherini ahead of the Summit. "Japan is a country that we already work so closely with, on many files, from peace-building to denuclearisation, from counter-terrorism to effective multilateralism. The Strategic Partnership Agreement will allow us to strengthen this cooperation across a wide range of sectors, but also open up the possibility for cooperation in new areas, from science, technology and innovation, environment and energy, to climate change and security."
At the Summit, the Leaders addressed regional and foreign policy issues including the situation on the Korean Peninsula, the conflict in eastern Ukraine and the illegal annexation of Crimea and Sevastopol, the commitment to preserving the Joint Comprehensive Plan of Action – the Iran nuclear deal, among others. As the Strategic Partnership Agreement foresees, Leaders also discussed the shared commitment to strengthen cooperation on global issues and confirmed the EU and Japan's joint vision and support to the rules-based international order with multilateralism, democracy, non-proliferation of weapons of mass destruction, open markets and a global trading system with the World Trade Organisation at its core.
The Leaders also discussed other bilateral issues, including possibilities to strengthen the EU-Japan security partnership, strengthened cooperation in the fields of development policy and education, culture and sports.
EU-China Summit: Deepening the strategic global partnership
The 20th Summit between the European Union and the People's Republic of China held today in Beijing has underlined that this partnership has reached a new level of importance for our own citizens, for our respective neighbouring regions and for the international community more broadly.
President of the European Commission Jean-Claude Juncker and President of the European Council Donald Tusk represented the European Union at the Summit. The People's Republic of China was represented by Premier Li Keqiang. European Commission Vice-President for Jobs, Growth, Investment and Competitiveness, Jyrki Katainen, Trade Commissioner Cecilia Malmström, and Transport Commissioner Violeta Bulc also attended the Summit. President Tusk and President Juncker also met with the President of the People's Republic of China, Xi Jinping.
"I have always been a strong believer in the potential of the EU-China partnership. And in today's world that partnership is more important than ever before. Our cooperation simply makes sense", said the President of the European Commission, Jean-Claude Juncker. "Europe is China's largest trading partner and China is our second largest. The trade in goods between us is worth over €1.5 billion every single day. But we also know that we can do so much more. This is why it is so important that today we have made progress on the Comprehensive Agreement on Investment through a first exchange of offers on market access, and towards an agreement on Geographical Indications. That shows that we want to create more opportunities for people in China and in Europe."
The Joint Summit Statement agreed by the European Union and China illustrates the breadth and depth of the EU-China relationship and the positive impact that such a partnership can have, in particular when it comes to addressing global and regional challenges such as climate change, common security threats, the promotion of multilateralism, and the promotion of open and fair trade. The Summit follows the High-level Strategic Dialogue, co-chaired by the EU High Representative for Foreign Affairs and Security Policy/Vice-President of the European Commission, Federica Mogherini and Chinese State Counsellor, Wang Yi, in Brussels on 1 June, and the High-level Economic and Trade Dialogue, co-chaired by Vice-President Katainen and Chinese Vice-Premier, Liu He, in Beijing on 25 June.
This 20th Summit demonstrates the many ways in which the European Union and China are concretely strengthening what is already a comprehensive relationship. In addition to the Joint Statement, a number of other concrete deliverables were agreed, including:
an exchange of offers on the Comprehensive Agreement on Investment;
agreement to conclude before the end of October, if possible, the negotiations on an Agreement on Geographical Indications;
a Memorandum of Understanding between the European Investment Fund and the Silk Road Forumconfirming the first co-investment carried out under the recently established China-EU Co-Investment Fund;
a Strategic Administrative Cooperation Arrangement and an Action Plan (2018-2020) between the European Anti-Fraud Office (OLAF) and the General Administration of China Customs
Working together for a more sustainable planet
In the Leaders' statement on climate change and clean energy, the European Union and China have committed to step up their cooperation towards low greenhouse gas emission economies and the implementation of the 2015 Paris Agreement on climate change. In doing so, the EU and China will intensify their political, technical, economic and scientific cooperation on climate change and clean energy.
Welcoming this commitment, President Juncker said: "We have underlined our joint, strong determination to fight climate change and demonstrate global leadership. It shows our commitment to multilateralism and recognises that climate change is a global challenge affecting all countries on earth. There is no time for us to sit back and watch passively. Now is the time for decisive action."
Vice-President Katainen and the Chairman of the National Development and Reform Commission, He Lifeng,also signed the Memorandum of Understanding to Enhance Cooperation on Emissions Trading, which acknowledges the significant potential of emissions trading to contribute to a low carbon economy and further enhances the cooperation of the two largest emission trading systems of the world.
Building on the success of the 2017 EU-China Blue Year, the EU and China have also signed a Partnership Agreement on Oceans. Two of the world's largest ocean economies will work together to improve the international governance of the oceans, including by combating illegal fishing and exploring potential business and research opportunities, based on clean technologies, in the maritime economy. The partnership contains clear commitments to protect the marine environment against pollution, including plastic litter; tackle climate change in accordance with the Paris Agreement and implement the 2030 Agenda for Sustainable Development, in particular Goal 14. The signature of this ocean partnership is the first of its kind and opens the door for future partnerships between the EU and other key ocean players.
Vice-President Katainen and Minister of Ecology and Environment, Li Ganjie, also signed the Memorandum of Understanding on Circular Economy Cooperation that will provide a framework for cooperation, including a high-level policy dialogue, to support the transition to a circular economy. Cooperation will cover strategies, legislation, policies and research in areas of mutual interest. It will address management systems and policy tools such as eco-design, eco-labelling, extended producer responsibility and green supply chains as well as financing of the circular economy. Both sides will exchange best practice in key fields such as industrial parks, chemicals, plastics and waste.
In the context of the EU's International Urban Cooperation programme, in the margins of the Summit, Commissioner Creţu witnessed the signature of a joint declaration between Chinese and European cities: Kunming and Granada (ES); Haikou and Nice (FR); Yantai and Rome (IT); Liuzhou and Barnsley (UK) and Weinan and Reggio Emilia (IT). These partnerships will facilitate exchanges to examine and develop local action plans reflecting the EU's integrated approach to sustainable urban development while addressing social, economic, demographic and environmental challenges.
Putting the international rules-based system at the centre of open and fair trade
"I am more convinced than ever that, in the era of globalisation and of interdependence, multilateralism must be at the heart of what we do. We expect all our partners to respect international rules and commitments that they have taken, notably within the framework of the World Trade Organisation", said President Jean-Claude Juncker in his keynote speech at the EU-China Business Roundtable in Beijing, which provided an opportunity for EU and Chinese leaders to exchange views with representatives of the business community. "At the same time, it is true that the existing WTO rules do not allow unfair practices to be dealt with in the most effective way, but instead of throwing the baby out with the bathwater, we must all preserve the multilateral system and improve it from within." President Juncker's full speech is available online. Commissioner Malmström also intervened at the event.
At the Summit, the EU and China confirmed their firm support to the rules-based, transparent, non-discriminatory, open and inclusive multilateral trading system with the WTO as its core and committed to complying with existing WTO rules. They also committed to co-operating on the reform of the WTO to help it meet new challenges, and established a joint working group on WTO reform, chaired at Vice-Ministerial level, to this end.
Good progress was made on the ongoing Investment Agreement negotiations, which is a top priority and a key project towards establishing and maintaining an open, predictable, fair and transparent business environment for European and Chinese investors. The EU and China exchanged market access offers, moving the negotiations into a new phase, in which work can be accelerated on the offers and other key aspects of the negotiations. The European Investment Fund (EIF), part of the European Investment Bank Group, and China's Silk Road Fund (SRF) have signed a Memorandum of Understanding with the aim of confirming the first co-investment carried out under the recently established China-EU Co-Investment Fund ("CECIF") that promotes investment cooperation between the European Union and China and the development of synergies between China's Belt and Road Initiative and the Investment Plan for Europe.
Regarding steel, both sides agreed to strengthen their cooperation in the Global Forum on Steel Excess Capacity and committed, in accordance with the decisions of the 2016 Hangzhou and 2017 Hamburg Summits, as well as with the 2017 Ministerial decisions, to the goal of implementing the agreed political recommendations.
The EU and China also agreed to conclude the negotiations on an Agreement on cooperation on, and protection from imitation for distinctive food and drink products, so-called Geographical Indications before the end of October – if possible. An agreement in this area would result in a high level of protection of our respective Geographical Indications, which represent important traditions and rich resources for both the EU and China.
In the area of food safety, the EU and China agreed to promote the highest food safety standards, and are ready to take the regionalisation principle into account, and committed to expanding market access for food products.
The EU and China have also signed the Action Plan Concerning China-EU Customs Cooperation on Intellectual Property Rights (2018-2020), with the aim of strengthening customs enforcement to combat counterfeiting and piracy in the trade between the two. The Action Plan will also promote cooperation between customs and other law enforcement agencies and authorities in order to stop production and wind up distribution networks.
The European Anti-Fraud Office (OLAF) and the General Administration of China Customs signed a Strategic Administrative Cooperation Arrangement and an Action Plan (2018-2020) on strengthening the cooperation in combatting customs fraud in particular in the field of transhipment fraud, illicit traffic of waste and undervaluation fraud.
At the third meeting of the EU-China Connectivity Platform, held in the margins of the Summit and chaired for the EU by Commissioner Violeta Bulc, the two parties reaffirmed their commitment to transport connectivity on the basis of respective policy priorities, sustainability, market rules and international coordination.
The exchanges focused on:
the policy cooperation based on the Trans-European Transport Network (TEN-T) framework and the Belt and Road initiative, involving relevant third countries between EU and China;
cooperation on Transport decarbonisation and digitalisation, including in international fora such as the International Civil Aviation Organisation (ICAO) and the International Maritime Organisation (IMO)
cooperation on investment projects based on sustainability criteria, transparency and level-playing field to foster investment in transport between EU and China.
The joint agreed minutes of the Chairs' meeting are available online, along with the list of European transport projectspresented under the EU-China Connectivity Platform.
A people's partnership
The European Union and China are putting their respective citizens at the heart of the strategic partnership. There were good discussions on foreign and security cooperation and the situation in their respective neighbourhoods. At the Summit, EU and Chinese Leaders discussed ways to support a peaceful solution on the Korean Peninsula; their commitment to the continued, full and effective implementation of the Joint Comprehensive Plan of Action – the Iran nuclear deal; joint, coordinated work on the peace process in Afghanistan; and the situation in eastern Ukraine and the illegal annexation of Crimea and Sevastopol. They also discussed other foreign and security challenges, such as in the Middle East, Libya, and Africa, as well as their joint commitment to multilateralism and the rules-based international order with the United Nations at its core.
Many successful activities have already been held within the framework of the 2018 China-EU Tourism Year, designed to promote lesser-known destinations, improve travel and tourism experiences, and provide opportunities to increase economic cooperation. At the Summit, Leaders committed to further advancing relevant activities, facilitating tourism cooperation and contacts between people.
With the protection and improvement of human rights at the very core of the European Union and its global partnerships, Leaders also addressed issues relating to human rights, a week after the EU and China held their latest Human Rights Dialogue.
Both parties confirmed that they will press ahead with the parallel negotiations on the second phase of the EU-China Mobility and Migration Dialogue roadmap, namely on an agreement on visa facilitation and an agreement on cooperation in addressing irregular migration.
The EU and China also agreed to launch new dialogues covering drug-related issues and on humanitarian assistance.
Libya is in no state to rescue migrants in the Mediterranean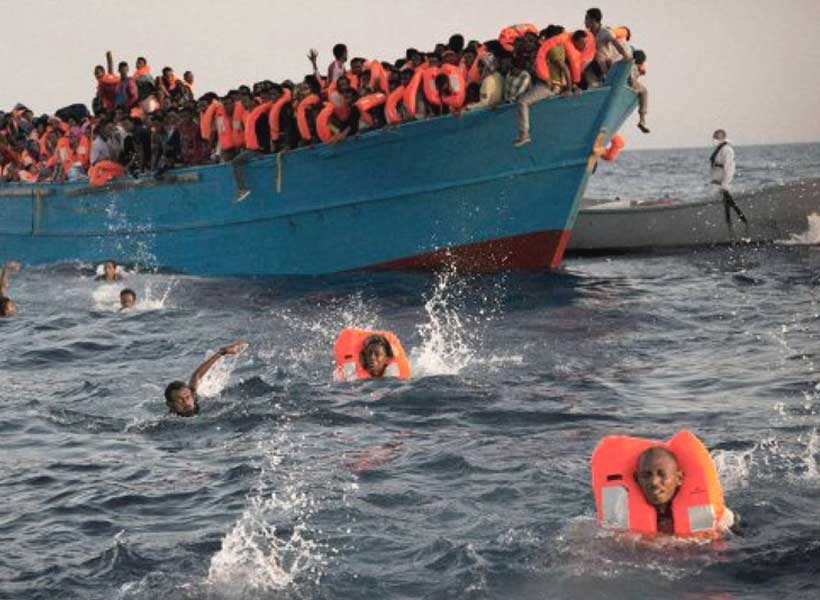 Italy's new government—an unholy alliance of the populist M5S and far-right League parties—careened into office on an uncompromising anti-migrant platform, soliciting the warnings of politicians and financial institutions around the world. With its recent decision to hand naval control of a large swath of the Mediterranean—extending almost to Malta and Crete— to failed-state Libya, the coalition government may yet set a new low more rapidly than expected.
Italy's hope is that the Libyan forces it has ceded responsibility to will prevent shipwrecked migrants from reaching European shores, instead returning them to the very country they are trying to flee. While this plan might sound attractive to a government which has lamented it can't deport its own citizens from minority backgrounds, NGOs working in the area have stressed the grave threat the new policy poses to migrants. Those rescued now face a return to prolonged detention and harsh treatment in a country which has been desperately torn apart for seven years. From the spate of warring militias which control Tripoli to General Khalifa Haftar's lengthy campaign against Islamist forces in the country's east, Libya is plagued with conflicts which make it no safe haven for migrants.
In this context, Italy's decision to hand over responsibility of such a large portion of the Mediterranean to Libya is likely not only against international law, but an affront to basic human rights. The Italian government is set to donate 12 boats to enhance the capabilities of the Libyan coast guard—such as it is— given its new responsibilities. Libya will need these twelve vessels and more before they can carry out even the most basic search and rescue operations. At present, the country only has three operational patrol boats; barely seaworthy, they are often forced to stay at port due to lack of fuel. "It's very clear that the priority is not saving lives", one spokesman from the German charity Sea Watch remarked about the sorry state of Libya's fleet; "I have not seen a single life jacket."
Unsurprisingly, Libya's track record on saving migrants at sea is hardly exceptional. More than 100 migrants, including young children, recently drowned off Libyan shores after the coast guard picked up just 16 survivors when their overloaded vessel capsized. In a separate incident, a shipwreck east of Libya's capital Tripoli saw 63 people go missing after their inflatable boat sank. The Libyan coast guard was unable to even locate their bodies.
The number of migrants dying during the dangerous crossing has significantly increased since the European Union began to back away from rescue missions and close crucial ports. At the same time human traffickers are exploiting the desperation of those attempting to flee violence on the African continent, the European bloc seems ever more reluctant to extend a well-trained, well-resourced helping hand.
That reluctance has had deadly consequences. According to the United Nations Refugee Agency (UNHCR), one out of seven migrants attempting the journey across the Mediterranean died at sea last month, compared to last year's average of one in 38 migrants.
Though it is becoming increasingly obvious the EU cannot accept further significant inflows of migrants without exacerbating tensions that risk breaking the bloc apart, plans to send migrants back to be detained in war-torn Libya under horrific conditions are simply inhumane.
If Italy is determined to turn over control of migrant rescue operations to the Libyan government, it first needs to make sure that that government is stable and just. So far, the West has done little to support Libya, privileging short-term solutions to the country's deeply-rooted problems. Many Western countries have also stubbornly continued to push for the unelected, UN-backed-government in Tripoli, long after it has proven to be weak and ineffective. Upon the violent end of Muammar Gaddafi's four decades of dictatorial rule, the US abdicated responsibility for "picking up the pieces" of Libya. At the same time, the UN worked to reconcile adversarial political blocs under the Libyan Political Agreement (LPA). This top-down approach has proven profoundly flawed, not least because it has sidelined actors outside the UN government, such as General Haftar, who already commands significant respect and power in the country.
Thankfully, Western attempts to stabilize Libya are slowly becoming more effective. Major international powers now finally recognize that all principal Libyan stakeholders must necessarily be involved in crafting a sustainable solution. France in particular is taking the lead on pushing for a workable way out of the crisis. Paris believes Haftar, whose four-year-long military campaign has been successful at rooting out the Islamic State and its affiliates from Derna and other fundamentalist strongholds, must inherently be a part of that process. In an encouraging breakthrough, Haftar and the three other key Libyan leaders have met and even tentatively agreed to hold elections in December.
This new approach to diplomacy within Libya's chaotic borders is promising, and may point to a more stable future in years to come. In the meantime, Libya cannot be trusted with patrolling a huge section of the Mediterranean until a steadfast Libyan government can prove its mettle in ensuring the rule of law domestically.