Financing for low-carbon, climate-resilient future takes center stage at UN climate conference
The urgent need to raise the finances to meet the funding goals of the Paris Agreement, especially to support action by developing countries, took center stage Monday at the UN Climate Conference (COP23) in Bonn, Germany.
The urgent need to raise the finances to meet the funding goals of the Paris Agreement, especially to support action by developing countries, took center stage Monday at the UN Climate Conference (COP23) in Bonn, Germany.
"We need all financial players – public, private, domestic, international – and including markets and regulators, to work together effectively to mobilize at least $1.5 trillion in climate finance that is needed every year," said Eric Usher, Head of Finance Initiative at the UN Environment Programme (UNEP).
As part of 'Finance for Climate Day' at COP23, high-level representatives from across the sector highlighted their efforts to meet the goals of the Paris Agreement of keeping the average global temperature rise well below 2 degrees Celsius and as close as possible to 1.5 Celsius.
They stressed that every dollar invested in cutting greenhouse gas emissions and adapting to climate change gets double the bang for the buck because it directly supports the international community's 2030 Agenda for Sustainable Development.
According to the UN Climate Change (UNFCCC) Secretariat, finance for climate is flowing at a greater pace than ever, with vibrant and growing markets for renewable energy, electric vehicles, green buildings and climate-smart agriculture seeing aggressive growth, backed by exponential advances in innovative green financial instruments, indices and markets.
Equally, the finance sector is recognizing to a much greater degree where and how climate change presents risks to its existing investments and the need to adjust their portfolios away from carbon-intensive assets to reduce that risk.
However, much more is needed to secure finance and investment at the scale required to deliver a fully de-carbonized and climate-resilient global economy by 2050.
"The potential for climate friendly investment in areas such as clean energy and climate-smart agriculture is enormous," said Laura Tuck, Vice-President Sustainable Development at the World Bank. "The key is to get the funding to flow so that everyone everywhere can benefit from low-carbon and climate resilient investments."
Peter Damgaard Jensen, CEO of the Danish Pension provider PKA and Chair of the Institutional Investors Group on Climate Change (IIGCC) said at a press conference that "it is extremely important that there is a significant increase of investor awareness and action with regards to supporting the transition […] to a low carbon economy." "Strong investment signals from policy makers across carbon trading, energy, transport and buildings, are essential to unlock the necessary capital," he added.
Members of African civil society and members of Parliament spoke today on the urgency of climate finance as a prerequisite to ambitious action in African countries.
"Africa is the continent that pollutes the least," but "it is Africa which suffers the effect of climate change," said at a press conference Roger Nkodo Dang, President of the Pan-African Parliament, which is the legislative body of the African Union.
In an interview with UN News, he added that developed countries have a duty to provide additional support to Africans for their green development. "If you tell us 'do not cut the wood,' we say, 'you bring us electricity,'" he said. "It's not a favor; it's a compensation."
UNDP and IRENA Poised to Support Breakthroughs on Renewables
Nations around the world should embark on a massive and immediate shift to renewable energy, the United Nations and the International Renewable Energy Agency (IRENA) said today, adding that such a move would drastically cut emissions and help get the world on track to meet the Paris climate goals and limit global warming to 1.5 degrees Celsius.
Action by countries to stop the continued progression of fossil fuels is possible, UNDP and IRENA said at a joint event held at the UN Climate Summit in Madrid.
Renewable deployment would have to accelerate six-fold by 2030 if the world is to achieve the goal of cutting global carbon emissions by 45 percent and keep temperatures below 1.5 degrees Celsius above pre-industrial levels, IRENA said.
In September, UNDP launched a new initiative called the "Climate Promise", vowing to support as many countries as possible to revise and submit enhanced climate pledges known as Nationally Determined Contributions (NDCs) by 2020.
Working with the NDC partnership and other partners, UNDP will support 100 countries to accelerate the enhancement of national climate pledges by 2020, building on its climate action portfolio in over 140 countries. Energy is a crucial part of this work and IRENA will provide the necessary knowledge, and support countries to accelerate energy transitions driven by renewable energy. To date, 78 countries are drawing upon UNDP's experience in disaster risk reduction, gender, health and nature-based solutions.
"Shifting to renewables will create far-reaching development impacts, triggering an economic stimulus and creating millions of jobs around the world, not to mention widespread health and other welfare benefits. Renewable energy should be an integral part of countries' climate pledges," said Achim Steiner, the Administrator of UNDP. "We recognise the challenges, but this transition is achievable. At UNDP we stand ready to support countries to take bolder action on climate change."
"There is no sustainable development without renewable energy. It's possible to accelerate the low-carbon energy transition and achieve sustainable development, thereby creating inclusive and prosperous economies," Francesco La Camera, the Director-General of the International Renewable Energy Agency said at the Madrid Climate Summit.
According to IRENA, out of the 156 NDCs submitted to date, 135 countries mention renewables but most are underutilising renewables to raise their ambition. The agency also estimates that over USD 1.7 trillion would be needed by 2030 annually to implement adequate renewable energy targets, though much of that funding could come as a result of eliminating fossil fuel subsidies.
In September, both partners launched a global campaign called #ItsPossible, engaging policy-makers and investors to join and advocate a decisive renewables push in key countries around the world. The campaign will carry over into the next year.
During the joint event at COP25, IRENA also launched a new report on NDCs in 2020: Advancing Renewables in the Power Sector and Beyond.
Bangladesh Needs Climate Smart Investments for Higher Agricultural Growth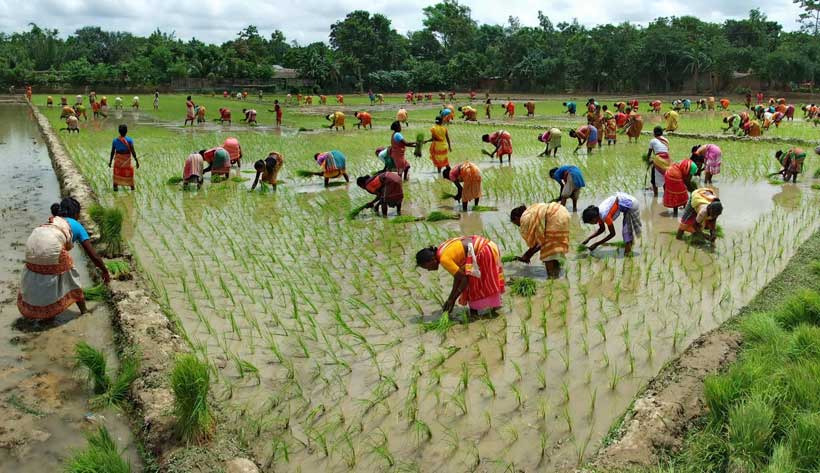 Climate change and sea-level rise pose a serious threat to Bangladesh's impressive growth in agricultural productivity. To address impacts of climate change on agriculture as well as to prioritize investments to improve productivity, resilience and mitigation in the agriculture sector, the government of Bangladesh and the World Bank today launched the Climate Smart Agriculture Investment Plan (CSAIP).
During the last 25 years, Bangladesh's agricultural productivity growth has been among the highest in the world and supported around 87 percent of the country' rural household. But, rising temperatures will affect the yield of Aman and Boro rice, the country's two major staple crops. High water stress can lead to rice yield losses as high as 70 percent. Further, soil salinity has affected 62 percent of coastal land and sea level rise may reduce available cropland by about one-fourth in Coastal Divisions.
"Globally, Bangladesh is known for its success in attaining self-sufficiency in rice through improving agriculture productivity, which enabled the country to feed its large population despite limited arable land. Bangladesh is also diversifying its agricultural production with abundance availability of vegetables and other horticulture products, while the focus is increasingly on safe and quality agri-produce, processing and market development, mechanization and commercialization of agriculture so that it can more effectively enhance food security, farmers' profitability, employment, and poverty reduction in Bangladesh," said Dr. Muhammad Abdur Razzaque, Minister of Agriculture. "Evidence based Climate Smart Investments and implementation of the Delta Plan 2100 would help Bangladesh overcome climate change risks for a more productive and climate resilient agriculture sector."
Climate-Smart Agriculture can help Bangladesh maintain rice self-sufficiency and increase non-rice crop, livestock and fish production. The Investment Plan identifies five key investment areas totaling about $809 million to set the agriculture sector on a resilient growth path; contribute towards achieving the government's the 2041 development targets; reduce emissions; and reach Nationally Determined Contribution (NDC) regarding climate change and the Delta Plan goals.
"Being among the most vulnerable countries to climate change, Bangladesh must take urgent actions to build on its impressive track record in the agriculture sector," said Dandan Chen, Acting Country Director for Bangladesh and Bhutan. "We are encouraged to see that the government considers climate-smart agriculture a strategic priority investment in response to changing climate. The Livestock and Dairy Development Project is a testament to government's vision of a climate resilient growth path, which will help the country meet demand for essential nutrients such as egg, meat and milk."
The $500 million Livestock and Dairy Development Project, which was also launched today, will help improve livestock and dairy production as well as ensure better market access of 2 million household farmers and small and medium-scale entrepreneurs. It will also help stimulate private sector investment and the development of livestock value chains in the country.
"Rural households' livestock assets are highly exposed to climate change risks, including natural disasters and major disease outbreaks. Bangladesh has taken steps to reduce the vulnerability of smallholder farmers and improve livestock productivity," said Md. Ashraf Ali Khan Khasru, Minister for Fisheries and Livestock. "The project will help substantially and sustainably increase livestock production to feed the growing population."
The CSAIP was developed to inform the implementation of major existing policies and policy formulation processes and includes the Bangladesh Delta Plan 2100; it builds on the Nationally Determined Commitment (NDC) regarding the climate change and Bangladesh's seventh five-year plan. During the same time, the LDDP was developed to address the most pressing and emerging issues in the sector, including value chain development with private sector investments, food safety, environmental pollution and climate change.
The World Bank was among the first development partners to support Bangladesh following its independence. Bangladesh currently has the largest IDA program totaling $12.15 billion. Since independence, the World Bank has committed more than $30 billion in grants, interest-free, and concessional credits to the country.
Cleaning Up Indonesia's Urban Solid Waste
The World Bank's Board of Executive Directors today approved a $100 million loan for Indonesia to improve solid waste management services for selected cities and districts across the country.
The project will strengthen the role of central government agencies in solid waste management, and help local governments in the Citarum River watershed in West Java improve solid waste management services. A large portion of the loan will finance mechanical and biological treatment infrastructure for cities and districts in the watershed.
A total of 45 million residents of the cities and districts will benefit from the project. This number includes 18 million people from poor and near-poor communities, around 9 million of whom are women. Among the positive impacts of the program are expected to be improvements in health and hygiene as the result of proper waste disposal and decreased pollution. Vulnerable groups and women involved in informal waste collection will benefit from training opportunities, incorporation of these groups into formal waste management systems, and alternative livelihood operations.
"The government has placed solid waste management increasingly high on the national agenda," said Luhut Binsar Pandjaitan, Coordinating Minister for Maritime Affairs and Investment of the Republic of Indonesia. "Universal solid waste collection is part of the current national mid-term development plan targets, and is becoming even more important with the growing number of Indonesia's urban population."
Over half of Indonesia's population now lives in urban areas. While cities and municipalities generate an estimated 105,000 tons of solid waste a day – a number that is expected to increase to 150,000 tons per day by 2025 – 40 percent of the country's 142 million urban residents still do not have access to basic waste collection services.
Uncollected waste is a significant source of pollution and health problems for communities around the country. Open dumping is still the most widespread practice for solid waste disposal in Indonesia. The effects of uncollected waste are most prominent along the Citarum River, which has been declared a national strategic area. The river is the longest in West Java, and is inundated with municipal solid waste that contributes to frequent flooding.
"Solid waste management is critical for the welfare of Indonesia's rapidly growing urban population and the country's economy, including its tourism sector. With Indonesia as one of the main contributors to marine waste globally, improving solid waste management in cities along the coast and adjacent to rivers has become increasingly important to address marine debris," said Rolande Pryce, World Bank Acting Country Director for Indonesia and Timor-Leste. "The project will initiate concrete actions to reduce marine plastics with global significance."
The World Bank's support for service delivery and infrastructure is an important component of the World Bank Group's Country Partnership Framework for Indonesia, which focuses on supporting government priorities that have potentially transformational impact.