The Saga of Helpless and Hapless Kashmiri People
Kashmiri people from the last seventy years since 1947 have been abandoned by the two rivals, now nuclear states – India and Pakistan. Indo-Pak rivalry is one of the main reasons that Kashmir remained unresolved since long time after the partition of India into two dominions – independent India and independent Pakistan.
The two newly independent states within short span of time got indulged in territorial clashes particular on Kashmir. Currently, there is hardly any day, where a civilian, security man and militant are not assassinated in Kashmir.
When we scroll the dusty pages of reminiscent history of Kashmir, we come to know how hard it is for Kashmiris to live in a valley where there is no guarantee of life. Historically, Kashmir is a law and order problem for India while for Pakistan, it is a disputed territory, an unfinished business. For international community, it is one of the most dangerous area where chances of nuclear exchange are high between the two belligerent and trust deficit states.
Among the Kashmiris, there is a diversion of opinions, for some, it is just a futile and never-ending battle between India and Pakistan for rich resources available in the valley especially water. While some argued that Kashmiris should be given the 'right to self-determination' to choose either to accede with India or Pakistan as per the UN resolution. Interestingly, majority of people wants complete freedom from two states. Others demand restoration of state autonomy, and Ladakh division, where majority of people are Buddhists demand union territory status. In Jammu, Hindus determinately want to accede with India completely by abrogating Article 370 which provide special rights to the people of Jammu and Kashmir.
At the academic level, the countless study has been published across the globe for the settlement of unresolved Kashmir dispute. Most of pundit's favour plebiscite to settle the dispute ones for all. Some academic think tanks argued that a meaningful and peaceful dialogue should be initiated between India and Pakistan as an immediate step to bring order and normalcy back in the valley and the ultimate solution is of course the referendum. However, some Indian analysts argued that Kashmir is just a law and order problem by which resistance movement should be dealt ruthlessly, that is why the large concentration of Indian security forces with special powers are visible in the valley to crush any resistance movement whether armed or civilian. While for some, it is just a redundancy problem in the valley, Indian government should provide maximum opportunities to the Kashmiris to thwart the resistance movement peacefully.
At the political level, Kashmir remained just a tool to win the confidence of the people for strengthen the domestic politics in both states – India and Pakistan. Both states with the help of the confidence building measures (Lahore Summit and Agra Declaration) tried their best to settle the unresolved Kashmir dispute but completely failed to settle it peacefully. The track II diplomacy also failed to settle the unresolved issue. Obviously, when two states failed to settle the Kashmir issue, Kashmiris left with one option to start resisting against Indian rule.
There is no doubt that India violated the state autonomy through 48 presidential orders that culminated into anger and anger changed into resistance movement in Kashmir against the foreign rule. Apart from the direct wars, during the Kashmir intifada in 1989, Pakistan supported Kashmir materially and diplomatically to resist against Indian rule. Several academic thinks tanks like Summit Ganguly and S. Paul Kapur admitted that it is because of misrule by India in Kashmir that provided impetus to Pakistan to support Kashmir. Since 1989, Kashmir remained under severe turmoil where innocent lives have been crushed harshly.
There are different stories regarding the genocide of Muslims, Sikhs, and Hindus inside the valley. The Kashmiri pandits migration after Kashmir uprisings in 1989 is another important episode of the complicated Kashmir dispute. And, human rights violations inside the valley by Indian security forces is at its peak. There are many shameful and fatal episodes inside the valley where innocent Kashmiri women became victims of mass rape in the hands of Indian security forces. For instance, more than thirty innocent Kashmiri Muslim women were mercilessly raped in twin villages of Kunan and Poshpora in 1991 during the cordon and search operation by Indian security forces. The Indian security forces enjoy impunity inside the valley due to Armed Forces Special Powers Act (AFSPA).
After Kashmir uprisings, India tried to settle the unresolved Kashmir issue with nukes. Despite India possess nuclear warheads, it failed to deter Pakistan for escalating sub-conventional conflict in the region. The reason put forth is simple, Pakistan's asymmetric escalation posture (first-use policy of nukes) against Indian conventional attack to Pakistan. I assume that India mistakenly provide opportunity to Pakistan to become more aggressive towards it by overtly detonating five nuclear devices in May 1998. Reciprocally, Pakistan tested six nuclear devices in the same month in retaliation. Subsequently, the Kargil skirmish of 1999 happened under the nuclear umbrella and experts argued that it is because of this instrumentality of wreaking havoc that Pakistan behaved more aggressively than before towards India.
Currently, Kashmir is again boiling since Hizbul Mujahidin Commander, Burhan Wani was killed by the Indian security forces in summer 2016. Kashmiri youth wittingly joined the militancy to resist Indian rule with the tacit support from the general public inside the valley. Several times, Kashmiri people (men and women) without fearing about their life and career, rush towards the encounter areas to help the militants to escape. Along with the armed resistance, a new form of civil resistance movement is visible inside the valley.
The resistance movements in Kashmir have now shifted to more civilian resistance in the form of stone pelting, protests, write-ups, facebook posts, graffiti and songs. Those who did not participate in direct resistance movements in Kashmir do not mean that they are outside of movements. These people believe in praying, crying, cursing and wailing plaintively particularly Kashmiri women who are beating their chest and singing songs to show their resistance and express their anger towards a foreign rule. These types of resistance (civil) are more powerful than armed resistance to pressure civil society and international community to intervene.
Indian government states that the resistance movement especially those who pelt stones on Indian security forces were funded by Pakistan in Kashmir. The demonetization was implemented to stop stone pelting in Kashmir and Indian Prime Minister Office states that with the help of demonetization, "Stone-pelting incidents in Kashmir came down by 75% from the previous year". It is interesting to note that the college boys and girls, school going kids joined the resistance movement in Kashmir this year and previous year to express their anger towards the foreign rule.
How it is justifiable for parents to allow their school going children to risk their lives for money to join the resistance movement in Kashmir. With the help of the UN banned pellet guns, hundreds got killed, thousand injured and hundreds blinded in the hands of Indian security forces with the tacit support of state police. The civil resistance movement is the result of the broken promises by Indian government towards the helpless and hapless Kashmiri people.
Finally, Indian government selected ex Intelligence Bureau chief Dineshwar Sharma as interlocutor and special representative to restore peace in the valley. Sharma was given task by Indian government to talk with all the stockholders including Hurriyat Conference in the valley as a dialogue process. After his visit, he argued that his trip to Kashmir was successful. However, without a meaningful dialogue process with Pakistan, all the peace initiatives from Indian side will be fruitless. Interestingly, Pakistan is party to the dispute is admitted by India itself.
India is reluctant to talk with Pakistan on Kashmir issue because of an issue of infiltration. India blamed Pakistan for spreading terror in the region by backing and funding the militants in Kashmir against Indian rule. On the other side, Pakistan loudly responded that until India will not offer a meaningful dialogue on Kashmir issue to Pakistan to settle it forever, sub-conventional conflicts and funding to militants in Kashmir will continue. Pakistan wants UN resolution through plebiscite to settle the dispute, however, India is worried about the majority of Muslim population in Jammu and Kashmir state, that is why India has rejected the UN resolution on Kashmir by claiming that India and Pakistan in historical Shimla agreement after 1971 war have affirmed to settle the Kashmir issue bilaterally.
All the talks between India and Pakistan to settle the Kashmir issue was not initiated on the humanitarian grounds. Recently, Pakistan's Prime Minister, Shahid Khaqan Abbasi has rejected the option of independence of Kashmir. Similarly, Farooq Abdullah, former Chief Minister of Jammu and Kashmir argued that independent Kashmir is not an option, "internal autonomy is our right". Vehemently, Farooq rejected the option to accede with Pakistan, however, argued that the other part of Kashmir clearly belongs to Pakistan. India should restore autonomy of the state, only then peace will return to the valley.
It is all about national interest, both states want to utilize the resources of the valley for future requirements and mainstream political parties in the valley have remained puppet in the hands of Indian government. It is over all centre (New Delhi) that is responsible for the turmoil in the valley due to poor governance, broken promises and violation of the state autonomy. Kashmiri people have been completely abandoned since 1947. One can easily imagine why confidence building measures have failed to settle the Kashmir issue. Also, the religious groups of both states have wittingly made this issue more complex by spewing venom in their speeches against each other. Kashmir should be separated from India-Pakistan rivalry and religious card has not ability to settle the dispute.
This is not mere hyperbole. Rather, this is a fact that both the states have indulged in attitudinarianism, egoism, and the Hindu-Muslim mentality. There is no case of religious rivalry inside the valley, all the sections of people live peacefully, the religious card is triggered by India and Pakistan to win the emotions of the people for their own interests. Experts explicitly argued that there are multiple agencies working inside the valley that thwarted the peaceful resolution of Kashmir.
The dispute over Kashmir is not just a matter of India-Pakistan; it is first about Kashmiri people. Both nuclear states should come forward in terms of peace rather than strategic terms to settle the Kashmir issue ones for all on humanitarian basis. There are thousands of unidentified graves in Kashmir and parents are desperately waiting for their sons who got missing since 1989 in Kashmir.
The New Axis, the Mapolitics and South Asia: The Indian View
Today, while the pandemic has caused immense economic recession worldwide, South Asia exponentially simmers with territorial disputes, extra-maritime activities, border skirmishes, militarization of states and mapolitics.1 In the Covid 19 scenario when the world has turned inimical towards China under the shadow of conspiracy theories and the unnerved China is grappling to lead the world playing unfair, its challenge appears to be sunk by the confident India as it had to withdraw at Galwan after a border standoff. In the meantime to divert the global attention while China flexes its muscles in South China Sea and pricks on the Indian borders at Ladakh in the light of the implications of its BRI project, a new power axis of Beijing, Islamabad and Kathmandu (BIK) has taken shape against India making its position a bit discomfited and evocates special attention as after Tibet another buffer between India and China significantly dilutes. The release of new political map by India after the abrogation of special status of Jammu and Kashmir in 2019 has been retaliated by Nepal and Pakistan that lacks legitimacy even within these states and this has further aggravated the scenario.
While China loses the comfort of concurrence from Russia and Saudi Arabia about its South Asia policy, the coastal states of South China Sea have also consolidated their firmness against its incursions as on June 29, 2020 Vietnam issued a statement after the meeting of ASEAN leaders that "we reaffirm that the 1982 UNCLOS is the basis for determining maritime entitlements, sovereign rights, jurisdiction and legitimate interests over maritime zones".2 Recently the unwillingness of several companies to carry in China and shift to the other South Asian states like India and Bangladesh where cheap labour is available mark the beginning of a new order featured by a strengthened Quadrilateral Security Dialogue (QUAD), renewed US-India collaboration about Indo-Pacific, and a vibrant Indian Ocean zone. The Indo-Chinese rivalry over the region is not new but after the leasing of the Hanbantota sea port of Sri Lanka to China in 2017, the end of US Combat Mission in Afghanistan, and the $62 billion China Pakistan Economic Corridor (CPEC) that runs through the Indian territory of Pak Occupied Kashmir their ties have further strained. The strategic rivalry between the two is so sharp that India for the first time fought against China in a foreign territory of Bhutan during the Doklam crisis in 2017.
The timing of the Chinese assertions along the north-western frontiers of India at Ladakh near Galwan and Pangong Tso is also critical as Covid 19 has not even peaked in India till date and the situation turns more precarious in the coming months. The decision of China to prick the borders is not new but this time the intent appears to be different. The major Chinese concern is the bleak prospects of the $62 billion CPEC project that faces stiff opposition in Baluchistan and people of POK. The military coordination between Pakistan and China has been established as "Indian intelligence agencies have recently noticed activities of the Chinese Air Force at Skardu Airbase in Pakistan occupied Kashmir (PoK). More than 40 Chinese fighter jets, J10, have been witnessed in Skardu in the month of June itself. The Chinese Air Force is understood to have been preparing to use the Skardu airbase to launch an attack against India."3 While India faces a two-pronged battle in Ladakh at the Lipulekh trijunction between India, Nepal and China, the setting up of a new post near it by Nepal's Armed Police Force (APF) after India's inauguration of the new road to Kailash Mansarovar irks India. This led to Indian Army Chief Manoj Mukund Narvane remark that Kathmandu is acting on "behest of someone" (China) over the Lipulekh issue. Nepal's Defence Minister Ishwor Pokhrel has said that the statement was an insult to the nation's history and was made ignoring its social characteristics and freedom.4
Against the emergence of Indo-Pacific strategic alliance and the troubled waters in the South China Sea that stifles the Chinese trade route through Malcca the CPEC provides China an easy access in the Indian Ocean through Xinjiang-Gwadar highway. China's troubled relations with the South East Asian states over the control of South China Sea, the reduction of APEC vis a vis the newly forged Indo-Pacific and the strategic forum QUAD further increase the significance of CPEC which will remain an unrealisable dream until India approves which is a distant possibility. Now China is willing to execute a forcible solution but to be repulsed by India. However the dragonomics has worked as it has succeeded in trapping the small Indian neighbours like Sri Lanka, Nepal and Bangladesh through its debt trap strategy. After CAA (Citizenship Amendment Act 2019) Bangladesh has also registered protest with India and distanced by cancelling few official visits to India. China also controls 17 islands of Maldives on lease basis and its network of maritime expansion has significantly increased in the last few decades.
The Provocative Mapolitics
Inching forward has been an old policy of China to gradually expand territorially against its neighbours. In recent times China has followed a policy of rechristening the islands and underwater locations in South China Sea. It has named 25 islands and reefs in the South China Sea in a move to cement its territorial claims in the disputed waters. China has set up two new district governments on the Paracel and Spratly islands, known as Xisha and Nansha in China. This has been done with a purpose to deter what it said were "intrusions" by US ships and planes. Several of the newly named islands fall within these two new districts. Beijing also named 55 underwater locations to claim rights over resources. The Chinese moves are in violation of Exclusive Economic Zones of several neighbouring states like Philippines and has escalated tensions with them.5 In July 2016, an international tribunal rejected China's nine-dash line in the South China Sea, concluding that Beijing's claim violated international law. While the United States takes no position on the competing claims in the South China Sea, Washington does reject Beijing's claim and has deployed two carrier strike groups in dual-carrier operations through the contested waters. Punctuating this position is US Secretary of State Mike Pompeo's recent announcement that China's claims are "completely unlawful"6
China is being closely followed by Pakistan and its new born ally Nepal, whose communist regime has recently raked up several controversies with India like Lipulekh, calling Covid 19 as Indian virus and river waters. In an act of provocation, that was lauded and hailed by Pakistan's Foreign Minister Shah Mahmood Qureshi as an "unprecedented step", Pakistan has shown some Indian territories in Pakistan. The new map was released by Islamabad on August 4, 2020 that showed the union territories of Jammu and Kashmir, and Ladakh as Pakistani territories illegally occupied by India. The controversial map also shows the erstwhile state of Junagadh in Gujarat and Sir Creek within Pakistan's borders. The Pakistani government confirmed that the map will henceforth be used in curriculum across the country.
Before this on June 13, 2020 Nepal's lower house of Parliament Pratinidhi Sabha too had unanimously passed the historic Second Constitution Amendment Bill guaranteeing legal status for the updated political map of Nepal which included India's Lipulekh, Kalapani and Limpiyadhura in Uttarakhand's Pithoragarh district as part of Nepal. Nepal and India have disagreement over Kalapani since 1815 when British and Nepal signed treaty of Sugauli but till 1998 Nepal remained silent over it and showed little interest. It was only with electoral battles and the increased role of Communists (patronised by China) in Nepal that it became a convenient tool for flaring up the electorate resulting in the amendment now. The Nepalese and Pakistani actions are in retaliation of the New Indian Political Map released by Indian government on October 31, 2019 after the abrogation of special status under article 370 to Jammu and Kashmir. The map had shown whole of Pak Occupied Kashmir as part of India and created two new Union Territories of Jammu and Kashmir and Ladakh. While the Indian action was over a longstanding disputed territory occupied illegally by Pakistan and later partially (3400 sq.kms.) ceded to China the retaliations are less legitimate and more of unnerved frowning. So the new mapolitics has engulfed South Asia that surely is going to deepen the difference between the three states.
The distanced neighbours and the inimical trio against India has to be handled skillfully by the Government of India and a new process of Confidence Building Measures (CBMs), at least with the smaller neighbors, should be initialed to check the things turn worse.
Notes & References
1Mapolitics refers to the strategy of a state showing the territories of others in its own official map, a step short of war to gain legitimacy through internationalizing the issue.
2Jim Gomej, "ASEAN takes Position vs China's Vast Historical Sea Claims", Diplomat, June 29, 2020.
3Defence Aviation Post, 30 June, 2020.
4The Times of India, May 25, 2020.
5Didi Tang, The Times, UK, April 20, 2020.
6Patrick Mendis and Joey Wang, South China Morning Post, August 8, 2020.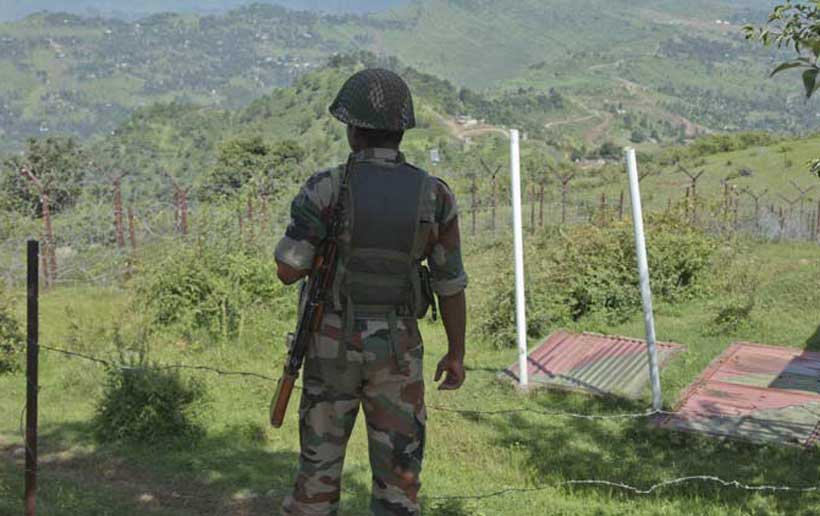 Inspired by the movement "Black Lives Matter" after the murder of George Floyd, on 25 May 2020. Many other movements are gaining momentum against discrimination around the world. Kashmiri movement for their legitimate right of self-determination, also gained momentum. Kashmiris are struggling for their rights for 72 years, but India not only denying their legitimate right but using accessive force to suppress them.
Starting from Times Square, New York, on the 5th of August 2020, to almost all capitals of Europe and other parts of the world, Kashmiri people staged protests, agitations, demonstrations, to express their anger and dissatisfaction with the situation in Indian Occupied Kashmir. They were displaying banners with various slogans like Kashmir Lives Matters, Freedom for Kashmir, Condemned India atrocities, Respect for human lives, etc. Not only the Kashmiris, but local people also joined them in such protests. Mainstream Media, around the world, has covered their protests and published or broadcasted the Indian atrocities and brutalities in Kashmir. Seminars, Conferences, were held to address the Kashmir issue in many countries.
PM Narendra Modi, won the Elections based on anti-Muslim and Anti-Pakistan slogans and it was expected that his policies will be anti-Muslims and Anti-Pakistan. But PM Narendra Modi has not calculated well the consequences. Today, the Indian economy collapsed, society has been divided, law and order situation deteriorated, Government rit has weakened, insurgencies go momentum. Simply India as a country may not survive long and may disintegrate soon. PM Modi is pushing India toward disaster. His Nazi thinking and extremist policies have ruined India already. India used to be known as a secular state, but today India is an extremist Hindu state, with no rights to minorities and low caste Hindus.
One year ago, on the same day, the 5th of August 2019, India revoked its own constitution Articles 370 and 35A and annexed Kashmir. The merger of Kashmir and Ladakh to Union territory ends the special autonomous status of Jammu & Kashmir and Ladakh, which is a disputed territory, recognized Internationally. The UNSC passed dozens of resolutions to resolve the Kashmir Issue. But India is not implementing the UNSC resolutions and became defaulter to the UN, which is a criminal act. Kashmir is a disputed territory among China-Pakistan and India. The Unilateral actions taken by India angered the stakeholders and offended the international community. It is a clear breach of international law and fair practices of the civilized world. It was Indian international commitment, the legal binding under Delhi agreement 1952, to implement the UNSC resolutions.
India is spoiling the peace of the whole region. It has initiated arms race in this region and procuring more and more lethal weapons. It should be known that the region is heavily armed with nuclear weapons. India, China, Pakistan, and Russia, al are nuclear countries. Any misadventure may cost the human lives of almost half of the world population.
Indian cross-border terrorism and aggressive acts are increasing and threatening the neighboring countries. India has disputes with all of the regional countries, like Nepal, China, Bhutan, Sikkim, Pakistan, Bangladesh, Myanmar, Sri Lanka, and the Maldives.
Almost nine hundred thousand troops of the Indian army, empowered with draconian laws, have illegally occupied the territory and are keeping the 8 million people of Kashmir under siege while violating with impunity the International Humanitarian law and practices. Kashmir has become the largest jail. Indian troops are using lethal weapons, cluster bombs, pallet guns, and perpetrating Sexual offenses, destroying Muslim religious and private properties. Whereas the Kashmiri civilians are innocent and unarmed. They are protesting and agitating peacefully for their legitimate right of self-determination, sanctioned by UNSC in 1948. Although UNSC resolutions are legally binding on India, but, India is delaying and not implementing UNSC resolutions passed in 1948.
Estimated killings so far are said to be 352, including 75 unarmed civilians, 196 freedom fighters, and also 81 from the occupational forces. 170000 persons have been arrested including old-aged, women, and under-aged children. The top political leadership has been arrested or house arrest. The activists and youth are arrested are shifted to detention camps. Children are separated from parents and messed in detention camps. It's now a year since the curfew was clamped. There is a severe shortage of food, medicines, fuel, and electricity and the basic necessities of daily life. The phone and internet services are suspended. Travelling is restricted, especially media persons and foreigners. Kashmir is totally cut-off from the rest of the world, and blacked-out, with no flow of information. Only state media is reporting the censored reports. Whatsoever is reported in the International media is only a fraction, as leaked information is always limited only. The actual situation on the ground is rather much more severe and dangerous. Kashmir is split into two Indian union territories as Kashmir and Ladakh.Against the wishes of the stakeholders. This is the worst type of tyranny being faced by the helpless people of Kashmir in the history of humankind.
For 72-years of Indian atrocities and brutalities, have forced Kashmiris to seek a merger with Pakistan. The more force India will use to suppress Kashmiris, the more hate will increase against India, and the more love for Pakistan will increase. The ultimate solution to Kashmir is the merger with Pakistan according to UNSC resolutions through holding a plebiscite. India is granting domicile to non-Kashmiris, especially Hindus from other parts of India, to change the demography of Kasmir. India wanted to change the Muslim majority of Kashmiris which stands 87% to the Hindu majority. India failed to control Kashmir for 72-years, and will never keep occupation forever. India has to leave Kashmir, the sooner, the better. The spirit of Kashmiris can not be suppressed by any means, they are determined to keep their struggle till victory. People of Kashmir are brave, bold, and committed. No one can suppress them. Salute to the brave men and women from Kashmir, who are fighting with the huge Indian Army and yet not surrender. Their struggle will reach a logical end with Victory only.
Indian Imbalanced Balance
A serious crisis is looming over journalism in India, which is increasingly vested in the hands of authority. On the one hand, Indian President Pranab Mukherjee asks for "discussion and dissension" for a vibrant democracy. "There should always be room for the argumentative Indian, and not the intolerant Indian. The media must be the watchdog, the mediator between the leaders and the public," Mukherjee said while paying his regards to Ramnath Goenka – former press baron. On the other hand, Indian media has lost its credibility regionally as well as internationally owing to quality of Indian public discourse. According to criminal lawyer Rebecca Mammen, "The true test of a robust democracy is the independence of its media. Over the past few years our media has become the mouthpiece of the party in power. Coupled with the fact the corporate owners of media houses share close links with the government, the Indian media has tragically lost its voice."
The mainstream media is vested in the hands of a selected few and refuses to question authorities. The 'Reporters Without Borders' annual Press Freedom Index, which was released on April 20, has ranked India at 142 among 180 countries reflecting poor credibility due to pressures by government. According to the Report, the Indian media is reeling under a Hindu nationalist government, which has time and again tried to gag journalists. Moreover, India's influential TV news channels function largely as government mouthpieces.A European non-governmental group "EU disinfo lab" had uncovered a network of 265 'fake' news outlets sponsored by an Indian network to influence the European Union (EU) and the United Nations (UN) with content against to Pakistan.
The crisis in the Indian media will have deeper impacts on Indian democracy. With a feeble opposition, weak institutions, and an inadequate media, Indians have no checks and balances. For instance, maligning Pakistan High Commission, Colombo(PAHIC) during a recent Indo-China conflict was an Indiangovernment instructed media strategy to divert public opinion from their failures in North. In other words, media strategy inadvertently defines poor political will of India to stand up to China while feel strong enough to bully the smaller neighbourhood.
The sane voices in Indian media have continuously shrinking space.Having almost 400 news channels, Indian media has failed to highlight serious matters, such as beef ban, human rights violations in Indian Occupied Jammu & Kashmir (IoJK), and numerous discriminations against Indian Dalits. "Over the last few years – especially after Prime Minister Narendra Modi won the general election of 2014 – the Indian mainstream media has allowed itself to be undermined by the transcendent political power that he represents," said Pamela Philipose, The Wire. "A new note of muscular nationalism has crept into media discourse. Also conspicuous is the curbing of dissent and the rise of the surveillance state – developments that bode ill for the independence of the Indian media," says Philipose.
In a similar manner, a political scientist Giles Vernier argues that "a new note of muscular nationalism has crept into media discourse. Also conspicuous is the curbing of dissent and the rise of the surveillance state – developments that bode ill for the independence of the Indian media.One reason why we don't see much criticism in the media is that the government, in the person of the Prime Minister, has the ability to completely dominate the media's agenda, by saturating the public and media sphere with the message, image, and his voice."
Journalists should be critical of government's handling of its internal and external matters to keep it on the right track. TV channels will call speakers of their choice, who would heavily lean to one side of discussion and pretend that it is balanced.
In the current atmosphere, with enraptured legislative issues and social perspectives, with populist political leadership, with developing bigotry against minorities and dissenters, the media can and ought to be an encouraging sign for liberal, mainstream and law based thoughts, yet additionally to guarantee that outrageous perspectives does not get into the papers or on TV. Rather, the media in India has become some portion of the issue, either excitedly partaking in preparing of contempt against the helpless, or carrying on in an insincere path by permitting the most exceedingly terrible components a free run of significant reality on their foundation. Whole ages of columnists are growing up with the possibility that they are playing out an important help; they have scarcely any good examples to gaze upward to, since their own managers, who should know better, are either sold out, ideologically dedicated to fanaticism or are indecisive, without firm feelings or just fearful. In any case, Indian reporting is in a profound emergency, all for the sake of 'balance.'