Understanding India's growth paradoxes and their Impact on Indian Society
India, 21st century's one of the fastest growing country. From last 70 years, India has proved the mettle on various fronts of Poverty, Low Economic Development, Low Literacy rates, Lack of Industrialisation and what not. Just imagine any Economic or Social trauma, India has fought that.
But, In spite of all these challenges, the way India has moved on path of Economic Development is commendable. India as a country has come long way but as a Nation where all the members of Society have access to basic means of life is a matter of concern and topic for this article.
India's Growth Paradoxes refers to all the contrasting situations which Growth instigating forces have created and thus creating newer challenges. Many a times, the methodology adopted to counter one issue has resulted into another issue, for e.g. after Independence in 1947, one crucial front for India was lack of Modern Industries and Subsidence Agriculture. Industries were present but mostly out of technology as well as resources hungry. Agriculture was backbone of Indian economy pre independence but it was mainly to feed the population that too in minimal sense. So, there was an urgent need to bring out the possible changes to fire the engine of Development. During that time, the task of instigating element of growth was given to Dr. P.C Mahalanobis, referred to as Architect of Indian Planning. He was an able economist and a well versed visionary. He knew that if Indian Economy has to perform, Industrial Sector has to play leadership role. It was his vision with which Rapid Industrialisation was started. Within a Five Year Plan from year 1951-1956, India's GDP outperformed the planned number and started fetching desired result.
But on the same front, Indian Agriculture was not able to perform the way it had to.
It is very well established fact that Indian Agriculture is dependent on various Natural events like Monsoon, Droughts etc. During Rapid Industrialisation, Industries stated producing, Mines started Exploring but what remained at stagnation was the condition of Indian Agriculture and allied sectors on which major section of Population is dependent.
With the advent of foreign powers, India gradually lost its status of being Gold sink. With coming of British East India Company in India, the situation got worsened. British East India Company did all what was needed for Economic drain, so whether it was the demand for Raw materials to feed the resources hungry England's factories, British East India Company followed the 'Policy of Economic Exploitation'. So, earlier economically self sustaining Villages of India were converted into Raw material producing fields and their natives as Labourers.
This was beginning of troubles for Indian Population. Population which was earlier self sustaining and economically capable got into crunches of economic exploitation. Owners of Lands were converted into workers and Lands were converted into farms. The sophisticated fabric of economic, social and political unity of India was also damaged.
This could be credited as the 'Mother of Growth Paradoxes/ of India's growth and development. Mentioning this historical aspect of Exploitation of British East India Company is important for this article as without this, understanding the present challenges would become tough.
Coming to present time, India is an economy with a stable growth rate, an economy which very intelligently and efficiently faced the 2008 global slowdown. Today India is one of the favoured Destinations for Investment all around the world. Thanks to the credibility of ours economy to return a good profit.
But whether this magnificent 70 years of Growth has managed to trickle down from top to bottom of Indian Population? This is the question for which finding answer is need of the hour.
Indian Population is mix of various Religions with people belonging to the different regions. Our Geographical diversity has very well contributed to our Ethnic as well as Cultural Diversity.
But this diversity is not only limited to Socio-Cultural Diversity but it has also created a Diversity of Social and Political issues. Social Inequalities of Illiteracy, Casteism etc have severely damaged the fabric of Indian oneness. Economic Inequalities of Income Disparities in which major resources are owned by top 10% of the population. Rest 90% population has to manage in 10% of available resources. These are the Paradoxes of our last 70 years of Development where focus to Economic Development was stressed so much that it resulted in critical state of Social Development.
Answering these Paradoxes is very important if we have to make our Population free from the crunches of Socio-Political Inequalities.
Year 2014 has seen the emergence of a leader which enjoys the people's credibility. The present Prime Minister of India Mr. Narendra Modi has come up to power with clear Majority in lower house of Indian Parliament, a rare occurrence in post Economic reform era of 1990's. This Credibility reflects the clear aspirations of Indian people, aspirations of getting a Social Status where Inequalities of any kind would be a rare scene. Children getting proper nutrition and education. Social fabrics getting so strong that Indian sciety should get sense of oneness.
India is a nation which from last one thousand of years has shown a resilience to maintain a strong social oneness. It is very evident that from medieval era, Riots and clashes in Indian villages were rare events. Indian has accommodated the changing parameters so well that it has become a leading player in them, India's performance in Information and Communication Technology is one such example.
But in spite of all favourable elements, People are still facing various socio-political issues. It is because till now Sensitivity is missing from our Socio-Economic planning. Sensitivity of accommodating the weaker section of population to changing global market requirements. Present Government's scheme of Skill India, Stand up India is one such attempt to encounter these Socio=political evils in Indian Society. Understanding these Paradoxes of India's Growth and Development is very crucial because these are creating issues for not only India but many other developing countries around the world.
Will Pakistan go to IMF finally?
International Monetary Fund (IMF) was created just after World War II (WWII) in 1945. It was the time of re-organization of the world order after massive destruction of WWII. UN and its organizations were establishing and whole world was passing through reforms. The IMF is an organization of 189 countries, working to foster global monetary cooperation, secure financial stability, facilitate international trade, promote high employment and sustainable economic growth, and reduce poverty around the world.
The beneficiary of WWII was US, and emerged as leader of World. IMF and World Bank like other UN and International organizations were depending on US funding to some extend and US has been utilizing in expand its economic, political and military influence around the world, frequently. US was involved in appointing head of such organizations directly or indirectly.  I leave it to my readers to judge that if IMF and other organizations have achieved its objectives or not?
Pakistan have been knocking doors of IMF since 1958, and it has been 21 agreement with IMF. Generally, IMF provides loans at very low interest rates, and provides programmes of better governance and monitoring too. But for last 6 decades, Pakistan has suffered a lot, in term of good governance. Especially last 2 decades, corruption, nepotism, poor planning, bribery, weakening of institution, de-moralization of society, etc were witnessed. We may not blame IMF for all such evils, but must complain that IMF failed to deliver, what was expected. Of course, it is our country, we are responsible for all evils, and wrong doings happened to us. We have to act smartly and should have made right decision and on right times.
In fact, beneficiary of corruption, is west, and in some of the cases, west has inspired or protected the corrupt politicians and bureaucrats in the developing nation and Pakistan is no exception to it. At least, IMF failed to monitor the utilization of funds provided.
IMF also dictates its terms and condition or programmes like: devaluation of local currencies, which causes inflation and hike in prices, cut or draw-back of subsidies on basic utilities like fuel, gas, electricity etc, which causes cost of life rather higher for local people, cut on development expenditures like education, health, infrastructure, and social development etc, which pushes the country backward.
Pakistan was no exception to it in the history of our relations with IMF. Last couple of decades, we could not develop our infrastructure, as a result we are back ward and could not take off economically, could not built Dams and suffering from Power shortage and water crisis, Education, health and social sector was ignored and pushed us rather backward.
In past, whenever we approached IMF, US administration was favoring us, but this time, it was witnessed that US may create hurdles or resistance in the form of additional conditions etc.
Based on experience of 6 decades, Government of Pakistan (GoP) have to make decision, weather to go to IMF or not? It is very serious issue and very sensitive decision. GoP is very serious and in close consultations with various experts from within the government and out side the government. There is a group in Pakistan, lobbying for IMF, as it is cheapest and more structured. Pro-IMF lobbies are more close to PM Imran Khan. While, there are experts who are against IMF and feels in past, if IMF was not helpful for Pakistan, then why to go again for the same tested organization. It is worth mentioning that, Pakistan is a diversified nation, and freedom of expression is ensured by constitution of Pakistan, so many controversial opinions are expected – we enjoy the highest degree of freedom. .
In past, politicians were rather easy to coerce and IMF was successful in their missions. But, today, Pakistan is in safe hands and current leadership is honest, loyal and sincere with Pakistan. The PM Imran Khan is a strong man and will take decision based on principles in the best interest of nation.  Sources close to him, feels that till date he is not convince yet, but will take a firm decision soon. His decision will be based on expert advice, national interest and purely merit-based.
However, all other option may be explored and taped, like friendly nations have already extended a hand of financial assistance. Like Saudi Arabia, Arab Emirates, Qatar, Turkey, Malaysia and China. Which has lessen the need of going to IMF to a great extent. It will provide an edge to Pakistan, while negotiating with IMF.
Whatever will be his decision, people of Pakistan trust him and will stand behind him. His decision will be considered the decision of 220 million of Pakistan. Pakistan has a history of "No Default" in last 7 decades to any one of our international obligation or agreement. Pakistan is a civilized, disciplined and matured & resilient nation. We have passed many harsh tests, in last 4 decades and learnt many lessons.
Pakistan Securing Its Maritime Interest and CPEC
The IOR is a major sea route that unites the Middle East, Africa, and East Asia with Europe and America. The excessive economic growth of littoral states of Indian Ocean obliges them to protect their energy needs and interests in order to endure their purchasing power. This has great security implications for the sea line of communication of the littoral states of IOR like Pakistan.
Continuing to Pakistan's interests in IOR the China-Pakistan Economic Corridor has great potential to transmute Pakistan into a central trade platform, which would undeniably gushed the enemies, particularly India, to halt it. The development of Gwadar sea-ports as part of BRI in general  and that of CPEC in particular has amplified India's concerns' and aimed for more sophisticated and advanced naval build-up. Furthermore, India perceives the Gawadar port (that is considered as crown jewel of CPEC) as a hazard to its contesting interests in Central Asia countries.  The reason being, India can access Afghanistan, Iran and Central Asian Republics (CARs) only through Cahabahar by passing Pakistan and Gawadar  a deep water sea port that is easily accessible to these land locked states then Chahabahr. A couple of days back on 24th December 2018 India has formally over taken the operational control of Iran's Cahabahar port – only (0 Km away from Gawadar port. India's aspirations to become blue water navy in the IOR raise serious concerns among Pakistan's maritime security. CPEC would lead toward increased maritime politics and contestations not only between Pakistan and India but would also involve China and US.
In such turbulent circumstances Pakistan is required to prepare its sea based defense to secure its sea lines.   Islamabad needs to carefully evaluate its options and develop its strategic response accordingly, involving but not limited to continuous development of its naval capability and an even closer maritime cooperation with China. In view of the prevailing power dynamics in Indian Ocean Pakistan Navyin order to secure its interest in IOR inked a contract with China's State Shipbuilding Corporation (CSSC)in June 2018 for two, Type 054AP frigates. The agreement is an extension of a previously signed agreement in 2017. Recently on December 19, 2018 steel-cutting ceremony for the second Type 054A frigate for the Pakistan Navy was held at the Hudong-Zhonghua shipyard in Shanghai. The type 054 AP warship frigates will be equipped with modern detection-state of art sensor and Guided Missiles weapon systems; capable of anti-ship, anti-submarine and air-defense operations. According to the report of China Daily report added that the "Type 054A is the best frigate in service with the PLAN".
It is pertinent to mention here that maritime security is linked with the Economic security and vice versa. Gawader port is one of the most important projects of the CPEC where Pakistan and China are very hopeful that in future this shipping port will generate the revenue for Pakistan's economy.  There is a big chunk of fishery industry through which Pakistan can earn a lot. It will stimulate business and trade activities at state level and across the region.  The 054 AP frigates ""Will be one of the largest and most technologically advanced platforms of the Pakistani Navy and strengthen the country's capability to respond to future challenges, maintain peace and stability and the balance of power in the Indian Ocean region" a report on 2nd January 2019 released by  Chinese state owned media said.
In some, to deal with all these existing defies Pakistan Navy (PN) has espoused to a multi divided line of action for safeguarding the port in more effective manners. It conducts security patrolling h and coastal exercises from time to time. Furthermore, previously in 2013 it has inaugurated its Joint Maritime Information Coordination Center (JMICC) in Karachi to provide with an effective mechanism of Maritime Domain Awareness (MDA).  After receiving these 054 AP frigates warship Pakistan will definitely in far more better position to counter India's vested interests in Indian Ocean region. It will also help secure the Gwadar port which is the chief component of Pakistan maritime trade activities. China has always been an al weather strategic partner of Pakistan. Although India always tries to propagate that CPEC is military agreement instead of an economic one however, securing the economic interests with an advanced mechanism does not mean at all that it's planning something militarily. Pakistan has always adopted a defensive policy and it is the right of every sovereign state to secure its interests even if they are economic as there is no morality in international politics, still CPEC is an economic project which welcomes every state of the region for economic cooperation  even if it is India as well.
2018 was the deadliest year in the history of Kashmir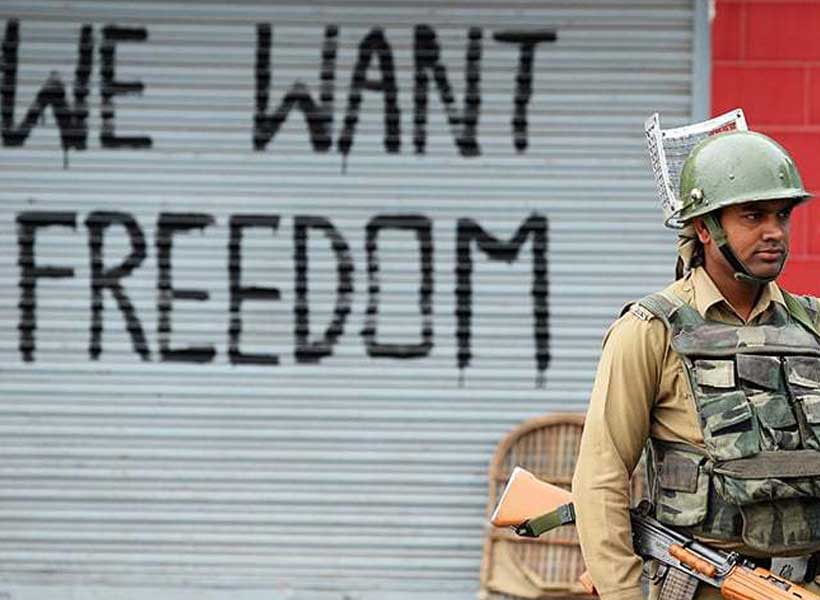 Kashmir is natural paradise and gorgeous valley located between Pakistan, India, Afghanistan, China and with a small strip of 27 miles with Tajikistan and Kyrgyzstan. But it is still a disputed region since partition of United India into India and Pakistan (also Bangladesh in 1971) in 1947.
The history of the freedom of Kashmir dates to 1931 when the people, both Hindus and Muslims, initiated a freedom movement against the then Maharaja (ruler) to have their own indigenous rule. The resentment of the people led to the 'Quit Kashmir' campaign against the Maharaja in 1946. Faced with the insurgency of his people, the Maharaja fled the capital, Srinagar, on October 25, 1947 and arranged that India send its army to help him crush the rebellion. India, coveting the territory, set the condition that Maharaja must sign an 'Instrument of Accession' to India. At the same time, India had to attach another condition that accession was made subject to 'reference to the people.' On India's showing, therefore, the accession has a provisional character.
Then India brought the dispute to the United Nations where the Security Council discussed the question exhaustively from January to April 1948. Then both India and Pakistan and approved by the international community that the dispute over the status of Jammu and Kashmir can be settled only in accordance with the will of the people which can be ascertained through the democratic method of a free and impartial Kashmiri citizens vote.
The people of Kashmir, despite of being injured since long could not lost their hope. They believe in United Nation(UN), assuming it will advocate choice of freedom for them. During the July-August 2018, people from entire Srinagar and other towns, were protesting government of India's violation of Article 35-A of Indian's constitution. 35-A, assure special rights to the state of Jammu and Kashmir.
Whenever, there is peaceful demonstration from them, then they must suffer basic human rights violation, fear and state of starvation as response of Indian government. In 2018, 111 civilians are killed which is double to the previous year recorded 40 killing by the Indian forces. India has some 500,000 troops deployed in Kashmir. Popular unrest has been rising since 2016 when a charismatic young Kashmiri leader, Burhan Wani, was shot dead by Indian forces.
Pakistan always has been bolstering the way of peaceful talk with India over the issue. Last year, in October, Prime Minister Imran Khan, repeated Pakistan's stance that the solution to the region's dispute laid in dialogue. He said,"It is time India realised that it must move to resolve the Kashmir dispute through dialogue in accordance with the UN SC resolutions and the wishes of the Kashmiri people".
Kashmiri leader Mirwaiz Umar Farooq, in response to PM Khan said we welcomed "Pakistan's concern" but called for Pakistan to "do much more" to "put an end to the appalling grind of repression and human rights abuse that Kashmiris are suffering at the hands of Indian state.
Happily, UN has issued human right report on Kashmir in June 2018. The report of 49 pages strongly emphasis on human right violation and abuses and delivering justice for all Kashmiris. UN High Commissioner for Human Rights Zeid Ra'ad Al Hussein remarked "The political dimensions of the dispute between India and Pakistan have long been centre-stage, but this is not a conflict frozen in time. It is a conflict that has robbed millions of their basic human rights and continues to this day to inflict untold suffering. Therefore, any resolution of the political situation in Kashmir must entail a commitment to end the cycles of violence and ensure accountability for past and current violations and abuses by all parties and provide redress for victims".
2018 was the deadliest year in the history of Kashmir. Hope so, Pakistan and India sandwiched by UN would resolve the issue based on Kashmir people's choice of freedom so that human violation could be ceased.