UN climate conference set to recognize the role of women in climate action
With the United Nations Climate Change Conference (COP 23), in Bonn, Germany, entering its final week of negotiations, the Fiji Presidency today announced an agreement on a Gender Action Plan, highlighting the role of women in climate action.
At a press conference, President of COP 23 and Prime Minister of Fiji, Frank Bainimarama, announced that the Parties had finalized the plan, which still has to be adopted.
"This recognizes the role of women in climate action," he said.
"It is about integration of gender into all the work around climate policy – both nationally and internationally," added Nazhat Shameen Khan, the Chief Negotiator for the COP 23 Presidency.
Heads of State and Government, Ministers, and UN Secretary-General António Guterres will be attending the high-level segment of COP 23, on 15-16 November.
New national and corporate climate action on forests
Also Sunday, countries and corporations announced new initiatives to cut emissions from forest use and establish sustainable forestry management programmes.
The efforts include an Ecuadorean initiative to reduce 15 million tons of CO2 emissions in the forest sector; a commitment to deforestation-free commodities by Walmart; Mars Inc.'s new policy to reduce their carbon footprint 27 per cent by 2025 and 67 per cent by 2050 through addressing deforestation throughout their corporate value chain; and Gabon's National Park Service efforts to combat illegal logging.
"The forests have this incredible ability to store carbon and we have underinvested in that," said Inger Andersen, Director-General of the International Union for Conservation of Nature (IUCN), at a press conference.
"Protecting and restoring the forests is absolutely key to achieving the Paris Agreement [as well as] the Sustainable Development Goals (SDGs)."
Hundreds of companies commit to climate action
Also today in Boon, the industry sector said that it is set to deliver much of the emissions reductions needed to achieve the Paris Agreement goal but added that closer national and international policy and implementation strategy partnerships together with governments will help business take further, faster action.
"Industry is taking action on climate change like no other period in history," said Peter Bakker, President and CEO of the World Business Council for Sustainable Development (WBCSD, a global, business leaders-led organization of over 200 leading businesses working on sustainable development).
"The transition to the low-carbon economy is inevitable, and business will continue to implement the solutions necessary for fulfilling the Paris Agreement," he added.
Since 2015, over 600 companies with combined revenues of more than $15 trillion have made over 1,000 commitments to climate action through 'We Mean Business,' a global non-profit coalition. Many are going 100 percent renewable, are implementing science-based targets and are collaborating across sectors through the Low Carbon Technology Partnership initiative (LCTPi).
Local, regional leaders sign Commitment for faster climate action
Local and regional leaders from around the world signed the Bonn-Fiji Commitment Sunday, pledging action to deliver on the Paris Agreement.
Cities are responsible for as much as 70 per cent of greenhouse gas emissions from fossil fuels used for energy and transport, and with more than half the global population living in urban centres and this figure expected to approach two-thirds by 2050, the Bonn-Fiji Commitment pushes efforts to advance sustainable urban development.
The Commitment encompasses 19 initiatives, including The European Covenant of Mayors and Compact of Mayors joining forces to create the Global Covenant of Mayors for Climate and Energy – the largest coalition of over 7,400 cities from six continents and 121 countries to reduce emissions and make societies and economies resilient to climate change.
Similarly, the UN World Health Organization (WHO), in collaboration with the UN Climate Change secretariat (UNFCCC) and in partnership with the Fijian Presidency launched an initiative to protect people living in small island developing States from the health impacts of climate change.
The vision is that, by 2030, all small island developing States will have health systems that are resilient to climate change.
Another 170 migrants disappear in shipwrecks: UN call for an end to Mediterranean tragedy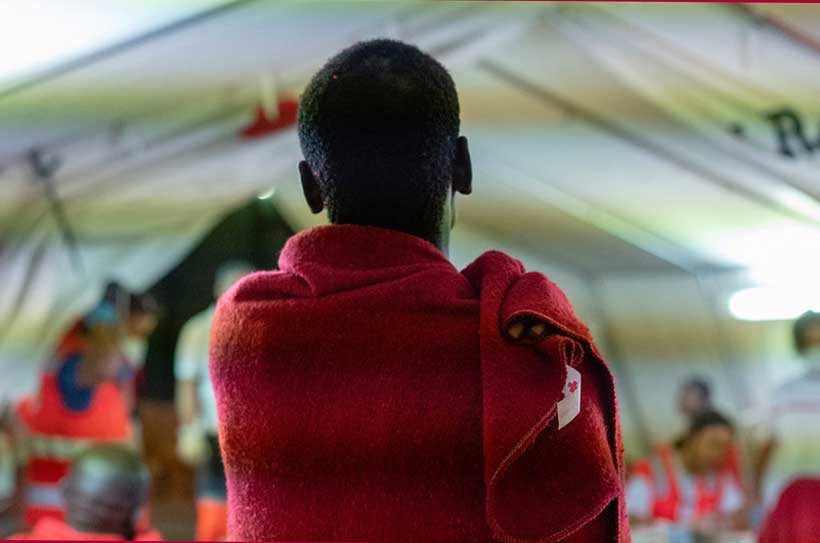 The United Nations refugee agency, UNHCR, stated on Saturday that "no effort should be spared" in saving lives at sea, following reports of two new shipwrecks on the Mediterranean Sea, in which some 170 people either died or went missing.
"The tragedy of the Mediterranean cannot be allowed to continue," said Filippo Grandi, the UN High Commissioner for Refugees.
According to various NGOs, about 53 people died on the Alborán Sea, in the western part of the Mediterranean. One survivor is understood to have been rescued by a passing fishing boat after being stranded for more than 24 hours at sea and is receiving medical treatment in Morocco.
According to UNHCR, Moroccan and Spanish rescue vessels have been searching for the boat and survivors for several days to no avail.
The Italian Navy are also reporting another shipwreck on the central Mediterranean. Three survivors, who were taken for treatment on the island of Lampedusa, reported that another 117 people, currently dead or missing, had boarded the ship with them in Libya.
UNHCR has been unable to independently verify the death tolls for these two shipwrecks, but in 2018, 2,262 people lost their lives attempting to reach Europe via the Mediterranean Sea.
Guterres:The best-selling brand today is fear
Warning against the dangers of widespread fear and mistrust in our planet, the United Nations Secretary-General, António Guterres, told journalists on Friday he wants to reaffirm the UN as a "platform for action to repair broken trust in a broken world."
"The best-selling brand in our world today is indeed fear," stated Mr. Guterres. "It gets ratings. It wins votes. It generates clicks," he added, during the press conference, held at UN headquarters in New York.
"I believe the biggest challenge that governments and institutions face today is to show that we care – and to mobilize solutions that respond to people's fears and anxieties with answers, with concrete answers," he explained.
The Secretary-General was speaking two days after presenting his areas of action for the UN for 2019 to the 193 Member States, who, he said, widely responded to his remarks by highlighting the importance of multilateralism.
"As we look to the challenges we face – from climate change to migration to terrorism to the downsides of globalisation – there is no doubt in my mind that global challenges require global solutions," he noted. "No country can do it alone. We need multilateralism more than ever."
The UN chief noted that "dismissing or vilifying the doubters of multilateralism will lead nowhere," and insisted on the importance of understanding why "many people around the world are not convinced of the power and purpose of international cooperation."
Citing the fact that, in the process of globalisation and technological progress, many people, sectors, and entire regions were left behind, he explained the UN needs to focus on addressing the root causes of this widespread mistrust, anxiety, anger and fear, over three key areas of work: accelerating sustainable development, strengthening the added value of the United Nations through reform, and engaging societies to put an end to the rise of hate speech, xenophobia and intolerance.
"We hear troubling, hateful echoes of eras long past. Poisonous views are penetrating political debates and polluting the mainstream," warned Mr. Guterres, as he stressed the need to remember the lessons of the 1930s and the Second World War.
"Hate speech and hate crimes are direct threats to human rights, sustainable development and peace and security," he said.
Stressing that "words are not enough," the UN Secretary-General announced he has tasked his Special Adviser for the Prevention of Genocide, Adama Dieng, to bring together a team to develop a UN-wide strategy and urgent global plan of action against hate speech and hate crimes.
Mr. Guterres stated that his "absolute priority for 2019" is to make sure the United Nations is a "platform for action to repair broken trust in a broken world and deliver for people".
Following his opening remarks, the Secretary-General answered questions from members of press on various issues handled by the UN, including the situation in Venezuela, in Syria, and in the Democratic People's Republic of Korea, the plight of migrants and refugees worldwide, recent uncertainty around the elections in the Democratic Republic of the Congo, as well as UN funding challenges.
Knowledge Exchange Program between World Bank and Parliamentarians of Nepal
Members of the Federal Parliament in Nepal and officials from the World Bank held consultations and development policy dialogue at a knowledge exchange program held today. Over 40 members of the Parliamentary Finance Committee and the Parliamentary Secretariat took part in the program.
"These engagements with the representatives of the people of Nepal are a key part of our role and responsibility as trusted partners in Nepal. They allow us to exchange ideas, and to better understand the vision of the Nepali people in reducing extreme poverty and boosting shared prosperity. It also allows us to share experiences on development narratives from the rest of the world." said Qimiao Fan, World Bank Country Director for Bangladesh, Bhutan and Nepal, "The country's path of nation-building and sustainable development relies on sound policies and institutions, and the Parliament is key in ensuring that these are both in place."
During the program supported by the World Bank and facilitated by the Parliament Secretariat, the Country Manager Faris H. Hadad-Zervos introduced the World Bank Group operations in Nepal, its instruments, country partnership framework and areas of development support. This was followed by a synopsis of the Bank's analysis of latest macroeconomic and development updates, presented by World Bank Senior Country Economist Kene Ezemenari. Xiaoping Wang and Rabin Shrestha, Senior Energy Specialists from the World Bank then presented on the current scenario of the power sector in Nepal.
"The program was a great opportunity to understand the World Bank Group operations and explore avenues of cooperation and support in the days to come," said Krishna Prasad Dahal, Chairperson of the Parliamentary Finance Committee, "Extensive sharing of data, information and practical knowledge will help pinpoint the direction of future policies and refine our responsibilities as lawmakers."
The World Bank is engaging the Nepali Parliament in various ways. Through the Integrated Public Financial Management (PFM) Project supported by the Multi-Donor Trust Fund (financed by Australia, Switzerland, DFID, EU, Norway and USAID), The World Bank is currently supporting the Parliament of Nepal through strengthening of the PFM capacity of technical staff in the Secretariat. Knowledge exchange opportunities will be provided to MPs within this program. Provincial Parliaments will also be progressively targeted since they can benefit from the expertise of the Federal Parliament to build their own.