Time for Cities to Step Up to the Challenge of Climate Change
The world's cities generate more than 75% of global carbon emissions – it's time for them to play a more prominent role in fighting climate change. Shanghai, Dhaka, Karachi, Hong Kong and Miami are "literally going under water," said Robert Muggah, Research Director of the Igarapé Institute, Brazil, addressing the Annual Meeting of the Global Future Councils.
By 2050, 70% of the world's population will be urbanized. Tokyo's GDP is already greater than that of Russia, South Korea or Canada. "If we get our cities right, we just might achieve the 2030 development goals and we may limp through the 21st century," he said, "but if we get our cities wrong – we're doomed."
Cities face a range of mounting risks, from homicides to pollution to water scarcity, said Changhua Wu, Director for China and Asia, Office of Jeremy Rifkin, People's Republic of China. New Delhi ground to a halt last week as a result of air pollution; a problem that poses severe health risks for urban inhabitants in emerging and developed economies. Water shortage is another climate-related challenge: in Brazil alone, 850 cities face chronic water shortages in a country that boasts 20% of the world's water reserves.
However, cities are stepping up to the challenge. Today, over 200 intercity networks are working together to tackle everything from migration to climate change. More than 8,000 cities have introduced solar power, while 300 cities are completely energy autonomous, some even exporting power back into national grids.
Global decision-making remains dominated by nation states – it's time to offer the cities a place at the negotiating table, said Muggah. Cities also need greater freedom to solve their own problems by focusing on becoming greener and smarter. "Mayors are rediscovering their mojo", he said, adding: "Cities are where the future happens first."
However, an increasing number of cities are becoming more, not less, fragile – particularly across Latin America, sub-Saharan Africa and South-East Asia. According to Jean-Marie Guéhenno, President and Chief Executive Officer of International Crisis Group (ICG), Brussels, urban violence is on the increase, linked to the weakening presence of the nation state in some cities. Guéhenno warned that this rising violence along with unprecedented levels of forced migration are posing major risks to developing countries.
Regional rivalries in the Middle East and Asia have become more pressing, said Guéhenno. "A function of the retreat of the US is that all countries feel more on their own." The world lacks a shared narrative and the models on offer, from the US and China, are based not so much on common values as on the "optimization of economic resources." Said Guéhenno: "Trust requires some sense of shared values" – but in the last 25 years, "we've seen a steady erosion of norms around the world."
Circular Economy: Proposal to boost the use of organic and waste-based fertilisers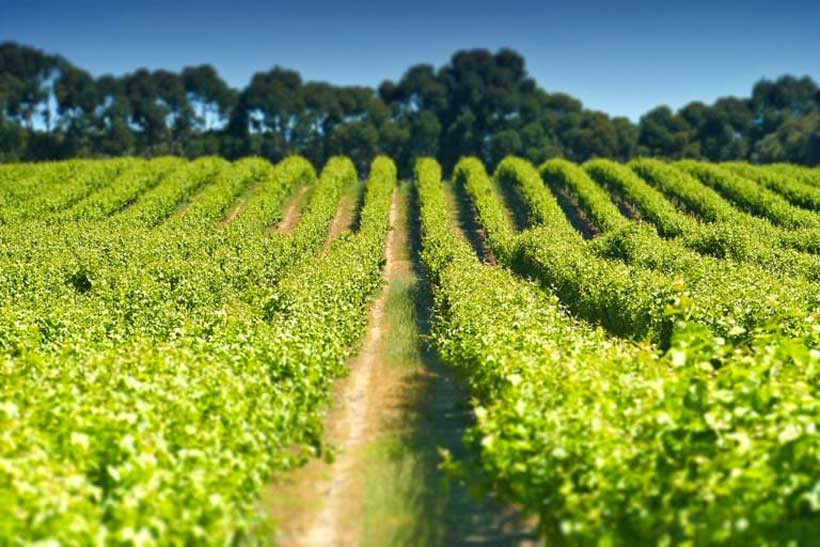 The EU institutions have found an agreement on new EU rules on fertilisers proposed by the Commission in 2016 as a key deliverable of the Circular Economy Package.
Negotiators from the European Parliament, Council and Commission have reached a preliminary political agreement on the Commission's proposal from March 2016 which built on the Commission's 2015 Circular Economy Action Plan.
The new rules will facilitate the access of organic and waste-based fertilisers to the EU Single Market. It also introduces limits for cadmium and other contaminants in phosphate fertilisers. This will help to reduce waste, energy consumption and environmental damage, as well as limit the risks to human health.
Jyrki Katainen, Vice-President for Jobs, Growth, Investment and Competitiveness, said: "Unlike traditional fertilisers which are highly energy intensive and rely on scarce natural resources, bio-waste fertilisers have the potential to make farming more sustainable. These new rules will also help to create a new market for reused raw materials in line with our efforts to build a circular economy in Europe."
Elżbieta Bieńkowska, Commissioner for Internal Market, Industry, Entrepreneurship and SMEs, added: "The new EU rules will open up new market opportunities for innovative companies producing organic fertilisers and create new local jobs, provide wider choice for our farmers and protect our soils and food. At the same time we are also making sure that our European industry will be able to adapt to the proposed changes."  
The main elements of the new rules are:
Opening the Single Market for organic fertilisers: The agreement on the Fertilising Products Regulation will open the market for new and innovative organic fertilisers by defining the conditions under which these can access the EU Single Market. The Regulation will provide common rules on safety, quality and labelling requirements for all fertilisers to be traded freely across the EU. Producers will need to demonstrate that their products meet those requirements before affixing the CE mark.
Introducing limit values for toxic contaminants in certain fertilisers:The Regulation for the first time introduces limits for toxic contaminants, including a new 60 mg/kg limit for cadmium which will be further reviewed 4 years after the date of application. This will guarantee a high level of soil protection and reduce health and environmental risks, while allowing producers to adapt their manufacturing process to comply with the new limits. To encourage the use of even safer fertilisers, producers will also be able to use a low-cadmium label applicable to products with less than 20mg/kg cadmium content. These rules will affect those fertilisers that choose to affix CE marking.
Maintaining optional harmonisation:The Regulation also offers the possibility to opt for optional harmonisation. A manufacturer who does not wish to CE-mark the product can choose to comply with national standards and sell the product to other EU countries based on the principle of mutual recognition.
Next steps
The preliminary political agreement reached by the European Parliament, Council and Commission in so-called trialogue negotiations has today been confirmed by the Member States' representatives and is now subject to formal approval by the European Parliament and Council. The Regulation will then be directly applicable in all Member States and will become mandatory in 2022.
Background
Under the 2015 Circular Economy Action Plan, the Commission called for a revision of the EU regulation on fertilisers to facilitate the EU-wide recognition of organic and waste-based fertilisers. The sustainable use of fertilisers made from organic waste material in agriculture could reduce the need for mineral-based fertilisers, the production of which has negative environmental impacts, and depends on imports of phosphate rock, a limited resource.
Under current rules, only conventional, non-organic fertilisers, typically extracted from mines or produced chemically can freely be traded across the EU. Innovative fertilising products produced from organic materials are outside the scope of the current Fertilisers Regulation. Their access to the single market is therefore dependant on mutual recognition between Member States, which is often difficult due to diverging national rules. Such products therefore have a competitive disadvantage which hampers innovation and investment in the circular economy.
According to estimates, if more bio-waste was recycled, it could replace up to 30 % of non-organic fertilisers. Currently, the EU imports around 6 million tonnes of phosphates a year but could replace up to 30% of this total by extraction from sewage sludge, biodegradable waste, meat and bone meal or manure.
The Commission has also recently presented a new Bioeconomy Strategy, as announced by President Juncker and First Vice-President Timmermans in their letter of intent accompanying President Juncker's 2018 State of the Union Address, which will further support the scaling up the sustainable use of renewable resources and  boost jobs, growth and investment into a sustainable circular bioeconomy in Europe.
Yemen talks: Truce agreed over key port city of Hudaydah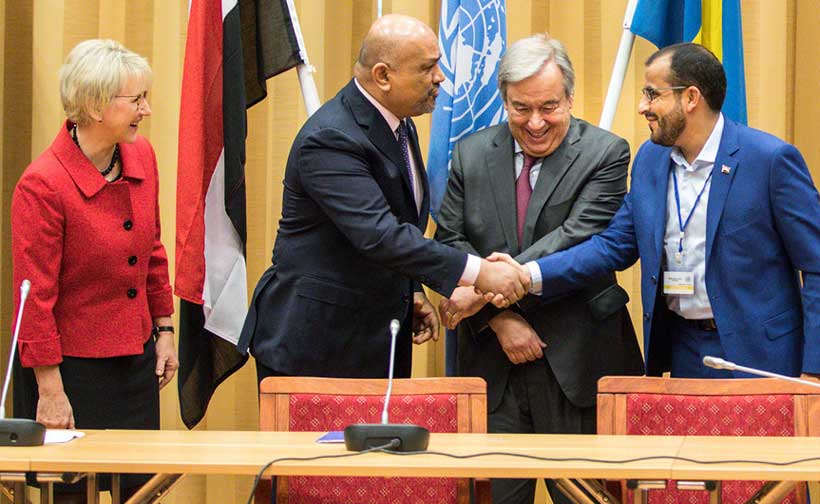 The announcement of a ceasefire between Yemen's warring parties in and around the key port of Hudaydah, was hailed by UN Secretary-General António Guterres on Thursday as a deal which would improve the lives of millions of people.
Speaking on the last day of UN-led talks in Sweden to decide the future of the war-torn country, where its people are in the grip of the world's worst humanitarian crisis, Mr. Guterres told those present that they had "the future of Yemen" in their hands.
"You have reached an agreement on Hudaydah port and city, which will see a mutual re-deployment of forces from the port and the city, and the establishment of a Governorate-wide ceasefire," he said, noting that the UN would play "a leading role" in the port.
"This will facilitate the humanitarian access and the flow of goods to the civilian population. It will improve the living conditions for millions of Yemenis," he insisted.
Nearly four years after fighting escalated between the Government of Yemen and Houthi opposition movement, known officially as Ansar Allah, more than 24 million people – three-quarters of the population – need some form of assistance and protection.
Some 20 million are food insecure and 10 million of these people do not know how they will obtain their next meal.
While noting that "pending issues" have yet to be resolved, the UN chief said that representatives from the internationally-recognised Government of Yemen and the opposition had made "real progress" which had yielded "several important results".
These included a "mutual understanding to ease the situation in Taizz", Mr Guterres said, in reference to the country's third largest city.
"We hope this will lead to the opening of humanitarian corridors and the facilitation of demining," he added.
On the previously-agreed issue of a mass exchange of prisoners, the UN Secretary-General noted that both delegations had drawn up a timeline and provided further details on when it might happen.
This would allow "thousands – I repeat, thousands – of Yemenis to be reunited with their families," Mr Guterres said, with UN Special Envoy for Yemen, Martin Griffiths, at his side.
Breakthrough over talks framework
Looking ahead to a new meeting between both parties in the new year, the UN chief insisted that another "very important step for the peace process" had been agreed, namely a willingness to discuss a framework for negotiations.
"You have agreed to meet again to continue to discuss this further at the end of January during the next round of negotiations," Mr. Guterres said, adding that it was a "critical element" of a future political settlement to end the conflict.
"We have a better understanding of the positions of the parties," he added, noting their "constructive engagement", while also crediting the Governments of Saudi Arabia, Oman and Kuwait for their "concrete support" in making the meeting happen.
Welcoming the announcement on the Hudaydah ceasefire, the World Food Programme (WFP) underlined that the Red Sea port was "key" to importing some 70 per cent of Yemen's humanitarian and 90 per cent of its commercial needs.
"Any progress towards peace is good progress, as long as it helps the Yemeni people who have suffered so much in this conflict," said WFP Executive Director David Beasley, noting that what Yemen needed most was lasting peace.
"Today's announcement gives us hope that the World Food Programme's work to feed 12 million severely hungry Yemenis may be made easier in the coming weeks and months."
Owing to the conflict, in recent weeks imports have decreased by about half at Hudaydah's docks, WFP spokesperson Herve Verhoosel said.
"In November, our target in Hodeidah Governorate was to reach 800 000 people in need of food assistance. This ceasefire will of course help us in our daily activities as the region is one of WFPs priorities."
Innovation: key to solving climate change and promoting prosperity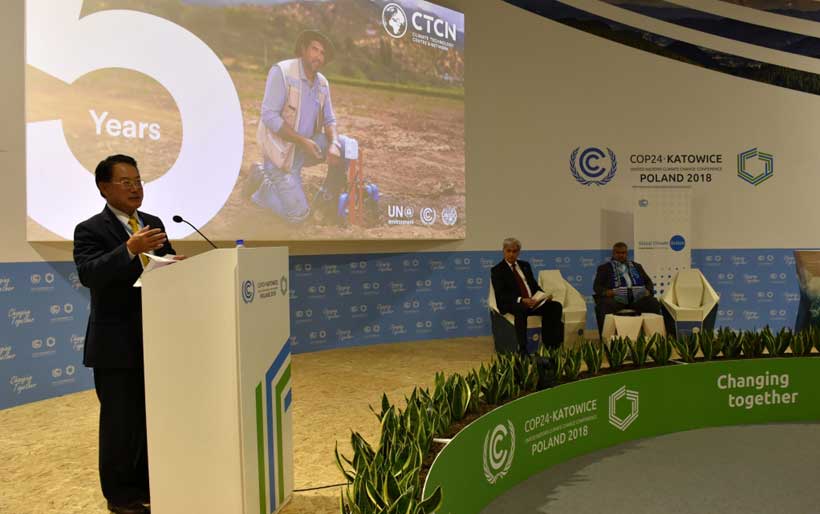 In the recently launched landmark report of the UN's Intergovernmental Panel on Climate Change, the world's leading scientists warned that we only have 12 years to prevent the global environmental catastrophe caused by irreversible climate change. This will require rapid and far-reaching climate action in all sectors, including energy, industry, buildings, transport, agriculture and cities.
While industry is one of the largest sources of greenhouse gas emissions, accounting for nearly one third of total global emissions, it is also a leading provider of climate technology solutions and green jobs.
As the UN's specialized agency promoting industrial development for poverty reduction, inclusive globalization and environmental sustainability, the United Nations Industrial Development Organization (UNIDO) is committed to enabling a paradigm shift in industrialization in developing countries as a means to build low-emission climate-resilient societies.
Speaking at the UN Climate Change Conference (COP24), UNIDO Director General LI Yong said, "Innovation is key to addressing climate change and promoting economic and social prosperity."
UNIDO is currently implementing over 400 projects, which directly contribute to achieving the targets and goals set by both the Paris Agreement and the 2030 Agenda for Sustainable Development. To enhance knowledge sharing and demonstrate proven and effective solutions for replication and scaling up, UNIDO showcased some of these projects during COP24 side events.
For instance, the UNIDO-GEF Global Cleantech Innovation Programme, which supports small and medium-sized enterprises and entrepreneurs in developing innovative climate and clean energy solutions as profitable business models, prominently featured in multiple technology-related side events.
UNIDO also presented its clean cooking fuels initiative, which promotes the production of biofuels in developing countries, as well as the manufacturing of the stoves on an industrial scale.
A dedicated side event marked the fifth anniversary of the Climate Technology Centre and Network (CTCN), the implementing arm of the UNFCCC Technology Mechanism. Hosted by UNIDO and UN Environment, the CTCN promotes the accelerated transfer of environmentally sound technologies for mitigation and adaptation action in developing countries.