APEC summit: Donald Trump and Xi Jinping have differences over future of global trade
US President Donald Trump and his Chinese counterpart Xi Jinping have set out starkly different visions for the future of global trade in speeches at a summit in Vietnam. In a defiant address, Trump told the Asia-Pacific Economic Co-operation (APEC) meeting that the US would no longer tolerate "chronic trade abuses". In contrast, President Xi said globalization was irreversible.
APEC brings together 21 economies from the Pacific region – the equivalent of about 60% of the world's GDP. Since taking office, President Trump has pursued his "America First" agenda and pulled the US out of the regional Trans-Pacific Partnership – a major trade deal with 12 APEC nations – arguing it would hurt US economic interests.
In a speech in the Vietnamese port city of Da Nang on Friday the 10th November, President Trump railed against the World Trade Organization, which sets global trade laws, and said it "cannot function properly" if all members do not respect the rules. He complained about trade imbalances, saying the USA had lowered market barriers and ended tariffs while other countries had not reciprocated. "Such practices hurt many people in our country," he said, adding that free trade had cost millions of American jobs. But he did not lay the blame on APEC countries, and instead accused earlier US administrations of not acting earlier to reverse the trend. He said America would make bilateral agreements with "any Indo-Pacific partner here who abides by fair reciprocal trade", but only "on a basis of mutual respect and mutual benefit".
Speaking minutes after his American counterpart, Chinese President Xi Jinping took to the podium to espouse his country's credentials as the new champion of world trade. Globalization, he said, was an "irreversible historical trend" but the philosophy behind free trade needed to be repurposed to be "more open, more balanced, more equitable and more beneficial to all".
In contrast to President Trump, the Chinese leader defended multilateral trade deals, which he said helped poorer nations to benefit. "We should support the multilateral trading regime and practise open regionalism to allow developing members to benefit more from international trade and investment."
The total trade relationship between the USA and China was worth $648bn last year, but trade was heavily skewed in China's favour with the US amassing a nearly $310bn deficit. Trump has in the past accused China of stealing American jobs and threatened to label it a currency manipulator, though he has since rowed back on such rhetoric.
During the US president's visit, China announced it would further lower entry barriers in the banking, insurance, and finance sectors, and would gradually reduce vehicle tariffs. Deals worth $250bn (£190bn) were also announced, although it was unclear how much of that figure included past agreements or potential future deals.
Before the Beijing talks, Trump in Tokyo lashed out at Japan, saying it "has been winning" on trade in recent decades. Japan had a $69bn (£52.8bn) trade surplus with the US in 2016, according to the US Treasury department.
Trump has repeatedly referred to the region as "Indo-Pacific", a term used to define America's new geopolitical view of Asia.
The US president had travelled to Da Nang from Beijing, where he had also discussed America's huge trade imbalance with China. There too, he said he did not blame the country for "taking advantage".
President Trump was clear – he wants bilateral trade deals and large, multilateral arrangements don't work for him. This was a speech saying that America is open for business, but on America's terms.
Contrast that with China's Xi Jinping, who spoke about the digital economy, quantum science, artificial intelligence – presenting a vision of the future that is connected, and comprehensive.
Increasingly whenever you see Xi on the international stage he is the poster child for free trade and globalization. Ironic, given that China itself has yet to become a fully free economy.
The US was the architect of many of the multilateral and free trade agreements for Asia. Under its tutelage, many of these countries opened up and reformed – playing by America's rules.
But under Donald Trump, that role has gone into reverse which has left China with a gaping hole to fill – and one it is only more than happy to take on.
When the US president is served up soy sauce older than America itself, it makes you wonder what diplomatic messages Asian leaders were hiding in the stock when they fed Donald Trump. Japan's PM Shinzo Abe has made no bones about becoming Trump's best friend and when the pair shared an all-American hamburger lunch made with imported US beef (remember new India hates beef and kill those who eat beef or sell it because beef, according to the latest discovery of Hindutva, is god's flesh), and accompanied by Heinz ketchup and mustard, the messaging was clear.
The US leader reportedly loves well-done steak and hates raw fish, so steak and a chocolate ice-cream sundae at a Tokyo teppanyaki restaurant was one of Trump's first meals. But "Japanese style steak" was reportedly on the menu at the state dinner, as well as chawanmushi (steamed egg) with matsutake mushrooms, and he got a taste of local culture when he ate teriyaki chicken at a traditional Japanese restaurant.
In Seoul, politics was definitely on the table. A cooked prawn that was caught near the disputed Dokdo/Takeshima islands claimed by both South Korea and Japan was served up. And among the guests for the state dinner was Lee Yong-soo, a former "comfort woman" or wartime sex slave for Japanese soldiers – a contentious issue between South Korea and Japan. Trump was photographed giving her a warm hug
It might just be worth noting that Trump is not believed to share the same rapport with South Korean President Moon Jae-in as with Abe. Trump also used his dining choices to play politics with a calculated decision to eat with US and South Korean troops at Camp Humphreys, the largest overseas US military base, for "Taco Tuesday".
It's unclear whether Trump took a bite, but Japan was not pleased – a government spokesman later raised concerns about the significance of the prawn at a time when South Korea should unite with Japan to tackle North Korean issues
Beijing may have given Trump a lavish welcome, but dialled down the extravagance when it came to the state banquet, choosing instead to ease Trump into local cuisine with a classic Chinese dish familiar to many Americans – kung pao chicken.
The dish of chicken pieces stir fried with chillies originates from Sichuan province, as does another item on the menu, fish cooked in chilli oil.
Trump is currently on a five-nation Asia tour, with China one of his stops.
Trump also met Russian President Vladimir Putin at the summit. The two shook hands and exchanged a few words. Both were in blue shirt – similar or maybe made of the same cloth and maybe stitched by the same tailor.
After the summit, Trump pays a state visit to the Vietnamese capital Hanoi, before ending his 12-day Asian tour in the Philippines on 13 November.
COVID-19: New Dynamics to the World's Politico-Economic Structure
How ironic it is that a virus invisible from a naked human eye can manage to topple down the world and its dynamics. Breaking out of CoronaVirus, its spread across the globe and the diversity of consequences faced by the individual states all make it evident how the dynamics of the world could be reversed in months. Starting from the blame games regarding coronavirus to its geostrategic implications and the entire enigma between COVID-19 and politics, COVID-19 and economies have shaken the world. Whether it is the acclaimed super power, struggling powers or third world states or even individuals, the pandemic has unveiled the capability and credibility of all, especially in political and economic domains. Wearing masks in public, avoiding hand shake and maintaining distance from one another have emerged as 'new normal' in the social world of interaction.
Since the pandemic has locked its eyes upon the globe, world politics has taken an unfortunate drift. From the opportunities for leaders to abuse power during state of emergency (which is imposed in different states to limit the spread of novel Coronavirus) to the likelihood of rise of far-right nationalists to the emergence of 'travel bubbles' between states (such as New Zealand and Australia) and the increased chances of regionalism in post-pandemic world to the new terrorist strategies to gain support and many others, all are result of the pandemic's impact on the political world, one way or the other. Since the end of WWII, the United States has taken the role of global leadership and after the Cold War, it became more prominent as it was the sole superpower of the world. Talking ideally, pandemics are perceived to bring up global cooperation but in the COVID-19 scenario it has started a whole new set of debates, sparkled nativism versus globalization and the sharp divide in global politics has drifted the focus from overcoming the global pandemic through global response to inward looking policies of leaders.
Covid-19 has impacted every sphere of life, be it social, political, health or economic. The pandemic itself being the result of a globalized world has affected globalization badly. It is the best illustration of the interrelation of politics and economics and how the steps in one sector impact the other in this interdependent, globalized world. Political actions such as restricting travel had drastic economic impacts especially to the countries whose economy is largely dependent on tourism, foreign investment etc. Similarly, economic actions such as limiting foreign products' access had political implications in the form of sudden unemployment and downturn in living standards of people.
For the first time in history, oil prices became negative when its demand suddenly dropped when industries were shut down almost everywhere. Russia and Saudi Arabia's oil clash which led to increased oil production by Saudi Arabia further complicated the situation. This unprecedented drop in oil demand and consequently its price would only help in the economic recovery of countries. Covid-19 has impacted three sectors badly. First of all, it affected production as global manufacturing has declined due to decrease in demand. Secondly, it has created supply chain and market disruption. Finally, lockdowns affected local businesses everywhere. Bad impact aside, pandemic has led to the change in demand of products. Instead of investment and foreign trade, states having strong medical and textiles industries have got the opportunity of increasing exports. This is because there are requirements of face masks everywhere to avoid contagion. Need for medical instruments have also increased such as ventilators in developing countries specially.
The only positive impact of Coronavirus is that it fostered environmental cleanliness. It is said that it can avert a climate emergency but the fact is that, as soon as the lockdown will be eased and businesses will begin returning into functioning, economic growth and prosperity will be prioritized over sustainability and we might even witness, more than ever, carbon emissions into the atmosphere.
Novel coronavirus has brought new dynamics to the world's politico-economic structure. While the world has the opportunity to come close for cooperation and consensus to fight it, we might witness increased regionalism in the post-pandemic world as a cautious measure and alternative where crisis management would be more cooperative and quick. There is a likelihood of the emergence of an international treaty or regime to ban bio-weapons. While the prevalence of political optimism is not assured in the post-pandemic world, we are likely to see the interdependent economic world, as before, to overcome the economic slump and revive the global economy.
The free trade vision and its fallacies: The case of the African Continental Free Trade Area
The notion of free trade consists of the idea of a trade policy where no restrictions will be implemented on imports or exports in the respected countries that have signed such an agreement. Some economists argue that free trade is understood through the idea of the free market being forced through international trade. The African Continental Free Trade Area (AfCFTA) is a trade area that was founded in 2018, and it is the most ambiguous project in the history of the continent. This project has plenty of potential successes, as well as fallacies. Particular African nations are either in favor or against this project, and it is a matter of time before the world understands if this project will reflect the true notion behind the idea of a free trade policy.
The African Continental Free Trade Area: The European Union Vision in Africa?
The African Continental Free Trade Area was founded in 2018 in Kigali, Rwanda. It is believed to be the most prestigious project ever created on the continent. It was created by the African Continental Free Trade Agreement and it was signed by 44 countries. Some of the general objectives of this agreement include: The creation of a single economic market, the establishment of a liberalized market, the allowance of free movement of capital and people, diversification of the industrial development in the continent, e.t.c. In some ways, this project can be compared with the European Union and the vision that it represents for a single market and free movement of goods and people. However, due to the size and the geopolitical tensions of the African continent, there are a few obstacles to the achievement of this project. The European Union itself was a project that took more than half a century to be established in its current form, and still, we can see some problems that remain. With that being said, among the 27 member states, there seems to be more or less a coherent economic and political stability. In the case of the African Union, there are far more obstacles, ranging from huge economic differences, political and religious turmoils, and in general a neglected infrastructure; that might not be able to support a mammoth project like this. Any sort of optimism should be also approached with a realistic perspective when it comes to its implementation, which might not be happening anytime soon, certainly not before 2030.
The Relevance of the Free Trade Notion in Africa
It is important to remember that this project deals with the concept of free trade, and free trade itself is something that economists still argue about. Generally speaking, most economists seem to be in favor of free trade. There is an argument that supports the idea of free trade and any kind of reduction in government-induced restrictions on free trade which will be beneficial to economic growth and stability. On the other hand, some economists suggest that the policy of protectionism could be a more lucrative alternative for an economic policy. There is a suggestion that the liberalization of trade will result in an unequal distribution of losses and profit gains while economically dislocating a large number of workers in import-competing sectors.
In the case of the AfCFTA however, the opinion of Ha-Joon Chang, a South Korean economist, might be more relevant. He suggested that if there is going to be any kind of free trade liberalization in the African continent, some prior steps should be taken. For example, the improvement of the institutions in those developing African nations must be achieved to have sustainable economic growth and development. In addition, the idea of demanding from the developing nations to achieve institutional standards that we see in the developed nations such as the U.S or Great Britain, but have never before been achieved in those countries, will only hurt these nations since they might not need or even afford the implementation of these institutions that we see in the West. There is a valid point in the argument because the concept of the AfCFTA might indeed benefit some nations in Africa, but still, it will not develop to its full potential to benefit all 44 countries that have signed the agreement. This is because this project involves countries with different views and needs. Some of them see the AfCFTA as a blessing for the liberalization of the African economy, while other nations are more skeptical about it, thinking that this project will result in African states "biting off, more than they can chew". This dichotomy is visually striking when we compare some African nations and examine the true reasons why they are in favor or against the AfCFTA.
The African Dichotomy
Rwanda is a small nation in East Africa, having at least 12.5 million people, with a total estimate of its GDP being close to $33.45 billion. A very impressive number, if someone considers the fact that in 1980 its GDP was barely $2.1 billion. It is also the nation that is strongly in favor of the ambitious free trade project in the continent. It is estimated that from 1994 until 2010, Rwanda's economy grew an average of 6.6%. This is mostly based on the fact that the president of the country, Paul Kagame, led a strong campaign towards the liberalization of the country's agricultural sector. His reforms allowed the producers to benefit from this liberalization boom while boosting productivity through capital investments. It is clear by now that any sort of project that aims to liberalize the economies of other African nations will be beneficial to Rwanda that aims, as President Paul Kagame mentioned before, to make Rwanda the "Singapore of Africa".
However, some countries pose some key arguments that need to be addressed for the AfCFTA. There are concerns regarding the massive difference between populations in many African states, as well as the potential of the markets to sustain such a project. With that being said, there is still optimism from some experts that view this project as a win-win situation for Africa since it will allow a trade-led diversification away from Africa's commodity dependence and focus towards industrial development. On the other hand, this optimism is being taken with a "pinch of salt" from certain African nations, like Nigeria. Nigeria is a nation of at least 205 million people with a total GDP of $1.087 trillion. Nigeria was one of the last nations to sign the agreement, but not before firmly opposing the deal. The strongest argument that Nigeria had against the deal, was the fact that Nigeria could do nothing to undermine the local Nigerian manufactures and entrepreneurs of the country. There was strong domestic opposition to regional trade liberalization and concerns about the government's ability to implement it effectively. In the same line of thought, Togo's Foreign Minister Robert Dussey did not hide his concerns. In an interview with Deutsche Welle, Mr. Dussey stressed the fact that many African countries will need to be firstly well-equipped with the right technical tools to meet the challenges of such an enormous project. He shared his views that some rich nations in the West are not so keen to see the potential industrialization of the African continent: "African development is foremost the responsibility of Africans. We have a problem with work for our youth. It is important that we have strong industries to have work for the young", said Mr. Dussey for Deutsche Welle.
Can we safely say that the AfCFTA project complies with the economic policy of free trade? Theoretically, it does. The project has the potential to change the socio-economic status of all the countries involved. Even if some nations are more industrialized than others, and can take full advantage of the opportunities for manufactured goods, other nations that might not be so privileged can benefit by linking their economies into regional value chains. This can happen again theoretically if there is a reduction in trade costs and facilitating investments. However, one should not overlook the growing challenges of this project. It is not feasible to suggest a 90% tariff cut, a unified digital payments system, and an African trade observatory dashboard that the AU Commission promises in the next five years. For the simple reason that you cannot have this liberalized economic system when most of the African countries are suffering from socio-political instability. How can a system which in some ways is based on the European Union, work when there is such a striking inequality among African nations? There is a lack of industrial infrastructure to support such a project, and it will be more beneficial to address these regional problems before expanding in a global vision. One day Africa will reach its full potential, but not in the next five years and not in the next ten years. Such an agreement is a blessing, but it needs careful examination before being implemented; otherwise, we will talk about a disaster in the African continent that could potentially bring more inequality and regional tensions.
Turning to sustainable global business: 5 things to know about the circular economy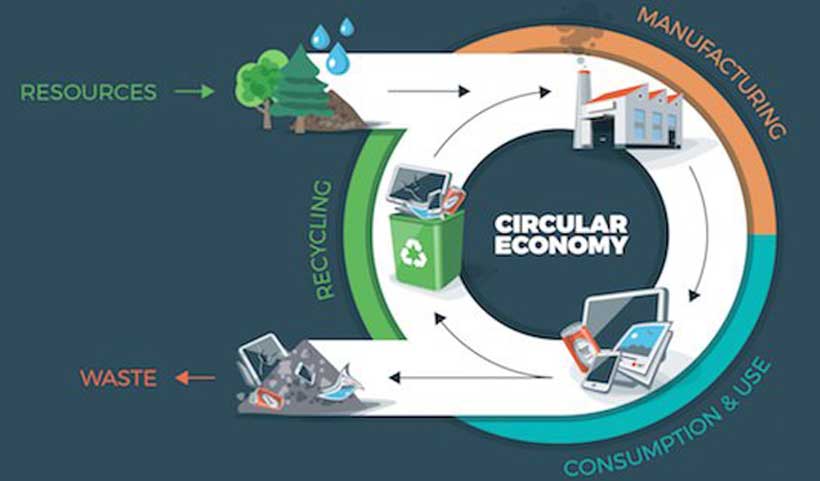 Due to the ever-increasing demands of the global economy, the resources of the planet are being used up at an alarming rate and waste and pollution are growing fast. The idea of a more sustainable "circular economy" is gaining traction, but what does this concept mean, and can it help save the planet?
1) Business as usual, the path to catastrophe
Unless we make some major adjustments to the way the planet is run, many observers believe that business as usual puts us on a path to catastrophe.
Around 90 per cent of global biodiversity loss and water stress (when the demand for water is greater than the available amount), and a significant proportion of the harmful emissions that are driving climate change, is caused by the way we use and process natural resources.
Over the past three decades, the amount of raw materials extracted from the earth, worldwide, has more than doubled. At the current rate of extraction, we're on course to double the amount again, by 2060.
According to the International Resource Panel, a group of independent expert scientists brought together by the UN to examine the issue, this puts us in line for a three to six degree temperature increase, which would be deadly for much life on Earth.
2) A circular economy means a fundamental change of direction
Whilst there is no universally agreed definition of a circular economy, the 2019 United Nations Environment Assembly, the UN's flagship environment conference, described it as a model in which products and materials are "designed in such a way that they can be reused, remanufactured, recycled or recovered and thus maintained in the economy for as long as possible".
In this scenario, fewer resources would be needed, less waste would be produced and, perhaps most importantly, the greenhouse gas emissions which are driving the climate crisis, would be prevented or reduced.
This goes much further than simply recycling: for the circular economy to happen, the dominant economic model of "planned obsolescence" (buying, discarding and replacing products on a frequent basis) would have to be upended, businesses and consumers would need to value raw materials, from glass to metal to plastics and fibres, as resources to be valued, and products as things to be maintained and repaired, before they are replaced.
3) Turn trash into cash
Increasingly, in both the developed and the developing world, consumers are embracing the ideas behind the circular economy, and companies are realising that they can make money from it. "Making our economies circular offers a lifeline to decarbonise our economies", says Olga Algayerova, the head of the UN Economic Commission for Europe, (UNECE), "and could lead to the creation of 1.8 million net jobs by 2040".
In the US, for example, a demand for affordable, high-quality furniture, in a country where some 15 million tonnes of discarded furniture ends up in landfill every year, was the spur for the creation of Kaiyo, an online marketplace that makes it easier for furniture to be repaired and reused. The company is growing fast, and is part of a trend in the country towards a more effective use of resources, such as the car-sharing app Zipcar, and Rent the Runway, a rental service for designer clothing.
In Africa, there are many projects, large and small, which incorporate the principles of the circular economy by using existing resources in the most efficient way possible. One standout initiative is Gjenge Makers in Kenya. The company sells bricks for the construction industry, made entirely from waste. The young founder, Nzambi Matee, who has been awarded a UN Champion of the Earth award, says that she is literally turning trash into cash. The biggest problem she faces is how to keep up with demand: every day Gjenge Makers recycles some 500 kilos of waste, and can produces up to 1,500 plastic bricks every day.
4) Governments are beginning to step up
But, for the transition to take hold, governments need to be involved. Recently, major commitments have been made in some of the countries and regions responsible for significant resources use and waste.
The US Government's American Jobs Plan, for example, includes measures to retrofit energy-efficient homes, electrify the federal fleet of vehicles, including postal vans, and ending carbon pollution from power generation by 2035.
In the European Union, the EU's new circular economy action plan, adopted in 2020, is one of the building blocks of the ambitious European Green Deal, which aims at making Europe the first climate-neutral continent.
And, in Africa, Rwanda, Nigeria and South Africa founded the African Circular Economy Alliance, which calls for the widespread adoption of the circular economy on the continent. The Alliance supports African leaders who champion the idea, and creates coalitions to implement pilot projects.
5) Squaring the circle?
However, there is still a long way to and there is even evidence that the world is going backwards: the 2021 Circularity Gap Report, produced annually by the Circle Economy thinktank, estimates that the global circularity rate (the proportion of recovered materials, as a percentage of overall materials used) stands at only 8.6 per cent, down from 9.1 per cent in 2018
So how can the world be made "rounder"? There are no easy answers, and no silver bullet, but Ms. Algayerova points to strong regulation as a big piece of the puzzle.
"I am proud that for the automotive sector, a UN regulation adopted at UNECE in 2013 requires 85 per cent of new vehicles' mass to be reusable or recyclable. This binding regulation influences the design of around one quarter of all vehicles sold globally, some 23 million in 2019."
"It's a step in the right direction, but these kind of approaches need to be massively scaled up across all sectors", she adds. "Shifting to the circular economy is good for business, citizens and nature, and must be at the heart of a sustainable recovery from the COVID-19 pandemic."