World Economic Forum Launches Platform to Map Global Transformation
Today the World Economic Forum opens access to its Transformation Maps – a dynamic knowledge tool covering more than 100 industries, countries and issues shaping the modern world.
The Forum's Transformation Maps were first developed in 2015 as a tool for understanding and visualizing industries, countries and issues, and how they interact with and disrupt each another. Since then, 125 maps have been created and used to inform work across the Forum's 14 System Initiatives as well as strategic decision-making by governments and businesses around the world.
In making the maps public, the Forum seeks to foster wider understanding of the complex forces shaping the world in the early stages of the Fourth Industrial Revolution. It also aims to encourage more people to contribute ideas and solutions to the critical challenges the world faces.
Most of the maps are co-curated by a leading university, think tank or international organization. The Forum has also developed its own proprietary advanced network analytics and artificial intelligence technologies to further enhance its knowledge-curation capabilities.
"We will only solve the challenges we face by first understanding individual issues and how they influence each other. We hope such 'system thinking', aided by the expertise of some of the world's leading establishments and the technologies of the Fourth Industrial Revolution, will help our collective effort to build a future that is inclusive and human-centred," said Jeremy Jurgens, Head of Knowledge and Digital Engagement, Member of the Managing Board, World Economic Forum.
Examples of some of the interconnections highlighted by the Transformation Maps:
"Bold action to address global challenges requires the understanding, support and mobilization of all members of society. We hope that by making available the collective intelligence of the Forum's expert networks – captured in our Transformation Maps – as a public good we can inspire creativity and fresh thinking," said Stephan Mergenthaler, Head of Knowledge Networks and Analysis, Member of the Executive Committee, World Economic Forum.

Many of the Transformation Maps have been developed or co-curated with experts from leading universities, think tanks, international organizations and other research institutions around the world, including: Bocconi University, Centre for Policy Dialogue in Bangladesh, Ellen MacArthur Foundation, ETH Zurich, European Council on Foreign Relations (ECFR), Georgetown University, Global Initiative against Transnational and Organized Crime, Imperial College London, Indiana University, Inter-American Development Bank (IDB), International Organization for Migration (IOM), Institute of Policy Studies of Sri Lanka, KAIST, Keio University, Lagos Business School, McGill University, National University of Singapore, Nesta, Smithsonian Institution, United Nations Office for the Coordination of Humanitarian Affairs (UNOCHA), UC Berkeley, UC Santa Barbara, University of Chicago, University of Southern California, University of Oxford, Wharton School of the University of Pennsylvania and Yale University.
Step up action and adapt to 'new climate reality'-Report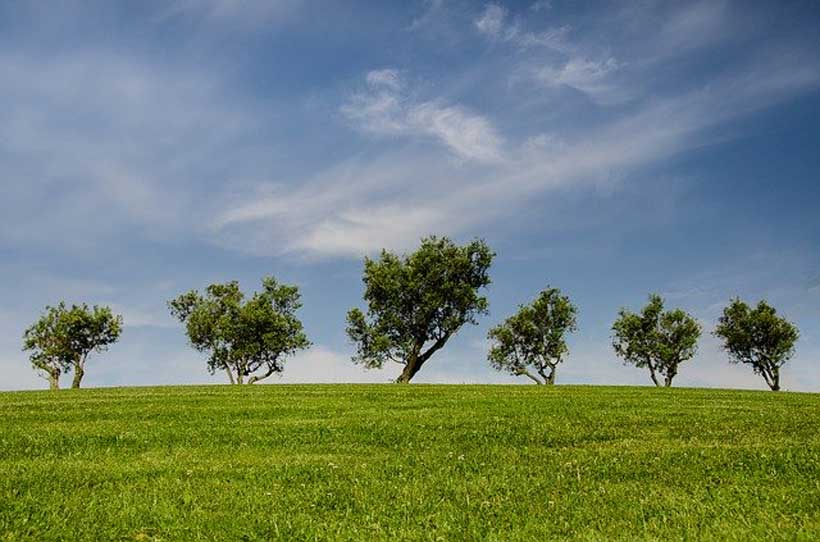 Though countries have made progress in planning for climate change adaptation, there are significant financing shortfalls in getting them to the stage where they provide real protection against droughts, floods and rising sea levels, a new UN environment report has found.
According to the 2020 Adaptation Gap Report, released on Thursday by the UN Environment Programme (UNEP), as temperatures rise and climate change impacts intensify, nations must urgently step up action to adapt to the new climate reality or face serious costs, damages and losses.
"The hard truth is that climate change is upon us," Inger Andersen, UNEP Executive Director, said in a news release announcing the findings.
"Its impacts will intensify and hit vulnerable countries and communities the hardest, even if we meet the Paris Agreement goals of holding global warming this century to well below 2 degrees Celsius and pursuing 1.5 degree Celsius."
Global commitment needed
Annual adaptation costs in developing countries are estimated at $70 billion, but the figure could reach up to $300 billion in 2030, and $500 billion in 2050. Almost three-quarters of nations have some adaptation plans in place, but financing and implementation fall "far short" of what is needed, according to the UNEP report.
Stepping up public and private finance for adaptation is, therefore, urgently needed.
"As the Secretary-General has said, we need a global commitment to put half of all global climate finance towards adaptation in the next year … this will allow a huge step up in adaptation, in everything from early warning systems to resilient water resources to nature-based solutions," Ms. Andersen added.
Adaptation is a key pillar of the Paris Agreement on Climate Change. It aims to reduce countries' and communities' vulnerability to climate change by increasing their ability to absorb impacts.
Nature-based solutions
The UNEP report also underscored the importance of nature-based solutions as low-cost options that reduce climate risks, restore and protect biodiversity, and bring benefits for communities and economies.
Its analysis of four major climate and development funds: the Global Environment Facility (GEF), the Green Climate Fund (GCF), the Adaptation Fund, and the International Climate Initiative (IKI), suggested that support for green initiatives with some element of nature-based solutions has risen over the last two decades.
Cumulative investment for climate change mitigation and adaptation projects under the four funds stands at $94 billion. However, only $12 billion was spent on nature-based solutions, a tiny fraction of total adaptation and conservation finance, it added.
Cutting emissions will reduce costs
Cutting greenhouse gas emissions will reduce the impacts and costs associated with climate change, according to the report. Achieving the 2 degrees Celsius target of the Paris Agreement could limit losses in annual growth to up to 1.6 per cent, compared to 2.2 per cent for the 3 degrees Celsius trajectory.
UNEP urged all nations to pursue the efforts outlined in its December 2020 Emissions Gap Report, which called for a green pandemic recovery and updated Nationally Determined Contributions (NDCs) that include new net-zero commitments.
"However, the world must also plan for, finance and implement climate change adaptation to support those nations least responsible for climate change but most at risk," the UN agency added.
"While the COVID-19 pandemic is expected to hit the ability of countries to adapt to climate change, investing in adaptation is a sound economic decision," it said.
Insecurity and bureaucracy hampering aid to Ethiopia's Tigray region
Nearly three months after the start of conflict in Ethiopia's Tigray region, hundreds of thousands of people have yet to receive assistance, the United Nations reported on Wednesday, citing information from its humanitarian coordination agency, OCHA.
"Humanitarian assistance continues to be constrained by the lack of full, and safe, unhindered access to Tigray, caused by both insecurity and bureaucratic delays", UN Spokesperson Stéphane Dujarric told journalists.
"The UN and its humanitarian partners in Ethiopia urgently call on all parties to allow the immediate safe passage of humanitarian personnel and their supplies to the Tigray Region to be able to reach all people who desperately need assistance."
Over two million in need
Mr. Dujarric said the UN continues to receive alarming reports of civilians being injured and killed in rural areas in Tigray, as well as of violations against civilians, though verification remains a challenge. 
"Aid workers have been able to deliver assistance in some areas, mainly in cities, where access has been granted by the authorities. However, the number of people reached is extremely low compared to the 2.3 million people we estimate are in need of life-saving assistance", he said.
The situation is particularly critical for newly displaced people and refugees, especially those who were living in two camps that remain inaccessible, according to OCHA.
Humanitarians further warn that the majority of the 270,000 people receiving benefits through the Government's Safety Net Programme have also been without assistance as banks in most rural areas have been closed since before the crisis began.
"These are extremely vulnerable people who rely on monthly cash transfers to meet their basic needs," said Mr. Dujarric.
Mali transition presents opportunity to break 'vicious circle of political crises'
The current political transition period in Mali offers an opportunity to "break out of the vicious circle of political crises followed by coups d'état", the UN envoy in the country told the Security Council on Wednesday.
Following the 18 August mutiny that ousted President Ibrahim Boubacar Keïta, Special Representative and Head of the UN Stabilization Mission in Mali (MINUSMA) Mahamat Saleh Annadif, said the country was now four months in, to a planned 18-month transition period, leading to presidential and legislative elections.
"However, it is never too late to reach a minimum consensus on the essentials of peace and stability, because the future of Mali is at stake", he stated.
'Positive dynamics'
Against this backdrop, Mr. Annadif said the UN, African Union, Economic Community of West African States (ECOWAS) and others have always stood ready to support Mali's institutional transitions.
He said that several missions and meetings had taken place in Bamako since the August coup and described consultations between the Government and the signatories of the 2015 Agreement on Peace and Reconciliation "encouraging".
The Malian Government has been seeking to restore stability and rebuild following a series of setbacks since early 2012 that fractured the country, including a failed coup d'état, renewed fighting between Government forces and Tuareg rebels, and the seizure of its northern territory by radical extremists. The weakening of central institutions, loss of confidence in political actors and the rise of religious leaders demanding change, were among the factors leading up to last August's events.
As one positive example of political progress being made, the UN envoy drew particular attention to the "positive dynamics" of key officials who visited the restive city of Kidal to organize a "solemn swearing-in hearing of the new Governor" on 31 December, flagging that "such an event has not taken place in Kidal for almost ten years".
Interim parliament at helm
Mr. Annadif said that despite a hold up in State appointments, the National Transitional Council (CNT) had been established on 3 December, with Transitional President Bah N'Daou having appointed 121 members who are now acting as a de facto government towards restoring full constitutional order.
Serving as an interim parliament that will vote on political, institutional, electoral and administrative reforms, the UN envoy called their role "crucial for the consolidation of democracy and the success of credible elections allowing a return to constitutional order, as provided for in the Transition Charter".
Successes and challenges
While pointing to "successes" of the international force, the MINUSMA chief acknowledged that security in border areas of Mali – which remains the deadliest UN peacekeeping mission of all – and in the country's centre, remains "worrying and unpredictable".
However, he said that MINUSMA continues to "adapt" to these multifaceted challenges and "strengthen its capacity" to better respond.
Moreover, the missions "adaptation plan" to better protect civilians and promote community reconciliation in central Mali is producing "significant results" with additional temporary bases and the intensification of dedicated joint patrols "to advance the reconciliation processes between communities in local conflict zones", said Mr. Annadif.
Foundation laid
The MINUSMA head lauded the efforts of Malian forces to improve their rights performance and underscored that reforms are a key dimension in ensuring the legitimacy of the next elected government.
He reassured the Ambassadors that the foundation has been laid for a successful political transition in the country as well as reliable security arrangements for its diverse regions.
However, he stressed that the transition's success depends upon "the successful completion of political, institutional, electoral and administrative reforms with the aim of inclusive, credible elections, the results of which will be accepted by the majority of Malians and Malians".