Donald Trump's Asia tour: North Korea top on agenda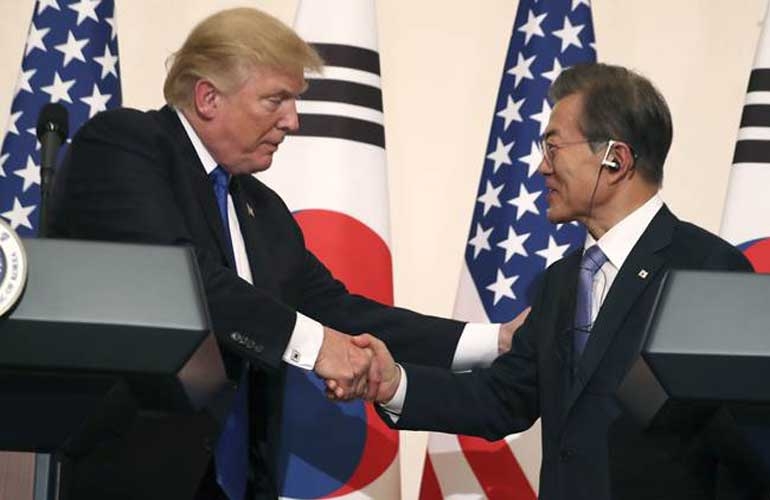 As the longest tour of Asia by a US president in 25 years, US President Donald Trump has embarked on a 12-day trip to Asia starting on Friday the 3rd November during which he would five countries: Japan, South Korea, China, Vietnam and the Philippines. In his shuttle diplomatic voyage, President Trump is expected to show a united front with South Korea and Japan while pressing China to take a stronger line with Pyongyang.
Donald Trump has kicked off his 12-day tour of the Asia-Pacific region in Japan. Trump will then visit South Korea and China before traveling south to Vietnam and the Philippines.
Ahead of a trip to Asia starting from Japan, Trump urged Saudi Arabia to choose Wall Street as a venue for the initial public offerings (IPO) of shares of oil giant Aramco in 2018. He tweeted from Hawaii, "Would very much appreciate Saudi Arabia doing their IPO of Aramco with the New York Stock Exchange. Important to the United States!" The Aramco IPO is expected to be the largest in history, raising around $100 billion in much-needed revenue for the Saudi kingdom. Saudi Arabia has posted $200 billion in deficits in the past three fiscal years due to the slump in global oil prices. Aramco, which controls Saudi Arabia's massive energy assets, plans to list nearly 5 per cent of its shares in the stock market. Plans are to list the offering in the second half of 2018 on the Saudi stock market as well as an international exchange, with markets in New York and London vying for the offering.
The trip comes at a time of heightened tensions with North Korea over its nuclear program and missile tests. Trump flew first to the US state of Hawaii where he visited the USS Arizona Memorial at Pearl Harbor – the scene of the 1941 Japanese attack that drew the USA into World War Two. He also took part in a briefing at the US Pacific Command.
Itinerary
On 5 November: Arrives in Japan. Plays Golf with Prime Minister Shinzo Abe and professional player Hideki Matsuyama at Kasumigaseki Country Club; Bilateral meetings with Abe; 7 November: In South Korea for talks with President Moon Jae-in. Trump will also address the National Assembly; 8 November: Arrives in China for a series of events including meetings with President Xi Jinping; 10 November: Travels to Da Nang, Vietnam, and will participate in the Asia-Pacific Economic Co-operation (APEC) summit; 11 November: Travels to Hanoi, Vietnam, for talks with President Tran Dai Quang and other Vietnamese leaders; 12 November: Arrives in Manila, Philippines, to take part in a gala dinner for the 50th anniversary of the Association of Southeast Asian Nations (Asean); 13 November: Will attend the Asean summit in Manila and hold talks with President Rodrigo Duterte; 14 November: Trump will stay for the East Asia Summit, a wider regional gathering that includes the US, India and Russia.
Japan – first stop for Trump's Asia-Pacific tour. The first two stopovers are Washington's key allies in Northeast Asia: Japan and South Korea. They have both been rattled by a wildcard president who threatened to upend a global order the US had underpinned for decades. In Vietnam, Trump will attend the Asia-Pacific Economic Co-operation summit in Da Nang, apparently the key item of his tour, and make a state visit to Hanoi. His final engagement was scheduled to be a summit of South East Asian nations in the Philippine capital, Manila, on 13 November but the trip has now been extended by an extra day so he can attend the East Asia Summit. The last time a US president made such a marathon trip to Asia was when George HW Bush visited the region in late 1991 and early 1992.
Before Air Force One takes off for a Hawaii visit on Friday, the key challenges facing Trump on an odyssey that started in Japan on Sunday before stops in South Korea, China, Vietnam and the Philippines. From Hawaii, he and First Lady Melania Trump headed to Japan and then on move to South Korea.
Donald Trump's tour of Asia offers plenty to keep the US president cheerful, from lavish state banquets to honour-guard pomp and even a chummy round of golf with Japanese Prime Minister Shinzo Abe. Upon arrival in Japan, Trump resumed his characteristic aggressive rhetoric targeting his "foes" like North Korea, Iran and Pakistan warning them of destruction saying that they are on a suicide mission.
Target North Korea
Trump has previously exchanged some fiery rhetoric with North Korea over its ballistic missile tests but aides said earlier last week that he would not go to the heavily fortified demilitarized zone (DMZ) on the border between the South and North. He is, however, to visit Camp Humphreys, a US military complex south of the capital, Seoul. Trump's visit to China was incorporated into his itinerary to make Beijing get North Korea on board.
The way the Trump government tells it, the totalitarian regime in Pyongyang is rapidly developing nuclear warheads and the intercontinental ballistic missiles to carry them to a US West Coast city such as Seattle or Los Angeles.
The White House counter-strategy seems to be assuring allies such as South Korea and Japan that the USA still has their back, while getting North Korea's main ally, China, to economically pressure Pyongyang back to the bargaining table.
That's a recipe for trouble at Trump-Xi talks from November 8 onwards. Many Trump's officials believe that Beijing has to help solve the North Korea problem. Not be helpful, but solve the problem. And there's no easy solution to this, certainly not one that China will find acceptable and low cost.
Chinese President Xi Jinping's calculus is different. Beijing-Pyongyang relations have troughed, but a collapse of the hermit nation could send refugees spilling northwards and land American troops on China's doorstep.
That's where the fun stops. These are big tests for a commander-in-chief who does, on occasion, follow the teleprompter and stay "on message", but at other times becomes frustrated and fires off salvos of brusque, early morning Twitter missives. It also represents a grueling 12-day slog of speech-making, summits, and tricky sit-downs on a range of trade disputes – and the intractable policy headache of North Korea's nuclear arms program.
While Trump has skimped North Korea in his maiden trip to the region of Asia Pacific, the trip is indeed focused on that country as he wants to deny nuclearization of that nation. He wants to make a united front among the regional powers including China against North Korea.
Trump has spoken of raining "fire and fury" on North Korea – rhetoric that nudges the region towards a potentially calamitous conflict. He may well tone that down a notch when addressing the National Assembly in Seoul on November 8. He may also be wise to offer some goodies. The US pull-out from TPP came as China was rolling out its multibillion-dollar "Belt and Road" infrastructure development plan across Asia and beyond. According to Ford, the expected Asia policy must provide a new "economic vision, post-TPP". Simply renegotiating a bilateral trade with South Korea, and vaunting new ones with Japan and Vietnam, is not enough.
Challenge of Asia-Pacific policy: Asia last?
Fake news, fictitious threat perception concerning their security by the government makes both USA and Israel strong militarily. USA and Israel always fix their imagined foes trying to target and destroy them, though it remains a fact both cannot be destroyed because of their anti-missile shield and WMD.
Thus any country seeking nuclear energy and WMD to defend their nations and populations from possible enemy attacks is viewed as being the cause of destructive trouble for the super power of USA and Israel. Of course that is only a known gimmick to threaten and bully the weak nations seeking WMD.
Thus Iran and North Korea are seen as their enemies because USA says they are developing nukes to destroy only USA and Israel.
Former US President Barack Obama tried to "rebalance" the US' defence and economic policy to counter China's rise, including with a 12-nation Trans-Pacific Partnership (TPP) trade deal that excluded Beijing.
Trump scrapped TTP almost as soon as he entered the White House in January. Amy Searight, a former Pentagon official, told Al Jazeera the "lack of any replacement with a proactive trade policy or economic agenda" has left Washington's Asian partners feeling anxious.
Trump the property magnate is expected to unveil a new framework at the Asia Pacific Economic Cooperation (APEC) summit in Da Nang, Vietnam, on November 10. White House officials talk up plans for a "free and open Indo-Pacific region.
Although big questions about the policy remain, a recommitment to rules-based economic fairness may be a solid message, Lindsey Ford, a former Department of Defense official, told Al Jazeera. "It's important for people to hear that America First does not mean Asia last; that American prosperity can go hand in hand with Asian prosperity," said Ford, an analyst at the Asia Society Policy Institute, a think-tank.
Trump's biggest challenge could be the one thing he cannot seem to change: himself. He is prone to undiplomatic language that plays badly with buttoned-down Asian officials. Previously on Twitter, he accused South Korea of trying to "appease" its northern neighbour, and criticised Xi for not doing enough to rein in Pyongyang.
The trip is longer and tougher than his first foreign venture to the Middle East in May. He may get irked by Japanese resentment over a US military base in Okinawa, or rallies against the "war maniac" US president on the streets of South Korea. "Among government officials, there are going to be a lot of white-knuckles and held breath throughout the two days of his time in South Korea," Scott Snyder, a scholar at the Council on Foreign Relations, a think-tank, told Al Jazeera.
There is a risk of clashing egos when Trump meets Rodrigo Duterte, the hard-boiled president of the Philippines, on November 13. Meanwhile, Russian President Vladimir Putin will attend APEC, shifting the spotlight back on to the troublesome probe of election collusion. China is a safer bet.
US-China relations
Officially a communist nation pursuing Socialist policies indoors and a mixed agenda abroad, China has developed trade relations with US superpower along with it also shares the veto power on UNSC. USA has been employing many countries in Asia including those he is visiting now and India to contain the Chinese influence on the continent and beyond.
Neocons believes only economic ties could USA closer to Beijing. Trump's stop in Beijing is being billed as a "state visit plus" to mark the importance of the dynamic between himself and President Xi, as well as relations between the US superpower and China's fast-growing economy and armed forces.
In Beijing, the two leaders representing West and East respectively may be able to paper over the cracks by unveiling a few energy deals this month, but that would only be a "calm before the storm" and the "escalation of tensions" next year. The Trump government has high expectations from China, a fundamental reordering of the trade relationship, while China expects a relatively painless negotiation process.
Meanwhile, the two leaders are in different positions. Xi has just emerged from a glowing five-yearly Communist Party congress; Trump has low approval ratings of 34 percent and is battling a probe about election collusion with Russia. He faces condemnations form both Democratic and Republican pastries. Former CIA analyst Christopher Johnson compared Xi's "strong position with no visible domestic opposition" to Trump's routinely questioned style and legislative record. "This gives Xi a bit of a leg up" when bartering.
North Korea is not the only glitch. Trump rails against the United States' "embarrassing" $347bn trade deficit with China, and has accused Beijing of manipulating its currency, rigging markets, and pilfering ideas from US firms.
WMD as deterrent
The US President Donald Trump's two-week visit to the Asia-Pacific region as the threat of a military confrontation with North Korea will be high on the agenda in Japan, South Korea, and China.
North Korea is developing its nuclear weapons to defend itself against any future US aggression so it doesn't endure "the tragic situation of the war-torn non-nuclear countries which became the targets of invasion and plunder by the USA.
North Korea needs nuclear weapons as a deterrent to prevent "invasion and plunder" by the unilateral USA. It is indeed scared of US militarism and condemned the USA and its allies' "crazy escalation of sanctions, pressure, and military threats" against the communist country that "will get them nowhere".
The nuclear force of the DPRK has become a strong deterrent for firmly protecting peace and security of the Korean Peninsula and the rest of Northeast Asia and creditably guaranteeing the sovereignty and the rights to existence and development of the Korean nation, using the acronym for the country's official name, Democratic People's Republic of Korea.
The Uriminzokkiri commentary denounced the military build-up near North Korea. "It is ridiculous for the US to try to browbeat the DPRK through such muscle-flexing as deploying nuclear aircraft carriers and submarines near the Korean Peninsula and its vicinity and flying nuclear-capable strategic bombers on it," it said.
The USA has said it will never accept a nuclear-armed North Korea and Trump has threatened to "totally destroy" the country. In response, Kim Jong-un's leadership said it may conduct an atmospheric nuclear weapons test. North Korea dared USA to make the first military move.
In advance of Trump's visit, three American aircraft carrier strike groups have been deployed to the region, a move military analysts have described as unusual. Stratfor, a US-based intelligence analysis company, noted in a report that the US Air Force also will send a dozen F-35A stealth fighter jets to a base in Japan in early November.
The gathering is a rare occurrence – the last time three US aircraft carrier strike groups convened for a combined exercise was in 2007 – and will give the United States a powerful force within striking distance of North Korea," Stratfor said."Taken together, these developments suggest that the United States is preparing for a confrontation. But that doesn't necessarily mean that Washington is gearing up to start a war with Pyongyang," a report concluded.
Michael T Clare, a professor of peace and world-security studies at Hampshire College in the US, wrote: "There can be only two plausible explanations for this extraordinary naval buildup: to provide Trump with the sort of military extravaganza he seems to enjoy; and/or to prepare for a pre-emptive military strike on North Korea."
Tensions remain sky high after North Korea's sixth and most powerful underground nuclear test in September, and a flurry of ballistic missile tests in recent months.
Will there be a war on the Korean Peninsula?
Absolutely there is no chance for a direct US war with North Korea, a close ally of China and Russia – another veto member. Russia and China would reject any US proposal in UN for a war with NK. USA would not dare attack North Korea on its own or under the NATO banner since Russia and China might as well enter the war, making it a beginning of an official WW-III.
There could be possible triggers for war with North Korea that need to be carefully watched. The first possible trigger is a declaration of war by North Korea, especially since the USA has made clear it has not declared war. This won't happen because Russia and China would not support it. The idea that countries would formally declare war against each other, before commencing hostilities, is a relic of the early 20th century. Although remnants of the practice remain, it was largely outdated by the Second World War as the military advantages of surprise as the Japanese attack on Pearl Harbour and the Nazi attack on Soviet Russia, made clear.
The second possible trigger is the North Korea threat of a possible detonation of a nuclear device in the atmosphere over the Pacific. Although the aesthetics of such an act would shock the world as humanity has not seen a nuclear airburst since that done by China in 1980, this would not be the beginning of hostilities. However, if Kim explodes it in international territory, such as the high seas, he faces different rules, such as when Australia and New Zealand took France to the International Court of Justice after French atmospheric testing caused radiation pollution to fall on them, downwind. It was for this reason of pollution that most of the global community concluded an international agreement prohibiting such atmospheric nuclear testing. The third possible trigger is the North Korea threat to shoot down aircraft in international airspace as in, mirroring the territorial sea, 12 nautical miles/22.2km out from the land. Previously in 1969, North Korea did shoot down an American spy plane, killing all 31 members aboard when it was operating in international airspace. At that point, President Nixon did not respond with violence due to a fear of how the Soviet Union and China would react.
Interestingly, upon arriving Tokyo, Trump has asked Japan to attack North Korea by firing missiles to that nation. Japan is yet to respond to US demand. .
After the Second World War, the UN seeking global peace hoped that all members would refrain from the threat or use of force against the territorial integrity or political independence of any state, to which Declarations of War by individual states would become redundant. However, when the North Korean armed forces advanced over the 38th parallel on June 25, 1950, without a declaration of war, it was shown how in vain this hope was. The response to this act of aggression by North Korea was the 84th resolution of the Security Council (when the Soviet Union was absent from the vote) to defend South Korea under the UN flag but with the leadership of the US.
Today, the situation is even more complicated as the North Korean rhetoric of declaring war is not uncommon. Following the 2013 sanctions approved by the Security Council against North Korea for their nuclear test, Kim Jong-un promised a pre-emptive strike against the USA with its nuclear weapons. This was followed by a "Full War Declaration Statement". This was all part of their assertions that North Korea had scrapped the armistice that ended the first Korean War in 1953.
To show their determination in 2013, North Korea also cut the hotline that enabled direct communication between North and South Korea. Although the hotline was reconnected a few months later, when South Korea closed down the joint Kaesong industrial complex following Kim Jung-un's fourth nuclear test in early 2016, North Korea condemned the act as a Declaration of War, and then cut the hotline again.
Cutting the hotline is more dangerous than the rhetoric. Hotlines prevent accidental war. South Korea, which has a hotline to China, has been trying to have its hotline to North Korea reconnected. However, the line that is really needed is one between North Korea and Washington. Such best practice has been evident since 1963, following the Cuban Missile Crisis, when the two superpowers recognised the necessity to be able to talk directly, at short notice, whenever required so as not to stumble into nuclear war.
Today, war planes of both USA and Russia keep flying over very close to each other's space. Russian military aircraft have flown over 60 times close to Alaska or down past the edge of Western Europe in the past 10 years have shown, no matter how unpleasant such acts may be, such planes may be intercepted and followed, but they may not be shot down if they do not cross into territorial airspace. To ensure that no mistakes are made in this carefully choreographed sabre rattling, certain rules need to apply – primarily, the planes should not be invisible.
If Kim decides to take down one of the American planes flying in international airspace, as his grandfather Kim Il-sung did in earlier times, he would be gambling against the odds that President Trump will not respond with violence.
However, if USA would declare war on North Korea is a trillion dollar question. Will Trump order the Pentagon to attack North Korea disregarding the worst, devastating consequences?
Standing up to China: Czech mayor sets a high bar
A Czech mayor's refusal to endorse Beijing's One China policy potentially sets a high bar as Western powers grapple with how to respond to allegations of excessive use of violence by police against Hong Kong protesters and the implications of leaked documents detailing a brutal crackdown in China's north-western province of Xinjiang.
Prague mayor Zdenek Hrib rejected a sister city agreement between the Czech capital and Beijing in late October because it included a clause endorsing the One China policy, which implicitly recognizes China's sovereignty over Taiwan, as well as Hong Kong and Tibet.
Mr. Hrib argued that the agreement was a cultural arrangement and not designed to address foreign policy issues that were the prerogative of the national government.
The mayor's stance has since taken on added significance against the backdrop of US President Donald J. Trump's signing of legislation that allows for the sanctioning of Hong Kong officials, embarrassing Communist party leaks that document repression in Xinjiang, the election of a new Sri Lankan government that intends to adopt a tougher policy towards China, and simmering anti-Chinese sentiment in Central Asia and beyond.
Mr. Hrib's rejection was in fact a reflection of anti-Chinese sentiment in the Czech Republic as well as opposition to the pro-China policy adopted by Czech president Milos Zeman.
To be sure, Mr. Hrib, a 38-year old medical doctor who interned in Taiwan, was shouldering little political or economic risk given Czech public anger at China's failure to fulfil promises of significant investment in the country.
On the contrary, Mr. Hrib, since becoming mayor in mid-2018, appears to have made it his pastime to put Mr. Zeman on the spot by poking a finger at China.
Mr. Hrib visited Taiwan in the first six months of his mayorship, flew the Tibetan flag over Prague's city hall, and rejected a request by the Chinese ambassador at a meeting with foreign diplomats to send Taiwanese representatives out of the room.
Beijing's cancellation of a tour of China by the Prague Philharmonic Orchestra in response to Mr. Hrib's provocations forced Mr. Zeman to describe the Chinese retaliation as "excessive" and his foreign minister, Tomas Petricek, to declare that "diplomacy is not conducted with threats."
Perhaps more importantly, M. Hrib was taking a stand based on principles and values rather than interests. In doing so, he was challenging the new normal of world leaders flagrantly ignoring international law to operate on the principle of might is right.
"Our conscience is not for sale," said Michaela Krausova, a leading member of the governing Pirate Party of the Prague city council. Ms. Krausova and Mr. Hrib's party was founded to shake up Czech politics with its insistence on the safeguarding of civil liberties and political accountability and transparency.
While couched in terms of principle, Mr. Hrib's stand strokes with newly installed Sri Lankan president Gotabaya Rajapaksa's intention to wrest back control from China of the island's strategic Hambantota port that serves key shipping lanes between Europe and Asia.
Hambantota became a symbol of what some critics have charged is Chinese debt trap diplomacy after Sri Lanka was forced to hand over the port to China in 2017 on a 99-year lease because the government was unable to repay loans taken to build it.
"I believe that the Sri Lankan government must have control of all strategically important projects like Hambantota. The next generation will curse our generation for giving away precious assets otherwise," Mr. Rajapaksa said.
Fears of a debt trap coupled with the crackdown on Turkic Muslims in Xinjiang, which targets not only Uighurs, but also groups that trace their roots to Central Asian countries, have fuelled anti-Chinese sentiment in Kyrgyzstan, Tajikistan and Kazakhstan.
"Given that China is likely to continue to expand its presence, further irritating local publics, the temptation of opposition groups to exploit such anger will only grow. If that happens…the anti-Chinese demonstrations that have taken place to date will be only the prelude to a situation that could easily spiral out of control, ethnicizing politics in these countries still further," said Central Asia scholar Paul Goble.
Beyond Xinjiang, anti-Chinese sentiment in Central Asia is fuelled by some of the same drivers that inform Czech attitudes towards China.
The shared drivers include unfulfilled promises, idle incomplete Chinese-funded infrastructure projects, widespread corruption associated with Chinese funding, and the influx of Chinese labour and materials at the expense of the local work force and manufacturers.
Beyond Xinjiang, Central Asians worry about potential debt traps. The Washington-based Center for Global Development listed last year two Central Asian nations, Kyrgyzstan and Tajikistan, as risking China-related "debt distress."
Warned China and Central Asia scholar Ayjaz Wani: "Chinese principles in Central Asia are hegemonic. China has always interacted with Central Asian states without regarding their cultural identities, but according to its own vested interests… However, the ongoing anti-China sentiments may be coming to a tipping point."
Old wine in new bottles: Chinese containment policy in South Asia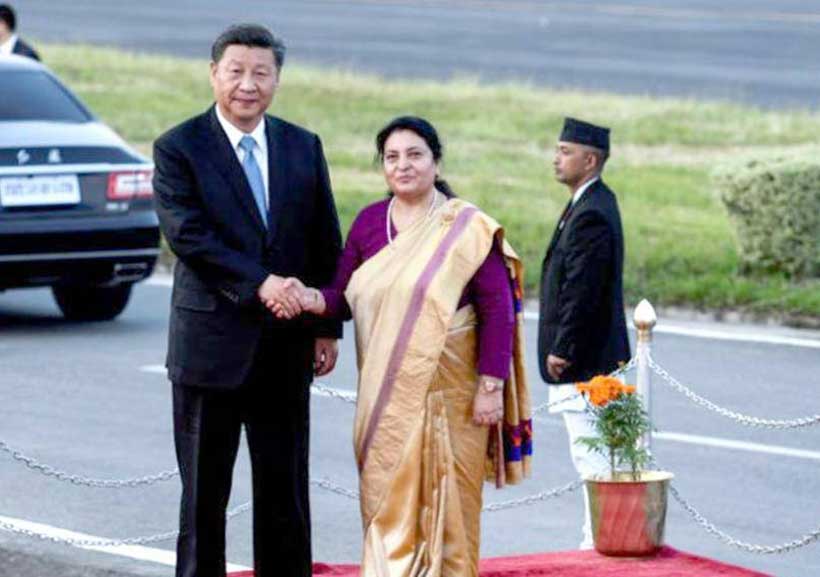 A lot of discussion in international relations scholarship is concentrated upon how US maximizing its security presence in the Asia-Pacific region. It is trying to contain, growing Chinese Influence to protect its national interest.It was described by former US President Barack Obama as a pivot Asia policy. But in the case of South Asia, United States is strengthening its ties with India to boost it as a force to contain Chinese emerging influence. It was termed by John J Mearsheimer as buck-passing in which a world superpower will give power and authority to another state to try to contain the influence of an emerging world hegemon. The Indo-US nuclear deal and former President Barack Obama's remarks about the inclusion of India inthe United Nations Security council demonstrates that the United States is helping India to rise as the regional hegemon. India considers itself as an important actor at international level.It is increasing its political clout internationally but in South Asia, it can face a new kind of isolation. This is evident from the three recent events that occurred in a span of only 10 days in the first half of October
On 07th October Pakistan's Prime Minister Imran Khan visited China with high-level delegation. He met there with Chinese President Xi Jinping and other important officials, it was his third visit to China since he came into power. During the meeting, both leaders, Imran Khan and Xi Jinping, discussed strengthening bilateral relations which are already at a higher level in terms of military and economic partnership. China is already working on a project to invest more than $50 billion under the name of China Pakistan Economic corridor let alone the cooperation on strategic and political issues. During the course of the visit, officials from both sides discussed Free Trade agreement which will be helpful in solving the problem of trade deficit for Pakistan. Total trade volume between China and Pakistan is around $15 billion in which Chinese export to Pakistan is of 13 billion. This Free Trade Agreement will open up about 90% of the Chinese market to Pakistan and will reduce trade deficit. During his meeting with Imran Khan, Xi Jinping accepted Kashmir as a disputed region and asked both parties to solve it through peaceful means.
All this happened just a few days before the visit of Chinese President Xi Jinping to India.Although both countries have made some progress on economy-related issues, no concrete efforts have been made to solve more radical issues like Indo-China border dispute in the northern Himalayan region. However more astonishing for India was that Xi Jinping visited Nepal after India. Nepal is a landlocked country crammed between two South Asia giants India and China. India is present on three sides of Nepal and considers it as its backyard. Both countries did have very solid relations and 60% of total Nepalese trade is done with India. In 2015 when Nepal adopted new constitution, relations between both countries soured. Although it was the internal matter of Nepal, India put an unofficial blockade for Nepal, which stopped all the supplies including food and medicine. Blockade continued for more than two months and it created a severe crisis because Nepal was already damaged by a strong earthquake in early 2015 in which more than 9000 people died. This blocked proved decisive in changing behavior of Nepalese leadership though they were complaining of Indian hegemonic role for many years. Nepal turned toward China for their needs. China also responded in a very positive way. Besides reconstructing earthquake effected areas, China also provided 1.03 million liters of fuel. In 2017 Nepal signed China's Belt and Road initiative and pledged to construct a railway line which will connect China with Nepal directly. This initiated a new beginning in China-Nepal relations.
When Xi Jinping arrived at Katmandu, China by this time was thelargest foreign direct investor in Nepal.It was the first visit by any Chinese president in the last 23 years.During the course of his visit, 18 agreements were signed between Nepal and China, including a railway link between China and Nepal.
These three important tours in less than ten days present the new geopolitical reality of the region. Although the Chinese president visited India but this visit was sandwiched between Imran Khan's visit to China and Xi Jinping's visit to Nepal. Pakistan is an arch-rival of India in South Asia and Nepal which historically remained in the Indian sphere of influence, is slowly slipping away from it.it clearly demonstrates containment policy by China in which China is progressively growing its influence in South Asian states. The Story does not end with Pakistan and Nepal but other South Asian states like Bangladesh and Sri Lanka now also have very strong ties with China.it represents in a new normal situation in which South Asian region is no longer dominated by India. Though India is showing to the world that it is solely protecting peace and stability in the region but reality has changed In fact South Asian states consider it as dominating power evident from its relation with Pakistan and blockade of Nepal. With growing Chinese influence in South Asia containment of India is now very much a reality.
How Australia is becoming China's Australia
If it were not for China, Australia's population inroad scheme would take a serious hit. Out of more than 0.7 million international students, more than 30% Chinese are pursuing degrees in universities. Australia lives along the values of the Western culture, but when it comes to its economy, rather dishonourably; it has had to lean towards the East. Chinese consumerism compensates for a healthy Australian economy and while it stands stronger on its democratic values, Australia, now faces a paradoxical relationship with the Asian hegemon. For instance, it is quietly ignoring the protests in Hong Kong. During recent elections, the Australian Prime Minister was mocked on WeChat; his funny nuances were subject to ridicule in the Chinese social media.
Now, Australia is facing the task. It is fighting a battle to save its identity against a consumer band, governed by communist policies. China's message is clear; an interference of any sort is not welcome, else the consequences are going to be economical. Emancipated Chinese students in Australia have been protesting against the government backlash in Hong Kong. Resultantly, back home in China, apartments were raided and their parents taught the lesson of conformity. A lesson of nationalism that has blossomed outside its territories. Australia is swallowing up the hypocrisy. On its own land, it cannot protect the values of freedom and democracy.
Wang LiQiang or as he would like to be known as "William", took to the Australian authorities for his involvement in spying activities. In his own admission, William was conducting intelligence operations and most significantly, assassinations on Australian soil. William is only one among high profile spies that have been operating in Australia. Ironically, his testament sufficiently reflects the Australian attitude towards Chinese interference, which has essentially been negligent and non-conversational. Notably, William's particular mention about operating a system of political donation will nevertheless disturb Australian administrators. They will realize that it is only about time when China will explicitly begin to reassert its influence. The police did not find Wang Li Qiang; instead, he volunteered to surrender. Especially, coming from a senior Chinese operative, the message could not be clearer.
On the outset, China and Australia maintain a well-documented "good relationship". However, administrative hierarchies in Canberra are also accused of implying a very positive attitude towards presenting and defending bilateral ties. As much as economic interests have motivated the Australian behaviour of non-acceptance, politicians do not shy away from painting an over simplified picture of Chinese problems that are realistically, complex in nature. As Prime Minister Scott Morrison handled the allegations of a Chinese backed ring that was trying to plot a spy in the parliament; the government has tried too hard to overlook the obvious. Mr. Morrison urged his citizens to not draw anxious conclusions, instead; he suggested that Australia would need to be vigilant from the threats that it faced more broadly. The substitutability of discourse that is apparent in Australian politics, marks a rather gifted trade-off for China and its actions. Andrew Hastie, parliamentary head of intelligence and security, claimed that such incidents did not surprise him. As more evidences would suggest, Chinese interference was knocking at the doors.
In terms of China, there are two faces of Australian political rhetoric. One that is motivated by the larger interests in the administrative chairs of governance, overlooking the infiltration for personal benefits. Secondly, the critiques emanating from opposition politicians and the likes of intelligence chiefs, for instance ASIO's former Directorate General, Duncan Lewis, warned that China would take over Australia in a matter of time. Elsewhere in the borders of the communist giant, two Australian MP's were denied travel entry, citing largely undetermined reasons. With a population of merely 25 million inhabitants, 1.8 million Chinese students have migrated to Australia for education. The dragon is marching towards the continent, in a first, the troops are ready on site.