Donald Trump's Asia tour: North Korea top on agenda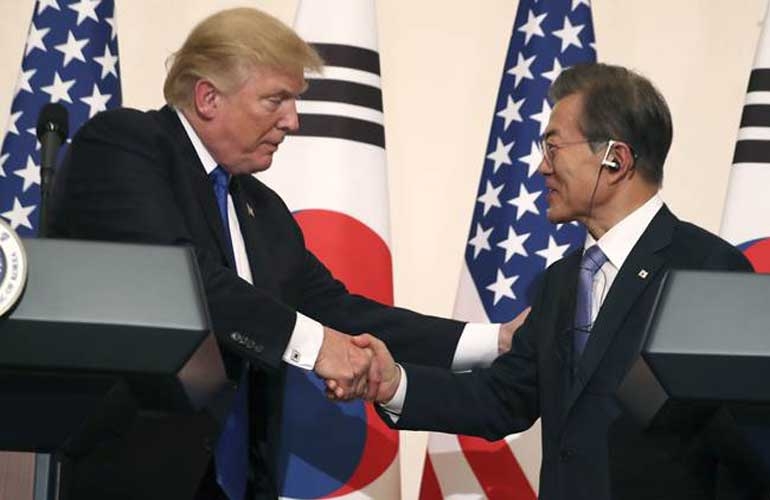 As the longest tour of Asia by a US president in 25 years, US President Donald Trump has embarked on a 12-day trip to Asia starting on Friday the 3rd November during which he would five countries: Japan, South Korea, China, Vietnam and the Philippines. In his shuttle diplomatic voyage, President Trump is expected to show a united front with South Korea and Japan while pressing China to take a stronger line with Pyongyang.
Donald Trump has kicked off his 12-day tour of the Asia-Pacific region in Japan. Trump will then visit South Korea and China before traveling south to Vietnam and the Philippines.
Ahead of a trip to Asia starting from Japan, Trump urged Saudi Arabia to choose Wall Street as a venue for the initial public offerings (IPO) of shares of oil giant Aramco in 2018. He tweeted from Hawaii, "Would very much appreciate Saudi Arabia doing their IPO of Aramco with the New York Stock Exchange. Important to the United States!" The Aramco IPO is expected to be the largest in history, raising around $100 billion in much-needed revenue for the Saudi kingdom. Saudi Arabia has posted $200 billion in deficits in the past three fiscal years due to the slump in global oil prices. Aramco, which controls Saudi Arabia's massive energy assets, plans to list nearly 5 per cent of its shares in the stock market. Plans are to list the offering in the second half of 2018 on the Saudi stock market as well as an international exchange, with markets in New York and London vying for the offering.
The trip comes at a time of heightened tensions with North Korea over its nuclear program and missile tests. Trump flew first to the US state of Hawaii where he visited the USS Arizona Memorial at Pearl Harbor – the scene of the 1941 Japanese attack that drew the USA into World War Two. He also took part in a briefing at the US Pacific Command.
Itinerary
On 5 November: Arrives in Japan. Plays Golf with Prime Minister Shinzo Abe and professional player Hideki Matsuyama at Kasumigaseki Country Club; Bilateral meetings with Abe; 7 November: In South Korea for talks with President Moon Jae-in. Trump will also address the National Assembly; 8 November: Arrives in China for a series of events including meetings with President Xi Jinping; 10 November: Travels to Da Nang, Vietnam, and will participate in the Asia-Pacific Economic Co-operation (APEC) summit; 11 November: Travels to Hanoi, Vietnam, for talks with President Tran Dai Quang and other Vietnamese leaders; 12 November: Arrives in Manila, Philippines, to take part in a gala dinner for the 50th anniversary of the Association of Southeast Asian Nations (Asean); 13 November: Will attend the Asean summit in Manila and hold talks with President Rodrigo Duterte; 14 November: Trump will stay for the East Asia Summit, a wider regional gathering that includes the US, India and Russia.
Japan – first stop for Trump's Asia-Pacific tour. The first two stopovers are Washington's key allies in Northeast Asia: Japan and South Korea. They have both been rattled by a wildcard president who threatened to upend a global order the US had underpinned for decades. In Vietnam, Trump will attend the Asia-Pacific Economic Co-operation summit in Da Nang, apparently the key item of his tour, and make a state visit to Hanoi. His final engagement was scheduled to be a summit of South East Asian nations in the Philippine capital, Manila, on 13 November but the trip has now been extended by an extra day so he can attend the East Asia Summit. The last time a US president made such a marathon trip to Asia was when George HW Bush visited the region in late 1991 and early 1992.
Before Air Force One takes off for a Hawaii visit on Friday, the key challenges facing Trump on an odyssey that started in Japan on Sunday before stops in South Korea, China, Vietnam and the Philippines. From Hawaii, he and First Lady Melania Trump headed to Japan and then on move to South Korea.
Donald Trump's tour of Asia offers plenty to keep the US president cheerful, from lavish state banquets to honour-guard pomp and even a chummy round of golf with Japanese Prime Minister Shinzo Abe. Upon arrival in Japan, Trump resumed his characteristic aggressive rhetoric targeting his "foes" like North Korea, Iran and Pakistan warning them of destruction saying that they are on a suicide mission.
Target North Korea
Trump has previously exchanged some fiery rhetoric with North Korea over its ballistic missile tests but aides said earlier last week that he would not go to the heavily fortified demilitarized zone (DMZ) on the border between the South and North. He is, however, to visit Camp Humphreys, a US military complex south of the capital, Seoul. Trump's visit to China was incorporated into his itinerary to make Beijing get North Korea on board.
The way the Trump government tells it, the totalitarian regime in Pyongyang is rapidly developing nuclear warheads and the intercontinental ballistic missiles to carry them to a US West Coast city such as Seattle or Los Angeles.
The White House counter-strategy seems to be assuring allies such as South Korea and Japan that the USA still has their back, while getting North Korea's main ally, China, to economically pressure Pyongyang back to the bargaining table.
That's a recipe for trouble at Trump-Xi talks from November 8 onwards. Many Trump's officials believe that Beijing has to help solve the North Korea problem. Not be helpful, but solve the problem. And there's no easy solution to this, certainly not one that China will find acceptable and low cost.
Chinese President Xi Jinping's calculus is different. Beijing-Pyongyang relations have troughed, but a collapse of the hermit nation could send refugees spilling northwards and land American troops on China's doorstep.
That's where the fun stops. These are big tests for a commander-in-chief who does, on occasion, follow the teleprompter and stay "on message", but at other times becomes frustrated and fires off salvos of brusque, early morning Twitter missives. It also represents a grueling 12-day slog of speech-making, summits, and tricky sit-downs on a range of trade disputes – and the intractable policy headache of North Korea's nuclear arms program.
While Trump has skimped North Korea in his maiden trip to the region of Asia Pacific, the trip is indeed focused on that country as he wants to deny nuclearization of that nation. He wants to make a united front among the regional powers including China against North Korea.
Trump has spoken of raining "fire and fury" on North Korea – rhetoric that nudges the region towards a potentially calamitous conflict. He may well tone that down a notch when addressing the National Assembly in Seoul on November 8. He may also be wise to offer some goodies. The US pull-out from TPP came as China was rolling out its multibillion-dollar "Belt and Road" infrastructure development plan across Asia and beyond. According to Ford, the expected Asia policy must provide a new "economic vision, post-TPP". Simply renegotiating a bilateral trade with South Korea, and vaunting new ones with Japan and Vietnam, is not enough.
Challenge of Asia-Pacific policy: Asia last?
Fake news, fictitious threat perception concerning their security by the government makes both USA and Israel strong militarily. USA and Israel always fix their imagined foes trying to target and destroy them, though it remains a fact both cannot be destroyed because of their anti-missile shield and WMD.
Thus any country seeking nuclear energy and WMD to defend their nations and populations from possible enemy attacks is viewed as being the cause of destructive trouble for the super power of USA and Israel. Of course that is only a known gimmick to threaten and bully the weak nations seeking WMD.
Thus Iran and North Korea are seen as their enemies because USA says they are developing nukes to destroy only USA and Israel.
Former US President Barack Obama tried to "rebalance" the US' defence and economic policy to counter China's rise, including with a 12-nation Trans-Pacific Partnership (TPP) trade deal that excluded Beijing.
Trump scrapped TTP almost as soon as he entered the White House in January. Amy Searight, a former Pentagon official, told Al Jazeera the "lack of any replacement with a proactive trade policy or economic agenda" has left Washington's Asian partners feeling anxious.
Trump the property magnate is expected to unveil a new framework at the Asia Pacific Economic Cooperation (APEC) summit in Da Nang, Vietnam, on November 10. White House officials talk up plans for a "free and open Indo-Pacific region.
Although big questions about the policy remain, a recommitment to rules-based economic fairness may be a solid message, Lindsey Ford, a former Department of Defense official, told Al Jazeera. "It's important for people to hear that America First does not mean Asia last; that American prosperity can go hand in hand with Asian prosperity," said Ford, an analyst at the Asia Society Policy Institute, a think-tank.
Trump's biggest challenge could be the one thing he cannot seem to change: himself. He is prone to undiplomatic language that plays badly with buttoned-down Asian officials. Previously on Twitter, he accused South Korea of trying to "appease" its northern neighbour, and criticised Xi for not doing enough to rein in Pyongyang.
The trip is longer and tougher than his first foreign venture to the Middle East in May. He may get irked by Japanese resentment over a US military base in Okinawa, or rallies against the "war maniac" US president on the streets of South Korea. "Among government officials, there are going to be a lot of white-knuckles and held breath throughout the two days of his time in South Korea," Scott Snyder, a scholar at the Council on Foreign Relations, a think-tank, told Al Jazeera.
There is a risk of clashing egos when Trump meets Rodrigo Duterte, the hard-boiled president of the Philippines, on November 13. Meanwhile, Russian President Vladimir Putin will attend APEC, shifting the spotlight back on to the troublesome probe of election collusion. China is a safer bet.
US-China relations
Officially a communist nation pursuing Socialist policies indoors and a mixed agenda abroad, China has developed trade relations with US superpower along with it also shares the veto power on UNSC. USA has been employing many countries in Asia including those he is visiting now and India to contain the Chinese influence on the continent and beyond.
Neocons believes only economic ties could USA closer to Beijing. Trump's stop in Beijing is being billed as a "state visit plus" to mark the importance of the dynamic between himself and President Xi, as well as relations between the US superpower and China's fast-growing economy and armed forces.
In Beijing, the two leaders representing West and East respectively may be able to paper over the cracks by unveiling a few energy deals this month, but that would only be a "calm before the storm" and the "escalation of tensions" next year. The Trump government has high expectations from China, a fundamental reordering of the trade relationship, while China expects a relatively painless negotiation process.
Meanwhile, the two leaders are in different positions. Xi has just emerged from a glowing five-yearly Communist Party congress; Trump has low approval ratings of 34 percent and is battling a probe about election collusion with Russia. He faces condemnations form both Democratic and Republican pastries. Former CIA analyst Christopher Johnson compared Xi's "strong position with no visible domestic opposition" to Trump's routinely questioned style and legislative record. "This gives Xi a bit of a leg up" when bartering.
North Korea is not the only glitch. Trump rails against the United States' "embarrassing" $347bn trade deficit with China, and has accused Beijing of manipulating its currency, rigging markets, and pilfering ideas from US firms.
WMD as deterrent
The US President Donald Trump's two-week visit to the Asia-Pacific region as the threat of a military confrontation with North Korea will be high on the agenda in Japan, South Korea, and China.
North Korea is developing its nuclear weapons to defend itself against any future US aggression so it doesn't endure "the tragic situation of the war-torn non-nuclear countries which became the targets of invasion and plunder by the USA.
North Korea needs nuclear weapons as a deterrent to prevent "invasion and plunder" by the unilateral USA. It is indeed scared of US militarism and condemned the USA and its allies' "crazy escalation of sanctions, pressure, and military threats" against the communist country that "will get them nowhere".
The nuclear force of the DPRK has become a strong deterrent for firmly protecting peace and security of the Korean Peninsula and the rest of Northeast Asia and creditably guaranteeing the sovereignty and the rights to existence and development of the Korean nation, using the acronym for the country's official name, Democratic People's Republic of Korea.
The Uriminzokkiri commentary denounced the military build-up near North Korea. "It is ridiculous for the US to try to browbeat the DPRK through such muscle-flexing as deploying nuclear aircraft carriers and submarines near the Korean Peninsula and its vicinity and flying nuclear-capable strategic bombers on it," it said.
The USA has said it will never accept a nuclear-armed North Korea and Trump has threatened to "totally destroy" the country. In response, Kim Jong-un's leadership said it may conduct an atmospheric nuclear weapons test. North Korea dared USA to make the first military move.
In advance of Trump's visit, three American aircraft carrier strike groups have been deployed to the region, a move military analysts have described as unusual. Stratfor, a US-based intelligence analysis company, noted in a report that the US Air Force also will send a dozen F-35A stealth fighter jets to a base in Japan in early November.
The gathering is a rare occurrence – the last time three US aircraft carrier strike groups convened for a combined exercise was in 2007 – and will give the United States a powerful force within striking distance of North Korea," Stratfor said."Taken together, these developments suggest that the United States is preparing for a confrontation. But that doesn't necessarily mean that Washington is gearing up to start a war with Pyongyang," a report concluded.
Michael T Clare, a professor of peace and world-security studies at Hampshire College in the US, wrote: "There can be only two plausible explanations for this extraordinary naval buildup: to provide Trump with the sort of military extravaganza he seems to enjoy; and/or to prepare for a pre-emptive military strike on North Korea."
Tensions remain sky high after North Korea's sixth and most powerful underground nuclear test in September, and a flurry of ballistic missile tests in recent months.
Will there be a war on the Korean Peninsula?
Absolutely there is no chance for a direct US war with North Korea, a close ally of China and Russia – another veto member. Russia and China would reject any US proposal in UN for a war with NK. USA would not dare attack North Korea on its own or under the NATO banner since Russia and China might as well enter the war, making it a beginning of an official WW-III.
There could be possible triggers for war with North Korea that need to be carefully watched. The first possible trigger is a declaration of war by North Korea, especially since the USA has made clear it has not declared war. This won't happen because Russia and China would not support it. The idea that countries would formally declare war against each other, before commencing hostilities, is a relic of the early 20th century. Although remnants of the practice remain, it was largely outdated by the Second World War as the military advantages of surprise as the Japanese attack on Pearl Harbour and the Nazi attack on Soviet Russia, made clear.
The second possible trigger is the North Korea threat of a possible detonation of a nuclear device in the atmosphere over the Pacific. Although the aesthetics of such an act would shock the world as humanity has not seen a nuclear airburst since that done by China in 1980, this would not be the beginning of hostilities. However, if Kim explodes it in international territory, such as the high seas, he faces different rules, such as when Australia and New Zealand took France to the International Court of Justice after French atmospheric testing caused radiation pollution to fall on them, downwind. It was for this reason of pollution that most of the global community concluded an international agreement prohibiting such atmospheric nuclear testing. The third possible trigger is the North Korea threat to shoot down aircraft in international airspace as in, mirroring the territorial sea, 12 nautical miles/22.2km out from the land. Previously in 1969, North Korea did shoot down an American spy plane, killing all 31 members aboard when it was operating in international airspace. At that point, President Nixon did not respond with violence due to a fear of how the Soviet Union and China would react.
Interestingly, upon arriving Tokyo, Trump has asked Japan to attack North Korea by firing missiles to that nation. Japan is yet to respond to US demand. .
After the Second World War, the UN seeking global peace hoped that all members would refrain from the threat or use of force against the territorial integrity or political independence of any state, to which Declarations of War by individual states would become redundant. However, when the North Korean armed forces advanced over the 38th parallel on June 25, 1950, without a declaration of war, it was shown how in vain this hope was. The response to this act of aggression by North Korea was the 84th resolution of the Security Council (when the Soviet Union was absent from the vote) to defend South Korea under the UN flag but with the leadership of the US.
Today, the situation is even more complicated as the North Korean rhetoric of declaring war is not uncommon. Following the 2013 sanctions approved by the Security Council against North Korea for their nuclear test, Kim Jong-un promised a pre-emptive strike against the USA with its nuclear weapons. This was followed by a "Full War Declaration Statement". This was all part of their assertions that North Korea had scrapped the armistice that ended the first Korean War in 1953.
To show their determination in 2013, North Korea also cut the hotline that enabled direct communication between North and South Korea. Although the hotline was reconnected a few months later, when South Korea closed down the joint Kaesong industrial complex following Kim Jung-un's fourth nuclear test in early 2016, North Korea condemned the act as a Declaration of War, and then cut the hotline again.
Cutting the hotline is more dangerous than the rhetoric. Hotlines prevent accidental war. South Korea, which has a hotline to China, has been trying to have its hotline to North Korea reconnected. However, the line that is really needed is one between North Korea and Washington. Such best practice has been evident since 1963, following the Cuban Missile Crisis, when the two superpowers recognised the necessity to be able to talk directly, at short notice, whenever required so as not to stumble into nuclear war.
Today, war planes of both USA and Russia keep flying over very close to each other's space. Russian military aircraft have flown over 60 times close to Alaska or down past the edge of Western Europe in the past 10 years have shown, no matter how unpleasant such acts may be, such planes may be intercepted and followed, but they may not be shot down if they do not cross into territorial airspace. To ensure that no mistakes are made in this carefully choreographed sabre rattling, certain rules need to apply – primarily, the planes should not be invisible.
If Kim decides to take down one of the American planes flying in international airspace, as his grandfather Kim Il-sung did in earlier times, he would be gambling against the odds that President Trump will not respond with violence.
However, if USA would declare war on North Korea is a trillion dollar question. Will Trump order the Pentagon to attack North Korea disregarding the worst, devastating consequences?
Importance of peace in Afghanistan is vital for China
There are multiple passages from Afghanistan to China, like Wakhan Corridor that is 92 km long, stretching to Xinjiang in China. It was formed in 1893 as a result of an agreement between the British Empire and Afghanistan. Another is Chalachigu valley that shares the border with Tajikistan to the north, Pakistan to the south, and Afghanistan to the west. It is referred to as the Chinese part of the Wakhan Corridor. However, the Chinese side of the valley is closed to the public and only local shepherds are allowed. Then there is Wakhjir Pass on the eastern side of the Wakhan corridor but is not accessible to the general public. The terrain is rough on the Afghan side. There are no roads along the Wakhjir Pass, most of the terrain is a dirt track. Like other passages, it can only be accessed via either animals or SUVs, and also due to extreme weather it is open for only seven months throughout the year. North Wakhjir Pass, also called Tegermansu Pass, is mountainous on the border of China and Afghanistan. It stretches from Tegermansu valley on the east and Chalachigu Valley in Xinjiang. All of these passages are extremely uncertain and rough which makes them too risky to be used for trade purposes. For example, the Chalagigu valley and Wakhjir Pass are an engineering nightmare to develop, let alone make them viable.
Similarly, the Pamir mountain range is also unstable and prone to landslides. Both of these routes also experience extreme weather conditions. Alternatives: Since most of the passages are risky for travel, alternatively, trade activities can be routed via Pakistan. For example, there is an access road at the North Wakhjir that connects to Karakoram Highway.
By expanding the road network from Taxkorgan in Xinjiang to Gilgit, using the Karakoram Highway is a probable option. Land routes in Pakistan are already being developed for better connectivity between Islamabad and Beijing as part of CPEC. These routes stretch from Gwadar up to the North.
The Motorway M-1, which runs from Islamabad to Peshawar can be used to link Afghanistan via Landi Kotal. Although the Karakoram highway also suffers from extreme weather and landslides, it is easier for engineers to handle as compared to those in Afghanistan.
China is the first door neighbor of Afghanistan having a common border. If anything happens in Afghanistan will have a direct impact on China. China has a declared policy of peaceful developments and has abandoned all disputes and adversaries for the time being and focused only on economic developments. For economic developments, social stability and security is a pre-requisite. So China emphasizes peace and stability in Afghanistan. It is China's requirement that its border with Afghanistan should be secured, and restrict movements of any unwanted individuals or groups. China is compelled by any government in Afghanistan to ensure the safety of its borders in the region.
Taliban has ensured china that, its territory will not use against China and will never support any insurgency in China. Based on this confidence, China is cooperating with the Taliban in all possible manners. On the other hand, China is a responsible nation and obliged to extend humanitarian assistance to starving Afghans. While, the US is coercing and exerting pressures on the Taliban Government to collapse, by freezing their assets, and cutting all economic assistance, and lobbying with its Western allies, for exerting economic pressures on the Taliban, irrespective of human catastrophe in Afghanistan. China is generously assisting in saving human lives in Afghanistan. Whereas, the US is preferring politics over human lives in Afghanistan.
The US has destroyed Afghanistan during the last two decades, infrastructure was damaged completely, Agriculture was destroyed, Industry was destroyed, and the economy was a total disaster. While, China is assisting Afghanistan to rebuild its infrastructure, revive agriculture, industrialization is on its way. Chinese mega initiative, Belt and Road (BRI) is hope for Afghanistan.
A peaceful Afghanistan is a guarantee for peace and stability in China, especially in the bordering areas. The importance of Afghan peace is well conceived by China and practically, China is supporting peace and stability in Afghanistan. In fact, all the neighboring countries, and regional countries, are agreed upon by consensus that peace and stability in Afghanistan is a must and prerequisite for whole regions' development and prosperity.
Shared Territorial Concern, Opposition to US Intervention Prompt Russia's Support to China on Taiwan Question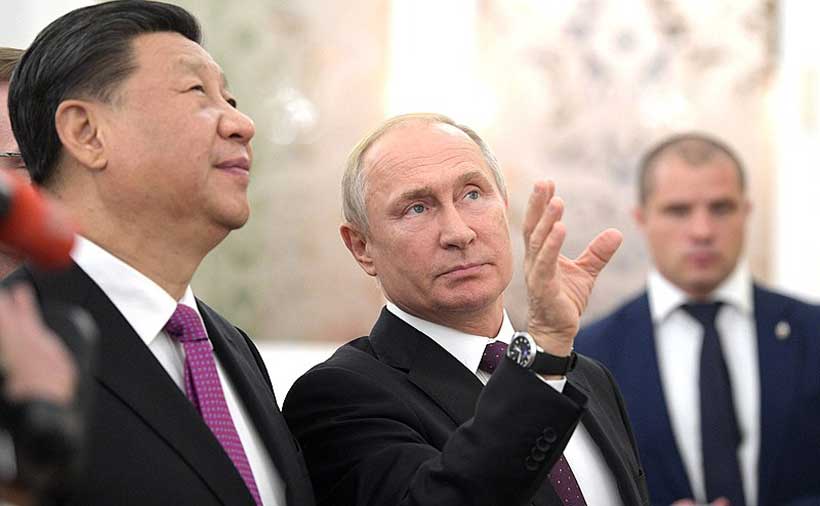 The situation around the island of Taiwan is raising concerns not only in Chinese mainland, Taiwan island or in the US, but also in the whole world. Nobody would like to see a large-scale military clash between China and the US in the East Pacific. Potential repercussions of such a clash, even if it does not escalate to the nuclear level, might be catastrophic for the global economy and strategic stability, not to mention huge losses in blood and treasure for both sides in this conflict.
Earlier this week, Russian Foreign Minister Sergey Lavrov stated that Moscow continued to firmly support Beijing's position on Taiwan as an integral part of China. Moreover, he also underlined that Moscow would support Beijing in its legitimate efforts to reunite the breakaway province with the rest of the country. A number of foreign media outlets paid particular attention not to what Lavrov actually said, but omitted his other remarks: the Russian official did not add that Moscow expects reunification to be peaceful and gradual in a way that is similar to China's repossession of Hong Kong. Many observers of the new Taiwan Straits crisis unfolding concluded that Lavrov's statement was a clear signal to all parties of the crisis: Russia would likely back even Beijing's military takeover of the island.
Of course, diplomacy is an art of ambiguity. Lavrov clearly did not call for a military solution to the Taiwan problem. Still, his remarks were more blunt and more supportive of Beijing than the standard Russia's rhetoric on the issue. Why? One possible explanation is that the Russian official simply wanted to sound nice to China as Russia's major strategic partner. As they say, "a friend in need is a friend indeed." Another explanation is that Lavrov recalled the Russian experience with Chechnya some time ago, when Moscow had to fight two bloody wars to suppress secessionism in the North Caucasus. Territorial integrity means a lot for the Russian leadership. This is something that is worth spilling blood for.
However, one can also imagine that in Russia they simply do not believe that if things go really bad for Taiwan island, the US would dare to come to its rescue and that in the end of the day Taipei would have to yield to Beijing without a single shot fired. Therefore, the risks of a large-scale military conflict in the East Pacific are perceived as relatively low, no matter what apocalyptic scenarios various military experts might come up with.
Indeed, over last 10 or 15 years the US has developed a pretty nasty habit of inciting its friends and partners to take risky and even reckless decisions and of letting these friends and partners down, when the latter had to foot the bill for these decisions. In 2008, the Bush administration explicitly or implicitly encouraged Georgian leader Mikheil Saakashvili to launch a military operation against South Ossetia including killing some Russian peacekeepers stationed there. But when Russia interfered to stop and to roll back the Georgian offensive, unfortunate Saakashvili was de-facto abandoned by Washington.
During the Ukrainian conflicts of 2013-14, the Obama administration enthusiastically supported the overthrow of the legitimate president in Kiev. However, it later preferred to delegate the management of the crisis to Berlin and to Paris, abstaining from taking part in the Normandy process and from signing the Minsk Agreements. In 2019, President Donald Trump promised his full support to Juan Guaidó, Head of the National Assembly in Venezuela, in his crusade against President Nicolas when the government of Maduro demonstrated its spectacular resilience. Juan Guaido very soon almost completely disappeared from Washington's political radar screens.
Earlier this year the Biden administration stated its firm commitment to shouldering President Ashraf Ghani in Afghanistan in his resistance to Taliban advancements. But when push came to shove, the US easily abandoned its local allies, evacuated its military personal in a rush and left President Ghani to seek political asylum in the United Arab Emirates.
Again and again, Washington gives reasons to conclude that its partners, clients and even allies can no longer consider it as a credible security provider. Would the US make an exception for the Taiwan island? Of course, one can argue that the Taiwan island is more important for the US than Afghanistan, Venezuela, Ukraine and Georgia taken together. But the price for supporting the Taiwan island could also be much higher for the US than the price it would have paid in many other crisis situations. The chances of the US losing to China over Taiwan island, even if Washington mobilizes all of its available military power against Beijing, are also very high. Still, we do not see such a mobilization taking place now. It appears that the Biden administration is not ready for a real showdown with Beijing over the Taiwan question.
If the US does not put its whole weight behind the Taiwan island, the latter will have to seek some kind of accommodation with the mainland on terms abandoning its pipe-dreams of self-determination and independence. This is clear to politicians not only in East Asia, but all over the place, including Moscow. Therefore, Sergey Lavrov has reasons to firmly align himself with the Chinese position. The assumption in the Kremlin is that Uncle Sam will not dare to challenge militarily the Middle Kingdom. Not this time.
From our partner RIAC
Russia-Japan Relations: Were Abe's Efforts In Vain?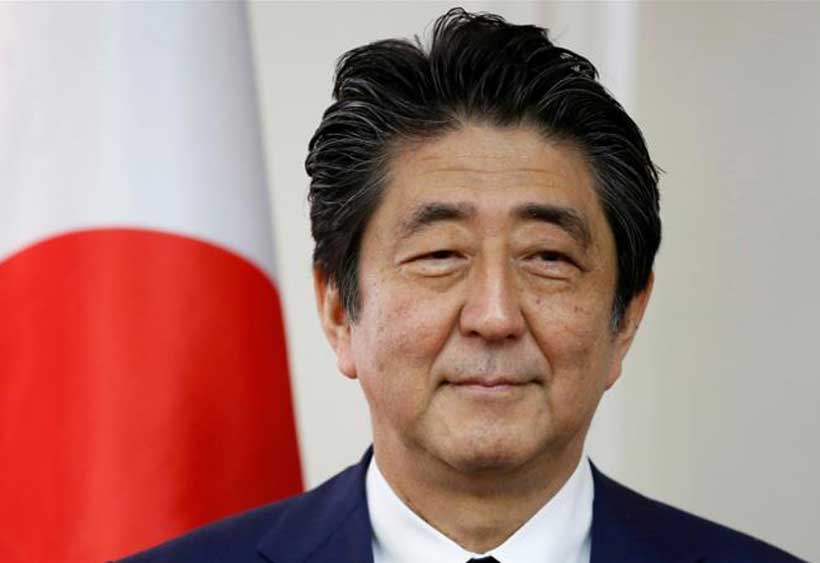 Expanding the modest elements of trust in the Japan-Russia relationship, talking through reciprocal concerns before they lead to conflict, avoiding bilateral incidents, and engaging in mutually beneficial economic cooperation is the way forward.
One year after the end of Shinzo Abe's long period of leadership, Japan has a new prime minister once again. The greatest foreign policy challenge the new Japanese government led by Fumio Kishida is facing is the intensifying confrontation between its large neighbor China and its main ally America. In addition to moves to energize the Quad group to which Japan belongs alongside Australia, India, and the United States, U.S. President Joe Biden's administration has concluded a deal with Canberra and London to provide Australia with nuclear-powered submarines which in future could patrol the Western Pacific close to Chinese shores. The geopolitical fault lines in the Indo-Pacific region are fast turning into frontlines.
In this context, does anything remain of the eight-year-long effort by former prime minister Abe to improve relations with Russia on the basis of greater economic engagement tailored to Moscow's needs? Russia's relations with China continue to develop, including in the military domain; Russia's constitutional amendments passed last year prohibit the handover of Russian territory, which doesn't bode well for the long-running territorial dispute with Japan over the South Kuril Islands; and Russian officials and state-run media have been remembering and condemning the Japanese military's conduct during World War II, something they chose to play down in the past. True, Moscow has invited Tokyo to participate in economic projects on the South Kuril Islands, but on Russian terms and without an exclusive status.
To many, the answer to the above question is clear, and it is negative. Yet that attitude amounts to de facto resignation, a questionable approach. Despite the oft-cited but erroneous Cold War analogy, the present Sino-American confrontation has created two poles in the global system, but not—at least, not yet—two blocs. Again, despite the popular and equally incorrect interpretation, Moscow is not Beijing's follower or vassal. As a power that is particularly sensitive about its own sovereignty, Russia seeks to maintain an equilibrium—which is not the same as equidistance—between its prime partner and its main adversary. Tokyo would do well to understand that and take it into account as it structures its foreign relations.
The territorial dispute with Russia is considered to be very important for the Japanese people, but it is more symbolic than substantive. In practical terms, the biggest achievement of the Abe era in Japan-Russia relations was the founding of a format for high-level security and foreign policy consultations between the two countries. With security issues topping the agenda in the Indo-Pacific, maintaining the channel for private direct exchanges with a neighboring great power that the "2+2" formula offers is of high value. Such a format is a trademark of Abe's foreign policy which, while being loyal to Japan's American ally, prided itself on pursuing Japanese national interests rather than solely relying on others to take them into account.
Kishida, who for five years served as Abe's foreign minister, will now have a chance to put his own stamp on the country's foreign policy. Yet it makes sense for him to build on the accomplishments of his predecessor, such as using the unique consultation mechanism mentioned above to address geopolitical and security issues in the Indo-Pacific region, from North Korea to Afghanistan. Even under Abe, Japan's economic engagement with Russia was by no means charity. The Russian leadership's recent initiatives to shift more resources to eastern Siberia offer new opportunities to Japanese companies, just like Russia's early plans for energy transition in response to climate change, and the ongoing development projects in the Arctic. In September 2021, the annual Eastern Economic Forum in Vladivostok did not feature top-level Japanese participation, but that should be an exception, not the rule.
Japan will remain a trusted ally of the United States for the foreseeable future. It is also safe to predict that at least in the medium term, and possibly longer, the Russo-Chinese partnership will continue to grow. That is no reason for Moscow and Tokyo to regard each other as adversaries, however. Moreover, since an armed conflict between America and China would spell a global calamity and have a high chance of turning nuclear, other major powers, including Russia and Japan, have a vital interest in preventing such a collision. Expanding the still very modest elements of trust in the Japan-Russia relationship, talking through reciprocal concerns before they lead to conflict, avoiding bilateral incidents, and engaging in mutually beneficial economic cooperation is the way forward. The absence of a peace treaty between the two countries more than seventy-five years after the end of the war is abnormal, yet that same unfinished business should serve as a stimulus to persevere. Giving up is an option, but not a good one.
From our partner RIAC