Refugees: The Horns of a Dilemma
The refugees in the present vicious visage want to stand to reason within the bounds of possibility by holding the scales at the odds being in favour etched in the feast of reason and the flow of soul so that they could come out of the horns of a dilemma.
Refugee status is an incredibly malleable legal concept that can take on different meanings as required by the nature and scope of the dilemma prompting involuntary migration. I have been talking about a trajectory of refugee rights beyond the rubrics of rights sans any regurgitation for more than two decades that is not reflected in the contemporary international refugee law. The governance architectures across the globe have blackballed the refugees from their itinerary of international obligations and prescriptions as enunciated in the UN Charter and Universal Declaration of Human Rights (UDHR). The International community has been performing its refugee mandate in a state of ostensible action for refugees who have been grappling with the quagmire of cynicism that has morphed all avenues of evolving solutions into geo-strategic polemics. Cartelization of humanitarian assistance and relief on the grounds of caste, colour, ethnicity, race, region, political opinion, social origin and statelessness amounts to the decimation of dignity, elimination of equality and liquidation of liberty.
The global dimensions of diplomacy, political permutations of international relations and paradoxes of protection priorities have pandered to procrastination in durable solutions which have trussed the paradigms of refugee protection. I have tried to have deciphered an understanding of refugee discourse that is innate, instinctive, intrinsic and inherent in transcendentalism whereas it is native, natural and normative in existentialism. Although, it is a well-established fact that classical and contemporary institutional conviction does not speak of this inalienable framework of refugeehood. Therefore, the present international refugee law poses more questions than offers answers. Despite the fact of it's more than sixty years of existence it could not offer any durable or permanent solution to the problem of refugees such as Palestinian refugees and other intractable refugee questions across the globe. The most prominent challenge of the contemporary international refugee law is of its survival as law, and it must be attended in the right earnest otherwise it may turn out be a positive morality of a vanishing vacuum of the jurisprudence of international law. Let's talk about rights beyond rights in a refugee peregrination paradigm from utopianism to utilitarianism within the premise of permanent protection having dwelt into epistemological, teleological, sensible and jurisprudential understandings of the refugee discourse.
The Refugee Desideratum
We, the People of the World, are all refugees in scriptures, structures, and literature commanded in the logistical and tactical architecture of divine delineations. But they are not regarded as such in geopolitical identities on planet earth at which refugees are conditioned by crossing lines called blurred borders, barbed boundaries and bracket barriers in a world-wide web of justice, equity, and the rule of law. Nobody wants to be a refugee but people are being made refugees that has really created a void in human relationships across the spectrum of humanity. That has pandered to the galvanizing a new cornucopia of questions which are not straightforward to answer as these are impregnated with multi-layered predicament, prevarication, and predaciousness of those who have the propensity to stir the course of history. Thus, the plight of refugee flight has acquired an immutable multitude, marmoreal magnitude, and immaculate mapping thitherto not available to be rummaged outside the confines of rudimental oblivion to regimental reminiscences.
There are refugees; there are rights but whose rights, what rights that are the questions? Should rights be understood in innate sense or merely as an expression of modern codification? Intrinsic rights should be regarded horizontal foundation for the vertical gestation and growth of refugee rights which are ancillary, incidental, peripheral and vicarious to the refugee discourse. Should rights be alive or dead? Rights could not be lifeless, if they were, they could not have been rights. How to visit these rights in classical and contemporary jurisprudence? How to address the psychological, mental and intellectual premise of violations forming an itinerary of alienation, agony, and trauma resultant in human displacement, social dehumanization, and human demonization? Is there any moral, ethical and ecclesiastical possibility to have the categorization of human pain, sufferings and deprivations enslaved in occidental and Asian jurisdictions, jurimetrix cs and jurisprudence? Should there be victors' rights only? Is there just majoritarian premise of rights? Could refugee rights be interpreted, appreciated and adjudicated upon within the legalistic welter of words enunciated in hard laws and soft laws in the garb of definitions sans governance accountability? What about the poverty, gender, communal conflagration, generalized violence, organized crimes, mass rape, economic sanctions, economic recession, climate change, development displacement, mass movements of persons fleeing civil war, military occupation, foreign domination, gross violations of human rights, natural disasters, or simply bad economic conditions, natural disaster and scientific experiments as well-founded grounds of being treated as refugees? Should refugee protection paradigm still depend upon other human rights instruments for its being considered before national and international judicial tribunals? Shouldn't time have come to make refugee law an independent substantive discipline of study? Shouldn't existing definition of refugee be deconstructed, developed and designed? Shouldn't we head for a new, novel and nice comprehensive, consolidated and cosmopolitan refugee law?
The Refugee Status
The most conspicuous stigma on humanity is having some of its integral parts as refugees whose life, liberty and dignity have been decimated, destined and destroyed in camps. The contour, conviction, and commitment to contemporary international refugee law have outlived its utility. The present global refugee law poses more questions than offers answers. Despite the fact of it's more than sixty-five years of existence it could not offer any durable or permanent solution to the problem of Palestinian refugees and other intractable refugee questions across the globe. The most prominent challenge of the contemporary international refugee law is of its survival as law, and it must be attended in the right earnest otherwise it may turn out be a positive morality of a vanishing vacuum of the jurisprudence of international law. Let's talk about rights beyond rights in a refugee peregrination paradigm from utopianism to utilitarianism within the premise of permanent protection having dwelt into epistemological, teleological, sensible and jurisprudential understandings.
The matter of refugee status is of ancient origin, although the manner of treating it has not always been that which is currently acceptable. At every stage of its historical evolution, it underwent a volatile metamorphosis of legal construction. The idea of giving a home to the stranger appeared as early as the Old Testament. The complete code of treatment of refugees has also been crystallized in the Holy Quran and rights of refugees have also been come to be supplanted by modern refugee regime. Mass population movements occurred throughout history: The arrival of the barbarians in the Roman Empire, expulsion of Jews from Spain in 1492, expatriation of French Protestants after revocation of the Edict of Nantes in 1685, emigration of the French aristocracy after 1789 and the exodus of Jews from German territory are but a few examples. The estimated number of refugees in the world today ranges between twelve and fourteen million. A survey by the United States Committee for Refugees at the end of 1988 reported over four million refugees in Africa, nearly nine million in the Middle East and South Asia, nearly 280 000 in Latin America and the Caribbean, over 625 000 in East Asia and the Pacific, and almost 350 000 in Europe. As new refugee situations develop, such as the flow of more than half a million new refugees in Southern Africa, thousands of Iraqi Curds into Iran and Turkey, or as the number of Vietnamese boat people in Hong Kong increased sharply in 1988, or as thousands flee the civil war in Yugoslavia or the worsening economic situation in Eastern Europe, the problem becomes exacerbated.
Refugee Rights Beyond Rights
Refugees are the counter-product of sustainable hate that has a past in the present to shape the future oozed out of the clash of clans, castes, communities' and countries since the inception of humanity. Human migration, movement, and mobility are entrenched in the human psyche since pre-socio-political crystallizations that have become most obvious, desirous and catastrophic in the twenty-first century necessitated by the ever-growing paradigmatic shift in its dialectics, dimensions, and delineations regarding perception, interpretation, and determinations. Deviant to the grounds whatsoever of displacement the biggest pain in one's life is to have been dislocated from his or her country of origin in a manner that is fallible, fallacious and fatal? Thus, there are refugee rights beyond rights which can only be felt by the human soul and mind in the most profound sense of mental integration with the roots of birth. To displace anybody from his land of habitual habitation tantamounts to deny and divest him of his or her a catena of rights such as:
Right to a healthy life,
Right to psychological integration,
Right to have past,
Right to have a sense of allegiance to the homeland,
Right to have an ancestral identity,
Right to the immemorial neighborhood,
Right to historical culture,
Right to perennial socialization,
Right to classic climate,
Right to mental stability,
Right to mental health,
Right to specific custom,
Right to geo-political predilections,
Right to be consulted in economic modules,
Right to participate in community development,
Right to good governance,
Right to the rule of law,
Right to socio-economic development,
Right to leave and return,
Right not to be displaced,
Right to have rights beyond rights,
These rights encapsulate all the divisions of rights as natural claims, non-derogable basic bonds, fundamental freedoms, inalienable human entitlements, and rudimental human rights outside the convention-oriented prescriptions. The venomous vicissitudes of global change have presented a picture of development which is muddy, mawkish and manoeuvred by the political class. The politically empowered class happens to be around the chess-board of the common heritage of gene-kind in and around the domestic and international commands at which humanity is at loggerheads with humanity. Nevertheless, from retrospect to prospect, the miasma of migration has more been created, crafted and calibrated by aristocratic wiles, kings cozenage, royal revanchism, political prestidigitation, civilian charlatanry, political chicanery and subterfuge at every stage of the civilizational endurance and its graduation to ultra-modernity.
Diagnosis to Prognosis
Consequently, there is a contemptuous atmosphere of peace, progress, and prosperity that is alienated, exclusive, elite and with a tint of arrogance, aggression, and attitude of above the board while not swotting the experiences from economic melt-downs and fiscal drubbings in USA and Eurozone and elsewhere. These developments have made the humanity to move, move and move in addition to the humanitarian crises and climate-induced displacement as around the globe, millions of people are being subjected to risk of man-oriented displacement at a magnitude that is beyond human comprehension. The first inhabited island was submerged due to rising sea levels, and island nations around the Central Pacific, South Pacific and the Indian Ocean, as well as extensive tracts of land from Bangladesh to Egypt, risk partial or total displacement by the middle of this century. The impacts of global warming on habitat are being felt in multiple modes, various ways and different dimensions around the world. Rising sea levels have imperiled the very existence of Small Island Nation-States, while Inuit communities in North America and Greenland stirred with a well-founded fear of being displaced due to melting ice. It is horrible to note that climate-induced displacement (CID) is of particular significance to Australia given its topographical, geographical and geological proximity to islands such as Kiribati and Tuvalu, where the entire nation's displacement is imminent. Australia is a prominent destination country in the region for so-called climate change 'refugees' who do not qualify as 'refugees' under international law. In this conspectus, the growing worldwide flow in the number of people leaving their country has created a significant challenge to India and other population-receiving countries and continents such as USA, Australia, Canada, UK, Switzerland, Pakistan, Europe and South Asia, etc.
These flows are mostly the consequence of pejorative, pernicious and deteriorating social, political and economic conditions in many countries and continents in the 1st, 2nd and 3rd Worlds in the former Soviet Union, or among states that were within the Soviet, Europe, African and Indian Sub-Continental circumnavigate. Every nation-state at a particular stage of its development and history has struggled with the problem of human influx and outflux in one way or the other, but the stakeholders have rummaged no permanent, pragmatic and plausible or durable solutions in the game with a gavel. The plight of flight is not easy to be understood without having a heterodoxical hermeneutics of the causes, combinations, conflations, permutations, a miasma of mutations and the regime of reasons purportedly to have been emplaced by the state and non-state actors who morphed themselves in ostensible pro bono publico obligations across the globe. Thus, a holistic, panoramic and pervading understanding of the questions and issues of the classical and contemporary refugee regime is required to be rejigged.
Refugees In The Outbreak Of The Pandemic
The COVID-19 today is having an adverse impact on our lives although it has brought exceptional changes in climate and human behavior. The increasing number of refugees and internally displaced persons in the 21st century explains the intensified global scenario. The refugee crisis is the greatest humanitarian crisis the world has ever seen where most of them are internally displaced persons. Yet, they are humans with unique life experiences; they had dreams, children who are dwelling hopes of normal life, and a better tomorrow. The mothers are longing to return home, fathers yearning to work again, and an identity. Leaving behind their homes, being prosecuted from the country, and losing their loved ones; refugees had gone through the worst of time. Refugees are the worst sufferers in this 21st century. Around 80 million homeless people in the world most of them are from Syria, Afghanistan, South Sudan, Myanmar, and Somalia. The Syrian crisis reported being the greatest refugee crisis in the world. The United Nations also estimated the women and children to be the worst sufferers.
The refugees were tormented by years of poverty, poor health, and lack of basic infrastructures like education, food, health care, sanitation, social security, and etc. Humanitarian organizations have stretched beyond their capacity to help millions of refugees over the years. The WHO and UN Refugee Agency have signed new agreements to provide health services and benefits to the displaced and vulnerable population around the world. Among the 79.5 million forcibly displaced individuals lacks access to clean water or soap. Despite social and economic setbacks due to the pandemic, health is still the paramount factor affecting the poor and homeless. During the COVID-19 situation around the world food, medicine or sanitary products and even clean water have become inaccessible for many refugees. Social distancing has become a major concern in the refugee camps.
Challenges Upfront
The COVID -19 is severely affecting the education of the children in the refugee camps. In the refugee camps only 63% of refugees are enrolled in primary school and 24% in secondary education where most of the children are left out. The limit in pursuing education continues potentially in the refugee camps and its worsening due to the pandemic. There is a growing possibility of discrimination and xenophobia is affecting the process of socialization in their host country. Nevertheless, an unequal world with challenges to achieve education and skill training for self-development must be ceased.
In Yemen, more than 3 million people have been displaced and approximately 17 million require food. Yemen's health facilities have either been destroyed or damaged in the conflict and with the unbridled transmission of COVID‑19 in Aden; Yemenis are living through the worst humanitarian crisis. Only a few health centers are operational in Yemen where the numbers of patients suffering from malnutrition, cholera, dengue fever, and injuries of war are very high.
In India almost 18,000 Rohingya refugees are taking shelter where thousands of them live in densely populated settlements in preposterous conditions; a third world country with the second-highest population in the world. India can hardly feed its population and especially it hosts a huge number of Refugees. Tibetan and Sri Lankan refugees have access to certain rights as assisted by the government, while the Rohingyas are still struggling for it. But, in Bangladesh, the WHO is working with governments to secure the health of nearly one million Rohingya refugees against the multiple threats of the pandemic and including natural disasters in the upcoming monsoon season.
The COVID-19 is increasing the needs and vulnerabilities of the Refugees. The United Nations High Commission for Refugees (UNHCR) is concerned about the collateral effects of the pandemic among the Refugees. According to the UNHCR's Assistant High Commissioner for Protection, due to the degrading socio-economic plight of the forcibly displaced people and poverty among them has made them a target to several traffickers that are immorally exploiting and profiteering from their culpability. The adolescent girls and children have become the victims of sexual exploitation, forced labor, slavery, and organ removal, forced recruitment into armed groups, forced marriages, or forced begging. The COVID-19-related impacts on restricted movements, closures, or availability of proper help, support services are put to constrain. The pandemic has limited the opportunity for the refugees, particularly women to seek legal support for sexual and gender-based violence.
On the World Day against Trafficking, the United Nations Office on Drugs and Crime, UNHCR proposed for support in the prevention of trafficking and response efforts globally. The Governments and humanitarian actors together must ensure and assist the victims of trafficking
mostly among the displaced people where they are in immediate need of protection. A major initiative was taken by the WHO Eastern Mediterranean Regional Office (EMRO) to monitor the events and trend of COVID-19 among displaced populations in camps and non-camps settings for their safety.
Conclusion
Resources are available in scanty, refugee camps and settlements are becoming overcrowded and many are being forced to sleep outside in freezing temperatures during the winters. For those living in refugee camps or camp-like situations, they also face an increased risk of COVID-19. In refugee camps, it is difficult to practice public health measures like frequent hand washing or social distancing. Therefore, it is also the responsibility of the host government to provide aid and essentials to the refugees living in their country. But in many cases, the host governments don't have enough financial capability but can arrange testing services in certain regions, regardless of whether an individual is a national or a refugee. Secondly, even though high-income countries are currently most affected, they need to assist low- and middle-income countries because those countries don't have the means to deal with COVID-19. The outbreak of the pandemic in populous and poor countries will put the rest of the world at continued risk.
It's true of the fact that the world was not prepared for a pandemic and COVID-19 does not respect any boundaries. But, the governments should not use pandemic as an excuse for applying repressive policies. Efforts should be made spread information in every camp that have limited source to reliable information about COVID-19 and measures of protection.
Understanding the unlawfulness of the Law of Armed Conflict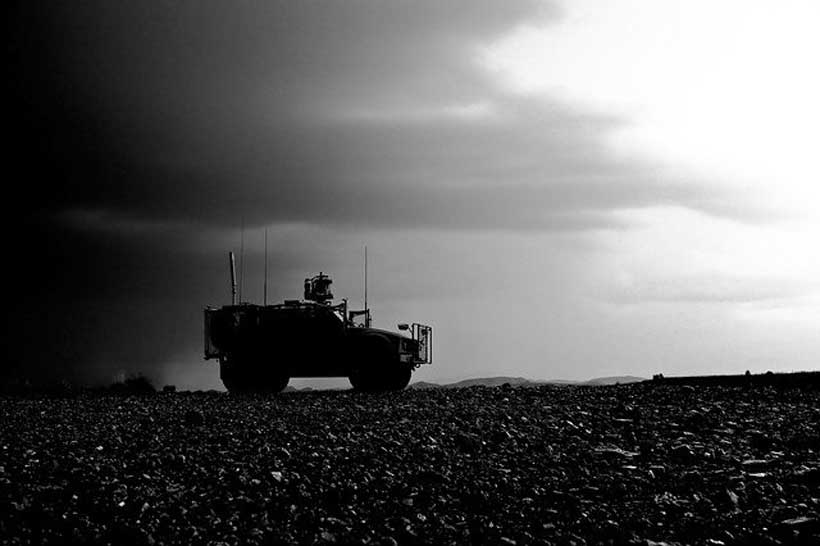 The contravention of rules outlined in the Law of Armed Conflict has created an environment of exploitative exceptions in the understanding, and applicability of human rights and security in theatres of modern warfare. As these exceptions pave way for the proliferation of national might in the name of national security, and combatant safety, the human suffering for non-combatants also witnesses a proportionally massive upsurge. The changing (mis)understanding of these regulations calls for a review on the accountability and necessity of jus in bello, and its weakened importance under the ambit of the law of armed conflict, and the greater International Humanitarian Law.
More than often, man-made conflicts have been responsible for the decimation of life and property around the globe. Even though human casualty stands divided between conventional and non-conventional threats in a modern world, the protraction of man-made conflict is mainly responsible for loosening up tides after tides of bloodshed for physical or territorial gains. However, with the advent of the prospect of domestic/international accountability, and a fool-proof system of checks and balances, mankind's warfare is held by tighter strings of transparency and justifiability, adorned by rules and regulations. Nonetheless, it is very important to analyse and understand if its techniques of armed conflicts and subsequent regulation are stringed by laws of conduct to create a policy of accountability and fairness equally amongst participating parties or are riddled with discriminatory practices, apropos to an obscure understanding of who is sacred and who is profane. Rather unsettling, the horrors of war have time and again been governed with a rather small yet informative account of jus in bello (justice in war) or the law which governs how warfare is conducted, centred in the Law of Armed Conflict.
Jus in bello falls within the ambit of the International Humanitarian Law (IHL), and as the semantics suggest, it indeed is purely humanitarian in its objective to limit human suffering in modern warfare through a strict set of pre-decided rules. Jus in bello is independent of the questions about the reason for war, or its basic rules, which in turn is explained by jus ad bellum(the law of waging war). Jus in bello, if we analyse through its literary content, consists of two parts. The first part explains principle determinants for a proper quantum of force required in armed warfare if limiting warfare is ever the case in humanitarian laws. The second part guides us through limitations and prohibitions in warfare if not complete cessation, which reminds of the old age tradition of centripetal discussions around international peace and security, albeit to no practical effect. In contrast to the humanitarian nature of the IHL, the first part of jus in bello aims to indulge the parties in conflict with a categorised, and diverse set of paradigms for use of violence. In a dubious exception, it can also encourage the parties to use toolkits of violence on adversaries, if it is justified with international/domestic military necessity, regardless of the means of interpretation, e.g. Turkey's raid over Syria. Nonetheless, the rule of active distinction in IHL between combatants and non-combatants aims to impose limits on destruction and suffering in armed conflicts. However, the interpretation of the exceptional military necessity, proportionality, and distinction (MNPD) principles in IHL makes the death and injury of non-combatants casual, by emphasising on the miscued understanding that any unintentional attack with extreme unaccountability on non-combatants can, and will be classified as "collateral damage". It ends up giving a sense of irresponsibility, justifiability, and immunity to the unprejudiced actions of the armed combatants since their actions are no longer a criminal or civil liability.
Fortunately, the second part of jus in bello adheres to the responsibilities in humanitarian law and imposes strict, absolute limits on certain instruments and modes of violence which can most certainly, if given a free hand, increase human casualty and suffering. These rules are extremely significant and cannot be exploited for potential military advantages. It is extremely altruistic to non-combatants. Nevertheless, a major limitation of the second part, as a general exception concerns the legality of warfare in the treatment and torture of prisoners of war by nation-states, regardless of the combatant and non-combatant status. One such example of that exploited limitation is the question on the authorization of torture, and indignation by US Personnel in the infamous Abu Ghraib prisons, which is backed by a textbook excuse that under US military commissions, information acquired through torture, generally inadmissible in domestic US civil/military courts will be considered as evidence for the sake of its internal security, and can ignore international laws and declarations. Fundamentally, even though this rule is in contrast with The Military Commission Act of 2006 section 6 (c)(1), the international organisations, honouring their commitment to the UN Charter Chapter 1, Article 2(7), limit their intervention in the matter. This is even though the US has ratified UNCAT Convention against Torture, and stands in clear violation of international decrees.
Moreover, the penumbra veiling the opacity of scores of military commissions, omissions and laws in this particular matter by different nation-states has threatened to unsettle various humanitarian provisions in jus in Bello, to evolve with the growing needs of armed conflict, primarily after the US's war on terrorism. Major western nation-states like the UK and the US have called for a case by case approach into evidence gained from torture, taking a cue from Churchill's "supreme emergency" dictum, henceforth, threatening to make torture a tool of plausible military necessity, which is unproportioned and discriminatory towards non-combatants.
Articulating the terminology change in IHL over due course of time, and an itemization of new crimes post-World War II, it is to be brought into notice the alarming plethora of provisions that have changed course in jus in bello. Regardless of the differentiation between combatants/prisoners of war, and non-combatants in Article 37(1) of Additional Protocol I and Article 44 of Protocol I of Geneva Convention, the lack of trust among state actors over doubtful logic and morality due to the inclusion of irregular fighters, non-state actors, and foreign fighters in modern warfare leads to unprecedented failure to comply with the second part prohibitions. This has resulted in the loss of a great majority of non-combatants in the conflicts of the 21st Century.
Furthermore, with the increasing reliance on tech-based warfare to minimise combatant casualty among state actors, WMDs have been the instrument of choice against the belligerent party. Unfortunately, the volatile firepower of such weapons, as well as its unprejudiced understanding between combatants, and civilians are judged under MNPD principles. Regardless of its clear military, and political danger over misuse, it is still accepted frivolously in the international community, and among state actors as a weapon of choice. The existence of nuclear weapons even after strengthened efforts towards non-proliferation, and its evolving doctrines of use among various nation-states, is an example of this effort to sham jus in bello, which is acting towards effective distinction in conflicts. The concept of the use of WMDs as a possible deterrent or a method of national self-defence is heavily prejudiced and debated in the international legal community, which openly admits that it cannot regulate the legality or illegality of such weapons by a nation-state in cases of self-defence, whatever the interpretation may be. Instead, they added this responsibility on MNPD principles, and un-verified claims of user assessment for self-defence, which technically does nothing to put a halt on the proliferation of WMD usage as an instrument of fear-mongering, e.g. the Democratic People's Republic of Korea.
In the end, the lack of political will, and international compliance, marred by selfish national interests have worked more to change the law of armed conflicts, rather than strictly implementing it. The increasing reliance on the first part of jus in bello threatens to omit the second part from IHL, resulting in warfare and conflicts in modern times without a leash to save civilians from the unavoidable line of fire. It is high time that the international community takes a stand to promote and propagate the relevance of IHL to preserve the purity of conventions in place years ago, without pressure from major nation-states. These conventions find their relevance even now until mankind in its very nature of gaining more power decides to uproot it once and for all.
How India's Current Digital Strike Against China Is well-Protected Under article 14 Of Gats
As the military tensions between India and China were steadily increasing due to Chinese intrusion into India territory at the Galwan valley, India on 29th June, 2020 launched a digital strike against China to counter its unwarranted territorial aggression. In a press release as issued by the Indian government, it was stated that 59 applications were decided to block as such applications are "prejudicial to sovereignty and integrity of India, defence of India, security of state and public order".
Certainly, the digital strike has been hailed by many countries that were aware of the rising accusations of Chinese surveillance on sensitive communications. China has often been blamed for the act of stealing foreign intellectual property for its military advancement. The Chinese government has been using these applications as a medium to institutionalize a system that legally and illegally acquires the foreign technology for its domestic advantage and strategic development.
Although, as this Indian geo-political move has much significance in the ongoing debate of protecting the sovereignty of India, China, on the other hand, has threatened to sue India at WTO dispute resolution forum for potentially violating the multilateral WTO agreements. China has termed this Indian app-banning move as an abuse to national security exception. It has stated that this move is 'selective and discriminatory' and against 'fair and transparent procedure requirements' thus, violating the trade-liberalizing agreements. However, India has squared-off all the Chinese claims by terming them frivolous because India's WTO sovereignty and national security defence argument in this incident is much stronger and infallible.
Therefore, in this article, I would be discussing that how India's recent measure is protected under the provisions of Article XIV (a), XIV (c) (2), and XIV Bis of GATS and thus how it raises a strong stance in favour of India that can rebut the baseless Chinese WTO threat.
Article xiv and xiv bis of the gats
GATS is a multilateral agreement that is established to provide rules for trade in services with a view to the expansion of such trade while ensuring transparency and progressive liberalization in order to promote the economic growth. Although this agreement desires to achieve a higher level of liberalization, it still recognizes the right of Member-state to regulate, and to introduce new regulation, on the supply of services within their territories to meet national policy objectives.
Article XIV is one such provision articulated in the agreement that provides the Member-state to accommodate other policy goals and choices made in accordance with domestic laws and societal values. This article expresses the scope of particular matters related to national importance including privacy and public order. Moreover, Article XIV bis is another such provision that accommodates security exceptions that provide the room for implementing those actions which it considers necessary for the protection of its essential security interests.
India's move of blocking applications is well-based on these provisions that provide the sovereign country like India to take all policy measures which protects the security of its state and thus, its recent measures are protected under these Articles.
Measure protected under Article XIV (A) of GATS
Article XIV (a) gives the liberty to the member-state for adopting or enforcing any measures that are necessary to protect public morals or to maintain public order. According to the Panel Report in dispute of United States –Gambling, public order has been defined as "the preservation of the fundamental interests of a society, as reflected in public policy and law."
In the same WTO dispute, two-tier analysis of justifying the member-state measure under this specific provision has been provided. The panel states that member-state has to satisfy two elements that are firstly the measure must be one designed to "maintain public order"; and secondly the measure for which justification is claimed must be "necessary" to maintain public order.
In the present scenario, India's measure to ban the 59 Chinese apps was necessary to maintain the public order. As India provides the primary market of digital space, there is a higher risk of exploitation of fundamental interests of the society and its citizens. According to the Ministry of Information Technology, many complaints were filed with them which summarily reports about misusing of these applications to steal and underhandedly transmitting users' data in an illegal manner to data servers that are located outside the territory of India. Therefore, it was important for India to protect the fundamental interest and values of its citizens and thus, a necessity which is an objective standard has been evolved for India to take such WTO-consistent repressive measure which was reasonably available to protect the public order of its country after following the test of weighing and balancing a series of factors as determined by Appellate Body in WTO dispute of Korea-Beef.
Moreover, as this measure promotes the maintenance of public order, it was found by the appellate body in the dispute of US-Gambling that the member-state is not obliged to explore and exhaust all other reasonably available alternatives and there is no need for prior consultations with the counter-part before implementing such measure and thus, this measure is WTO-consistent and protected under Article XIV (a) of GATS.
Measure protected under Article XIV (C) (2) of GATS
This Article provides the liberty to the member-state like India to adopt or enforce such measure that is necessary to secure compliance with such laws and regulations that are not inconsistent with the provisions of GATS. Further, this provision provides a non-exhaustive list of those laws or regulations that are not inconsistent with WTO and clause (2)specifically provides a WTO-consistent provision that relates to "protection of the privacy of individuals in relation to the processing and dissemination of personal data and the protection." In the WTO dispute of Mexico-Soft Drinks, the Appellate Body explained the meaning of law or regulations and held that such term is used to denote the rules including international agreements that form part of the domestic legal system of a WTO member-state.
Under this provision, it is necessary to show that the measure which is enforced was necessary and was further designed to secure compliance with the WTO-consistent law. Undeniably, the current measure which banned the Chinese apps was particularly designed to secure compliance with the Indian Constitution (WTO-consistent law) as well as other Indian legislations that accounts for protecting the privacy of its citizens as these apps were threatening and violating the privacy of its users. This measure is said to be securing the compliance as its design reveals that the certain measure protecting the right to privacy of its citizens under Article 21 of the Constitution.
The Supreme Court of India in its landmark decision held that right to privacy including the aspect of information privacy is a facet of Article 21 of the Indian Constitution and thus it is a fundamental right guaranteed to everyone. Therefore, when the Indian government was satisfied that there was a reasonable apprehension regarding the security of data and breach of privacy of its citizens due to operation of such certain apps, it became indispensably necessary for the Indian government to enforce such WTO-consistent measure to ban these applications to protect the privacy and sensitive data of its citizens from being harmed and intruded. Moreover, the Appellate Body in dispute of Dominican Republic-Import and Sale of Cigarettes held that the member-state has the whole right to determine for themselves the level of enforcement of their WTO-consistent law, thus this measure was necessarily implemented to secure compliance with the Constitutional principles of India and hence, this measure is protected under Article XIV (c) (2).
Measure protected under Article XIV BIS of GATS
This article provides for the security exceptions that allow the member-state to take any actions that are required to preserve the sovereignty and national security interests of its state in times of war or any emergency in international relations. The recent ban of these 59 apps was in regard to terminate their usage as it was reported that these apps were being engaged in activities which were prejudicial to sovereignty and integrity of India and have been acting hostile to national security and defence of India. Such threats to the pillars of democracy required emergency measures and therefore, India's measure to disallow the usage of these applications was a result to ensure safety and sovereignty of Indian cyberspace.
Moreover, this action of India cannot be seen in isolation and there is a need to appreciate the geo-political evidence revolving around India that aggravated the situation. There was a weather of emergency created in India due to the repeated aggression shown by the Chinese government at the Line of Actual Control. Even 20 Indian soldiers were martyred during the violent face-off with the Chinese counterpart. Such incident potentially raises a situation of emergency in international relations and that further allows India to take the defence of Article XIV Bis to eclipse its digital strike under the ambit of necessary and strategic action taken to protect the security and sovereignty of India.
Conclusion
For China, the doors of WTO are ajar to try its last fling to protect its shameful diplomacy of unfair practices; however, approaching to this organization will do more harm than good for China as the case of India is strong and firm. India's current diplomatic measure is clearly WTO-consistent and squarely falls under the Security and General exceptions provided under GATS, therefore, there is no instance of trade violation. Instead of giving a baseless threat, China should try to mediate and consult the issue with the Indian government to protect the trade market that it used to enjoy before the ban. It should also try to introduce reformative measures that ensure accountability and transparency amongst the links between the Chinese government and the Chinese economic players. The world is now aware of the dirty economic strategies that China is implementing to build a Chinese century and this time, the world would rebut back with stronger measures just like India declared a digital war against China.