APEC Ministers Seed Sustainable Forest Product Trade
Ministers from APEC member economies are stepping up their push to salvage the majority of the world's dwindling forests and the livelihoods of millions of people that depend on these resources as consumer demand in the region surges.
Ministers meeting in Seoul launched growth-friendly actions for realizing their ambitious goal of increasing forest cover by at least 20 million hectares by 2020 across APEC. Together, APEC economies account for half the world's forests and 80 per cent of global timber trade.
A viable step towards mitigating climate change, the move sets the tone for the APEC Economic Leaders' Week in Da Nang on 6-11 November that will aim to improve trade-driven growth in the region and the sustainability and equity of its economic and social outcomes.
"The huge increase in the middle class in APEC made possible by greater connectivity and trade is driving a consumption-led growth recovery but also putting pressure on high demand resources like wood and timber products," explained Dr Alan Bollard, Executive Director of the APEC Secretariat.
"APEC economies are enacting measures to boost legitimate trade flows that weed out illegally harvested wood before they hit consumer markets and undercut legal producers," Dr Bollard continued. "Eliminating price distortions caused by illicit timber could have a major impact on forest preservation and the large numbers of jobs they support."
Ministers are focused on raising governance and transparency standards among APEC economies for the trade of timber and wood products such as lumber, paper, flooring and furniture, in coordination with Interpol, industry and conservation groups.
This includes building on work administered by the APEC Experts Group on Illegal Logging and Associated Trade to enhance customs inspections of timber and wood products at borders, implement timber legality methodologies and establish efficient lines of communication with law enforcement agencies.
Parallel measures to be taken forward by APEC economies center on facilitating sustainable forest management practices and community support needed to help forests re-germinate and promote emerging business and employment opportunities.
"The growth potential of sectors such as agriculture, education, healthcare and tourism depends in no small part on forest resources in APEC," concluded Dr Bollard. "The progress of efforts to create sustainable supply chains could go a long way to ensuring the future of the region's forests."
The Seoul Statement endorsed at the conclusion of the Meeting of Ministers Responsible for Forestry outlines the actions to be advanced by APEC member economies towards this objective.
Turkish Airlines and Turkish Cargo Rise to the Top Amid Pandemic
Turkish Airlines successfully ended the fiscal year 2020 with 6.7 billion USD revenue, which accounts for 50% of the preceding year's level, with a net loss of only 836 million USD. During these uncertain times, the airline was also able to maintain its robust route network. According to Eurocontrol, in April 2021 Turkish Airlines operated an average of 685 flights per day – almost double the number of the closest competitor in Europe, Lufthansa. In 2020, Turkish Airlines flew 28 million passengers, with an impressive load factor of 71%. Currently, the airline serves 179 international destinations with 16 intercountry and 58 intercontinental flights. The new Istanbul Airport also stayed on top: even with a 68% loss of traffic, it was still Europe's most successful airport as of March 2021, with 616 departing and arriving flights.
This success is based on cost cutting activities, capex reduction and active capacity management. In fact, Turkish Airlines achieved such performance without relying on any governmental cash injections. Furthermore, agreements with Boeing and Airbus on fleet growth will further decrease the aircraft financing needs of Turkish Airlines by around 7 billion USD in the coming years.
"Our success as the best performing flag-carrier airline in Europe is not coincidental. Apart from the multiple measures we took, we owe this success to our dedicated staff. While other airlines faced layoffs, we did not part ways with any of our colleagues during this process. Instead everyone within Turkish Airlines accepted salary cuts from up to 50% depending on the role and responsibilities. The exceptional sense of unity within our staff is what sets Turkish Airlines apart: together as a family, we decided that no member of the Turkish Airlines family would be left behind during this crisis.", says Turkish Airlines' Chairman of the Board and the Executive Committee, M. İlker Aycı.
Turkish Airlines also turned the pandemic into an opportunity to increase its cargo operations, with 50 of its passenger aircrafts being reconfigured to increase its cargo fleet capacity. Turkish Cargo managed to become one of the top five air cargo companies in the world and the 6th largest cargo company. The company increased its market share in total global cargo revenue from 0.6% in 2009 to 4.7% in 2020. As of February 2021, one in 20 cargo flights around the world were handled by Turkish Cargo.
This allowed Turkish Cargo to deliver 50,000 tons of medical supplies, including more than 45 million doses of COVID-19 vaccines, to destinations all over the world. In addition, new technologies and innovative solutions have been developed. One example is SmartIST, one of the largest air cargo facilities in the world, which is scheduled to open this year. Located at Istanbul Airport, the facility uses modern technology such as drones and automated robots to process and deliver goods even faster.
Famine risk spikes amid conflict, COVID-19 and funding gaps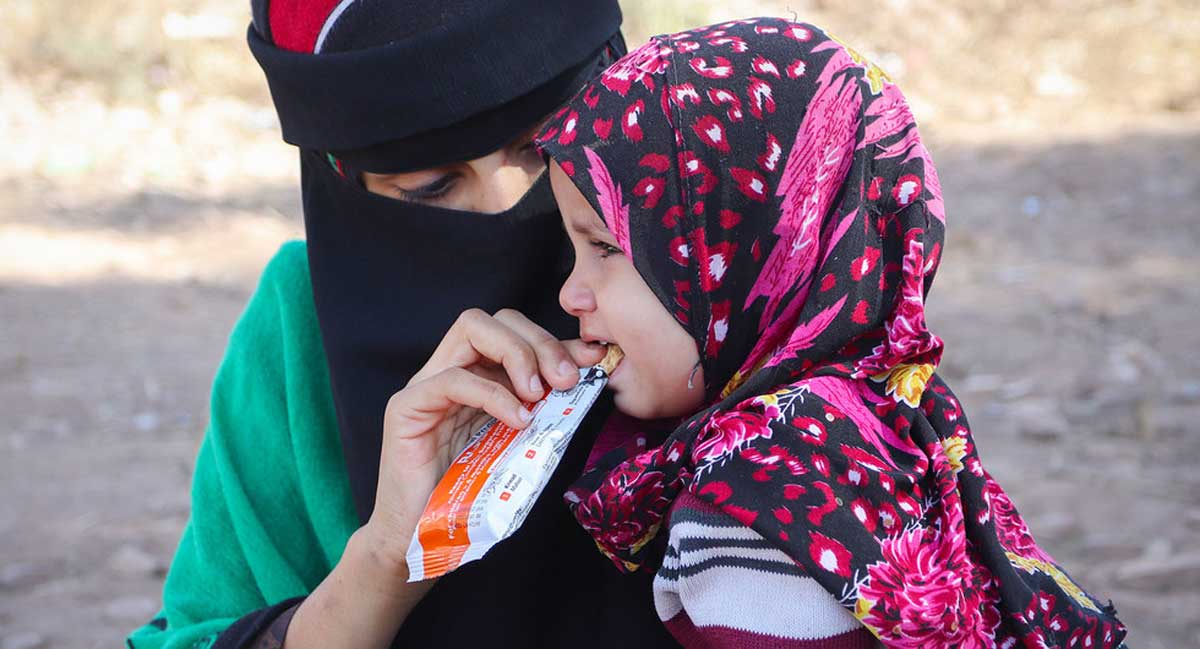 The impact of conflicts old and new, climate shocks and COVID-19, in addition to a lack of funding, have left millions more on the verge of famine than six months ago, the World Food Programme (WFP) said on Friday.
In an appeal for $5 billion "to avoid famine" and support the "biggest operation in its history", WFP spokesperson Phiri Tomson said that millions of refugees faced "uncertainty and hunger" as the impact of the pandemic on emergency aid budgets became clearer.
"The number of people teetering on the brink of famine has risen from 34 million projected at the beginning of the year, to 41 million projected as of June", he said. "Without immediate emergency food assistance, they too face starvation, as the slightest shock will push them over the cliff into famine conditions."
From bad to worse
According to the latest IPC food insecurity assessments – which humanitarians use to assess needs on a scale of one to five – the 41 million "are people who are in IPC phase 4 – emergency", the WFP spokesperson explained.
New refugee influxes linked to conflict and drought have increased needs for people in "IPC phase 5 – catastrophe" and "that number stands at 584,000 people", Mr. Phiri continued. "These are people in Ethiopia's Tigray region, Madagascar, particularly the southern part; South Sudan, especially as we are now at the height of the lean season in that country, and Yemen."
'Brutal choices'
Launching its Global Operational Response Plan, the UN agency highlighted operations in no less than eight countries and regions where it has had to make "brutal choices" because of significant funding shortfalls.
In practice, this has meant reduced rations "across east and southern Africa, as well as the Middle East…among some of the world's most vulnerable people who rely on WFP to survive", said Mr. Phiri.
"In some cases it's 40 per cent, in some cases it's 25 per cent, in some cases it's 60 per cent…The fact is, the assistance we provide is a basic need, the assistance we provide is just enough to help people get by."
West and Central Africa in crisis
For many vulnerable aid recipients in West and Central Africa, the COVID-19 pandemic has left them without the opportunity to work to supplement their rations and unable to pay for increasingly expensive staple foods. "Countries like Chad, Niger and Burkina, Mauritania; these are all countries of concern, including Sierra Leone as well," said Mr. Phiri, after a warning by the UN agency that the world was no longer moving towards Zero Hunger.
"Progress has stalled, reversed, and today, more than 270 million people are estimated to be acutely food insecure or at high risk in 2021," it said in a statement.
Forced displacement at record level, despite COVID shutdowns
The number of people fleeing wars, violence, persecution, and human rights violations, rose last year to nearly 82.4 million people, a further four percent increase on top of the already record-high of 79.5 million, recorded at the end of 2019.
According to the UN Refugee Agency flagship Global Trends Report published on Friday, the restrictive COVID-19 pandemic did not slow forced displacement around the world, and instead could have left thousands of refugees and asylum seekers stranded and vulnerable.
The new 'one percent'
Despite COVID-related movement restrictions and pleas from the international community for a concerted global ceasefire, displacement continued to occur – and to grow. As a result, more than one percent of the world's population – or 1 in 95 people – is now forcibly displaced. This compares with 1 in 159 in 2010.
The agency explains that while the full impact of the pandemic on wider cross-border migration and displacement globally is not yet clear, data shows that arrivals of new refugees and asylum-seekers were sharply down in most regions – about 1.5 million fewer people than would have been expected in non-COVID circumstances, reflecting how many of those seeking international protection in 2020 became stranded.
New and old crises
According to UNHCR, several crises – some new, some longstanding and some resurfacing after years – forced 11.2 million people to flee in 2020, compared to 11.0 million in 2019.
The figure includes people displaced for the first time as well as people displaced repeatedly, both within and beyond countries' borders.
By the end of 2020, there were 20.7 million refugees under UNHCR's mandate. Another 48 million people were internally displaced (IDPs) within their own countries.
Driven mostly by crises in Ethiopia, Sudan, Sahel countries, Mozambique, Yemen, Afghanistan and Colombia, the number of internally displaced people rose by more than 2.3 million.
When considering only international displacement situations, Syria topped the list with 6.8 million people, followed by Venezuela with 4.9 million. Afghanistan and South Sudan came next, with 2.8 and 2.2 million respectively.
Turkey continued to host the largest number of refugees with just under 4 million, most of whom were Syrian refugees (92%). Colombia followed, hosting over 1.7 million displaced Venezuelans.
Germany hosted the third-largest population – almost 1.5 million, with Syrian refugees and asylum-seekers as the largest group (44%). Pakistan and Uganda completed the top-5 hosting countries, with about 1.4 million each.
The COVID-19 crisis also hit the forcibly displaced hard, who faced increased food and economic insecurity as well as challenges to access health and protection services.
At the peak of the last year, over 160 countries had closed their borders, with 99 States making no exception for people seeking protection.
According to UNHCR, the dynamics of poverty, food insecurity, climate change, conflict and displacement are increasingly interconnected and mutually reinforcing, driving more and more people to search for safety and security.
A call to end the suffering
UNHCR is urging world leaders to step up their efforts to foster peace, stability and cooperation in order to halt and begin reversing nearly a decade-long trend of surging displacement driven by violence and persecution.
"Behind each number is a person forced from their home and a story of displacement, dispossession and suffering. They merit our attention and support not just with humanitarian aid, but in finding solutions to their plight", reminded the UN High Commissioner for Refugees, Filippo Grandi.
In a statement, Mr. Grandi underscored that while the 1951 Refugee Convention and the Global Compact on Refugees provide the legal framework and tools to respond to displacement, a much greater political will is needed to address conflicts and persecution that force people to flee.
"The tragedy of so many children being born into exile should be reason enough to make far greater efforts to prevent and end conflict and violence," he added.
Girls and boys under the age of 18 account for 42 percent of all forcibly displaced. They are particularly vulnerable, especially when crises continue for years.
New UNHCR estimates show that almost one million children were born as refugees between 2018 and 2020. Many of them may remain refugees for years to come.
Low rate of return
The agency emphasized that over the course of 2020, some 3.2 million internally displaced and just 251,000 refugees returned to their homes –a 40 and 21 percent drop, respectively, compared to 2019. Another 33,800 refugees were naturalized by their countries of asylum.
Refugee resettlement registered a drastic plunge with just 34,400 refugees resettled, the lowest level in 20 years – a consequence of a reduced number of resettlement places and COVID-19.
"Solutions require global leaders and those with influence to put aside their differences, end an egoistic approach to politics, and instead focus on preventing and solving conflict and ensuring respect for human rights," urged Grandi.
The UN Refugee agency reminded that 2020 is the ninth year of uninterrupted rise in forced displacement worldwide. There are twice as many forcibly displaced people than in 2011 when the total was just under 40 million.