Cameroon makes significant strides in social services and infrastructure

As the most robust economy in Central Africa, Cameroon, has in the past decade taken steps to further boost growth, making major advances in providing health, education, and clean water, and launching an ambitious infrastructure investment programme to become a middle-income country by 2035, according to the AfDB's Cameroon Country Brief released on 2 November 2017.
The report highlights the country's efforts towards achieving this objective, with the Bank's support, by aligning its development actions to AfDB High 5 strategic pillars.
"Progress has been impressive, but a big leap in business competitiveness is required, to create a more diverse, inclusive, regional economy," said Simon Mizrahi, Director of the Delivery, Performance Management and results.
Here are a few highlights and insights from the report:
Light Up and Power Cameroon: With abundant sun, rivers, and natural gas reserves, Cameroon could potentially be an electricity exporter to the Central African Economic and Monetary Community (CEMAC). But for now, the country must address domestic power shortages, strong annual demand growth of 8%, and low electricity access in rural areas. As of next year, however, 2.7 million Cameroonians will have better electricity access, due to a national plan to expand production and transmission with AfDB's support.
Feed Cameroon: To fulfill its potential in agriculture, which accounts for 40% of GDP, , the AfDB has helped Cameroon double agriculture output, which has lifted the livelihoods of 4.6 million farmers by 15%, including promoting small holders agribusiness, better nutrition, and strengthening food security.
Industrialise Cameroon: The economy rebounded to 5.7% growth in 2015, boosted by agribusiness and construction, and the time to start a business shrank to 15 days from 45. However, the country should cut red tape and make it easier for businesses to get loans. Internet use rose 10-fold but stands at 11%, although that will grow: the Central African Backbone will install 1,000 km of fiber optic cables with AfDB financing.
Integrate Cameroon: Intra-Africa trade tripled in the past decade, but a big investment gap remains to build transport, energy, and information and communications infrastructure to underpin further growth. Recent trade growth was boosted by an AfDB-backed road, the 535 km corridor in the fertile zone from Bamenda in Cameroon to Enugu in Nigeria, which cut travel time to hours instead of days, and lifted the incomes of traders and farmers.
Improve the Quality of Life for Cameroonians: Despite investing heavily in health centers, schools, and clean water – only three-quarters of the population currently have clean drinking water – Cameroon must create more jobs, especially for its youth.
To better serve Cameroon, AfDB has recently expanded its Yaounde office, striking new partnerships to leverage more financing, and raising its investment to $2.8 billion.
Looking forward, Cameroon has several ambitious endeavours in its bid to narrow the investment gap in trade, energy, and transport, and to further expand its position as the largest regional trading partner in Central Africa, though projects, such as the AfDB-funded study on the Cameroon-Chad electricity Interconnection Line, one of the largest projects in the Economic community of Central African States (ECCAS).
Pandemic poses fresh challenges for vulnerable migrant workers in Middle East
Amidst reports that many migrant workers in the Middle East are being made destitute, due to an economic crisis exacerbated by the COVID-19 pandemic, the UN is calling on governments and employers to respect their rights, and show solidarity with their plight.
Thrown into the streets, locked in rooms, and forced to work without pay, recent media reporting has revealed the abuse and poor treatment that some migrant domestic workers in the Middle East have suffered, since the onset of the pandemic.
The International Labour Organization (ILO) has confirmed that many of these workers, particularly those who have no employment contract, and live outside the household, have been severely impacted by the pandemic.
Rszyard Cholewinski, senior migration specialist at the ILO's Regional Office for Arab States, told UN News that the numbers of workers affected in the region is significant: more than 27 per cent of migrant domestic workers (3.16 million out of a global total of 11.5 million) are employed in Arab States, according to ILO estimates.
Restricted lockdown
Many of them have lost their incomes and livelihoods, with employers telling them that their services are no longer needed, due to fears regarding the spread of COVID-19. As a result, they are struggling to pay for food and rent, and are relying on humanitarian assistance, and the support of community networks.
Most, however, live within the households of their employers. For these workers, says Mr. Cholewinski, working conditions are likely to have worsened: "they are being required to perform more tasks, particularly in relation to cleaning, and working longer hours with less time off", he says. "They are also subject to greater restrictions on their mobility as families stay home, with the increase in teleworking and home-schooling during periods of lockdown".
Workers in this region were already vulnerable to abuse, as domestic work is excluded from labour laws in many countries. In Arab States that favour the kafala system – which requires foreigners to obtain the permission of their employer if they want to change jobs or leave the country – there is, says Mr. Cholewinski, a serious imbalance in the worker-employer relationship, which makes migrant domestic workers particularly vulnerable to situations of forced labour.
Signs of progress
The UN has been working to improve conditions for migrant domestic workers during the pandemic, alongside governments, employers and worker organizations, and other partners, to better understand the situation of migrant domestic workers, who have become even less visible than before due to the lockdowns introduced by many governments in the region.
In cases where migrant domestic workers have been deprived of incomes and livelihoods, the UN is working to ensure that all migrant workers, including domestic workers, are covered in the national responses to COVID-19.
At a local level, says Mr. Cholewinski, there are some signs of improvement in the way workers are treated: "there has been some progress in dismantling the kafala system, to make it easier for domestic workers to terminate contracts and to change employers, particularly in cases of abuse".
However, he notes that there is still a lot more that needs to be done at an international level: "the ILO is promoting ratification of its Domestic Workers Convention, which establishes the minimum level of treatment that should be afforded all domestic workers regardless of their nationality or immigration status. To date, it has not been ratified by any Middle Eastern countries".
Violence in Sudan's Western Darfur forces 2,500 into Chad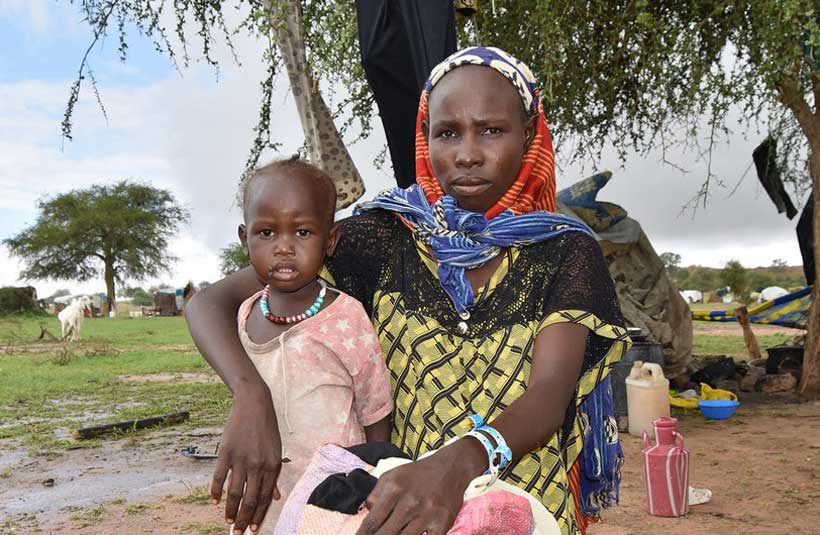 Recent clashes in Sudan's Western Darfur region has driven more than 2,500 people across the border into neighbouring Chad, the UN refugee agency (UNHCR) has reported.
According to UNHCR, more than 80 per cent of those arriving in the Chadian border town of Adré are women, children and elderly – many of whom have witnessed extreme violence.
Attacks, said to have been carried out by armed nomads in the town of Masteri in Western Darfur, killed 61 people from the Masalit ethnic community and injured at least 88 on 25 July. Houses were also reported to have been burned to the ground in the town and the surrounding villages.
"A 25-year-old woman told UNHCR staff that her husband was stabbed to death in front of her eyes and she had to run for her life with her three children, making the journey to Chad riding a donkey for one full day", Babar Baloch, a spokesperson for the agency said at Tuesday's regular media briefing, in Geneva.
About 20,000 affected within Sudan
In addition to those who fled into Chad, an estimated 20,000 people within Western Darfur in Sudan have been affected by the unrest – the majority of whom are women and children.
Mr. Baloch said that the situation has stabilized since the attacks but "remains unpredictable" and those displaced are still hesitant to return home and are demanding better security.
Federal authorities in the Sudanese capital, Khartoum, have reportedly deployed additional forces to control and calm the situation. A delegation from the Masalit community and Arab tribal leaders arrived in El Geneina, the capital of Western Darfur, from Khartoum on 4 August and is conducting peace talks between both sides, added the UNHCR spokesperson.
Response hit by heavy rains
In Chad, UNHCR, in collaboration with the Government and humanitarian partners, is relocating the refugees from the border areas to the Kouchaguine-Moura refugee camp further inland, where they will be provided with food, shelter, water and emergency relief items.
The camp will also provide access to hygiene and health, including isolation units, as part of the response to COVID-19, said Mr. Baloch.
The relocation, however, has been slow due to heavy rains and poor road conditions, with about 443 refugees arriving at the camp last week. The Kouchaguine-Moura camp is already hosting more than 6,000 Sudanese refugees who had arrived in February 2020.
Rains have also hampered efforts to assess the situation and organize a response to assist those affected in Sudan.
Pandemic highlights importance of indigenous self-determination
The COVID-19 pandemic has underscored the need to ensure the world's indigenous people have control over their own communities, the UN High Commissioner for Human Rights has affirmed.
Michelle Bachelet described the pandemic as "a critical threat" to indigenous communities everywhere, at a time when many are also struggling against man-made environmental damage and economic depredation.
"Overall, the pandemic hammers home the importance of ensuring that indigenous peoples can exercise their rights to self-government and self-determination", she said in a message for the International Day of the World's Indigenous Peoples, observed this Sunday.
"This is about saving lives and protecting a precious web of cultures, languages and traditional knowledge, that connect us to the deep roots of humanity."
Among the world's poorest
There are roughly 476 million indigenous people worldwide, according to UN estimates.
Although less than five per cent of the global population, they account for 15 per cent of the poorest people on the planet.
Ms. Bachelet noted that many indigenous communities have "deeply inadequate" access to health care, clean water and sanitation, while their communal way of life can increase the probability of rapid contagion.
Ancestral knowledge lost
COVID-19 cases have surpassed 18 million globally, and the Americas remain the epicenter of the crisis, the World Health Organization (WHO) announced earlier this this week.
The UN rights chief said more than 70,000 indigenous people across the region have been infected to date, including almost 23,000 members of 190 indigenous peoples in the Amazon basin.
"Over 1,000 deaths have been recorded, including several elders with deep knowledge of ancestral traditions", she added. "They include the tragic death in Brazil this week of chief Aritana, of the Yawalapiti people."
Lives under threat
The Amazon spans nine countries and Ms. Bachelet noted that indigenous communities in the vast region live on lands that are increasingly damaged and polluted due to illegal mining, logging and slash-and-burn agriculture.
Despite measures to contain COVID-19 spread, such as movement restrictions, many of these activities have continued, alongside movements by religious missionaries which also expose the indigenous to the risk of infection.
Meanwhile, those indigenous people who live in voluntary isolation from the modern world may have particularly low immunity to viral infection.
Ms. Bachelet said indigenous communities must have a role in pandemic response, stressing that "they must also be consulted, and should be able to participate in the formulation and implementation of public policies affecting them, through their representative entities, leaders and traditional authorities".