ASEAN, Pakistan reaffirm commitment to partnership

The 6th Meeting of the ASEAN-Pakistan Joint Sectoral Cooperation Committee (AP-JSCC) held in Jakarta today reaffirmed the commitment of both sides to revitalise their partnership.
Pakistan was accorded the status of Sectoral Dialogue Partner of ASEAN in 1993. The AP-JSCC meeting is a key mechanism to guide ASEAN-Pakistan cooperation.
On the way forward, ASEAN and Pakistan agreed to develop a medium-term cooperation roadmap comprising practical, feasible and mutually beneficial activities to guide collaboration between the two sides.
Recognising ASEAN's important role in promoting peace, stability and economic development in the region, Pakistan expressed its commitment to support ASEAN Centrality in the evolving regional architecture.
Both sides reviewed ASEAN-Pakistan cooperation over the past years and discussed the ways and means to enhance collaboration in areas such as combating transnational crime, illicit drugs, trade, investment, science and technology, disaster management, tourism, human resource development, connectivity, and narrowing the development gap.
In addition to promoting greater business-to-business and people-to-people contacts, Pakistan expressed interest in supporting ASEAN in the implementation of the Master Plan for ASEAN Connectivity (MPAC) 2025 and Initiative for ASEAN Integration (IAI) Work Plan III.
The meeting was co-chaired by the Deputy Secretary-General of ASEAN for the ASEAN Political-Security Community Department, Hirubalan V P, and Additional Foreign Secretary (Asia Pacific) of the Ministry of Foreign Affairs of the Islamic Republic of Pakistan, Imtiaz Ahmad. Senior Representatives from the Commerce and Industry Ministries of Pakistan and Ambassador of Pakistan to ASEAN, Mohammad Aqil Nadeem, were also present. The meeting was attended by the Permanent Representatives to ASEAN and senior representatives from the ASEAN Secretariat.
Unpacking the Science of Growth Hormone Stacks
Growth hormones, or somatotropin, are vital hormones produced by the pituitary gland that regulate growth and development in the body. They stimulate bone, muscle, and organ growth, while also influencing metabolism and body composition.
In this article, we will explore the science behind growth hormone stacks, their purpose in bodybuilding and fitness, scientific principles, benefits and risks, safe usage guidelines, legal and ethical considerations. Our goal is to empower readers to make informed decisions about growth hormone stack usage.
Understanding Growth Hormone Stacks
Growth hormone stacks refer to combinations of various compounds that are used together to enhance the effects of growth hormones in the body. These stacks typically include growth hormone-releasing peptides (GHRPs), growth hormone secretagogues, and other complementary substances. The purpose of growth hormone stacks is to optimize the natural production and release of growth hormones, leading to amplified results.
Growth hormone stacks are widely used in the bodybuilding and fitness community to accelerate muscle growth, improve athletic performance, and aid in fat loss. By combining different compounds that work synergistically, growth hormone stacks offer a comprehensive approach to maximizing the benefits of growth hormones.
Common components found in growth hormone stacks include growth hormone-releasing peptides (GHRPs) such as GHRP-2 and GHRP-6, growth hormone secretagogues like Ipamorelin, and other substances that support hormonal balance and muscle growth, such as testosterone boosters, amino acids, and anabolic steroids.
The Science Behind Growth Hormone Stacks
Growth hormone stacks work by stimulating the pituitary gland to produce and release more growth hormones. This can be achieved through the use of GHRPs and growth hormone secretagogues, which act as agonists to specific receptors in the body, triggering the release of growth hormones. These compounds also help regulate the feedback mechanisms that control the production and release of growth hormones.
Growth hormone stacks have been shown to have a profound impact on muscle growth and fat loss. They increase protein synthesis, which promotes muscle hypertrophy, and enhance the utilization of fat for energy, leading to a reduction in body fat percentage. Additionally, growth hormone stacks can improve recovery, increase energy levels, and enhance overall physical performance.
Numerous scientific studies have explored the effects of growth hormone stacks on muscle growth and fat loss. These studies have consistently demonstrated the positive impact of growth hormone stacks on these parameters, showcasing their potential as effective tools for bodybuilders and fitness enthusiasts. However, it is important to note that the use of growth hormone stacks should be approached with caution and under professional supervision.
The Pros and Cons of Using Growth Hormone Stacks
The benefits of using growth hormone stacks are significant. They include accelerated muscle growth, increased strength and endurance, enhanced fat loss, improved recovery and healing, and overall improvement in body composition. Growth hormone stacks can also boost collagen synthesis, leading to improved skin elasticity and joint health.
One popular product in the market for growth hormone stacks is Crazybulk. Crazybulk offers a range of legal and safe alternatives to anabolic steroids, designed to mimic the effects of traditional steroids without the associated risks and side effects.
Reviews and testimonials from users are an essential factor to consider when choosing such products. For instance, if you read CrazyBulk Reviews, they indicate the effectiveness and quality of the product, therefore providing valuable insights for potential consumers.
While growth hormone stacks offer numerous benefits, it is crucial to be aware of the potential risks and side effects. Improper use, excessive dosages, or prolonged use can lead to adverse effects such as acromegaly (excessive growth of facial and body tissues), insulin resistance, fluid retention, joint pain, and cardiovascular complications. It is essential to consult with a healthcare professional before starting any growth hormone stack regimen to minimize these risks.
Safe and Effective Use of Growth Hormone Stacks
For safe and effective usage of growth hormone stacks, follow these guidelines. Consult a specialized healthcare professional to assess your needs, provide personalized recommendations, and monitor progress. Adhere to recommended dosages, cycle lengths, and frequency. Regular health check-ups and blood work help monitor adverse effects.
A well-balanced diet is essential when using growth hormone stacks. Include sufficient protein, carbs, and healthy fats to support muscle growth and recovery. Regular exercise, especially resistance training, maximizes the benefits. Adequate sleep, stress management, and hydration contribute to overall health and optimize growth hormone effects.
Seek advice from fitness professionals with expertise in growth hormone stacks. They guide you in selecting suitable stacks, adjust dosages, and provide insights for optimal health and wellness. Their knowledge ensures safe and effective usage.
Legal and Ethical Considerations of Growth Hormone Stacks
The legal status of growth hormone stacks varies from region to region. In some countries, growth hormone stacks are considered controlled substances and require a prescription. It is essential to understand the legal implications and regulations regarding growth hormone stack usage in your specific location.
In competitive sports, the use of growth hormone stacks is often prohibited due to the potential unfair advantage they may confer. Athletes should adhere to the regulations set forth by the respective governing bodies to ensure fair play and maintain the integrity of the sport.
While there are legal and ethical considerations surrounding growth hormone stacks, it is important to advocate for fair and responsible use. Education and awareness about safe usage protocols, as well as open discussions about the potential benefits and risks, can contribute to a more informed approach to growth hormone stack usage.
Key Takeaways
Understanding the science of growth hormone stacks is essential for those interested in maximizing their fitness and bodybuilding efforts. By comprehending the mechanisms, potential benefits, and risks associated with growth hormone stacks, individuals can make informed decisions about their usage.
It is crucial to prioritize safety, consult with professionals, and adhere to legal and ethical guidelines. With the right knowledge and responsible approach, growth hormone stacks can be a valuable tool in achieving fitness and performance goals.
Shangri-La Dialogue: Li Shangfu accuses US of double standards in veiled attack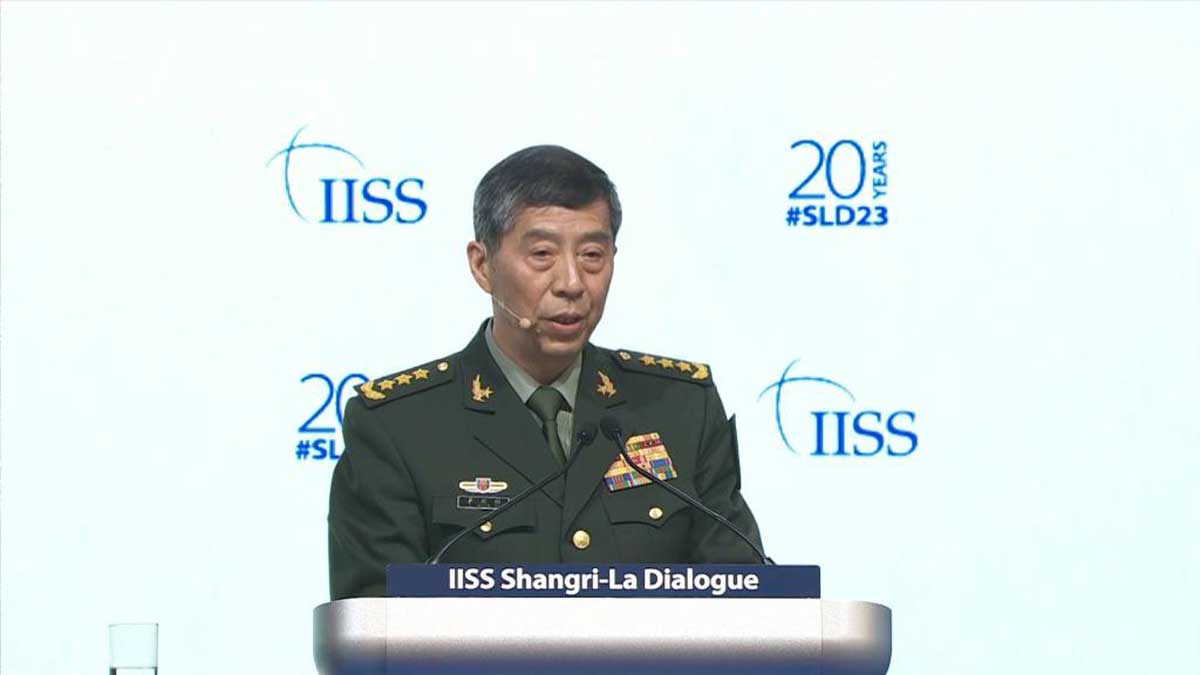 Chinese Defence Minister General Li Shangfu delivered a thinly veiled criticism of the United States on Sunday, saying "some country" liked to force its rules on others in its "rules-based international order".
"Its so-called rules-based international order never tells you what the rules are, and who made these rules," Li said in a speech to the Shangri-La Dialogue in Singapore, without naming the US or its partners.
"It practises exceptionalism and double standards and only serves the interests and follows the rules of a small number of countries," he told Asia's biggest defence conference.
In his first public statement to an international audience since becoming defence minister in March, Li highlighted China's Global Security Initiative, a set of foreign policy principles and directions in line with Beijing's style of diplomacy announced by Chinese President Xi Jinping in April last year.
They include opposition to unilateral sanctions and the use of economic development to stem instability and conflict.
China has accused the US of using sanctions without getting United Nations approval, but Beijing has imposed unofficial retaliatory trade embargoes on Australia, Canada, Lithuania, South Korea and Taiwan.
"We in China believe that the key for countries to live in harmony is mutual respect and treating each other as equals," he said.
"We are strongly opposed to imposing one's own will on others, placing one's own interests above those of others and pursuing one's own security at the expense of others."
He said some unspecified countries had "wilfully interfered in other country's internal affairs".
China has criticised Western countries for expressing concerns about human and civil rights in Hong Kong, Tibet and Xinjiang, as well as promoting Taiwan's international engagement.
He said ties between the two countries – China and USA – in the past few years had reached a "record low" since 1979, when the countries established official relations. "It is undeniable that a severe conflict or confrontation between China and the US would be an unbearable disaster for the world," he said.
"China believes that a big power should behave like one instead of provoking bloc confrontation for self-interest."
He said the US needed to act with sincerity and "take concrete action" with China to stabilise and prevent further worsening of ties.
Asked about an incident on Saturday in which a Chinese navy ship manoeuvred near a US destroyer sailing through the Taiwan Strait, Li said: "What is key now is that we must prevent attempts to use freedom of navigation … as a pretext to exercise hegemony of navigation."
On Saturday, the USS Chung-Hoon guided-missile destroyer and the Canadian frigate HMCS Montreal sailed through the strait. The US Indo-Pacific Command said a Chinese destroyer had overtaken the Chung-Hoon on its port side and crossed its bow at 150 yards (137 metres) in an unsafe way. The Chinese ship crossed the Chung-Hoon again on at 2,000 yards and stayed off the US ship's port bow.
"Chung-Hoon maintained course and slowed to 10 knots to avoid a collision," it said, accusing the Chinese navy of violating rules on safe passage in international waters.
Li said: "Every day, I see a lot of information about foreign vessels and fighter jets coming to areas near our territory. They are not here for innocent passage. They are here for provocation."
Li praised cooperation between countries in the Asia-Pacific that allowed the waterway to remain stable.
"However, we do see some countries outside the region exercising their hegemony of navigation in the name of freedom of navigation," he said.
"They want to muddy the waters so they can rake in profits. Regional countries should stay highly vigilant and firmly reject these acts."
Li repeated Beijing's position on Taiwan, saying the island was "core of China's core interests", and remained an internal issue for China, out of bounds for foreign governments.
"Taiwan is China's Taiwan, and how to resolve the Taiwan question is a matter for the Chinese to decide," he said.
Li said Beijing would not renounce the use of force to put Taiwan under its control.
"If anyone dares to separate Taiwan from China, the Chinese military will not hesitate for a second, we will fear no opponents and resolutely safeguard national sovereignty and territorial integrity regardless of any cost."
In response to the Chinese minister's statement, the American side showed nervousness.
US Defense Secretary Lloyd Austin's comments earlier came at a tense time for relations between the US and China, as China rejected an offer from Austin to meet at the summit in Singapore, citing US sanctions on Chinese officials and companies.
Austin addressed the lack of communication in his speech on Saturday, saying that he is "deeply concerned" that the People's Republic of China "has been unwilling to engage more seriously on better mechanisms for crisis management."
"For responsible leaders, the right time to talk is anytime. The right time to talk is every time. And the right time to talk is now," Austin said. "Dialogue is not a reward. It is a necessity."
Austin reaffirmed that the US will "continue to stand by our allies and partners as they uphold their rights," and maintain "our vigorous, responsible presence across the Indo-Pacific."
Bloomberg: Backlash against weaponized dollar is growing across the World
All around the world, a backlash is brewing against the hegemony of the US dollar, Bloomberg comments.
Brazil and China recently struck a deal to settle trade in their local currencies, seeking to bypass the greenback in the process. India and Malaysia in April signed an accord to ramp up usage of the rupee in cross-border business. Even perennial US ally France is starting to complete transactions in yuan.
Currency experts are leery of sounding like the Cassandras who have, embarrassingly, predicted the dollar's imminent demise on any number of occasions over the past century. And yet in observing this sudden wave of agreements aimed at sidestepping the dollar, they detect the sort of meaningful action, however small and gradual, that was typically missing in the past.
For many global leaders, their rationales for taking these measures are strikingly similar. The greenback, they say, is being weaponized, used to push America's foreign-policy priorities — and punish those that oppose them.
The Biden administration has imposed sanctions, frozen hundreds of billions of dollars of Moscow's foreign reserves, and, in concert with Western allies, all but ousted the country from the global banking system. For much of the world, it's been a stark reminder of their own dependency on the dollar, regardless of what they think of the war.
And that's the dilemma Washington officials face: By increasingly relying on the greenback to fight their geopolitical battles, not only do they risk denting the dollar's preeminent place in world markets, but they could ultimately undermine their ability to exert influence on the global stage. To ensure long-term efficacy, sanctions are often better left as a threat and not actually carried out, according to Daniel McDowell, author of "Bucking the Buck: US Financial Sanctions and the International Backlash Against the Dollar".
Undoubtedly, part of the shift away from the dollar is being orchestrated by China. President Xi Jinping is seeking to carve out a bigger role for the yuan in the global financial system, and his government has made expanding the currency's use abroad a priority.
Yet much of the push is happening without Beijing's involvement.
India and Malaysia in April announced a new mechanism to conduct bilateral trade in rupees. It's part of a broader effort by the Narendra Modi administration — which hasn't signed on to the US-led sanctions campaign against Russia — to bypass the dollar for at least some international transactions.
A month later, the Association of Southeast Asian Nations agreed to boost the use of member currencies for regional trade and investment.
And South Korea and Indonesia just weeks ago signed an accord to promote direct exchanges of the won and rupiah.
Brazilian President Luiz Inacio Lula da Silva lashed out at the dollar's dominance while visiting Shanghai in April. Standing at a podium surrounded by the flags of Brazil, Russia, India, China and South Africa, the BRICS nations, he called on the world's largest developing economies to come up with an alternative to replace the greenback in foreign trade, asking "who decided that the dollar was the (trade) currency after the end of gold parity?"
He was harkening back to the early 1970s, when the post-WWII accord — known as Bretton Woods — that had made the dollar the center of global finance was unraveling. The agreement's collapse did little to blunt the dollar's preeminent position. To this day, it serves as the world's dominant reserve currency, which has juiced demand for US bonds and allowed the country to run massive trade and budget deficits
The currency's centrality to the global payments system also allows America to wield unique influence over the economic destiny of other nations.
About 88% of all global foreign-exchange transactions, even those not involving the US or US companies, are in dollars, according to the most recent data from the Bank for International Settlements. Because banks handling cross-border dollar flows maintain accounts at the Federal Reserve, they're susceptible to US sanctions.
"Countries have chafed for decades under US dollar dominance," said Jonathan Wood, principal for global issues at consultancy Control Risks. "More aggressive and expansive use of US sanctions in recent years reinforces this discomfort – and coincides with demands by major emerging markets for a new distribution of global power."
A representative for the Treasury referred Bloomberg to comments Secretary Janet Yellen made in a mid-April interview with CNN, in which she acknowledged that "there is risk when we use financial sanctions that are linked to the role of the dollar that over time it could undermine the hegemony of the dollar."
Still, the drumbeat of de-dollarization is continuing unabated in the developing world.
Pakistan is looking to pay for Russian crude imports in yuan, the country's power minister said last month, while earlier this year the United Arab Emirates said it was in early-stage discussions with India on ways to boost non-oil commerce in rupees.
The BRICS nations asked the bloc's specially created bank to provide guidance on a how a potential new shared currency might work, including how it could shield member countries from the impact of sanctions such as those imposed on Russia.
"Without a doubt, de-dollarization is accelerating and will continue for years to come," said Vishnu Varathan, head of economics and strategy at Mizuho Bank Ltd. in Singapore. "The US made a calculated decision to use the dollar to inflict pain, and there's likely to be long-term consequences."