World Bank: Commodity prices likely to rise further in 2018
Oil prices are forecast to rise to $56 a barrel in 2018 from $53 this year as a result of steadily growing demand, agreed production cuts among oil exporters and stabilizing U.S. shale oil production, while the surge in metals prices is expected to level off next year, the World Bank said on Thursday.
Prices for energy commodities – which include oil, natural gas, and coal — are forecast to climb 4 percent in 2018 after a 28 percent leap this year, the World Bank said in its October Commodity Markets Outlook. The metals index is expected to stabilize in the coming year, after a 22 percent jump this year as a correction in iron ore prices is offset by increased prices in other base metals. Prices for agricultural commodities, including food commodities and raw materials, are anticipated to recede modestly in 2017 and edge up next year.
"Energy prices are recovering in response to steady demand and falling stocks, but much depends on whether oil producers seek to extend production cuts," said John Baffes, Senior Economist and lead author of the Commodity Markets Outlook. "Developments in China will play an important role in the price trajectory for metals."
The oil price forecast is a small downward revision from the April outlook and is subject to risks. Supplies from producers such as Libya, Nigeria, and Venezuela could be volatile. Members of the Organization of the Petroleum Exporting Countries (OPEC) and other producers could agree to cut production further, maintaining upward pressure on prices.
However, failure to renew the agreement could drive prices down, as could increased production from the U.S. shale oil industry. Natural gas prices are expected to rise 3 percent in 2018, while coal prices are seen retreating following a climb of nearly 30 percent in 2017. China's environmental policies are anticipated to be a key factor determining future trends in coal markets.
Iron ore prices are forecast to tumble 10 percent in the coming year but tight supply should push up prices for base metals including lead, nickel and zinc. Downside risks to the forecast include slower-than-anticipated demand from China, or an easing of production restrictions on China's heavy industries.
Gold prices are anticipated to ease next year on expectations of higher U.S. interest rates.
Agriculture prices are expected to edge up in 2018 due to reduced supplies, with grain and oils and meals prices rising marginally. Agricultural commodities markets are well-supplied and the stocks-to-use ratios (a measure of how well supplied markets are) of some grains are forecast to be at multi-year highs.
However, favorable weather patterns, well-supplied global food markets, and relatively low world prices do not necessarily imply ample food availability everywhere. Drought conditions that are by some accounts the worst in 60 years, have caused crops failures in parts of Ethiopia, Somalia and Kenya and led to severe food shortages. Conflicts in South Sudan, Yemen and Nigeria have driven millions of people from their homes and left millions more in need of emergency food.
The World Bank's Commodity Markets Outlook provides detailed market analysis for major commodity groups, including energy, metals, agriculture, precious metals, and fertilizers. The report includes price forecasts to 2030 for more than 45 commodities. It also provides historical price data and supply, demand, and trade balances for most commodities.
Eurasian Research on Modern China-Eurasia Conference
October 26-27, 2018,National Academy of Sciences, Armenia.
Address: Marshal Bagramyan 24, Yerevan, Armenia.
Organizers:"China-Eurasia" Council for Political and Strategic Research, Foundation, Armenia,Institute of Oriental Studies,National Academy of Sciences, Armeniaand Department of Oriental Studies, ISEC, National Academy of Sciences, Armenia.
Supported by:"Transport Project Implementation Organization" SNCO,Armenia,"Diplomatic Foundation of Armenia" and "Modern Diplomacy", Greece.
Table of Contents
(English Language Panels)
Panel 1։ China and Eurasian Economics
Panel 2։China's One Belt, One Road and the World
Panel 3։ China and One Belt One Road Initiative
Panel 4։ China, Eurasia and Politics
Panel 5: The History of Interaction between China and Eurasia
Panel 6։ China and the South Caucasus
Panel 7:China and Eurasia (International Relations)
October 26, 2018
Welcome Address (11:00-11:30)
Panel 1: (English Language). China and Eurasian Economics(11:45-13:40)
Ma Bin, (Fudan University, China), "Railway Express between China and EU:New Model of International Transportation or Traditional tool of Economic Growth?".
Connor Judge (SOAS, University of London, Great Britain), "Competing Narratives for Chinese Investment: Serbia and Mongolia".
Srdjan Uljevic, (American University of Central Asia, Kyrgyz Republic),
"India's Foreign Policy in the Age of China's Dominance in Asia".
Arjun Chapagain, June Wang, Linda Che-lan Li, (City University of Hong, China),
"The Trans-Himalayan Trade of Medicinal and Aromatic Plants: AGeo-Historical Political Lens".
Anna Zalinyan, (Armenia), "Peculiaritiesbetween China and European Countries on Public Administration Reforms".
Key note Speech 13:40-14:00
Zachary Paikin (University of Kent, Great Britain, Senior Editor at Global Brief Magazine)
"The Future of Liberal Order: Russia-China Relations and Eurasian Consequences".
October 26, 2018 (11:50-12:30)
Panel 2: (Russian Language) China's One Belt, One Road and the World-Панель 2 Китайская инициативаОдин пояс, один путь и мир
AnatolyTsvyk, (RUDN University, Russia),
"The EU and OBOR: Mutual Benefit or Competition?" / ЦвыкАнатолий. (Российский университет дружбы народов, Россия).«Европейский союз и инициатива «Один пояс, один путь»: взаимная выгода или конкуренция?».
Konstantin Tasits,(Russian Institute for Strategic Studies, Russia),
"Sino-Georgian Economic Relations in Modern Era". Тасиц Константин. (Российский институт стратегических исследований Россия).  «Экономические отношения Грузии и Китая на современном этапе».
Coffee/Pastries (14:00-14:30)
October 26, 2018
Panel 3։ (English Language) China and One Belt One Road Initiative (14:30-17:00)
Jukka Aukia, (University of Turku, Finland),
"Belt and Road: the Baltic States within the 16+1".
Uzma Siraj,(Federal Urdu University Islamabad, Pakistan),
"Eastern Europe Between Constraints, Coercion, and Opportunities: BRI and China Challenging Russia and EU in their Backyard".
Mher Sahakyan, ("China-Eurasia" Council for Political and Strategic Research, Armenia).
"China's One Belt, One Road Initiative and Armenia".
Ma Xiaoyun, (Party School of CPC Tongling Municipal Committee, China),
"OBOR and China's Midland Open Economy Development-A Case Study on Anhui".
Gabriel de Rezende Piccinini, Alena Vysotskaya Guedes Vieira(University of Minho, Portugal),
"The Eurasian Economic Union and the One Belt, One Road Initiative: how Brazil and the European Union See It".
Clayton HazvineiVhumbunu, (University of KwaZulu-Natal, Republic of South Africa).
"The Economic Impact of China's One Belt, One Road Initiative on Eurasia".
Ani Hakhverdyan (Russian-Armenian University, Armenia), "The Energy Silk Road".
October 26 (17:20) ****Drinks and Pizza (Reception).
October 27
Panel 4։ (English Language) China, Eurasia and Politics(10:00-12:20)
Anahit Parzyan, ("China-Eurasia" Council for Political and Strategic Research, Foundation, Armenia), "Some aspects of Digitalization of China".
Maximilian Ohle, (Nankai University), Richard J. Cook, (Nankai University), Zhaoying Han, (Nankai University China, the Editor-in-Chief of the Nankai Journal),
"China's Engagement with Kazakhstan and Russia's Zugzwang: Why is Astana Incurring Regional Power Hedging?"
Izabella Muradyan, (Chinese Centre Culture and Science, Armenia),
"Geo-Economic Cooperation with China under One Belt, One Road Initiative: Armenian Keys from EAEU".
Luiza Grigoryan, (European University in Armenia),
"China and the Brics".
October 27, 2018 (10:00-11:20)
Panel 5: (Russian Language) The History of Interaction between China and Eurasia-Панель 5. Историясношения (Китай-Евразия)
Sergey Kozlovsky, (The Ivan Franko National University of Lviv, Ukraine), "The Theory and genesis of Pax Sinica"/КозловскийСергей. (Львовский национальный университет имени Ивана ФранкоУкраина). «Теория фронтира и генезис PaxSinicia».
KhusnutdinovaLiailia, (Ufa State Petroleum Technological University, Russia), "On Historical Aspect of Chinese nation in Republic of Bashkortostan". /ХуснутдиноваЛяйля. (Уфимский государственный нефтяной технический университет. Россия).«К проблеме истории Китайского народа в Республике Башкортостан».
Coffee/Pastries (12:30-13:00)
Panel 6: (English Language)China and South Caucasus (13:10-14:30)
Vakhtang Charaia,(Ivane Javakhishvili Tbilisi State University, Georgia),
"Trade and Investment between South Caucasus, China and EU".
Gabriela Radu, (Strategic Analyst,Romania),
"Foreign Direct Investment Trends in the Southern Caucasus".
Saren Abgaryan. (Shanghai Jiao Tong University, China),
"China-Armenia Bilateral Investment Treaty (BIT) in the Context of Chinese Evolving BIT Practice and Jurisprudence".
October 27 (11:20-12:30)
Панель 7. (Russian Language)КитайиЕвразия (Внешняяполитика)- China and Eurasia (International Relations)
Andranik Hovhannisyan, (Russian-Armenian University, Armenia), "The Pivot towards Asia: Perspectives of Formation of Asian NATO". /ОваннисянАндраник(Российско-Армянскийуниверситет, Армения).«ПовороткАзии: перспективыформирования «АзиатскогоНАТО»».
OganesyanArusyak, (RUDN University, Russia), "The Role of Eastern Asia in China's Foreign Policy". /ОганесянАрусяк.(Российский университет дружбы народов, Россия).«Роль Восточной Азии в современной китайской внешней политике».
KhubrikovaBadma, (BuryatStateUniversity, Russia), "SoftPowerintheEraofXiJinping". /ХубриковБадма, Бурятскийгосударственныйуниверситет.
«Мягкая сила» в эпоху Си Цзиньпина».
October 27 (15:00) ****Drinks and Pizza (Reception).
National Academy of Sciencesis in the Center of the city, in the front of National Assembly of Armenia.Address: Marshal Bagramyan 24, Yerevan, Armenia.
Nearest Subway station is "Marshal Bagramyan".
Working languages in different panels are English or Russian.
All audience members are required to register for the conference. Please contact info@chinastan.org
Conference Facebook Page:
https://www.facebook.com/ChinaEurasiacouncil/ and
https://www.facebook.com/DiscoverChinastan/
Conference Website:
A new bioeconomy strategy for a sustainable Europe
European Commission has put forward an action plan to develop a sustainable and circular bioeconomy that serves Europe's society, environment and economy.
As announced by President Juncker and First Vice-President Timmermans in their letter of intent accompanying President Juncker's 2018 State of the Union Address, the new bioeconomy strategy is part of the Commission's drive to boost jobs, growth and investment in the EU. It aims to improve and scale up the sustainable use of renewable resources to address global and local challenges such as climate change and sustainable development.
In a world of finite biological resources and ecosystems, an innovation effort is needed to feed people, and provide them with clean water and energy. The bioeconomy can turn algae into fuel, recycle plastic, convert waste into new furniture or clothing or transform industrial by-products into bio-based fertilisers. It has the potential to generate 1 million new green jobs by 2030.
Vice-President for Jobs, Growth, Investment and Competitiveness Jyrki Katainen said: "It has become evident that we need to make a systemic change in the way we produce, consume and discard goods. By developing our bioeconomy – the renewable segment of the circular economy – we can find new and innovative ways of providing food, products and energy, without exhausting our planet's limited biological resources. Moreover, rethinking our economy and modernising our production models is not just about our environment and climate. There is also great potential here for new green jobs, particularly in rural and coastal areas."
Commissioner for Research, Science and Innovation, Carlos Moedas, added: "The EU aims to lead the way in turning waste, residue and discards into high value products, green chemicals, feed and textiles. Research and innovation plays a key role in accelerating the green transition of the European economy and in meeting the United Nations Sustainable Development Goals."
Delivering a sustainable circular bioeconomy requires a concerted effort by public authorities and industry. To drive this collective effort, and based on three key objectives, the Commission will launch 14 concrete measures in 2019, including:
Scaling up and strengthening the bio-based sectors:
To unleash the potential of the bioeconomy to modernise the European economy and industries for long-term, sustainable prosperity, the Commission will:
establish a €100 million Circular Bioeconomy Thematic Investment Platform to bring bio-based innovations closer to the market and de-risk private investments in sustainable solutions;
facilitate the development of new sustainable bio-refineries across Europe.
Rapidly deploying bioeconomies across Europe:
Member States and regions, particularly in Central and Eastern Europe, have a large underused biomass and waste potential. To address this, the Commission will:
develop a strategic deployment agenda for sustainable food and farming systems, forestry and bio-based products;
set up an EU Bioeconomy Policy Support Facility for EU countries under Horizon 2020 to develop national and regional bioeconomy agendas;
launch pilot actions for the development of bioeconomies in rural, coastal and urban areas, for example on waste management or carbon farming.
Protecting the ecosystem and understanding the ecological limitations of the bioeconomy
Our ecosystem is faced with severe threats and challenges, such as a growing population, climate change and land degradation. In order to tackle these challenges, the Commission will:
implement an EU-wide monitoring system to track progress towards a sustainable and circular bioeconomy;
enhance our knowledge base and understanding of specific bioeconomy areas by gathering data and ensuring better access to it through the Knowledge Centre for the Bioeconomy;
provide guidance and promote good practices on how to operate in the bioeconomy within safe ecological limits.
The Commission is hosting a conference on 22 October in Brussels to discuss the action plan with stakeholders and highlight tangible bio-based products.
Background
In their letter of intent to the Presidencies of the European Council and Parliament, President Juncker and First Vice-President Timmermans announced this Communication as part of the Commission's priority to boost jobs, growth and investment in the EU. It is an update to the 2012 Bioeconomy Strategy.
The bioeconomy covers all sectors and systems that rely on biological resources. It is one of the EU's largest and most important sectors encompassing agriculture, forestry, fisheries, food, bio-energy and bio-based products with an annual turnover of around €2 trillion and around 18 million people employed. It is also a key area for boosting growth in rural and coastal areas.
The EU already funds research, demonstration and deployment of sustainable, inclusive and circular bio-based solutions, including with €3.85 billion allocated under the current EU funding programme Horizon 2020. For 2021-2027, the Commission has proposed to allocate €10 billion under Horizon Europe for food and natural resources, including the bioeconomy.
UN resolution paves way for mass use of driverless cars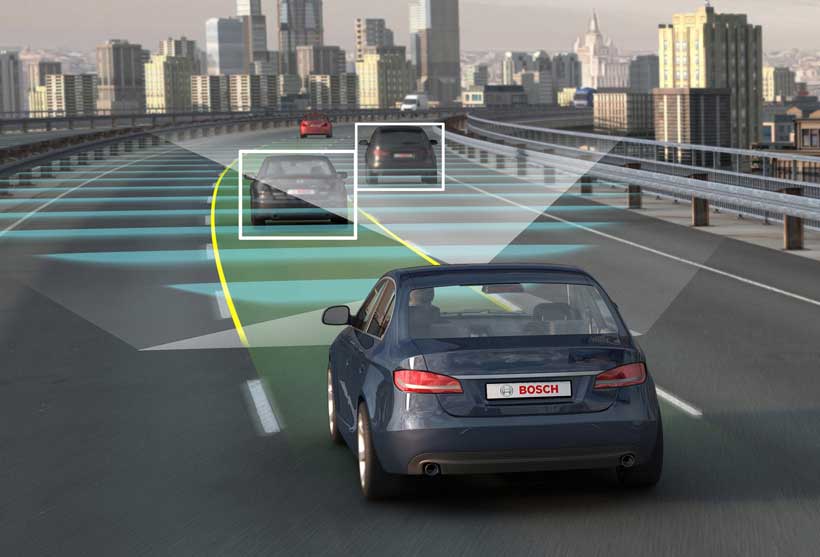 A resolution to ensure the safe use of automated vehicles was passed at the UN Economic Commission for Europe (UNECE) Global Forum on Road Traffic Safety in Geneva, on Wednesday.
In a statement, the UNECE said that automated vehicles have the potential to create safer, more efficient and environmentally friendly transport, which could reshape entire sectors of the economy and improve the lives of millions of people, notably those unable to drive or with limited access to mobility.
However, there are still many questions relating to areas such as road safety standards, traffic rules, insurance regimes, cybersecurity and data protection, which must still be addressed before the mass introduction of driverless cars to the market.
The resolution offers recommendations to ensure the safe interaction between automated vehicles, and road users, and stress the key role that people need to play, whether as responsible drivers, occupants or on the road in general.
These include making road safety a priority, safely interacting with the surrounding traffic environment and safely tolerating user error.
The resolution also recommends that the high-tech cars should be able to communicate with their users and other road users, in a clear, effective and consistent way, react to unforeseen situations, and enable their deactivation in a safe manner.
"With this resolution, we are paving the way for the safe mobility of the future, for the benefit of all road users" said UNECE official Luciana Iorio.
In September, a UNECE automated/autonomous and connected vehicles working group met for the first time in Geneva, to begin addressing issues such as technical requirements, cyber security and software updates, and innovative testing methods.