UN sees 'worrying' gap between Paris climate pledges and emissions cuts needed
Pledges made under the Paris Agreement are only a third of what is required by 2030 to avoid the worst impacts of climate change, pointing to the urgent need to boost efforts by both government and non-government actors, the United Nations environment wing said on Tuesday.
"One year after the Paris Agreement entered into force, we still find ourselves in a situation where we are not doing nearly enough to save hundreds of millions of people from a miserable future," said UN Environment Programme (UNEP) Executive Director Erik Solheim.
The Paris accord, adopted in 2015 by 195 countries, seeks to limit global warming in this century to under 2 degrees Celsius above the pre-industrial level.
"If we invest in the right technologies, ensuring that the private sector is involved, we can still meet the promise we made to our children to protect their future. But we have to get on the case now," the UNEP chief added.
The eighth edition of UNEP's Emissions Gap Report, released ahead of the UN Climate Change Conference in in Bonn next month, warns that as things stand, even full implementation of current national pledges makes a temperature rise of at least 3 degrees Celsius by 2100 very likely.
Should the United States follow through with its stated intention to leave the Paris accord in 2020, the picture could become even bleaker.
The pace of growth in carbon dioxide emissions have slowed, driven in part by renewable energy, notably in China and India, raising hopes that emissions have peaked, as they must by 2020, to remain on a successful climate trajectory.
To avoid overshooting the Paris goals, governments – including by updating their Paris pledges – the private sector, cities and others need to urgently pursue actions that will bring deeper and more-rapid cuts.
The report also says that adopting new technologies in key sectors, such as agriculture, buildings, energy, forestry, industry and transport, at investment of under $100 per tonne, could reduce emissions by up to 36 gigatonnes per year by 2030, more than sufficient to bridge the gap.
However, it warns that other greenhouse gases, such as methane, are still rising, and a global economic growth spurt could easily put carbon dioxide emissions back on an upward trajectory.
Strong action on hydrofluorocarbons, through the Kigali Amendment to the Montreal Protocol, and other short-lived climate pollutants such as black carbon – could also make a real contribution.
Partnering for Africa's future: Exhibition on UNIDO-Japan cooperation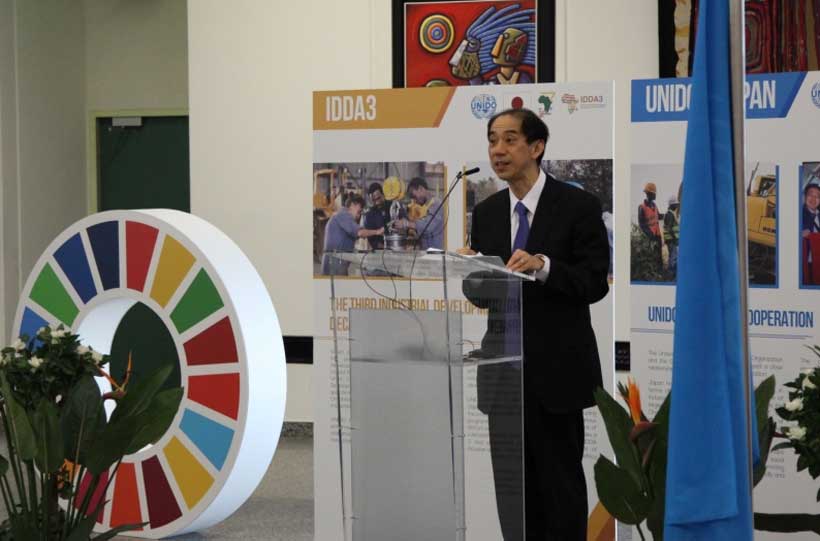 An exhibition highlighting cooperation between Japan and the United Nations Industrial Development Organization (UNIDO) for African industrial development has opened at the Vienna International Centre.
The exhibition showcases UNIDO and Japan cooperation on the Tokyo International Conference on African Development (TICAD) first held in October 1993, and on the implementation of the Third Industrial Development Decade for Africa (IDDA 3).
A series of panels address the Government of Japan's efforts on human security in relation to an array of UNIDO projects benefitting the most vulnerable groups by fostering human security and post-crisis rehabilitation. Others show the UNIDO-Japan multi-dimensional approach to a transition towards a sustainable energy future by fostering sustainable energy solutions and developing climate resilient industries for Africa.
At the exhibition's opening ceremony, the Deputy to the Director General of UNIDO, Hiroshi Kuniyoshi, said, "Japan and UNIDO are proud of a solid and trusted partnership to reduce poverty, and enhance inclusiveness while safeguarding the environment."
In his remarks, His Excellency Mitsuru Kitano, Permanent Representative of Japan to the International Organizations in Vienna, said, "It is our strong hope that this exhibition will spark discussions on the strengthening of Africa's ownership and international partnership. Africa's industrial development is our common goal, and common future."
Over the last five years, Japan has provided US$13m to fund 18 projects in various African countries in the field of human security and the humanitarian-development nexus. In the area of renewable energy, two important projects are being funded with US$25m. Last year, to reinforce the UNIDO Secretariat's capacity to focus on Africa and IDDA3, Japan made a new contribution of US$1.1m.
Her Excellency Vivian Okeke, Ambassador Extraordinary and Plenipotentiary, Permanent Representative of Nigeria to UNIDO, who represented the African Group of UNIDO member states, said, "I am happy that this exhibition highlights specific projects by Japan and UNIDO in Africa, especially in focus areas that are in line with the Sustainable Development Goals and Africa's priorities, such as climate change, investment and technology, human security and post-conflict rehabilitation."
UNIDO's Kuniyoshi also remarked that "a hallmark of the UNIDO-Japan cooperation is the strong foreign direct investment component, the centrality of technology transfer and the very important presence of the Japanese private sector." He mentioned the partnerships between Japanese companies and African partners, which have been supported by the UNIDO Investment and Technology Promotion Office (ITPO) in Tokyo.
Coinciding with the opening of the exhibition, the UNIDO ITPO Tokyo has organized a series of meetings at which Japanese technology providers will present their services to UNIDO staff.
Vietnam needs to embrace "Doi Moi 4.0" to sustain high quality growth
Vietnam should make a strategic shift towards a more productivity and innovation-based economy while making the most of the ongoing demographic dividend to sustain high quality growth over the next decade.
This is among the main recommendations from the joint report between the World Bank and the Vietnam Academy of Social Sciences on the new economic model to help Vietnam achieve high-quality growth for the 2021-30 period.
The report, which is being prepared with support from the Australian Government, proposes the Vietnam's new economic model in 2021-2030 to center around three breakthroughs: innovation and entrepreneurship, human capital, and modern institutions.
"This report will help begin an exciting new chapter in Vietnam's economic growth story," said His Excellency Craig Chittick, Australian Ambassador to Vietnam. "A chapter that embraces innovation, promotes bold reform, and helps Vietnam achieve its ambitious development goals."
To avoid the middle-income traps, experts contend that Vietnam will have to maintain a growth rate in the range of 7 to 7.5% for the 2021-30 period, higher than the average rate of 6.3% of the last ten years.
"We are living in the era of disruptive technologies that presents both challenges as well as opportunities – I would like to call it 'Doi Moi 4.0'," said Ousmane Dione, Country Director for The World Bank in Vietnam. "To mitigate these risks and seize the opportunities Vietnam needs to accelerate reforms that boost productivity and innovation as key drivers of growth in the coming decade including steps to remove bottlenecks for private sector investment, enhance public sector institutions and invest in 21st century skills of the workforce."
The report finds that the labor-intensive, export-led growth model Vietnam pursued during 2011 – 2020 has increasingly become obsolete against the context of Industrial Revolution 4.0, maturing global value chains, premature deindustrialization, and rising role of services.
Gender equality, justice in law and practice: Essential for sustainable development
Fundamentally linked to human development, gender justice requires ending inequality and redressing existing disparities between women and men, according to a high-level United Nations forum on the situation in Arab States.
Laws that promote gender equality "will help the Arab region move forward on the issue of justice and equality for women", Jordan Ambassador to the UN Sima Bahous, told UN News after chairing the forum centered around the study with the same name: Gender and Law Justice, Evaluation of Laws Affecting Gender Equality in the Arab States.
Gender equality is achieved when both sexes enjoy the same rights and opportunities across society, including access to justice and to economic and social gains. The study stressed that sustainable development goals cannot be achieved without ensuring gender equality in law and practice.
On 14 March, on the margins of the 63rd session of the Commission on the Status of Women (CSW), the UN Development Programme (UNDP), the Economic and Social Commission for West Asia (ESCWA), Population Fund (UNFPA) and the Women's Fund (UNIFEM) organized the conference, which discussed discrimination and criminal, personal status and labour laws across 18 Arab countries.
"Human development means expanding opportunities for women and men to improve their lives and education, and create better opportunities", Ms. Bahous explained.
Room in Arab region for women's equality
Gender justice relies on accountability and equality.
Salma Al-Nemes, Secretary General of the Jordanian National Committee for Women, spoke about the forum's importance, saying that it aims to "emphasize that there is still room in the Arab region to achieve women's equality."
She stressed that problems can only be solved if they are recognized, and that countries can benefit "from the experiences of the Arab and Islamic countries that have achieved equality and build on this by adapting it to national reality."
Because national and local contexts differ, Ms. Al-Nemes acknowledged that "we must examine how to meet these challenges in an appropriate context so that we can achieve equality not only in legislation, but in practice as well".
For her part, Naziha el Obaidi, Minister of Women, Family, Childhood and the Elderly of Tunisia, told UN News about her Government's decree that "when considering the appointment of a senior official in the country, four biographies of candidates, two for women and one for men, should be submitted."
Also in Tunisia, the law of 'horizontal equinoxes and vertical equinoxes' states that if an electoral list is headed by a woman, a man must hold the second position, and vice versa. Ms. el Obaidi credited this with women's participation nearly 48 per cent of municipalities, noting that this law will also be implemented in the legislative elections.
Honour crimes
Because gender-based violence is a major barrier to gender justice, Gender justice and the law closely examines its various forms, including sexual, physical and psychological and economic violence, assessing laws and policies that affect gender equality and protect against gender-based violence.
For example, the penalties for committing so-called honour crimes – which include murder, wounding and beating – vary, depending on the country.
In Algeria, Bahrain, Morocco, Qatar, Syria and Yemen a sentence can be reduced if a "spouse" is caught in an act of adultery.
Whereas in Djibouti and Sudan there are no specific provisions identified in the Penal Code to reduce penalties for these crimes.
Leniency for perpetrators of honour crimes against women in Saudi Arabia is not codified in the law, so men are sentenced at the court's discretion.
Meanwhile, the Penal Code in Egypt spells out that if a husband kills his wife committing adultery, he and the man with whom she was with would receive reduced penalty not to exceed three years in prison.
Should "a person" kill a wife, daughter or sister, or her sexual partner, in the sudden heat of rage after finding her in a sexual act in Somalia, the penal code requires a reduced sentence.
If a man kills his wife or one of his female relatives while engaging in the act of adultery in Iraq, he would be incarcerated for no more than three years. In Libya the sentence would not exceed eight years.
At the same time, some countries repealed reduced sentences for honour crimes, such as Lebanon in 2011, Oman in 2001 and Tunisia in 1993.
While the penal code in Jordan was amended in 2017 to prevent reduced penalties for honour crimes, the original mitigated penalties for murdering a spouse caught in the act of adultery has yet to be removed. Similarly, mitigation of penalties for honour crimes in the Occupied Palestinian Territories were repealed in 2011 in the West Bank and 2018 in Gaza, however, the Government there has not applied the reforms.
Honour crimes are just one of the topics addressed in the study. Violence manifest itself in many ways, including rape, sexual harassment, child and forced marriage, female genital mutilation/cutting and other harmful traditional practices – all of which the study covers.
It is worth mentioning that the UN Commission on the Status of Women is responsible for developing global policies to promote gender equality and women's empowerment. The annual session, which drew to a close on 22 March, provides an opportunity to review progress and identify difficulties, challenges and policy formulation.