UN sees 'worrying' gap between Paris climate pledges and emissions cuts needed
Pledges made under the Paris Agreement are only a third of what is required by 2030 to avoid the worst impacts of climate change, pointing to the urgent need to boost efforts by both government and non-government actors, the United Nations environment wing said on Tuesday.
"One year after the Paris Agreement entered into force, we still find ourselves in a situation where we are not doing nearly enough to save hundreds of millions of people from a miserable future," said UN Environment Programme (UNEP) Executive Director Erik Solheim.
The Paris accord, adopted in 2015 by 195 countries, seeks to limit global warming in this century to under 2 degrees Celsius above the pre-industrial level.
"If we invest in the right technologies, ensuring that the private sector is involved, we can still meet the promise we made to our children to protect their future. But we have to get on the case now," the UNEP chief added.
The eighth edition of UNEP's Emissions Gap Report, released ahead of the UN Climate Change Conference in in Bonn next month, warns that as things stand, even full implementation of current national pledges makes a temperature rise of at least 3 degrees Celsius by 2100 very likely.
Should the United States follow through with its stated intention to leave the Paris accord in 2020, the picture could become even bleaker.
The pace of growth in carbon dioxide emissions have slowed, driven in part by renewable energy, notably in China and India, raising hopes that emissions have peaked, as they must by 2020, to remain on a successful climate trajectory.
To avoid overshooting the Paris goals, governments – including by updating their Paris pledges – the private sector, cities and others need to urgently pursue actions that will bring deeper and more-rapid cuts.
The report also says that adopting new technologies in key sectors, such as agriculture, buildings, energy, forestry, industry and transport, at investment of under $100 per tonne, could reduce emissions by up to 36 gigatonnes per year by 2030, more than sufficient to bridge the gap.
However, it warns that other greenhouse gases, such as methane, are still rising, and a global economic growth spurt could easily put carbon dioxide emissions back on an upward trajectory.
Strong action on hydrofluorocarbons, through the Kigali Amendment to the Montreal Protocol, and other short-lived climate pollutants such as black carbon – could also make a real contribution.
UNWTO Partners with Niantic to Develop Innovative Tourism Experiences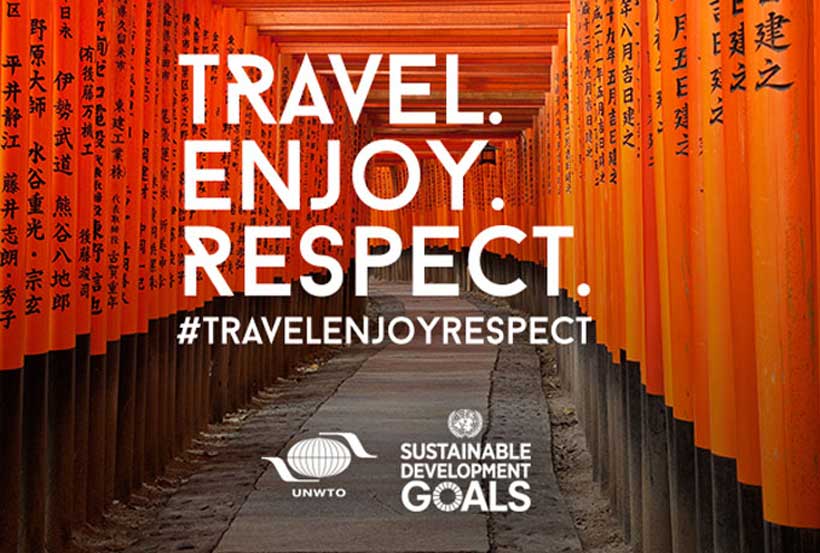 The World Tourism Organization (UNWTO) has partnered with one of its newest Affiliate Members, real-world games developer Niantic, to enhance global tourism through the use of mobile augmented reality game experiences.
UNWTO will collaborate with Niantic, creators of Pokémon GO and Ingress Prime, to curate unique campaigns around the world that will build awareness for the Organization's Travel.Enjoy.Respect campaign, designed to enhance tourism's contribution to the United Nations' 2030 Agenda for Sustainable Development. Each activity will also be designed to inspire and support exploration, and promote safe and responsible gaming practices for players of all ages.
Niantic and UNWTO will work together to combine tourism and Augmented Reality technology for players to engage with real-world locations using Niantic's mobile games in a variety of ways. Niantic's games and global initiatives have brought millions of players from around the world together at real-world events that promote civic engagement and cultural diversity while highlighting local heritage.
"With our ongoing commitment to promote sustainable and responsible tourism, and Niantic having recently become a UNWTO Affiliate Member, this partnership is a natural fit," said Ion Vilcu, Director of UNWTO's Affiliate Members Department. "Niantic are pioneers in creating real-world mobile game experiences that not only motivate their players to discover new places, but also to appreciate the culture and beauty of the world around them," he added.
"Our goal at Niantic is to create interactive games that encourage exercise, social interaction and exploration, giving players the opportunity to play together in the real world and discover the incredible history hidden in their own neighbourhoods," said Anne Beuttenmüller, Head of Marketing EMEA at Niantic. "We're looking forward to creating brand new adventures in collaboration with UNWTO to increase awareness around their mission of responsible tourism," she added.
Niantic was accepted as an Affiliate Member on 31 October 2018 at the 109th session of UNWTO's Executive Council, held in Manama, Bahrain. This new partnership helps to bolster UNWTO's ongoing efforts to bring together the actors of the 'ecosystem' of tourism technology under its priority of innovation and the digital transformation in tourism.
UNIDO helps enhance the quality of industrial policy in Vietnam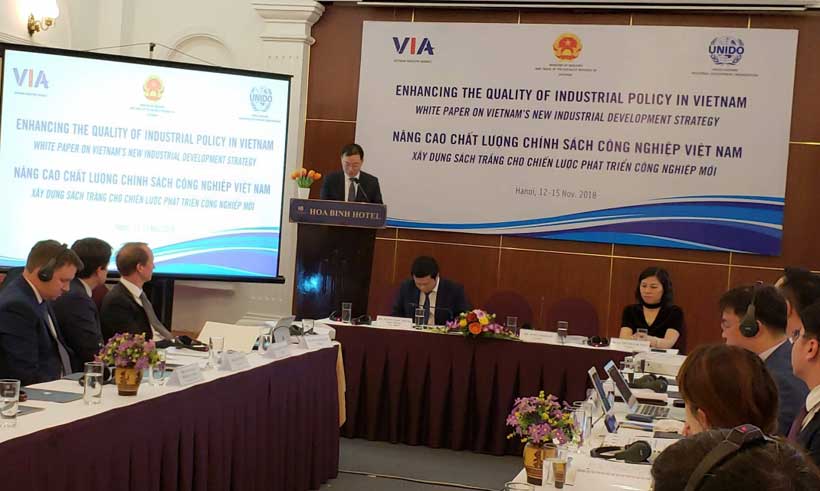 The United Nations Industrial Development Organization (UNIDO) and the Vietnam Industrial Agency of the Vietnamese Ministry of Industry and Trade jointly organized a four-day training workshop on "Enhancing the quality of industrial policy in Viet Nam – White Paper on Vietnam's New Industry Policy" in Hanoi, from 12 to 17 November 2018.
Conducted under the framework of the project "Support to the Government of Viet Nam in the formulation of Sub-Sector Industrial Strategy and of related Implementation Policy through Institutional Capacity Building", which is funded by the Ministry of Foreign Affairs of the Republic of Korea, the workshop showcased studies on horizontal factors such as population ageing, Industry 4.0, and the current China-US trade relations and their impact on selected sectors including textile and apparel, leather, automotive, electronics and food processing. Inputs from the workshop will inform a White Paper on Vietnam's New Industrial Strategy to be launched in June 2019.
"The workshop is one in a series of capacity development activities for senior policymakers in Viet Nam," said UNIDO Project Manager Jung Jaehwan. "Learning will be based on international best practice and innovative research and conducted by a combination of researchers, practitioners and policymakers."
Participants included UNIDO experts and staff from the Korea Institute for Industrial Economics and Trade (KIET) as well as representatives from various Vietnamese business associations.
WEF initiative pledges to equip 20 million ASEAN workers with digital skills by 2020
A coalition of major tech companies pledged today to develop digital skills for the ASEAN workforce. The pledge, part of the World Economic Forum's Digital ASEAN initiative, aims to train by 2020 some 20 million people in South-East Asia, especially those working in small- and medium-size enterprises.
Other goals include raising $2 million in contributions to provide scholarships for ASEAN technology students, ensuring an additional 200,000 digital workers are hired across the region, and engaging at least 20,000 citizens through "Digital Inspiration Days", whereby companies invite students and the public to visit their offices and learn more about the character of the jobs of the future. There will also be internship opportunities for ASEAN university students, as well as initiatives to train digital regulators and shape the curricula of technology and computing courses at 20 ASEAN universities.
The aim of the pledge is to establish a regional movement among businesses committed to empowering individuals through skilling, reskilling and upskilling. It will not only increase the number of workers hired for digital jobs and trained in digital skills, but also help support business leaders with insight and analysis of what other companies in the region are doing to build a future-focused workforce.
"The Fourth Industrial Revolution is unfolding at accelerating speed and changing the skills that workers will need for the jobs of the future," said Justin Wood, Head of Asia Pacific and Member of the Executive Committee at the World Economic Forum. "These changes are happening just as the working-age population in ASEAN is expanding by 11,000 people every day – a rate that will continue for the next 15 years. Given these trends, it's critical that businesses help to build digital skills in ASEAN."
Called "ASEAN Digital Skills Vision 2020", the public pledge is open for all companies to join, but a number of early champions have already made strong commitments. Google has pledged to train 3 million SME employees throughout the ASEAN region by the end of 2020, while Cisco, Lazada, Microsoft, and the Sea Group have pledged to train another 5,634,000 SME workers.
The pledge also calls for companies to offer ASEAN citizens the opportunity to participate in Digital Inspiration Days, and Cisco, Microsoft, Grab and Sea Group have collectively committed to offer the opportunity to 1,035,000 ASEAN citizens by 2020. Similarly, the pledge calls for internships for ASEAN university students, and Microsoft, Sea Group and Tokopedia together have committed to hire 18,000 interns. Microsoft has also pledged to hire 8,500 ASEAN digital workers by 2020.
Supported by the Forum's Digital ASEAN initiative, success stories and innovative approaches will be shared through an online platform to magnify their impact, and a series of workshops involving the private sector and government will be staged over the next two years to ensure the efforts of businesses both align with, and help to shape, public policy on training and education.
Pichet Durongkaveroj, Minister of Digital Economy and Society of Thailand, and one of the advisers of the Digital ASEAN initiative, said: "The rise of artificial intelligence and advanced robotics is creating concern about the future of work. But I am more optimistic. I believe that if workers have the right skills, the Fourth Industrial Revolution will be highly empowering and will lift wages and living standards in Thailand and across the region. But we need to make sure that workers receive the right training and education today."
Rajan Anandan, Vice-President for India and South-East Asia at Google, said: "ASEAN could see an uplift of $1 trillion in GDP by 2025 by using its digital economy to accelerate intra-regional trade and growth. SMEs will be the key to this growth and their digital workforce will be the change agents in their communities. We're committed to supporting South-East Asia's promising digital economy."
Forrest Li, Chairman and Chief Executive Officer of the Sea Group, said: "The ASEAN region is brimming with entrepreneurial potential. But for SMEs to start businesses and grow them successfully, they'll need to learn the right skills for the Fourth Industrial Revolution. Building on our existing efforts to enable SMEs around the region to benefit from the opportunity of e-commerce, we are committed to making a major contribution to providing these skills."
Naveen Menon, President of Cisco Systems in ASEAN, said: "ASEAN's economy is poised to grow further as digital innovation and adoption gather pace. However, the increased adoption of technology will result in a change in the nature of jobs and workforce requirements across the region, which demands rapidly reskilling. We are committed to work with all stakeholders to build a sustainable pool of homegrown talent in ASEAN."
Lucy Peng, Chairwoman and Chief Executive Officer of the Lazada Group, said taking part in the World Economic Forum pledge is one of the key levers to create an inclusive and sustainable e-commerce ecosystem to support South-East Asia's economic growth. "Sellers want to go beyond trading on a platform. They want to create their own universe in the digital world to reach out and connect with Internet-savvy and increasingly mobile consumers," she said. "We are championing our seller communities by using our technology and logistics infrastructure to help them ride the e-commerce boom and flourish into sustainable businesses."
Sunny Park, Corporate and Legal Affairs Regional Director for Microsoft in Asia Pacific, said: "ASEAN is the future of borderless economies, investments, e-commerce and education and we believe in a future where every young person has the skills, knowledge and opportunity to succeed. Digital skills are essential for the jobs of today and tomorrow, and can open the door to greater economic opportunity. Right now, over half the people on the planet lack basic access to the knowledge and skills that would enable them to participate in the new digital economy. Together with our partners, we are going to change that. We are going to empower every person and SME in ASEAN to achieve more."
The Digital ASEAN initiative was launched by the World Economic Forum in Singapore in April 2018 in response to demand from the Forum's regional partners in ASEAN, both public and private. The aim is to work on the issues that will underpin a regional digital economy in ASEAN so that the benefits of the Fourth Industrial Revolution can be fully unlocked and become a force for regional economic inclusion. The initiative has launched five task forces, each focussed on a specific digital issue:
Pan-ASEAN Data Policy – Shaping a common regional data policy
ASEAN Digital Access – Optimizing high-quality broadband access for ASEAN
ASEAN Digital Skills – Building a shared commitment to train digital skills for the ASEAN workforce
ASEAN e-Payments – Building a common ASEAN e-payment framework
ASEAN Cybersecurity – Nurturing cooperation and capacity building in ASEAN cybersecurity
By the end of 2020, the aim is for the coalition of companies involved in the pledge to:
20,000,000 Train 20 million people working at ASEAN small- and medium-size enterprises (SMEs) in digital skills;
2,000,000 Raise US$2 million for scholarships for ASEAN technology students;
200,000 Hire directly an additional 200,000 ASEAN digital workers;
20,000 Engage 20,000 ASEAN citizens in "Digital Inspiration Days", where companies invite students and the public to their offices to learn more about jobs of the future;
2,000 Offer 2,000 internship opportunities for ASEAN university students;
200 Contribute to the training of 200 ASEAN digital regulators; and
20 Contribute to shaping the curricula of technology and computing courses at 20 ASEAN universities.