OSCE Programme Office in Dushanbe supports creation of central co-ordination body on gender issues
Working groups on gender issues from five regions across Tajikistan met on 31 October 2017 to create a central co-ordination body at a roundtable meeting organized by the OSCE Programme Office in Dushanbe.
In addition to the 15 representatives from the working groups, the meeting brought together in total 30 participants: representatives from the Committee on Women and Family Affairs, Ministry of Health, Ministry of Labour, Ministry of Education, women politicians and civil society. The participants will work together towards further empowerment of women in Tajikistan and tackle issues that impede the advancement of women in different regions of the country.
"In our efforts to follow the implementation of the OSCE's 2004 Action Plan for Gender Equality and to support the host country to fulfil their commitments towards gender mainstreaming in policies and in practice, within the framework of its project on women's political participation, the Programme Office in Dushanbe has worked jointly with the Tajik Parliament and seven registered political parties during the past two years for the advancement of women in political and public life," said Vesna Ivanovikj-Castarede, Gender and Anti-Trafficking Officer at the OSCE Programme Office.
Scott Kearin, Head of the OSCE Office's Human Dimension Department, said: "Today we heard from the representatives of the working groups what the main problems are that women face. We also discussed what we can do to solve these problems and to provide women with the support they need to play their rightful role as partners to men in political life."
Working jointly with the group of Tajik women politicians, as part of the project on political empowerment of women, five forums for women leaders were held in 2016 in Kulyab, Kurgan-Tyube, Shaartuz, Garm, and Khujand. As a result, working groups were established and additional meetings of the working groups were held in 2017 to discuss and identify up to three major issues that impede the progress of women in these regions.
A follow-up meeting to today's event is planned for the beginning of 2018, when all involved will report on the progress they have made towards finding local solutions for the local problems that women face.
UN launches global plan to strengthen protection of internally displaced persons
With multiple crises forcing millions of people away from their homes, United Nations agencies, Governments and partners have launched a set of measures to strengthen protection of internally displaced persons as well as find solutions to address their problems.
"Addressing the protection needs of the forcibly displaced and seeking solutions to their plight contribute to greater stability for countries and whole regions," said Filippo Grandi, the UN High Commissioner for Refugees, in a news release announcing the three-year Plan of Action.
"The consequences of our failure to resolve internal displacement can be devastating," he stressed.
The framework, formally called the Plan of Action for Advancing Prevention, Protection and Solutions for Internally Displaced People (2018-2020), calls on all relevant actors to step up efforts to prevent, respond to and resolve internal displacement.
It also proposes concrete activities to strengthen the participation of internally displaced persons in decisions concerning them, and expand national laws and policies on internal displacement as well as actions to improve data collection and analysis on displacements globally.
By the end of 2016, more than 40 million people were displaced within their own countries due to insecurity or rights violations. An additional 24 million were driven from their homes due to disasters. Every year, an estimated 15 million people are also displaced by development projects.
Bold and ambitious steps needed
Given this complex conundrum, "bold and ambitious" steps are needed, underscored Cecilia Jimenez-Damary, the UN Special Rapporteur on the human rights of internally displaced persons.
"The Plan of Action seeks to galvanize a strategic dialogue, concerted action and adequate resources to address the plight of the internally displaced, while engaging them in the decisions that affect them," added the independent expert.
In the same vein, Mark Lowcock, the UN Under-Secretary-General for Humanitarian Affairs committed that the Organization will continue to work with affected Governments and displaced persons to ensure that their needs are addressed.
Leave no one behind
"The international community has pledged to leave no one behind," stressed Mr. Lowcock, who is also the UN Emergency Relief Coordinator, noting that this promise must extend to all those displaced.
The Plan of Action was drafted under the leadership of the Special Rapporteur, the Office for the Coordination of Humanitarian Affairs (OCHA) and the Office of the UN High Commissioner for Refugees (UNHCR).
Its launch coincides with the 20th anniversary of the Guiding Principles on Internal Displacement, widely accepted as being the global standard for protecting and assisting internally displaced people.
UN Environment designates Chinese idol Wang Junkai as National Goodwill Ambassador
Singer and Actor Wang Junkai, or Karry Wang, best known for his leading role in the box office blockbuster film Miracles of the Namiya General Store and the hit single "KarryOn" was designated as UN Environment Goodwill Ambassador today in a ceremony in Beijing.
In his role as goodwill ambassador, Wang will connect with China's youth on some of the most urgent
environment issues of their generation, including pollution, air quality, wildlife protection, ecosystems, and more.
As a young actor and singer, I greatly appreciate UN Environment giving me this opportunity to be National Goodwill Ambassador. We youth have the responsibility to protect our environment and secure our future, and I am looking forward to learn from and work with the UN family on key environmental issues. Youth are no longer merely onlookers when it comes to environmental action, nor should they be. I will spare no effort to do everything I can to take care of our earth, and I invite everyone to join me in generating a wave of positive action.
It's inspiring to hear a strong and determined voice of Chinese youth on environmental issues. When young people set their mind to change, incredible things can be accomplished," said Erik Solheim, head of UN Environment. "We're very excited to work with Wang Junkai to create even more awareness about environmental issues and, more importantly, the solutions to these challenges."
The 18-year old performer is a superstar of the highest ranks in Asia. Known for his leading role in the film Namiya General Store, top roles in various TV series – among which "Finding Soul" and "Qingyun Zhi " – and solo music career, he has amassed more than 40 million followers on Weibo, the Chinese version of Twitter. Both in China and the rest of South-East Asia, Wang has been one of the leaders of the online conversation on the environment.
In 2016, Wang widely shared the #wildforlife Campaign, reaching 400 million viewers. A year later, he publicly spoke out on the urgent need to protect endangered wildlife, naming them the "superstars of the planet."
Beyond drawing attention to wildlife, he called upon his followers to pledge to reduce their e-waste, with the hashtag #beatpollution. Within 24 hours, his post was retweeted by 1.67 million times and more than 400,000 followers signed the pledges.
New Solar Project to Restore Electricity to Over One Million Yemenis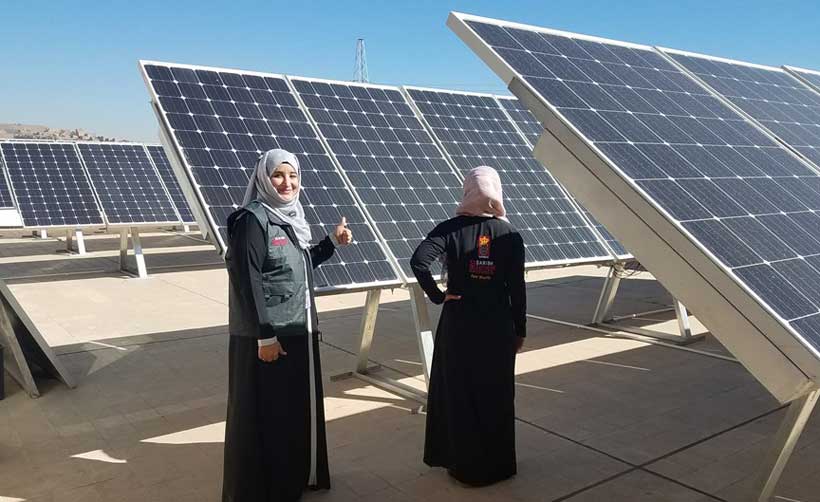 The World Bank announced today a new project to finance off-grid solar systems in Yemen to power vital basic services, and improve access to electricity for vulnerable Yemenis in rural and outlying urban areas.
Funded by a US$50 million grant from IDA, the World Bank's fund for the world's poorest countries, the new project will rely on the commercial solar market, which has grown despite the conflict, providing further support to the local economy and creating jobs.
Solar power has proved to be the most immediate solution for severe energy shortages in Yemen. A booming solar industry has developed driven by the private sector, but the costs have put the technology beyond the reach of public facilities and the most vulnerable populations.
The Yemen Emergency Electricity Access Project will work with the current solar supply chain and the existing network of microfinance institutions, to finance and deliver off-grid solar systems to rural and peri-urban areas. The aim is to restore or improve access to electricity to 1.4 million people, around half of them women. The project will also fund solar power for critical infrastructure, such hospitals, schools, water corporations, and rural electricity providers.
"The lack of electricity in Yemen has had a devastating impact on Yemenis and the provision of services," said Dr. Asad Alam, World Bank Group Country Director for Yemen, Egypt, and Djibouti. "While responding to immediate need, the project will contribute to building a more inclusive and sustainable solar market in Yemen through targeted financing to the private sector which will expand its reach to the poor and vulnerable."
The project will be implemented in partnership with the United Nations Office for Project Services (UNOPS) and in collaboration with the local private sector, including Micro Finance Institutions, solar equipment suppliers and technicians. Working with the Yemeni private sector will help create hundreds of jobs.
"Investing in solar will make Yemen's electricity more resilient, reduce the dependence on fuels for critical service facilities, and create jobs in the private sector," said Joern Torsten Huenteler, World Bank Energy Specialist and Task Team Leader of the project, "What Yemenis need today more than ever is a quick and innovative energy solutions to help ease the crisis."
With this new financing, IDA emergency grants to Yemen issued since July 2016 have totaled US$1.183 billion.
These projects have been prepared – and are being implemented – in partnership with Yemeni institutions and UN organizations such as the United Nations Development Program, the United Nations Children's Fund, the World Health Organization, the United Nations Food and Agriculture Organization, and the United Nations Office for Project Services.