New ADB Strategy to Support Inclusive, Sustainable Growth in Afghanistan
The Asian Development Bank's (ADB) Board of Directors has endorsed a new 5-year country partnership strategy (CPS) to establish a stronger foundation for sustainable growth and poverty reduction in Afghanistan.
The 2017-2021 strategy is expected to provide $887 million in grants to Afghanistan, a founding member of ADB, through 2020. Sovereign operations will focus on energy, transport, and agriculture and natural resources. To date, ADB has provided over $4.9 billion in grants and loans to the country.
"ADB is one of Afghanistan's leading partners in infrastructure and regional cooperation and brings in-depth experience delivering projects in fragile and conflict situations," said Samuel Tumiwa, ADB Country Director for Afghanistan. "Our new CPS brings a holistic approach combining infrastructure investments with capacity building for the government to ensure ADB projects make an impact in reducing poverty and encouraging growth."
Despite marked improvements since 2002, Afghanistan still faces a severe infrastructure deficit that negatively affects the country's economic growth and job creation. Only about 32% of the population has access to grid-connected electricity and more than 70% of the interprovincial and interdistrict roads remain in a poor state. Only 10% of irrigated land has formal irrigation systems, with the rest relying on inefficient informal systems that hold back productivity, higher incomes, and job opportunities. The country's security situation has hampered economic growth, averaging 1.4% during 2014-2016. With the poverty rate close to 40%, there is still a need to improve the country's infrastructure, climate resilience, and gender equality.
Under the new CPS, ADB will align its work closely with Afghanistan's foremost development priorities, including the National Peace and Development Framework, the self-reliance and reform agendas, and National Priority Programs. ADB operations in Afghanistan will focus on three strategic pillars: expanding access for women and men to economic opportunities, markets, and services; building stronger institutions and human resources through better governance and skills development; and increasing the country's environmental sustainability as well as resilience to climate change and disasters.
ADB will continue to develop Afghanistan's potential as a cross-regional transit point for both transport and energy initiatives, with emphasis on the Central Asia Regional Economic Cooperation (CAREC) corridors and regional energy initiatives. Additionally, trade facilitation initiatives under CAREC will increase regional trade and create greater opportunities for local businesses. In 2016, ADB approved a grant to prepare the Salang Corridor rehabilitation project to improve the efficiency and safety of movement of goods and people in Afghanistan and across Central Asia.
In the energy sector, ADB has helped deliver electricity to more than 5 million people in Afghanistan who used to receive only 4 hours of power in Kabul, while other cities were even worse off in the 2000s. ADB will support the increase in the country's electrification rate, play a major role in power transmission both regionally and domestically, and promote clean energy, including through solar power.
To improve transport and connectivity, ADB will continue the development of the road network including CAREC regional corridors to help improve regional trade and local growth. Support for operation and maintenance will ensure the road network provides sustainable benefits. ADB's key support to the transport sector includes the establishment of the first railway line between Uzbekistan and Afghanistan, which carries around 3 million tons of freight per year between the two countries. A comprehensive Transport Sector Master Plan Update was developed to cover roads, railways, civil aviation, urban transport, trade logistics, and other related operations in the next 20 years.
Another key to poverty reduction is development of agriculture and water resources. ADB's focus will be on provision of irrigation and watershed management, and on the development of agriculture market infrastructure and business through value chains. ADB will also support infrastructure that delivers safe water through improved water storage and delivery systems. These activities will mitigate the effects of droughts and floods, reduce soil erosion, and help restore forest areas.
Through ADB's support, more than 160,000 hectares of irrigated land have been rehabilitated and upgraded, with work continuing for an additional 260,000 hectares. The investments have resulted in improved rural livelihoods, economic growth, and better water resources management. As part of its commitment to using high-level technology in its operations, ADB will help climate-proof these projects, for example by flood-proofing roads and designing irrigation systems that are resilient to floods or droughts.
Over the coming years, ADB will strengthen its engagement with the private sector and improve the business environment for economic growth and job creation. ADB will promote public-private partnerships, which can be leveraged to support more investment and better operations and maintenance of critical infrastructure.
ADB, based in Manila, is dedicated to reducing poverty in Asia and the Pacific through inclusive economic growth, environmentally sustainable growth, and regional integration. Established in 1966, ADB is celebrating 50 years of development partnership in the region. It is owned by 67 members—48 from the region. In 2016, ADB assistance totaled $31.7 billion, including $14 billion in cofinancing.
Mozambique: Violence continues in Cabo Delgado, as agencies respond to growing needs
Civilians continue to flee armed conflict and insecurity in northern Mozambique, more than two months after militants attacked the coastal city of Palma, located in Cabo Delgado province, UN agencies reported on Friday.
The UN refugee agency, UNHCR, reports that some 70,000 people have fled the city since 24 March, bringing overall displacement to nearly 800,000.
People have been escaping daily for districts further south, or to neighbouring Tanzania. Thousands more are reported to be stranded in areas around Palma, with restricted humanitarian access.
Shots fired, houses burned
"Those fleeing have told UNHCR staff that the situation in Palma remains very unstable, with regular gunfire at night and torching of houses", Spokesperson Babar Baloch said during a briefing in Geneva.
UNHCR and partners recently assisted people living in dire conditions in remote areas around Palma, distributing relief items to some 10,000 who have been displaced.
The agency continues to advocate for internally displaced people to receive protection and assistance, and for those seeking safety in Tanzania, to access asylum.
Forced back into danger
Mozambican authorities report that many people attempting to cross the river, which marks the border between the two countries, have been forcibly returned. More than 9,600 have been pushed back since January, with 900 removals occurring over a two-day period this week.
"UNHCR reiterates its call for those fleeing the conflict to have access to territory and asylum, and, in particular, for the principle of non-refoulement (no forced return) to be respected", said Mr. Baloch. "Refugees must not be forced back into danger."
'A children's crisis'
The UN Children's Fund, UNICEF, said needs are enormous in Cabo Delgado, located in a region that has barely recovered from a deadly cyclone in 2019.
In the wake of the attack in Palma, some 2,000 children have no idea of the whereabouts of their parents, or even if they are alive, agency Spokesperson James Elder told journalists.
"What is happening in Cabo Delgado is a children's crisis – an emergency on top of an emergency – a deadly cocktail from the impacts of climate change, conflict and COVID-19", he said.
Top 5 Examples of Best Nonprofit Grant Proposals
Introduction
Compiling a grant proposal is a complicated task. Nonprofits have to conduct ample amounts of research, create multiple drafts and compile everything to fit the criteria of the grant foundation. The odds of getting your proposal accepted are already stacked against you and the best way to ensure success is by staying prepared. One way you can make your grant proposal air-tight is by reviewing successful grant proposals. You can add points from previously successful documents to strengthen your case.
Preparation is key
Drafting a grant proposal can be a lengthy process. It is a good idea to start gathering data and reviewing it beforehand. Reviewing successful grant proposals can help you get new ideas and perhaps, inspiration even. You can find a list of effective examples on the internet and we have compiled a few here to make things easy for you.
5 Examples of effective grant proposals
To ease the understanding, the examples are divided as per the sectors for which nonprofits often work.
Education
Education is a key foundation for society and if you are looking to seek a grant to support an educational initiative, this particular example might be conveniently helpful.
Salem Education Foundation: This particular grant was submitted by a school that sought to receive funding for enriched learning opportunities that lay beyond the scope of a conventional classroom. This particular grant proposal was written for history students of the school.
Youth
Children can be the most at-risk group of society and there are a multitude of nonprofits that aim to help them. Consequently, there are a huge number of grants that aim to help children fulfill their potential and lead happy lives. The following example is how a grant proposal should look like when the focus of their goal is improving the lives of children.
William T. Grant Foundation: This grant is given to those groups that actively conduct research that is solely focused on improving the lives of young people in the United States. The foundation often publishes accepted grant proposals to help guide those looking to apply. Review their proposals for a better idea on how to craft yours.
Individual and family support
If your nonprofit is actively seeking to serve the disadvantaged population of society, then you will need to submit a proposal that highlights their plight. The following proposal is an example that will help you decide the inclusions for your proposal.
Kennett Area Senior Center: This particular grant was submitted by the Kennett Area Senior Center to the community grant foundation. The grant proposal was a request for funds to provide assistance and necessary services for senior citizens.
Arts
If your nonprofit is aiming to raise funds for an arts program or a project, the following example demonstrates what your grant proposal should look like. Upon review you will be clear on what to include in your documentation:
University of Minnesota's Imagine Fund: Take a look at various successful proposals that were submitted to the Imagine Fund program. This program is known for supporting arts-related projects.
Science
Whether it is scientific research, conservation, or any form of scientific endeavor, the following proposals can provide you with ideas for your grant proposal. You can review them and figure out what to include and how you can solidify the strength of your proposal.
NIAID: The National Allergy and Infectious Diseases grants various funds to institutes and nonprofits looking to drive advancement in the field of science and scientific research. You can peruse through various types of successful grants and figure out what made each one stand out.
Final thoughts
These examples are just some of many grant proposals that have achieved success. By studying them and reviewing the literature, your nonprofit can take away ideas and insights which can be useful in drafting your proposal.
It's time to make clean energy investment in emerging economies a top global priority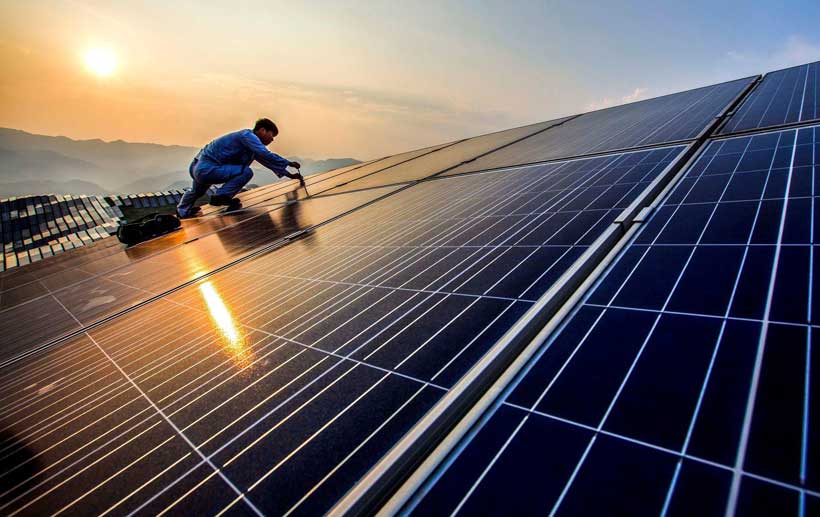 The world's energy and climate future increasingly hinges on whether emerging and developing economies are able to successfully transition to cleaner energy systems, calling for a step change in global efforts to mobilise and channel the massive surge in investment that is required, according to a new report by the International Energy Agency.
The special report – carried out in collaboration with the World Bank and the World Economic Forum – sets out a series of actions to enable these countries to overcome the major hurdles they face in attracting the financing to build the clean, modern and resilient energy systems that can power their growing economies for decades to come.
Annual clean energy investment in emerging and developing economies needs to increase by more than seven times – from less than USD 150 billion last year to over $1 trillion by 2030 to put the world on track to reach net-zero emissions by 2050, according to the report, Financing Clean Energy Transitions in Emerging and Developing Economies. Unless much stronger action is taken, energy-related carbon dioxide emissions from these economies – which are mostly in Asia, Africa and Latin America – are set to grow by 5 billion tonnes over the next two decades.
"In many emerging and developing economies, emissions are heading upwards while clean energy investments are faltering, creating a dangerous fault line in global efforts to reach climate and sustainable energy goals,'' said Fatih Birol, the IEA Executive Director. "Countries are not starting on this journey from the same place – many do not have access to the funds they need to rapidly transition to a healthier and more prosperous energy future – and the damaging effects of the Covid-19 crisis are lasting longer in many parts of the developing world."
"There is no shortage of money worldwide, but it is not finding its way to the countries, sectors and projects where it is most needed," Dr Birol said. "Governments need to give international public finance institutions a strong strategic mandate to finance clean energy transitions in the developing world."
Recent trends in clean energy spending point to a widening gap between advanced economies and the developing world even though emissions reductions are far more cost-effective in the latter. Emerging and developing economies currently account for two-thirds of the world's population, but only one-fifth of global investment in clean energy, and one-tenth of global financial wealth. Annual investments across all parts of the energy sector in emerging and developing markets have fallen by around 20% since 2016, and they face debt and equity costs that are up to seven times higher than in the United States or Europe.
Avoiding a tonne of CO2 emissions in emerging and developing economies costs about half as much on average as in advanced economies, according to the report. That is partly because developing economies can often jump straight to cleaner and more efficient technologies without having to phase out or refit polluting energy projects that are already underway.
But emerging market and developing economies seeking to increase clean energy investment face a range of difficulties, which can undermine risk-adjusted returns for investors and the availability of bankable projects. Challenges involve the availability of commercial arrangements that support predictable revenues for capital-intensive investments, the creditworthiness of counterparties and the availability of enabling infrastructure, among other project-level factors. Broader issues, including depleted public finances, currency instability and weaknesses in local banking and capital markets also raise challenges to attracting investment.
"A major catalyst is needed to make the 2020s the decade of transformative clean energy investment," said Dr Birol. "The international system lacks a clear and unified focus on financing emissions reductions and clean energy – particularly in emerging and developing economies. Today's strategies, capabilities and funding levels are well short of where they need to be. Our report is a global call to action – especially for those who have the wealth, resources and expertise to make a difference – and offers priority actions that can be taken now to move things forward fast."
These priority actions – for governments, financial institutions, investors and companies – cover the period between now and 2030, drawing on detailed analysis of successful projects and initiatives across clean power, efficiency and electrification, as well as transitions for fuels and emissions-intensive sectors. These include almost 50 real-world case studies across different sectors in countries ranging from Brazil to Indonesia, and from Senegal to Bangladesh.
"As we expand energy access, we also need a global transition to low-carbon energy. It is critical to develop solutions that make energy systems more resilient to climate change and other crises. With the right policies and investments, countries can achieve lasting economic growth and poverty reduction without degrading the environment or aggravating inequality. The broader financial sector can and must play a key role in achieving the goals of the Paris Agreement by mobilizing capital for green and low-carbon investments, while managing climate risks. The World Bank will continue to support countries that seek assistance to transition away from fossil fuels and scale up low-carbon, renewable energy, and energy efficiency investments," said Demetrios Papathanasiou, the World Bank Global Director for Energy and Extractives.
"The need to scale clean energy in emerging economies offers a massive investment opportunity. This report shows that current challenges to get this capital to the right places can be overcome through a combination of smart policies, financial innovation, as well as bold collective action. The World Economic Forum is committed to enabling multistakeholder cooperation to accelerate progress in this important area, said Børge Brende, President of the World Economic Forum.
The report calls for a focus on channelling and facilitating investment into sectors where clean technologies are market-ready, especially in the areas of renewables and energy efficiency, but also laying the groundwork for scaling up low-carbon fuels and industrial infrastructure needed to decarbonise rapidly growing and urbanising economies. It also calls for strengthening sustainable finance frameworks, addressing barriers on foreign investment, easing procedures for licensing and land acquisition, and rolling back policies that distort local energy markets.
The report underscores that clean energy investments and activities can bring substantial economic opportunities and jobs in industries that are expected to flourish in the coming decades as energy transitions accelerate worldwide. It calls for clean energy transitions to be people‐centred and inclusive, including actions that build equitable and sustainable models for universal access to modern energy. Spending on more efficient appliances, electric vehicles, and energy‐efficient buildings can provide further employment opportunities, and can especially support the role of women and female entrepreneurs in driving change and improved gender equality.