ASEAN launches VOICES: Bulletin of the ASEAN Socio-Cultural Community
The ASEAN Socio-Cultural Community Department of the ASEAN Secretariat launched the maiden issue of VOICES: Bulletin of the ASEAN Socio-Cultural Community (ASCC) today. This is a new quarterly bulletin which serves as a communication tool to keep ASEAN people informed on issues that have a direct impact on their lives.
The ASCC seeks to build a community that engages and benefits the people, and is inclusive, sustainable, resilient and dynamic. The work of ASCC focuses on a wide range of issues which include rural development and poverty eradication, women and children, labour, education, health, culture and arts, environment, disaster management and humanitarian assistance.
This inaugural bulletin of the ASCC or fondly known as the "people's pillar," focuses on the issue of poverty eradication and inequality in the ASEAN region. "As the people's pillar, it is important for us to have a channel of communication with the people of ASEAN," said Vongthep Arthakaivalvatee, Deputy Secretary-General of ASEAN Socio-Cultural Community. "It is my hope that VOICES will be able to bring to the people of ASEAN a better understanding of the work being carried out by the people's pillar," he added.
VOICES: The Bulletin of the ASEAN Socio-Cultural Community can be downloaded here.
New Funding for Mindanao Trust Fund to Strengthen Peace and Development in Southern Philippines
Efforts to bring peace and progress in Mindanao were reaffirmed today following the signing of a new agreement that will build more socioeconomic infrastructure and improve literacy in conflict affected areas.
The new Program Partnership Agreement signed by the Bangsamoro Development Agency (BDA) – the development arm of the Moro Islamic Liberation Front (MILF) – and humanitarian organization Community and Family Services International (CFSI) entrusts the two parties to implement the USD 3.2 million grant with financing from the Mindanao Trust Fund for Reconstruction and Development (MTF).
The Spanish Agency for International Development Cooperation (AECID) also provided complementary funding amounting to 1 million euro to support similar activities.
"This new partnership agreement strengthens Normalization under the Comprehensive Agreement on the Bangsamoro. It will help improve the quality of life of people in conflict-affected areas through community participation and the pursuit of sustainable livelihood within a peaceful, deliberative society," said Secretary Jesus Dureza, Presidential Adviser on the Peace Process. "For four years, we have been reaching out to our fellow Filipinos in the south, touching lives and taking 'peace by piece' steps towards a developed Bangsamoro."
Established in 2006 with support from development partners including the Australia, Canada, European Union, Sweden, New Zealand, and the United States, and administered by the World Bank, the MTF consolidates international development assistance for the socioeconomic recovery of conflict-affected communities in Mindanao and seeks to build confidence in the normalization process with the MILF.
From 2006 to 2017, development partners have provided PHP 1.4 billion (USD 28.9 million) to the program. Within this period, results delivered by the MTF-Reconstruction and Development Project include 573 projects that improved infrastructure, strengthen livelihoods and functional literacy in 315 conflict-affected communities across 75 municipalities. Nearly 650,000 people now benefit from clean water, better roads, and more post-harvest facilities and access to farming and fishing equipment.
"The support of the Philippine government and development partners towards projects that strengthen the Bangsamoro's capacities to improve their socioeconomic conditions reinforce people's trust on the Bangsamoro peace process and the passage of the Bangsamoro Basic Law," said MILF Peace Implementing Panel Chair Mohagher Iqbal.
The project also supported activities to improve livelihoods, infrastructure, and basic literacy in the Six Acknowledged MILF Camps: Camps Abubakar, Omar, Rajamuda, Badre, Bushra, and Bilal. The decision of Secretary Dureza of OPAPP, the MILF, and development partners to further intensify these efforts through the MTF highlight the partners' commitment to peace and development in Mindanao.
"Greater economic opportunity and access to basic services foster hope in conflict-affected areas, which can build understanding and collaboration among community members. The World Bank is committed to supporting efforts that enhance the prospects for peace in Mindanao," said Mara K. Warwick, World Bank Country Director for Brunei, Malaysia, Philippines and Thailand.
"Australia is a longstanding supporter of peace and development in Mindanao, and is proud to be a partner for change in the second phase of the Mindanao Trust Fund," said Australian Ambassador Amanda Gorely. "As the first phase has already shown, the socio-economic infrastructure and literacy projects it will provide can have a remarkable impact for communities in Muslim Mindanao."
"One of the biggest challenges for development policies is to tackle the most vulnerable communities affected by multiple conflicts and threats; to not leave them behind. This complex aim needs joint resources from national and international stakeholders following a sound local leadership. MTF has acted as a valuable driver of such efforts," said Juan Pita, General Coordinator of AECID.
The MTF has a steering committee that oversees the implementation and evaluation of the program. It is chaired by OPAPP, BDA, and the World Bank, which also serves as the trust fund secretariat.
Bangladesh: World Bank Increases Support for Clean, Renewable Energy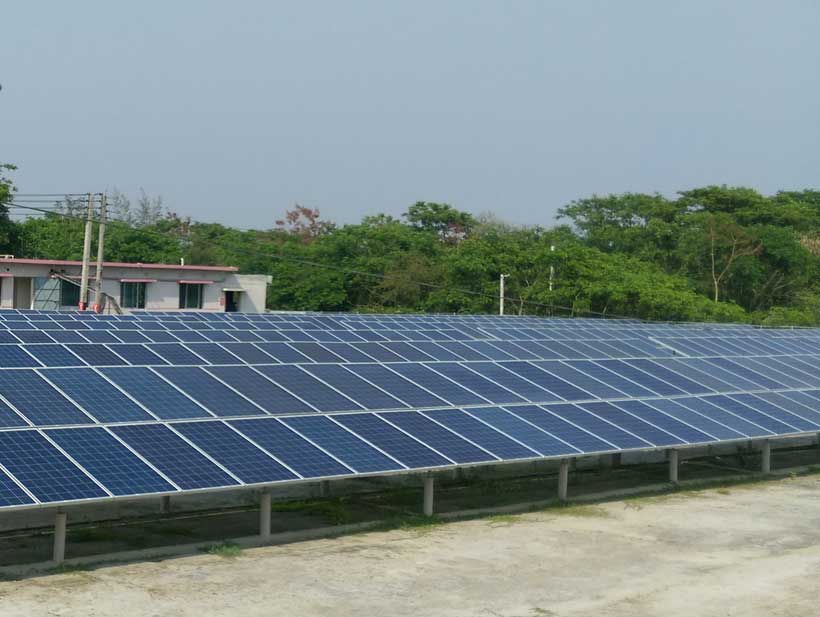 The World Bank today approved $55 million to expand use of clean renewable energy in rural areas of Bangladesh where grid electricity cannot reach easily.
The additional financing to the Second Rural Electrification and Renewable Energy Development (RERED II) Project will install 1,000 solar irrigation pumps, 30 solar mini-grids, and about 4 million improved cookstoves in rural areas. The project, including the additional financing, will enable about 10 million people living in villages, shoals, and islands to access electricity and use energy efficient cookstoves. These interventions will help the country reduce carbon emissions.
"We are proud to be helping Bangladesh increase access to clean electricity through solar power. Today, the country has one of the world's largest domestic solar power programs, covering 14 percent of the population," said Qimiao Fan, World Bank Country Director for Bangladesh, Bhutan, and Nepal. "Building on its success in using solar energy to provide electricity in rural areas, this financing will also scale up other clean renewable energy options."
The project has already built 10 solar mini-grids in remote areas, including islands and shoals to provide grid quality electricity. This additional financing will help construct another 30 solar mini-grids. These will provide about 28,000 connections to households and businesses, including small and medium-sized enterprises.
The financing will also help increase use of solar irrigation pumps, a low-cost technology that is well suited to the country's flat terrain and abundant sunshine. This switch from diesel pumps will decrease greenhouse gas emissions and save foreign exchange by reducing the government's subsidy on diesel imports.
"In Bangladesh, indoor air pollution causes 107,000 deaths per year, mostly women and children. Traditional cookstoves used in rural areas is a major contributor to this," said Amit Jain, World Bank Team Leader for the project. "This project will scale up use of improved stoves. Their energy-efficient design will emit 90 percent less carbon monoxide and use half as much firewood as a traditional stove. A major thrust of the project will be to increase use of affordable-fuel efficient cookstoves by the poor and extreme poor."
Since 2002, the World Bank has been helping the government expand renewable energy programs. In the energy sector, the World Bank has ongoing support of over $1.6 billion in Bangladesh covering generation, transmission, distribution, and renewable energy.
In addition, the Green Climate Fund (GCF) Board has on February 27, 2018 approved an additional $20 million to support the energy efficient cookstoves project, which is their first approved cookstoves project.
The credit from the World Bank's International Development Association, which provides grants or zero-interest loans, has a 38-year term, including a 6-year grace period, and a service charge of 0.75 percent.
The World Bank was among the first development partners to support Bangladesh following its independence. Since then, the World Bank has committed nearly $28 billion in grants and interest-free credits to the country. In recent years, Bangladesh has been among the largest recipients of the World Bank's interest-free credits.
Mher Sahakyan on "Belt & Road from the Perspective of China's National Security"
Moscow, Russian Federation—On April 16-23, 2018, the "The Digital Economy: Man, Technology, Institutes" was held at the Faculty of Economics of Lomonosov Moscow State University. This prestigious academic symposium was organized in the framework of the annual "Lomonosov Readings" conference by the Lomonosov Moscow State University. Selected scholars from different countries were invited to introduce their research օn the "The New Silk Road" Section. Mher Sahakyan(PhD in International Relations, Research Fellow at the National Defense Research University, MOD, Armenia, member at the International Political Science Association) was among them.
He presented his research on "The One Belt, One Road Initiative from the Perspective of China's National Security".Invited speakers included Lapidus L. V. (Advanced Doctor in Economics, Prof., Head of Center for Social and Economic Innovation, Faculty of Economics, Lomonosov MSU), Dadabaeva Z.A.,(Advanced Doctor in Political Science, Lead Researcher, Institute of Economics, Russian Academy of Sciences), Turaeva M.O.,(Advanced Doctor in Economics, Lead Researcher, Institute of Economics, Russian Academy of Sciences), Vardomskiy L.B., (Advanced Doctor in Economics, Prof, Principal Researcher, Institute of Economics, Russian Academy of Sciences), Dai Liyan, (PhD in Economics, Assoc. Prof., Institute of International Relations, Liaoning University, China), Glinkina S.P., (Advanced Doctor in Economics, Prof., Institute of Economics, Russian Academy of Sciences),  XuexiHuo, (Prof., NorthWest A&F University, China), Sharipov F.F., (PhD in Economics, Assoc. Prof., State University of Management), Dyakonova M.A., (PhD in Political Science, Assoc. Prof., State University of Management), Eszterhai V.,(Senior Researcher, Pallas Athene Innovation and Geopolitical Foundation, Hungry), Dai Liyan, (PhD in Economics, Assoc. Prof., Institute of International Relations, Liaoning University) and others.
The Academic Seminar was chaired by Buklemishev O.V.,(PhD, Assoc. Prof., Vice Dean for International Relations, Head of the Center for Economic Policy Research, Faculty of Economics, Lomonosov MSU).
Mher gave a detailed analysis on security factor of the OBOR in modern International Affairs and made recommendations on improving cooperation between Armenia and China on security issues in the context of harmonization of the EAEU and OBOR. The presentation was followed by a discussion on both the topic of research and the methods used by the speaker.
The Lomonosov Moscow State University is the leading university of Russian Federation. The National Defense Research University (NDRU), MOD Armenia was opened on January 28, 2016. Lieutenant General Hayk Kotanjian (Advanced Doctor in Political Studies, Prof.) developed the Project of NDRU during his academic fellowship at the U.S. National Defense University. The goal of this unique research university in the region is to increase the efficiency of the Armenian defense security system through bridging research and educational activities. Among the tasks of the NDRU is the research in the areas of regional security dynamics, cybersecurity and ICT, strategic gaming, as well as developments targeted at the effective management of cyber-digital resources. Based on these studies, relevant analyses and recommendations are submitted to the political-military leadership of Armenia contributing to the enhancement of their knowledge in the field of security policy.