Shaki: Azerbaijan's ancient agora of multiculturalism
Sarkhanbay Khuduyev, a native of Shaki region and a dynamic public servant, invited us (a group of U. S. and European scholars) on behalf of the Baku International Multiculturalism Centre, to conduct a research visit in the regions of Shaki and Qabala during the weekend of October 28-29, 2017.
The region of Shaki is the birthplace of Mirza Fatali Akhundov, a famous Azerbaijani writer and philosopher who established a new period in Azerbaijani literature.
The region of Shaki is located over 320 kilometers west of Baku, it is one of the ancient regions of the Republic of Azerbaijan, located in the northwestern territories of the land of fire, its people epitomize the very essence of Azerbaijani multiculturalism that is unique at international levels. The region of Shaki borders in the north with the Republic of Dagestan, Russia; it is globally unique, due to its multiculturalism values, intercultural coexistence and of its ancient religious monuments that have endured merciless historical manipulations and archeological site destructions during Russia's Tsarist regime and Qajar Dynasty (1789–1797). Unfortunately, historical manipulations in Shaki have continued in the years of Stalin and Nikita Khrushchev.
We left Baku on early Saturday morning, our careful driver swiftly crossed the impressive suburbs of Baku and all of a sudden we found ourselves in front of a majestic landscape on both sides of a well maintained paved road, in the outskirts of Gobustan District, where light brown Fold mountains are intertwined with Dome Mountains, making Gobustan countryside an unforgettable scenery where modern public works are intertwined with rare natural beauty.
The national paved road was winding at the very intersections of these geological works of art, that were making our trip very unique and enjoyable due to its precipitous angles and occasionally steep curves that enabled us to be introduced with Azerbaijan's myriad of mountain ranges, observed thousands of kilometers away, thanks to spectacular clear skies. In the outskirts of Gobustan, 120 kilometers from Baku, we were greeted by two young Azerbaijani teenagers who were holding two live rabbits by their ears; their joy added a special laugh to our trip.
We stopped for breakfast in Ismailli District, at a local restaurant, where the meal was: a traditional qayanaq (scrambled eggs with tomato), local honey cloves, three types of locally made white cheeses and freshly baked loaves of tandir bread.
After the imposing serpentine national highway, on the western side of Ismailli District begins a belt of dense forests were imposing old trees create a natural green and orange carpet with their wide crowns and in many occasions tourists will appreciate remarkable nature's colorful caves – that continue for miles and miles – created by these majestic trees that follow through the Qabala District (the capital of ancient Caucasian Albania), serving as a natural shield from the Sun's beams for the tourists' eyes. Accompanied by such a concert of colorful trees, we continued to travel through Oghuz District; home of famous Neolithic period's archeological sites, VII century Govur castle in Khachmaz and of many other historical Azerbaijani ancient monuments.
Oghuz District is the world's ancient home of mountain Jews, today it has two well preserved synagogues and a thriving Jewish Community that conserves and upholds its religious rites and historic traditions.
After traveling for over five hours we arrived in Shaki, at Marxal Resort and Spa, an advanced tourism complex of high standards that certainly overshadows, surpasses many Hilton resorts worldwide.
In the late afternoon hours of Saturday, we visited the ancient Caucasian Albanian Church in the village of Kish (Kiş), where the Government of Azerbaijan is currently building a paved road that connects the city with such a unique religious and cultural site of rare international reputation. Shaki (Sheki) is also home of a Santiago Calatrava style bridge connecting the city with the village of Kish (both sides of the river); that was recently inaugurated.
For dinner we were graciously invited at the home of Sarkhanbay's grandmother were our team could not escape from a local famous meal of şüyüdlü sǝbzi plov, a traditionally cooked yellow rice with white raisins, honey glazed apricots, topped with a delicious crusty rice pancake. Traditional Azerbaijani earl grey tea, homemade yogurt, hazelnuts, walnuts, locally grown pomegranates and apples were also a delight of this memorable visit.
During the early morning of the following day (Sunday) we visited the Khan's Palace, located inside the walls of Shaki's Castle, where imposing paintings in walls and ceilings (unique battle scenes, lions standing on top of large grey fishes and bright red pomegranate trees) epitomize the philosophical principles of Sun Tzu, Dante Alighieri's Divine Comedy and illustrate the tenets of Alfred Thayer Mahan (a U. S. Historian and a highly important strategist of the 1800s). The round temple of Caucasian Albania, located within the walls of the Shaki Castle, is a rare monument that brings together ancient history and revives Azerbaijan's multiculturalism environment that is deeply rooted and provides a rather different positive perspective when compared to other countries in the region and beyond.
According to the Leader of Shaki City Executive Authority Mr. Elkhan Usubov: "Azerbaijan pays a great importance to the preservation of cultural heritage as well as promotion of the country`s rich cultural heritage across the world."
In 2016, the region of Shaki hosted the 34th meeting of the TURKSOY Permanent Council. The conference was chaired by TURKSOY Secretary General Dusen Kaseinov. According to Mr. Abulfas Garayev, the Azerbaijani Minister of Culture and Tourism: "throughout 2016 a number of events were held in Shaki with the support of TURKSOY; Shaki was the 'Cultural Capital of the Turkic world.'" Shaki is a rare treasure that brings together religious tolerance, intercultural dialogue and unparalleled multiculturalism values. As Academician Prof. Dr. Kamal Abdullayev once said: "Today, Azerbaijani President Ilham Aliyev, is worthily continuing the political course of his great predecessor [HEYDAR ALIYEV], and is telling to the world; "Multiculturalism is a state policy in Azerbaijan and has no alternative!"" The year 2016 was declared by the President of Azerbaijan H. E. Mr. Ilham Aliyev, as the "Year of Multiculturalism," it is indeed the perfect political decision aimed to preserve the rich literary works of Nizami Ganjavi, Huseyn Javid (son of Nakhchivan), Mirza Fatali Akhundzade (son of Shaki), Mirza Jalil, Abdulla Shaiq, Kamal Abdullayev and many other legendary writers of Azerbaijan. The region of Shaki may unquestionably be considered as Europe's cultural capital, standing at the foot of Greater Caucasus Mountains, where Sunni Muslims have the highest level of education per capita in the world.
10 Reasons to Fall in Love with Athens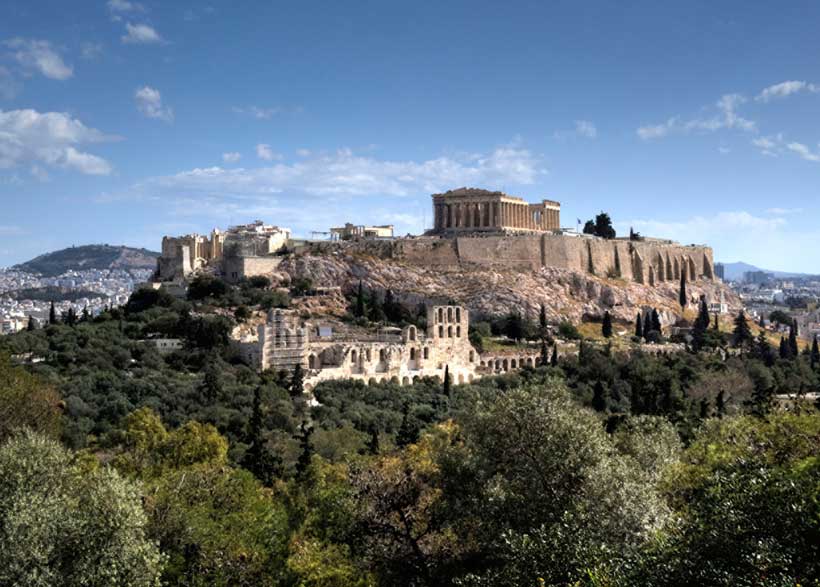 Athens has hit a new stride thanks to a glorious revival in art, food and architecture that has been underway for the last decade. Here, the concierge team at Four Seasons Astir Palace Hotel Athens offers are ten reasons to fall in love with this flourishing metropolis.
An Epic Heritage: The Parthenon is visible from almost every street corner in central Athens and must be seen up close to appreciate just how imposing these famous and majestic columns are. Fast forward a few millennia and you will find yourself at the Panathenaic Stadium, also made entirely of marble and the site of the first modern Olympic Games in 1896.
A City by the Sea: Bon vivants know that you can experience almost everything the Greek islands have to offer in Athens. With some of the most beautiful beaches found along a 31 mile (50 kilometre) coastline, you can enjoy life just as the ancients did, with fresh seafood all year round, while swimming in the crystal blue waters of the Aegean Sea for the majority of the year.
Music and Theatre Beneath the Acropolis: From majestic ballets and arias to ancient Greek tragedies, witnessing a performance at the Odeon of Herodes Atticus (June–October) is something you'll unlikely forget. Despite being nearly 2,000 years old, the theatre is heralded for its exemplary acoustics.
Temple of Poseidon: Erected in the middle of the 5th century BC and located at the end of the Sounion peninsula, this ancient temple was built to honour Poseidon, god of the sea. A sunset here is one of the most magical in Greece, blanketed by vivid reds and oranges.
Evzones: Rain, hail or shine, the Greek Presidential Guards or Evzones march towards Hellenic Parliament every Sunday morning in a spectacular ceremonial parade that has become synonymous with Athens.
Wines of Athens: As a city surrounded by small historical vineyards, Attica is the largest wine region in Greece, touting talented winemakers who are producing award-winning wines using the indigenous savatiano grape.
An Athenian Way of Life: The weekly farmers markets or laiki agora are an inherent part of Athenian society. Setting up in neighbourhoods all around the city, these food markets allow locals to stock up on fresh produce while socialising within their community. The largest, known as the Varvakeios Markets in downtown Athens, operates daily and offers seasonal harvests and local delicacies.
Byzantine Churches: For anyone that appreciates beauty, the churches in Athens are among the most special in Greece, hailing from the Byzantine era and defined by their tall domes with arched windows. The Church of Panagia Kapnikarea is one of the oldest in Athens, built around 1050 AD. All are welcome to enter and appreciate the rare frescos and beautiful iconography inside.
Art and Culture go hand in hand in Athens beginning with the Acropolis Museum. With floor to ceiling windows overlooking the ancient city, thousands of sculptures and artefacts found around the Acropolis are displayed and bathed in natural light. At the Museum of Cycladic Art, a stunning collection of Cycladic figurines and ceramics from the 3rd millennium BC can be seen. Over at the National Archaeological Museum, a treasure trove of antiquities await including the gold mask of Agamemnon and the Antikythera Mechanism.
Athens' New Agora: Athenians received a contemporary agora at the newly opened Stavros Niarchos Foundation Cultural Center. The Agora, emblematic of the central gathering spaces in ancient Greece, upholds this tradition with regular events held throughout the year. The entire building is a significant addition to modern day Athens and an architectural feat by architect Renzo Piano.
Hangzhou: Let the Beauty of West Lake Float Your Boat
From its rich history and healthy cuisine to Longjing tea and silk products, Hangzhou has a lot to be proud of, but all its myriad wonders fade in comparison to West Lake, the stunning crown jewel of the city. Beloved by locals and visitors for centuries, West Lake has been a muse to poets and painters alike as well as a favourite imperial retreat for ancient royals. The cycle of seasons gives it an ever-changing look, yet whether in the exuberant bloom of summer or the frosty winds of winter, this watery gem remains a timeless beauty, never ceasing to amaze. In 2011, the West Lake Cultural Landscape was included on the UNESCO World Heritage List, acknowledged for being not only the quintessence of Hangzhou's classic charm, but also a major carrier of the city's cultural and historical legacy.
While there are countless ways to appreciate West Lake, when it comes to fully revelling in its bewitching allure, nothing compares to a good old fashioned boat ride. After all, it was the preferred way of world's most famous traveller, Marco Polo, who declared that "a voyage on this lake offers more refreshment and delectation than any other experience on earth." So why not join one of the many barges skimming the surface of the lake as soon as you arrive in town? And better yet, make it your grand entrance to your hotel? At Four Seasons Hotel Hangzhou at West Lake, we have designed an extraordinary check-in experience that guarantees to float your boat.
Upon your arrival, the Hotel limo will pick you up from the airport or train stations and take you straight to the West Lake Pier. There, get on board a petite, traditional Chinese style wooden boat, and rest is total relaxation. Slowly cruising through the willow-fringed waters, you will be treated with a panoramic view of the scenic landscape while the modern city hustle and bustle melts away in a fresh pot of Longjing tea. Don't miss the chance to learn about local legends from your boatman, who will tell you all about the folklore of West Lake. Before you know it, the check-in process is underway and the boat has reached the hotel pier, where a welcome tea ceremony marks a perfect start of your stay with us. If once isn't enough, no worries—you are most welcome to come back for more. Simply pick a fine day and bring a bottle of bubbly to the Hotel pier, and we will arrange a boat that takes you into the peaceful embrace of West Lake.
Welcome to Boston's Newest Destination for Innovative Meetings & Events
Four Seasons Hotel One Dalton Street, Boston is located within the brand new, 61-storey skyscraper in Boston's Back Bay neighbourhood and offers more than 10,000 square feet (930 square metres) of total event space. The newest in the Four Seasons family of hotels and resorts for meetings and events is ideally located in the heart of the Back Bay, home to Boston's best shopping and dining.
Planners of high profile meetings, breakout sessions or private dining events have the option to choose from two ballrooms on level 3, each with adjoining foyers, and five additional event rooms on level 6. Floor-to-ceiling windows create beautiful, sunlit rooms that will provide a gorgeous backdrop to any event, with two meeting spaces featuring unique outdoor areas with sweeping city views for a refreshing break.
"It is our goal to ensure every event experience is one of unparalleled sophistication and quality that define the Four Seasons experience," says Reed Kandalaft, General Manager. "Four Seasons Hotel One Dalton Street, Boston is scheduled to open in spring 2019 and we are so excited to show off this gorgeous space to all event planners, local and national, corporate and social."
Created by legendary architect Harry Cobb of Pei Cobb Freed, the new Four Seasons is a uniquely shaped soft triangle, a thin glass spire of soaring height in the Back Bay. As a result, the function spaces are one-of-a-kind, offer modern design inspired by contemporary, leading edge style. Interior designer Bill Rooney created an elegant and warm atmosphere with the use of cream-coloured walls, muted grey palette and a hint of metallic.
Next generation technology in all meeting space includes Xfinity Wi-Fi along with Comcast X1 Platform, audiovisual services and technical support from PSAV. All event spaces have easy elevator access for event guests.
The Four Seasons team will enhance every event moment and will work closely with planners and hosts to create a dynamic itinerary including time for relaxation in the Hotel's spa featuring a 64 foot (19.5 metre) curved indoor pool and complete fitness centre, and unforgettable dining at ZUMA, the world-renowned Japanese izakaya.