UNICEF: Ending child marriage in West and Central Africa could take 100 years
Unless progress is accelerated, ending child marriage in West and Central Africa will take more than 100 years, with far-reaching, life-altering consequences for millions of child brides and crippling impact on the region's prosperity, the United Nations children's agency has said.
A new report released Monday from the UN Children's Fund (UNICEF), Achieving a future without child marriage: Focus on West and Central Africa, reveals that, due to rapid population growth and high prevalence of child marriage, even if the current decline rate was doubled, it would not suffice to reduce the annual number of girls married.
"We cannot continue to let so many of our girls miss out on their health, education, and childhood," said Fatoumata Ndiaye, UNICEF's Deputy Executive Director, in a press release, adding that "at current rates, our report shows, it will take over 100 years to eliminate child marriage in the region – how is this acceptable?"
The new projections, released during a UN-backed high-level meeting on ending child marriage in Dakar this week, aim to bring the spotlight on the region of the world where girls face the highest risk of marrying in childhood.
While the prevalence of child marriage in West and Central Africa has declined over the past two decades, progress has been uneven, and still four in 10 women are married before the age of 18 and, of these, one in three before the age of 15.
West and Central Africa includes six of the 10 countries with the highest prevalence of child marriage in the world: Niger; the Central African Republic; Chad; Mali; Burkina Faso and Guinea.
The report also highlights that progress is possible when the right mix of strategies is in place, such as empowering girls, mobilizing families and communities to change attitudes and behaviours, providing adequate services to girls at risk and to married girls and putting in place consistent laws and policies to protect and promote the rights of girls.
In five countries in the region – Gambia, Guinea Bissau, Togo, Ghana and Rwanda, declines ranged from 40 to 60 per cent over the past 25 years.
The longer a girl stays in school, the less likely she is to be married before the age of 18 and have children during her teenage years.
"Getting girls to schools should be our top priority," said Ms. Ndiaye. "Not only because it equips girls for life, but it also helps to lift their families, their communities, their countries out of poverty."
Industrial innovation to accelerate transitions towards greener and digital economies
In the context of the 8th European Conference on Corporate R&D and Innovation (CONCORDI), 2021 – Industrial innovation for competitive sustainability, held online between 22-25 November 2021, the United Nations Industrial Development Organization (UNIDO) convened two plenary sessions to discuss the greening of the economy and digitalization as two megatrends shaping the future of industrialization. These megatrends will influence developing countries' efforts towards the achievement of inclusive and sustainable industrial development and the global sustainability agenda. The ongoing pandemic introduces resilience as an additional driver for policy, capacity development and strengthened coordination and collaboration around industrial innovation and industrial policy issues at different levels.
By leveraging its vast field experiences, technical cooperation activities and research work, UNIDO introduced developing country and sustainability perspectives to inform policy recommendations stemming from CONCORDI 2021, while also proposing novel policy- and action-orientated research agendas.
During his remarks at the plenary session titled: "The future of industrialization in a post pandemic world: Focus on developing countries", Hiroshi Kuniyoshi, UNIDO's Deputy to the Director General, advocated novel approaches to industrial policies as crucial for seizing the windows of opportunities stemming from digitalization and the greening of manufacturing. The threat of growing divides, he said, implies that industrialization requires commitment to foster industrial innovation as the basis for catching up and leapfrogging in a post-pandemic world.
Kuniyoshi suggested that successful endorsement of the fourth industrial revolution would depend on each country's responses and readiness, including through industrial capability building, domestic market size and upgrading in global value chains. He said policymakers need to pay attention to both framework conditions and specific policies to support development of production capabilities by firms.
The plenary session titled: "Inclusive and Sustainable Industrial Recovery through Digital Transformation", addressed different factors that can determine success in endorsing the twin transition towards the green and the digital economy. These include digital planning and innovation strategies, focusing on trade facilitation, investing in infrastructure and enhancing policy coherence as well as addressing issues of finance from both public and private sources.
Speakers said capacity building, particularly for women and youth, remains a fundamental challenge, including the promotion of digital and green skills, and science, technology engineering, and mathematics (STEM) education. Addressing cultural biases preventing gender inclusivity, and solving skills gaps between men and women, should supplement efforts to facilitate access of women to better jobs.
There was agreement that in all these processes, priority setting would help focus on fewer challenges, while partnership building between governments, private sector, research organizations and multilateral organizations will be fundamental to securing an enabling environment for developing countries to leverage on the digital and the green economy towards meeting the sustainability targets associated with the 2030 and 2050 agendas. UNIDO stands ready to broker collaboration between its Members States and development partners in ways that reduce fragmentation of development assistance, and by bringing development assistance with impact to the field level.
The Joint Research Centre of the European Commission (EC-JRC) convenes the CONCORDI biannually. For this year's edition, UNIDO, the European Association for Research and Technology Organisations (EARTO), and the Organisation for Economic Co-operation and Development (OECD) joined the European Commission's Joint Research Centre (JRC) as co-organizers.
UNIDO's contribution to CONCORDI2021 marks a progressive strengthening of the collaboration with the JRC on science, technology and innovation (STI) matters, beyond ongoing work in context of the UN Inter-Agency Task Team on STI for the SDGs.
Why financial institutions are banking on sustainability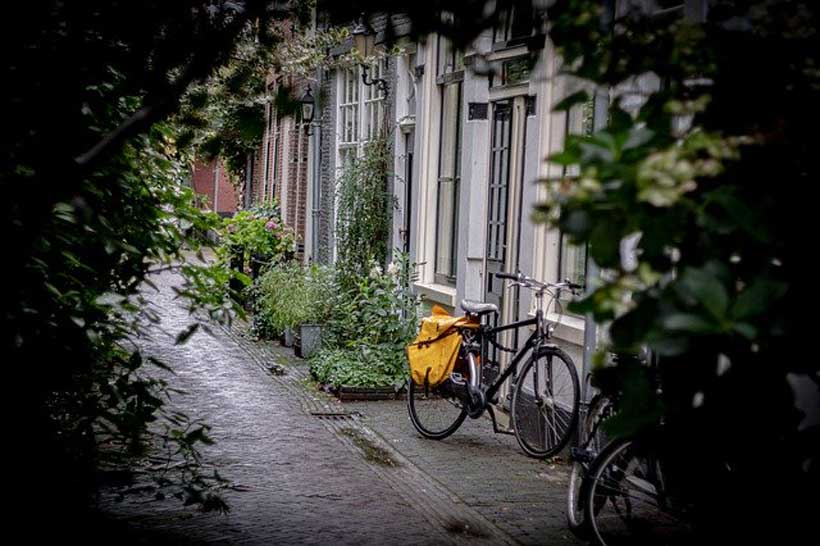 Eric Usher's day planner is filled with meetings with the heads of some of the world's biggest banks. And while he has years of experience working with the financial industry, his mission isn't profit. It is to support and challenge banks and other financial institutions to lay the foundation for a more sustainable future.
Usher is the head of the United Nations Environment Programme Finance Initiative (UNEP FI), a partnership between UNEP, banks, insurers and investment companies that has established among the most important sustainability frameworks for the sector. Its aim is to align private money with the UN Sustainable Development Goals that aim to shift our economy to clean energy, eliminate hunger, foster gender equality and achieve more than a dozen other social and environmental targets.
In his role, Usher has worked with financial institutions to put sustainability at the heart of their business strategy.
"If we want to meet global sustainability challenges, we absolutely need the support of the private sector," said Usher recently. "There just isn't enough public money out there, especially in the wake of COVID-19, to finance the massive structural changes our societies desperately need."
The Organization for Economic Cooperation and Development estimates it will cost $6.9 trillion annually through 2030 to finance the sustainable development goals.
Usher's comments came just ahead of the United Nations Climate Change Conference of Parties, known as COP26. The gathering came with the planet slipping dangerously behind the goals of 2015's landmark Paris Agreement and already experiencing the effects of a changing climate. Progress towards the other Sustainable Development Goals has also been uneven.
Origins of a movement
UNEP FI was born out of a group of six banks that met on the sidelines of 1992's Rio Earth Summit, considered by many as one of the most important environmental gatherings of the last three decades.
Nearly 30 years later, more than 450 financial institutions are members of what is the UN's largest partnership with the finance industry.
In the past year alone, member banks have given 113 million vulnerable customers access to financial services and advised over 15,000 companies on their climate strategies.
Not only is that work helping people and the planet, it's also securing the future of financial stability. The burgeoning green economy is creating a host of new investment and lending opportunities. Institutional investors and retail banking customers are increasingly demanding that financial institutions uphold environmental standards. And, perhaps most importantly, a growing number of financial institutions have realized that financing fossil fuels, and other projects that harm the environment, is bad for their long-term future.
"I truly believe that the next 30 years of our economy and our society, can't be like the last 30 years," said Guy Cormier, CEO of Desjardins Group, one of Canada's largest financial services companies. "The activities of a financial institution can make a real difference in the lives of the people and also in the environment."
Becoming more environmentally sustainable requires banks, insurers and investors to redesign their business models, says Usher.
"Traditional risk (in the financial sector) looks at what failed in the past," said Usher, "With climate change that doesn't work. Now it's about forecasting the future, which isn't easy and therefore is an area that we work with our members to develop the norms and standards needed to respond."
The latest Intergovernmental Panel on Climate Change , released in September, finds that nearly every corner of the world has been touched by climate change. UNEP's Emissions Gap Report 2021 found that, even with new national climate pledges and mitigation measures, the world is still on track for a global temperature rise of 2.7°C by the end of the century, which could lead to catastrophic climate impacts. To keep global warming below 1.5°C this century, the aspirational goal of the Paris Agreement, countries would need to halve annual greenhouse gas emissions in the next eight years.
With this as a backdrop, Usher says the work of the UNEP FI has never been so important.
"There really is no time to waste," said Usher. "The current decade is critical to determining the future of our species and our planet."
Guiding principles
To shepherd the financial industry towards sustainability, UNEP FI has unveiled a series of guiding frameworks including:
These industry frameworks have attracted widespread support among financial institutions. Some 80 per cent of the investment industry has committed to the Principles for Responsible Investment while 260 banks, representing $70 trillion in assets, have signed onto the Principles for Responsible Banking.
The Principles [for Responsible Banking] are very much hinged on the Paris Agreement as well as the Sustainable Development Goals," said Siobhan Toohill, Group Head of Sustainability, Westpac. "It's clear that climate change is a really significant factor that banks need to address… and there are areas of impacts that we need to give closer attention to, such as biodiversity."
A progress report, released in October, highlights the accomplishments of the responsible banking principles initiative. Among other things, it found that signatories have mobilized at least $2.3 trillion in sustainable financing. What's more, 94 per cent of banks identify sustainability as a strategic priority.
The industry frameworks developed by UNEP FI help financial institutions embed sustainability into all aspects of their business. But with more than US$100 trillion required to transition the global economy to net-zero emissions by 2050 – and US$32 trillion of that over the next decade – there is an urgent need to focus financing on helping to achieve that goal.
Three UNEP FI-convened groups are working with more than 170 investors, banks and insurers to develop the tools and science-based guidance to use with their customers and the companies they invest in to decarbonize their businesses. The financial institutions are setting targets every few years and making their progress public via annual reporting to ensure that their work can be measured and scrutinized, and that they keep their commitments on track.
The large number of financial institutions involved and the near-term action that has been committed to, have left Usher optimistic about the future.
"There's no question we have a lot of work to do to make our societies more sustainable," he said. "But in the private sector, the desire for real change is growing and that makes me hopeful."
Colombia's energy districts: an example for the region
An energy district is a local institution that leads, implements and accelerates a locally-owned, inclusive and clean energy transition. In the process, energy districts create local jobs and retain and grow wealth, while simultaneously reducing carbon emissions and air pollution.
Colombia is a pioneer South American country in the promotion of this approach. Beginning in 2013, the United Nations Industrial Development Organization (UNIDO), together with Switzerland's State Secretariat for Economic Affairs (SECO), has been implementing an energy districts project in cooperation with the Ministry of Environment and Sustainable Development (Minambiente) and the public utility of the city of Medellín (Empresas Publicas de Medellín – EPM).
In its second phase, beginning in 2019, the project has been working closely with national and city-level authorities and stakeholders to improve and implement national and sub-national policy and regulatory frameworks to promote further development of energy districts; reinforce knowledge and capacities for energy districts of all market players; and provide technical assistance to some 10 selected cities so that they can include energy districts in their urban planning and support the realization of two-three near-future mature projects.
From the 17-19 November, the UNIDO project and partners, ACAIRE (Colombian Association for Refrigeration and Air Conditioning) and CIDARE, the Centre of Research and Development in Air Conditioning and Refrigeration hosted the Third International Conference for Energy Districts, a virtual event bringing together national and international experts from industry and academia, and representatives from the public sector and international organizations.
Carlos Eduardo Correa, Colombia'sMinister of Environment and Sustainable Development, stated that the conference was the ideal scenario to show the achievements of the country in the implementation of district energy as a contribution to the Sustainable Development Goals.
"All of our actions, plans, projects and regulations, are geared towards the achievements of the Nationally Determined Contributions, the reduction of greenhouse gas emissions, and, at the same time, the contribution of low-carbon development. Here, Colombia has an important experience and is an example for the region," he stated.
The progress of district energy in Colombia and the region, the importance of their implementation in urban planning, energy maps and clean energy transition, the mechanisms to finance these projects and the use of renewable energies in their execution, were some of the main topics addressed by more than 30 national and international speakers during the three days of discussions.
"The implementation of the project has, as a main component, the sustainability of knowledge and capacities in Colombia. That is why the support and work with academia are fundamental to strengthen the capacities of all the actors in the value chain and promote the education of professionals in the areas of sustainability and energy efficiency, among others," noted Alex Saer, Director of Climate Change and Risk Management at the Ministry of Environment and Sustainable Development.
The conference was also the opportunity to celebrate the awards of the Second Competition for Universities in District Energy, with the objective of designing a business model for the sale of thermal energy applied to residential users.
The contest, which had the participation of eight universities from Colombia, awarded the first-place winner team with fully funded attendance to the International District Energy Association Campus Energy in Boston in February 2022.