Strong Asian Intraregional Trade and Investment Improve Economic Resilience
Growing trade and investment linkages in Asia and the Pacific help improve the region's economic resilience to uncertainties in the global economic and trade policy environment, according to a new Asian Development Bank (ADB) report.
In a study released today, the Asian Economic Integration Report 2017 (AEIR), ADB examines recent regional integration trends and introduces a new regional integration index. The report also includes a special chapter on how Asia can strengthen financial resilience in an era of financial interconnectedness.
Strong intraregional trade and investment are acting as a buffer for the region against uncertainties in global trade and economic growth, according to the report. In 2016, Asia's intraregional trade share―measured by value―rose to 57.3% in 2016, a record high, up from an average of 55.9% from 2010 to 2015.
Foreign direct investment (FDI) within Asia rose in absolute value to reach $272 billion in 2016, despite a 6% decline in global FDI flows into the region. This intraregional FDI increased as a share of total FDI to the region from 48% in 2015 to 55% in 2016. Given the role intra-Asian FDI plays in enhancing global and regional value chain development, this is expected to help strengthen the region's trade growth globally.
Asian economies have continued expanding their global presence, with FDI originating from Asia rising 11% in 2016 to $482 billion, primarily through investment in renewable energy, natural resources, semiconductors, and information technology.
"Asia and the Pacific is leading a recovery in world trade that is helping the region to maintain strong growth momentum amid global economic and trade policy uncertainty," said Yasuyuki Sawada, ADB's Chief Economist. "Asia's continued integration and cooperation will underpin regional economic growth and financial resilience."
The 2017 AEIR introduces a new composite index, the Asia-Pacific Regional Cooperation and Integration Index. The index measures regional integration across six components, including trade and investment, money and finance, regional value chains, infrastructure and connectivity, movement of people, and institutional and social integration. The index is aimed at helping policymakers better understand and measure the levers for greater regional integration and cooperation.
The report also features a special chapter on how Asia can strengthen financial resilience in an era of financial interconnectedness. It highlights that 20 years after the Asian financial crisis, Asia stands strong, with healthier financial systems, stronger regulations, and better regional financial cooperation mechanisms.
Significant challenges remain, however, with unresolved financial market and system weaknesses. Remaining regulatory policy gaps could also increase the region's risk exposure and financial vulnerability through excessive leverage and risk-taking.
The report offers several recommendations for countries in the region to strengthen their resilience to future crises, including maintaining sound macroeconomic fundamentals; further strengthening national regulatory and supervisory frameworks and institutional capacities; further developing local currency bond markets; strengthening regional regulatory cooperation, including resolution mechanisms for interconnected regional banks; and reviewing and strengthening existing financial safety nets against potential contagion and spillover effects.
ADB, based in Manila, is dedicated to reducing poverty in Asia and the Pacific through inclusive economic growth, environmentally sustainable growth, and regional integration. Established in 1966, ADB is celebrating 50 years of development partnership in the region. It is owned by 67 members—48 from the region. In 2016, ADB assistance totaled $31.7 billion, including $14 billion in cofinancing.
Water in a loop: how to combat water scarcity on remote islands
BY SARAH WILD
Every summer, thousands of tourists travel to Greece's idyllic islands to enjoy their sunny beaches. Even the global pandemic couldn't keep visitors away, but water scarcity might. Many Greek islands survive on water imports and are struggling to meet residents' and agriculture's water needs – let alone those of tourists.
These islands illustrate the difficulties faced in other parts of Europe. Climate change is making extreme weather events such as drought more frequent, while burgeoning population numbers and competing priorities, such as agriculture and tourism, mean that there is not enough fresh water to go around. About one in five people in the Mediterranean region suffer from constant water stress – when demand exceeds availability – according to the European Commission.
To address these issues, the project HYDROUSA is piloting its water technologies at sites on three Greek islands.
'It's about tackling water scarcity issues in small and decentralised remote regions in the Mediterranean,' explained Professor Simos Malamis, a water systems specialist at the National Technical University of Athens, Greece and coordinator of HYDROUSA.
The team, which includes 28 partners in industry, academia and government, develops and integrates different technologies to collect, treat, recycle and reuse water. 'We want to do this in a sustainable manner, in a loop.'
Sustainable reuse is at the heart of the EU's circular economy action plan, published in 2020. The bloc aims to 'double its circular material use rate in the coming decade', which will involve identifying value in products that have traditionally been considered waste. It has also invested extensively in research projects, such as HYDROUSA, to trial technologies to achieve this circularity and open them up to governments and businesses.
The circular economy includes water loops, in which water is treated and reused, with value being derived from extracted 'waste' in the water, such as phosphorus or salts. HYDROUSA is working to create these loops in remote areas to benefit local individuals and industries. It currently has six pilot sites on the three islands, trialling 13 different innovations to show their applicability under different scenarios.
Wastewater
Prof. Malamis' favourite pilot, on Lesbos, includes the greatest number of integrated technologies, he says. Wastewater from a nearby town arrives at a wastewater treatment plant, where anaerobic bacteria break down the organic matter contained in the wastewater. This step produces biogas, which can be collected and used as energy feedstock. In the second phase, the primary treated wastewater runs through a constructed artificial wetland, which is made up of a number of plant species, which clean the water. The resulting water is then exposed to high-energy ultraviolet light to kill pathogens, after which local farmers can use it to fertilise and irrigate their crops, Prof. Malamis explains.
To show that it is actually safe to use, project researchers are also developing an agroforestry site, irrigated with their treated water.
Meanwhile, on Mykonos, HYDROUSA technologies harvest and store rainwater below ground, so that the water does not evaporate in the sometimes punishing Greek heat, and then disburses the water to households. On the island of Tinos, the project's technologies help an ecotourist lodge recycle waste water and rainwater, using it to irrigate and fertilise food gardens which in turn feed lodge tourists and residents in the nearby village.
These solutions rely on multiple technologies merged together. 'We have one system coupled together with another, which are from different companies, integrated, to produce the best result,' Prof. Malamis said.
To combat water scarcity in remote locations, another research initiative, Project O, is blending technologies into water management modules and demonstrating them at four small sites. Importantly, the modules are mobile and can be installed where there are no other facilities.
Two sites are water utilities in Puglia, Italy and Almendralejo, Spain, with another at a saltwater aqua facility in Eilat, Israel, and one with a textile company in Omis, Croatia.
Small scale
Big water treatment plants, such as those common in large cities, are designed to treat large quantities of water, according to Giulia Molinari, a former manager of Project O and now with IRIS, a company commercialising high voltage technology to clean water and working with the project. 'It is highly inefficient to replicate them locally for a small scale,' she said. 'We are trying to use a lot of different technologies on the small- to medium-scale to tailor the quality to the needs (of the site).'
But the various sites and industries have different water requirements. For example, not all treated water needs to be potable, she says. In industry, wastewater treated to drinking quality would be 'overengineered' and needlessly expensive.
At the Puglia site, the water is for people to drink. It comes from an aqueduct, Acquedotto Pugliese, and its quality is variable, sometimes salty, sometimes heavily polluted. This means that the solution needs to be flexible, and also able to cope with comparatively small amounts of water (about 20 cubic metres a day). This situation is very different to those in traditional water management, where every day, large quantities of water are treated in the same way. 'We can adjust treatment so that we do not treat it too much and use too much energy,' Molinari said.
Project O's response to the distinct scenarios has been to create four different modules, each containing a cascade of technologies to address the water requirements at each site. At the aqueduct in Puglia, for example, the module integrates a desalinator (which removes salt from the water) and advanced oxidation techniques (which use chemical processes to remove harmful bacteria and organic pollutants from water).
At the textile factory in Croatia, the team developed a module that uses sunlight to break down toxic organic compounds and disinfect the water, while in Spain sunlight powers advanced oxidation processes and contains adsorption technologies that can collect pollutants, while a control system integrates two technologies. The module used in Israel recovers nutrients from salty water.
Molinari works on a form of advanced oxidation technology that uses high-voltage electromagnetic pulses to break down pollutants. Currently used in the modules at the Puglia and Eilat sites, the short, but powerful bursts of energy damage illness-causing microbes and degrade organic pollutants, including many contaminants of emerging concern.
Both Project O and HYDROUSA are looking to address one of the most pressing problems in water management: how to treat water and reuse it in remote places, where there is no one-size-fits-all solution, without breaking the bank.
Given the interest from industry and municipalities, both think that they have numerous viable solutions to offer. And as fresh water becomes increasingly scarce around the world, governments and companies will be looking for technologies to treat and reuse whatever water sources they have, even if it was once considered waste.
The research in this article was funded by the EU. This article was originally published in Horizon, the EU Research and Innovation Magazine in March 2021.
Substantial progress made in Vienna; sides focusing on Safeguards
The third day of talks between experts from Iran and the EU centered around technical and legal matters regarding the Safeguards agreement between Iran and the International Atomic Energy Agency (IAEA).
Delegates from Iran, the EU and the U.S. resumed talks in Vienna on Thursday after nearly a five-month hiatus. This round of talks started on Thursday without the presence of nuclear negotiators from the European trio – Germany, France and Britain. Only experts from these three countries have attended the negotiations.
Iran believes that any agreement on restoring the nuclear deal, officially called the Joint Comprehensive Plan of Action (JCPOA), is dependent on putting an end to unsubstantiated allegations about Iran's past nuclear program. Iran insists that these questions had already been resolved within the PMD, when the nuclear deal was signed in July 2015.
According to reports, substantial progress has been made in bringing the views of Iran and the U.S. closer together during the last three days. However, in Tehran's view nothing is resolved until everything is settled.
Behrouz Kamalvandi, the spokesman for the Atomic Energy Organization of Iran (AEOI), also confirmed on Saturday that talks are mainly focused on Safeguards issues.
"We are now negotiating," Kamalvandi said of the talks between Iran's nuclear experts with Mora.
On the atmosphere of the talks, he said, "It is not bad."
Mohammad Marandi, a senior expert on nuclear issues, also told Al-Mayadeen TV that "progresses" have been made in Vienna, but one should be "cautious". He argued the success of talks is 50 percent. Marandi said the differences remain only between Iran and the United States.
He added, "We have heard from certain European sources that the Americans have revived their views on certain issues."
The Russian chief negotiator in the Vienna talks, Mikhail Ulyanov, also tweeted that there is "no unresolvable issue" on the table in the Vienna talks.
Source: Tehran Times
Giraffes, parrots, and oak trees, among many species facing extinction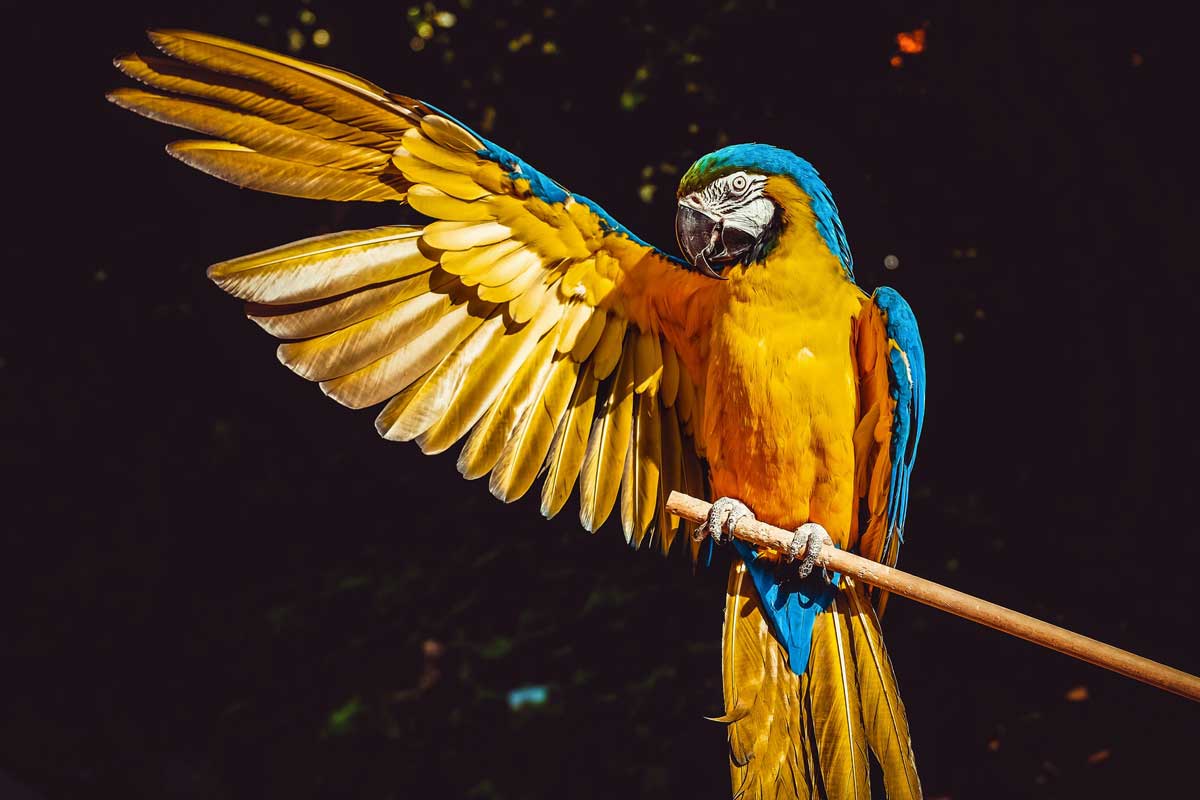 Around one million species are facing extinction, according to a report from IPBES, an independent intergovernmental science and policy body supported by the UN.
It may be surprising to learn that even giraffes, parrots, and oak trees are included in the list of threatened species, as well as cacti and seaweed.
It may be surprising to learn that giraffes, parrots, and even oak trees are included in the list of threatened species, as well as cacti and seaweed.
Seaweed is one of the planet's great survivors, and relatives of some modern-day seaweed can be traced back some 1.6 billion years. Seaweed plays a vital role in marine ecosystems, providing habitats and food for marine lifeforms, while large varieties – such as kelp – act as underwater nurseries for fish. However, mechanical dredging, rising sea temperatures and the building of coastal infrastructure are contributing to the decline of the species.
The world's trees are threatened by various sources, including logging, deforestation for industry and agriculture, firewood for heating and cooking, and climate-related threats such as wildfires.
It has been estimated that 31 per cent of the world's 430 types of oak are threatened with extinction, according to the International Union for Conservation of Nature (IUCN) Red List of threatened species. And 41 per cent are of "conservation concern", mainly due to deforestation for agriculture and fuel for cooking.
Giraffes are targeted for their meat, and suffer from the degradation of their habitat due to unsustainable wood harvesting, and increased demand for agricultural land; it's estimated there are only around 600 West African giraffes left in the wild.
Catastrophic results for humanity
The current biodiversity crisis will be exacerbated, with catastrophic results for humanity, unless humans interact with nature in a more sustainable way, according to UN experts.
"The IPBES report makes it abundantly clear that wild species are an indispensable source of food, shelter and income for hundreds of millions around the world," says Susan Gardner, Director of the Ecosystems Division at the United Nations Environment Programme (UNEP).
"Sustainable use is when biodiversity and ecosystem functioning are maintained while contributing to human well-being. By continuing to use these resources unsustainably, we are not just risking the loss and damage of these species' populations; we are affecting our own health and well-being and that of the next generation.
Indigenous knowledge
The report illustrates the importance of indigenous people being able to secure tenure rights over their land, as they have long understood the value of wild species and have learned how to use them sustainably.
Examples of the kinds of transformative changes that are needed to reduce biodiversity loss, include an equitable distribution of costs and benefits, changes in social values, and effective governance systems.
Currently, governments around the world spend more than $500 billion every year in ways that harm biodiversity to support industries like fossil fuels, agriculture, and fisheries. Experts say these funds should be repurposed to incentivize regenerative agriculture, sustainable food systems, and nature-positive innovations.