Reducing Risks in Developing Countries is Key to Spur Investment and Growth
A stable business environment, effective regulations, and political stability are among the key drivers of foreign direct investment (FDI) into developing countries, according to a new survey released today by the World Bank Group.
The survey of 750 executives of multinational corporations is part of the Global Investment Competitiveness Report 2017–2018, the first of a biennial series exploring the drivers of investment competitiveness in developing countries. The report finds that international investors prioritize political stability, security, macroeconomic conditions, and conducive regulatory environment when deciding where to make investments that can spur growth and create jobs.
"A business-friendly legal and regulatory environment—along with political stability, security, and macroeconomic conditions—are key factors for multinational companies making investment decisions in developing countries," said Anabel Gonzalez, Senior Director of the World Bank Group's Trade & Competitiveness Global Practice. "Combining a survey of global investors with analysis of investment policy issues makes this report a powerful contribution to our understanding of how developing countries—including fragile states—can de-risk their economies and unlock FDI."
The report explores how FDI creates growth opportunities for local firms, assesses the power of tax holidays and other fiscal incentives to attract FDI, analyzes characteristics of FDI originating in developing countries, and examines the experience of foreign investors in countries affected by conflict and fragility. Combining first-hand investor perspectives with extensive research and data analysis, the report highlights the importance of a conducive and low-risk investment climate for multinational as well as local companies. It recommends specific reforms that can help countries attract foreign investment and maximize its benefits for development.
"The Global Investment Competitiveness Report goes beyond an examination of broad trends in foreign investment. It explores key drivers of FDI in depth," said IFC Chief Economist Ted H. Chu. "It also offers practical and actionable recommendations to help developing countries ensure they get the most out of international investment."
The report was launched on October 25th at the Investment Competitiveness Forum. The Forum brought together corporate executives, donor partners, and academics, and senior policymakers of developing countries that have implemented significant investment policy reforms. The effort to increase FDI flows into developing countries reflects the importance of the private sector in meeting global development goals. The scale of private sector activity far surpasses public development funding worldwide, the report notes, and some of the most promising investment opportunities are centered in developing countries.
The report is produced jointly by the World Bank Group's International Finance Corporation (IFC) and Trade and Competitiveness Global Practice.
OECD and European Commission join forces to further support structural reforms in European countries
The OECD and the European Commission's Structural Reform Support Service (SRSS) sealed a new agreement today in Paris that will see the OECD provide wide-ranging policy support to advance structural reforms in European countries.
OECD Chief of Staff, Gabriela Ramos, and Director General of the SRSS, Maarten Verwey, concluded an agreement on 34 reform projects, to be conducted over the next 12 to 18 months, in 18 EU countries under the umbrella of the Structural Reform Support Programme of the European Commission.
The OECD SRSS agreement comes at a time of a slowdown in global growth, rising inequalities and higher environmental degradation, which threaten people's well-being. The OECD, with its extensive knowledge base and expertise, is supporting governments to tackle these issues head on and considers the cooperation with the SRSS to be an excellent opportunity to further leverage its expertise to deliver better policies for better lives.
The action will see the OECD working closely with the SRSS to provide policy advice and working directly with governments to advance structural reform in various policy areas, including education, labour markets, tax, governance, environment and transport infrastructure. These projects respond to the reform priorities identified by the respective EU Member States and will for example help governments develop sustainable development strategies, establish frameworks for circular economies, improve housing affordability in cities, or improve the provision of labour market services. The OECD will capitalize on the digital transformation and also deliver on skills strategies. In a nutshell, it will redouble efforts to support European countries, Members and Partners, in their goal to build strong, inclusive and sustainable economies.
The Structural Reform Support Service offers tailor-made support to all EU Member States for the preparation, design and implementation of growth-enhancing reforms. The support is provided on the request of EU Member States, requires no co-financing and mobilises experts from all over Europe and beyond, from both the public and the private sector.
The new OECD – SRSS agreement allows the SRSS to leverage OECD's expertise on best policy practices and structural reforms in the EU Member States. Such co-operation will deliver value added impact, carried out with efficiency, for the benefit of all countries.
Guterres: We must do everything possible to avoid global 'fracture' caused by US-China tensions
Tensions around global trade and technology continue to rise and the international community needs to "do everything possible" to prevent the world being split into two competing spheres, led by the United States and China.
That was the message from UN Secretary-General António Guterres on Saturday, speaking during the World Bank Group and International Monetary Fund (IMF) Annual Meetings in Washington DC.
In remarks to the International Monetary and Financial Committee, the UN chief said that "during tense and testing times" he continued to "fear the possiblity of a Great Fracture – with the two largest economies splitting the globe in two – each with its own dominant currency, trade and financial rules, its own internet and artificial intelligence capacities and its own zero-sum geopolitical and military strategies."
A trade war between the two economic giants is threatening to wipe out gains across the global economy, which could shrink global GDP next year "equivalent to the whole economy of Switzerland" said the new head of the IMF, Kristina Georgieva, just a few days ago.
Mr. Guterres told world financiers that "it is not too late to avoid" the division, but "we must do everything possible to avert this…and maintain a universal economy with universal respect for international law; a multipolar world with strong multilateral institutions, such as the World Bank and IMF."
He noted three main areas where fiscal policy and investment in the future would be pivotal. First, make tax systems "smarter, greener, and more aligned behind the sustainable development and climate action agendas", he urged.
Secondly align the whole financial system behind the 17 SDGs, or Sustainable Development Goals, incentivizing longterm public and private finance, and "revisiting financial regulations that may inadvertently encourage short-termism in financial markets."
Third, "it is time to break the cycle of excessive debt build-up followed by painful debt crises", meaning taking a systemic approach to lend and borrow more responsibly.
And we must keep a focus on countries particularly vulnerable to the impacts of the climate crisis, namely Small Island Developing States. I fully support proposals to convert debt to investment in resilience such as through the Debt for Climate Adaptation Swap initiative", noted the UN chief. "We should move this from idea to reality.
Together, let us raise ambition for development finance, climate finance, and finance that is inclusive and enables markets to grow, businesses to thrive and people to live in dignity."
'Great opportunities' ahead, for climate action
Speaking at a meeting of the Coalition of Finance Ministers for Climate Action, Mr. Guterres said that the 44-member group launched just six months ago, was "a vital part of our response to the climate emergency".
The Climate Action Summit last month in New York had shown "the world is waking up to the crisis", with "great opportunities" ahead to reduce air pollution, save billions of dollars on disasters fueled by global warming, and unlock the true benefits of the green economy.
Despite a "glaring gap in ambition and finance" finance ministers can turn the tide: "You come to the table with a mix of tools, including tax policy, controlled spending and climate budgeting…And you can end counter-productive subsidies for fossil fuels and pave the way for what I would like to see as a major trend: shifting taxation from income, to carbon."
Sweden and Colombia are already using carbon taxes; Uganda is implementing a Climate Change Budget Tagging System; and the island of Dominica has used fiscal policy to improve preparedness for climate shocks, following a devastating hurricane.
"Your Coalition is taking the 'whole of government' approach we need for systemic change. We need to have in place by COP26, country-level road maps and fiscal policies for economic, technological and energy transitions".
New Target: Cut "Learning Poverty" by At Least Half by 2030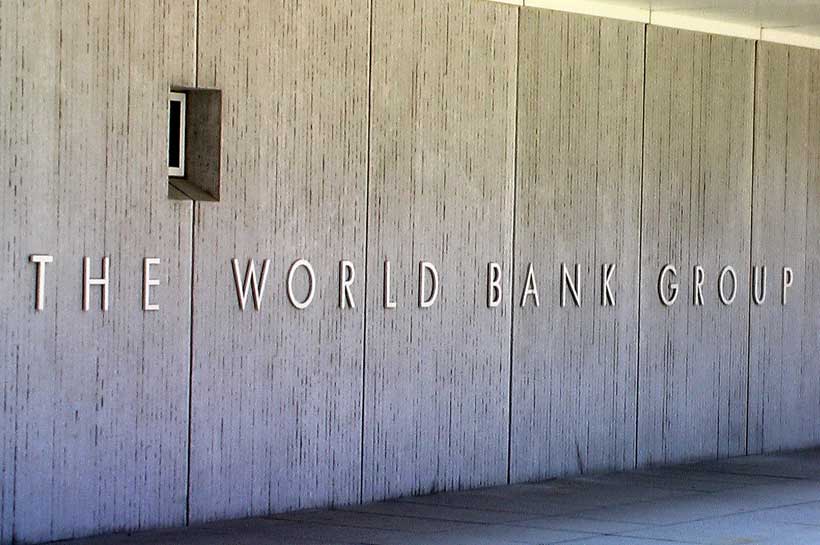 The World Bank introduced today an ambitious new Learning Target, which aims to cut by at least half the global rate of Learning Poverty by 2030. Learning Poverty is defined as the percentage of 10-year-olds who cannot read and understand a simple story.
Using a database developed jointly with UNESCO Institute of Statistics, the Bank estimates that 53 percent of children in low- and middle-income countries cannot read and understand a simple story by the end of primary school. In poor countries, the level is as high as 80 percent. Such high levels of learning poverty are an early warning sign that all global educational goals and other related sustainable development goals are in jeopardy.
"Success in reaching this learning target is critical to our mission," World Bank Group President David Malpass said. "Tackling learning poverty will require comprehensive reforms to ensure domestic resources are used effectively. The target points to the urgency of investments in better teaching and better coordination of vital learning priorities."
This new target aligns with the Human Capital Project's efforts at building the political commitment for accelerating investment in people. Much of the variation in the Human Capital Index – used to track countries' progress in health, education, and survival – is due to differences in educational outcomes.
"We know that education is a critical factor in ensuring equality of opportunities," said Annette Dixon, Vice President, Human Development, World Bank Group. "Many countries have almost eliminated learning poverty – with levels below 5 percent. But in others, it is incredibly high, and we are putting at risk the future of many children. That is morally and economically unacceptable. This Learning Target aims to galvanize action toward an ambitious but reachable goal."
Several developing countries are showing that accelerated progress is possible. In Kenya, progress has been accomplished through technology-enabled teacher coaching, teacher guides, and the delivery of one textbook per child (in both English and Kiswahili) with contents suitable to the level of students. In Egypt, the government has changed its curriculum and assessment systems, so students are evaluated throughout the year, with the key element of the reforms focused on learning, instead of getting a school credential. And in Vietnam, the clear and explicit national curriculum, the near-universal availability of textbooks, and the low absenteeism among students and teachers are credited for contributing to the country's outstanding learning outcomes.
Unfortunately, in many other countries the current pace of improvement is still worryingly slow. Even if countries reduce their learning poverty at the fastest rates seen over the past 20 years, the goal of ending it will not be attained by 2030.
"Cutting learning poverty by at least half is feasible but requires large political, financial and managerial commitments and a whole of government approach," said Jaime Saavedra, Global Education Director, World Bank Group. "Taking learning poverty to zero -assuring that all children are able to read- is a fundamental development objective, as is eliminating hunger or extreme poverty. All children have the right to read – and in each country, a national dialogue is needed in order to define how and when learning poverty can be eliminated, and to set intermediate targets for the coming years."
The Bank will use three pillars of work to help countries reach this target and improve the human capital outcomes of their people:
A literacy policy package consisting of country interventions that have proven to be effective in promoting reading proficiency at scale: ensuring political and technical commitment to literacy grounded in adequately funded plans; ensuring effective teaching for literacy, through tightly structured and effective pedagogy; preparing teachers to teach at the right level and providing practical in-school teacher training; ensuring access texts and readers to all; and teaching children in their home language.
A refreshed education approach to strengthen entire education systems — so that literacy improvements can be sustained and scaled up and all other education outcomes can be achieved. This approach comprises of five pillars: i) prepared and motivated learners, ii) effective and valued teachers, iii) classrooms equipped for learning, iv) safe and inclusive schools, and v) a well-managed education system.
An ambitious measurement and research agenda – to include measurement of both learning outcomes and their drivers, as well as a continued action-oriented research and innovation, including smart use of new technologies, on how to build foundational skills.
Change is needed at scale, quickly, and for large populations. That cannot be done without technology. Open-source digital infrastructure and information systems will be used to assure resources reach all teachers, students and schools.
Tracking progress calls for a dramatic improvement in the capacity to measure learning, particularly in low-income countries. A World Bank-UNESCO Institute for Statistics partnership will help countries strengthen their learning assessment systems and improve the breadth and quality of country data on learning to better monitor performance over time and in internationally-comparable ways. Further, the World Bank's new Learning Assessment Platform will enable countries to evaluate student learning more efficiently and effectively.