Catalonia declares independence: Spain dissolves Catalan parliament, sacks its president Puigdemont
The Spanish political crisis unfolds along the expected lines. Reaction followed action. Power struggle in Spain is taking a new twist.
As Catalan leaders held an independence referendum, defying a ruling by the Constitutional Court which had declared it illegal, Spanish PM Mariano Rajoy has abruptly dissolved the Catalan parliament and calling snap local elections after MPs there voted to declare independence.
Rajoy has also fired Catalan leader President Carles Puigdemont and his cabinet. Rajoy also announced the sacking of the Catalan police chief. He said the unprecedented imposition of direct rule on Catalonia was essential to "recover normality".
The head of the local police force has also been removed, Rajoy said, although whether the 17,000-strong Mossos d'Esquadra will take orders from Madrid remains to be seen. Catalan police chief Josep Lluis Trapero and two independence leaders were questioned by a judge in Madrid. They were not charged but the independence leaders were detained.
People of Catalonia have voted 1 October for independence. The final results from the 1 October referendum in the wealthy north-eastern region suggested 90% of the 2.3 million people who voted had backed independence. Turnout was 43%. 90% were in favour of independence. Others boycotted the vote after the court ruling. A motion declaring independence was approved on Friday with 70 in favour, 10 against, and two abstentions in the 135-seat chamber. Several opposition MPs supporting the Madrid rule boycotted the vote.
Thousands celebrated the declaration of independence on the streets of Barcelona, Catalonia's regional capital. As the outcome of the vote became clear, people popped open cava, the local sparkling wine. The same crowds that cheered each Yes vote from Catalan MPs were reportedly booing Rajoy as he made his announcement. There have been pro-unity demonstrations too, with protesters in Barcelona waving Spanish flags and denouncing Catalan independence.
In Madrid many people have begun flying the Spanish national flag from their windows and balconies, to show their support for keeping the country united. There is some sympathy for the Catalan cause, mostly because of the police crackdown during the referendum. But far louder are calls to prosecute those pushing for independence. It's a move which many Spaniards, like their government, are convinced was illegal.
On Friday the Spanish Senate granted President Mariano Rajoy's government the power to impose direct rule on Catalonia, and after an emergency cabinet meeting Rajoy spelled out what that would entail. "The president Carles Puigdemont had the opportunity to return to legality and to call elections," he said. "It is what the majority of the Catalonian people asked for – but he didn't want to do it. So the government of Spain is taking the necessary measures to return to legality." Regional elections, including in Catalonia, arescheduled for 21 December.
After the 1 October referendum, Puigdemont signed a declaration of independence but delayed implementation to allow talks with the Spanish government. He ignored warnings by the Madrid government to cancel the move, prompting Rajoy to first announce his plans to remove Catalan leaders and impose direct rule.
Having been sacked by the federal government in Madrid, Puigdemont has urged supporters to "maintain the momentum" in a peaceful manner. Freedom seeking separatists say the move means they no longer fall under Spanish jurisdiction. But the Spanish Constitutional Court is likely to declare it illegal, while the EU, the USA, the UK, Germany and France all expressed support for Spanish unity.
Spain's prime minister may have hoped warning Catalonia against declaring independence would be enough. Now that Catalonia has declared independence President Mariano Rajoy has to follow through on his pledge to impose direct rule, knowing this is highly risky. Mariano Rajoy argues that Catalan separatists left him no choice. He had to act, to return the region to "legality", as Madrid puts it. But actually doing that will be complex and highly fraught. It's why Rajoy called for calm in Spain, after the Catalan vote for independence. He is acting with broad, cross-party support though, and public backing.
Meanwhile Spanish prosecutors say they will file charges of "rebellion" against Puigdemont next week
Can Catalonia be a soverign nation?
Catalonia looks like it has already got many of the trappings of a state. A parliament, fags, an able leader Carles Puigdemont. The region has its own police force, the Mossos d'Esquadra. It has its own broadcast regulator, and even boasts a series of foreign "missions" – mini embassies that promote trade and investment in Catalonia around the world. Catalonia delivers some public services already – schools and healthcare, for example. There'd be much more to set up in the event of independence, though. Border control, customs, international relations, defence, central bank, Inland revenue, air traffic control, etc.. All of these are currently run by Madrid. There won't be any problems for Catalonia to launch all these infrastructures.
Catalonia is certainly rich compared with other parts of Spain. It is home to just 16% of the Spanish population, but 19% of its GDP and more than a quarter of Spain's foreign exports. It punches above its weight in terms of tourism too – 18 million of Spain's 75 million tourists chose Catalonia as their primary destination last year, easily the most visited region.
In Spanish "Madrid nos roba" is a popular secessionist slogan – "Madrid is robbing us." The received wisdom is that comparatively wealthy Catalonia pays in more than it gets out of the Spanish state.
Catalonia is one of Spain's richest, most distinctive regions with a high degree of autonomy. But many Catalans feel they pay more to Madrid than they get back, and there are historical grievances, too, in particular Catalonia's treatment under the dictatorship of General Franco. Catalans are divided on the question of independence – an opinion poll earlier this year said 41% were in favour and 49% were opposed to independence.
Carles Puigdemont assumed the office of President of Catalonia in January 2016.He leads the Catalan government. There are 12 ministers, with portfolios including education, health, culture, home affairs and welfare. The Catalan government employs 28,677 people, comprising civil servants and other staff.
Six parties are represented in Catalonia's 135-seat regional parliament. Three of them are pro-independence. Elections were held on 27 September 2015 and "Together for Yes" (JxSí), a coalition of two parties and civic organisations, focused on achieving independence from Spain, won the largest number of seats – 62. It was short of an absolute majority and required support from the pro-independence, anti-capitalist Popular Unity Candidacy (CUP), with 10 seats, to form the government.
The second largest party in the parliament, with 25 seats, is the liberal anti-nationalist Citizens-Party of the Citizenry (Cs). The Socialists' Party of Catalonia (PSC-PSOE), with 16 seats, and the People's Party of Catalonia (PPC), the Catalan affiliate of Spanish Prime Minister Mariano Rajoy's People's Party, with 11 seats, also oppose independence. Catalonia Yes We Can (CSQP), a left wing-green coalition, which won 11 seats, is in favour of self-determination for the Catalan people.
The Catalan parliament, where separatist MPs make up the majority, officially declared independence while the Spanish Senate was meeting to discuss the issue in Madrid on 27 October. Catalan MPs opposed to independence boycotted the vote. The motion called for the transfer of legal power from Spain – a democratic monarchy – to an independent "republic of Catalonia". That means they no longer recognize the Spanish constitution. Within hours, Madrid had responded.
Tarragona has one of Europe's largest chemical hubs. Barcelona is one of the EU's top 20 ports by weight of goods handled. About a third of the working population has some form of tertiary education. It's also true that Catalans pay more in taxes than is spent on their region. In 2014, the last year the Spanish government has figures for, Catalans paid nearly €10bn (£8.9bn) more in taxes than reached their region in public spending. Would an independent Catalonia get the difference back?
Some have argued that even if Catalonia gained a tax boost from independence that might get swallowed up by having to create new public institutions and run them without the same economies of scale.
Perhaps of greater concern is Catalonia's public debt. The Catalan government owes €77bn (£68bn) at the last count, or 35.4% of Catalonia's GDP. Of that, €52bn is owed to the Spanish government. In 2012, the Spanish government set up a special fund to provide cash to the regions, who were unable to borrow money on the international markets after the financial crisis. Catalonia has been by far the biggest beneficiary of this scheme, taking €67bn since it began.
Not only would Catalonia lose access to that scheme, but it would raise the question of how much debt Catalonia would be willing to repay after independence. That question would surely cast a shadow over any negotiations. And on top of the sum owed by the regional government – would Madrid expect Barcelona to shoulder a share of the Spanish national debt?
Economic pressure could slow the process of cessation from Spain Catalonia is a major economic factor now. It accounts for about a fifth of Spain's economic output, but Catalonia also has a huge pile of debt and owes €52bn (£47bn; $61bn) to the Spanish government.
Even though Madrid has powerful economic levers, Catalonia is one of Spain's wealthiest regions. On 5 October a business exodus from Catalonia began. The banks Caixa and Sabadell, along with several utility companies, decided to move their legal headquarters out of Catalonia. Spain has made it easier for businesses to leave and more than 1,600 companies have now copied the banks' move.
Foreign affairs, the armed forces and fiscal policy are the sole responsibility of the Spanish government. The division of powers between the central government in Madrid and the regional government in Barcelona is not as clear-cut as it is in some other countries with devolved authorities such as Germany or the UK.
In the UK, for example, the government in Westminster cannot interfere in Scottish education policy because education is fully devolved. But in Spain, the Spanish constitution takes precedence if there is a clash with any region – something that the Catalan government resents.
Is there still room for compromise?
Not exactly, and neither side appears in the mood for it now. Puigdemont urged international mediation – but there is no sign of that, as Madrid does not want it. The EU – traditionally wary of secessionist movements – sees the crisis as an internal matter for Spain.
In practice, for any region it is very hard to achieve independence under international law. Kosovo discovered that – even though it had a strong case on human rights grounds.
Amid speculation that the Catalan parliament might unilaterally declare independence, some of the region's banks decided to move their legal headquarters to other parts of Spain. Meanwhile, the government in Madrid says any such declaration would have no effect.
The independence movement was galvanized by a 2010 Spanish Constitutional Court ruling which many Catalans saw as a humiliation. The Spanish government could still make a gesture to appease Catalan separatists and calm the situation. That ruling struck down some key parts of Catalonia's 2006 autonomy statute. The court refused to recognize Catalonia as a nation within Spain; ruled that the Catalan language should not take precedence over Spanish in the region; and overruled measures giving Catalonia more financial autonomy.
The court acted after Rajoy's Popular Party asked it to. Now, to defuse this crisis, Madrid could reinstate the elements of autonomy that were taken from Catalonia.
Prime Minister Mariano Rajoy held a press conference, declaring the rule of law would be restored in Catalonia and announcing Madrid was assuming direct control of the region. He also said the Catalan President Carles Puigdemont and his cabinet had been dismissed, while a snap election has been called for the region on 21 December.
Spain's Senate had already voted to trigger Article 155 of the 1978 constitution – for the first time in Spanish history. It enables Madrid to suspend Catalonia's autonomy.
Spain's Constitutional Court is expected to rule the Catalan independence declaration illegal. The court had already outlawed the vote itself, which took place on 1 October. It is not clear how quickly or effectively Spain can reassert central control over Catalonia. But Article 155 gives the Madrid government authority to act immediately.
As Catalans are deeply divided over independence, Madrid can expect some significant support for its actions in the region. The conservative Rajoy government has the backing of the opposition Socialists (PSOE) in this crisis.
There was widespread anger over the tough methods of Spanish police on polling day. There was video of them dragging some voters away from ballot boxes and hitting them with batons. The volatile atmosphere in Barcelona could explode if Spain adopts such strong-arm tactics to impose its will now.
Catalexit?
The economic uncertainty created by the prospect of independence has already led to two banks deciding to move their head offices out of the region. At least part of that uncertainty is over Catalonia's relationship with Europe. Two-thirds of Catalonia's foreign exports go to the EU. It would need to reapply to become a member if it seceded from Spain – it wouldn't get in automatically or immediately. And it would require all EU members to agree – including Spain.
Some in the pro-independence camp feel that Catalonia could settle for single-market membership without joining the EU. Catalans may well be happy to pay for access, and continue to accept free movement of EU citizens across the region's borders. But if Spain chose to, it could make life difficult for an independent Catalonia.
There is also the question of currency. In 2015, the governor of the Bank of Spain warned Catalans independence would cause the region to drop out of the euro automatically, losing access to the European Central Bank.
Normally, new EU member states must apply to join the euro.
They have to meet certain criteria, such as their debt not being too large a percentage of their gross domestic product (GDP). Even if they meet those criteria, a qualified majority of eurozone countries has to approve their entry. In theory, that means even if Catalonia became a new EU member state, it may well take time to rejoin the eurozone – and Spain and its allies could block that. In practice, we just don't know what would happen.
Nobody has ever declared independence from a member of the eurozone then asked to rejoin as a new country. Could Catalonia use the euro without joining the eurozone? It does happen.
Some countries such as San Marino and Vatican City do so with the euro zone's blessing, since they're too small to ever become EU member states. Others, such as Kosovo and Montenegro, use the euro without the EU's blessing, and so don't have access to the European Central Bank. Again, whether either solution would be practical in Catalonia remains to be seen.
Observation
It is the biggest political crisis in Spain for 40 years. Nothing has been seen like it since the end of General Franco's dictatorship. The disputed Catalan independence referendum on 1 October was the trigger, but mutual hostility had been brewing for years. So how could events unfold in Catalonia now?
Parliament in Catalonia has declared independence while the Spanish senate has approved a government proposal to reassert control over the region after its disputed independence referendum. After dismissing the Catalan government and president, The Spanish government put its national media company and police force under the control of Madrid, .
Spain is divided into 17 regions, each with directly elected authorities. Catalonia, in the north-east of the country, has one of the greatest levels of self-government in Spain. It has its own parliament, government and president, police force and public broadcaster.
Catalans have a range of powers in many policy areas from culture and environment to communications, transportation, commerce and public safety.
Spain could opt for incremental steps to suspend Catalonia's autonomous powers, to avoid a huge backlash. The constitution does not specify a time frame for "temporary" direct rule.
With tensions so high it is likely that the separatists will organize strikes, boycotts and more mass rallies in response to Madrid's actions. Their aim will be to put pressure on Madrid to negotiate.
Now that the region would eventually secede, the world focus is concentrated on whether Catalonia would be able to stand on its own two feet. None has rejected the scenario that Catalonia would be able to be strong nation.
Hopefully Spain would adopt a neutral position to let Catalonia cede from it without nay bloodshed and further complications and become an independent nation to be eligible for entry into EU.
The spirit of "Greater Albania" acquires Brussels substance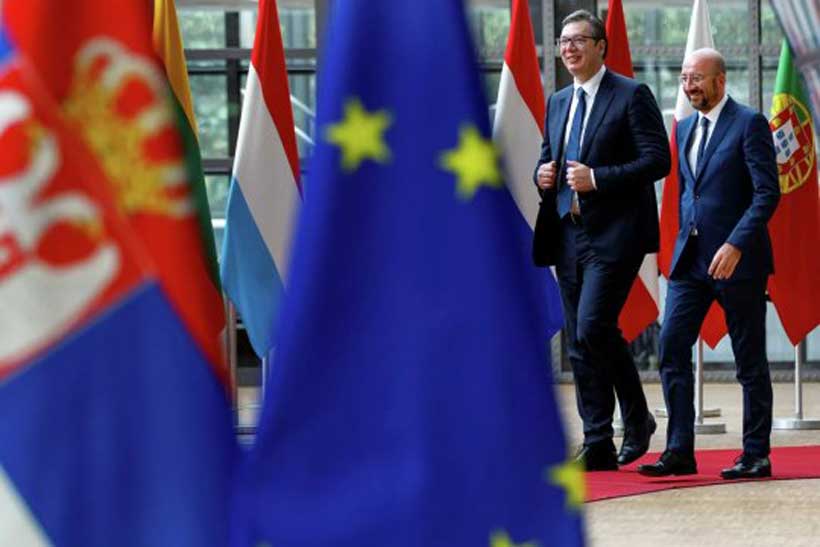 A meeting of Serbian and Kosovo leaders which is scheduled to take place in Brussels in September may result in the signing of an agreement on the normalization of relations. According to reports, the EU leaders, who act as mediators in the Belgrade – Pristina dialogue, have prepared a draft agreement. Serbian and Brussels sources say the draft provides for recognition of the self-proclaimed independence of Kosovo by Belgrade in exchange for Serbia's membership in the EU.
However, even if Belgrade chooses to sign the above-mentioned agreement, – such a step will do nothing to secure normalization in the Balkans. On the contrary, it could open a new chapter in the political and administrative "reformating" of the region. What comes as a key factor here is activization on the part of Albania, which is using the Belgrade-Pristina deal for its own purposes, and these purposes are infinitely far from what the leading European capitals count on. It would hardly be an exaggeration to say that a full-blown international and legal recognition of Kosovo's independence (which is supposed to result from the agreement prepared in Brussels on the normalization of bilateral relations between Belgrade and Pristina) will become a prologue to more active efforts on the part of Albanian radicals to establish "Greater Albania", which would incorporate Albania proper, most of Kosovo, Presevo Valley, parts of Macedonia, Montenegro, and, possibly, Greece, with a total population of up to 10 million.
Statements in support of creating such a state have come recently from many high-profile political and public figures in Kosovo, who maintain close ties with the Albanian community abroad and with influential American and European politicians. One of them is Azem Vlasi, who headed the regional branch of the Union of Communists of Kosovo and was a member of the Central Committee of the Union of Communists of Yugoslavia in the 1980s. He doubts that the recent talks in Brussels on the division of Kosovo will produce an agreement. In his opinion, the authorities in Pristina are not prepared to give up control of the entire territory of the region. Besides, it's Kosovo that could become a center of the "collection" of Albanian lands in the Balkans.
The main guidelines to methodologically justify the program of creating "Greater Albania" were presented in the 1990s, by one of the most outstanding of Albanian intellectuals, Recep Chosja, who pointed out that «Albania has never accepted its present borders, always trying to remind international circles that its present borders are unfair, as they divide Albanian territory into two parts. These borders run across the very heart of Albanian people».
The official position of neighboring Albania, which is same nationality with Kosovo, is the acknowledgment of inviolability of the existing borders. In 1992 the head of government from the Democratic Party of Albania Sali Berisha said in an interview that «the idea of creating "Greater Albania" is alien to Albanian ruling circles and political forces».
Nevertheless, in May 2011, member of the Presidium of the Democratic Party of Albania, Azgan Khaklai, openly demanded that all Albanian territories should be united to form one state, while the incumbent head of government Edi Rama has been indicating that unification of Albania and Kosovo is Tirana's Plan A and should be regarded as such in connection with the agreement between Pristina and Belgrade.
Public opinion polls conducted among the Albanian population of the Balkan countries suggest that the program of creating "Greater Albania" has been acquiring ever more popularity among the Albanian population of the Balkan countries. The idea of making Albania's borders "ethnic" has already won the support of more than 80% of the population of Kosovo, over 70% of residents of Albania, and of more than a half of Macedonian Albanians. About one half of respondents in Kosovo and 40% in Albania believe that Greater Albania with its widest ethnically conditioned borders will come into being in the near future.
Meanwhile, at the end of 2006 a similar study conducted by experts of the UN Development Program found that only 2,5% of Kosovo Albanians considered unification with Albania the best solution, whereas 96% wanted Kosovo to become independent within the existing borders.
Such a situation may force leading world powers and international institutes to reconsider their recent policies, which focused on a state rather than on a territory and which envisaged that each Balkan country should search for a solution of its problems by itself. «A territory-focused policy regards the Balkan region not as a community of established countries, but as a system of territories that stay in dynamic balance and are thus capable of reformatting. «A carve-up of regional borders on the ethno-linguistic and religious principles may acquire fresh impetus in the course of current talks between Belgrade and Pristina. Serbia's President Aleksandar Vucic has expressed readiness to recognize Kosovo in exchange for territorial concessions, while his counterpart Hashim Thaci hopes to invite to his country Serbian Albanians», – points out Le Monde diplomatique, emphasizing the situation in Presevo Valley, which borders on Kosovo.
Another potentially explosive "hot spot" covers three South Serbian communities (Bujanovac, Medveja and Presevo). According to the last census conducted in Serbia, about 90, 000 people live on the territories of these three communities. The ratio of Serbs and Albanians is as follows: in Presevo – 89% Albanians and 9% Serbs, in Bujanovac – 55% Albanians and 34% Serbs, in Medveja – 26% Albanians and 67% Serbs.
Chairman of Presevo community and leader of the Democratic Party of Albanians in Serbia Ragmi Mustafa has spoken in favor of "exchange of territories" between Belgrade and Pristina, underscoring that all three communities "should join Kosovo" while "northern Kosovo should join Serbia". In his words, the relevant proposal should be presented at the Brussels talks: «I think that this is the future of our region».
According to leaders of Presevo Albanians, the international community should make the Serbian government "refrain from impeding the expression of the freewill on the part of the population of the Presevo Valley».
Such a position echoes the program of the radical Kosovo movement "Self-Determination", headed by former Prime Minister Albin Kurti. Kurti believes that Kosovo and Albania "should coordinate their actions and simultaneously streamline their legislation with a view to prepare for two referendums, in Albania and Kosovo, on the outcome of which Kosovo will unite with Albania". "I think that this meets the interests of our people in the economic sphere and in the sphere of security", – Albin Kurti points out, saying that after the referendum the time will come to "solve pan-Albanian issues, in the first place, in Macedonia, Eastern Kosovo [Presevo Valley], Montenegro and Greece". In the opinion of the "Self-Determination" leader, Kosovo authorities ought to hold talks not with Belgrade, about the division, but with Tirana, about the unification.
Given the situation, there are grounds to expect activization of efforts on the part of both Kosovo authorities and Albanian leaders in other Balkan countries and territories with a view to build up their military and political might. In fact, this process is already taking place. Deputy Director of the Information and Press Department of the Russian Foreign Ministry Aleksei Zaitsev has made a statement to this effect drawing public attention to the fact that the United States has begun to supply Pristina with military hardware. According to the diplomat, the US is thus openly undermining international efforts oriented at ensuring peace and stability in the Balkans.
Pristina has also stepped up efforts to establish military cooperation with Germany. All this testifies to the escalation of conflict in the Balkan Region amid the ongoing activization of the "Albanian factor".
From our partner International Affairs
Legacy of antifascism for the common pan-European future
The post WWII architecture is a strong and decisive reaction to the Great Depression, the rise of fascism, the horrors of WWII and the Holocaust. The United Nations, created in San Francisco on 26 June 1945, are built on three main pillars: Freedom from fear and violence, freedom from want and poverty, human rights and respect for human dignity. For the first time in human history, war has been prohibited in international law with only minor exceptions, namely the right of States to self-defence and the collective security system under the guidance of the UN Security Council. For the first time in human history, the promotion and protection of human rights were acknowledged as a legitimate goal of the international community and international law. For the first time in human history, the main perpetrators of war crimes and crimes against humanity had been brought to justice before international military tribunals in Nuremberg and Tokyo. And for the first time in human history, economic and social development, prosperity and the eradication of poverty have been defined as goals of a new world order. These ambitious aims and objectives were only possible thanks to the antifascist consensus among the allies, which at that time seemed to be even stronger than the differences between capitalism and communism. When the UN Human Rights Commission, the predecessor of the current Human Rights Council, drafted the Universal Declaration of Human Rights between 1946 and 1948, this antifascist consensus was still strong enough to achieve a synthesis between the Western and the Socialist concepts of human rights. The Universal Declaration, solemnly adopted in Paris on 10 December 1948, contains civil and political rights together with economic, social and cultural rights and with the vision of a new "social and international order in which the rights and freedoms set forth in this Declaration can be fully realized" (Article 28).
As soon as the Human Rights Commission started to transfer this historic compromise between liberal freedoms and social security into a legally binding universal convention on human rights, the United States and its allies in 1951 forced a decision in the UN General Assembly to split human rights again into two categories, which dominated the ideological debates during the time of the Cold War. The International Bill of Rights, which was finally adopted after long negotiations in 1966, was divided into the International Covenant on Civil and Political Rights, favoured by the West, and the International Covenant on Economic, Social and Cultural Rights, favoured by the Soviet Union and its allies. Civil and political rights and freedoms were conceived as immediately binding State obligations to respect and ensure the rights to life, personal liberty, privacy, security and integrity, freedom of expression, religion, assembly and association and the right to participate in democratic decision making processes. Economic, social and cultural rights to work, fair, equal and healthy working conditions, social security, the rights to food, housing, health, education and an adequate standard of living, on the other hand, were conceived as mere "programme rights" to be achieved step by step through progressive implementation.
As WWII had started as a European war between fascist and democratic States, Europe felt a particular responsibility to prevent another war and catastrophe like the Holocaust through economic and political cooperation and the protection of human rights. While the European Communities of the 1950s aimed at preventing another war through economic integration, the Council of Europe was established already in 1949 as a political organization based upon human rights, pluralistic democracy and the rule of law. The Council of Europe was a Western European organization, which defended these "European values" against any form of totalitarianism, whether fascism (as practiced at that time in Spain and Portugal) or communism (as practiced in a growing number of Central and Eastern European States).By adopting the European Convention on Human Rights(ECHR) in 1950, which only contained civil and political rights, the Council of Europe left no doubt that it was a Western organization, which did not feel bound by the indivisibility and interdependence of all human rights, as expressed in the Universal Declaration. Economic, social and cultural rights played and unfortunately still play in the Council of Europe a subordinate role. The European Convention with the European Court of Human Rights in Strasbourg, which decides in a legally binding manner on tens of thousands of individual applications per year, is the light-tower of human rights protection in Europe, while the European Social Charter of 1961 and its monitoring system is much weaker and very little known to the public. Nevertheless, this is the time when the social welfare state, based on the economic policies of John Maynard Keynes, was developed in Western Europe, North America and other industrialized nations. The architects of the social welfare state or a market economy with a human face were, however, not even aware that they were implementing economic, social and cultural rights, as these rights were primarily associated with the Soviet Union and its allies.
During the Cold War, human rights were the subject of fierce ideological battles between Western and Communist States, and to a lesser degree, the newly independent States of the Global South. Nevertheless, this was the time when human rights were codified at the universal and regional level. In addition of the two Covenants of 1966, the United Nations adopted a number of universal human rights treaties, such as the International Convention on the Elimination of all Forms of Racial Discrimination of 1965, the Convention on the Elimination of all Forms of Discrimination against Women of 1979, the Convention against Torture of 1984 or the Convention on the Rights of the Child of 1989. These core human rights treaties are today almost universally ratified. On the regional level, the two most important treaties, which were largely based on the European Convention, are the American Convention on Human Rights of 1969 and the African Charter of Human and Peoples' Rights of 1981.
With the implosion of the Communist regimes in Central and Eastern Europe and the velvet revolutions of 1989, which quickly led to the fall of the iron curtain and the end of the Cold War, a historic window of opportunity opened for a new world order based upon human rights, democracy and the rule of law. The 1993 Vienna World Conference on Human Rights and the Vienna Declaration and Programme of Action promised a new era, based upon the equality, universality, indivisibility and interdependence of all human rights, spear-headed by the newly created Office of the UN High Commissioner for Human Rights. For the first time, the collective security system of the UN Charter was applied in practice and led to new generations of peace-building missions with human rights components and peace-enforcement actions, which also tackled some of the worst human rights violations. Two ad-hoc international criminal tribunals for the former Yugoslavia and Rwanda were established by the UN Security Council as the first ones after the Nuremberg and Tokyo military tribunals and led to the creation of a permanent International Criminal Court in 1998. In the same year, the 11th Additional Protocol to the ECHR entered into force and transformed the European Court of Human Rights into a full-time court which since then has delivered thousands of judgments every year, most of them in relation to the newly admitted former Communist States in Central and Eastern Europe. In 2000, the EU adopted a Charter on Fundamental Rights, and the United Nations adopted Millennium Development Goals, which promised a better future, above all for the poor and marginalized communities in the Global South. Despite the genocides in Rwanda and Bosnia and Herzegovina, which happened before the eyes of UN peacekeepers, one can conclude that never before were human rights advanced in such a quick, innovative and forceful manner than during the 1990s.
Let's go back to 1989, which was a truly remarkable year in human history. In addition to the velvet revolutions, the world wide web was created, and with the "Washington Consensus", the World Bank and the International Monetary Fund agreed to adopt the neoliberal economic policies of privatization, deregulation and minimizing the role of the State, which had been advocated for many years by the Chicago School of Economics, thereby replacing the more interventionist economic policies of John Maynard Keynes. This meant that the rapid digitalization and globalization of our world were driven by neoliberal economic and financial policies. As a consequence, the historic opportunity of implementing a new world order inspired by universal human rights, democracy and the rule of law wassoon replaced by a new world order driven by transnational corporations and global financial markets. On the one hand, these policies led to an unprecedented economic growth and global digitalization, which contributed to more prosperity and a significant reduction of poverty, above all in China, India and other Asian States. On the other hand, these policies led to a dramatic increase of economic inequality, which is undermining the social coherence and democratic values of our societies. Radical policies of privatization, which had started already in the US and the UK during the 1980s, include even core State functions, such as the military, intelligence, police, justice and prisons (rise of private military and security companies), as well as providing social security, pensions, health care and education. The policy of minimizing the role of the State, which is often imposed on governments by the international financial institutions, result in drastic reductions in social security and social welfare and undermine the obligation of States to protect and fulfil economic, social and cultural rights, but also civil and political rights. In this context, we observe the rising phenomenon of failed and fragile states, which lead to insecurity, armed conflicts, the rise of organized crime and terrorism. Finally, the deregulation of global financial markets led to unprecedented speculations, tax evasion, money laundering, corruption and the undermining of the banking system, which directly resulted in the global financial and economic crisis of 2008. There can also be no doubt that the neoliberal economic policies contributed significantly to the current climate crisis, the ruthless exploitation of nature, deforestation and the destruction of our environment. The slim neoliberal state has no longer the power and the political will to regulate and control transnational corporations and global financial markets, and international organizations, such as the United Nations, the World Bank, International Monetary Fund, the World Trade Organization or the European Union, which would have the power by concerted efforts to regain political control over global markets, are either at the forefront of neoliberal economic policies themselves or are increasingly undermined by nationalistic and populistic politicians. The Brexit, attacks by the Russian Federation against the Council of Europe, the sidelining of the United Nations in relation to the armed conflicts in Syria, Libya and other regions, and open attacks by the United States against the United Nations, its specialized agencies, such as the World Health Organization, or against the International Criminal Court are only a few symptoms of the current crisis of multilateralism.
The world was in disarray when the Corona virus appeared on the global agenda at the beginning of a new decade, and when the COVID-19 pandemic led to an unprecedented lockdown of the global economy, a fundamental restructuring of our daily life and drastic restrictions of our most cherished human rights. Our world was certainly not well prepared to deal with this pandemic, which has caused already more deaths worldwide than the tsunami as the worst disaster of the 21st century. The most neoliberal States, such as the US, the UK and Brazil, which happen to be governed by politicians, who are used to "solve" crisis situations by spreading fake news and searching for scapegoats, seem to be hit most severely. In Europe, States which had cut down their public health and social security systems most radically, such as the UK, Italy and Spain, encountered much more serious problems to contain the spread of the virus than States, where the public health and social security systems had somehow survived neoliberal policies. Even politicians, who for many years had preached that free markets are much better equipped to solve problems than governments, realized that we need strong and well-functioning States to take the necessary measures and that we should listen to experts rather than populists, fake news and social media in order to cope effectively with this pandemic. It is too early to draw far-reaching conclusions since we are still in the middle of this health crisis and do not know how the coming months will develop. Nevertheless, there is a growing awareness among the people, irrespective of their political opinions and political party alliances, that there is something fundamentally wrong with the way how we are living and that we need to drastically change our economic, political and social world order if we wish to ensure the survival of our planet and a healthy and satisfactory life for our children and future generations.
Where does this leave us with respect to the topic of this conference? What can we learn from this short historical overview for a pan-European future, built upon antifascism as a European confidence building block, mutual trust and good neighbourly relations? One conclusion is obvious: In order to deal with the COVID-19 pandemic and other global challenges, such as the global climate crisis, growing economic inequality or global migration, we need to strengthen, rather than weaken, the regulatory functions of States and of international organizations, both at the global and regional (European) level. Secondly, we need to replace the neoliberal economic politics by a new and more social market economy "with a human face", which is more responsible towards nature, towards economic equality and solidarity with the poor and marginalized sectors of our societies, at the national, regional (European) and global level. This also means that politics need to regain its power to control and regulate the economy, as has been well illustrated during the COVID-19 pandemic. We need to use this new confidence in a responsible regulatory power of politics to also tackle other global threats, such as the climate crisis. At the same time, we need to strengthen the EU by transferring certain powers in the field of social justice, public health, environmental protection, asylum and migration policies from the member States to the EU institutions. The EU, which, despite the Brexit, is still a major global economic and political player, shall further be entrusted by its member States to pursue and strengthen these socially and ecologically sustainable politics also at the global level, above all in the international financial institutions and the WTO.
With respect to the Council of Europe, which is a truly pan-European organization with currently 47 member States and a pioneer in international human rights protection, we need to introduce economic, social and cultural rights on an equal level with civil and political rights and try to overcome the deep distrust between the Russian Federation and Western European States. This requires confidence-building from both sides. The Council of Europe, as a Western European organization, had quickly opened its doors after 1989 and invited the former Communist States to join. Many States used the Council of Europe as an entry door for quick EU and/or NATO membership, which was not always properly coordinated with Moscow and led even to armed conflicts in Georgia and the Ukraine. Many "frozen conflicts" in Europe, such as Nagorno Karabakh, Abkhazia, South Ossetia, Tansnistria, Eastern Ukraine, Kosovo and the Republika Srpska, can only be solved if the Russian Federation is again better integrated into European politics. The Council of Europe and the Organization for Security and Cooperation in Europe (OSCE), provide the necessary diplomatic platforms, but the political will for mutual confidence-building is still lacking. Antifascism is no longer a meaningful basis for a pan-European confidence block, and in fact it had played this role only for a few years immediately after WWII. If the Council of Europe, with the active support of the EU, would be able to build a pan-European social welfare system, which is based on the indivisibility of all human rights rather than on neoliberal economic policies, then it would resume its pioneering role as a political organization that is uniting Europe on the basis of common European values.
(Exclusive speech for the Conference at the DAW, Vienna, 1 July 2020)
Making Europe's future rhyme for the Next Generation
History does not always repeat itself but for Europe it does usually rhyme. Or at least it used to.
In the face of a virus that has taken lives and livelihoods across the world, Europe did not give in to age-old instincts or re-open barely healed wounds from the financial crisis a decade ago. Instead, we chose to pull each other through and invest in a common future.
This is why we can say that last week's decision by the Leaders of the 27 Member States to endorse the European Commission's recovery proposal was historic.
Firstly, the numbers. Europe will have at its disposal a recovery tool worth 750 billion EUR to support those hit hardest by this crisis. Called NextGenerationEU, it will invest in a recovery that builds a greener, more digital and more resilient Union for our children. This will be topped up by the EU budget for the next seven years, bringing the overall package to 1.8 trillion EUR.
Secondly, it is historic because of how Europe makes it work. For the first time on this scale, the European Commission – backed by the 27 Member States – will use its strong credit rating to raise money on the capital markets for NextGenerationEU.
In past crises, the better off survived while the most vulnerable paid a heavy price. But this time it has to be different. This time we can only get back to our feet if we all pull each other up. This is why most of NextGenerationEU funds will be distributed in grants to Member States to finance crucial reforms and investment. This is European money supporting projects and people from Flensburg to Freiburg, creating jobs locally from Cottbus to Cologne, and Europe's strength globally.
Reforms and investment will be tailored to what each country needs and be in line with our wider European goals. For some, this will support reforms in the labour market to boost productivity, while others will focus more on education and training to help people develop the skills they need. Some will invest in improving digital infrastructure and others on transport connections. But, crucially, all will contribute to the goals of the European Green Deal. 30% of the overall 1.8 trillion will be ring-fenced for climate related spending and a new Just Transition Fund of 17.5 billion will help those people and regions who have to make a bigger transformation than most.
The third reason we can use the word historic is because of how the money will be repaid. To avoid sending a higher bill to Member States in the future, Europe should repay the funds through what we call new own resources. These will include a levy on big tech companies, a tax on non-recycled plastics and putting a carbon price on imports coming from countries with lower climate ambitions.
Some people will ask about why Germany should raise or repay money with another country thousands of kilometres away. The answer is simple. Europe's prosperity lies in its unity, its community and its single market. So for us solidarity is actually self-interest and a euro invested in one country is actually a euro invested for all.
Think about what happens to our tourism industry if people from across Europe cannot afford to come to our Alps or to visit our Baltic Sea beaches anymore. Think about what happens to our manufacturers if they cannot get the parts they need from their suppliers in different European countries. Think about how the crisis has taken its toll on us all – on the wellbeing of people, the solvency of businesses, the functioning of society and the health of every single European economy. And it is not over yet.
This is why we need to act urgently, decisively and collectively. And last week, Europe has shown that it is up to the task. Of course, some will point to the long and difficult Summit and see that as hesitation or weakness. We see it as the ultimate sign of Europe's unique strength.
Just take a step back and look around. Nowhere else in the world could 27 different countries even discuss financing their recovery and future together. We did it over one long weekend. At this very fragile moment in history, being in Europe is the best place to be. And now we need to keep it that way for all by working with governments and parliaments to bring this recovery to life.
Our Union should always be judged on what it can offer for the future. That vision of a common future enabled us to take every bold step in our history: uniting Europe after the Second World War or the end of the Cold War, creating our common market and introducing our common currency. Today, it is that same pioneering vision enabling us to make another historic step for our Union.