Don't just blame teachers when system is at fault
Blaming just the teacher or the school for systemic educational problems can have serious negative side effects, warns a new report from the United Nations educational agency.
"Education is a shared responsibility between us all – governments, schools, teachers, parents and private actors," said Irina Bokova, Director-General of the UN Educational, Scientific and Cultural Organization (UNESCO), in a press release.
"Accountability for these responsibilities defines the way teachers teach, students learn, and governments act. It must be designed with care and with the principles of equity, inclusion and quality in mind," she added.
The report, titled Accountability in education: meeting our commitments, looks at the different ways people and institutions can be held accountable for reaching the internationally agreed Sustainable Development Goal for Education (SDG4).
The report, the second in the Global Education Monitoring (GEM) series, shows that blaming teachers for poor test scores and absenteeism is often both unjust and unconstructive.
"Using student test scores to sanction teachers and schools makes it more likely they will adjust their behaviour to protect themselves, which may mean leaving the weakest learners behind," explained Manos Antoninis, Director of the GEM Report.
"Accountability must start with governments. If a government is too quick to apportion blame to others, it is deflecting attention away from its own responsibility for creating a strong, supportive education system,"
For example, that nearly half of teacher absenteeism in Indonesia in 2013/14 was due to excused time for study for which replacements should have been provided.
In Senegal, only 12 of the 80 missed school days in 2014 were due to teachers avoiding their responsibilities.
In the European Union in 2009-2014, 38 per cent of education and training tenders only had one bidder, compared to 16 per cent of tenders in the construction sector, indicating that the risk of corruption is higher in education than in the building industry.
The report says that whereas transparency would help identify problems, only one in six governments publish annual education monitoring reports.
The report calls on governments to:
design accountability mechanisms for schools and teachers that is supportive and avoid punitive mechanisms, especially those based on narrow performance measures;
allow for democratic participation, respect media freedom to scrutinize education and set up independent institutions to handle complaints;
develop credible and efficient regulations with associated sanctions for all education providers, public and private, that ensure non-discrimination and the quality of education;
make the right to education justiciable, which is not the case in 45 per cent of countries.
IEA and African Union sign strategic partnership on sustainable energy for all goals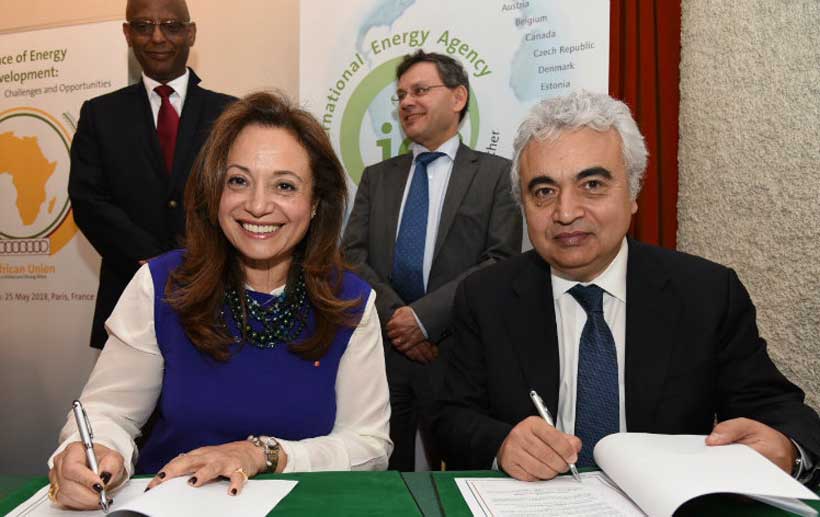 The International Energy Agency and the African Union have agreed to have a strategic partnership toward a more secure, sustainable and clean energy future for countries across the African continent.
The joint commitment was formalised through a memorandum of understanding (MoU) signed today in Paris by Dr Fatih Birol, the IEA's Executive Director, and H.E. Dr Amani Abou-Zeid, the African Union Commissioner for Infrastructure, Energy, ICT and Tourism.
Before the official signature, Dr Abou-Zeid participated in Big Ideas, the IEA's high-level distinguished speaker series. Marking World Africa Day, the annual commemoration of the foundation of the African Union, Dr Abou-Zeid addressed the challenges of energy poverty and improving energy access in Africa.
The hour-long session, which was broadcast live on the IEA website, was attended by more than 140 people, including a large number of Ambassadors, senior delegates and representatives from member countries of both the IEA Family and the African Union. The event was followed by a lunch hosted by Ambassador Alessandro Busacca, the Permanent Representative of Italy to the International Organizations in Paris, and Ambassador Massimo Gaiani, the Director General for Global Issues and for Asia, Sub-Saharan Africa, Latin America at the Italian Ministry of Foreign Affairs.
For more than two decades, the IEA has been at the forefront of international efforts to deliver universal access to affordable, reliable and modern energy. Despite widespread global progress, efforts to expand access to electricity and clean cooking facilities do not always keep pace with population growth, particularly in sub-Saharan Africa, the region of the world with the most entrenched energy access challenges.
"There is a saying in Africa – if you want to go fast, you go alone; if you want to go far, you go together," said Dr Abou-Zeid. "It is the reason we decided to enter into a strategic partnership with the IEA. The signing of this MOU marks a milestone for the AUC and IEA. It will strengthen our ability to deliver on our respective mandates in a mutually enriching way."
The MoU provides a general framework for cooperation on activities and projects that advance shared interests in areas of energy security, energy statistics, energy efficiency, renewable energy, and sustainable economic development.
It reflects the IEA's strong commitment to global engagement on energy access and sustainable development, and to working closely with emerging economies to find solutions to energy and environmental challenges.
"The agreement is a cornerstone of joint efforts to work toward a more secure, sustainable and clean energy future for Africa," said Dr Birol. "The timing of our ceremony here today could not be more appropriate as across the world we celebrate this 55th anniversary of Africa Day."
Eradicating energy poverty is a priority for the IEA and the agreement will play a vital role in stepping up efforts to achieve secure and sustainable energy for all. Find out more about the IEA's work supporting the Sustainable Development Goal 7 on energy access here.
IRENA and Mission Innovation to Work Together on Renewable Energy Innovation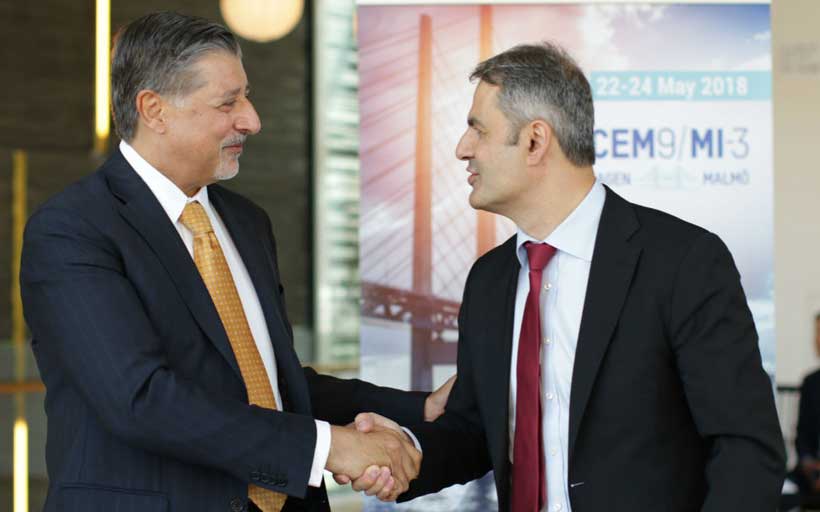 At the 3rd Mission Innovation Ministerial, the International Renewable Energy Agency (IRENA) and Mission Innovation, an initiative of 22 countries and the European Commission working to reinvigorate and accelerate clean energy innovation, agreed to work together to scale-up the deployment of renewable energy technologies through knowledge sharing on innovation data, trends and priorities. Mr. Ibrahim Baylan, Minister for Policy Coordination and Energy in Sweden, on behalf of Mission Innovation, and Mr. Adnan Z. Amin, Director General of IRENA, signed today a letter of intent to that effect.
"Innovation is at the heart of the global energy transformation, not only in terms of technological advancements but also in policy, finance and business." said IRENA Director-General Adnan Z. Amin.
"By collaborating with Mission Innovation, we can bring together the knowledge, data, convening power and experiences of the two organisations to create innovative approaches to develop the energy system of the future," he added.
Speaking on behalf of Mission Innovation, Mr. Ibrahim Baylan said: "There is an urgent need to accelerate clean energy innovation. The member nations can do this better and faster with the global collaboration of the Mission Innovation. Likewise, the Mission Innovation itself stands stronger when collaborating with other international organizations in the clean energy field.
"I am therefore very pleased to announce that we have signed letter of intent for collaboration between the Mission Innovation and the International Renewable Energy Agency," continued Minister Baylan, "and I am confident that this cooperation will benefit both our organisations."
IRENA's analysis shows that energy efficiency and renewable energy can achieve 90 per cent of the emissions reductions needed by 2050 to decarbonise the energy sector in line with the objectives of the Paris Agreement. However, to meet these goals the speed of renewable energy deployment must increase by at least a factor of six.
Fostering system wide innovation will be key to scaling up the share of renewables in the global energy system, based on IRENA's analysis. While technology innovation is central to progress, identifying new policy, market and business approaches is equally necessary.
Key areas for collaboration include:
Tracking Innovation Progress:Working together in order to improve the quality of data and insights on progress in renewables and energy system technologies and better inform high-level decision-making processes related to clean-energy innovation.
Strengthening cross-border collaboration on innovation: Identifying research priorities to support RD&D in key technology areas, monitoring technological evolution, and identifying relevant innovation gaps.
Sharing insights and knowledge on innovation policy priorities and strategies: Leveraging IRENA's data, tools and reports to inform Mission Innovation activities and priority areas.
An economic space from the Atlantic to the Pacific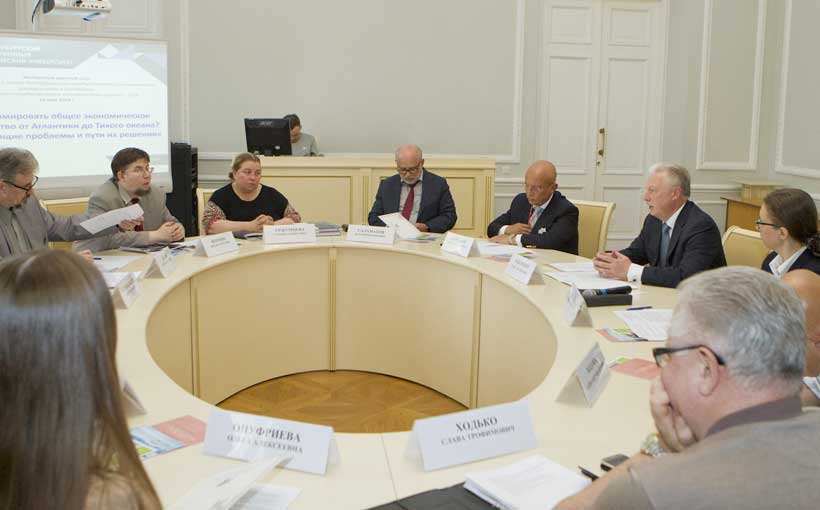 On the 23 May, in the run-up to SPIEF, a roundtable held jointly between the Roscongress Foundation and St. Petersburg State University of Economics took place, entitled 'Building a Common Economic Space from the Atlantic to the Pacific: Current Issues and Ways to Overcome Them'.
The experts discussed opportunities related to integration, investment, infrastructure, and innovation, alongside new forms of collaboration for those shaping the economic region of Greater Eurasia. In addition, they brainstormed a joint vision as to how the shared economic space from the Atlantic to the Pacific will develop in the future.
The welcome address was given by Igor Maksimtsev, rector of St. Petersburg State University of Economics. Moderating the session was Sofia Rekord, head of the world economy and international economic relations department of the same institution.
The participants observed that the geo-economic potential of Greater Eurasia – stretching from one ocean to another – is enormous, and needs to be unlocked to a greater extent, regardless of the unpredictability of the global economic environment and political climate. They also laid out the main aim behind the formation of a shared economic space from the Atlantic to the Pacific: to facilitate comprehensive interaction and cooperation between countries across the Eurasian continent through stepping up dialogue between all stakeholders. These include government representatives, business figures, the expert community, and research organizations tackling a wide range of issues related to economics, politics, and culture. This should result in continuous development for all parties, and prudent solutions to new challenges.
Other areas of focus included promising forms of economic collaboration in Greater Eurasia: opportunities for dialogue between the EAEU, SCO, ASEAN, and EU; the implementation of the EAEU's shared digital agenda; prospects for transport, logistics and energy projects; bolstering regional development institutions when unlocking the investment potential of the EAEU; and opportunities to foster greater foresight with regards the future development of a shared economic space from the Atlantic to the Pacific.
Participants from the expert community included Mikhail Voronin, associate professor of the world economy and international economic relations department of the St. Petersburg State University of Economics; Sergei Dyatlov, professor of the department of general economic theory and the history of economic thought of the St. Petersburg State University of Economics; Sergei Karaganov, dean of the world economy and international politics faculty of the Higher School of Economics National Research University and honorary chair of the presidium of the International and Defence Policy Council; Dmitry Miropolsky, head of department of general economic theory and the history of economic thought of the St. Petersburg State University of Economics; Vadim Panin, associate professor of the world economy and international economic relations department of the St. Petersburg State University of Economics; Vladimir Salamatov, director general of the International Trade and Integration Research Centre; Tatyana Urzhumtseva, director of the China and Asia-Pacific Studies Centre of the St. Petersburg State University of Economics; Alexander Khodachek, president of the Higher School of Economics National Research University in St. Petersburg; and Slava Khodko, general director of the North-West Development and Investment Promotion Agency.