Rohingya crisis: Donors pledge $344 million at UN-backed conference to support aid efforts
A United Nations-supported humanitarian conference today raised more than $344 million to fund critical relief programmes for Rohingya refugees and host communities in Bangladesh.
The exodus – which began in late August – continues unabated, making the crisis the fastest growing refugee emergency in the world today. As of Sunday, some 603,000 refugees are estimated to have arrived in Bangladesh and thousands more reportedly remain stranded in Myanmar without the means to cross the border.
"Humanitarian donors have today expressed their solidarity and compassion with the families and communities in need," said Mark Lowcock, the Under-Secretary-General for Humanitarian Affairs and UN Emergency Relief Coordinator.
"These very generous pledges must now quickly translate into life-saving relief for the vulnerable refugees and support to host communities who have been stretched to the limit," he added.
Since the crisis began, UN agencies have ramped up their relief efforts, including conducting a massive immunization campaign that inoculated more than 700,000 people against cholera, as well as providing food assistance to hundreds of thousands of refugees.
However, the scale of the crisis has overwhelmed the response, and emergency shelters, blankets, clean water, health care and other forms of aid are urgently needed. Adding to the complexity is that Bangladesh was already hosting about 200,000 Rohingya refugees prior to the crisis.
"More than 800,000 stateless Rohingya refugees in Bangladesh aspire to a life that meets their immediate needs for food, medicine, water, and shelter. But beyond that, a life that has hope for the future where their identity is recognised, they are free from discrimination, and are able to return safely to their homes in Myanmar," said UN High Commissioner for Refugees Filippo Grandi.
"As we come together in solidarity, I want to thank Bangladesh and its refugee-hosting communities and the donors for supporting them," he added.
There were a total of 35 pledges made today, including money pledged and committed since 25 August as well as new announcements. Several donors also announced in-kind assistance worth more than $50 million. Fundraising campaigns are also underway in several countries.
One such initiative is the UN World Food Programme's app ShareTheMeal, which launched a worldwide campaign on Sunday to raise funds to feed Rohingya refugee children and provide them with vital nutrition with a simple tap on their phones.
The pledging conference was co-organized by the UN Office for the Coordination of Humanitarian Affairs (OCHA), the Office of the UN High Commissioner for Refugees (UNHCR) and the International Organization for Migration (IOM). It was co-hosted by the European Union and the Government of Kuwait.
Also speaking today, IOM Director General William Lacy Swing underscored that while sustainable life-saving assistance for the refugee population in Bangladesh needs to be ensured, the root causes of the crisis need to be addressed.
"We must urge international leaders to support the peaceful resolution of this decade-long crisis in Myanmar and insist that the authorities create conditions of safety, security and dignity in Rakhine state to one of the world's most persecuted populations," he said.
Adding that the recommendations of the Rakhine Advisory Commission offer a way forward to peaceful co-existence, Mr. Swing underscored that the implementation must start immediately and that the first step is to allow humanitarians to resume their work in the northern part of Rakhine state.
Poland must make urgent legislative reforms to combat foreign bribery
Poland must make urgent progress on carrying out key recommendations of the OECD Working Group on Bribery that remain unimplemented, more than four years after its Phase 3 evaluation in June 2013.
Poland still needs to take urgent steps to ensure companies can be held responsible for foreign bribery, even if the persons who perpetrated the offence are not convicted. In addition, Poland must increase the fines for companies in order to ensure foreign bribery is punishable by effective, proportionate, and dissuasive sanctions.
The Working Group is disappointed by Poland's failure to take measures to ensure that the "impunity" provision in the Penal Code that applies to foreign and domestic bribery cannot be applied to the bribery of foreign public officials. This provision allows perpetrators of bribery to automatically escape punishment by notifying the law enforcement authorities of the offence before the authorities learn about it from other sources.
In the context of ongoing reforms, Poland should also ensure that appropriate measures are in place to protect from retaliatory or disciplinary action private and public sector employees who report suspected acts of foreign bribery in good faith and on reasonable grounds.
The Working Group reviewed a report submitted by Poland on its progress in implementing these outstanding recommendations at its plenary meeting on 13-15 March 2018. The Working Group requested that Poland provide a written report on further progress in addressing these concerns in December 2018, at which time the Group will consider additional measures in the absence of significant progress.
Solving the e-waste problem in Latin America
The United Nations Industrial Development Organization (UNIDO), the Ministry of Environment of Ecuador (MAE) and the Global Environment Facility (GEF), have officially presented a project which will provide policy advice to 13 Latin American countries to help them solve the e-waste problem in the region.
The initiative addresses the proper disposal and recycling of electrical and electronic waste by adopting a circular economy approach  in Argentina, Bolivia, Chile, Costa Rica, Ecuador, El Salvador, Guatemala, Honduras, Nicaragua, Panama, Peru, Uruguay and Venezuela.
The inauguration was attended by Ecuador's Minister of Environment, Tarsicio Granizo,  UNIDO's Director of Environment, Stephan Sicars,   representatives of national authorities, and ambassadors and representatives of the 13 countries participating in the project.
Sicars pointed out that there are still many challenges that remain for e-waste recycling. "The policies have to be, not only suitable for each individual country, but also sufficiently harmonious to prevent unnecessary, as well as ensuring protection of human health in recycling activities and safeguarding the environment from toxic releases
Meanwhile Granizo emphasized the need to reduce the production of waste and added that "it is necessary to promote national and regional policies that allow community work to be able to deal with the adequate management of electrical and electronic waste, which present a challenge that cannot be addressed only from the national level".
This initiative will start on 5 June 2018 and will last for five years. During its execution, US$$ 9.5m will be invested, assisting the 13 participating countries both technically and financially, and providing advice on policies, business, legislation, technology and awareness-raising.
IsDB Prize for Women's Contribution to Development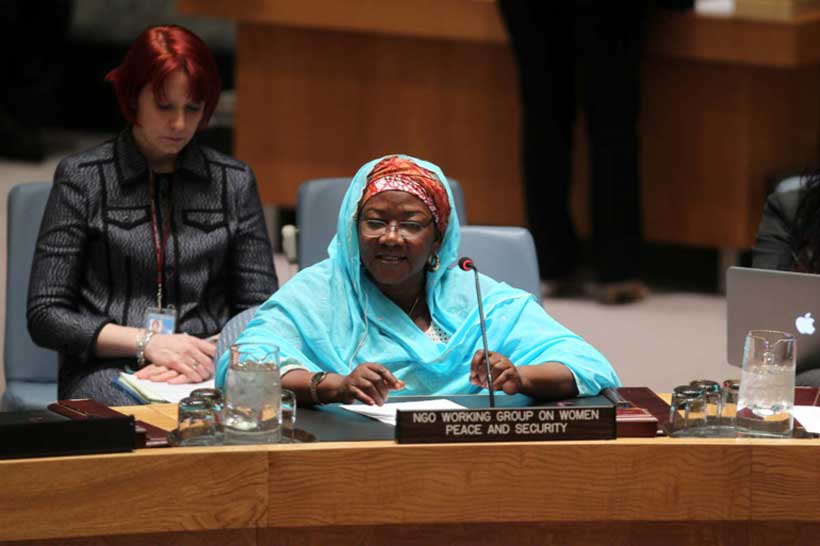 The Islamic Development Bank (IsDB) has announced the winners of the 13th edition of IsDB Prize on Women's Contribution to Development.
Mrs. Hamsatu Nashe Alamin, founder of the Network of Civil Society Organisations for Peace in Borno and Yobe, Northeastern Nigeria, and Mrs. Rehma Kasule, founder of Century Entrepreneurship Development Agency (CEDA) in Uganda are the winners of the Prize for the individual category. Each winner will receive US$25000 to support their community work.
A Togo based NGO, (Groupe de réflexion et d'action, Femme, Démocratie et Développement) won the organization category award. The NGO will receive US $100,000 to support its activities. The award will be given in Tunis during the Annual Meeting of the IsDB Group Board of Governors from 1st to5th April 2018.
According to IsDB President, Dr. Bandar Hajjar, "I am confident that this prize will energize the winners to continue working hard in order to change lives in their communities. Building partnership with NGOs and civil society organizations is one of the pillars of the President's 5-year program (P5P)."
"I am humbled that the little l am doing for the voiceless communities of North Eastern Nigeria is being independently, and in a transparent international manner, identified, recognized and rewarded by this esteemed Islamic financial institution." Mrs. Alamin stated.
She added that "this is indeed an eye opener for Muslim women, and particularly those of us living in conflict ridden and marginalized worlds to come out and play our part, for the reward now is right here at our doorsteps; for me, this is just the beginning."
Speaking on the award, Mrs.  Kasule stated: "This award is a symbol of the blessings that I receive for the sacrifices to make the world a better place. This Award is not for me, it is for the dedicated youth ambassadors and mentors,  and  the  young  women  in  post-conflict communities  that keep dreaming despite the challenges that surround them."
"I will use the prize to produce peace edutainment messages and strengthen interreligious dialogue in schools. I am more energized to take up bold and innovative steps to promote peace education for the youth. I thank IsDB for this honour." She concluded.