China: President Xi Jinping to continue Socialist path
Highlights: 1. Chinese President Xi Jinping described a two-stage plan for China's "socialist modernisation" by 2050, which would see it become more "prosperous and beautiful" through environmental and economic reforms;
2. He warned against separatism – in an apparent reference to movements in Xinjiang, Tibet and Hong Kong – and reiterated the government's principle that Taiwan is part of China; 3. Xi made it clear that China would not close its doors to the world and promised to lower barriers for foreign investors.
President Xi's address at Chinese party congress
With thrust on a new era of Chinese power under President Xi Jinping, the Communist Party congress as China's biggest political event, has begun in Beijing on October 18 under tight security. Chinese President Xi Jinping addressed more than 2,000 delegates in the capital for more than three hours, dwelling on the problems and prospects in China. . In his speech, Xi listed China's recent achievements, saying that "socialism with Chinese characteristics in this new era" meant China had become a great power in the world, and the country would not copy foreign political systems. He briefly described a two-stage plan for China's "socialist modernisation", to be achieved by 2050. Xi also said China would further advance market economy and would not close its doors to the world, maybe an attack on Trump's strict immigrations policy. .
Speaking in the Great Hall of the People in Beijing, at the start of the week-long 19th party congress, Xi told delegates that thanks to decades of "tireless struggle" China stood "tall and firm in the east". Now, Xi said, it was time for his nation to transform itself into "a mighty force" that could lead the world on political, economic, military and environmental issues. "This is a new historic juncture in China's development," China's 64-year-old leader declared in his bold 3hr 23 minute address outlining the party's priorities for the next five years. "The Chinese nation … has stood up, grown rich, and become strong – and it now embraces the brilliant prospects of rejuvenation … It will be an era that sees China moving closer to centre stage and making greater contributions to mankind."
The country's rapid progress under "socialism with Chinese characteristics" shows there is "a new choice for other countries", he told the Communist Party congress, the country has played "an important role in the history of humankind".. More than 2,200 delegates have poured into Beijing for the week-long gathering, bringing with them an effervescence of political tributes.
The closed-door summit, which takes place once every five years, determines who rules China and the country's direction for the next term. The congress also decides on a roadmap for China for the next five years. Shortly after the congress ends, the party is expected to unveil the new members of China's top decision-making body, the Politburo Standing Committee, who will steer the country.
The Communist party of China is a great party; it has the fight and mettle to win." "The Chinese nation is a great nation; it has been through hardships and adversity but remains indomitable. The Chinese people are a great people; they are industrious and brave and they never pause in pursuit of progress," he said. Xi said that the Chinese model of growth and socialism under Communist rule was "flourishing", and had given "a new choice" to other developing countries."It is time for us to take centre stage in the world and to make a greater contribution to humankind," he added.
In the surprisingly long speech – titled "Secure a decisive victory in building a moderately prosperous society in all respects and strive for the great success of socialism with Chinese characteristics for a new era" – Xi struck an upbeat tone that contrasted with the grey skies and drizzle outside. He introduced measures to increase party discipline, and touched on his wide-reaching corruption crackdown that has punished more than a million officials, report BBC correspondents in Beijing.
Xi warned that corruption remained the greatest threat to the party's survival despite a five-year war on graft that he claimed had been "built into a crushing tide". "We must remain as firm as a rock … and secure sweeping victory," he said, warning that "pleasure-seeking, inaction and sloth" were no longer acceptable. "We must … rid ourselves of any virus that erodes the party's health."
Xi warned that achieving what he has hailed the "China Dream" would be "no walk in the park": "It will take more than drum beating and gong clanging to get there. But our mission is a call for action, let us gets behind the strong leadership of the party and engage in a tenacious struggle."
Jinping Xi also warned against separatism – in an apparent reference to movements in Xinjiang, Tibet and Hong Kong – and reiterated the government's principle that Taiwan is part of China.
Commentators say Chinese President Xi Jinping has heralded the dawn of a new era of Chinese politics and power at the start of a historic Communist party congress celebrating the end of his first term in office on October 18.
Beijing is decked out in welcome banners and festive displays for the congress. However, the capital is also on high alert. Long lines were seen earlier this week at railway stations due to additional checks at transport hubs. The congress has also affected businesses, with some restaurants, gyms, nightclubs and karaoke bars reportedly shutting down due to tightened security rules. An austerity drive, instituted by Xi, has meant a more pared down congress, with Chinese reports this week of delegates' hotels cutting back on frills such as decorations, free fruit in rooms and lavish meals.
Meanwhile, state media have said the Party is expected to rewrite its constitution to include Xi's "work report" or political thoughts, which would elevate him to the status of previous Party giants Mao Zedong and Deng Xiaoping. Some see Xi as accruing more power than any leader since Mao, and the congress will be watched closely for clues on how much control now rests in the hands of just one man
Corruption – enemy of Socialism
China's president, Xi Jinping, called corruption the greatest threat to the Communist party's survival in his opening speech to the week-long congress meeting on Wednesday. However, the problem is largely a product of the one-party political system he leads. Three decades of breakneck development has produced vast wealth in China – and much of this is controlled directly or indirectly by the party. That means there are eye-watering money-making opportunities for cadres looking to supplement their modest salaries by cashing in on their positions and their contacts.
At the same time, the party's stranglehold on the media means that independent reporting that might expose high-level corruption is all but non-existent, unless authorised by the party itself. Impunity, therefore, has traditionally been almost guaranteed. Xi now hopes to change that with his war on graft. "Great changes have occurred in China and we are so proud of it," said Xue Rong, a delegate who had travelled to the capital from Henan province. "Xi Jinping is a great man. He is down-to-earth, too. He carries the people in his heart."
Zhao Yongqing, the propaganda chief of the north-western region of Ningxia, said he had been inspired by Xi's opening pitch to the congress. "I feel a big responsibility. As a delegate, I must study and understand Xi's speech thoroughly, and publicize and implement it well when I return home."
The event, which Xi will use to pack the Communist party's upper ranks with allies, marks the official end of what is expected to be the first of his two five-year terms in power. For some though it has come to represent the advent of a new political era that could extend well beyond the originally anticipated end of Xi's second term, in 2022.
The congress heralded the start of China's third great political epoch since Mao Zedong's communists seized power in 1949. The first epoch was Mao himself, a revolutionary standard-bearer who helped the country find its feet; then came Deng Xiaoping, the reformer who masterminded China's economic opening and helped it grow rich. "Now it's Xi Jinping's turn to usher in … the Xi Jinping era," said Chen.
China's economy has continued to grow rapidly. The correspondents say the country has also become more authoritarian, with increasing censorship and arrests of lawyers and activists. Economy compared Xi's bold political vision to a pyramid: "Xi Jinping sits on top of the Communist party, the Communist party sits on top of China, and China sits on top of the world."
Xi Jinping
Chinese president Xi Jinping is to be given his own political theory as the Communist Party of China has created "Xi Jinping Thought on Socialism with Chinese Characteristics for a New Era". The theory is likely to be incorporated into the constitution of the ruling Communist Party, which would strengthen Xi Jinping's position at the top. He would be the first leader to lend his name to a political theory since Deng Xiaoping, who retired in 1989. The only other leader to do so was Mao Zedong.
Xi Jinping became president of China in 2012 – ushering in an era of increased assertiveness and authoritarianism. He has been front and centre of China's push to cement its position as a global superpower, while also launching crackdowns on corruption and freedom of speech. A consummate political chess player who has cultivated an enigmatic strongman image, the leader of the ruling Chinese Communist Party is widely expected to stay at the helm until at least 2022.
Born in Beijing in 1953, Xi Jinping is the son of revolutionary veteran Xi Zhongxun, one of the Communist Party's founding fathers and a vice-premier. Because of his illustrious roots, Xi is seen as a "princeling" – a child of elite senior officials who has risen up the ranks. But his family's fortunes took a drastic turn when his father was purged in 1962 prior to the Cultural Revolution and imprisoned. At the age of 15, the younger Xi was sent to the countryside for "re-education" and hard labor in the remote and poor village of Liangjiahe for seven years – an experience that would later figure largely in his official story.
Far from turning against the Communist Party, Xi embraced it. He tried to join it several times, but was rebuffed because of who his father was. Once he was finally accepted in 1974, he worked hard to rise to the top – first as a local party secretary in Hebei province, before moving on to more senior roles in other places including party chief of Shanghai, China's second city and financial hub. His increasing profile in the party propelled him to its top decision making body, the Politburo Standing Committee, and in 2012 he was picked as president. The Tsinghua University chemical engineering graduate is married to the glamorous singer Peng Liyuan, and the two have been heavily featured in state media as China's First Couple. It's a contrast from previous presidential couples, where the first lady has traditionally kept a lower profile. They have one daughter, Xi Mingze, but not much is known about her apart from the fact that she studied at Harvard University.
Xi has vigorously pursued what he has called a "great rejuvenation of the Chinese nation" with his China Dream vision. Under him, China has enacted economic reform to combat slowing growth, such as cutting down bloated state-owned industries and reducing pollution, as well as its One Belt One Road trade project. The country has become more assertive on the global stage, from its continued dominance in the South China Sea despite international protestations, to its exercise of soft power by pumping billions of dollars into Asian and African investments. This has been accompanied by a resurgence in patriotic nationalism whipped up by state media, with a particular focus on Mr Xi as China's strongman leader, leading some to accuse him of developing a personality cult like that of former leader Mao Zedong.
Xi, who has sought to portray himself as a strong and stable international statesman since last year's election of Donald Trump, also painted China as a responsible global power that was committed to tackling shared dangers such as climate change. "No country alone can address the many challenges facing mankind. No country can afford to retreat into self-isolation," he said.
Since becoming president, Jinping Xi has tightened control within the Party and also in Chinese society, with increasing censorship and arrests of lawyers and activists. Under Xi, China's modernisation and reform has also accelerated, as has its assertiveness on the world stage. He continues to enjoy widespread support among ordinary citizens in China.
Xi Jinping is a much more assertive leader than his predecessors. In a long and confident speech, he looked back on his first five years in office, saying the party had achieved miracles and China's international standing had grown. But the most striking thing in his mission statement was ideological confidence. Recently Party media have talked of crisis and chaos in western democracies compared to strength and unity in China. Xi Jinping said he would not copy foreign political systems and that the communist party must oppose anything that would undermine its leadership of China. Xi also mentioned his wide-reaching corruption crackdown within the Party that has punished more than a million officials, report BBC correspondents in Beijing.
Xi became the Communist party's general secretary – and thus China's leader – at the last party congress in 2012, and has since emerged as one of China's most dominant rulers since Mao Zedong. Xi has been consolidating power and is expected to remain as party chief. Since Xi took power in 2012,
Xi Jinping is a much more assertive leader than his recent predecessors. In a long and confident speech, he looked back on his first five years in office, saying the party had achieved miracles and China's international standing had grown. But the most striking thing in his mission statement was ideological confidence. Recently Party media have talked of crisis and chaos in western democracies compared to strength and unity in China.
At home, Xi has waged a ruthless war on corruption which has punished more than a million "tigers and flies"- a reference to both high and low-ranking party officials. Some observers believe that the campaign is aimed at rooting out opponents, and is part of a series of political manoeuvres by Xi aimed at consolidating his power. Meanwhile China has seen increasing clampdowns on freedoms, from rising online censorship to arrests of dissidents and human rights lawyers, leading some to describe Xi as "the most authoritarian leader since Chairman Mao". Despite this, Xi is still thought to enjoy reasonably widespread support among ordinary Chinese citizens – and is expected to keep shaping the country for the next few years.
The party will reveal the new members of its pinnacle body, the Politburo Standing Committee. Xi is widely expected to remain as party leader, while prominent Xi ally and anti-corruption chief Wang Qishan has stepped down and will not be in the next formation of the committee. Those in the Standing Committee will be especially scrutinized. Analysts say its make-up may give signs of how long Xi plans to stay on at the top of the party – he is expected to remain at the helm until at least 2022 – or any possible successors.
Foreign relations
Xi Jinping said he would not copy foreign political systems and that the Communist Party must oppose anything that would undermine its leadership of China. Fighting USA or capitalism or imperialism is not on the agenda of China and therefore it does not claim any leadership of communist international.
China is eager to expand its ties across the globe and use its money power to influence Asia, Africa, and Latin America.
Xi was similarly uncompromising on China's overall political model, offering no hint that democratic reform was on the horizon or that the party was considering loosening its grip on power. "No one political system should be regarded as the only choice and we should not just mechanically copy the political systems of other countries," said Xi, who has overseen one of the most severe political chills in recent Chinese history. "The political system of socialism with Chinese characteristics is a great creation."
Xi insisted China did "not pose a threat to any other country" but his speech chimed with the increasingly assertive – some say domineering – foreign policy that has emerged on his watch. He cited Beijing's highly controversial island-building campaign as one of the key accomplishments of his first term. "Construction on islands and reefs in the South China Sea has seen steady progress."
Without directly mentioning Trump, he noted how China had "taken a driving seat in international cooperation to respond to climate change". He added: "Only by observing the laws of nature can mankind avoid costly blunders in its exploitation. Any harm we inflict on nature will eventually return to haunt us. This is a reality we have to face."
Xi took a harder line on Hong Kong, which witnessed an unprecedented 79-day pro-democracy occupation and the birth of a nascent independence movement during his first term. He vowed that Beijing would not allow the "one country, two systems" model, under which the former British colony has operated with relative autonomy from the mainland since handover, to be "bent or distorted". Nor would independence activists be tolerated. "We will never allow anyone, any organisation, or any political party, at any time or in any form, to separate any part of Chinese territory from China."
Beijing did not seek global hegemony but "no one should expect China to swallow anything that undermines its interests".
IMF warns on China's credit boom
President Xi Jinping government's early pledge to enhance market forces – giving them a "decisive role" has remained just that, a pledge. Thousands of factories have been closed but that's as much about their polluting effect than their productive inefficiency. There have been consolidations in various sectors of the myriad state-owned enterprises. The (almost all state-owned) banks have come in with debt for equity deals – something close to a bail out – for the most troubled companies. But there hasn't been a wave of bankruptcies. Preserving social stability is likely to be the main reason for this. A wave of concentrated unemployment could see protests that could threaten order.
Debt and risk are the two things that some think will combine to produce an economic catastrophe in China but the growth is still there to be able to pay off debt. When the debt gets so large it crowds out growth because of the cost of that debt – that becomes a problem. And China's debt is huge; it is currently about 260% of annual economic output and is predicted to rise. What makes it particularly worrisome is that the bulk of this is held by state-owned corporate entities.
Risky practice has been growing too, particularly around the so called "shadow banking" sector. So much so that Beijing cracked down on the insurance market in particular, and went after some of China's best known private firms who were deemed too risky in the way they raised money.
Firms who owned or had stakes in New York's Waldorf Astoria, Deutsche Bank, Club Med and Wolves FC were all targeted. It's steadied the boat, but that appears all. Other far more significant reforms have not yet happened; financial market reforms, substantial rural land reform, changes to the internal passport-like hukou welfare system.
One thing that is happening though is a deepening of the role of "the party" at the top of China's state firms. There were reports this summer that foreign owned firms or joint ventures have been asked to give the Communist Party equal say over their major corporate decisions.
In a new report, the IMF says there is an increasing risk of a "disruptive adjustment" and/or a marked slowdown in economic growth". The agency calls for decisive action to deflate the credit boom smoothly. Without the boom, the report suggests, China's recent economic expansion would have been significantly slower. Since the global financial crisis, China's economic growth has slowed, from an average of 10% a year in the previous three decades to a rate of 6.7% last year. The Chinese government expected a slowdown, since the earlier double-digit rate was not sustainable over the long term.
China has been trying to manage a transition to slower growth with a different pattern, one that is less dependent on industry and exports and has a greater role for consumer spending at home and service industries.But the IMF's report says the slowdown would have been more pronounced, were it not for a boom in credit. It suggests that over the years 2012-16, a more sustainable pattern of debt and credit would have led to economic growth that was slower by two percentage points.
The IMF sets out some disturbing evidence from previous credit booms with similarities to China's. It says that out of 43, only five were not followed by either a financial crisis or a major slowdown in economic growth. The report does set out a number of features of China's situation that it says reduce the risks. One example is the surplus in China's current account, which is its international trade plus some financial transactions. That makes it less dependent on borrowing from abroad and so less susceptible to a sudden loss of confidence on the part of foreign lenders – something that happened in many emerging-market financial crises. But for each of these relatively favourable factors, the report sets out reasons why the protection they provide may be limited.
The biggest single group of debtors are state-owned enterprises (SOEs), although there have also been large increases in the debts owed by the government, other businesses and households. SOEs are a long standing issue in China. Many are what are called zombie companies that are not financially viable and are often in industries where there is excess capacity. They account for the most pressing corporate debt issues, the report says.
There is also a warning about the housing market. A sudden "correction", or in other words, a fall in prices, could pose a risk to financial stability. The report says that decisive action is needed.
The most general recommendation the IMF makes is that China should put less emphasis on targets for economic growth (this year it's 7.5%), as it says these "have fostered an undesirable focus on short-term, low-quality stimulus measures". Many of the other problems reflect that feature of China's economic strategy. The report says the government has had the tendency of boosting infrastructure spending, real estate activity and credit during economic downturns to meet growth targets.There is also a menu of other more specific initiatives the IMF suggests, including a renewed effort to deal with the zombie companies, many of which are likely to go out of business. It says the government should consider restricting the use of unsecured loans to pay for down-payments by home buyers.
Millions of workers the Chinese government plans to lay off from failing state owned companies will be "abandoned". China's mountain of national debt is real worry, the possibility of bankruptcies and – ultimately – what it might mean for the thousands his multinational firm employs in China. They support reforms to overhaul China's mammoth economy; but their stories, from three very different parts of China, reveal the consequences and anxieties associated with the changes.
The complex is home to the world's biggest manufacturer of electric cars. BYD is a global leader in a technology that China hopes it can dominate; electric vehicles, and specifically the batteries that power them. The big push towards electric isn't just about industrial strategy; it's about trying to tackle China's immense pollution problems – the most obvious of which is dirty air.
With incentives for infrastructure and aggressive quota demands for, mostly foreign, manufacturers, this is part and parcel of Beijing's effort to make China's economy less focused on government investment and cheap exports – and instead to one that is technologically advanced, with a sustainable base and driven by consumer spending.
Observation
Corruption is a serious crime in socialism. The mighty Soviet Union collapsed and eventually disintegrated, entire socialist system in East Europe got wound up because of rampant corruption in Russia eating away the very system of equality. Last Soviet president Michael Gorbachev made sincere efforts to fight corruption by Perestroika and Glasnost but he failed. Corruption had reached very high level as the CPSU tolerated corruption as a necessary evil to be allowed initially but it got strong and became an institution by itself.
President Xi would be remembered as the leader who made China a strong and powerful nation: Being strong first of all means being a global power: being a world leader and therefore leading the world. It also means that the Communist party must be strong and corruption free even while maintaining one-party rule.
President Xi knows corruption in China is deep rooted and has initiated steps to contain it. Whether Xi would be successful in making China corruption free – remains to be seen. As China tries to tackle chronic over-capacity in its traditional industries it's also moving away from dirty coal to heat homes and power its economy. Many mines are being mothballed.
President Xi is seen as a transformative figure that saw himself in the same tradition as Mao and Deng. There's no lack of confidence in Xi Jinping. In order to reclaim China's historic greatness, its centrality in the world China needs a strong leader – and he is the person for the job."
Xi Jinping faces a multitude of challenges in his country's economy as he embarks on his second term at the top. Strengthening the party's hold on the means of production is one of Beijing's responses.
Meanwhile, China's ruling Communist Party has voted to enshrine Xi Jinping's name and ideology in its constitution, elevating him to the level of founder Mao Zedong. The unanimous vote to incorporate "Xi Jinping Thought" happened at the end of the Communist Party congress, China's most important political meeting.
Xi has steadily increased his grip on power since becoming leader in 2012. This move means that any challenge to Xi will now be seen as a threat to Communist Party rule. More than 2,000 delegates gathered in Beijing's Great Hall of the People for the final approval process to enshrine "Xi Jinping Thought on Socialism with Chinese Characteristics for the New Era" into the Communist Party constitution of China. At the end of the process, delegates were asked if they had any objections, to which they responded with loud cries of "none", reported journalists at the scene.
The expression "new era" is the party's way of saying this is the third chapter of modern China. If the first was Chairman Mao uniting a country devastated by civil war, and the second was getting rich under Deng Xiaoping, this new era is about even more unity and wealth at the same time as making China disciplined at home and strong abroad. Enshrining all of this under Xi Jinping's name in the party constitution means rivals cannot now challenge China's strongman without threatening Communist Party rule.
US led capitalist world has pinned hopes on China to finally close socialism-communism as being utopia but the news form the CPC Congress is not encouraging to them as China under President Xi Jinping would consolidate the gains of socialism and push further to achieve maximum for the people and nation. Unlike Soviet Russia that hurried up to end socialist ideology due to rampant corruption that had crept into the national body, China perused, albeit slowly, the process of socialist construction in a sustained manner.
Hollywood with Chinese Characteristics
Authors: Dr. Abhishek Srivastava and Ms. Shreyasi*
Cinemas are an effective tool to project soft power and influence communities at large. A number of Hollywood production-finance firms in the last decade have seen a major rise in Chinese investments. Some of the biggest Hollywood box office hits are backed by Yuan. To maximize profit off of the Chinese domestic movie consumption market, these movies either have elements of Chinese culture or they self-censor to appease the Chinese censorship authorities. A dominant explanation to this phenomenon is that China pursues a significant influence in the American culture by infiltrating Hollywood. Hollywood itself has, through its movies, exported American values since its inception. Any impact on this industry will consequently reflect on its movie consumers eventually.
China wears the global box office crown worth $7.3 billion and reigns as the biggest movie consumer market in the world. It bounced back from the pandemic slump of 2020 and turned twice the amount of revenue only 26% less than pre-pandemic numbers. During the pandemic movie theatres all over the world were shut down, literally zeroing down the movie theatre business. China due to its regime style, somehow managed to open up theatres to some extent and garner revenues.
China opened its domestic movie market for outside films only in the 1990's. The ever-growing domestic movie market China has made it a golden spot for foreign language films to get screen time and thereby huge returns. More and more Hollywood movies and especially blockbuster category movies are lining up to get a spot since Chinese authorities allow only 34 films per year quota to foreign language movies. This strategy along with the promise of money has resulted in Hollywood movies altering their plot, stories, scenes etc., to suite the regulations of the Chinese censorship authority. The censorship authority's aim is to induct Chinese values and promote their ideas through the Hollywood movies. Last 10 years has culminated into an intersection of free market and Chinese censorship. This is an unprecedented path whose outcome is very unpredictable.
Another strategy is the use of China's economic power to get into the American movie business and then trying to induct a cultural change. Los Angeles has a big presence of Chinese firms and conglomerates who have major or minor shares in big production houses or have co- financed individual movie projects. It is not only limited to production companies but theatre chains, distributing retails and public relations management companies are also being brought by Chinese firms.
Chinese Soft power and public diplomacy through movies
Joseph Nye coined the term soft power and further broadened the area of study to public diplomacy. Much of what he has written on soft power, tools used by the United States to exercise soft power is relevant even today. According to Nye, Hollywood in itself is the biggest soft power influencer of the United States. The power Hollywood movies have had on different countries through generations is incomparable.
According to Stanley Rosen, a professor of political science in University of South California and a specialist on politics in the People's Republic of China, even after spending $10 billion year in exercising soft power, China has not been able to compete with the U.S. Chinese soft power is much more involved in dealing with the domestic crowd. Much of the soft power is controlled by the state. This does not allow a natural spurt in soft power. Successful American soft power on the other hand has largely grown away from the clutches of the government. And this is what Chinese authorities are trying to bank on.
China in Hollywood
As explained before, the Chinese production house and firms exert control by buying up screen spaces. But movies themselves self-censor to appease the censorship board of China. The aim is to make it to the list of 34 movies which is allowed screen time in the domestic movie landscape. Chinese real-estate and entertainment conglomerate Dalian Wanda Group Co. has signed a deal for a majority stake in Legendary Entertainment that would value the U.S. film and television company at nearly $4 billion. Chinese internet giant Tencent Holdings bought 10% of Skydance Media, the Hollywood company behind movie Terminator. The valuation of the deal of the production company is at approximately $1.5 billion. As part of the arrangement, Tencent and Skydance will co-finance movies, TV shows and video game projects too.
Apart from the Chinese values, an instance which shows the Chinese government's good governance, foresight, China's technology boom, good standard of living are expected to be shown in the movie by the producers themselves. The production houses of these movies often have Chinese co-financiers who work to make the Chinese authority happy. Any image which shows the country in a bad light is frowned upon. In the disaster movie, 2012, humanity is saved because the Chinese government had the foresight to build the life-saving arcs. In Gravity, Sandra Bullock survives by getting herself to the Chinese Space Station which was shown to be the most advanced one.
The 2006 released book titled World War Z, a zombie apocalyptic horror novel written by American author Max Brooks was adapted in a 2013 movie of the same name by the Paramount pictures production. The original plot of the book is about a global pandemic in which people infected with the virus turns into a zombie. The virus origins or the patient zero as mentioned in the book is found in China but the movie adaptation refers to the source of the virus to be in Taiwan. This allowed the release of the movie in Chinese theatres.
In 2014, hacked Sony e-mails revealed that the original script of the movie PIXELS, which was released in 2015, called for blowing up of the Great Wall of China but finally in the movie, Taj Mahal of Agra is seen being blown up. This change was done with the hope that the movie could gain access to the Chinese theatre market. Blowing up of a national heritage site was not something the audience or the national film agencies of China would have appreciated. This incident is a classic example of American movie self- censoring themselves to gain access to a huge market, thereby ensuring a decent profit margin.
Understanding how important movies are in constructing imagery, the Chinese authorities make sure the country is represented in the fairest and best way possible. This includes hand picking visuals of the country in movies, curating dialogues, altering plots, storylines and characters, changing the way the people are represented in the movies. The censorship is so strong and rigid that certain words and cases are not allowed in the movies. Issues of homosexuality, democratic values and free spirit, rejection of authority, liberty and equal rights are certain areas which are a significant part of the Western cultural discourse. Nuances regarding these issues are often put up in public discourse through movies. But when such movies are presented to the Chinese censorship for approval, scenes representing these issues are straight away omitted. This is an attempt by the authority to isolate the local population from western cultural values. A prime example is the 2018 hit, Oscar awarded movie The Bohemian Rhapsody. The movie represented the life and times of Freddie Mercury, lead singer of the British music band The Queen and a well-known member of the LGBT community who died of AIDS. The movie's cut which was shown in Chinese theatres lacked certain sections of the cinema which talked about the lead singer's life as a homo sexual. This takes us again to Stanley Rosen's argument that a bigger chunk of Chinese soft power strategy is within its border for its own public. The country keeps her media in check by regulating movies, especially foreign ones.
The 1997 movie, Seven years in Tibet starring Brad Pitt, depicts China's controversial takeover of Tibet and the harsh Chinese rule in the country. Director Jean-Jacques Annaud and stars Brad Pitt and David Thewlis were allegedly banned from even entering China.
In the May month of 2021, actor John Cena apologised publicly on Chinese social media platform for referring Taiwan as a country. The production house of the movie, Universal pictures has a long-term co-financing deal with a Chinese entertainment company called the Perfect World Pictures. The movie is backed by Chinese money which made it mandatory for the actor to publicly apologise.
The sensitivity regarding Taiwan is so much that even public acknowledgement of the island nation as a country sparks outrage and objection by China. Tibet, Taiwan, Tiannamen square, Uighur province etc. are certain sensitive issues for the Chinese. The authority does not want any incident, in real life or in movies, to happen that could legitimise their existence, both amongst the domestic and the international audience.
China's sensitivity to Tibet could be seen in the 2016 hit movie Doctor Strange, part of the popular Marvel Cinematic Universe of the Marvel production house. The ethnicity of a major character was changed completely. In the original comic books, the Ancient one is a Tibetan character, and the studio that was making Doctor Strange changed it to a Celtic character. The movie went on to earn around $109 million in the country. Eliminating a Tibetan character is an attempt to remove the issue of Tibet from the minds of any average movie watcher.
One of the top three highest grossing films in the box office of 2022 is the movie Top Gun: Maverick, a sequel to the 1986 movie Top Gun. In the original 1986 movie, the central character of Tom Cruise's wears a jacket which went on to become a national rage in Northern America and consequently in more English language movie watching countries. The jacket on its back had a flag patch of US, Japan and Taiwan. In the trailer for the sequel released around two years back, Taiwan's flag, which the island country has used since 1949, was seen being replaced with an ambiguous patch. This self-censoring by the movie makers was somewhat expected by audience since the movie's co –producer, Paramount Pictures signed on Tencent, a Chinese tech firm to co-finance the movie. The Shenzhen-based conglomerate hoped to act as an "investor and co-marketer" of the film. But things turned out to be a different when the movie was released.
How receptive is the American movie industry and consumer?
The reaction of the American audience to the trailer, specifically to the changes made in the original jacket in the movie was extremely fierce. The aware audience has somehow grown a resentment towards artistic changes and additions made to American movies, done solely to appease the Chinese authorities. The makers of the movie sensed it and reverted to the original jacket which had the flag patch of Taiwan.
The case of Chinese authorities curating American movies is seen by Hollywood stakeholders as an attempt at altering culture and value system of the nation as well as the larger audience who are American movie watchers. Another matter of concern is the literal buying up of domestic movie production and distribution houses of America by big Chinese firms and conglomerates. A law has been introduced to the US Congress, that would regulate funding of these big American production house by foreign companies. In April 2020, Republican Ted Cruz introduced a bill titled "The Stopping Censorship, Restoring Integrity, Protecting Talkies Act" that the Texas Senator described as "cutting off Hollywood studios from assistance they receive from the Department of Defence if those studios censor their films for screening in China." The legislation, called the SCRIPT Act, was introduced in May and referred to the Committee on Homeland Security and Governmental Affairs. 2020 was also the time when tensions between the U. S. and China were at its peak and a probable trade war between the two countries was looming large.
Conclusion
Soft power is a long-term strategy which reaps benefit only in future. It's arduous, laborious and results might not be visible instantly, unlike hard power which yields outcomes almost as soon as it is used. But when it does, it is the most profitable and significant investment a country could make in terms of both time and money. China realised this way back in the 1970s, when it mended relations with the U.S. The country has come a long way since the days when Bruce Lee's movies were dubbed and rationalized to suit American and world audience. It is amazing to see how the world's most powerful movie industry plays tune to China's censorship authority's pipe.
However, Beijing's strategy of using money to implement soft power tactics has been unveiled. For a very long time this phenomenon was under wraps. Chinese firms pumping money in Hollywood production houses rose only post-2010 but it was done aggressively around 2015. When it comes to allowing foreign language movies to open in China, a limit of 34 movies have been posed. But these movies happen to be the biggest blockbusters of Hollywood, watched by a huge audience across globe. The impression these movies make is simply unimaginable. By censoring and planting favourable plot lines in movies, Chinese authorities intend to artificially manufacture of opinions. Off course, these opinions work in favour of the Chinese regime. This allows them to present to the world a narrative on issues close to Beijing's heart.
*Ms. Shreyasi Post graduate Student, School of International Studies, Jawaharlal Nehru University, New Delhi
The U.N. as a collective security says no to politicalized agenda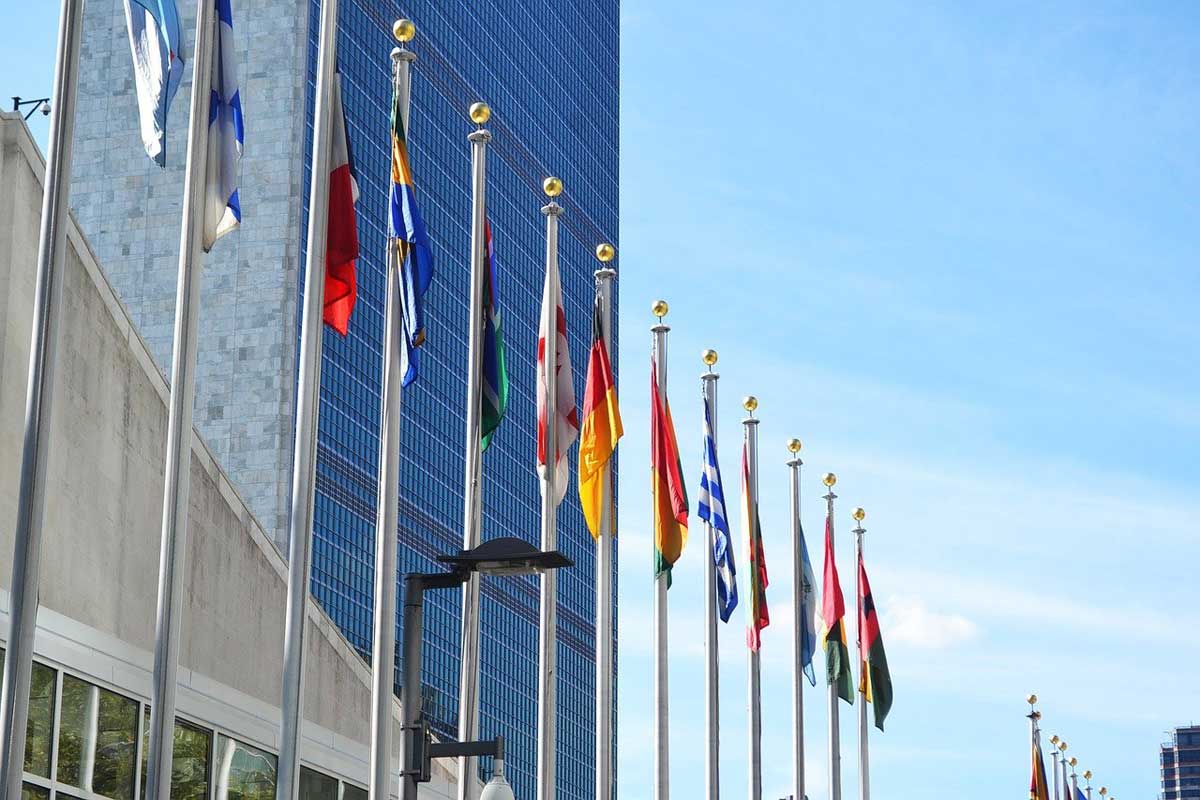 Since the United Nations was founded at the end of the WWII, it has played a seminal role in preserving the world peace and international justice from time to time. Based on the U.N. Charter which champions the no-use of force and collective security, the U.N. is seen as a relatively efficient global organization of sovereign states since then. There is no question that the U.N. has historically promoted the decolonization and changes in the composition of the international community when the U.N. General Assembly adopted the Declaration on the Granting of Independence to Colonial Countries and Peoples in 1960. Since then, it is fair to say that the new states have come to end the dominance of the West which then commanded a majority of the seats in the General Assembly.
From the very beginning, a world public opinion is seen as the most potent of all forces for peace. Nowadays, it has been since more strongly developing throughout the world. In particular, the U.N. General Assembly is declared to be "the open conscience of the world as Hans Morgenthau used to argue. China has consistently and persistently championed the legitimate rights of the all states in general and the small/weak countries in particular. As Chinese government has reiterated that as the world's largest developing country, China will continue to stand with all developing States, who are no longer the silent majority in international and multilateral processes.
Also as one of Five Permanent Members of the U.N. Security Council, China should and also must stand up to defend the sacredness of the United Nation as it is a permanent forum in which countries could come together to deliberate and attempt to resolve disagreements rather than sowing the seeds of hatred among them. In reality, the U.N. has been used properly but is also misused and even abused by some governments for the purposes of politicalizing the issues and demonizing its rivals with no moral criteria or any bottom lines. Given this, this essay argues for the necessity of preserving the sacredness and purity of the U.N. for the original goal of acting a collective security rather than unilateral tool abused by any small bloc.
Recently, China allies itself with the statement made by Eritrea on behalf of a group of like-minded countries. Chinese ambassador Geng Shuang made it clear that remedy and reparation is an important way to deliver justice, offer consolation and promote reconstruction after wars and conflicts. Deeply victimized by numerous foreign wars against China in the modern history, China has endured immense losses. Accordingly, the Chinese people and the elite empathize with the heartbreaks of war victims, and sympathize with their misery. Meanwhile, China opines that any remedy and reparation should be achieved through correct political means and legal proceedings in line with international will, fairness and justice, and the humanitarian spirit. The U.N. Security Council and the General Assembly should and can play the role as expected by the international community.
Regarding the ongoing crisis in Ukraine, China has reiterated its sincere concerns with the current situation in Ukraine and the four points about what must be done in the wake of the outbreak of the crisis and the four things the international community must do together later. It is self-evident that given a global, composite crisis in Ukraine, it is important to give serious thought to the following: first, conflicts and wars produce no winner; second, there is no simple solution to a complex issue; and third, confrontation between major countries must be avoided. China has and will continue to look forward to a resumption of peace talks between Russia and Ukraine. At the same time, it is imperative that the U.S. and its allies of the NATO and the EU should hold direct dialogues with Russia. This is the nature of classic diplomacy championing negotiation, persuasion and mutual compromises rather than driving a decisive victory in the battlefield.
Due to the discussion of China's stances on the international issues and the role of the UN in the crises management, it is quite easy to perceive China's refusal of the draft resolution on remedy and reparation submitted for actions of the Emergency Special Session of the U.N. General Assembly on November 16 since it has obvious flaws and loopholes and does not conform to China's position and proposition. However, Chinese Ambassador Geng Shuang presented three points to verify the general principles and practices of the UN as a collective security forum.
First, legally speaking, China believes that the draft resolution intends to address the issue of international legal responsibility directly through the General Assembly, thereby overstepping GA's authority. As it is well-noted that the UN Charter clearly stipulates the mandates of the principal organs of the UN and the General Assembly is not an international judicial body. Thus, it has no legal power to define and hold accountable for internationally wrongful acts. As a matter of fact, the resolutions previously adopted by the 11th Emergency Special Session of the GA do not constitute solid legal basis for remedy and reparation.
It is clear that the draft resolution aims to invoke the Articles on the Responsibility of States for Internationally Wrongful Acts to pursue accountability, yet, doing so lacks legal basis in a professional way. The aforementioned Articles are research products of the International Law Commission which is an expert body. It is not an inter-governmental treaty and not legally binding. From a perspective of international law, neither do the Articles provide legal norms to define an internationally wrongful act or determine whether such an act exists. Hence, it is not appropriate to cite the Articles to make legal determination and pursue accountability.
Second, given the fact the draft resolution intends to bless the creation, by some countries, of a mechanism for reparation and a register of damage outside the UN framework, thus it deviates from the normal practice. The above mentioned mechanisms proposed by some countries are not in the framework of the UN, not overseen by the UN, and do not report to the UN. Nevertheless, the General Assembly is requested to adopt a resolution specifically for their creation. This approach makes no sense and has no precedent in practice.
It deserves noting that the issue of remedy and reparation is of great dimensions and far reaching implications. It concerns peace and security on the one hand, justice and conscience on the other. Moreover, it concerns not only the sacredness of the United Nations, but also the justice of international rule of law. Thus, the issue of remedy and reparation needs to be presented in a legal and procedural way. Historically, countries in the world victimized by internationally wrongful acts such as colonialism, external interference, unilateral sanctions and economic blockade have the right to seek remedy and reparation. The action taken by the General Assembly today should help to provide correct guidance for the settlement of possible future claims of relevant countries for remedy and reparation. Yet, the red-line is that it should help to maintain the impartial image of the UN that treats all member states equally. It should help to ensure various UN bodies can work in concert according to their respective mandates. Regrettably, the sponsor states did not organize consultations in earnest, did not substantively respond to the concerns of member states, and instead insisted on pushing the General Assembly to take a hasty action which is totally unconstructive.
As it is well-known that the Ukrainian crisis has been ongoing nearly nine months. It has sent shockwaves throughout the world and brought more uncertainty and instability to the world. Since the crisis serves no parties' interests including Ukraine and Russia, China has appealed to all parties concerned to return to dialogue and negotiation as soon as possible. In so doing, the international community, including the General Assembly, should work actively to this end, instead of intensifying tensions, provoking confrontation and aggravating divides. In fact, China's position on the Ukraine issue is clear and consistent. That is to say that the sovereignty and territorial integrity of all countries must be respected and the purposes and principles of the UN Charter must be fully observed. However, the legitimate security concerns of all countries must be also taken seriously. Accordingly, China endorses the tireless work with the international community to play a constructive role in promoting the early realization of ceasefire and cessation of hostilities.
To sum up, China has no bias against any parties concerned in the Ukrainian crisis. Yet, the key is that China must act a responsible power to upload the authority of the UN Charter and the credibility of the General Assembly. Given this, China decided to vote against the draft resolution along with more than ten other countries, though they were a minority. For the end of safeguarding true multilateralism and maintaining the international rule of law and fairness and justice, China has done as it should do as always.
Silence on Uyghurs and Kashmir: A tacit quid-pro-quo between India and China
On the 7th of October, India abstained from voting on a resolution for "holding a debate" on China's alleged atrocities on Uyghur Muslims in the Xinjiang region. Although, on previous occasions, India had called for the human rights of Uyghurs to be respected, and had taken note of a UN Human Rights report finding human rights violations by China; When presented with an option to finalise and consolidate its stance on the matter, India chose to abstain from voting.
In this post I argue that, India's choice to abstain from voting against China's alleged human rights violation in the Xinjiang province, is part of a tacit quid pro quo between the two states to remain silent on each other's human rights violations.
Uyghurs, a Muslim ethnic community in the Xinjiang region of China, have been, and continue to be subjected to severe human rights abuses by the Chinese state. The Chinese Communist Party (CCP) has established centres which the international media has come to refer to as, "re-education centres". At these centres the CCP works towards preventing citizens from being influenced by extremist thoughts, and to "nip terrorist activities in the bud."
In the context of Uyghurs, a plethora of allegations have been levelled against China. These range from forced labour, illegal detention, to genocide, and may even extend to crimes against humanity. However, as discussed previously on this forum, even though the corpus of evidence on China's violations of Human Rights against Uyghurs continue to grow, the same must be protected, and finally utilised to prove the role of the State in these human rights violations.
The Convention on the Prevention and Punishment of the Crime of Genocide (Genocide Convention), to which China is a signatory, defines genocide to include, five acts. Evidence suggests, China has violated every single clause of this article. These include, (i) killing members of a group, (ii) causing serious bodily, or mental harm, (iii) deliberately inflicting conditions of life to bring about the physical destruction of the group, (iv) imposing measures intended to prevent births within the group, and (iv) Forcefully transferring children of the group to another group. (For a consolidated list of human rights violations by China in Xinjiang, see this report by the Office of the UN High Commissioner for Human Rights)
It is therefore, shocking to see that although India continues to stand for respecting the human rights of Uyghurs, India chooses to abstain from voting on China's alleged atrocities on Uyghur Muslims in Xinjiang province.
However, a closer study of India's abstention on the Uyghur vote speaks volumes. India itself faces numerous accusations of Human Rights violations in the erstwhile state (and now Union Territory) of Jammu, and Kashmir. These range from civilian killings, to restrictions on freedom of expression, and many other forms of human rights violations. (A consolidated list of human rights violations by India in Indian-administered Kashmir can be found in this report)
Therefore, in light of this, India's abstention can in many ways be seen as a quid pro quo between India, and China. China's absolute silence on Human Rights violations by India in J&K, even in the face of growing evidence for the same, must be seen in tandem with India's abstention at the UNHRC. Alternatively, India's move to abstain from voting could also be a move to mollify, the ever-increasing Chinese aggression, and expansionist policies in the Indo-pacific.