Malcorra tells WTO members "there is life after Buenos Aires"
The Chair of the WTO's 11th Ministerial Conference (MC11) told the organization's members on 19 October they need to decide very soon which issues can be resolved at the conference and which require further work.
Susana Malcorra, Argentine minister and Chair of MC11, had requested the opportunity to speak to heads of WTO delegations and report on a meeting of 40 ministers which she co-chaired in Marrakesh on 9-10 October. That meeting, which was also co-chaired by Moroccan Minister Moulay Hafid Elalamy, was designed to bridge differences between members ahead of the Ministerial Conference to be held in Buenos Aires, 10-13 December.
She said there were many issues on which WTO members were far apart. Members, she said, needed to decide which issues were "ripe" for a decision at the Ministerial Conference and which may not yet be ready but for which a process could be agreed to put these issues "in motion beyond Buenos Aires", with an eye toward reaching agreement in the near term.
"There is life after Buenos Aires. And if we have a combination of results and processes after Buenos Aires almost everything on the table could be put into one of those baskets and the meeting can be considered a success," she told the heads of delegation.
In her view, the issue on which agreement in Buenos Aires was most likely was the reduction of fisheries subsidies but she conceded there were differences regarding the level of ambition that could be attained at MC11. She suggested that some elements might be agreed at the Ministerial Conference while others could be taken up afterwards and finalised at the next Ministerial Conference in 2019.
She said agriculture is among the most important and challenging issues facing the membership. She referred specifically to the issues of public stockholding for food security purposes, reductions in trade distorting domestic subsidies and reform of cotton trade as elements on which the members needed to find common ground.
Ministers in Marrakesh, she explained, took up a range of other issues as well, including trade in services, electronic commerce, and facilitating greater participation of smaller companies and women entrepreneurs in global trade. If a multilateral accord cannot be reached on these issues in Buenos Aires, Ms Malcorra suggested members agree on work programmes to advance these issues post MC11.
As important as any result, she said, was to clearly demonstrate that trade can be inclusive and can bring benefits to people around the world.
"Our people require that whatever we do in these halls reflects them and includes them. At a moment when there is introspection about how trade affects people we need to do everything we can to demonstrate this," she said.
Poland must make urgent legislative reforms to combat foreign bribery
Poland must make urgent progress on carrying out key recommendations of the OECD Working Group on Bribery that remain unimplemented, more than four years after its Phase 3 evaluation in June 2013.
Poland still needs to take urgent steps to ensure companies can be held responsible for foreign bribery, even if the persons who perpetrated the offence are not convicted. In addition, Poland must increase the fines for companies in order to ensure foreign bribery is punishable by effective, proportionate, and dissuasive sanctions.
The Working Group is disappointed by Poland's failure to take measures to ensure that the "impunity" provision in the Penal Code that applies to foreign and domestic bribery cannot be applied to the bribery of foreign public officials. This provision allows perpetrators of bribery to automatically escape punishment by notifying the law enforcement authorities of the offence before the authorities learn about it from other sources.
In the context of ongoing reforms, Poland should also ensure that appropriate measures are in place to protect from retaliatory or disciplinary action private and public sector employees who report suspected acts of foreign bribery in good faith and on reasonable grounds.
The Working Group reviewed a report submitted by Poland on its progress in implementing these outstanding recommendations at its plenary meeting on 13-15 March 2018. The Working Group requested that Poland provide a written report on further progress in addressing these concerns in December 2018, at which time the Group will consider additional measures in the absence of significant progress.
Solving the e-waste problem in Latin America
The United Nations Industrial Development Organization (UNIDO), the Ministry of Environment of Ecuador (MAE) and the Global Environment Facility (GEF), have officially presented a project which will provide policy advice to 13 Latin American countries to help them solve the e-waste problem in the region.
The initiative addresses the proper disposal and recycling of electrical and electronic waste by adopting a circular economy approach  in Argentina, Bolivia, Chile, Costa Rica, Ecuador, El Salvador, Guatemala, Honduras, Nicaragua, Panama, Peru, Uruguay and Venezuela.
The inauguration was attended by Ecuador's Minister of Environment, Tarsicio Granizo,  UNIDO's Director of Environment, Stephan Sicars,   representatives of national authorities, and ambassadors and representatives of the 13 countries participating in the project.
Sicars pointed out that there are still many challenges that remain for e-waste recycling. "The policies have to be, not only suitable for each individual country, but also sufficiently harmonious to prevent unnecessary, as well as ensuring protection of human health in recycling activities and safeguarding the environment from toxic releases
Meanwhile Granizo emphasized the need to reduce the production of waste and added that "it is necessary to promote national and regional policies that allow community work to be able to deal with the adequate management of electrical and electronic waste, which present a challenge that cannot be addressed only from the national level".
This initiative will start on 5 June 2018 and will last for five years. During its execution, US$$ 9.5m will be invested, assisting the 13 participating countries both technically and financially, and providing advice on policies, business, legislation, technology and awareness-raising.
IsDB Prize for Women's Contribution to Development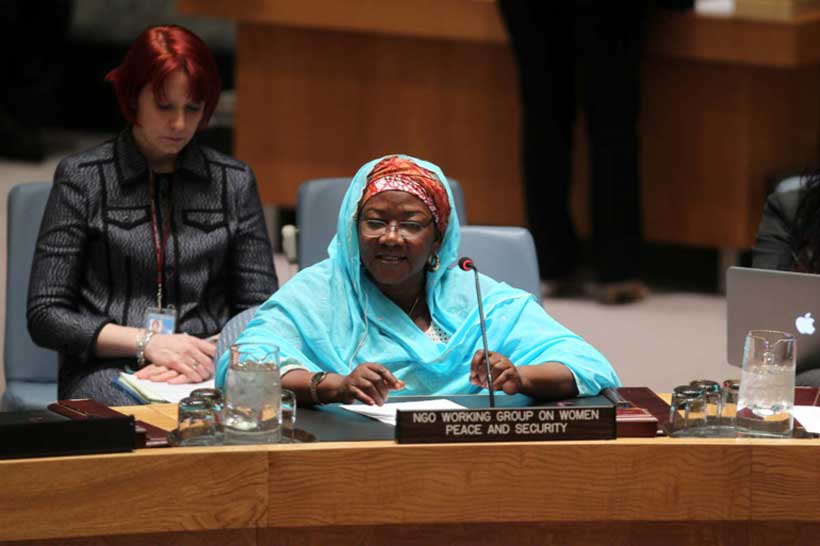 The Islamic Development Bank (IsDB) has announced the winners of the 13th edition of IsDB Prize on Women's Contribution to Development.
Mrs. Hamsatu Nashe Alamin, founder of the Network of Civil Society Organisations for Peace in Borno and Yobe, Northeastern Nigeria, and Mrs. Rehma Kasule, founder of Century Entrepreneurship Development Agency (CEDA) in Uganda are the winners of the Prize for the individual category. Each winner will receive US$25000 to support their community work.
A Togo based NGO, (Groupe de réflexion et d'action, Femme, Démocratie et Développement) won the organization category award. The NGO will receive US $100,000 to support its activities. The award will be given in Tunis during the Annual Meeting of the IsDB Group Board of Governors from 1st to5th April 2018.
According to IsDB President, Dr. Bandar Hajjar, "I am confident that this prize will energize the winners to continue working hard in order to change lives in their communities. Building partnership with NGOs and civil society organizations is one of the pillars of the President's 5-year program (P5P)."
"I am humbled that the little l am doing for the voiceless communities of North Eastern Nigeria is being independently, and in a transparent international manner, identified, recognized and rewarded by this esteemed Islamic financial institution." Mrs. Alamin stated.
She added that "this is indeed an eye opener for Muslim women, and particularly those of us living in conflict ridden and marginalized worlds to come out and play our part, for the reward now is right here at our doorsteps; for me, this is just the beginning."
Speaking on the award, Mrs.  Kasule stated: "This award is a symbol of the blessings that I receive for the sacrifices to make the world a better place. This Award is not for me, it is for the dedicated youth ambassadors and mentors,  and  the  young  women  in  post-conflict communities  that keep dreaming despite the challenges that surround them."
"I will use the prize to produce peace edutainment messages and strengthen interreligious dialogue in schools. I am more energized to take up bold and innovative steps to promote peace education for the youth. I thank IsDB for this honour." She concluded.