Europe and Central Asia Sees Stronger Growth, Amidst Rise in Migration
Economic growth for the Europe and Central Asia region will reach 2.2% in 2017, according to the World Bank's latest Regional Economic Update, Migration and Mobility in Europe and Central Asia. This represents the strongest growth in the region since 2011, and is 0.3 percentage points above the Bank's previous forecast in May 2017.
Growth in Europe and Central Asia comes on the back of stronger industrial production and more exports in recent months, lifting most countries in the region out of recession. Unemployment rates have dipped below pre-financial crisis levels in several countries, while labor participation rates have simultaneously risen above their 2008 levels.
Despite these important gains, however, the region still faces challenges that are testing political and economic cohesion. According to the report, new technologies are impacting the distribution of income and wealth, with many workers struggling to adjust to the new skills demand of the digital economy. In addition, the number of full-time, permanent jobs as a share of total employment has declined, as flexible contracts become the dominant employment arrangement for younger workers. This rise in the share of flexible contracts is increasing the efficiency of firms and individuals, but also creating new forms of inequality and insecurity.
"Growth is returning to the region, which is certainly good news," says Hans Timmer, World Bank Chief Economist for Europe and Central Asia. "At the same time, however, new technologies that provide new growth opportunities are bringing about more flexible labor contracts and more uncertainty. This has increased anxiety among people. And recent concerns over the influx of refugees can be seen as a manifestation of that heightened anxiety."
The Europe and Central Asia region has experienced a sharp increase in the numbers of refugees and asylum seekers in recent years, from 3.7 million in 2014 to 6.4 million in 2016. This large influx has created new challenges and heightened public concern over migration. The report finds, however, that refugees and asylum seekers account for only a small share of total migrants in countries across the region – with the exception of Turkey, which was host to 3.1 million refugees in 2016.
Migration has played an important role in meeting demands for labor, supporting trade, and encouraging foreign direct investment in countries across Europe and Central Asia, says the report. Migration also promotes the transfer of knowledge between host countries and countries of origin – increasing exposure to flows of information that can create economic benefits.
The report recommends that countries in the region pursue policies that ensure the successful integration of migrants into society, in order to fully exploit the benefits of migration. But policies should not focus on migration challenges in isolation. Rather, reforms should help both migrants and non-migrants alike cope with rapid technological development and increased flexibility in labor markets, thereby reducing insecurity and sharing the benefits of economic growth more broadly across society.
Water in a loop: how to combat water scarcity on remote islands
BY SARAH WILD
Every summer, thousands of tourists travel to Greece's idyllic islands to enjoy their sunny beaches. Even the global pandemic couldn't keep visitors away, but water scarcity might. Many Greek islands survive on water imports and are struggling to meet residents' and agriculture's water needs – let alone those of tourists.
These islands illustrate the difficulties faced in other parts of Europe. Climate change is making extreme weather events such as drought more frequent, while burgeoning population numbers and competing priorities, such as agriculture and tourism, mean that there is not enough fresh water to go around. About one in five people in the Mediterranean region suffer from constant water stress – when demand exceeds availability – according to the European Commission.
To address these issues, the project HYDROUSA is piloting its water technologies at sites on three Greek islands.
'It's about tackling water scarcity issues in small and decentralised remote regions in the Mediterranean,' explained Professor Simos Malamis, a water systems specialist at the National Technical University of Athens, Greece and coordinator of HYDROUSA.
The team, which includes 28 partners in industry, academia and government, develops and integrates different technologies to collect, treat, recycle and reuse water. 'We want to do this in a sustainable manner, in a loop.'
Sustainable reuse is at the heart of the EU's circular economy action plan, published in 2020. The bloc aims to 'double its circular material use rate in the coming decade', which will involve identifying value in products that have traditionally been considered waste. It has also invested extensively in research projects, such as HYDROUSA, to trial technologies to achieve this circularity and open them up to governments and businesses.
The circular economy includes water loops, in which water is treated and reused, with value being derived from extracted 'waste' in the water, such as phosphorus or salts. HYDROUSA is working to create these loops in remote areas to benefit local individuals and industries. It currently has six pilot sites on the three islands, trialling 13 different innovations to show their applicability under different scenarios.
Wastewater
Prof. Malamis' favourite pilot, on Lesbos, includes the greatest number of integrated technologies, he says. Wastewater from a nearby town arrives at a wastewater treatment plant, where anaerobic bacteria break down the organic matter contained in the wastewater. This step produces biogas, which can be collected and used as energy feedstock. In the second phase, the primary treated wastewater runs through a constructed artificial wetland, which is made up of a number of plant species, which clean the water. The resulting water is then exposed to high-energy ultraviolet light to kill pathogens, after which local farmers can use it to fertilise and irrigate their crops, Prof. Malamis explains.
To show that it is actually safe to use, project researchers are also developing an agroforestry site, irrigated with their treated water.
Meanwhile, on Mykonos, HYDROUSA technologies harvest and store rainwater below ground, so that the water does not evaporate in the sometimes punishing Greek heat, and then disburses the water to households. On the island of Tinos, the project's technologies help an ecotourist lodge recycle waste water and rainwater, using it to irrigate and fertilise food gardens which in turn feed lodge tourists and residents in the nearby village.
These solutions rely on multiple technologies merged together. 'We have one system coupled together with another, which are from different companies, integrated, to produce the best result,' Prof. Malamis said.
To combat water scarcity in remote locations, another research initiative, Project O, is blending technologies into water management modules and demonstrating them at four small sites. Importantly, the modules are mobile and can be installed where there are no other facilities.
Two sites are water utilities in Puglia, Italy and Almendralejo, Spain, with another at a saltwater aqua facility in Eilat, Israel, and one with a textile company in Omis, Croatia.
Small scale
Big water treatment plants, such as those common in large cities, are designed to treat large quantities of water, according to Giulia Molinari, a former manager of Project O and now with IRIS, a company commercialising high voltage technology to clean water and working with the project. 'It is highly inefficient to replicate them locally for a small scale,' she said. 'We are trying to use a lot of different technologies on the small- to medium-scale to tailor the quality to the needs (of the site).'
But the various sites and industries have different water requirements. For example, not all treated water needs to be potable, she says. In industry, wastewater treated to drinking quality would be 'overengineered' and needlessly expensive.
At the Puglia site, the water is for people to drink. It comes from an aqueduct, Acquedotto Pugliese, and its quality is variable, sometimes salty, sometimes heavily polluted. This means that the solution needs to be flexible, and also able to cope with comparatively small amounts of water (about 20 cubic metres a day). This situation is very different to those in traditional water management, where every day, large quantities of water are treated in the same way. 'We can adjust treatment so that we do not treat it too much and use too much energy,' Molinari said.
Project O's response to the distinct scenarios has been to create four different modules, each containing a cascade of technologies to address the water requirements at each site. At the aqueduct in Puglia, for example, the module integrates a desalinator (which removes salt from the water) and advanced oxidation techniques (which use chemical processes to remove harmful bacteria and organic pollutants from water).
At the textile factory in Croatia, the team developed a module that uses sunlight to break down toxic organic compounds and disinfect the water, while in Spain sunlight powers advanced oxidation processes and contains adsorption technologies that can collect pollutants, while a control system integrates two technologies. The module used in Israel recovers nutrients from salty water.
Molinari works on a form of advanced oxidation technology that uses high-voltage electromagnetic pulses to break down pollutants. Currently used in the modules at the Puglia and Eilat sites, the short, but powerful bursts of energy damage illness-causing microbes and degrade organic pollutants, including many contaminants of emerging concern.
Both Project O and HYDROUSA are looking to address one of the most pressing problems in water management: how to treat water and reuse it in remote places, where there is no one-size-fits-all solution, without breaking the bank.
Given the interest from industry and municipalities, both think that they have numerous viable solutions to offer. And as fresh water becomes increasingly scarce around the world, governments and companies will be looking for technologies to treat and reuse whatever water sources they have, even if it was once considered waste.
The research in this article was funded by the EU. This article was originally published in Horizon, the EU Research and Innovation Magazine in March 2021.
Substantial progress made in Vienna; sides focusing on Safeguards
The third day of talks between experts from Iran and the EU centered around technical and legal matters regarding the Safeguards agreement between Iran and the International Atomic Energy Agency (IAEA).
Delegates from Iran, the EU and the U.S. resumed talks in Vienna on Thursday after nearly a five-month hiatus. This round of talks started on Thursday without the presence of nuclear negotiators from the European trio – Germany, France and Britain. Only experts from these three countries have attended the negotiations.
Iran believes that any agreement on restoring the nuclear deal, officially called the Joint Comprehensive Plan of Action (JCPOA), is dependent on putting an end to unsubstantiated allegations about Iran's past nuclear program. Iran insists that these questions had already been resolved within the PMD, when the nuclear deal was signed in July 2015.
According to reports, substantial progress has been made in bringing the views of Iran and the U.S. closer together during the last three days. However, in Tehran's view nothing is resolved until everything is settled.
Behrouz Kamalvandi, the spokesman for the Atomic Energy Organization of Iran (AEOI), also confirmed on Saturday that talks are mainly focused on Safeguards issues.
"We are now negotiating," Kamalvandi said of the talks between Iran's nuclear experts with Mora.
On the atmosphere of the talks, he said, "It is not bad."
Mohammad Marandi, a senior expert on nuclear issues, also told Al-Mayadeen TV that "progresses" have been made in Vienna, but one should be "cautious". He argued the success of talks is 50 percent. Marandi said the differences remain only between Iran and the United States.
He added, "We have heard from certain European sources that the Americans have revived their views on certain issues."
The Russian chief negotiator in the Vienna talks, Mikhail Ulyanov, also tweeted that there is "no unresolvable issue" on the table in the Vienna talks.
Source: Tehran Times
Giraffes, parrots, and oak trees, among many species facing extinction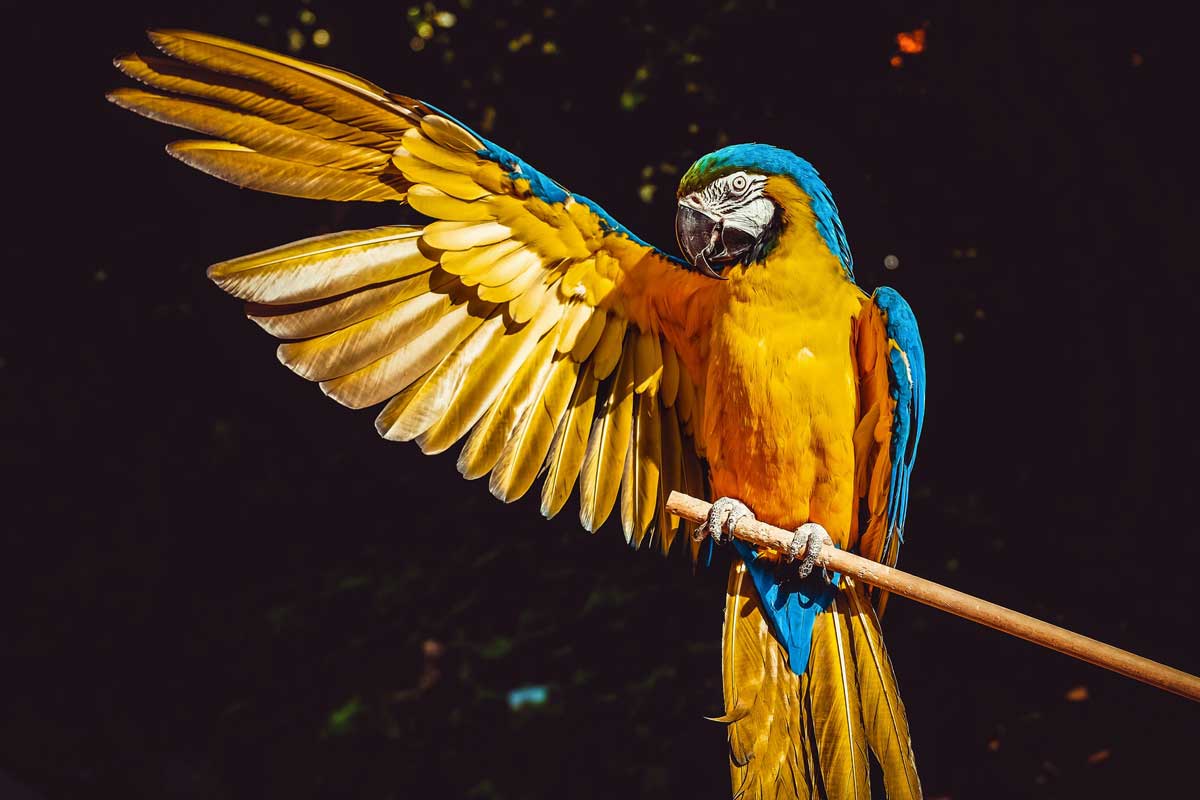 Around one million species are facing extinction, according to a report from IPBES, an independent intergovernmental science and policy body supported by the UN.
It may be surprising to learn that even giraffes, parrots, and oak trees are included in the list of threatened species, as well as cacti and seaweed.
It may be surprising to learn that giraffes, parrots, and even oak trees are included in the list of threatened species, as well as cacti and seaweed.
Seaweed is one of the planet's great survivors, and relatives of some modern-day seaweed can be traced back some 1.6 billion years. Seaweed plays a vital role in marine ecosystems, providing habitats and food for marine lifeforms, while large varieties – such as kelp – act as underwater nurseries for fish. However, mechanical dredging, rising sea temperatures and the building of coastal infrastructure are contributing to the decline of the species.
The world's trees are threatened by various sources, including logging, deforestation for industry and agriculture, firewood for heating and cooking, and climate-related threats such as wildfires.
It has been estimated that 31 per cent of the world's 430 types of oak are threatened with extinction, according to the International Union for Conservation of Nature (IUCN) Red List of threatened species. And 41 per cent are of "conservation concern", mainly due to deforestation for agriculture and fuel for cooking.
Giraffes are targeted for their meat, and suffer from the degradation of their habitat due to unsustainable wood harvesting, and increased demand for agricultural land; it's estimated there are only around 600 West African giraffes left in the wild.
Catastrophic results for humanity
The current biodiversity crisis will be exacerbated, with catastrophic results for humanity, unless humans interact with nature in a more sustainable way, according to UN experts.
"The IPBES report makes it abundantly clear that wild species are an indispensable source of food, shelter and income for hundreds of millions around the world," says Susan Gardner, Director of the Ecosystems Division at the United Nations Environment Programme (UNEP).
"Sustainable use is when biodiversity and ecosystem functioning are maintained while contributing to human well-being. By continuing to use these resources unsustainably, we are not just risking the loss and damage of these species' populations; we are affecting our own health and well-being and that of the next generation.
Indigenous knowledge
The report illustrates the importance of indigenous people being able to secure tenure rights over their land, as they have long understood the value of wild species and have learned how to use them sustainably.
Examples of the kinds of transformative changes that are needed to reduce biodiversity loss, include an equitable distribution of costs and benefits, changes in social values, and effective governance systems.
Currently, governments around the world spend more than $500 billion every year in ways that harm biodiversity to support industries like fossil fuels, agriculture, and fisheries. Experts say these funds should be repurposed to incentivize regenerative agriculture, sustainable food systems, and nature-positive innovations.