Will Family Held Hostage by the Taliban Ever Recover?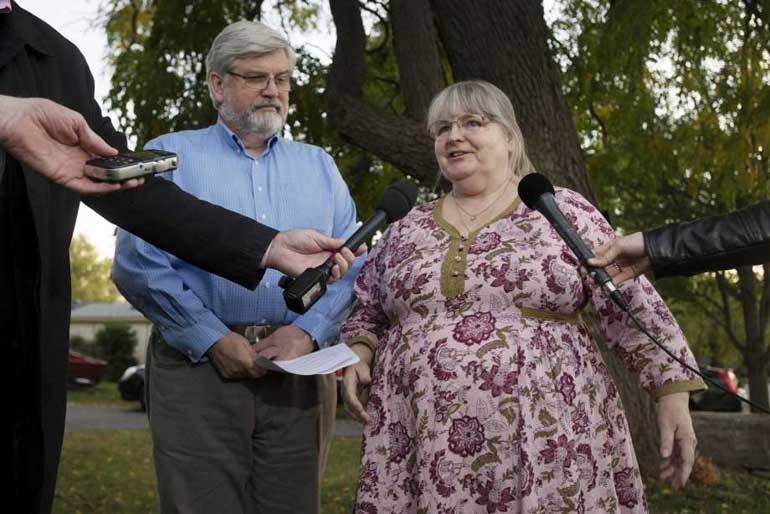 Coleman endured rape, the murder of her first child, and a terrifying rescue. A psychologist who has talked to hundreds of hostages looks at the challenges ahead for her family.
Caitlan Coleman, 31, of Pennsylvania, her Canadian husband, Joshua Boyle, 34, and their three little children were rescued by the Pakistani army last week after they were abducted five years earlier by a Pakistani-linked terrorist group known as the Haqqani network.
Since then, the statements from Boyle and family members might well make one ponder not only what hostages suffer when taken by terrorist groups, but the psychological aftermath once they're freed—with the situation of their children especially concerning.
Boyle read from a prepared statement upon his arrival at Toronto's Pearson airport Saturday telling journalists that their infant daughter had been murdered and his wife raped "as retaliation for my repeated refusal to accept an offer that the criminal miscreants of the Haqqani network had made to me." According to Boyle, Coleman's rape was not undertaken "as a lone action, but by one guard… assisted by the captain of the guard and supervised by the commandant."
Boyle told reporters that he and his wife had decided to have children even in captivity because they always wanted a big family. Caitlan Coleman was pregnant when they were taken hostage and Boyle claims their first child, a little girl, was murdered. Boyle calls her a "martyr."
Their 4-year-old son, Najaeshi Jonah has traumatic events burned in his memory. Boyle told Michelle Shephard of the Canadian newspaper The Starthat his son did not like to close his eyes because the little boy woke up one night to see masked men with Kalashnikovs picking him up. His parents already had been taken away while he was sleeping, to be transferred to another prison. Ever since, he has tried to avoid closing his eyes, even to play the childhood game of peek-a-boo.
Boyle told the CBC's Susan Ormiston that his middle child, Dhakwoen Noah, 2, is "nearly as distressed as he was in prison, it seems everything reminds him of the horrors of prison; cameras are equated to hostage videos, pens are equated to syringes used to drug his parents with ketamine by the guards, slamming doors is associated with cell searches or worse, it seems his healing process has barely begun—so we pray that God will hasten it."
Even the Boyles' months-old infant is traumatized writes Boyle in an email to Canadian Broadcasting Service stating, "Ma'idah Grace seems scared most of the time, but also to have discovered there are more decent people in the world than she knew; her world until last week consisted of two good brothers and two good parents and about 15 guards of [who were sources of] increasing fear to her."
The family was transported 23 times during its captivity with the final transport ending in a terrifying shoot-out and their rescue. Boyle emailed the Associated Press a statement saying the children had "reached the first true 'home' that the children have ever known—after they spent most of Friday asking if each subsequent airport was our new house hopefully." While Boyle emailed the AP photos of his son's delight over "raiding the first refrigerator of his life," it will clearly take time for all the family members to understand that their newfound freedom is real and won't be again taken from them.
Najaeshi Jonah, according to Boyle is "terrified to leave the house, even just to go on the porch… it's as though he thinks if he ever exits this magical wonderland it will all end…"
Speaking for himself, Boyle says he no longer trusts anyone after being held hostage for so long.
Then there's the adjustment to modern society; Boyle told journalists his sons had not yet played with their new toys but had flushed the toilet at least 200 times. "These are children who three days ago they didn't know what a toilet looks like. They used a bucket," Boyle said in the video. "Three days ago they did not know what a light is or what a door is except that it is a metal thing that is locked in their face to make them a prisoner."
Hostages often say their captivity was punctuated with bursts of overwhelming terror amid otherwise unremitting boredom. These episodes of extreme fear often include rapes, beatings, fake and real executions, torture, and verbal abuse, alongside the deprivations of captivity. The Haqqani network which also held American Sgt. Bowe Bergdahl captive for five years, is well known for torturing and abusing its captives.
Half a decade is an unusually long time to endure captivity. Most adult hostages progress in captivity through a range of feelings beginning with shock and disbelief over being taken, feelings that give way to terror, and move over time into feelings of helplessness, hopelessness, regret, grief, and depression. Alan Johnston, the BBC Journalist held in Gaza in 2005 said after his release, "It was like being buried alive and removed from the world, in the hands of people who were dangerous and unpredictable."
When hostages are held alone and deprived of sensory stimulation they may begin to hallucinate as the mind tries to fill in the blanks. This, alongside the emotional pain of isolation and losing track of time, can create fears of losing one's mind. Many hostages state that it was very important to figure out how to communicate with other hostages held nearby and to mark time—often by scratching marks on their prison walls. The ambiguity of not knowing when they will be freed creates deeper distress than having a set date in mind as the end of one's ordeal.
The Coleman-Boyle family was kept together, but it is apparent that this fact was exploited to further terrorize and dishearten them, given the murder of one child, the constant specter of violence against the other children, and the rape of Coleman.
Frequently the end of hostage-takings, occurring through rescue or ransom, add even more traumas to those of being held hostage, especially when they finish in such terrifying ways as occurred in the case of the Coleman family—with no sure knowledge that one will survive the rescue.
At the time they were freed, Coleman, her husband, and their baby daughter, according to Boyle's interview with Canadian Broadcasting Network, had been crammed into the trunk of a car transporting them from Afghanistan into Pakistan, with the two boys held inside the car, separated by a partition.
Tipped off by the Americans, the Pakistani army surrounded and shot out the tires of the car, after which a deadly skirmish began. Five of the captors were killed, the rest fled, while Joshua Boyle suffered minor shrapnel wounds. Boyle told his family in Canada that the last words he heard from the kidnappers were, "kill the hostages."
Boyle and Coleman have suffered through multiple harrowing events, including what has been alluded to as a forced abortion. Normal symptoms and responses to the terrifying ordeal of being held hostage include acute and post-traumatic stress disorder (PTSD)—having flashbacks, intrusive thoughts, nightmares, extreme nervousness, angry outbursts, inability to concentrate, depression, negative feelings, feeling alienated and isolated, and the inability to function well.
Without adequate treatment, sufferers of PTSD can worsen over time and may resort to drug and alcohol abuse to try to tone down the nervousness and quiet their flashbacks and nightmares. That said, hostages should also be given time upon their release to come to their own coping mechanisms, while being offered supportive treatment, as many will find inner strengths to guide them on their own way back into healthy adjustments.
At present, Caitlan Coleman is with her husband in Canada, although her father told NBC that he hopes their daughter and her family return to the United States and accept a Department of Defense or other program to help them get re-acclimated to life outside of captivity, including psychological counseling for their children.
Certainly after all they have endured, the family members can do with some good counseling and support to adapt to freedom. Joshua Boyle stated upon his release that he is looking forward to a safe space for him and his family to heal.
Longer captivities involving familial separations involve stressors and adaptations on both sides of the equation with time needed both by the hostages and their families to readjust. The hostage may return home traumatized, suffering guilt and regret, and needing support, while family members have also suffered anxiety, grief, and having to cope without the hostage, and may even harbor feelings of anger over risky decisions made by the hostage that led to his or her captivity.
Coleman's father, Jim, told journalists he has no immediate plans to go to Canada to see his daughter and son-in-law, explaining, "We want to see how things play out for now… I'm not on the best of terms with my son-in-law, as you can tell."
"How would you feel if your seven-month pregnant daughter was put in such a situation?" hiking in Afghanistan, Jim Coleman told NBC. "Taking your pregnant wife to a very dangerous place, to me, and the kind of person I am, is unconscionable," he told ABC in an exclusive interview.
It's usually the case that hostages have not been fed well and have been subjected to unsanitary conditions. They may return with symptoms of malnutrition and disease, as well as deep psychological trauma. Coleman gave birth four times during her five years of captivity. She was raped and may have been subjected to a forced abortion, all events for which she likely did not receive medical treatment. The entire family was held at times in an underground prison, conditions also likely affecting their physical and emotional health.
Some countries pay for the release of hostages while others do not. In the case of Coleman and her husband, they were subject to American and Canadian laws, which do not allow their countries to pay ransoms.
Terrorists do not always understand or care about the intricacies and legalities of paying ransoms and terrify their hostages in efforts to extort ransoms, making them release statements on video pleading for payment.
In December of 2016 Coleman, veiled in a black abaya and featured in front of a camera with her husband and two toddlers, appeared to be reading from a script, calling their captivity "the Kafkaesque nightmare in which we find ourselves." She implored President Barack Obama, "Please don't become the next Jimmy Carter. Just give the offenders something so they and you can save face and we can leave the region permanently." Addressing soon-to-be President Donald Trump, she added, "We ask that you are merciful to their people and God willing they will release us."
Hostages held together may be a comfort to each other, but also distress each other when they disagree about how to respond to captivity. We have yet to learn how Coleman's marriage and small family fared. Whether or not there were recriminations between them over their child being killed and Coleman's rape after Boyle refused to meet demands made by their captors is still unknown.
In the case of Canadian hostage, Amanda Lindhout, held for 15 months by Somali militants, she and her boyfriend disagreed on whether or not it was smart to fake conversion to Islam. Amanda "converted" only to find she couldn't meet her captors' demands to learn the Koran and prayers and that she was now considered marriageable by the young men holding her hostage. According to a senior Taliban member, the Coleman family also converted, probably to increase their chances of survival.
Joshua Boyle told reporters at Toronto's Pearson International Airport that they had gone to Afghanistan to help those living under Taliban rule, trying to deliver aid to villagers in a part of the Taliban-controlled region "where no NGO, no aid worker, and no government" had been able to reach, when they were kidnapped.
However, at the time they were taken hostage and still today, some intelligence experts speculate about Boyle and his motives for traveling to Afghanistan, wondering about his previous marriage and divorce from the oldest sister of Omar Khadr, a Canadian 15-year-old who was arrested by U.S. forces in Afghanistan in 2002 and became a Guantanamo detainee alleged to have ties to al Qaeda.
The patriarch of the Khadr family was killed in 2003, along with al Qaeda and Taliban members, in a shootout with Pakistani security forces near the Afghanistan border.
Boyle's associations with the family led some U.S. intelligence officials to speculate that his visit to Afghanistan may have been part of a larger effort to link up with Taliban-affiliated militants. "I can't say that [he was ever al-Qaeda]," said one former intelligence official, adding, "He was never a fighter on the battlefield. But my belief is that he clearly was interested in getting into it."
Accompanied by State Department officials on their flight home, Boyle made clear to a journalist onboard that he is interested in battling injustices. He nodded toward one of the State Department officials and said, "Their interests are not my interests."
Such speculation may be linked to the "offer" from the Haqqani network that Boyle said he refused at great personal cost to himself and his family. What that offer was is still unclear, as is the reason that Boyle is said to have refused a flight to the United States, preferring instead to fly home to Toronto.
Likewise, two senior members of the Haqqani network denied to NBC that Coleman was raped, while Taliban spokesman Zabihullah Mujahid said in a statement that the infant died after it fell ill in a remote area with lack of medical care and her death was not intentional.
There are many questions that still need answering. Just as there were controversies over the capture and trade of American Sgt. Bowe Bergdahl, there are controversies concerning the Coleman's return as well, which may also contribute to a more difficult adjustment to freedom.
Mr. Boyle's father, Patrick, said in a video posted by The Star, the couple wanted to give their "profound thanks for the courageous Pakistani soldiers who risked their lives and got all five out safely in the rescue."
Rescues of hostages are often heroic, as this one apparently was. But some are botched, or end in the deaths of those they were trying to rescue. For instance, the gas introduced into the Moscow theater siege in 2002 killed hundreds more hostages than those killed by the terrorists, although in the end everyone might have died if no rescue was mounted. One hostage held in Colombia told me that she continually prayed while in captivity that her release would be negotiated by ransom rather than the police trying to rescue her, an event she feared would end in her death.
Americans, when their country refuses ransom, may be subjected to beheadings by groups like the so-called Islamic State, since the publicity and propaganda value of an execution is of greater value to the group than holding a hostage indefinitely.
Each hostage situation is different in terms of the goals of the hostage taker, the conditions of where and how long the hostages are held. Hostages are taken for many reasons, but in the case of terrorists, their purposes generally are to instill fear in a larger population, extort money, demand political concessions from the government, or simply make a horrifying statement about their ability to take captives and do as they wish with them.
The hostage taker always wants something—money, personal safety, safe passage to another country, or in the case of terrorism, complicated political goals which may include release of prisoners, repeal of policies or law, withdrawal of troops, etc.
Terrorist goals may also include destabilizing the target government of their attack by showing its powerlessness in the face of the hostage taking. Hostage-takers use the publicity surrounding their abductions to garner support within their constituency by showing their action and devotion to the cause.
Terrorists frustrated by the hostage's inability to produce a ransom and wanting to extort the maximum amount have been known to repeatedly take the hostage to what he or she believes is her imminent execution, intricately staging the events to cause maximum terror. Canadian hostage, Amanda Lindhout, for example was taken to a remote execution site by her Somali captors and made to kneel at gunpoint as she anticipated her last moments of life. American journalist James Foley was thought to be so calm before his beheading by ISIS in 2014 because he had faced his mock execution many times before.
Knowing one's family will have to sell homes or sacrifice to generate a ransom demand creates guilt and anxiety, both during the hostage taking, and later when the freed hostage sees the sacrifices his family went through to obtain his release. Lindhout's father sold his home in order to pay her ransom.
In some cases, family members trying to collect funds to ransom their loved ones have been told not to do so by their governments, as was claimed by James Foley's mother. Accepting a posthumous award for his son, Foley's father said through tears, "I miss my son," as he went on to describe the joy and pain of talking to the European hostages held with James who had been ransomed by their governments, stating that he thought U.S. policies should be rethought.
When hostages try to escape only some are successful. A woman escaped out the bathroom window during the Nord Ost theater hostage taking in Moscow running to safety as the hostage takers shot at her. Others were not so lucky. Canadian hostage Lindhout and her boyfriend escaped only to be recaptured. The results were horrific. Both were chained up and Lindhout was mercilessly gang-raped as a result.
Hostages that are kept with their family members, as Caitlan Coleman was, can face harrowing choices. A woman I interviewed from the Beslan school siege in 2004 was offered freedom for her children if she joined the hostage-takers and took up their cause. She refused and, fortunately, did not suffer such horrific punishment as Boyle's family did.
Some hostages fall into a distorted attachment behavior during captivity in which they understand that their captor holds their life in the balance and they begin to form strong attachments to their captors. This so-called Stockholm syndrome is much more likely to occur when hostage takers isolate and talk to their captives, showing empathy or kindness, frequently interact, and are also terrifying. The combination of terror and kindness creates a "trauma bond."
In some cases Stockholm syndrome is strong enough that hostages fight alongside their captors or defend them once freed. The most famous case being Patty Hearst in the 1970s, in which she took up arms and joined her captors. Her ordeal however began with her being locked in a closet, drugged, and raped.
The press always wants to talk to freed hostages, and governments want to debrief them. But sometimes this process can re-traumatize them. One young mother released early from the Moscow siege was doing well until she returned to hold vigil outside the theater. As members of the press surrounded her and pounded her with questions, she felt as if she were taken hostage again and immediately lost her ability to speak. She suffered a strong stutter for months afterward and spoke haltingly to us as we interviewed her in Moscow.
One hopes Coleman and Boyle were just naively trying to help remote villages in Afghanistan as they claim, and have no need to clear their names. While loving family members surround them, their children can begin to discover life after captivity. As Joshua Boyle told NBC's Today, his 4-year-old son Jonah had never played with a toy, read a book, or heard of Disney characters. "He doesn't actually understand that there is a sun outside."
Let's hope they all find much more than sunshine to rebuild their shattered lives.
Reference for this Article: Speckhard, Anne. (10-18-2017) Will hostages taken by the Taliban ever recover? The Daily Beast https://www.thedailybeast.com/will-family-held-hostage-by-the-taliban-ever-recover
The Islamic State's reviving scheme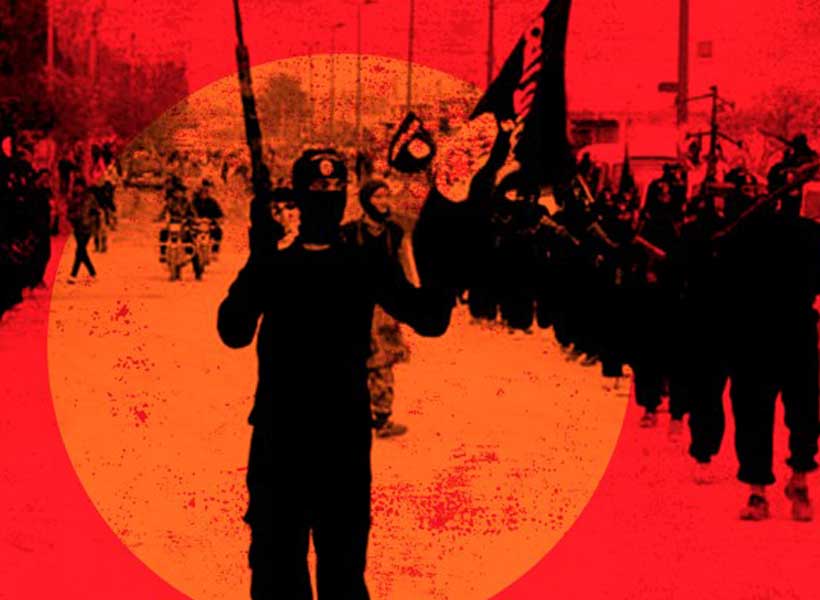 Despite the fact that ISIS lost 98 percent of its controlled territory, it is aiming for a reforming and coming back in the Sunni populated areas in Syria and Iraq. Due to the current war situation and its developed financial resource. ISIS used to relay on the territory under its control to collect billions of dollars through criminal activities such as taxation, extortion, robbery and the illegal sale of the curd oil. Now the group has shown its ability to collect money regardless of controlling large areas.
After the rise of ISIS in 2015 and the takeover of vast areas in Syria and Iraq, its budget estimation reached $6 billion, as a result, the Islamic State is considered as the wealthiest terrorist entity in the history. The question posed is how such a terrorist group budget could become equivalent to a state-nation budget? In 2015 the Islamic State main financial resources were; oil and gaze which gathered about 500$ million in 2015; taxation that generated approximately $360 million in the same year and finally; about $500 million robbed from bank vaults in Mosul.
Today the situation is different, the Islamic State has lost the majority of its territory. The global coalition had destroyed ISIS infrastructures in the Middle East as well as its communication routes and had killed the idea of the hegemonic Islamic caliphate in the region. Meanwhile, the Islamic State is struggling to control the last 2 percent of its territory. Therefore, its revenue stream from the main resources has been rapidly shrinking out.
As a result, ISIS no longer relies on the controlled territory for its financial survival. For example, ISIS leadership may have smuggled around $400 million out of Syria and Iraq. Laundering this money through fake entity is likely to occur especially in Turkey. Some other cash could be converted into valuable items and stockpiled to be used in the future.
The stockpile cash will provide the group with more than enough fund to continue as a clandestine terrorist movement with the ability to conduct campaigns of guerrilla warfare in the region. On the other hand, ISIS has supported its financial situation with a variety of funding portfolio. It has developed a range of criminal activities that do not require controlling territories such as kidnapping for ransom, drug smuggling and trafficking in antiquities.
Over the next years, the international community seeks to provide help for Syria and Iraq to recover. The reconstruction aid could provide an attractive target for the Islamic State and a possible financial boost to its comeback. It is possible that the Islamic State begins skimming off reconstruction contracts, the only way is to establish connections with the local officials which is not difficult for a terrorist entity with a huge amount of cash. Finally, the rise of the Iranian threats in the region reflects in many stakeholder's fears from an Iranian's control through Hezbollah over ISIS past territories. Therefore, a continuing support from regional states to the terrorist group is possible if ISIS adopts a suitable strategy to the supporters interests in the region.
The combination of the criminal activities, the reconstruction plan and the regional states financial support in the future will encourage the Islamic State to regroup and reorganize. For instance, in Kirkuk, the militants created a fake checkpoint to attack security forces earlier this year. Moreover, in Diyala and Saladin, sleeper cells activity began to hit back. The U.S. policy in the Middle East tends to view the war on terror as separate phases while jihadis consider it as one long war. Until the West recognize this, ISIS is likely to come over to repeat its strategy and to reviving the Islamic caliphate project in the future.
Religious radicalism as a trend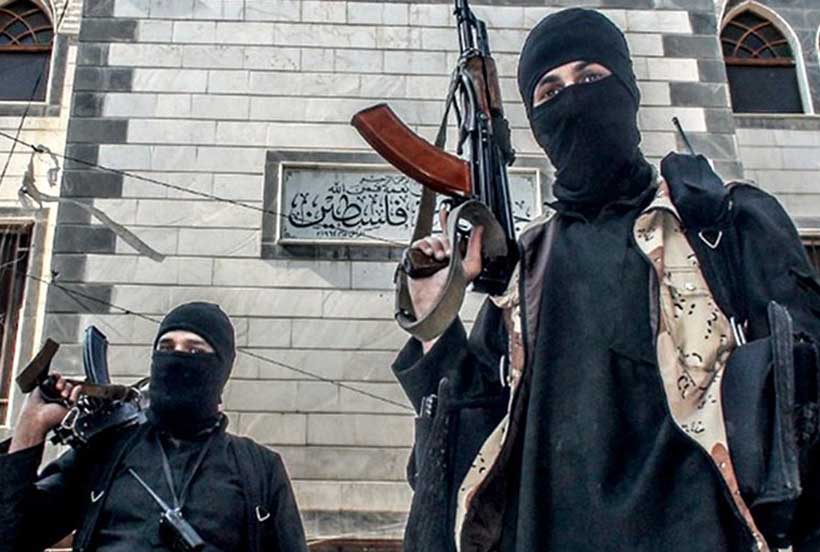 IN RECENT YEARS, much has been said about radicalism and its varied offshoots. True, the number of terrorist acts climbs up, the popularity of extreme right political forces grows, and the wave of left radical and anti-globalist movements, migration crises and international tension is rising. This is how everyday realities look in many countries of the world.
France is one of the European countries in which radical trends are only too obvious. At the 2017 presidential election, Marine Le Pen and Jean-Luc Mélenchon, two radical politicians who represented anti-establishment political movements, reaped 41% and 51% respectively of the votes cast by young voters aged between 18 and 24. On the whole, the Fifth Republic is getting accustomed to violence against the law and order structures, destruction of material assets during rallies, protest acts that keep lyceums and universities blocked for a long time, and rejection of republican values that looked unshakable not long ago. Today, when fifty years separate us from the May 1968 events, we can talk about "banalization of protests" not only among the groups on the margins of society but also among its law-abiding part.
Late in 2015, after a series of terrorist acts in France a group of scientists, mostly sociologists of the French National Center for Scientific Research (CNRS) and the Paris Institute of Political Studies (Sciences Po) launched a large-scale research project to identify the factors responsible for the spread of radical ideas among the younger generation. In April 2018, the results were published in a monograph The Temptation of Radicalism  one of the hits on the French book market.
The project is a unique one: for the first time, academic science turned its attention to the younger generation rather than to terrorist acts and those who commit them; it has become interested in the process of radicalization and the factors that plant the ideas of radicalism in the minds of high school students.
A vast, and most interesting, part of the book that deals with religious radicalism, one of the main objects of attention of the public and the media, offers two important conclusions that devalue the old and generally accepted opinions.
Sociologists have detected two component parts or two stages in religious radicalism: the "ideological" as devotion to the fundamentalist religious trends and "practical," the adepts of which are more than just religious fanatics – they justify violence for religious reasons.
The authors of the book under review who obviously prefer the term "religious absolutism" to "religious fundamentalism" have repeatedly pointed out that it is present in all world religions; the poll, however, revealed that religious absolutism was more typical of Muslim high school students.
Religion, or to be more exact, extreme Islamist trends combined with the male gender is the main factor of religious radicalization of the French youth.
This sociological study has demonstrated that the French national and confessional politics that for many years relied on the thesis that radicalization among the younger generation was caused by social and economic factors should be revised. This book made a great contribution to the broad and far from simple discussion of the place and role of Islam in French society, into which not only extreme right political movement are involved. In his speech of May 22, 2018, President of France "poured cold water" on the plan to shake up the banlieues devised by Jean-Louis Borloo. The president pointed out that more money poured into sensitive zones would not solve the main problem of radicalization.
first published in our partner International Affairs
Several armed gunmen martyred and wounded several of their compatriots during an armed attack during an armed parade in Ahwaz on Saturday, September 31, at the same time as a parade of armed forces throughout the country.
Yesterday, at the same time as the national parade on September 31st, four armed elements arrested the demonstrators at the parade of armed forces in the city of Ahwaz, where 25 civilians were martyred and 60 others were wounded in this terrorist act.
Many officials and statesmen from different countries, including Russia, Iraq, Pakistan, Turkey and Syria, conveyed sympathy to the Iranian people in condemning this move, but on the other hand, some of the countries and their affiliated media, including Saudi Arabia's al-Arabiya, while dodging terrorists, read the incident and reduced its level to an armed attack, tacitly supporting the terrorist elements of the attack.
While in the early hours of the Ya'qub al-HarTestari spokesman for the terrorist group, "Al-Ahwazia", in charge of the terrorist attack, he was in charge of this terrorist act, but with the passing of hours, the so-called "depths" media group, affiliated with the Takfiri terrorist group In a message posted on its channel, ISIS claimed responsibility for the Ahwaz terrorist attack.
In the back of the scene, some countries, including the United States and Saudi Arabia, are potentially willing to do so. John Bolton, the American senator and Turkish al-Faisal, have been present at most of the Islamic Revolutionary Guards and other opposition groups in the Islamic Republic and have asked them to carry out armed and terrorist acts against Iran. This shows that they are the first number accused, and these returns to their previous will.
Regarding exactly which of the two terrorist groups are responsible for this, it is time to wait for time to identify the hidden dimensions of the incident and also to carry out investigations by security officials, but what is now more rational seems to be to carry out the attack by ISIL terrorists. . The al-Ahwazia terrorist group, an isolated group that claims to support the Arab people, cannot operate at all, while, contrary to it, ISIL elements have such a potential capability.
On the other hand, given the threats of the past few months, the crown prince of Saudi Arabia, Mohamed bin Salman, to throw chaos into Iran, although this ridiculous threat is empty and virtually out of Riyadh's power, the al-Ahwazi terrorist group can be one of Saudi tools for To reach the goals of the saboteurs, but the point is that, firstly, in the province of Khuzestan from the past, different ethnic groups have lived together in peace and there is no social base for the destructive activities of the Al-hawazee group in this region.
The second point is that Khuzestan is a completely Shi'ite Provincial with a religious people and is fully loyal to the Islamic Republic. The injured war in the imposed war was one of the first three provinces that provided many martyrs for the revolution and preservation of the Islamic homeland. Therefore, as stated, there are no social grounds for the activities of al-Ahwazia terrorists in the area, and the action seems to have been taken by ISIL's terrorist elements that have been trained abroad for specific purposes to Iran.
Another issue to be addressed is that the terrorist attack took place on September 31st, coinciding with the start of the imposed war on Saddam Hussein against our country, which the nationwide arsenal of our nationwide parade on this day turned into a scene of the country's broader military power. Becomes, whether this is done on this day means that they wanted to undermine the Iranian power by questioning.
This means that increasing Iran's military and missile capabilities is precisely the goal that the global arrogance, at the head of the United States, is upset and is in the process of its annihilation. Over the past few years, the United States has repeatedly expressed dissatisfaction with the increasing military and missile capabilities of our country, for various reasons, while the terrorist attack has been taking place in the direction of global arrogance, and for this reason After the attack, our countrymen rightly pointed out the tip of the finger and the finger to the United States and the Zionist regime and their regional implications.
The officials in our country, who have been witnesses to the events of the past, are aware that the enemies who launched economic warfare against us are bound to pursue and not be ignorant of the political and security war against our country. Finally, the Islamic Republic, which has so far not been silent on any moves that threatened its people's security, will certainly not silence this action and will punish the agents and supporters behind it.