Indian Supreme Court: Anti-government statements not sedition
Today most governments are increasingly intolerant of the public criticism of their misgovernance, deception and corruption. The critics are attacked and even jailed – India claiming to be the largest secular democracy in the world suffers badly on that count.
Many critics face notorious seduction charges and are in jail because of their conviction to defend what they believe in. The situation has reached such a level of fear in the minds of people that they are scared of telling anything considered to be the truth in nation where its founding father Mahatma Gandhi taught the values of truth.
In India sedition is being used as state terror techniques to instill a fear and stop the critics form speaking the truth. Those who speak the truth are either killed or taken to jail. Many critics of Hindutva ideology have been murdered in Karnataka, and elsewhere and those who sell beef or eat it are beaten to death.
This vulture phenomenon is the new Indian culture of intolerance. Ever since the BJP came to power under RSS leader N. Modi, the insanity of intolerance has grown multifaceted. While the government promotes 'Ghar wapsi' to convert Muslims, Jews, Sikhs, jains and Christians into Hinduism/Hindutva, Muslims cannot propagate for their faith or convert Hindus into Islam even if the Hindus persist for joining the Islamic community. Cases are filed if a Hindu becomes part of Muslim community.
So much of hatred is being pumped into national consciousness by the regime agencies.
At long last, the Supreme Court of India has come out to clear the mess due to sedition threat through a historic verdict.
Indian courts are dumped with false sedition cases.
The Supreme Court on October 08 said that all authorities across the country would be bound by the Kedar Nath judgment of the apex court, which limits the scope of filing sedition cases under the provisions of Indian Penal Code. A bench of Justices Dipak Misra and Uday Lalit gave the direction after Prashant Bhushan appeared on the behalf of the petitioners –NGO Common Cause and S. P. Udayakumar (an anti-nuclear activist in Kudankulam Tamil Nadu, against whom sedition charges have been made and arrested on several occasions) – and said that there has been an increase in the number of sedition cases being filed.
Eminent lawyer Bhushan argued before the bench that the law of sedition is being grossly misused, misapplied and abused by the authorities and that the authorities are not following the judgment in Kedar Nath which states that Section 124A (sedition) is only applicable where there is violence or incitement to violence in the alleged act of sedition.
Taking note of this submission, the bench in a brief order, said "we are of the considered opinion that the authorities while dealing with the offences under Section 124A of the Indian Penal Code shall be guided by the principles laid down by the Constitution Bench in Kedar Nath Singh vs. State of Bihar case. Except saying so, we do not intend to deal with any other issue as we are of the considered opinion that it is not necessary to do so. The writ petition is accordingly disposed off."
The petitioners were concerned at the increasing number of 'sedition' cases being filed across the country, the latest being the slapping of a charge against Amnesty International India for organizing a debate on Kashmir and against Kannada actor-turned-politician, Ramya for her 'Pakistan is not hell remark,' and challenged this provision in the Indian Penal Code. They said there has been an increase in the number of cases of sedition against intellectuals, activists and students.
The petition was for the Supreme Court to address the misuse and misapplication of IPC Section 124A (sedition law) by the Centre and various state governments, which has led to routine persecution of students, journalists and intellectuals engaged in social activism. It submitted that these charges are framed with a view to instill a fear and to scuttle dissent and are in complete violation of the scope of sedition law as laid down by constitution bench judgment of Supreme Court in Kedar Nath.
In the petition, a prayer was made for the issuance of an appropriate writ, order or direction making it compulsory for the concerned authority to produce a reasoned order from the director general of police or the commissioner of police, as the case maybe, certifying that the "seditious act" would either lead to the incitement of violence or had the tendency or the intention to create public disorder – before an FIR is filed or an arrest is made on the charges of sedition against any individual.
In the various cases that have been filed in recent years, the charges of sedition against the accused have failed to stand up to judicial scrutiny. The petitioner therefore sought strict compliance with the constitution bench judgment of the Supreme Court in Kedar Nath in which the scope of sedition as a penal offence was laid down and it was held that the gist of the offence of sedition is "incitement to violence" or the "tendency or the intention to create public disorder". It was submitted that those actions, which do not involve violence or the tendency to create public disorder – such as the organisation of debates/discussions, drawing of cartoons and criticism of the government – do not constitute sedition.
Section 124A of the IPC states "whoever by words, either spoken or written, or by signs, or by visible representation, or otherwise, brings or attempts to bring into hatred or contempt, or excites or attempts to excite disaffection towards the government established by law in India shall be punished with imprisonment for life to which fine may be added or with imprisonment which may extend to three years."
The petitioners regretted that more than 50 years since the Kedar Nath judgment, Section 124A of the IPC was being allowed to be used irrespective of whether the alleged act or words are, in fact, seditious acts, or constituting a "tendency to cause public disorder or incitement to violence".
In carrying out arrests and slapping charges, the police and the governments have rarely, if ever, respected this restriction. Successive governments have blatantly used Section 124A to stifle the voice of dissent and to further their political goals. Quoting statistics, they said, according to the National Crime Records Bureau (NCRB) report of 2014, as many as 47 sedition cases were reported across nine Indian states in 2014 alone. Many of these cases did not involve violence or incitement to violence, which is a pre-requisite for a sedition charge. It was submitted that as per NCRB figures, a total of 58 people were arrested in connection with these cases, but the government managed only one conviction.
It said that in 1979, India ratified the International Covenant on Civil and Political Rights (ICCPR), which sets forth internationally recognised standards for the protection of freedom of expression. However, misuse of sedition law under Section 124A and the arbitrary slapping of charges continue to restrict speech in ways that are inconsistent with the ICCPR. In the Kedar Nath judgment, the apex court unequivocally narrowed the scope of Section 124A, but it continues to be misused, thereby making it imperative for this court to issue necessary directions and guidelines to uphold its decision in Kedar Nath which is also compatible with India's international obligations.
The petitioner acknowledges that words which directly provoke violence, or which directly threaten the maintenance of public order, may deserve censure. However, that is not what the misapplication of sedition law seeks to achieve. The present practice of misapplication of sedition law violates the Kedar Nath judgment. It further aims to crush all opposition to the ruling political party. The regular use of the law continues to have a chilling effect on the freedom of speech and expression in the country. It was submitted that though a small number of sedition cases lead to actual conviction; it causes harassment of individuals till the time judgment comes, which in various cases takes several years.
Meanwhile, individuals charged with sedition have to live without their passport, are barred from government jobs and must produce themselves in court at all times as and when required. A person who is charged also has to spend money on legal fees. The charges have rarely stuck in most of the cases, but the process itself becomes the punishment. The petitioners prayed for a review of all pending sedition cases and for criminal complaints for sedition made before a judicial magistrate with a view to curb the misuse and misapplication of the sedition law.
Observation
Indian government and its core media, especially the TV channels always make it a point to threaten those who speak against the policies of Indian government, particularly on foreign policy matters and Indian attitude towards Kashmiris, with sedition charges.
The historic judgment of the Apex Court on the subject has made it amply clear about the rights of Indian citizens to be watchful the government actions and criticize the actions if they are not found correct.
People have the right to question the policies and principles of Indian government, elected by the people who offer the mandate to rule the nation on their behalf for a term as such the government should enact laws to strengthen the democratic and secular fabric of India and not to try to curtail the freedoms of speech. .
Many Indian human rights people have been warned against opposing militarization of Kashmir and genocides of Kashmir Muslims in Jammu Kashmir and threatened in open in debates with seditions charges and such threats meant to bully and silence the critics of state terrorism. Even Hindus are scared of taking about Indo-Pakistan relations in a positive sense for that reason. TV channels a parade the anti-Islamic, anti-Muslims, and anti-Kashmir, anti-Pakistan guys to jointly attack all of them and make Hindus happy.
Ultra fanaticism belongs exclusively to Israel and India. Their strategic boss USA is slightly better.
Dr. Zakir Hussein – a known Islamic scholar who propagates his vision of Islam is now in jail on "serious" sedition charges. One is not sure if he would be killed in jail in some fake encounter for his firm Islamic faith in Hindutva India. Hopefully he would be released soon after the judgment.
In view of the breathtaking judgment of the Supreme Court on sedition, the federal and state governments should initiate actions if anybody either in the government or media or anybody else MP or MLA, threatens the critics with sedition charges.
India should have zero tolerance to violations of basic human rights.
The Hindutva forces should sop injecting venom into national consciousness by spreading false propagandas just for votes in the forth coming polls.
Polls come and go but unity of India and accommodation of thoughts of minorities should be taken care of by the state.
If the Hindutva forces continue to create divisions in India along communal lines, it is better if the Supreme Court, if it cannot streamline Indian politics making it non-communal as India is a great nation of several religions, languages and nationalities and cultures, could consider canceling elections for the next 10 years and ban hate communal speeches form the public platforms and in meetings.
Communal hate politics, just like fake entertainers enjoying Padma awards – meant for sincere people of meritorious, selfless services to the nation, as their birth right, has ruined Indian prestige greatly.
Majority fanaticism is ill conceived by the regime but the phenomenon is looked down upon by the world community
Aftermath of US-Afghan Peace Talks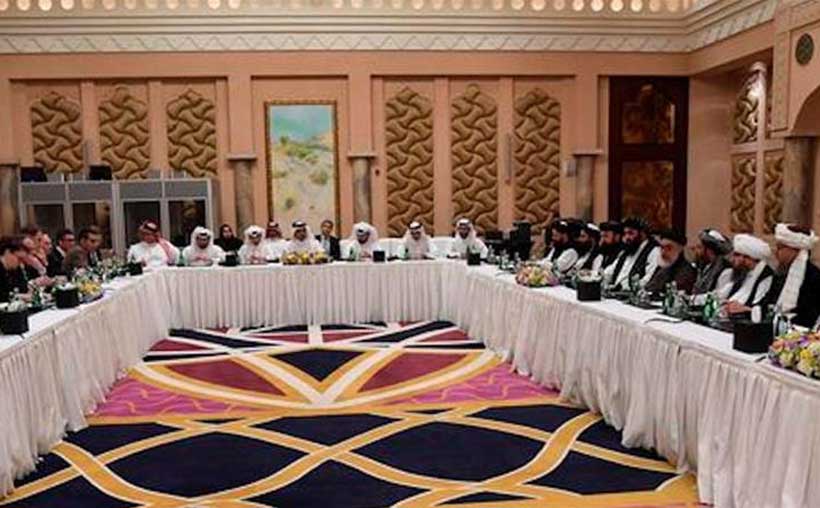 In Doha, the Capital of Qatar, an unprecedented meeting co-hosted by German and Qatari officials brought together diverse factions interested in achieving lasting Afghan peace. Sixteen Taliban and 60 Afghan representatives comprising delegates from political parties, government officials, and civil society organizations engaged in discussions that led to a potentially positive arrangement. This meeting has raised hopes for peace, but it must now be followed up by a cease fire to pave the way to lasting peace in the country.
The Taliban, which has repeatedly refused to negotiate with the West-backed government of President Ashraf Ghani, agreed to join the Peace Talks meeting on the condition that the attendees will do so in a personal capacity. For the first time since the United States started negotiating with the Taliban last year, two Afghan government officials were face-to-face with Taliban representatives at US-Afghan Peace Talks. The Doha peace talks were unlike many other conferences. The Taliban agreed to reduce their reliance on violent attacks by avoiding various public spaces. Many Afghans vulnerable to terrorism and living under severe violence have newfound hope.
The peace talks represents huge success keeping in view the Taliban's harsh policy toward women and youth. Women, in particular, have been the victims of ignorance and extremism throughout the dark chapters of Afghan history. Thus, it was a momentous development for Afghans as the Taliban leadership dined with female representatives, including one of their leading critics, Fawzia Kofi, a former MP of the Wolesi Jirga or lower house of the Afghan Parliament. This indicated a remarkable shift in Taliban's perspective towards women as they said that women would protect their rights within an Islamic framework. This change in perception had promoted a democratic framework in Afghanistan which resulted in a significant step in bringing peace and prosperity to the country. Women now work freely in the government and private sector. They represent an important portion of society and have been a symbol of change.
Moreover, the participation of youth at the Doha conference offered another notable step. It was exceptional to see those under the age of 30 who were raised under the threat of war and feared violence by the Taliban, discussed and consequently asked them for the violence to end and hope for a peaceful Afghan future. The Doha framework was conducive to discuss concerns that both sides felt comfortable to share and presented a satisfactory and excellent example of a way that both Taliban and Afghan representatives could clearly raise their thoughts patiently and in a friendly manner.
With productive peace talks between Taliban and Afghan representatives, a remarkable conclusion was reached after strong criticism and arguments. Both sides agreed to reduce violence by withholding attacks on religious centres, schools, hospitals, educational centres, commercial markets, water dams, and workstations. But the understanding now needs to translate into a tangible cease-fire across Afghanistan. The recent non-binding agreement and continued peace talks with the Taliban are suggestive of a few points.
First, the Taliban are willing to accept some sort of cease-fire as they stated that they also feel guilty for killing civilians who are fellow Afghans but they also said that they simply might not have an alternative strategy. Secondly, conferences in Doha, Moscow, Pakistan, and Uzbekistan signify the group's desire to build a new positive image. Let's not forget that the Taliban's Islamic Emirate of the 1990s was tumbled by the U.S. government for sheltering Al-Qaeda terrorists.
To portray their positive image, the Taliban are currently involved in a public relations campaign to demonstrate they are not as unfathomable as the international media has represented them. Sitting openly with Muslims, non-Muslims, and female journalists, as well as dining with them, paints a convincing picture. This could be another tactic to have an influence on Afghans in order to achieve their goals, such as US NATO troop's withdrawal and establishment of an Islamic State also. The Taliban will not easily abandon their goal of establishing an Islamic Emirate despite continued diplomatic efforts. But in case of a cease-fire, they will certainly function as a political party that might hold major offices in the Afghan government, will also mould the current criminal code of Afghanistan because they consider it as mixture of Roman-Germanic and Islamic sources which is not acceptable to them at all, hence they will work towards adamantly implementing what they view as Islamic Shariah law.
Keeping in view the above mentioned discussion, some hope of peace has been achieved despite corruption, poor internal situation and after 18 years of chaos and instability in Afghanistan. But a country which has undergone four decades of war needs time and space to restructure and overcome such differences. The present version of Afghanistan is altogether different from the pre-9/11 Afghanistan. From women empowerment and youth participating in different fields to technology in villages by which people share their concerns and happiness, via social media, the ideological transition in Afghanistan is incredible. Somehow violence has been switched by better systems through discussions and a positive comprehensive political approach. In an ideological governed nation like Afghanistan, which is predominately tribal, it is fundamental that its own people bring change through talks that concrete the path towards peace and prosperity. The peace in Afghanistan holds significant importance for the neighbouring countries also, but the path toward sustainable peace can be laid only once a cease-fire is agreed and adhered to by all the parties.
Pak-US Relations: The Way Forward
Cooperation and Trust is the only way forward for Pakistan –US relations. Both countries have wasted a huge time experienced severe challenges since the relations become soars. Both nations have learned bitter lesson s during recent history and realized that both have suffered a lot due to the coldness of relations between the two countries. I believe it is never too late, always "There is a way if there is a will". I think the time has reached to restore traditional trust and cooperation.
Prime Minister Imran Khan is scheduled to travel to the USA on 20 July. He will meet President Trump and senior administration during his stay in the USA. He is also accompanied by a powerful high-level delegation to make the decision at the spot instantly. However, Foreign Offices at Islamabad and State Department in Washington are working day and night to make this visit a turning point and historic success. Expectations are high from both sides. The whole world has focused on this important visit and make their own opinion. Some of them are discussing the challenges, and others are focused on positive outcomes. I myself am very much optimistic.
It has been realized by the US administration that they cannot achieve strategic goals in this region without the instrumental role of Pakistan. And Pakistan has also suffered a lot, especially on the economic front without US support. It is in the best interests of the two nations to respect each other and cooperate with each other. The way out is trust and dialogue, but not the coercion and isolation.
Background
During the Cold War, Pakistan was a big supporter of the US and protected American interests in the region, including during the Soviet occupation of Afghanistan. Pakistan was also a close ally in the "war on terror" after the attacks on the World Trade Center and the Pentagon on September 11, 2001. Our history is full of success stories and excellent cooperation.
However, although Pakistan extends a cordial hand of friendship to the US whenever it needs support, the US always steps back when it no longer needs a Pakistani role on an issue, and relations decline. Pakistan has faced some of the toughest and strictest US-sanctions in history.
The two countries have always cooperated with each other on their common goals and interests, though the US has failed to value Pakistan's interests and has kept on making demands. "Do more" has been the message of the US leadership in recent years, without understanding Pakistan's capacity to comply, or its own interests. Our relations were transactional in nature and limited to assignment based. Once the project was completed, the relations were cooled down.
During the past few years, the US has blamed, coerced and threatened Pakistan. The US used all international forums to pressurize Pakistan like FATF, IMF, UNSC, etc. Extended hands of extreme friendship toward India, without considering the impact on Pakistan. The sacrifices of Pakistan being the ally of the US, especially casualties of 8000 Pakistani nations during the Afghan war and an estimated economic loss of US$ 250 billion, along with a gift of extremism, terrorism, gun culture, corruption, misgovernance, ethnic violence, and religious divide, etc. Of course, there exist some concerns on both sides, and some of these may be genuine, but some are based on misunderstandings only.
Afghan Situation
Currently, the major part of Afghanistan is controlled by the Taliban. Americans cannot walk freely and fearlessly in the streets of Kabul or any other big city. They are not safe except inside military camps. In practical terms, it is the Taliban who rule most of Afghanistan, not the US-supported government of President Ashraf Ghani.
The US is the superpower, spent US$ trillions and used all possible lethal weapons along with best-trained troops, could not win the Afghan War. The US was fully supported by NATO and its allies, utilized their resources and involved India, but still failed to achieve any success.
A situation has been reached where the US administration has decided to withdraw its troops from Afghanistan. Whether they can withdraw easily? A big question mark? Afghanis bordered with China, Iran, Central Asia, and Pakistan. I think only Pakistan can help peaceful and honored the withdrawal of its troops from Afghanistan.
There is a convergence of interests in resolving the Afghan issue. Pakistan and the US may cooperate with each other in a very positive way. But, after the assignment is over, what will be the behavior of the US with Pakistan, past experience was never satisfactory.
But we are optimistic that the Visits of Imran Khan may bring a different outcome. We may cooperate on the Afghan issue and hope the US will respect Pakistan's strategic interests with China, Russia and in the region. The US may not create hurdles in smooth execution of CPEC and acquisition of defense needs from any country including China and Russia. The US may not allow India to use American support against Pakistan, American weapons and technologies against Pakistan, American intelligence against Pakistan.
The way forward
However, Pakistan is a peace-loving country and our record in the UN peacekeeping force is admirable. Our sacrifices during the "war on terror" go beyond any other country.
We promote peace, stability, and prosperity all around the globe. Our role in this region is vital. Pakistan's geostrategic importance is well known to the US. Think-tanks, civil and military leaders in the US also understand Pakistan's importance.
Pakistan wants good relations with all countries and would like to extend all possible support and cooperation for achieving the common goal of "Peace, Stability, and Prosperity" throughout the world. We desire to work closely with all countries – including the US.
From Gujral doctrine to Modi doctrine
Authors: Punsara Amarasinghe and Eshan Jayawardene*
The predictions made by larger number of academics based in Delhi, Mumbai and Calcutta about Indian General elections vouching that Narendra Modi would not get his second term as prime minister were shattered in reality as Modi could uphold his strong position better than the previous time resulting a steeping success of his Bharatiya Janatha Party which won 302 seats in Indian Lok Saba. The election result has palpably shown a shocking decline of India's largest political party National Congress led by Rahul Gandhi as Congress could solely win only 52 seats in the legislature. The gob smacking results of the election seems to have given a clear picture of voters pulsation as the ground reality in the sub-continent albeit many pundits made pro congress predictions while accusing Modi's poor economic policy and demonetization as two major factors behind the economic crisis India has been facing now.
However, the Himalayan image Indian premier has built up on himself among countries majority Hindu population has been mainly attributed to his stanch belief in Hindu ideology and his image seems to have depicted as a Hindu messiah who has come to regain the deserving place for nationalist forces. It is an important question to focus whether such ideological attitudes possessed by Modi and his Bharatiya Janatha Party would make impacts upon carving India's foreign policy for next five years. Before reaching the position of Indian premier's approach towards foreign affairs, particularly regarding South Asia, it becomes an interesting factor to trace how Indian foreign policy on South Asian states were shaped under Gujral Doctrine which happened to be a milestone in Indian foreign policy when it was rendered by minister of external affairs in Dev Gowda's government in 1996. Basic mantra of Gujral doctrine affirmed India being the larger power in South Asia should not ask for reciprocity, but gives all that it could in good faith to the neighboring countries like Sri Lanka, Bhutan, Nepal, Maldives and Bangladesh. Notably Pakistan was excluded from this benefited category and it further elucidated that no country would allow to be used against the interest of another country in the region. One of another pivotal principle of Gujral doctrine was the noninterference of the internal affairs of the neighboring countries and resolving disputes through amicable bilateral negotiations.
This doctrine has been regarded as a strategy initiated by Mr. Gujral in reducing the influence of both Pakistan and China in a hostile manner while upholding a stable peace with other neighbors. In fact, this doctrine has played an indispensible role as a major principle for many prime ministers since 1996 though none of them had officially admitted the influence of Gujral doctrine over their foreign policy mechanism. Yet the changing winds of Indian foreign policy seems to be evident after the astonishing victory of Narendra Modi and it would be an interesting task to assess how would Gujral doctrine prevail before the galactic persona of Modi as a leader who seeks much dominating authority in his foreign relations in South Asia. Since Modi became premier in India, its foreign policy was heavily affected by his personal aura and besides his troublesome past of his alleged involvement in the communal violence of Gujarat in 2002 during his tenure as its chief minister, many countries have received him with awe and Russia honored Modi by awarding him the highest state decoration called "Order of Saint Andrew the Apostle "in 2019.
In understanding his foreign policy for his second term, it becomes salient that his famous slogan "neighborhood first" is likely to continue, at least nominally. But the truth in reality is Narendra Modi's sole personal image driven by his Hindutva ideology would make some lasting impacts in foreign relations with India's immediate neighbors and beyond it. The next notable factor appears to be stunning in Modi's foreign policy is that contrary to India's fervent position of defending secularism, the space for religious diplomacy has rapidly increased for past few years in India's foreign policy. In the contest between China and India as rivals for decades, it is a question beyond doubt that Chinese political, militarily and economic powers are far ahead of India, yet in terms of soft power mechanism India has successfully forged ahead and Modi's approach to his foreign relations too has taken a special interest in portraying India's spiritual legacy to the world extensively as propaganda tool. For example during most of his foreign tours as premier, Modi paid frequent visits to major Hindu, Buddhist and Sikh sacred sites, also his active role in introducing June 21st as International Yoga Day shows his effort in propagating India's ancient practice of meditation yoga as a soft power tool beyond the sub-continent. The utmost veneration towards Indic religions such as Buddhism, Hinduism, Jainism and Sikhismas an important feature in foreign policy had not been a principle practiced by previous Indian prime ministers since Nehru who was a doyen of secularism. On the other hand the notion of Hindutva stemming from Modi's political party BJP and his personal ideology may confront with carving the foreign policy of India generally. The notion that Hindutva involves an obsession with national power needs to be placed in its historical context. V. D. Savarkar, M. S. Golwalkar, H. V. Sheshadri, and other stalwarts who developed its ideational foundations believed that the golden age of ancient Hindu civilization had been lost owing to material and moral weakness, which had brought it under the prolonged subjugation of Muslim and Christian/ British power. The great iconic personality he has been creating abroad as leader coming from a greater civilization and his ardor of using Hindi as the language of communication in his foreign state visits even though he is well versed in Hindi are the most notable examples showing the way of his foreign policy driven by Hidututva ideology.
Modi's beginning of his first term was quite optimistic in terms of his attitude to India's immediate neighbors in South Asia and this was visible as all South Asian leaders were invited to his inaugural ceremony in Delhi in 2014,but throughout his first term it was evident that Modi could not keep his grip over India's neighbours like Sri Lanka, Nepal, Maldives and Bangladesh where Chinese influence have appeared to be a predominant factor. For instance New Delhi was alleged to have some involvement in toppling former president Mahinda Rajapakse from power yet his successor Maithripala Sirisena and government of Sri Lankan premier Ranil Wickramasinghe have not been able to completely get rid of Chinese presence in Sri Lanka despite both personalities are known for their pro Indian policies. Modi" s last few months may have brought him a sudden success from the jingoistic voters from Hindu mainstream in India as last February India's jet fighters crossed into Pakistan territory and engaged in aerial combat in first time in nearly 50 years. In India's history since independence several prime ministers had confronted Pakistan militarily, yet the propaganda used by Modi convinced the people only he is able to keep India secure from Pakistan.
Cardinal approach likely to be adopted during Modi's second term on Indian foreign policy has much idealistic feature to uphold Indian hegemony in South Asia and moreover Modi's foreign policy would pay a much attention in using soft power as a greater strategy in India's path to global governance. Rise of Xi Jinping as China's powerful assertive president and his astute actions on expanding Belt and Road initiative across South Asia seems to have created a sneaking agitation in India for past few years. In such a situation Modi's foreign policy for next four years five years would be decisive in terms of uplifting India's image a key player.
*Eshan Jawardane is a Sri Lankan researcher currently lives in New Zealand. He holds BA in Sociology from Delhi University and completed MA in International Relations at Jawaharlal Nehru University in New Delhi. He served as a guest lecturer at Sri Lanka Open University for a short period. Eshan can be reached at eshan.jayawardane[at]gmail.com