Why is George Soros still Eastern Europe's biggest scapegoat?
Blaming your nation's woes on George Soros is becoming something of a cottage industry in Central and Eastern Europe. In recent weeks, both the Hungarian and Romanian governments have ramped up their anti-Soros rhetoric in an attempt to deflect from their own failings. Such a tactic, however, can only last so long.
The name of Hungarian-born Holocaust survivor, business magnate, and philanthropist George Soros has been a dog whistle for populists in the region for decades. As the Cold War came to an end, Soros set up the liberal-minded Open Society Foundations, the Central European University in Budapest, and a number of other progressive institutions, which have all proven to be soft targets for conservative and populist politicians in Central and Eastern Europe.
Currently, the most intense animosity comes from Viktor Orban's right-wing Fidesz government. Their latest move was the decision to issue a 'national consultation' questionnaire, which accuses Soros of overseeing a plot to flood Europe with more than one million refugees a year and of manipulating the European Commission the direct the plan. The questionnaire will ask citizens if they agree with Soros' alleged support for certain measures, such as tearing down border fences.
It's true that Soros argued in a 2016 op-ed that the EU should guarantee at least 300,000 places for refugees to minimize irregular migration. But he also argued vehemently against forcing European countries to accept refugee quotes. Despite this, the Hungarian government has labelled a 2015 decision by more than 20 EU member states to establish a refugee resettlement program a central part of the so-called "Soros plan." Most recently, in a speech ahead of the questionnaire's release, Secretary of State for Energy András Aradszki went so far as to frame his party's campaign against Soros in explicitly religious terms. Speaking on the floor of the parliament in a discourse called "The Christian duty to fight against the Satan/Soros Plan," he linked Soros with everything from abortion to same-sex marriage to euthanasia.
Such a ludicrous – and sadly, often effective strategy – of heaping blame on an external bogeyman is emblematic of the political populism that is rising in the region. In Hungary's case, the timing of the questionnaire has been carefully calculated to harness this populism, as the national consultation comes six months ahead of parliamentary elections. Orban's decision to put anti-Soros, anti-refugee, anti-EU rhetoric at the heart of the consultation – and of his political platform – is likely to succeed in further firing up Fidesz's wide right-wing voter base, which is already backed by 55% of decided voters, as well as the radical, far-right supporters of the Jobbik Party.
The leader of Romania's governing Social Democrats, Liviu Dragnea, has also seen the benefits of blaming some of his country's most sensitive issues on Soros. The Hungarian-American billionaire is a useful foil for Social Democrats, especially given their lingering anxiety over fallout from anti-corruption protests last winter. Back then, the government-friendly channel Romania TV blamed – who else – Soros for paying protesters and their dogs to demonstrate against the ruling party.
In Romania, Soros is often linked with the 'deep state', a concept once prized by conspiracy theorists that has now become widespread. According to this line of thinking, the Romanian deep state is comprised of a select network of journalists, activists, and prosecutors bent on undermining democratically elected officials and sowing turmoil by pursuing anti-corruption efforts.
Piggybacking on this mind-set, a number of 'deep state' conspiracy theories have emerged around the Romanian Anticorruption Directorate's (DNA). The most resounding one revolves around the body's efforts to extradite Alexander Adamescu, the son of a Romanian business mogul who fled to the UK under charges of corruption. The DNA has issued a European Arrest Warrant for Adamescu, who allegedly bribed judges to avoid being charged for fraud – but the London-based fugitive is claiming that the deep state wants to silence him and has mounted an international lobbying campaign in an attempt to frame the charges against him as politically motivated attacks. His campaign plays well for an audience already primed to suspect the DNA and other state authorities of ulterior motives.
But that's not all – seemingly every move in Romania can be blamed on Hungarian billionaire. A recent debate over an upcoming referendum that seeks to amend the constitution in order to ban gay marriage has been laced with Soros references. Conservative supporters of the amendment have been attempting to frame the choice as one between a traditional, family-orientated society on one hand, and one manipulated by "Brussels-supported, Soros-financed" NGOs on the other. The debate goes hand-in-hand with the government's wider political strategy, one mirrored in Hungary and Poland, which aims to promote a conservative agenda focused on protecting the nation from outside threats – such as refugees, gay people or Soros.
Such conspiracy theories, and the tendency to blame them on Soros-funded NGOs, are the symptom of a wide and concerning trend across Central and Eastern Europe – one replicated not only in Hungary and Romania, but also in Macedonia, Poland, Serbia, Slovakia, and Bulgaria, where populist politicians are manipulating citizens' fears for their own ends. For more liberal-minded states in the EU and for Brussels, this trend is deeply worrying.
To be fair, when it comes to initiatives like Hungary's national consultation questionnaire, there might not be much that outside actors like the EU can do. But when confronted with more concrete moves that contravene the European acquis – such as Hungary's continuing refusal to acknowledge its obligations under the EU's refugee-sharing program – Brussels should not hesitate to take more decisive action, such as closing off the spigot of structural funds. Otherwise, the anti-Soros campaign and all it stands for now risks snowballing out of control.
Armenia: Lies and realities
The OSCE Minsk Group was established to resolve the Nagorno-Karabakh conflict, which arose as a result of Armenia's brutal interference in Azerbaijan's internal affairs and military aggression. However, the activities of the OSCE Minsk Group co-chairs have been fruitless for almost 30 years. Armenia did not comply with the UN Security Council Resolutions No. 822, 853, 874 and 884 on the unconditional, prompt and complete withdrawal of the Armenian occupying forces from the territories of Azerbaijan. Armenian was trying to impose occupation fact and to bring it to a "fait accompli." At the same time, Armenia was preparing to occupy new territories of Azerbaijan and commit provocations. Armenian Defense Minister David Tonoyan confessed: "We will not return an inch of land to Azerbaijan and will occupy new territories."
In July 2020, the Armenian leadership committed another provocation in the direction of the Tovuz region of the Azerbaijani state border. There were several purposes in this provocation. First, to occupy the territories, where the Baku-Tbilisi-Ceyhan main export oil pipeline, which plays a vital role in Europe's energy supply, the Baku-Tbilisi-Erzurum gas pipeline, TAP and TANAP lines pass, and the Baku-Tbilisi-Kars railway connects Europe and Asia. Furthermore, as a result, to obstruct the access of the Republic of Azerbaijan to Europe. Second, to divert attention from the Nagorno-Karabakh conflict and involve the CSTO, especially Russia, in the war. However, the Armenian occupying forces were repulsed and failed to achieve any of the above purposes. Armenia's intentions against European countries and peoples have failed.
Later, Armenia committed provocations again, in response, when Azerbaijan took action, the Armenian leadership began to spread slander and false news in order to deceive European public opinion. Let us look at just two of them. First, the Armenian side tried to cover up their aggression policy and abuse the religious feelings of Christians around the world by spreading false information about the alleged attack of the Azerbaijani army on the church in Shusha. Even those unfamiliar with military science know that if the church had been hit by a rocket, it would have collapsed. However, the church was in place. On the other hand, mosques, churches and synagogues have coexisted in Azerbaijan for many centuries. Even the Armenian church, which is located in the centre of Baku, including its library, is protected by the Azerbaijani state and its guard also is Armenian. It can be questioned that what did Armenia do in return for Azerbaijan's care for the church, the house of God? Armenians intentionally kept pigs in mosques in the occupied Aghdam and Zangilan regions of Azerbaijan. Their photos and videos are available on the Internet. The church, the mosque and the synagogue are the houses of God. By treating mosques as an object for insults, Armenia is tarnishing Christians, and Christianity, which is a religion of peace and coexistence. Russians, Jews, Georgians, Ukrainians and others, who are Azerbaijani citizens in the ranks of the Azerbaijani army, are fighting for the liberation of Azerbaijani lands from occupiers. Prayers for the Azerbaijani soldier are being held in all churches and synagogues in Azerbaijan. His Holiness Pope Francis, who visited Baku a few years ago, praised the policy of Azerbaijan in terms of inter-religious and inter-civilizational dialogue as an example.
Secondly, Armenia is lying about Azerbaijan's alleged "genocide" of Armenians, which is nonsense. Because currently, more than 30000 Armenians live in Azerbaijan peacefully. If there was any discrimination policy against Armenians, how could so many Armenians live in Azerbaijan? However, the situation is different in Armenia. Since 1988, over 250000 Azerbaijanis have been savagely expelled from Armenia. Today there is no single Azerbaijani in Armenia and Armenia is a mono-ethnic state. At the same time, more than 750000 Azerbaijanis were expelled from the occupied Nagorno-Karabakh and surrounding territories of Azerbaijan and became internally displaced persons.
Thus, on the one hand, the Armenian leaders pose a direct threat to Europe's energy supply, and on the other hand, they try to use the religious feelings of the European people for their own interests by spreading false news and figments. However, they forget that the world is very small now, and everyone sees everything well. So, the question is: what is the name of Armenia's policy? The answer is clear!
Ceasefire Violated, Civilians of Ganja, Azerbaijan Hit –Again
Authors: Julia Jakus and Anar Imanzade
Intensifying rocket and artillery fire exchanges between Armenia and Azerbaijan have driven military overtures from both sides as well as mutual accusations that civilians are being unlawfully targeted. The disputed region Nagorno-Karabakh has long been the catalyst of periodic clashes, but the situation dramatically deteriorated over the last several weeks. Why is Nagorno-Karabakh so ardently contested, and what are the implications of recent escalations in this conflict?
The Nagorno-Karabakh and seven surrounding districts were occupied by Armenian forces between 1988-1993 (Council on Foreign Relations, 2020). One year prior to the end of this occupation, Armenian forces massacred over 600 Azerbaijani civilians in Khojaly on February 26, 1992. Following the military occupation of the region as well as its seven surrounding districts, over 1.000.000 people were displaced – most of whom had immediate family members and relatives who were killed during the 5-year occupation.
Since 1992, the Armenian military has occupied upper Karabakh laying claim to the territory on the basis that the region harbors an ethnic majority of Armenians. However, no less than four UN Security Council resolutions (822,853, 874, and 884) recognize the Nagorno-Karabakh region as being a part of Azerbaijan and actively call for the immediate withdrawal of the Armed Forces of Armenia from occupied territories within Azerbaijan. Although a ceasefire was signed in 1994, the region has remained under Armenian occupation (Jeyhun Aliyev and Ruslan Rehimov, 2020).
From Border Clashes to Bombings
In July,the border clashes near Tavush of Armenia (Tovuz of Azerbaijan)resulted not only in 16 deaths (12 Azerbaijani, 4 Armenians) but also spiked these long-simmering tensions between the two countries. Azerbaijan responded by shelling military objects in Stepanakert (the capital of Nagorno-Karabakh). The most recent operations recommenced on the 27th of September when Azerbaijan took the city of Hadrut (which is geostrategically important because of its proximity to the heart of Karabakh). Since then, the Armed Forces of Azerbaijan have liberated some of its territories namely via targeting military components such as artillery batteries and other facilities. While Azerbaijan proclaims that they are liberating the region, Armenian officials decry that Azerbaijan and Turkey are conspiring to commit another genocide against the Armenian people.
Although memories of 1915 still burn painfully in the hearts and minds of Armenians, many might argue that mobilizing memories of the 1915 Genocide with reference to the Nagorno-Karabakh actively ignores the fact that geopolitical conditions have markedly changed over the last 100+ years. Because Armenia is a member of the CSTO, if Armenia is attacked, then Russia and other members of this organization bear an obligation for military interference on their behalf. Likewise, more than 100,000 ethnic Armenians live in Azerbaijan in relative peace while veryfew Azerbaijani live in Armenia which means that very little threat should emanate from within Armenia's borders. From this angle, it certainly appears that the main aim of Azerbaijan remains exclusively the liberation of its occupied territories.
The last week of September and the first week of October were marked by particular ambiguity as both sides ardently claimed to have succeeded in gaining the upper hand. However, the dynamic changed significantly on the 9th of October when both the Azerbaijani and Armenian Foreign Minister were invited to Moscow. There, they each agreed to a humanitarian ceasefire and promised to exchange the bodies of fallen soldiers beginning on October 10th. However, on the 11th of October between 2:00 and 3:00 am, Armenian Forces launched another missile attack on Azerbaijan's second-largest city Ganja (the first occurred on the 5th of October). In the second attack, a missile struck a civilian residential building and resulted in the deaths of 10 people, more than 35 injured. Children were among both the fatalities and casualties. By targeting residential areas in the city of Ganja immediately following a ceasefire agreement, this military overture not only violated the Geneva Conventions but also upended over 30 years of negotiations presided over by the Minsk Co-Chair Group of the OSCE.
The city of Ganja lies in the West of Azerbaijan, just North of the contested Nagorno-Karabakh region. It is seen as an energy corridor from the Caspian Sea to global markets, and for this reason, bears a strong geostrategic value. On the heels of 3-decades of diplomatic stagnancy, the Armenian Prime Minister NikolPashinyan has made provocative remarks that steer away from rather than toward conflict resolution such as, "Karabakh is Armenia…full stop" (Eurasia.net, 2019). The deaths of Azerbaijani civilians in recent attacks appear to have had the greatest unifying effect on the Republic of Azerbaijan since its independence from the Soviet Union in 1991. The Azerbaijani demand to end Armenian occupation has even garnered the support of opposition leaders for Ilham Aliyev, the president of the Republic of Azerbaijan.
Global Implications
As Armenian-Azerbaijani tensions escalate, both Russia and Iran have offered to broker peace talks. Macron and Trump have also publicly advocated for a ceasefire, in spite of powerful Armenian lobbies residing in both states. Azerbaijan has indicated that it is not willing to wait another 30 years without action. The ceasefire, to Azerbaijan, is tantamount to the permanent withdrawal of Armenian troops from the Nagorno-Karabakh region. To Armenia, stepping away is associated with abandoning ethnic Armenians living in the Azerbaijani territory—in spite of the international resolutions demanding them to.
External actors have also played a complicating role. For example, while Moscow publicly advocates for a ceasefire, Russia maintains a military pact with Armenia to the extent that they have continued to send military equipment to Armenia… while simultaneously bearing otherwise good politico-economic ties with Azerbaijan. This, in turn, raises Russia-Turkey tensions. Erdoğan recently pledged his allegiance with Baku on the basis both of historic alliances and existing economic ones. This is not surprising given the historic animosity between Yerevan and Ankara as well as the fact that vital oil and gas pipelines run from Baku to Turkey. Global responses have been mixed. All foreign powers watching the violence escalate have kept a keen eye on the pipelines, but some surmise that –until oil and gas are impacted – those same powers are likely to try to dismiss the issue as an internal clash. Still, other world leaders to UN Secretary-General António Guterres have been calling for a true ceasefire.
The dispute presents a situation riddled with competing narratives, but one thing is certain: as military overtures bleed beyond the traditionally contested region and into civilian cities of Azerbaijan, the prospects of fruitful diplomatic relations between Azerbaijan and Armenia over the disputed region of Nagorno-Karabakh recede.
A Chill in Georgia-China Relations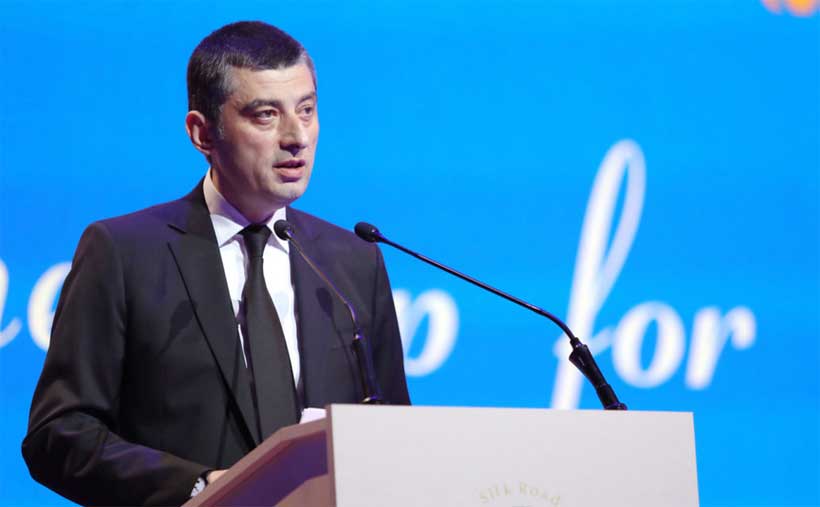 A sense of growing disenchantment is starting to dominate China-Georgia relations. Given China's ambitious Belt and Road Initiative (BRI) and Georgia's geographical importance to the realization of China's plans, Georgian elites had high hopes for the future. Today, few people are as enthusiastic.
The relationship used to look promising. In 2017 China and Georgia signed a free trade agreement to remove customs barriers, in a move Georgian leaders hoped would boost exports and help develop the Georgian economy. The Georgian government also expected an increase in Chinese investments into Georgia's infrastructure, specifically its Black Sea ports of Poti, Batumi, Anaklia, as well as east-west rail and road links. Several large-scale investment forums were held in Tbilisi for that purpose.
Fostering closer ties with China was also seen as a vital component of Georgia's quest to balance Russia's regional influence, and as a hedge against Russian military moves in occupied Abkhazia and South Ossetia.
The hopes for improvements in trade have not panned out. While there has been a steady increase in overall volume, statistics show that Georgia mostly exports raw materials to China, such as copper and various chemicals. A market for goods higher up the value chain has not materialized. Similarly, concerns over corrupt practices have increased, especially tied to how Chinese companies have been awarded contracts. One illustrative case concerns Powerchina's subsidiary Sinohydro winning a €26.3 million tender for the reconstruction of a 42-kilometer section of the Khulo-Zarzma road. Sinohydro has a long record ­– both in Georgia and abroad – of corruption, environmental degradation, and of generally shoddy work. And yet it keeps winning new tenders.
Furthermore, it has become apparent to policymakers in Tbilisi that China will not go out of its way to harm increasingly important relations with Russia. For example, China has been generally unhelpful on key diplomatic issues critical to the Georgian side. It repeatedly failed to back Georgia's UN vote on refugees forcefully expelled from Abkhazia and South Ossetia by separatists and Russian troops. It repeatedly failed to denounce de-facto presidential or parliamentary elections held in Georgia's occupied territories. China has also stayed silent on Russian cyber-attacks against Georgia over the last few years, as well as on Russian "borderization" policies in South Ossetia. Its Ministry of Defense even announced that it would participate in the Russian-led "Kavkaz-2020" exercises, alongside troops from Abkhazia and South Ossetia.
China has also helped the Kremlin seed destabilizing disinformation in the country. On September 2, the Chinese state media outlet China Daily questioned the utility of the U.S.-funded Lugar Laboratory located near Georgia's border with Russia and alleged that it both represented a biohazard risk to Georgia and that Georgian citizens were being unwittingly used as test subjects.
All this stands in striking contrast with Georgia's Western partners, who continuously stand up for Georgia's foreign policy priorities, as well as for its territorial integrity. Though increasingly disenchanted with China, Georgian leaders continue to walk a diplomatic tightrope, keen to not draw ire from China while preserving its ties to the West. But as America's stance on China hardens, it will be more and more difficult to maintain this balance. In a series of public letters addressed to the Georgian government sent earlier this year, U.S. congressmen and senators have been explicit that Georgia needs to avoid deep entanglements with China and hew closely to Western standards and trade practices.
The balancing act is simply unsustainable. Georgia's NATO and EU membership aspirations, the cornerstone of its geopolitical orientation, are an irreconcilable irritant for China, especially as the Alliance expands its scope to face down China's growing military ambitions in the Indo-Pacific region. Georgia will be forced to pick sides eventually.
And the outcome is a foregone conclusion. At this point, criticizing China openly would cost Georgia a lot, which means that Tbilisi taking a firm stance on Taiwan or on human rights issues is not likely. But as tensions ratchet up between the West and China, expect Georgia to side more firmly with the West, not only politically, but also increasingly economically, by embracing Western 5G technologies as well as its trade and investment standards.
Author's note: first published in cepa.org