Putin: Russia is committed to enhancing the UN's effectiveness
Russian President Vladimir Putin has reminded newly arrived foreign ambassadors about the growing challenges and threats confronting the global community and urged them to play pivotal role in ensuring global peace and stability.
Addressing newly appointed foreign ambassadors in the Kremlin, Putin noted that the priority for all countries should be strict compliance with the rule of law and respect for the powers of the UN Security Council as an agency that bears the bulk of responsibility for international peace and security. Russia is committed to enhancing the UN's effectiveness.
"We support the expediency of reforming it to adjust it to modern requirements. At the same time, we believe that all changes in UN work must be substantiated and based on the agreement of the majority if not all members of the international community. The UN must focus on finding solid, sustainable and lasting solutions to regional conflicts. Russia will continue to contribute to these efforts, in particular in Syria," he told the gathering.
Agreements on four de-escalation zones in Syria have been achieved in Astana with assistance from the guarantor countries – Russia, Iran and Turkey – and these have been supported by a great many countries. These agreements have created conditions for implementing UN Security Council Resolution 2254 through a direct dialogue between the Syrian government and the opposition and for rallying their efforts to eliminate the hotbed of terrorism as soon as possible and to restore peace and unity in Syria.
The Astana process, which is underway in the capital of Kazakhstan, is designed to create favourable conditions for progress towards a political settlement at the Geneva talks.
Another immediate task is to increase humanitarian deliveries and accelerate mine clearing operations in the liberated regions. Everyone who sincerely wishes peace to Syria and Syrians and who want to see refugees return to their homes should join these UN-led processes without any preconditions.
Putin further expressed concern about increasing confrontation over North Korea's nuclear missile programme. Russia condemned Pyongyang's activities that violate the UN Security Council resolution. But using increasingly militant rhetoric is not just a road to nowhere but also a highly destructive policy. All parties must show restraint and look for a peaceful solution. In a modern world, conflicts must be settled with due regard for many factors, some of them extremely delicate ones, and through compromise.
Speaking about the Ukrainian crisis, this approach is reflected in the Package of Measures, which was coordinated in Minsk in February 2015. This package includes all the key political and security elements of a settlement. To provide an additional impetus towards a settlement, Russia has recently advanced an initiative for a UN mission to protect OSCE observers in Donbass. Russia hopes to be able to hold a business-like and constructive discussion of this initiative at the UN Security Council.
As for bilateral relations with the United States, the current level is unsatisfactory. "We favour constructive, predictable and mutually beneficial cooperation. We are convinced that it should be based on the strict observance of the principles of equality, respect for national interests and non-interference in domestic affairs," Putin said with optimism.
He however considers the European Union (EU) an important neighbour and a key economic partner, noting that trade has dropped by half in the past three years. Nevertheless, the EU countries amount to almost half of Russia's foreign trade. In cooperation with their Russian partners, EU companies are carrying out large investment projects in energy, industry and high technology. Russia still confirms the importance of developing stable contacts between the Eurasian Economic Union and the EU, including the future formation of a common economic and humanitarian space from the Atlantic to the Pacific.
In conclusion, Putin congratulated the new foreign envoys with the official beginning of an important and honourable diplomatic mission, and with the hope that their activities in Russia will be productive and will promote the development of relations between the states they represent and Russia. The Russian authorities, business and public circles will render all possible assistance.
The Russia–South Africa Strategic Partnership and the BRICS Summit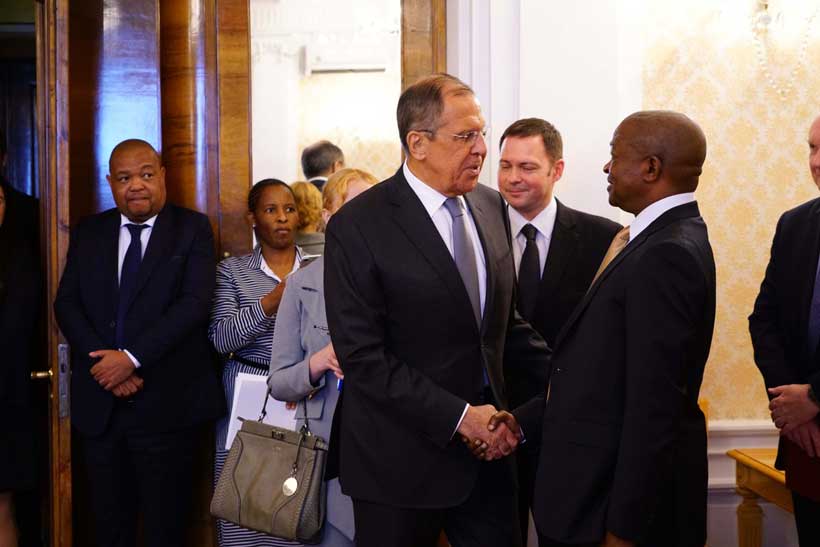 Russia and South Africa have recently stepped up efforts towards finalizing "the most significant issues" relating to the 10th edition of BRICS Summit scheduled to take place from 25-27 July in Johannesburg, South Africa.
According to official documents, BRICS is an informal association of five major emerging national economies: Brazil, Russia, India, China and South Africa. The group, founded in June 2006 at the St. Petersburg International Economic Forum (SPIEF), first known as BRIC prior to inclusion of South Africa in 2009. It has yearly rotating chairmanship among its five members.
After Jacob Zuma's resignation in February, Russian President Vladimir Putin has maintained very close working contact and cooperation with the new South African leader Cyril Ramaphosa.
The Kremlin speaks about a very high strategic level of partnership while praising the joint activities of the two countries in the area of foreign politics, in particular within the United Nations, BRICS (an association of Brazil, Russia, India, China and South Africa).
In mid-May, Foreign Affairs Minister Sergey Lavrov meeting with South African Deputy President David Mabuza expressed high optimism when he said: "Our presidents talked not so long ago, on March 23. They agreed to continue a course toward the comprehensive development of our relations in all areas. And, of course, we agreed to have a special meeting during the BRICS summit to take place in Johannesburg at the end of July."
In his turn, Mabuza thanked Lavrov and handed him a special message from the South African president addressed to Russian President Vladimir Putin which experts interpreted as part of the preparations towards the next BRICS summit. As protocol demands, Mabuza did not disclose its contents.
Instead, Mabuza laid emphasis on his country's interest in enhancing foreign policy coordination with Russia and praised its consistent line of principle on supporting the efforts of the African community to find consensus-based solutions to the continent's political and socio-economic issues.
On May 17, as a follow-up to series of consultations on the summit, Deputy Foreign Minister and Russia's BRICS, Sherpa Sergey Ryabkov, also met with Ambassador of South Africa to the Russian Federation, Nomasonto Maria Sibanda-Thusi. During that meeting, Ryabkov reaffirmed Russia's readiness to provide all the necessary support to its South African friends in holding a successful BRICS summit.
The officials had a mutually engaging discussion on a number of issues on the broad agenda of multifaceted cooperation within BRICS. Both sides expressed confidence that during South Africa's BRICS presidency the group will make great strides in strengthening strategic partnership in all three key areas of the organisation's focus: peace and security, economy and finance, and cultural and humanitarian ties.
BRICS-Africa Dialogue
Russia is very instrumental in deepening constructive dialogue between BRICS and African countries, including through the "BRICS Plus" mechanism. This year, the chairmanship plans to invite Africans to the 10th anniversary BRICS summit in Johannesburg.
Early March, Foreign Minister Sergey Lavrov reiterated in an interview with the pan-African monthly Hommes d'Afrique magazine in the run-up to his tour of African countries: "We support deepening the BRICS-Africa dialogue, which was launched in Durban in 2013 during the meeting between the association's member-countries, the African Union leadership and the leaders of eight leading regional integration associations."
"We believe that the 'BRICS Plus' concept approved last year lays the foundation for making the practice of inviting chairpersons of the African Union and, possibly, other African regional associations to the BRICS summits systemic," he explained.
As South Africa has taken over BRICS chairmanship, Lavrov is particularly pleased to note that "our South African friends intend to make African issues part of the BRICS agenda, discuss the key problems and challenges facing the continent," he said. "For our part, we welcome this approach."
NDB Financed Projects
The BRICS New Development Bank (NDB) and Business Council are two significant features, among others, of BRICS group. The NDB finances projects while the main tasks of the Business Council is to identify problems and difficulties, which hinder growth of economic, trade, business and investment cooperation between BRICS countries.
The bank's first non-sovereign project was a $200 million loan to Brazil's Petrobras for an environmental protection scheme and the second a $200 million loan to South Africa's Transnet to reconstruct a port in Durban. The NDB has also extended funds for projects in Karelia, Russia. The NDB is currently considering to extend another substantial loan for two projects in Russia – the Amur gas processing plant (GCP) and the petrochemical plant in Tobolsk – by the year-end, according to the Russian Finance Ministry.
As expected, African leaders and Experts believe that the NDB pays particular attention to the viable projects on African continent. "The New Development Bank is just starting its operation but it will soon work in full swing," Lavrov explained. "Projects discussed at the initial stage pertain only to the territory of five BRICS countries. Potential projects outside BRICS is the next stage. However, special attention will be clearly paid to the African continent because an office of the BRICS New Development Bank will be situated in South Africa."
The agreement on establishing the BRICS New Development Bank concluded on July 15, 2014 in Brazil's Fortaleza. The bank's starting capital was set at $100 bn. The Shanghai-headquartered bank has been set up to finance infrastructure projects and sustainable development projects in BRICS member countries and in other developing countries.
Future Steps
On June 4, the BRICS Council of Foreign Ministers held a meeting in Pretoria, South Africa. According to the Ministry of Foreign Affairs report that meeting was largely aimed at outlining significant tasks for future and that include a wide range of issues pertaining to the maintenance of international peace and stability, the global economy, interaction between the BRICS countries and the coordination of their positions in the complicated conditions of global political turbulence.
There were in-depth talks on the situation in the world's trouble spots and common goals in the face of new challenges and threats, primarily efforts against international terrorism and for international information security.
One of Russia's priorities is to promote strategic partnership among the BRICS countries. Over the past years, this group of five large rising economies has developed from an interest club into a comprehensive mechanism of multifaceted strategic partnership. The group has developed a network of industry-specific cooperation, contacts and cooperation between their business and research communities and civil societies.
The five BRICS countries are working towards indivisible security, stronger international stability in all dimensions, collective efforts to settle crises by political and diplomatic means, and multilateralism. They reject military interventions, unilateral economic enforcement measures, protectionism and unfair competition. The BRICS countries are working together to protect the system of multilateral trade based on the central role of the WTO as the only universal platform for formulating the rules of global trade.
The BRICS countries are working to find new sources of economic growth. The group played a major role in promoting the reform of the IMF. It has created the New Development Bank and the Contingent Reserve Arrangement to help modernise the architecture of global governance and financial security.
The five BRICS countries support the implementation of the 2030 Agenda for Sustainable Development and the Paris Agreement on Climate Change.
The BRICS countries focused on consolidating and diversifying the mechanisms of multifaceted cooperation and finding new spheres of cooperation. BRICS is open to the world and consistently expanding its ties with concerned countries and integration associations.
—————–
The BRICS member countries (namely Brazil, Russia, India, China and South Africa) collectively represent about 26% of the world's geographic area and are home to 2.88 billion people, about 42% of the world's population.
The Russian Federation in Africa
In its relations with Africa, Russia – which operates on global markets especially in the field of oil and non-oil raw materials – does not use the same logic as the Western countries'. The latter have always looked only for materials to be processed and turned into finished products within their factories.
In fact – according to the most authoritative scholars and experts – in Africa, Russia seeks above all the human capital, i.e. the human capital to be developed, the ruling classes to be educated, as well as the masses to be trained and made productive, always in an integrated vision of development between the great continental Eurasia and Africa.
The Russian relations with Africa are only synergistic, as they are two large reserves of raw materials and this makes their geo-economic situation in this respect very similar. However, as often reiterated by Russian experts, these are always operations that take long time and have a strong geopolitical and strategic dimension.
Hence, again according to Russian analysts, the logic underlying the relations between Russia and Africa is the union of their best practices so as to create a synergy that, in the future, will have a global geopolitical and economic impact.
Westerners want to look for goods and resources which are essential for their technological and industrial survival, while Russia wants to support Africa to take it away from the US and EU influence and use it as the pivot of Russia's future development as a global, economic and strategic power.
However, the economic and political relations following the USSR collapse were the first ones to be sacrificed on the altar of the very severe Russian economic crisis of the time.
The current Russian establishment interpreted that crisis as an ill-managed colonization of the great Russian reservoir of raw materials. Exactly the same paradigm that is currently applied to the wide African region.
Later we witnessed the complex turn – ordered by Vladimir Putin since his official rise to power on May 7, 2000 – from a Russian GDP of only 764 million US dollars in 2006 to 2,096.8 million US dollars in 2014 up to 1,248.55 US dollars in 2016.
Moreover, the International Monetary Fund foresees that the future increases of the Russian GDP will result almost exclusively from the expansion of the internal market.
This is the example given by the Sochi Olympic Winter Games and by Russia's international initiatives.
Hence – as Keynes explained in his old, albeit always valid, General Theory -if economic growth and the capitalistic or non-capitalistic industrialization depend on the secondary processing of raw materials and on the market-driven innovation, generated by the market and its demand, obviously the West must expand itself – in a new way – where these raw materials are found, namely Africa, Asia and Latin America – and obviously the new geopolitics will repeat the one analysed by Georg Wilhelm Pahl in the 1930s: the war for primary raw materials.
Unlike technologies, said raw materials are not reproducible.
Hence, in terms of basic productive structure, the Russian Federation is homogeneous and similar to many of the countries rich in raw materials which, like Russia, make up the so-called BRICS group.
In fact, if we read the Russian Federation's "Concept of Foreign Policy" adopted by President Medvedev in July 2008, we can see that the issue of collaboration between Russia and the African countries- as well as an enhanced  dialogue with the G-20 and the G-8 -are some of the fundamental issues of the Russian power projection throughout the world.
Moreover, in the 2017 "Concept", it is made clear that "Russia intends to strengthen its position in global economic relations and prevent any discrimination against Russian assets, services and investments".
It is worth keeping in mind that, altogether, Africa and the Russian Federation hold 60% of the world's natural resources.
Hence the fundamental problem for Russia is to be so strong at international, legal and financial levels to avoid the fast and ferocious exploitation of its own natural resources – as well as of its friendly African countries – at low prices and without any political and military compensation in return.
Although many people think the opposite, imagining an impossible "tertiary society" -of "services" or, even more humorously, of "knowledge" -the "resource factor" is essential to analyse the current state of the world market.
Between 1960 and 2009 the world population grew from 2.5 to 6.6 billion people and currently, based on the 2017 data, we see the undoubtedly shocking forecasts of world population reaching as many as 7.6 billion people in 2018.
A 400% increase of the world's population recorded  throughout the twentieth century. According to UN data, between 2018 and 2100 the world population will rise   approximately to 10 billion people.
Oil extraction – the axis of Russia's current economy, which will also be diversified through these new relations between Russian and African raw materials-has risen  from 2.5 million barrels per day in 1960 to 4 million barrels in 2009 up to 6.9 million barrels per day this year, with a forecast of stable global growth in oil consumption of 1.2 million barrels per day.
Global natural gas production has risen from 190 million in 1960 to approximately 3,900 in 2018, with a consumption outlook predicting significant growth of global consumption, higher than the oil one.
The fact is that these growth trends in raw material consumption apply not only to energy products, but also to  all types of minerals and non-food raw materials.
Hence there is no monetary crisis – occurring by chance or  artfully created – which can manoeuvre this stable condition of the markets and the allocation of raw materials. Any manipulation with derivatives or other financial formulas will never be able of changing the material equilibria on the planet.
It is worth noting, however, that 16% of the world population lives in developed countries, even though  in these countries the social gap between rich and poor is increasingly widening.
The "Gini coefficient", which is a commonly used measure of inequality of income or wealth, is currently optimal in the North European countries, while it is very low in Bolivia, Colombia and generally in  Latin America.
However, it is also very low in Gambia, Namibia and South Africa, ranging between 0.66 and 0.50, in a context in which the maximum income equality is 0.50, considering that 0 means complete income equality.
The United States, Russia and China range between 0.40 and 0.45, with China following closely.
Nevertheless 10% of the richest population owns 37% of wealth in Europe, 47% in North America, 46% in Russia and 41% in China, but with 55% of wealth in Brazil, sub-Saharan Africa, India and even 61% throughout the Middle East – obviously excluding Israel.
This make us predict a future scenario that reminds us of Mao Zedong's "Three Worlds Theory", which proposed three political-economic worlds: the First world consisting of superpowers, the Second World of developing powers and the Third World of exploited nations.
The First World was composed of the USA and the Soviet Union, which engaged in imperialism and social imperialism and featured a "capitalist" country and a "revisionist" country (i.e. the USSR which, at the time, was consumed in the madness of the Cold War and in the economic and military confrontation between East and West). Japan and Canada, Europe and the countries of the global North-South divide composed the Second World, while the countries of Africa, Latin America and Asia (except Japan) composed the Third World, which would be  unified and led by Red China.
Hence 16% of the population lives in the First World,  which organizes the production and consumption of raw materials, while as much as 53% of the world population lives in developing countries.
With their 16% of population, however, the developed countries consume 52% of all the raw materials extracted.
This is the profound meaning of the "war for Africa" that everyone is currently waging with both conventional means and indirect or influence strategies.
Africa is the primary area for the extraction of manganese, chromium, bauxite, gold, platinum, cobalt – 94% of which is currently extracted indirectly by Chinese companies operating in the Black Continent – vanadium, diamonds, phosphorite and fluorite.
Africa is also the second region of extraction for copper, asbestos, uranium, antimony, beryllium and graphite, as well as the third  region in the world for oil, natural gas, mercury and iron ore reserves.
Africa, however, also possesses significant deposits of titanium, nickel, bismuth, lithium, tantalum, niobium, aluminium salts, tungsten and precious stones.
In short, the Black Continent is strategic for all the raw materials characterizing the technologies of the future  scientific and industrial revolution, which is currently  typical of the First World's economies.
Finally, another factor of geoeconomic similarity between Russia and Africa is that they are two great global regions in which the fast and often unreasonable exploitation of natural resources has not occurred yet. Political and military difficulties of ancient and now outdated colonial hegemonies.
As, indeed, it has already happened in Brazil and in some Asian areas.
The depletion of natural resources in Latin America is older and more profound than the one already underway in some regions of sub-Saharan Africa.
We must not forget, however, that in mid-21st century the demand for raw materials will grow by 50% or 60% while, again according to Russian statistics – mostly confirmed also by the United States – the oil demand is expected to grow by 113 million barrels per day until 2030.
Another important fact, however, is that every year the United States is increasing its imports from Africa – and this has been going on since 2005, with a yearly 10% increase of North American imports from Africa.
Over the same 2001-2015 period, the European Union has instead reduced its imports from Africa by 2.5%.
Nevertheless, over 70% of imports to the USA is only for oil products, while minerals and other African non-food raw materials only account for 14-15% of the US total imports.
Hence the African Growth and Opportunity Act (AGOA) – the Treaty that since 2000 has been regulating US and African trade -lays down that 6,400 products of 40 African countries will enter the USA duty free. This has indirectly created a million new jobs in Africa but, as always happens with mere free-trade treaties, they do not lead to investment, but only to the expansion of African imports which, although important, is not enough.
Currently, however, the US direct investment in Africa is on the wane: lately the US exports to sub-Saharan Africa have been worth 19 billion US dollars, while bilateral trade fell from 100 billion US dollars in 2008 to 39 billion US dollars in 2017 – a fall in North American imports mainly due to the increase in US energy independence and autonomy.
China has already funded 3,000 infrastructures in Africa in various ways and has granted 86 billion dollars of commercial credits to African governments. It has also invested 6 billion dollars a year throughout the Continent until 2025.
In 2015, during the Forum on China-Africa Cooperation Conference (FOCAC), President Xi Jinping granted a further multi-year commercial fund to the tune of 60 billion dollars, to which another 20 will be added at the end of the mandate in 2025.
Hence China is already Africa's first creditor, with 14% of the entire sub-Saharan debt stock.
China's Foreign Direct Investment in Africa, however, is still low, considering that it accounts for 5% of all the FDI in the Continent, while there are currently 10,000 China-owned companies – mainly private ones – operating in Africa.
Furthermore, in 2007 the EU launched the Africa-EU Strategic Partnership, operating between EU-27 and 54 African countries.
The fifth Partnership Summit held in Abidjan in 2017 reaffirmed the main assumption underlying the agreement, namely mutual trade, in a situation in which trade between Africa (i.e. the 54 countries adhering to the Africa-EU Strategic Partnership) and the European Union is worth approximately  300 billion euro a year, while the European Union has guaranteed additional 54 billion euro for "sustainable development" – whatever this may mean in Africa.
Following the non-brilliant concept of "equalitarian" trade  typical of the USA, the EU has established a series of Economic Partnership Agreements (EPAs) with 40 other sub-Saharan African countries of the Strategic Partnership, with bilateral treaties envisaging preferential access to European companies in those areas, while imports will be liberalized over a period of 20 years.
Too late, too little.
Nigeria is opposed to the EPA since it maintains it is an obstacle stopping its industrialization, while Brexit has greatly weakened the EU ability to penetrate the African markets and ruling classes.
Finally, the USA has recently invested 6.5 billion US dollars in 14 African countries through the Millennium Challenge Corporation alone – funds  aimed at fostering inter-African economic integration (a sort of future African EU) and to create the best conditions for standard private North American investment.
Moreover, in February 2018, the US government established the BUILD Act, i.e. the rules on Better Utilization of Investment Leading to Development, a new federal agency that will put together some functions of the Overseas Private Investment Corporation and of  USAID, which will mainly deal with equity investment in Sub-Saharan countries.
However, let us revert to the Russian Federation.
Building on a strong bilateral relationship with Abdel Fattah al-Sisi's Egypt, Russia currently plans to develop a series of relations – always and especially at bilateral level –  with many African countries, particularly those having a more difficult relationship with the EU and the USA.
At the inauguration of Vladimir Putin's current Presidency there were people of great strategic importance for Africa: Cyril Ramaphosa, President of the South African Republic; obviously Abdel Fattah al-Sisi from Egypt; Emmerson Mnangawa from Zimbabwe; Joao Laurenco, President of Angola; Hage Geincob from Namibia and finally Omar al Bashir, military and political leader of South Sudan.
With regard to Egypt, Putin is working on a nuclear power plant and a special industrial zone, as well as on a package of aid and investment amounting to approximately 32 million US dollars.
An operation that is supposed to be completed in 2022.
For Zimbabwe – currently a political pariah for the whole West – the relationship with Russia and China is fundamental for the steady flow of economic aid from the two Asian countries. This aid will soon be turned into bilateral trade and into the creation of an autonomous Russian economic zone in the Southern part of the country, in addition to the modernization of agriculture and the creation of some industrial sectors mainly linked to agricultural by-products.
Russia, however, has also invested 3 billion US dollars in a large platinum mine.
Alrosa, Russia's major State-owned company in the diamond sector, will operate in Angola where it will exploit one of the largest diamond deposits in the world, namely Luaxe. The Russian Federation is also planning to make additional infrastructure investment in South Sudan, very different from the investment planned by Europe and the United States there.
Russia, however, plans to develop – above all – the vast oil fields that Al Bashir's regime of South Sudan has on the borders of the country. As to South Africa, we will see what results the South African Presidency of the BRICS groups on July 25-27, 2018 will achieve in terms of bilateral relations.
It is worth recalling that the BRICS countries account for 26% of the world surface and 42% of the world population.
In the Third World population is growing, while the population decline in Europe and North America makes us fear the worst for our rates of development and the unsustainable costs of welfare and pension systems while, for obvious reasons, the average factor productivity is decreasing throughout the West.
With a view to underlining again the importance of relations between the Russian Federation and the African countries, there is a clear link between Russia's trading partners in Africa and the States participating in the bilateral joint manoeuvres put in place ever more often by Russia in Africa.
Moreover, the Russian peacekeepers in Africa often outnumber those coming from France, Great Britain and the United States. In Africa the Russian "green helmets" often outnumber those of the other Western powers altogether.
Furthermore – according to Standard & Poor's, but also to data from other financial research companies-to some extents, sub-Saharan Africa is more attractive for business than other areas of the world, i.e. the Frontier Emerging Markets –  37 countries in total, including Slovakia, Slovenia, Kazakhstan, Cyprus, Estonia and the United Arab Emirates.
Considering these areas, the US military imports over 50% of the minerals needed for the construction of long-range bombers from sub-Saharan Africa only, while the US military imports of cobalt from the countries of that region account for 75%.
Furthermore, Africa will be a land of conquest for the  Russian Federation, together with the People's Republic of China, inasmuch as the investment of major countries will be infrastructural, lasting and based on the training of the local ruling classes and, above all, of their local labour forces.
2018 World Cup offers Chechnya opportunity to play Middle Eastern politics
When strongman Ramzan Kadyrov last month opened The Local, a United Arab Emirates-funded luxury hotel in the Chechen capital of Grozny and prepared to receive Egypt's World Cup qualifying national team as its first guests, he was cashing in on more than the Russian region's Muslim identity.
Eager to forge close ties to Middle Eastern nations, Mr. Kadyrov, who tightly controls Chechen sports, was cashing in on the fact that he has aligned himself with like-minded governments that not only stand out in their repression of dissent, but also their efforts to oppose Saudi-inspired ultra-conservative Sunni Muslim Islam.
Mr. Kadyrov, a barrel-chested man who recognizes the political utility of sports and is widely seen as a henchman of Russian President Vladimir Putin, earned his credentials by brutally suppressing an Islamist insurgency in Chechnya during his decade-long tenure.
Speaking to The Washington Post, Beslan Visambiev, a manager of a Grozny-based UAE investment fund, suggested that Mr. Putin was using Mr. Kadyrov as his point man in the Muslim world. "It seems like Putin delegated those powers to Kadyrov," Mr. Visambiev said.
Mr. Visambiev echoed Mr. Kadyrov's own words four years earlier when he addressed 20,000 members of his militia in a Grozny stadium.
"The time has come for us to make our conscious choice, and we say this to the whole world that we are the combat infantry of Vladimir Putin," Mr. Kadyrov said quoting a speech given by his father shortly before he was assassinated in 2004.
Criticism by human rights groups of the UAE's investment and Egypt's choice of Grozny has focussed on Chechnya rather than the Emirates and Egypt, even if both countries have recently been in the news for their own alleged violations of basic rights.
The US the House of Representatives last week voted to investigate a potential US role in torture in a UAE-operated network of prisons in Yemen.
A close US ally, the UAE stands accused of being a "colonizing force" in Yemen that supports extremist militias responsible for violence against Yemeni activists and Islah, a Muslim Brotherhood-linked political party, and a bete noire of UAE crown prince Mohammed bin Zayed.
In recent days, Egypt, whose prisons are filled with an estimated 60,000 political prisoners, arrested   Hazim Abdelazim, a one-time campaigner turned critic for general-turned-president Abdel Fattah al-Sisi, and prominent blogger and activist Wael Abbas.
Mr. Kadyrov, whose human rights record, like that of Prince Mohammed and Mr. Al-Sisi, has been questioned, has denounced allegations of abuse as a "myth" designed to destabilise his government.
Yet, Mr. Kadyrov's notion of a more liberal interpretation of Islam is not dissimilar to that of Mr. Al-Sisi or Prince Mohammed, even if the effective UAE ruler has been not quite as harsh in measures against transgender, gay, and gender non-conforming people.
Both Chechnya and Egypt have in the last year brutally targeted gays, prompting Human Rights Watch to demand that world soccer body FIFA oppose a proposed Egyptian anti-LGBT law and to demand the release of Oyub Titev, the head of Chechnya's only still operating human rights group.
The bullet-riddled body of Mr. Titev's predecessor, Natalia Estemirova, was dumped by the road shortly after she was kidnapped in 2009.
The fact that Egypt and the UAE are the vehicles Mr. Kadyrov is using to exploit this month's World Cup in Russia in a bid to project Chechnya on the world stage in a more positive light and polish his tarnished image is no coincidence.
Both the UAE and Egypt have been in the forefront of efforts to counter political Islam and promote more quietist, apolitical interpretations of the faith that counter Saudi-style ultra-conservatism and are more in line with their vision of autocratic rule even if both countries are closely aligned with the kingdom.
The UAE has quietly nurtured the creation of moderate Islamic institutions such as the Muslim Council of Elders, the Global Forum for Prompting Peace in Muslim Societies and the Sawab and Hedayah Centres in a bid to counter the influence of controversial, Qatar-based Islamic scholar, Sheikh Yusuf al-Qaradawi, the Muslim Brotherhood, and more militant Islamist forces.
Mr. Al-Sisi, an observant Muslim who in a 2006 paper argued that democracy cannot be understood without a grasp of the concept of the caliphate, has been advocating with limited success that Al Azhar, one of the Muslim world's foremost institutions and the world's oldest seat  of Islamic learning, spearhead "a religious revolution" to counter militancy.
Mr. Kadyrov, who professes to be a Sufi, a more mystical interpretation of Islam, facilitated in 2016 a high point of the Emirati and Egyptian efforts when he hosted in Grozny a gathering of prominent Sunni Muslim leaders that effectively excommunicated Saudi-backed ultra-conservatism.
In a frontal assault on Saudi-backed religious movements such as Wahhabism, Salafism and Deobandism, the conference charged that the label Sunni had been hijacked by heretics whose deviant practices distorted Islam.
In defining Sunni Islam, the conference explicitly excluded Wahhabism, the version of Islam long propagated by Saudi Arabia, as well as Salafism and Deobandism from its definition.
Mr. Kadyrov's alliance with the UAE and Egypt has allowed him to exploit Russia's hosting of the World Cup even if Chechnya will not be a venue for any of the competition's matches.
The alliance has also paid off in other ways. The UAE last year created the Zayed Fund that aims to support Chechen businesses and is funding construction of a gleaming skyscraper in the Chechen capital. UAE-based carrier Air Arabia launched in April direct flights from Sharjah to Grozny
The UAE-Egypt-Chechnya alliance may have produced economic benefits but appears to have done little to improve the tarnished image of the Russian republic or Mr. Kadyrov himself.
"FIFA's decision to use Grozny for a World Cup team camp is absolutely shocking and outrageous. FIFA should reverse their decision and move the training camp to another city, " said Human Rights Watch associate director Jane Buchanan.
FIFA last year conceded that anti-LGBT attacks in Chechnya were in "sharp contradiction to the values of FIFA as an organization and we firmly condemn them" but more recently insisted that it had "no grounds to believe that the choice of the Egyptian FA to locate its base camp in Grozny will cause particular adverse human rights impacts."
Countered Ms. Buchanan, the author of a report on World Cup worker abuses in Russia: Mr. Kadyrov runs Chechnya "like his own fiefdom and commits human rights abuses with impunity. FIFA's decision will only legitimize the utterly abusive Kadyrov regime."