Climate Change and China's Mission
Authors: Shrey Das & Wang Li
The 1992 UN Framework Convention on Climate Change (UNFCCC) was passed in Rio de Janeiro with a vision that the reduction of greenhouse gas emissions could be made possible by including a commitment from the developed nations to cut their emissions back to 1990 levels by 2000. At that time, China was a typical developing country as its economic capacity was insignificant in global terms.
Two decades later, by 2011, China had become one of six countries which were responsible for over 70% of the global CO2 emissions; it accounted for 29%, while the U.S. accounted for 16%, the EU for 11%, India for 6%, Russia for 5%, and Japan for 4%.
Climate change is not a 'normal' international environmental problem, but rather threatens to cause huge changes in living conditions and challenges existing patterns of energy use and security. Incidentally, a writer such as Kenneth Szabo has irresponsibly referred to China "as one of the dirtiest countries on the planet", and stated that "China's lung cancer epidemic is a global problem". By making such statements, he displayed ignorance and bias by saying that China's drive for "Green China" was just covering up a less attractive truth as opposed to being a genuine long-term strategy to become an "ecological civilization". For sure, every person has a right to express one's opinion, but as an academic or social media personality, one must be cautious and responsible for what is argued, and his/her analyses should be based on a careful study rather than an incomplete one-sided review of the facts.
As both a developing country and a rising power, China has entertained its century-long dream to be transformed into a great power respected all over the world by 2050. It is modern history that has taught the Chinese to struggle for their greatness equal to the European powers and the United States. True, it is self-evident that China's status as the second largest economy in the world is the result of a long and costly journey, which both the Chinese leaders and people have never denied. Yet, undoubtedly China has also made some remarkable changes, and now through more ambitiously concerted efforts it aspires to catch up with foreign counterparts by planning new national parks and developing more renewable power sources, which are supposed to account for half of all new electricity generation in China. In order to ensure the smooth operation of all projects, the Chinese President Xi Jin-ping in 2013 defined three issues to China's security in the coming decades; they are nuclear proliferation, cyber-security, and climate change.
As early as 2005, when Xi was the Party Secretary of Zhejiang Province, he put forward that "the lucid waters and lush mountains are invaluable assets." Later, he reiterated Chinese commitment to becoming an "ecological civilization" at the Paris Climate Summit in 2015 by saying that China was both sincere and determined to contribute its share to the success of the Paris Conference. The analytical reasons Xi presented were that in the past few decades, China had seen rapid economic growth and significant improvement in people's lives. However, this had taken a toll on the environment and resources. Having learned the lesson in a hard way, China has made vigorous ecological endeavors to promote green, circular, and low-carbon growth. In a paradigm shift, China integrated its climate change efforts into the medium- and long-term strategies of economic and social development. Now it has installed a capacity of renewable energy which accounts for 24% of the world's total, with the newly installed capacity accounting for 42% of the global total. China tops the world in terms of both energy conservation and the utilization of new and renewable energies, such as wind and solar.
For sure, some might be suspicious of the fine words and the efforts by the Chinese leader. Yet anyone with knowledge of Chinese culture would be aware of the ancient Chinese wisdom that "All things live in harmony and grow with nourishments." Chinese culture values harmony between man and nature through respecting nature. Going forward, ecological endeavors will feature prominently in China's grand strategy for its 13th Five-Year Development Plan (2016-2020). To that end, China will work hard to implement the vision of innovative, coordinated, green, open, and inclusive ways of development. In doing so, China will, on the basis of technological and institutional innovation, adopt new policy measures to improve industrial mix, build low-carbon energy systems, and create a green and low-carbon transportation and trading market in order to foster a new pattern of modernization featuring harmony between man and nature. In its intended nationally determined goals, China pledges to peak CO2 emissions by around 2030 and will strive to achieve it as soon as possible.
Firstly, the Chinese government has warned against a mentality of zero-sum game, and has expressed the resolve that acting on climate change is not only driven by China's domestic needs for sustainable development, but is also inspired by its sense of responsibility to fully engage in global governance and to forge a community of shared destiny for human kind. Rather than being region-specific, climate change is a ubiquitous problem affecting all. Given this, President Xi made remarks at the Paris conference that all countries, particularly developed countries, should assume more shared responsibilities for win-win results. Historically and morally speaking, those wealthy countries with a completed process of industrialization should bear the greater burden for carbon emission reductions. Considering that it is imperative to respect differences among countries, especially developing ones, the Chinese government has insisted on the legitimate needs of developing countries to reduce poverty and improve their peoples' living standards, which should not be denied even when the issue of climate change is being addressed at the global level.
Secondly, China has called on developed countries to honor their commitment, by mobilizing $100 billion each year before 2020 and providing stronger financial support, along with climate-friendly technologies-transfer, to developing countries. Since then, it has taken an active part in international cooperation on climate change. For example, over the years, the Chinese government has earnestly fulfilled its policy commitments of South-South cooperation regarding climate change to support developing countries, especially the least-developed countries, such as landlocked developing countries and small island developing states, in confronting the challenges of climate change. In a show of greater support, China announced in 2015 that it would establish an RMB 20 billion South-South Climate Cooperation Fund. It later launched cooperation projects to set up 10 pilot low-carbon industrial parks, and started 100 mitigation and adaptation programs in other developing countries while providing them with over 1,000 training opportunities on climate change. In addition, China has continued to promote cooperation in such areas as clean energy, disaster prevention and mitigation, ecological protection, climate-smart agriculture, and low-carbon smart cities.
In conclusion, climate change, because of its all –embracing nature and its roots in essential human activities, poses an enormous challenge for international society in which it has and continues to struggle for its sustainable development. Given this, how it is faced will decide China's destiny as a potential great global power or not. Yet, the impact of the US withdrawal from the Paris Agreement can also be felt, since it will hamper the efforts of mitigating climate change threats in the Pacific–Asian area. In spite of this, it is unquestionable that as tackling climate change is a shared mission for mankind, all eyes are now on the establishment of an equitable and effective global mechanism on climate change, working for global sustainable development at a higher level and bringing about new international relations featuring win-win cooperation. A combined effort from all nations, developing, semi-developed, and developed, will yield fruitful results. Due to this, China has consistently underscored its commitment to be an "ecological civilization" in a global village, and has equally argued for international consensus, comprehensive and balanced development models, technology-transfer, and more cooperative and transparent strategies. Sure, as French statesman Fabius said, since climate change is a part of global governance, China is ready to play a constructive role and work for a new green civilization and an ecological civilization.
The nature of contemporary Sino-Pakistani relations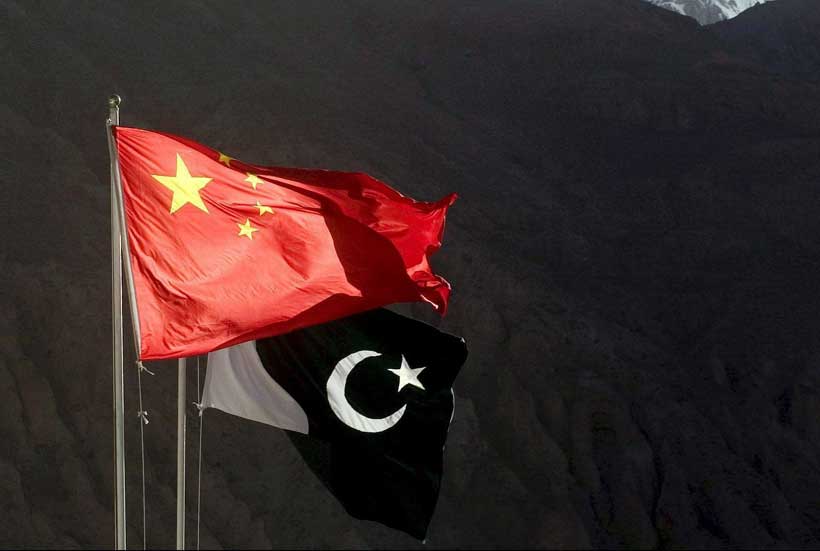 China has played a crucial role in maintaining regional peace and security by upholding its concept of an inclusive, cooperative and sustainable security. This has clarified the country's stance on issues of regional concern, contributing to long-term stability and development in Asia, which includes the promotion of common development, building of partnerships, improvement of existing multilateral frameworks, rule-setting, military exchanges and proper settlement of differences.
To ensure long-term stability and prosperity of the Asia-Pacific, China has put forward a number of proposals that have been highly valued by the international community. To ensure common development is the fundamental guarantee of peace and stability, and the 'master key' to solving security problems. The China-proposed Belt and Road Initiative is not only a path of development but also a path of peace, as it will not only bring opportunities to the economic development of regional countries, but also provide ideas and solutions for them to solve security problems. The central theme behind the China-Pakistan Economic Corridor (CPEC) is to open new economic and trade avenues that would lead to the overall social and economic prosperity of the region. The fruit of this economic cooperation is a market far larger in scope than the one that exists because of economic conflict in the region. The envisaged economic route from Gwadar to Kashgar can serve as an alternative and economically shorter sea route instead of the far longer straits of Malacca. This has always been the most compelling reason for multilateral and regional cooperation.
Two of the most reputable theories that support the idea of regional stability, regional integration and strategic cooperation can be stated in terms of 'economic opportunity cost hypotheses and 'neo-functionalism'. The first theory assumes that trade and economic interdependence increases stakes amongst economically integrated nations and thereby reduces chances of conflicts erupting. Whereas the proponents of neo-functionalism are of the view that cooperation in one area produces cooperation in other areas. CPEC will pass through Gilgit-Baltistan in the north which will connect Kashgar in China's western province of Xinjiang. Almost 80% of China's oil is currently transported through the Strait of Malacca to Shanghai. The calculated distance is almost 16,000km and takes two to three months, with Gwadar becoming operational, the distance would be reduced to less than 5,000km. When fully operational Gwadar will promote not only the economic development of Pakistan but also serve as a gateway to the Central Asian countries.
Keeping in view the regional stability, Pakistan and India are both important neighbours for China which wants to promote trade with its neighbours. Pakistan is a victim of terrorism and that all countries were responsible for contributing towards the eradication of terrorism. But the brutalities of the Indian army in Indian-held Kashmir cannot be ignored here.
Pivot to Asia: Status quo or a challengerpower ?
Hence, regional integration is not possible as long as regional trade is sacrificed for so-called security. Pakistan needs to follow the Chinese model whose trade with India had crossed over $100 billion despite serious political issues between them. Some elements also fear that if there is peace in the region, it will challenge their predominance in the business of the state. Furthermore, the dimension of CPEC that is ignored is its potential to defeat terrorism in the region by raising and improving socio-economic conditions of the people. The Sri Lankan polity, at first divided over the role of China in the region, has come to recognize that the Belt Road Initiative approach fits well with Colombo's goals of rebuilding a war-torn economy through enhanced connectivity. China also calls for improving regional security architecture to lay a solid foundation for enduring peace and stability in the region, and also calls on countries to properly handle differences and disputes to maintain the peaceful and stable environment in the region.
In the context of Pakistan, CPEC is often termed a game changer for the weak economy of Pakistan. The corridor project carries vital significance as it promises to elevate Islamabad's economic growth. Unlike US aid, the Chinese aid to Pakistan has offered infrastructure and energy projects that would serve as a means to improve Pakistan's economy. Despite the cheapness of land, Pakistan is lagging behind in connectivity which increases the trade cost. However, under the umbrella of CPEC the cost would be minimised and export incentives increased. Pakistan expects 4% of global trade. The kind of toll tax, rental fees that Pakistan will gain is roughly $6 billion to $8 billion by 2020.
A strategic and economic balance of power in the region would ensure peaceful resolution of conflicts but also enhance strategic stability leading to a win-win situation. Or by words of professor Anis H. Bajrektarevic: "Asia has to answer itself whether the newest concepts – such as the OBOR/CPEC vs. Indo-Pacific oceanic triangling – are complementary to its development or the heartland-rimland sort of dangerous confrontation. Asia needs a true multilateralism, not a hostage situation of getting caught in a cross-fire."
The CPEC itself with its focus on Gwadar, has also given impetus to maritime cooperation between China and Pakistan, and beyond. Both states wish to enhance bilateral cooperation in the fields of maritime security, search and rescue, and the blue water economy. Thus, it would not be wrong to say that CPEC has the potential of accruing strategic cooperation. This approach serves as strategic enabler in a rapidly transforming world order. It is therefore the need of time to move from archaic geopolitical vendetta of 19th and 20th centuries to interstate strategic play in the 21st century.
The pursuit of a state's national interest in the international arena constitutes its foreign policy. A successful foreign policy should employ a balance of economic, diplomatic, and military tools. It is the national interest that shapes the possibilities of state to behave collectively. Through a balanced foreign policy approach, the South Asian region can achieve its mega development projects and establish into a peaceful integrated region. Confidence-building measures between regional players is the first step in this direction to uplift the socioeconomic standards of the people of this region.
An early version of this text has been published by the China Daily
Freedom, Sovereign Debt, Generational Accounting and other Myths
"How to draw the line between the recent and still unsettled EU/EURO crisis and Asia's success story? Well, it might be easier than it seems: Neither Europe nor Asia has any alternative. The difference is that Europe well knows there is no alternative – and therefore is multilateral. Asia thinks it has an alternative – and therefore is strikingly bilateral, while stubbornly residing enveloped in economic egoisms. No wonder that Europe is/will be able to manage its decline, while Asia is (still) unable to capitalize its successes. Asia clearly does not accept any more the lead of the post-industrial and post-Christian Europe, but is not ready for the post-West world." – professor Anis H. Bajrektarevic diagnosed in his well-read 'No Asian century' policy paper. Sino-Indian rift is not new. It only takes new forms in Asia, which – in absence of a true multilateralism – is entrenched in confrontational competition and amplifying antagonisms.  The following lines are referencing one such a rift.
At the end of 2017, Brahma Chellaney, a professor with the New Delhi-based Center for Policy Research, wrote an article titled "China's Creditor Imperialism" in which he accused China of creating a "debt trap" from Argentina, to Namibia and Laos, mentioning its acquisition of, or investment in the construction of several port hubs, including Hambantota in Sri Lanka, Piraeus in Greece, Djibouti, and Mombasa in Kenya in recent years.
These countries are forced to avoid default by painfully choosing to let China control their resources and thus have forfeited their sovereignty, he wrote. The article described China as a "new imperial giant" with a velvet glove hiding iron fists with which it was pressing small countries. The Belt and Road Initiative, he concluded, is essentially an ambitious plan to realize "Chinese imperialism". The article was later widely quoted by newspapers, websites and think tanks around the world.
When then United States Secretary of State Rex Tillerson visited Africa in March, he also said that although Chinese investment may help improve Africa's infrastructure, it would lead to increased debt on the continent, without creating many jobs.
It is no accident that this idea of China's creditor imperialism theory originates from India. New Delhi has openly opposed China's Belt and Road Initiative, especially the China-Pakistan Economic Corridor as it runs through Pakistan-administered Kashmir, which India regards as an integral part of its territory. India is also worried that the construction of China's Maritime Silk Road will challenge its dominance in South Asia and the Indian Ocean. Based on such a judgment, the Indian government has worked out its own regional cooperation initiatives, and taken moves, such as the declaration of cooperation with Vietnam in oil exploration in the South China Sea and its investment in the renovation of Chabahar port in Iran, as countermeasures against the Chinese initiative.
Since January, India, the United States, Japan and Australia have actively built a "quasi-alliance system" for a "free and open Indo-Pacific order" as an alternative to the Belt and Road Initiative. In April, a senior Indian official attending the fifth China-India Strategic Economic Dialogue reiterated the Indian government's refusal to participate in the initiative.
The "creditor imperialism" fallacy is in essence a deliberate attempt by India and Western countries to denigrate the Belt and Road Initiative, which exhibits their envy of the initial fruits the initiative has produced. Such an argument stems from their own experiences of colonialism and imperialism. It is exactly the US-led Western countries that attached their political and strategic interests to the debt relationship with debtor countries and forced them to sign unequal treaties. China's Belt and Road Initiative is proposed and implemented in the context of national equality, globalization and deepening international interdependence, and based on voluntary participation from relevant countries, which is totally different from the mandatory debt relationship of the West's colonialism.
It is an important "Chinese experience" to use foreign debts to solve its transportation and energy bottlenecks that restrict its economic and social development at the time of its accelerated industrialization and urbanization. By making use of borrowed foreign debts, China once built thousands of large and medium-sized projects, greatly easing the transportation and energy "bottlenecks" that long restrained its social and economic development. Such an experience is of reference significance for other developing countries in their initial stage of industrialization and urbanization along the Belt and Road routes.
In the early stage of China's reform and opening-up, US dollar-denominated foreign debt accounted for nearly 50 percent of China's total foreign debts, and Japanese yen close to 30 percent. Why didn't Western countries think the US and Japan were pushing their "creditor imperialism" on China?
Some foreign media have repeatedly mentioned that Sri Lanka is trapped in a "debt trap" due to its excessive money borrowing from China. But the fact is that there are multiple reasons for Sri Lanka's heavy foreign debt and its debt predicament should not be attributed to China. For most of the years since 1985, foreign debt has remained above 70 percent of its GDP due to its continuous fiscal deficits caused by low tax revenues and massive welfare spending. As of 2017, Sri Lanka owed China $2.87 billion, accounting for only 10 percent of its total foreign debt, compared with $3.44 billion it owed to Japan, 12 percent of its total foreign debt. Japan has been Sri Lanka's largest creditor since 2006, but why does no foreign media disseminate the idea of "Japan's creditor imperialism"?
In response to the accusation that China is pursuing creditor imperialism made by India and some Western countries, even former Sri Lankan president Mahinda Rajapaksa wrote an article in July using data to refute it.
Most of the time, the overseas large-scale infrastructure construction projects related to the Belt and Road Initiative are the ones operated by the Chinese government and Chinese enterprises under the request of the governments of involved countries along the Belt and Road routes or the ones undertaken by Chinese enterprises through bidding.
It is expected that with the construction of large-scale infrastructure projects and industrial parks under the Chinese initiative, which will cause the host country's self-development and debt repayment ability to constantly increase, the China's creditor imperialism nonsense will collapse.
An early version of this text appeared in China Daily
Arrogance of force and hostages in US-China trade war
Even before the ink on the comments made by those who (just like the author of these lines) saw the recent meeting between US President Donald Trump and his Chinese counterpart Xi Jinping in Buenos Aires as a sign of a temporary truce in the trade war between the two countries had time to dry, something like a hostage-taking and the opening of a second front happened. The recent arrest in Canada under US pressure of Meng Wanzhou, the chief financial officer of China's telecommunications giant Huawei, is unfolding into a full-blown international scandal with far-reaching consequences.
Meng Wanzhou faces extradition to the United States where she is suspected of violating US sanctions against Iran, namely by making payments to Tehran via the UK branch of the US bank HSBC. The question is, however, how come someone is trying to indict a Chinese citizen according to the norms of American law, and not even on US territory to boot?
China's reaction was extremely tough with Deputy Foreign Minister Le Yucheng summoning the Canadian and US ambassadors in Beijing and demanding the immediate release of the detainee, calling her detention "an extremely bad act." First of all, because this is yet another arrogant attempt at extraterritorial use of American laws.
Other countries, above all Russia, have already experienced this arrogance more than once; suffice it to mention the cases of Viktor Bout and Konstantin Yaroshenko, or of the alleged "Russian hackers," who, by hook or crook, were taken out to the United States to face US "justice".
Enough is enough, as they say. Russia's Foreign Minister Sergei Lavrov, who is usually careful in his choice of words, said that while Russia is not involved in the US-China trade war, it still regards Meng's arrest as "another manifestation of the line that inspires a rejection among the overwhelming majority of normal countries, normal people, the line of extraterritorial application of their [US] national laws."
"This is a very arrogant great-power policy that no one accepts, it already causes rejection even among the closest allies of the US," Lavrov said. "It is necessary to put an end to it," he added.
One couldn't agree with this more. But first, I would like to know who really is behind this provocation, even though China's reaction would have been much anticipated. The arrest of Meng Wanzhou sent US markets into a tailspin and scared investors, who now expect an escalation of the trade war between the United States and China.
The point here, of course, is Washington's displeasure about Huawei's activities, with The Wall Street Journal reporting that the US Justice Department has long been conducting a probe into the Chinese company's alleged violation of US sanctions against Iran.
There is more to this whole story than just sanctions though. The US accuses Huawei (as it earlier did the Chinese ZTE) of the potential threats the company's attempts to use tracking devices could pose to the security of America's telecommunications networks. The United States has demanded that its closest allies (primarily Canada, the UK, Australia and New Zealand, with whom it has set up a system for jointly collecting and using Five Eyes intelligence) exclude 5G Huawei products from their state procurement tenders.
I still believe, however, that the true reason for this is not so much security concerns as it is a desire to beat a competitor. Huawei has become a world-renowned leader in the development and application of 5G communications technology, which looks to the future ("Internet of Things", "Smart Cities", unmanned vehicles and much more.)
Since technology and equipment are supplied along with standards for their use, there is a behind-the-scenes struggle going on to phase out the 5G standard developed by Huawei from global markets.
As for the need "to put an end to this," the big question is how. Formally, detainees are extradited to the United States in line with national legislation, but at Washington's request (which often comes with boorish and humiliating pressure from the US authorities and is usually never mentioned in public).
Add to this the US Congress' longstanding practice of changing, unilaterally and at its own discretion, already signed international treaties and agreements as they are being ratified – another example of "arrogance of power" as mentioned before.
The question could well be raised at the UN Security Council, but its discussion is most likely to be blocked by the US representative. However, there is also a moral side to the assessment of any political practice the work on international legal norms usually starts with.
If China and Russia, as well as other countries equally fed up with the "arrogance of power" submit a draft resolution "On the inadmissibility of attempts at extraterritorial use of national legislation by UN member states" to the UN General Assembly, it would most likely enjoy the overwhelming support by most of the countries of the UNGA, maybe save for just a dozen or so of the most diehard advocates of Washington's policy…
First published in our partner International Affairs