US-Turkish visa spat: A fight for basic freedoms
Moves by the United States and Turkey that largely ban travel of their nationals between the two countries is about more than two long-standing NATO allies having a spat amid shifting alliances in a volatile part of the world. It is a fight between two leaders, US President Donald J. Trump and his Turkish counterpart, Recep Tayyip Erdogan, confronted with the limitations and fallout of their shared desire to redefine or restrict basic freedoms.
The spat erupted when the US embassy in Ankara announced this weekend that it was suspending the issuance of non-immigrant visas as part of a reassessment of the "commitment of the government of Turkey to the security of U.S. mission facilities and personnel." The embassy stopped short of banning travel by all visa holders.
Hours later, the Turkish Embassy in Washington went a step further by declaring that it had suspended all visa operations for US citizens, effectively banning all US passport holders from travelling to the country. "This measure will apply to sticker visas as well as e-Visas and border visas," the embassy said. Turkey's currency plunged in the wake of the announcement in early morning trading on Asian markets.
The spat is the latest escalation of tensions in a relationship that has been fraying for several years as a result of increasingly authoritarian policies adopted by Mr. Erdogan, differences over the conflict in Syria, US cooperation with Syrian Kurds, the separate indictments in the United States of an Turkish-Iranian businessman on charges of busting sanctions on Iran and 15 Turkish security guards for involvement in a street brawl, and Turkish allegations of US interference in its domestic affairs.
The latest spat highlights the risks of Mr. Trump's empathy for authoritarian and autocratic leaders that contrasts starkly with a stress on basic freedoms and the rule of law adopted by his predecessors. Mr. Trump last month described relations with Turkey as "the closest we've ever been."
The spat amounts to the White House getting a taste of its own medicine of ignoring abuse of human rights by some of its closest allies. As a result, US nationals and government employees have become the victims of seemingly arbitrary crackdowns for political rather than national security reasons that violate basic freedoms and make a mockery of the rule of law.
The spat erupted after Turkey indicted in the last year two Turkish nationals working at US diplomatic missions in the country and detained at least a dozen other US nationals, including a Christian missionary, on charges of having ties to Fethullah Gulen, an aging Turkish preacher who has lived in exile in Pennsylvania for the past two decades.
Mr. Erdogan blames Mr. Gulen, the leader of one of the world's richest Islamic movements and most far-flung education systems, for having last year engineered a failed military attempt to remove him from office. Some 250 people died in the attempt in which dissident Turkish tank commanders fired at the Turkish parliament building in Ankara.
The indictment of the Turkish nationals and arrests of Americans were part of a massive crackdown on government critics that involved the firing up to 150,000 public servants, arrest of tens of thousands, curbing of press freedoms and granting the president wide-ranging powers. Mr. Erdogan has repeatedly justified the crackdown as a legitimate response to the failed coup.
The targeting of Turkish nationals employed by the US government appeared to be a crude attempt to persuade the Trump administration to extradite Mr. Gulen, who has denied having any association with the attempted coup.
The administrations of both Mr Trump and President Barack Obama have rejected Turkish extradition requests because Turkey had provided insufficient evidence to substantiate it's claim that the preacher was responsible for the failed coup.
Mr. Erdogan also wants the release of Reza Zarrab, a Turkish-Iranian businessman with ties to Turkey's ruling elite, who was arrested in Miami last year for helping Iran evade sanctions.
Mr. Erdogan last month suggested that he would be willing to swap Andrew Brunson, the detained missionary who ran a small Protestant church in the coastal city of İzmir, for Mr. Gulen. "'Give us the pastor back,' they say. You have one pastor (Gulen) as well. Give him to us. Then we will try (Mr. Brunson) and give him to you," Mr. Erdogan said.
The spat constitutes a serious deterioration of US Turkish relations at a time that Turkish-backed rebels are battling Islamic militants in Syria's Idlib province. The fighting aims to drive back Al-Qaeda-linked forces and prevent the emergence of a Syrian Kurdish entity on Turkey's border in the wake of a recent Iraqi Kurdish vote for independence. It also comes as Turkey has forged closer ties with Iran to confront Kurdish moves and has stepped up co-operation with Russia in Syria.
Turkey is not the only country to detain US nationals or green card holders. Ola Al-Qaradawi, a 55-year-old research assistant and daughter of controversial Qatar-based religious scholar Yousef al-Qaradawi who has a green card, and her husband, Hossam Khalaf, have been held in solitary confinement since last year. Their only crime appears to be that she is related to a spiritual leader of the Muslim Brotherhood.
The United States has no consular obligations but Congressman Adam Smith, the top Democrat on the powerful House Armed Services Committee, has taken up their case.
Egyptian general-turned-president Abdel Fattah Al-Sisi, who came to power in a military coup in 2013 that toppled the country's first and only democratically elected president, has gone much further than Mr. Erdogan in brutally cracking down on opponents and freedoms.
In a rare break with apparent US neglect of abuse of human rights among its allies, Mr. Trump has cut military aid to Egypt, citing legal restrictions imposed on non-governmental organizations. The real reason was more likely Egypt's relations with North Korea.
The Trump administration has suggested that it would review its aid decision if Egypt breaks off diplomatic relations with North Korea. Acting on US intelligence, Egyptian authorities seized in August a boatload of $23 million worth of rocket-propelled grenades shipped from North Korea and destined for Egypt. Egypt has denied that it was the intended end-user.
To be fair, the repressive policies of Messrs. Erdogan and Al-Sisi as well as Mr. Trump's attitudes towards authoritarianism and autocracy and his efforts to redefine basic freedoms in the United States enjoy the support of segments of their populations.
As a result, the plight of US nationals and government employees in Turkey is unlikely to persuade Mr Trump to return to the more assertive advocacy of basic rights and the rule of law of his predecessors. It does, however, demonstrate that tacit endorsement of authoritarian or autocratic rule is not without risk for US citizens as well as foreign nationals employed by the US government.
Moreover, it suggests that lack of respect for human rights and the rule of law constitutes a slippery slope that ultimately could put US national security interests at risk on a far larger scale. That has been evident since the 2011 popular Arab revolts that has heralded an era of often volatile and violent transition in the Middle East for which no end is in sight. It is a convoluted and bloody process of change that poses multiple, often unpredictable challenges, many of which are exacerbated rather than alleviated by autocratic and authoritarian rule.
Confronting the Shadow of Colonialism in Trump's America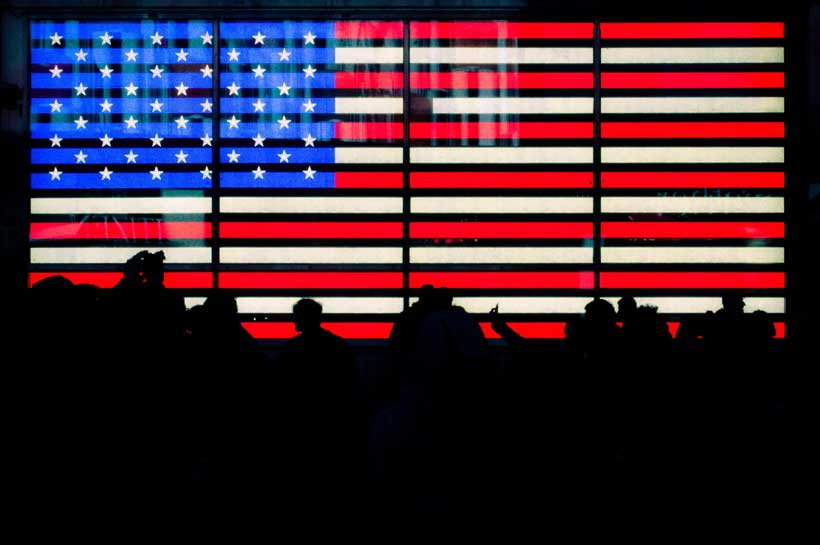 August 2018 marked the anniversary of civil unrest in Charlottesville, Virginia where white nationalists clashed with counter-protesters. Then, President Donald Trump in his response to this event empowered ultra-right and racist groups by blurring the line of responsibility with the rhetoric of "blame on both sides." Now, in condemning the horrific tragedy that took place last year, he maintained his stance with wording of "all types of racism and acts of violence."
The victory of Trump in the 2016 presidential election brought a demise of the U.S. political establishment. As the legitimacy of institutions weakened, the veil of reality has now been lifted. Like the scenery kept hidden in the darkness of night, what was condemned, denied and kept secret in this society was now freed, entering the light of day.
Trump's campaign slogan 'make America great again' captured the minds of many who are disenfranchised by the system. Patriotism that was quickly harnessed is now summoned for all to obey the rules of patriarchy and worship the glory of military might. As Trump administration carries on the legacy of U.S. imperialism, American exceptionalism of the Obama era appeared to gain another meaning.
The rhetoric of 'putting the nation first' also struck a chord with white supremacist groups that till now were more on the fringe. With Trump's xenophobia and racism manifested in the Muslim ban as well as transgender military exclusion and deportation of Mexicans with a policy of separating families at a border, the notion of American superiority in the world became white exceptionalism.
Barbarians inside civilization
How did we get here? While many people were caught by surprise by the growing power of extremists that try to regress America into a pre-Civil War era, this return of European identity was not created overnight.
White supremacy has been a fabric of the political, economic and cultural system of the U.S., woven into every aspect of our lives. In fact, it has been a dominant force that shaped the world of past centuries. Since the Age of Discovery, civilization of the earth has become synonymous with European colonization of the world. Frantz Fanon, who studied the black psyche in the white world in the context of the Algerian resistance to French colonialism shared his own experience of colonial identification. In Black Skin, White Masks he made a sad predicament, saying "There is but one destiny for the black man. And it is white."
The law of conquest of the Old World crept its way into the New World. As early settlers of North America were trying to free themselves from Great Britain and its king, Europe's ambition to enlighten ignorance and bring order to an archaic force of nature became a new mission of Manifest Destiny to master the American continent.
The history of America carries contradictions manifested in hypocrisies of the original framers of country. Here we find the seed for Trump's America that tries to create a republic for a few, who are deemed superior to humanity. On one hand, the U.S. Constitution laid the foundation for the rights of individuals, halting the rule of monarchy of that time. On the other hand, this new nation of law, with democratic principles contained the darkness of genocide of Native Americans, slavery of blacks and the oppression of women and minorities.
The idea of equality in the Declaration of Independence that inspired the hearts of many, has remained as empty words and for some appeared as blunt lies. The light-skinned men asserting themselves as God's chosen race crusaded to civilize Turtle Island. In their self-righteousness, they were blind to their own barbarian within that slaughtered natives, enslaved blacks by treating them as subhumans, while subjugating women as objects.
American dream and the myth of equality
The savage beast inside America has been made invisible, covered up by a symbol of flags and legends that turned European colonists into pioneers, heroes and patriots. In the post-industrial era, the primitive man within civilization seemed to have found its vehicle in the new brand of national identity.
Psychologist Philip Cushman observed the emergence of a particular configuration of self in the post WWII United States. He characterized it as a self that "has specific psychological boundaries, a sense of personal agency that is located interiorly, and a wish to manipulate the external world for its own personal ends."
He defined it "a kind of masterful, bounded self: the empty self" and described it as a psychological condition "that experiences a significant absence of community, tradition, and shared meaning" and that "embodies the absence, loneliness, and disappointments of life as a chronic, undifferentiated emotional hunger." Then, he pointed out how this internal emptiness was used to fuel "the mindless, wasteful consumerism of the late twentieth century."
The beast entered a vacuum at the core of individual identity, channeling people' desires into the consumer economy to feed itself. Through beautiful images of affluent life displayed in ads, TV commercials and Hollywood movies, the glamour of American upper-middle class was created. This life style image was sold like a new product promised to make us whole. The narrative of the American dream was used as a sales pitch. It was the idea that with basic hard work and talent, anyone can succeed economically, regardless of their class or race. Enticed by this promise of social meritocracy, people entered into a market to compete in the pursuit of happiness defined by material wealth.
Individual's urge to fulfill endless personal desires now merged with the unbridled greed of capitalism. Many began chasing after status, careers, and money to climb up the ladder of success that preserves the colonial hierarchy in a form of an economic class.
Crumbling illusion of democracy
The American dream and its myth of equal opportunity further erased awareness of racial injustice and colonial oppression. The virtue of liberty that is now uprooted from its foundation of equality became an ideology of neoliberalism. Along with it came the birth of corporate America that enshrines white supremacy through radical deregulation and expands its power under a façade of democracy.
In Empire of Illusion: The End of Literacy and the Triumph of Spectacle, journalist and author Chris Hedges described how "the America we celebrate is an illusion" where "the words consent of the governed have become an empty phrase."Hiding behind the anonymity of a corporate state, a master oligarchic class orchestrates the lesser of two evil politics to control citizens who are now turned into obedient consumers. They make sure with both Democrat or Republican presidents, that no matter who gets elected, white privilege always remains as a Washington consensus.
Obama, the first black president was installed as a symbol of progress and racial equality to make people entangle with empire's illusion and keep the status quo of white color domination.Consumed by their own desires, Americans became self-absorbed, not being able to see the oppression created by their own government around the world. They became blind to colonization enacted under the name of globalization with exploitative economic practice of sweatshop labor, trade agreements like WTO and NAFTA and military intervention for resource grabs. By not being able to see the empire's predation, people no longer feel burdened with the suffering of others. Silence becomes complacency and the sense of morality becomes dull.
Now, economic stagnation is shrinking the middle class. This consumer nation has begun to starve, losing means to soothe its internal emptiness. As the illusion of democracy starts to crumble, many people are gradually waking up from the American dream to see the ugliness that surrounds them. James Baldwin said, "I imagine one of the reasons people cling to their hates so stubbornly is because they sense, once hate is gone, they will be forced to deal with pain." Some react to Trump's rhetoric of hate with similar hate. They direct anger to others, blaming each other for sabotaging the supposed beautiful life that they once thought they had.
Transforming outrage into courage
Trump and the resurgence of white supremacy opened eyes to the forbidden scenery that has long remained unseen, by keeping all in a fantasy of illusory light. We are now beginning to see ourselves surrounded by a corporate wasteland where depravity of conscience fails to tame unruly cowboys, who under the banner of profit at any cost continue this plunder.
In this moral desert, we are visited by phantoms of our own shadow. The new face of this American leader presents a mirror through which we see our culture's own nothingness, masking insecurity and inadequacy in a façade of a 'masterful self'. Reflected in this is our unknown self, forgotten and denied. It is that which compels us to grab power, while demanding and demeaning others in order to fulfill our narcissistic desire, promoted by this consuming corporate capitalism.
From refugees, gays, blacks and the poor, we begin to hear cries of those who have been exiled from an American middle class bubble of insulated reality. Standing next to victims of systemic oppression is the colonizer within each of us. Enslaved by internal hunger, they acquiesce to a system of patriarchy that binds all to shadows from the past.
For so long, we have been made to feel powerless and conditioned to seek approval from outside authority. Instead of finding answers within, many look to teachers and politicians who pretend to offer solutions to problems. We succumb to the orders of corporate masters for financial security and try to find value and meaning in commercial goods, seeking for validation in expert opinion. By doing so, we lose touch with our authentic selves and give away our own power.
The Trump presidency unsealed the demon inside the history of America that has been devouring the heart that remembers our intrinsic connection. The darkness we face now challenges all to find strength to fill the void inside ourselves that predators have been latching onto. Austrian philosopher Rudolf Steiner elucidated the role of evil and how it helps educate us to freedom and love:
"Love would be impossible for man and freedom would be impossible for man without the possibility of sailing down into the abyss. A man unable of his own free decision to choose good or evil, would be a being only led on a leading string to a good which must be attained of necessity and who had no power to choose the good of his own fully purified will, by the love which springs from freedom."
Within days of Trump's inauguration, people took to the streets to protest against this new commander in chief. While fear spreads across U.S. cities, people's will to stand united against his hateful ideology is creating a nationwide movement. With slogans of 'love', people march arm in arm, trying to defeat hatred. Yet in order for this solidarity to become real resistance, our love has to go beyond passion, indignation and even compassion for the oppressed. Love that overcomes hate is an act of courage, chosen by each of us out of our own free resolution, to eradicate all terror that tries to freeze our hearts and govern our actions under the dictate of the mind. Courage is not an absence of fear, but is an act carried out despite that fear.
This love resuscitates the breath of life that inspired the truth held to be self-evident by the founders. We discover the wisdom that has always been there, guarded by the First Nations. It is supremacy of the heart—the love for our brothers and sisters that can overcome the love of power.
This transition to new political power brings us to a time of decision. We now have a choice. Outrage toward injustice can become the fire to destroy, fueling civil wars between one another. Or, it can be transformed into courage to dethrone the corporate aristocracy and restore the reign of the heart. A new light emerges that could truly enlighten the world. It is a light drawn from the darkness, dissolving the illusion of colonial hierarchy and illuminating the way for all to come home.
Why Trump Cancelled the Iran Deal
The following is entirely from open online sources that I have been finding to be trustworthy on these matters in the past. These sources will be linked-to here; none of this information is secret, even though some details in my resulting analysis of it will be entirely new.
It explains how and why the bottom-line difference between Donald Trump and Barack Obama, regarding U.S. national security policies, turns out to be their different respective estimations of the biggest danger threatening the maintenance of the U.S. dollar as the world's leading or reserve currency. This has been the overriding foreign-policy concern for both Presidents.
Obama placed as being the top threat to the dollar, a breakaway of the EU (America's largest market both for exports and for imports) from alliance with the United States. He was internationally a Europhile. Trump, however, places as being the top threat to the dollar, a breakaway of Saudi Arabia and of the other Gulf Arab oil monarchies from the United States. Trump is internationally a Sunni-phile: specifically a protector of fundamentalist Sunni monarchs — but especially of the Sauds themselves — and they hate Shia and especially the main Shia nation, Iran.
Here's how that change, to Saudi Arabia as being America's main ally, has happened — actually it's a culmination of decades. Trump is merely the latest part of that process of change. Here is from the U.S. State Department's official historian, regarding this history: By the 1960s, a surplus of U.S. dollars caused by foreign aid, military spending, and foreign investment threatened this system [the FDR-established 1944 Bretton Woods gold-based U.S. dollar as the world's reserve currency], as the United States did not have enough gold to cover the volume of dollars in worldwide circulation at the rate of $35 per ounce; as a result, the dollar was overvalued. Presidents John F. Kennedy and Lyndon B. Johnson adopted a series of measures to support the dollar and sustain Bretton Woods: foreign investment disincentives; restrictions on foreign lending; efforts to stem the official outflow of dollars; international monetary reform; and cooperation with other countries. Nothing worked. Meanwhile, traders in foreign exchange markets, believing that the dollar's overvaluation would one day compel the U.S. government to devalue it, proved increasingly inclined to sell dollars. This resulted in periodic runs on the dollar.
It was just such a run on the dollar, along with mounting evidence that the overvalued dollar was undermining the nation's foreign trading position, which prompted President Richard M. Nixon to act, on August 13, 1971 [to end the convertibility of dollars to gold].
When Nixon ended the gold-basis of the dollar and then in 1974 secretly switched to the current oil-basis, this transformation of the dollar's backing, from gold to oil, was intended to enable the debt-financing (as opposed to the tax-financing, which is less acceptable to voters) of whatever military expenditure would be necessary in order to satisfy the profit-needs of Lockheed Corporation and of the other U.S. manufacturers whose only markets are the U.S. Government and its allied governments, as well as of U.S. extractive industries such as oil and mining firms, which rely heavily upon access to foreign natural resources, as well as of Wall Street and its need for selling debt and keeping interest-rates down (and stock-prices — and therefore aristocrats' wealth — high and rising). This 1974 secret agreement between Nixon and King Saud lasts to the present day, and has worked well for both aristocracies. It met the needs of the very same "military-industrial complex" (the big U.S. Government contractors) that the prior Republican President, Dwight Eisenhower, had warned might take control of U.S. foreign policies. As Bloomberg's Andrea Wong on 30 May 2016 explained the Nixon system that replaced the FDR system, "The basic framework was strikingly simple. The U.S. would buy oil from Saudi Arabia and provide the kingdom military aid and equipment. In return, the Saudis would plow billions of their petrodollar revenue back into Treasuries and finance America's spending."
This new system didn't only supply a constant flow of Saudi tax-money to the U.S. Government; it supplied a constant flow of new sales-orders and profits to the military firms that were increasingly coming to control the U.S. Government — for the benefit of both aristocracies: the Sauds, and America's billionaires.
That was near the end of the FDR-produced 37-year period of U.S. democratic leadership of the world, the era that had started at Bretton Woods in 1944. It came crashing to an end not in 1974 (which was step two after the 1971 step one had ended the 1944 system) but on the day when Ronald Reagan entered the White House in 1981. The shockingly sudden ascent, from that moment on, of U.S. federal Government debt (to be paid-off by future generations instead of by current taxpayers) is shown, right here, in a graph of "U.S. Federal Debt as Percent of GDP, 1940-2015", where you can see that the debt had peaked above 90% of GDP late in WW II between 1944-1948, and then plunged during Bretton Woods, but in 1981 it started ascending yet again, until reaching that WW II peak for a second time, as it has been ever since 2010, when Obama bailed-out the mega-banks and their mega-clients, but didn't bail out the American public, whose finances had been destroyed by those banksters' frauds, which Obama refused to prosecute; and, so, economic inequality in America got even more extreme after the 2008 George W. Bush crash, instead of less extreme afterward (as had always happened in the past).
Above 90% debt/GDP during and immediately following WW II was sound policy, but America's going again above 90% since 2010 has reflected simply an aristocratic heist of America, for only the aristocracy's benefit — all of the benefits going only to the super-rich.
Another, and more-current U.S. graph shows that, as of the first quarter of 2018, this percentage (debt/GDP) is, yet again, back now to its previous all-time record high of 105-120%%, which had been reached only in 1945-1947 (when it was justified by the war).
Currently, companies such as Lockheed Martin are thriving as they had done during WW II, but the sheer corruption in America's military spending is this time the reason, no World War (yet); so, this time, America is spending like in an all-out-war situation, even before the Congress has issued any declaration of war at all. Everybody except the American public knows that the intense corruptness of the U.S. military is the reason for this restoration of astronomical 'defense' spending, even during peace-time. A major poll even showed that 'defense' spending was the only spending by the federal Government which Americans in 2017 wanted increased; they wanted all other federal spending to be reduced (though there was actually vastly more corruption in military spending than in any other type — the public have simply been hoodwinked).
But can the U.S. Government's extreme misallocation of wealth, from the public to the insiders, continue without turning this country into a much bigger version of today's Greece? More and more people around the world are worrying about that. Of course, Greece didn't have the world's reserve currency, but what would happen to the net worths of America's billionaires if billionaires worldwide were to lose faith in the dollar? Consequently, there's intensified Presidential worrying about how much longer foreign investors will continue to trust the oil-based dollar.
America's political class now have two competing ideas to deal with this danger, Obama's versus Trump's, both being about how to preserve the dollar in a way that best serves the needs of 'defense' contractors, extractive firms, and Wall Street. Obama chose Europe (America's largest market) as America's chief ally (he was Euro-centric against Russia); Trump chose the owner of Saudi Arabia (he's Saudi-Israeli centric against Iran) — that's the world's largest weapons-purchaser, as well as the world's largest producer of oil (as well as the largest lobbies).
The Saudi King owns Saudi Arabia, including the world's largest and most valuable oil company, Aramco, whose oil is the "sweetest" — the least expensive to extract and refine — and is also the most abundant, in all of the world, and so he can sell petroleum at a profit even when his competitors cannot. Oil-prices that are so low as to cause economic losses for other oil companies, can still be generating profits — albeit lowered ones — for King Saud; and this is the reason why his decisions determine how much the global oil-spigot will be turned on, and how low the global oil-price will be, at any given time. He controls the value of the U.S. dollar. He controls it far more directly, and far more effectively, than the EU can. It would be like, under the old FDR-era Bretton Woods system, controlling the exchange-rates of the dollar, by raising or lowering the amount of gold produced. But this is liquid gold, and King Saud determines its price.
Furthermore, King Saud also leads the Gulf Cooperation Council of all other Arab oil monarchs, such as those who own UAE — all of them are likewise U.S. allies and major weapons-buyers.
In an extraordinarily fine recent article by Pepe Escobar at Asia Times, "Oil and gas geopolitics: no shelter from the storm", he quotes from his not-for-attribution interviews with "EU diplomats," and reports:
After the Trump administration's unilateral pull-out from the Iran nuclear deal, known as the Joint Comprehensive Plan of Action (JCPOA), European Union diplomats in Brussels, off the record, and still in shock, admit that they blundered by not "configuring the eurozone as distinct and separate to the dollar hegemony". Now they may be made to pay the price of their impotence via their "outlawed" trade with Iran. …
As admitted, never on the record, by experts in Brussels; the EU has got to reevaluate its strategic alliance with an essentially energy independent US, as "we are risking all our energy resources over their Halford Mackinder geopolitical analysis that they must break up [the alliance between] Russia and China."
That's a direct reference to the late Mackinder epigone Zbigniew "Grand Chessboard" Brzezinski, who died dreaming of turning China against Russia.
In Brussels, there's increased recognition that US pressure on Iran, Russia and China is out of geopolitical fear the entire Eurasian land mass, organized as a super-trading bloc via the Belt and Road Initiative (BRI), the Eurasia Economic Union (EAEU), the Shanghai Cooperation Organization (SCO), [and] the Asia Infrastructure Investment Bank (AIIB), is slipping away from Washington's influence.
This analysis gets closer to how the three key nodes of 21st century Eurasia integration – Russia, China and Iran – have identified the key issue; both the euro and the yuan must bypass the petrodollar, the ideal means, as the Chinese stress, to "end the oscillation between strong and weak dollar cycles, which has been so profitable for US financial institutions, but lethal to emerging markets." …
It's also no secret among Persian Gulf traders that in the – hopefully unlikely – event of a US-Saudi-Israeli war in Southwest Asia against Iran, a real scenario war-gamed by the Pentagon would be "the destruction of oil wells in the GCC [Gulf Cooperation Council]. The Strait of Hormuz does not have to be blocked, as destroying the oil wells would be far more effective."
And what the potential loss of over 20% of the world's oil supply would mean is terrifying; the implosion, with unforeseen consequences, of the quadrillion derivatives pyramid, and consequentially [consequently] of the entire Western financial casino superstructure.
In other words: it's not the 'threat' that perhaps, some day, Iran will have nuclear warheads, that is actually driving Trump's concern here (despite what Israel's concerns are about that matter), but instead, it is his concerns about Iran's missiles, which constitute the delivery-system for any Iranian warheads: that their flight-range be short enough so that the Sauds will be outside their range. (The main way Iran intends to respond to an invasion backed by the U.S., is to attack Saudi Arabia — Iran's leaders know that the U.S. Government is more dependent upon the Sauds than upon Israel — so, Iran's top targets would be Saudi capital Riyadh, and also the Ghawar oil field, which holds over half of Saudi oil. If U.S. bases have been used in the invasion, then all U.S. bases in the Middle East are also be within the range of Iran's missiles and therefore would also probably be targeted.)
Obama's deal with Iran had focused solely upon preventing Iran from developing nuclear warheads — which Obama perhaps thought (mistakenly) would dampen Israel's (and its billionaire U.S. financial backers') ardor for the U.S. to conquer Iran. Israel had publicly said that their concern was Iran's possibility to become a nuclear power like Israel became; those possible future warheads were supposed to be the issue; but, apparently, that wasn't actually the issue which really drove Israel. Obama seems to have thought that it was, but it wasn't, actually. Israel, like the Sauds, want Iran conquered. Simple. The nuclear matter was more an excuse than an explanation.
With Trump now in the White House, overwhelmingly by money from the Israel lobbies (proxies also for the Sauds) — and with no equivalently organized Jewish opposition to the pro-Israel lobbies (and so in the United States, for a person to be anti-Israel is viewed as being anti-Semitic, which is not at all true, but Israel's lies say it's true and many Americans unfortunately believe it) — Trump has not only the Sauds and their allies requiring him to be against Iran and its allies, but he has also got this pressure coming from Israel: both the Big-Oil and the Jewish lobbies drive him. Unlike Obama, who wasn't as indebted to the Jewish lobbies, Trump needs to walk the plank for both the Sauds and Israel.
In other words: Trump aims to keep the dollar as the reserve currency by suppressing not only China but also the two main competitors of King Saud: Iran and Russia. That's why America's main 'enemies' now are those three countries and their respective allies.
Obama was likewise targeting them, but in a different priority-order, with Russia being the main one (thus Obama's takeover of Ukraine in February 2014 turning it against Russia, next door); and that difference was due to Obama's desire to be favorably viewed by the residents in America's biggest export and import market, the EU, and so his bringing another member (Ukraine) into the EU (which still hasn't yet been culminated).
Trump is instead building on his alliance with King Saud and the other GCC monarchs, a group who can more directly cooperate to control the value of the U.S. dollar than the EU can. Furthermore, both conservative (including Orthodox) Jews in the United States, and also white evangelical Protestants in the U.S., are strongly supportive of Israel, which likewise sides with the Arab oil monarchs against Iran and its allies. Trump needs these people's votes.
Trump also sides with the Sauds against Canada. That's a matter which the theorists who assert that Israel controls the U.S., instead of that the Sauds (allied with America's and Israel's billionaires) control the U.S., ignore; they ignore whatever doesn't fit their theory. Of course, a lot doesn't fit their theory (which equates "Jews" with "Israelis" and alleges that "they" control the world), but people whose prejudices are that deep-seated, can't be reached by any facts which contradict their self-defining prejudice. Since it defines themselves, it's a part of them, and they can never deny it, because to do so would be to deny who and what they are, and they refuse to change that. The Sauds control the dollar; Israel does not, but Israel does the lobbying, and both the Sauds and Israel want Iran destroyed. Trump gets this pressure not only from the billionaires but from his voters.
And, of course, Democratic Party billionaires push the narrative that Russia controls America. It used to be the Republican Joseph R. McCarthy's accusation, that the "commies" had "infiltrated", especially at the State Department. So: Trump kicked out Russia's diplomats, to satisfy those neocons — the neoconservatives of all Parties and persuasions, both conservative and liberal.
To satisfy the Sauds, despite the EU, Trump has dumped the Iran deal. And he did it also to satisfy Israel, the main U.S. lobbyists for the Sauds. (Americans are far more sympathetic to Jews than to Arabs; the Sauds are aware of this; Israel handles their front-office.) For Trump, the Sauds are higher priority than Europe; even Israel (who are an expense instead of a moneybag for the U.S. Government) are higher priority than Europe. Both the Sauds and Israel together are vastly higher. And the Sauds alone are higher priority for Trump than are even Canada and Europe combined. Under Trump, anything will be done in order to keep the Sauds and their proxy-lobbyists (Israel) 'on America's side'.
Consequently, Trump's political base is mainly against Iran and for Israel, but Obama's was mainly against Russia and for the EU. Obama's Democratic Party still are controlled by the same billionaires as before; and, so, Democrats continue demonizing Russia, and are trying to make as impossible as they can, any rapprochement with Russia — and, therefore, they smear Trump for anything he might try to do along those lines.
Both Obama and Trump have been aiming to extend America's aristocracy's dominance around the world, but they employ different strategies toward that politically bipartisan American-aristocratic objective: the U.S. Government's global control, for the benefit of the U.S. aristocracy, at everyone else's expense. Obama and Trump were placed into the White House by different groups of U.S. billionaires, and each nominee serves his/her respective sponsors, no public anywhere — not even their voters' welfare.
An analogous example is that, whereas Fox News, Forbes, National Review, The Weekly Standard, American Spectator, Wall Street Journal, Investors Business Daily, Breitbart News, InfoWars, Reuters, and AP, are propagandists for the Republican Party; NPR, CNN, NBC, CBS, ABC, Mother Jones, The Atlantic, The New Republic, New Yorker, New York Magazine, New York Times, Washington Post, USA Today, Huffington Post, The Daily Beast, and Salon, are propagandists for the Democratic Party; but, they all draw their chief sponsors from the same small list of donors who are America's billionaires, since these few people control the top advertisers, investors, and charities, and thus control nearly all of the nation's propaganda. The same people who control the Government control the public; but, America isn't a one-Party dictatorship. America is, instead, a multi-Party dictatorship. And this is how it functions.
Trump cancelled the Iran deal because a different group of billionaires are now in control of the White House, and of the rest of the U.S. Government. Trump's group demonize especially Iran; Obama's group demonize especially Russia. That's it, short. That's America's aristocratic tug-of-war; but both sides of it are for invasion, and for war.  Thus, we're in the condition of 'permanent war for permanent peace' — to satisfy the military contractors and the billionaires who control them. Any U.S. President who would resist that, would invite assassination; but, perhaps in Trump's case, impeachment, or other removal-from-office, would be likelier. In any case, the sponsors need to be satisfied — or else — and Trump knows this.
Trump is doing what he thinks he has to be doing, for his own safety. He's just a figurehead for a different faction of the U.S. aristocracy, than Obama was. He's doing what he thinks he needs to be doing, for his survival. Political leadership is an extremely dangerous business. Trump is playing a slightly different game of it than Obama did, because he represents a different faction than Obama did. These two factions of the U.S. aristocracy are also now battling each other for political control over Europe.
Author's note: article first published at strategic-culture.org
The Future of Small Caribbean States
Barely weeks apart, two major announcements in the citizenship by investment world rocked the boat. Two countries from the Eastern side of Europe, who both want to join the EU, officially made their leap to compete with Antigua & Barbuda, Cyprus, Dominica, Grenada, Malta, Saint Kitts & Nevis, Saint Lucia and Vanuatu, the eight (8) major players of the citizenship by investment industry. This is good news for those wanting to give better migrating opportunities for their families but bad news for the countries running these programs. Some may say that "competition is better for the consumer", but this is not the same as buying milk at the corner store.
With the Organisation for Economic Co-operation and Development (OECD) rallying for worldwide compliance of the common reporting standards and the prevention of tax evasion, these citizenship by investment (CBI) programs are under regular scrutiny making these small states consistently vulnerable. There is no doubt that these countries need the programs to survive. They are essential lifelines for Caribbean   nations   who   have   been   impacted   by   the   existential   threat   of   climate   change. Unfortunately, CBI income is not an infinite resource and highly volatile. Saint Kitts & Nevis and Dominica may have enjoyed dominance for decades, but because of the global economic downturn, other countries launched their own programs resulting in a rapid market growth just in the last five years. This aggressive competition has left a dangerous "race to the bottom" in the Caribbean region. And with Moldova and Montenegro joining the bandwagon, who knows what further direction this industry will take.
It's now time for these Small Island Developing States to purposely strengthen their competitive edge in the digital space. Who doesn't want to work in the next "Silicon Valley" on the beach? Maybe use their e- Residency to perform business remotely? Or have some cryptocurrency together with their citizenship?
Sometime ago, tech companies would not even consider far off New Zealand to be their regional hub or headquarters but thanks to enticing government offers, many tech professionals have boarded that 13-hour flight from San Francisco to Auckland exactly to do this.
When Estonia publicized its e-Residency program over the internet 4 years ago, no one really knew how it would go, not even the Estonians. Three years later, Deloitte says that the program has infused €14.4 million into the economy and estimates that the program will bring in €31 million in income and €194 million in indirect socio-economic benefits by 2021 . Estonia was the first country to offer internet voting in 2005 and is now leading the rest of the world in e-Governance with Tallinn fast becoming a favorite go- to place for global tech expats.
There has been so much talk about cryptocurrency for several years all over the Caribbean region while the "Sovereign" was quietly being launched on the other side of the globe. The Marshall Islands imprinted themselves in history books when they passed the Sovereign Currency Act 2018 last February thereby creating and recognizing the "Sovereign" (SOV) cryptocurrency as its legal tender. This legislation officially allows banks and credit card companies in the country and around the world to start accepting it.
The hospitality industry will always play a major role in the economies of small Caribbean states but because of climate change, every hurricane season is like playing a game of Russian roulette. The movement towards sustainable tourism will take some time. In comparison, taking part in the digital economy requires a much smaller carbon footprint.
There are several elements needed to make this happen such as a welcoming local environment, proper government policies, good internet infrastructure, sustainable power such as solar and wind and a capable workforce. Fortunately, all these islands already have these innate qualities just waiting to be explored. The recent World Bank report fully solidifies this concept.
Small Caribbean states can really take the lead in this arena if they so desire, but often there is more talk than action. It should start securing the future of its biggest resource, its younger generation, if it is to survive. Members of the younger workforce fall prey to overseas migration due to the lack of local opportunities. The 21st century needs keyboard warriors and unconventional thinkers and the islands can greatly contribute.
Innovation and ingenuity is the key to the Caribbean's future. Engagement in the digital economy must be done today because tomorrow is already too late.