The Indian Economy 2010 to 2017: A study of the Spectacular Jig-Saw
Authors: Krishna Raghav Chaturvedi & Vikas
Economics is a strange subject. There are many ways to define economics. The father of Economics Adam Smith characterized Economics as "An inquiry into the nature and cause of wealth of nations". However, there is no concrete definition as no single definition is globally accepted.
So it's prudent to have an idea about what Economics is rather than looking for a definition. The stretch of economics is vast. It may talk about some rare yet valuable source like diamond and also vastly abundant resources like air. By virtue of its scarcity, a diamond is priced high and as air is abundant so it has no price. But while we can live without diamonds, can we live without air? No doubt, this is why air is priceless and people are yet to put a price on air. Adam Smith's studies showed that "the things which have greater value in exchange has almost negligible value in use and vice versa". Another example water, it has great value for us. We can't live without it, but hardly can we buy anything by bartering it. But as the human tendency is to care for scarce more so Economics and by extension, economists talk about scarcity more often than not. This is where sometimes, even a learned Economist falters in his quest to understand "real economics" and finds the need to go back to his books. At other times, even a less literate chai-walla comes up with the most ingenious of the solutions to the most typical of challenges. This may be because we tend to see "Economics" as a subject, like Physics, Chemistry or Biology with some rigid laws and theorems. However, even the laws of Physics seem to change in certain cases. Economics, on the other hand, can and should never be seen in isolation. There is caste economics, political economics, regional economics, behavioral economics, national economics, sub-divisional economics and much more. This is where many economists fail and this is where some from the real grass roots really shine.
There has been a lot of buzz about the recent slowdown in the Indian GDP growth. While the GDP growth slowdown can certainly be linked to the twin shocks of Demonetization and the implementation of the Goods & Services tax (GST), critics of the present dispensation are presenting it as an Armageddon. Yes, Economy is Economics at play in a certain region, the certain region here in question being India. Demonetization was a behavioral change and the GST, a structural change. Such radical and far reaching changes are going to have an impact on the economy and yes, they have had their pound of the flesh. But to decry the entire process and denounce the present ruling dispensation as inept requires a special kind of narrow mindedness and selective criticism, a behavioral trait that is common with the critics of the ruling political party of India, the Bhartiya Janta Party (BJP) and its leader, Shri Narendra Modi.
True, as the critics claim, the economic growth has slowed. True, jobs are been created at an abysmal rate. True, present government measure's aimed at boosting manufacturing (Make in India) and promoting job creation (Start-up India, MUDRA etc.) have failed, some quite spectacularly. True, these signs do not bode well for the Indian economy, nor in the short term and certainly never will in the long run. Yes, the ruling National Democratic Alliance (NDA) is at fault here. But not for making a mess of the economy, for which their predecessor, the United Progressive Alliance (UPA) deserves full credit but for failing to bring out a white paper on the state of the economy when they took the reins of the Indian Government in 2014. For failing to show the public the true grim picture of which the UPA government left us in and the hell hole we had dug for ourselves with continuous tax evasion, black marketing and numerous scams which had dominated the public discourse (2G, Coalgate etc.) before 2014. And this is why, their defense of this lag in growth is being questioned and this is why, the present ruling dispensation and the prime minister, Shri Narendra Modi and his finance Minister, Shri Arun Jaitley must provide answers.
While this article can be far from a white paper on the state of the Indian economy in 2014 at time of the transition from the UPA to the NDA, it will no doubt portray the truth of the times and endeavor to expose the fallacies of both for the time period 2010-2017.
While GDP growth has often and more often, wrongly, cited as the criteria for growth of a country, such a calculation is far from perfect and there is a pertinent need to align growth with human parameters like living Indexes, Education, Distribution of Wealth rather than only the gross domestic value of all products and services in a country. Recently, a quarterly GDP "Growth rate" of 5.7% is cited as a slowdown (true, it a slowdown but only temporary) or a "crash landing" recession (though I doubt the critics claiming this even know the meaning of a recession). Such irrational and biased thinking is uncalled for and while, there is truth that the GDP growth has slowed, it is nowhere near the Armageddon being projected by the critics, prominent among which is the former Prime Minister of India and a very noted economist, Dr. Manmohan Singh-ji. He claimed and quoted that the GDP will suffer a contraction by atleast 2% points in wake of the Demonetization exercise. The Demonetization, an exercise in which the current Indian Prime Minister, Shri Narendra Modi-ji effectively made approx. 85% of the Indian currency redundant in a bid to attack black money hoarders, formalize the economy, cripple naxalism & terrorism, promote a cash-less economy, a digital economy and send out a strong message to the common people of India that the present ruling dispensation is serious in its bid to curb corruption.
While complete picture of the after-effects of the exercise is yet to be revealed, one thing is clear. Dr Manmohan Singh-ji was wrong. NO, the economy did not decline. No, it is neither prudent nor good economics to declare Demonetization a failure. But yes, as per the IT returns data, more taxpayers are now part of the formal economy. Certain news (unverified) emerged that poor people hired as mules to convert ill-gotten cash of some corrupt folk defrauded them of their wealth. Some mules completely decamped with the money of the corrupt. In my hometown, the state capital of India's most populous sub-division, for the entire 50 day duration of cash exchange, not a single laborer was found in want of work. All had been hired to exchange cash from multiple banks in lieu of a daily wage. Shri Arun Shourie-ji, a noted economist and a past supporter of PM Modi has called the demonetization as the world's biggest money-laundering scheme, I have no qualms in saying that it is indeed the world's biggest public redistribution of wealth. While there is no reliable parameter to gauge corruption, one thing is for certain, the wrong doers will now have to think twice before thinking about stashing away their ill-gotten cash.
Inflation is an important parameter in a country's economic growth. While the word may ring some negative connotations in our mind when heard of, it is not all bad. Like everything, too much of inflation is bad. It retards growth as buyers defer or cancel purchases as the products are too expensive, strangling the manufacturing and slowing the economy. Too little of inflation or negative inflation (Deflation) is also bad, as purchasers for various goods and services are hit by complacency, postponing purchases in hopes of more fall in prices, further constraining the demand and causing more fall in prices. Lower-than-expected inflation furthers the actual burden of debts. The lenders may benefit. However as they are more likely to save than borrowers, demand is overall reduced. It also increases rigidity in the human resources market. Workers are resistant to wage cuts in their wages, but inflation lets firms cut real wages by freezing pay in nominal terms. Deflation, by contrast, makes this problem worse (The Economist, Jan 2015). Hence, there is a need to hit the sweet spot, the right value of inflation that will ensure not only growth but also, cost less of the citizens of the state.
It is evident here from the presented data that the inflation under the UPA government was high (at least twice and possible more in the double digits). This is a cause of concern. Here this is why it is cause of concern. Suppose you earn a hundred rupee per month (GDP). Your expenses are also a hundred rupees. Now, if in the next your wage registers a growth of 8% (GDP Growth) i.e. it becomes a 108 rupees, is it a cause of jubilation? Certainly yes but then you realize that your expenses have risen by 10% (inflation). Simply said, nominal growth reduced to the base year is the real growth. This is where the current critics, especially, the former Finance Minister, Shri P. Chidambaram are wrong. In his time under UPA, the growth rate of April-June quarter of 2014 (the transition from UPA to NDA), the existent gap between real and nominal GDP was as high (by some calculations, as high as 6.5% (Jagannathan, Jun 2015, Firstpost)). Simply put, half the growth under UPA was pure inflation. This gap started to narrow every quarter after the NDA took charge, falling to 5.2 percent in Q2, 1.5 percent in Q3 and finally to a minuscule 0.2 percent in Q4 of 2015. This Narrowing of the gap between the real and the nominal growth rates tells us exactly two stories – a positive one about the NDA's and Modi's big success in killing inflation even when the monsoons were weak and a comparatively less positive one on the industry's inability to raise prices – which is good for consumers, but bad for profitability, investment and market wealth creation.
Share markets are a virtual representation of growth of the top companies of the country. Seen here is a growth of the Indian Bombay Stock Exchange for the period of 2012-2017. It must be noted that fluctuations in the stock market can have a profound economic impact on the country's economy and everyday lives of people. A collapse in the share prices has the potential to cause widespread economic disruption. Most famous of this all is the stock market crash of 1929 which triggered the great depression of the 1930s. In everyday terms, the stock market directly impacts the people's wealth creation, pension funds, investor confidence and further critical investment. The Indian stock market has bloomed and touched new heights under the present ruling dispensation. The critics have been quick to point out that such a growth is meaningless until it is evident on the ground. Yes, exports have reduced. But unlike what the critics portray, exports have not been hit as hard by the twin shocks and while data for 2017 is yet to come, it is a general feeling that growth will observed as already, the numbers are too low to fall any further. There are reports that Indian exports have risen for the 12th straight month, touching just over USD 21 billion in the month of September (partially propelled by the phenomenal growth of Petroleum products and Chemical products export). Pessimists, however, in their bid to defame the ruling government would also like to point that our imports are increasing too. True, our imports have reached a near high of approx. USD 33 Billion (again a major chunk of the import is crude oil and gold). But on the bright side, our foreign exchange reserves have reached an all-time of USD 400 billion.
Such a huge cash pile is enough to cover for all imports for over 10 months and possibly more. Also, while it is true that the current account deficit has widened in the past four months, it is nowhere near as severe as the royal mess we were in the past. Even in the recent months, the CAD anomaly is mainly due to a sharp uptick in Gold imports (thank you Indian Aunties, who allegedly own more gold than most sovereign nations).
Pessimists are also pointing towards a lack of private spending and need for investment from alternative sources. Private investment in the country is hampered by the twin balance sheet problem (courtesy the past regime) and ever worsening NPA crisis, which restricts a financial institution's lending ability (again, Thank you UPA). Yes, merchandise exports have fallen a bit and lending has taken a minor hit but this is reaction of the system adjusting to the changes, nothing more.
As stated earlier, GST was a structural change, revamping and overhauling the entire Indian indirect tax system. Modi deserves full points for his efforts to get a country as politically and culturally diverse as India on a single table and pass a radical bill like GST. While he was a chief minister in Gujarat, he found the UPA proposed form of GST indigestible for his state, a major manufacturing powerhouse. As the Prime Minister, he has ensured that even after the implementation of GST, the states losing revenue will be compensated for a short-period to accrue additional sources of revenue. His critics call him a hypocrite but all he has shown is a true maturity. He took a radical idea, ironed out the rough edges. He made it practical for implementation and went out of his way to get his rivals onboard for the passing of the GST bill. The implementation, like all things rest, is full of glitches but the official mechanism is tackling the problem both reactively and proactively. The situation will only improve in the coming future. It's hilarious how the critics of Modi and an army of online trolls venerate any and every source that speaks against the ruling dispensation but even calls a venerable organization like the World Bank "biased" because of its favorable outlook of the GST. Furthermore, the sales of two wheelers, certain cars has already been recorded higher than before and collections under GST are improving and meeting their targets. Yes, GST is working.
The Demonetization was a necessary exercise. One can argue that the Indian economy was weak, or dead or hale & hearty but the timing was so perfect. With anyone even catching wind of his intentions and holding fast even when all seemed lost, in one stroke and by mere words, Modi had put the fear of law back into the corrupt. People were encouraged to come forward, report their ill-gotten cash, pay a stiff penalty and let bygones be bygones. Some did take this easy way out. This was a carrot. Now, it times for the stick. Shell corporations are identified. Action has already been taken against the directors of multiple shell companies established only to launder money. Any disproportionality of income and deposits if established, leads to a notice from the income tax department notice and further inquiry. It is painful. The Indian Income tax department like all its counterparts across the globe is despised and for good reason, it is a broadsword, not a scalpel. But we need a broadsword, now that corruption and tax evasion has become an everyday part in an Indian lives.
To conclude, while the Indian economy is slowed by the twin shocks, it is resilient and in capable hands. The pessimists may have their trends but things were bad, even worse before (in the UPA as evident by the data presented here) and now that things are finally starting to smoothen, we are bound to regain our top spot as the world's fastest growing nation. The Indian economy is a jig-saw, complex pieces dominated by regions, cultures and festivals. It is a folly to see one in isolation or use the data of a 1-2 quarters and portend grim warnings. Diwali, the Indian festival of light is fast approaching. Let this occasion be the mark of a new India, an era of economic growth and prosperity for all. The UPA government, it too had its moments of glory and yes they were aplenty, had made a grand mess of the economy and its effects persist till this date. The lack of investment in roads and railways is costing us today in terms of time, lives and growth. Their numerous scams had bankrupted the country and virtually emptied our coffers. Modi is lucky. He only has to outperform a three legged donkey. It is up to him whether he will turn the Indian Economy into a prancing pony or a galloping steed. By the looks of it, we already are a prancing pony. But can he make us the galloping steed. Unfortunately, only time will answer this, with any certainty.
---
The author is neither an economist nor claims to be one.
Vikas is pursuing his PhD from the Department of Management Studies, Rajiv Gandhi Institute of Petroleum Technology, Jais
The views expressed by the authors above are personal. The authors declare that all sources used in the above article are freely accessible on the internet. The images are snapshots of existing accessible data, sources of which have been acknowledged beneath every image. The authors declare no competing financial interest.
Key elements of the EU-Japan Economic Partnership Agreement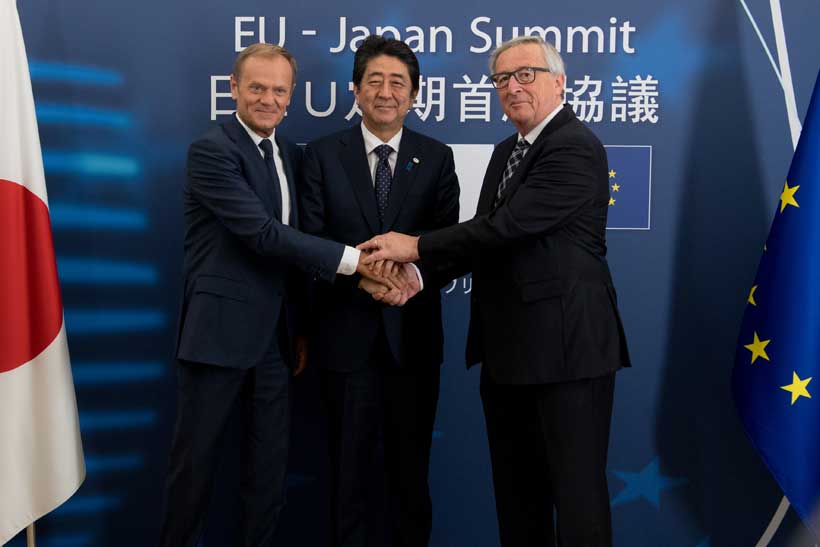 The EU-Japan Economic Partnership Agreement will boost trade in goods and services as well as create opportunities for investment.
The agreement will further improve the position of EU exporters and investors on Japan's large market, while including strong guarantees for the protection of EU standards and values. It will help cement Europe's leadership in setting global trade rules and send a powerful signal that cooperation, not protectionism, is the way to tackle global challenges.
This Agreement, as other agreements concluded recently by the EU, goes beyond trade issues only. It represents a significant strengthening of our partnership with Japan, as reflected in the name of the agreement.
What is the Economic Partnership Agreement about?
Elimination of customs duties – more than 90% of the EU's exports to Japan will be duty free at entry into force of the agreement. Once the agreement is fully implemented, Japan will have scrapped customs duties on 97% of goods imported from the EU (in tariff lines), with the remaining tariff lines being subject to partial liberalisation through tariff rate quotas or tariff reductions. This, in turn, will save EU exporters around €1 billion in customs duties per year.
Agriculture and food products – Japan is a highly valuable export market for European farmers and food producers. With annual exports worth over €5.7 billion, Japan is already the EU's fourth biggest market for agricultural exports. Over time around 85% of EU agri- food products (in tariff lines) will be allowed to enter Japan entirely duty-free. This corresponds to 87% of current agri-food exports by value.
The agreement will eliminate or sharply reduce duties on agricultural products in which the EU has a major export interest, such as pork, the EU's main agricultural export to Japan, ensuring duty-free trade with processed pork meat and almost duty-free trade for fresh pork meat exports. Tariffs on beef will be cut from 38.5% to 9% over 15 years for a significant volume of beef products.
EU wine exports to Japan are already worth around €1 billion and represent the EU's second biggest agricultural export to Japan by value. The 15% tariff on wine will be scrapped from day one, as will tariffs for other alcoholic drinks.
As regards cheese exports, where the EU is already the main player on the Japanese market, high duties on many hard cheeses such as Gouda and Cheddar (which currently are at 29.8%) will be eliminated, and a duty-free quota will be established for fresh cheeses such as Mozzarella. The EU-Japan agreement will also scrap today's customs duties (with a transitional period) for processed agricultural products such as pasta, chocolates, cocoa powder, candies, confectionary, biscuits, starch derivatives, prepared tomatoes and tomato sauce. There will also be significant quotas for EU exports (duty-free or with reduced duty) of malt, potato starch, skimmed milk powder, butter and whey.
Geographical Indications – the EU-Japan agreement recognises the special status and offers protection on the Japanese market to more than 200 European agricultural products from a specific European geographical origin, known as Geographical Indications (GIs) – for instance Roquefort, Aceto Balsamico di Modena, Prosecco, Jambon d'Ardenne, Tiroler Speck, Polska Wódka, Queso Manchego, Lübecker Marzipan and Irish Whiskey. These products will be given the same level of protection in Japan as they experience in the EU today.
Industrial products – tariffs on industrial products will be fully abolished, for instance in sectors where the EU is very competitive, such as chemicals, plastics, cosmetics as well as textiles and clothing. For leather and shoes, the existing quota system that has been significantly hampering EU exports will be abolished at the agreement's entry into force. Tariffs on shoes will go down from 30% to 21% at entry into force, with the rest of the duties being eliminated over 10 years. Tariffs on EU exports of leather products, such as handbags, will go down to zero over 10 years, as will be those on products that are traditionally highly protected by Japan, such as sports shoes and ski boots.
Fisheries – import quotas will no longer be applied and all tariffs will be eliminated on both sides, meaning better prices for EU consumers and big export opportunities for EU industry.
Forestry – tariffs on all wood products will be fully eliminated, with seven years staging for the most important priorities. Most tariffs on wood products will be dropped immediately, with some less important tariff lines being scrapped after 10 years.
Non-tariff barriers – The EU-Japan negotiations addressed many non-tariff measures that had constituted a concern for EU companies, as some Japanese technical requirements and certification procedures often make it difficult to export safe European products to Japan. The agreement will make it easier for EU companies to access the highly regulated Japanese market. Examples of such barriers addressed include:
Motor vehicles – the agreement ensures that both Japan and the EU will fully align themselves to the same international standards on product safety and the protection of the environment, meaning that European cars will be subject to the same requirements in the EU and Japan, and will not need to be tested and certified again when exported to Japan. With Japan now committing itself to international car standards, EU exports of cars to Japan will become significantly simpler. This also paves the way for even stronger cooperation between the EU and Japan in international standard setting fora. It includes an accelerated dispute settlement between the two sides specifically for motor vehicles, similar to the one agreed under the EU-South Korea trade agreement. It also includes a safeguard and a clause allowing the EU to reintroduce tariffs in the event that Japan would (re)introduce non-tariff barriers to EU exports of vehicles. The agreement will also mean that hydrogen-fuelled cars that approved in the EU can be exported to Japan without further alterations.
Medical devices – In November 2014, Japan adopted the international standard on quality management systems (QMS), on which the EU QMS system for medical devices is based. This reduces the costs of certification of European products exported to Japan considerably.
Textiles labelling – In March 2015, Japan adopted the international textiles labelling system similar to the one used in the EU. Textiles labels therefore do no longer need to be changed on every single garment exported to Japan, as was the case before.
"Quasi drugs", medical devices and cosmetics – a complicated and duplicative notification system that hampered the marketing of many European pharmaceuticals, medical devices and cosmetics in Japan was finally abolished on 1 January 2016.
Beer – From 2018 onwards, European beers can be exported as beers and not as "alcoholic soft drinks". This will also lead to similar taxation, thus doing away with differences between different beers.
In addition, the Economic Partnership Agreement also contains general rules on certain types of non-tariff barriers, which will help level the playing field for European products exported to Japan, and increase transparency and predictability:
Technical barriers to trade – the agreement puts the focus on Japan and the EU's mutual commitment to ensure that their standards and technical regulations are based on international standards to the greatest possible extent. Combined with the provisions on non-tariff measures, this is good news for European exporters of electronics, pharmaceuticals, textiles and chemicals. For instance, reliance on international standards will be helpful for easier and less costly compliance of food products with Japanese labelling rules.
Sanitary and phytosanitary measures – the agreement creates a more predictable regulatory environment for EU products exported to Japan. The EU and Japan have agreed to simplify approval and clearance processes and that import procedures are completed without undue delays, making sure that undue bureaucracy does not put a spanner in the works for exporters. The agreement will not lower safety standards or require parties to change their domestic policy choices on matters such as the use of hormones or genetically modified organisms (GMOs).
Trade in services
The EU exports some €28 billion of services to Japan each year. The agreement will make it easier for EU firms to provide services on the highly lucrative Japanese market. The agreement contains a number of provisions that apply horizontally to all trade in services, such as a provision to reaffirm the Parties' right to regulate. It maintains the right of EU Member States' authorities to keep public services public and it will not force governments to privatise or deregulate any public service at national or local level. Likewise, Member States' authorities retain the right to bring back to the public sector any privately provided services. Europeans will continue to decide for themselves how they want, for example, their healthcare, education and water delivered.
Postal and courier services – the agreement includes provisions on universal service obligations, border procedures, licences and the independence of the regulators. The agreement will also ensure a level-playing field between EU suppliers of postal and courier services and their Japanese competitors, such as Japan Post.
Telecommunications – the agreement includes provisions focused on establishing a level playing field for telecommunications services providers and on issues such as universal service obligations, number portability, mobile roaming and confidentiality of communications.
International maritime transport services – the agreement contains obligations to maintain open and non-discriminatory access to international maritime services (transport and related services) as well as access to ports and port services.
Financial services – the agreement contains specific definitions, exceptions and disciplines on new financial services, self-regulating organisations, payment and clearing systems and transparency, and rules on insurance services provided by postal entities. Many of these are based on rules developed under the World Trade Organisation, while addressing specificities of the financial services sector.
Temporary movement of company personnel – the agreement includes the most advanced provisions on movement of people for business purposes (otherwise known as "mode 4") that the EU has negotiated so far. They cover all traditional categories such as intra-corporate transferees, business visitors for investment purposes, contractual service suppliers, and independent professionals, as well as newer categories such as short-term business visitors and investors. The EU and Japan have also agreed to allow spouses and children to accompany those who are either service suppliers or who work for a service supplier (covered by "mode 4" provisions). This will, in turn, support investment in both directions.
State owned enterprises – state-owned enterprises will not be allowed to treat EU companies, services or products differently to their Japanese counterparts when buying and selling on commercial markets.
Public procurement – EU companies will be able to participate on an equal footing with Japanese companies in bids for procurement tenders in the 54 so-called 'core cities' of Japan (i.e. cities with around 300.000 to 500.00 inhabitants or more). The agreement also removes existing obstacles to procurement in the railway sector.
Investment – The agreement aims to promote investment between the EU and Japan. At the same time, the text explicitly reaffirms the right of each party to regulate to pursue legitimate policy objectives, highlighted in a non- exhaustive list. The agreement does not cover the protection of investment, on which negotiations are ongoing between the two sides for a potential agreement on the protection of investments. The EU has also tabled to Japan its reformed proposal on the Investment Court System. For the EU, it is clear that there can be no return to the old-style Investor to State Dispute Settlement System (ISDS).
Intellectual Property Rights (IPR) – the agreement builds on and reinforces the commitments that both sides have taken in the World Trade Organization (WTO), in line with the EU's own rules. The agreement sets out provisions on protection of trade secrets, trademarks, copyright protection, patents, minimum common rules for regulatory test data protection for pharmaceuticals, and civil enforcement provisions.
Data protection – Data protection is a fundamental right in the European Union and is not up for negotiation. Privacy is not a commodity to be traded. Since January 2017, the European Union and Japan engaged in a dialogue to facilitate the transfers of personal data for commercial exchanges, while ensuring the highest level of data protection. With the EU General Data Protection Regulation that entered into force last year and the new Japanese privacy law that entered into force in May, the EU and Japan have modernised and strengthened their respective data protection regimes. In July 2018, the Commission and the Japanese government reached a satisfactory conclusion on the robustness each other's data protection rules, and hence they intend to move forward with the adoption of a so-called "mutual adequacy" arrangement, which will create the world's largest area of safe transfers of data based on a high level of protection for personal data.
Sustainable development – the agreement includes all the key elements of the EU approach on sustainable development and is in line with other recent EU trade agreements. The EU and Japan commit themselves to implementing the core labour standards of the International Labour Organisation (ILO) and international environmental agreements, including the UN Framework Convention on Climate Change, as well as the Paris climate agreement. The EU and Japan commit not to lower domestic labour and environmental laws to attract trade and investment. The parties also commit to the conservation and sustainable management of natural resources, and to addressing biodiversity, forestry, and fisheries issues. The parties agree to promote Corporate Social Responsibility and other trade and investment practices supporting sustainable development. The agreement sets up mechanisms for giving civil society oversight over commitments taken in the field of Trade and Sustainable Development. The agreement will have a dedicated, binding mechanism for resolving disputes in this area, which includes governmental consultations and recourse to an independent panel of experts.
Whaling and illegal logging – The EU has banned all imports of whale products for more than 35 years, and this will not change with the Economic Partnership Agreement. The EU and its Member States are committed to the conservation and protection of whales and have consistently expressed strong reservations about whaling for scientific purposes. Whales receive special protection under EU law and the EU strictly enforces the ban on trade under the Convention on Trade in Endangered Species (CITES). The EU addresses whaling by all third countries, including Japan, both in bilateral relations and in the international fora that are best suited to deal with this issue – for example, at the International Whaling Commission, where we work with like-minded partners to address whaling with Japan. The sustainable development chapter of the EU-Japan economic partnership agreement will provide an additional platform to foster dialogue and joint work between the EU and Japan on environmental issues of relevance in a trade context.
The EU and Japan share a common commitment to combat illegal logging and related trade. Trade in illegal timber is not an issue between the EU and Japan. The EU has a very clear legislation on illegal logging, just like Japan, which applies to imports from any country of origin. Both partners have surveillance and certification systems in place to prevent the import of illegal timber. The two partners also work closely with third countries to support them in setting up efficient mechanisms to address the problem. The agreement includes a legal provision committing both partners to the prevention of illegal logging and related trade.
Corporate governance – for the first time in an EU trade agreement, there will be a specific chapter on corporate governance. It is based on the G20/OECD's Principles on Corporate Governance and reflects the EU's and Japan's best practices and rules in this area. The EU and Japan commit themselves to adhere to key principles and objectives, such as transparency and disclosure of information on publicly listed companies; accountability of the management towards shareholders; responsible decision-making based on an objective and independent standpoint; effective and fair exercise of shareholders' rights; and transparency and fairness in takeover transactions.
Competition – the agreement contains important principles that ensure that both sides commit themselves to maintaining comprehensive competition rules and implementing these rules in a transparent and non-discriminatory manner.
State-to-State dispute settlement mechanism – the agreement ensures that rights and obligations under the agreement are fully observed. It provides an effective, efficient and transparent mechanism with a pre-established list of qualified and experienced panellists for avoiding and solving disputes between the EU and Japan.
Anti-Fraud – The EU and Japan will include an anti-fraud clause in the economic partnership agreement. The anti-fraud clause is a condition for the EU to grant tariff preferences to any third country. It makes it possible for the EU to withdraw tariff preferences in cases of fraud and refusal to co-operate, while ensuring that legitimate traders are not adversely affected. The aim is to prevent abuse of preferential tariff treatment.
At the same time, negotiations with Japan continue on investment protection standards and investment protection dispute resolution.
Success of G-20 Summit 2018
G-20 Summit 2018, was termed as successful and hope for better world order. In fact, recently the tension between US and China & Russia was growing and world peace and stability was at stake. Since January 2018, when President Trump, addressed house of union, expressed anti-China and Russia sentiments. Later on imposition of traffic on Chinese products and several other action were aimed to curtail China's growth countering Russian threats. APEC summit at Papua New Guinea has also given negative signals. Under this scenario, whole world has focused on the out-come of G-20 Summit 2018, held in Buenos Aires, Argentina, on 30 November-1 December 2018.
Chinese wisdom brought fruits finally, as a result of meeting between President Trump and President Xi, in Buenos Aires on 1 December 2018, where US president agreed to not to put additional tariffs on Chinese goods.  Since beginning of 2018, starting from the President Trump's address to state of Union, anti-China sentiments were very much obvious. Putting tariff to Chinese goods by US Dollars 200 Billion, APEC summit at Papua New Guinea etc were the moments of worry for not only China but also for the whole world.
As, US is the largest and China as second largest economy of the World. These two economies were dominating the global economy. Any disturbance to US or Chinese economy may disturb the whole world's economy and destabilize world trade. Any such chaos may lead to political instability globally. There were clouds of destabilization due to ongoing Trade War between the two big economies and all other nations were worried about the future of their own economies.
China is an ancient civilization and has passed many ups and downs throughout the history and have become much matured nation. Chinese policy of "Peace and Development" is beauty of its century old wisdom. By nature, Chinese people wanted a smooth and frictionless society. Since the beginning of confrontation or trade war, Chinese side observed patience and always struggling to find a solution by talk or negotiation. Even China was not eager to impose any tariff on US goods, but lately reciprocated as a last option.
President Xi's speech at summit was very comprehensive and very clear spelling out the responsibilities and consequences of any destabilization of global economy. He urged that on trade issues, the world should firstly stick to openness and free trade, maintain and further expand an open market, and realize win-win cooperation through mutual exchanges and complementarity. China is stick to opening its doors to rest of world and believe in globalization and follow the WTO as guidelines. Secondly, G20 should stick to inclusiveness, and bring the benefits of international trade and economic globalization to people of all countries and all classes, including the under developed, developing nations and especially the poor states. Thirdly, G20 should uphold rules-oriented spirit and nurture a stable and expectable institutional environment for the healthy development of international trade.
President Trump was also positive and cooperative. Finally China and the United States have agreed to halt additional tariffs as both countries engage in new trade negotiations with the goal of reaching an agreement within 90 days. The breakthrough came after a dinner meeting between President Donald Trump and Chinese leader Xi Jinping. Trump agreed not to boost tariffs on $200bn of Chinese goods to 25 percent on January 1 as previously announced, while Beijing agreed to buy an unspecified but "very substantial" amount of agricultural, energy, industrial and other products, the White House said in a statement.
Overall, G-20 final communique said the members reaffirm 'commitment to further strengthening the global financial safety net with a strong, quota-based, and adequately resourced IMF at its centre'. Further added that international trade and investment are important engines of growth, productivity, innovation, job creation and development. Also note on current trade issues, reaffirms pledge to use all policy tools to achieve strong, sustainable, balanced and inclusive growth. The communique said the group will safeguard against downside risks, by stepping up our dialogue and actions to enhance confidence.
Overall the Summit was termed as a very successful one and hopes for stability in the global economy is obvious. Especially the developing countries and poor economies felt sigh a relief. Pakistan is also passing through its worst hit era of economic crisis and was struggling to revive its ill-economy. As the international environment may improve and there may exist a space for Pakistan to play smartly and re-gain its position in the global economies. Although, Pakistan possess a huge potential for rapid growth, because of its natural edge over its rich agriculture and tremendous natural resources in the form of Minerals and mines. Pakistan work force is also a positive factor with 70% of its population under the age of 40, are well qualified. The hindrance is only, corruption, nepotism and poor management. It is responsibility of Government to introduce reforms, friendly incentive based policies, and strict-merit based implementation.
It is believed that China-Pakistan economic Corridor (CPEC) will also prosper and will achieve its desired results. The cooperation between China and Pakistan will grow further in all walk of life and benefits the common people of both sides.
The Myth of Capitalism-Book Review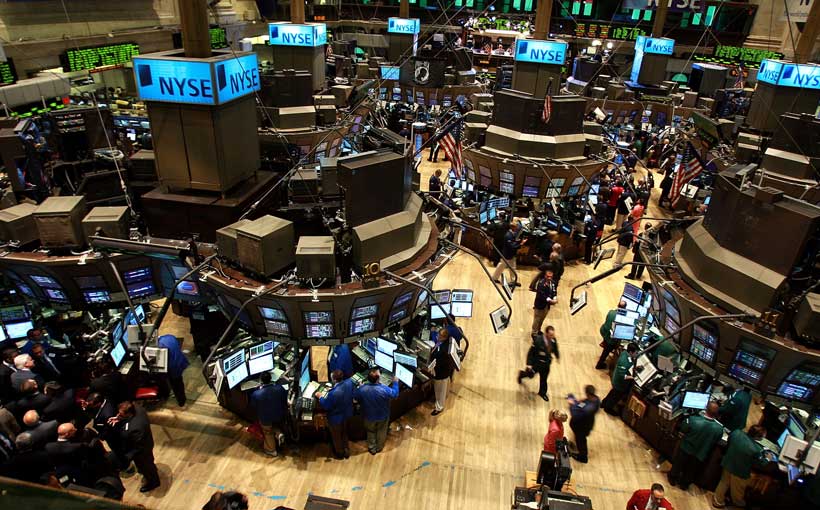 Many people have labeled communism as but a myth: an unattainable fantasy.  Jonathan Tepper and Denise Hearn (T&H) have, by contrast, written a new book called The myth of capitalism: Monopolies and the death of competition.  It contains a series of liberal and conservative critiques of the economic system of the US in particular and the West more generally.
T&H chronicle the decline of competitiveness in almost every sector of the US economy.  Most people in the mainstream media are drooling over the record highs being recorded on the stock market, but the book notes,  "Between 1996-2016, the number of stocks in the US fell by roughly 50%, from more than 7300 to fewer than 3600, while rising 50% in other developed nations."  As T&H painstakingly explain by citing studies and charts, the US economy has been stagnant by most truly relevant metrics since the Reaganomics of the 1980s, such as R&D spending, company longevity, competitive consumer product prices and the number of annual startups.
The superficiality of the recent Wall St gains is enabled via trickery such as stock buybacks, oligopolistic mergers & lobbyist-sponsored deregulation and tax exemptions.  Such corruption used to be illegal, in pre- Reagan and Buckley v. Valeo America.  Teddy and Franklin Roosevelt both cracked down on monopolies like Standard Oil and the New York Central Railroad by enforcing the Sherman and Clayton Antitrust Acts.  Every president since Teddy, both Democrat and Republican, cracked down on potential monopolies until Reagan.  This helped prevent a market crash akin to those of 1907 and 1929, which were the direct result of laissez-faire capitalism.
Wide-scale mergers started occurring during the Reagan Administration and have only picked up steam ever since. Concerning our last president, T&H note that, "Obama talked tough on big business and Wall Street, but he raised as much money from them as possible and was arguably even more pro-merger than Bush.  His DOJ approved all the airline mergers, creating an oligopoly of four airlines… He allowed Google's major acquisitions that vertically integrated parts of the ad industry… The FTC prevented Comcast from buying Time Warner in 2015 and AT&T from acquiring T-Mobile in 2011.  These were the only notable mergers Obama's DOJ blocked."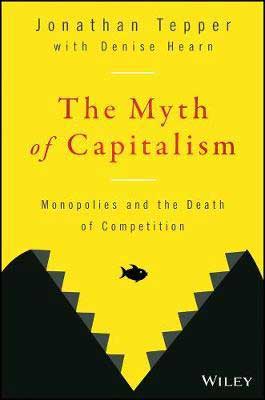 The book lists all of the industries that have effectively become oligopolies or even monopolies: search engines, beer, beverages, glasses, weapons, banks, telecommunications, social media, cell phone manufacturing, agriculture, airlines, pharmaceuticals, credit rating, tobacco, railroads, etc.  The consolidation of market share to a handful of billion-dollar companies has throttled the entry of new companies in our so-called Age of the Startup.  T&H write how Facebook has (after buying out Instagram) been able to devastate upstart platform Snapchat by mimicking all of Snapchat's features.  Such treachery, combined with Facebook's 2B+ user base, ensured Snapchat would end up in the financial spiral that's it's currently in.   This is but one example of how the post-merger era has sabotaged fresh competition.  The book relays this sobering stat: "In 1995, the top 100 companies accounted for 53% of all income from publicly traded firms, but by 2015, they captured a whopping 84% of all profits."  After decades of decline, the number of new firm entries fell below the number of firm exits in 2013.  This decline in the number of startup innovators inevitably ends up hurting technological innovations.
The merger bonanza may be great for Wall St, but it's horrible for Middle America.  For instance, T&H write, "When workers have fewer employers to choose from in their line of work, their bargaining power disappears.  Corporate giants can squeeze their suppliers, but the main thing companies buy is labor, and they have been squeezing workers."  Thus, wages have struggled to keep up with inflation for decades.  Benefits are cut, while stock buybacks soar.  Unhappy workers in all but 3 states can be shackled to soul-sucking jobs via non-compete clauses.  Furthermore, "56% of private sector non-unionized workers are forced into mandatory arbitration and of those, 23% were also denied any access to class-action lawsuits. This means that nearly a quarter of working Americans in the private sector don't have the basic right to sue their employer."
Mergers aren't good for consumers either, despite what the corporatist rhetoric will tell you.  T&Hgive countless examples of how industries became less innovative after drinking the Oligopoly Kool-Aid.  The lack of competition this environment leads to complacency and, thus, a lack of product innovation or even concern for customer service.  The book also reports that, "in mergers that led to 6 or fewer significant competitors, prices rose in nearly 95% of cases… On average, post-merger prices increased 4.3%."  Industries from beer to pharmaceuticals are infamous for fixing prices, due to high barriers of entry for startups and tacit (and sometimes explicit) collusion.  According to the book's data, the average specialty pharmaceutical medication cost jumped 217% from 2011-2015.  Unsurprising, when you consider that, "In 2017, drug makers paid for 882 lobbyists and spent more than $171.5M in an effort to oppose lower prescription drug prices."
Ironically, lobbyists will argue that mergers lead to lower prices and greater innovation.  They make the dishonest argument that the goal of the antitrust acts was solely to help consumers.  In fact, the legislation never even mentioned consumer efficiency; the bills were all about breaking up the power of the trusts.  People like Teddy Roosevelt and Woodrow Wilson saw how monopolies exceeded government authority in many cases; a lack of government enforcement of industry ultimately led to the Great Depression and the resulting New Deal reformations.
In the era of the Too-Big-to-Fail banks and corporations, the lessons of The myth of capitalism are more important than ever. They expose the façade of the post-recession "economic recovery" for what it is: stock buybacks and mergers puffing up the economy.  Everyone and everything from workers, consumers, people with medical conditions, startups and the IRS suffer from the corruption of American capitalism.  Tepper and Hearn frame their central thesis with liberal ideals and arguments (protecting the consumer, income inequality, maintaining government independence from corporate influence), as well as conservative (market competitiveness, cutting red tape for small business, low consumer prices).  A lot is written about the thoughts of Hayek and Friedman, but also leftists like FDR and Marx.  The final chapter offers some solutions to the problems of our times, but they're pretty predictable if you've been reading along the whole way.  Page after page of charts succinctly illustrate the points T&H make about trust-busting, the corrosiveness of the lobbyist class, the benefits of competitive markets, and livings standards for people on Main Street.  The myth of capitalism is a very readable, even-handed and informative primer for anyone questioning whether or not they're being gas lighted by the nonstop barrage of praise for the economy by the oligopolistic mainstream media.