Additional considerations on the North Korean strategy
According to the best-informed US analysts, the response to North Korea's further military escalation should consist in Japan's and South Korea's nuclear rearmament. It would be the response, but also the explicit justification, for North Korea's rearmament. According to the US military decision-makers, however, the preventive conventional confrontation could be divided into four alternatives:
1) the launch of Tomahawk missiles from the land and sea borders, but certainly North Korea would respond immediately, by also using the approximately sixty tunnels in the territory of the South Republic and its underground military airports in the North.
2) Bombings on North Korea by Stealth aircraft which – as North Korea knows all too well – can carry nuclear warheads. Also in this case, however, the Democratic People's Republic of Korea could react by hitting the US bombers directly or by launching limited missile attacks against US installations in South Korea.
3) The US aircraft launch of some Massive Ordnance Penetrators (MOPs), the new "bunker buster" bombs penetrating and destroying tunnels, hardened targets or targets buried deep underground – an action coupled with that of the "electromagnetic railguns" that could be fired by some US ships. A Hollywood action movie scenario having two limits: the low reliability of the two new weapons and the fact that North Korea has not only hidden, but also visible bases.
Moreover, the visible bases can react to the US operations from the South or from the sea in a very short time, shorter than the duration of the US attack itself.
It is also worth noting the scarce trust the US military decision-makers have in the South Korean armed forces, never mentioned in these programs.
In North Korea, the US Presidency wants to hit mainly the structures producing and collecting nuclear weapons; the facilities to build and keep missiles; launch bases, especially the mobile ones; the nuclear submarine ports and the artillery stations near the Demilitarized Zone.
Hence let us do some accounting.
North Korea has ten major military bases; fourteen missile launch bases in addition to at least ten additional mobile bases already in operation; two bases for nuclear tests and sixty-four nuclear weapons already available.
Too many targets to enable the United States, and possibly South Korea, to carry out a limited action on the Demilitarized Line not triggering off a response at the highest level.
If the US forces' operations are targeted they are irrelevant, while if they cause significant damage they are a real act of war.
As often repeated by Kim Jong Un, North Korea sees the US strategy in "peripheral" countries, now defined by the end of Saddam Hussein and Muammar al-Gaddafi.
Considering those examples, the North Korean leader does not trust the United States should they win a war against him.
Hence any attack on North Korea, albeit limited, would immediately trigger off the greatest possible reaction.
Furthermore, pending a US attack – also only counterforce and not counter-resource – North Korea could also attack, with conventional carriers, the South Korean areas the United States needs as bases.
Currently the US military installations in South Korea are twenty-seven, all in areas that can be hit by North Korean missiles with an acceptable degree of precision and accuracy.
According to the Western intelligence sources, with approximately sixty nuclear warheads available; a potential missile average range of 10,400 kilometres; 5,000 tons of nerve gas already stocked; 1,300 aircraft; 300 helicopters; 430 warships; 70 submarines; 4,300 tanks; 2,500 armoured vehicles and 5,500 multiple launchers, North Korea is by no means an easy opponent.
Obviously such a military build-up can safely sustain a second nuclear strike and launch a second nuclear salvo against the enemy even after a first nuclear attack from the United States and South Korea, as well as maintain sufficient conventional forces to be used after the exchange of nuclear strikes.
It is also worth adding that South Korea's central Command has claimed it suffered a cyberattack in December 2016, which means that North Korea has all South Korea's Command plans available and, we assume, even much of the US military planning involving South Korean forces.
As maintained in a recent Workers' Party document, the North Korean nuclear forces are not a way to get money from "imperialists".
As claimed by the North Korean single Party's leadership, they are a way to reaffirm their independence until "imperialists" disarm their nuclear warheads "all over the world."
Reading between the lines, this is the ideological rationale of the construction of missiles capable of reaching the US territory, so as to simultaneously threaten both the US allies in Southeast Asia and Japan and the United States itself.
As already seen, the layout of bases and the amount of warheads do not permit a US "surgical" action which, however, would be interpreted as the beginning of a real war.
In 2016, North Korea carried out over 20 missile launches. Strategically this means that North Korea wants to mainly implement the intercontinental and the submarine-launched ballistic missile sectors, in particular.
This is a way to increase the likelihood threshold for nuclear or conventional attacks and to create "double deterrence", namely deterrence towards the US stations in the Pacific and on the US territory.
Furthermore Kim Jong Un is steadily in power and he is rapidly getting stronger.
Since his rise to power in 2011, the North Korean leader has "eliminated" at least seventy officials or military officers, in addition to a much larger number of them who have been "purged" according to the best traditions of Communist Parties in power.
Kim Jong Un's policy line has been designed to combine military and economic development – the policy line the Workers' Party has hoped since 2003, by supporting North Korea's entry into the "knowledge-based economy" and the expansion of "light industry".
This is the Korean translation of the Chinese model of economic reform after the Four Modernizations. It is the North Korean variation of Xi Jinping's "great reform", although the two countries are currently not in the best phase of their relations.
From a strategic viewpoint, China views for North Korea the implementation of three points, summarized in a principle that Xi Jinping plans to support with the utmost clarity and speed: "no war, no instability and no nuclear weapons" – a principle that after the 2013 tests has been reworded in the policy line of " denuclearization, peace, stability and fast resumption of the Six Party Talks".
I think that the Chinese policy is fully rational.
China does not want a strong nuclear power on its borders, even if it were a friendly country.
Certainly, North Korea is an excellent buffer State avoiding the contact between the forces of the Chinese People's Liberation Army and the US forces in South Korea – a primary strategic target.
Nevertheless if the North Korean nuclear strategy gets global and capable of making both the US territory and some Pacific countries – with which China has and wants to maintain good relations – the target of a nuclear attack, the calculation of the Chinese strategic equation on North Korea gets complex and not necessarily positive.
Moreover, the Chinese ruling class is still divided on North Korea's denuclearization. The Chinese decision-makers fear a collapse of the regime following the denuclearization and hence a crisis that would immediately affect China's territory.
Hence it is exactly this ambiguity among the Chinese leaders which enables North Korea to keep on strengthening and upgrading its nuclear arsenal undisturbed.
Currently, however, the perceptions of the two main players, namely the United States and North Korea, are still to be changed in the light of a better understanding of both countries' global strategy.
The United States and South Korea do not want to invade the North Korean territory.
The United States does not want new territories. It possibly wants "friendly" States not annoying it militarily, hosting their bases – and the United States already have nearly 800 bases around the world – not signing adverse commercial agreements and accepting the dollar in international transactions. Nothing else.
Or, more precisely, only the United States has no interest in following this military option.
And it is the country organizing South Korean forces.
Hence the United States has no interest in direct invasion. Indeed, the more North Korea extends its range of ICBMs, the more the United States feels threatened, in a region where it wants to maintain its hegemony. Therefore the United States can be really pushed to organize a preventive attack.
Probably said attack would end up as already described. In that case, however, two new factors should be assessed: North Korea's comparative weakness faced with a long-range attack, which would certainly cause some serious damage, and the North Korean forces' immediate reaction, which would not make the US attack easy.
Moreover, we must consider the reaction of the Russian Federation and China, which would surely strengthen their defences on the border with North Korea, in their maritime area, and would condemn the United States, as usual. Finally they would be strategically obliged to give again credit to North Korea's nuclear and missile activities.
The United States must not always think that the leader of a country not accepting its hegemony is always "crazy."
It did so with Hitler, who had some psychological disorders but was not crazy – otherwise we should think that the huge German masses who followed him were mad. The same holds true for Mussolini, who had syphilis but was not crazy, as well as for all the Third World leaders who did not accept the division of the world after the Second World War.
Like it or not, Kim Jong Un's strategy makes both China and Russia enter the game. They are both interested in the denuclearization of the entire Korean peninsula – hence the United States must consider both countries' possible moves, which do not depend on assessments regarding North Korea's alleged "crazy" leader, but on objective analyses of the strategic interests on the field.
The first possible move could be to support Kim Jong Un and the second one – not ruling out the former one – would be a credible denial area on the sea, directed mainly against the US and South Korean operations.
Furthermore, considering Trump's leadership problems at national level, he could seriously be tempted to carry out a military action that would set internal tensions aside and would also be the implementation, in foreign policy, of the principle "America First".
If China and Russia do not make North Korea understand that the old brinkmanship theory is now over, something irreparable will probably happen.
Furthermore the United States currently understands nothing of what happens beyond its borders. Years of "exporting democracy" and Arab Springs have not enabled the US leaders to be updated on the political, cultural and social evolutions of the countries with which they come into contact.
Therefore, although currently there are three secret communication channels between the United States and North Korea, it cannot be said that the United States can truly understand the North Korean strategic logic.
Currently Russia and China could do without North Korea. They can leverage with the United States alone and do no longer need the North Korean "dragon's snout".
This is a disadvantage for Kim Jong Un. Both powers, however, do not yet understand Trump's foreign policy and, in doubt, they could choose the most adverse variable vis-à-vis the United States
I am sure that Kim Jong Un knows this and also knows how to analyse this data.
China's and Russia's interest, however, is always to contain the United States in South Korea, as well as avoid military contact and, above all, prevent a denial area coming from South Korea.
Beyond this limit, both countries are no longer interested in North Korea's nuclear power and capacity.
Hence the North Korean leader can rethink his nuclear and conventional strategy, by relating it – at least for a small part – to the Asian Heartland strategy.
Therefore the 2005 Six Party Talks should be resumed immediately.
With these fundamental policy lines and aims: a peace treaty between the two Koreas; North Korea's denuclearization, but also partial denuclearization of South Korea, with a reduction of US forces stationed on the South Korean territory; economic and technological support to North Korea; establishment of normal diplomatic relations between North Korea, the United States and Japan; energy cooperation.
Post pandemic: US, China and their deteriorating relationship
In the aftermath of the coronavirus pandemic, there has been an increasing clamor, for reducing imports, especially of essential commodities from China, and for exploring new supply chains.
The US has proposed an 'Economic Prosperity Network' consisting of US, India, Vietnam, Australia, New Zealand, Japan, South Korea. US Secretary of State, Mike Pompeo while speaking to the media, reiterated the need for greater cooperation between these countries for pushing forward the global economy, in a post corona world, and also to change existing supply chains.
Similarly, a number of members of the CPTPP (Comprehensive Partnership Trans Pacific Partnership), especially Japan, Singapore and Australia, worked closely, to keep supply chains intact in the midst of covid19 (Japan has also been seeking to expand the CPTPP with the aim of alternative supply chains).
Reducing dependence upon Chinese technologies
Apart from supply chains of essential commodities, steps are being taken to create an alternative to Chinese technologies. UK has recently proposed, that 10 countries work together to counter China's technologies – especially 5G. This network, Britain has proposed, should include G7 countries (United States, Italy, Germany, United Kingdom, Japan, Canada, France) + South Korea, India and New Zealand. US President Trump further stated, that G7should be expanded to include India, South Korea, Russia, New Zealand.
Resumption of International travel
While there have been numerous discussions on shifting supply chains from China, another challenge posed by the pandemic is likely to be the resumption of international travel. Interestingly, the US has international flights with China from June 16, 2020. This is in line with the US President's aggressive stance vis-à-vis China. The reason cited for the US President's decision was China's refusal to allow US carriers to fly to China (American companies on the other hand have been lobbying for the resumption of flights). China was then compelled to take back on its decision of US airlines.
China has recently allowed business executives to fly in from Germany and South Korea (China and South Korea have also signed a fast track arrangement to reduce the quarantine period for executives travelling).
Domestic flights within Asia
A number of countries in Asia, including Vietnam and India have opened domestic travel (the latter is likely to resume international flights from June 9 to US and Canada). Vietnam had resumed domestic travel after the easing out of social distancing measures, (since then over 500,000 domestic passengers have flown). The ASEAN nation began by opening out five tourist destinations. India resumed domestic Air travel on May 25, 2020 and between then and June 1, 2020 over 4,000 flights have been operated.
Japan seeking to revive air travel
Apart from China, one more country which is working towards resuming air connectivity with other countries is Japan (restrictions will remain in place for some time for US, China and South Korea). The countries, with which Japan is exploring the possibility of air travel are; Australia, Vietnam, New Zealand and Thailand. Japan shares close economic linkages with Australia, Vietnam and Thailand(over 1500 Japanese companies operate in the two ASEAN nations, while Japan is dependent upon Australia for farm products). Japan also receives a large number of tourists from these countries. The East Asian nation is focusing on resuming air connectivity with the above countries for kickstarting the economy, but it is likely to do so in a phased manner; international flights will begin first for business men, then students and finally tourists.
Countries like China, India, Japan, Thailand and Vietnam are looking to revive economic activity and air connectivity, both domestic and international, is essential for the same. It is important, not just to resume air connectivity, but also to learn best practices with regard to precautions.
While all the above steps are welcome, the real challenge for governments, globally, is likely to be in the months of August and September 2020, when students from different parts of the world, need to travel to the west (especially, US, UK and Canada) for pursuing higher education.
Conclusion
The efforts of Japan, New Zealand, Vietnam and Australia yet again reiterate the point, that while all eyes have been on the US and China and their deteriorating relationship, a number of countries have been seeking ways to foster cooperation, not just in dealing with the pandemic, but also for giving a boost to economic ties, and resuming air connectivity.
Exposure of Ulterior Motives Behind Stigmatization of China with COVID-19
As the COVID-19 outbreak continues to rage across the US, the American people are complaining about the White House's "lack of action" in the critical period of pandemic prevention and control, to which, however, Pompeo and his fellow politicians have kept finding excuses for themselves.
To be fair, these politicians have truly had a full plate since the outbreak, although on their plate is not how to control the pandemic at home, but how to make trouble for other countries.
When China, the country first hit by the virus, was busy containing its spread, the US politicians tried to stick their nose into China's Xinjiang, Taiwan, and Hong Kong and brazenly interfered in the internal affairs of the country by passing the so-called "acts". On the other hand, they put out a number of ludicrous assumptions like "China made the virus" and "China covered up its pandemic situation", in an attempt to stigmatize China in the international community and corner it to a moral predicament. Washington leaves no stone unturned when it comes to the use of these ugly tricks.
This isn't the first time that politicians like Pompeo are trying to loot a burning house – they always jump at the first sign of sniffing such an opportunity. They rolled out sanctions against Iran during its domestic turbulence; they tried to have it both ways when Qatar was on bad terms with countries like Saudi Arabia; and they, on the pretext of "democracy and human rights", blatantly backed radical and violent criminals in Hong Kong during the riot and unrest caused by the expatriation law amendment bill.
If we go into their ploys seriously, Pompeo and his like are not only professional looters of burning houses, and they set the fire themselves! They first set the house on fire and flame it up, then loot it while occasionally making a gesture of putting out the fire. They are so good at playing "good cop and bad cop" games and busy putting on their farcical performances.
Just take a look at what the US has done in the Middle East. The wars it waged against Iraq and Afghanistan left the two countries in lasting turmoil; the Arab Spring it much-trumpeted left Egypt and Syria in prolonged instability; and its instigation and flame-fueling have led to the growing escalation of Palestine-Israel conflicts, in which the US had sowed seeds.
Yet certain American politicians have the nerve to reap geopolitical gains where they set fire in the first place. Pompeo and his like even posed as saviors or angels claiming to have brought peace to those areas they left in ruins.
How ridiculous and shameful they are! These politicians are accustomed to being cops in name but thieves in nature, calling "stop thief" on the one hand while being that thief on the other. They beautify hegemony as justice and dress up rumor-mongering as freedom of speech.
Pompeo and his like are doomed to a pathetic end. As an old Chinese saying goes, good and evil will meet their karma one day or another, which has been verified on Pompeo and his like over and over again. In the Middle East, for instance, America's credibility has been irreversibly destroyed no matter how hard Pompeo and his like are trying to bloat their bubble.
The COVID-19 outbreak wouldn't and shouldn't have spread so fast and widely across the US had Pompeo and his like devoted a tiny part of their energy and time into what they should have done. The chaotic disaster of Washington's epidemic control has made millions of Americans suffer, and a growing number of the righteous people are voicing their questions and protests. In contrast, the US media has named Pompeo one of the worst Secretaries of State ever in American history.
Turning a blind eye to the chaos and loss of lives at home, Mike Pompeo and his like, adamant on making trouble for the world, have kept disrupting international cooperation and undermining peace undertakings. They have become the common enemy of world peace and are doomed for a pathetic end. The burning house looters will eventually get burned themselves.
"Mask Diplomacy" and Understating China's Confucian Strategy in International Relations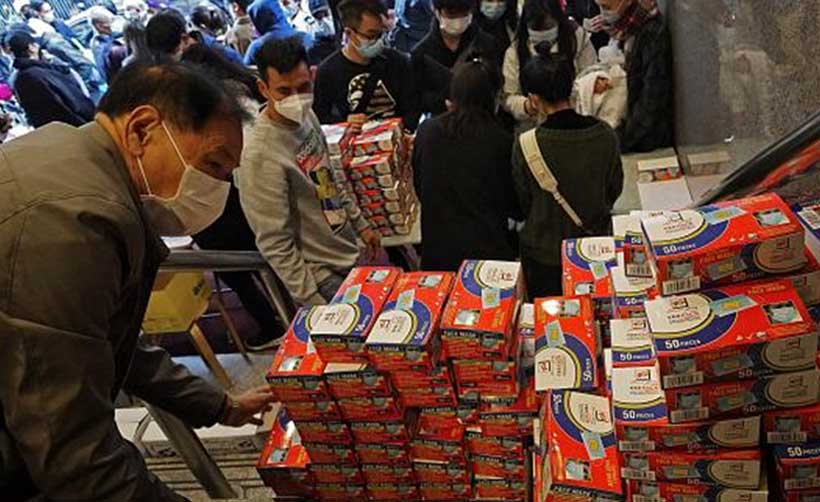 It is by no means a hyperbolic phase to call the year 2020 as Anus Horribilis by virtue of the events that have befallen from the very first month. The new year bells rang amid the bush fires in Australia and within seventy-two hours after new year eve the US assassinated Iranian top General Soleimani in Iraq creating an extremely tense situation. Then within a week, the greater disturbance escalated into a worse scenario when Iran launched an attack on the US bases in Iraq.
However, all the above-mentioned events became less significant and probably forgotten when COVID 19 became an unmitigated disaster creating chaos around the world. But when it emerged in China at the end of 2019 the morbid fascination shown by the US foreign policy analysts was a palpable factor as the US perceived that repercussions of COVID 19 in Wuhan may inevitably stagnate the magic economic growth that China has been witnessing. But this irrational jubilation was short lived as it ultimately turned to irrational disappear with rapid spread of COVID 19 as a global pandemic which has now brutally wounded the USA making it as the current epicenter whereas China has slowly begun to recover from its eleventh-hour moment. The unexpected situation erupted in the West before coping with the corona virus was followed by China's evasive global aid campaign against Coronavirus as Chinese opted for "mask diplomacy" by sending medical supplies to European countries and the portrayal of China as the scapegoat was vindicated by these actions.
So, it is intriguing that, especially the growing emphasis on China's liability for concealing the corona virus when it emerged in Wuhan from the global community, that China gleefully clung to its mask diplomacy across Europe when European solidarity was at stake. Especially, China's gusto in supplying medical aid and masks to Italy was a notable factor as it has altered the hostile public perception pervaded in Italian society towards China's BRI (Belt and Road Initiative). For example, there was a massive criticism on Chinese BRI project in Italy, particularly in relation to its potential threat to debilitate Northern Italy's economy. China seized the moment in such a berating atmosphere towards them in Italy as the good Samaritan. China's massive medical supply and masks to Italy even as European Union failed to rally around one of is leading economies played a crucial role in China's position in Italy. In fact, Italy was just one example showing the astuteness of China's mask diplomacy amid many COVID crisis.
Nevertheless, the causes rooted in Chinese bonhomie seems to have been propelled by Xi Jin Ping's biggest dream of leading China to the global political realm and the apathy shown by the USA contrary to its historical Atlantic alliance with Europe boosted China's "Mask's Diplomacy" significantly. While ascertaining the Chinese strategy amid the COVID crisis to uplift their good name in the Western world, one cannot forget the trajectories shaped up Chinese foreign policy that have mainly derived from Modern Chinese infatuation with their ancient Confucian values in diplomacy. The Gift giving has been depicted as rather essential feature in Confucian ethics and it was well applied by several dynasties in imperial China to expand Chinese influence beyond its frontiers. China's ethical guru Confucius venerated ethics over law.In emulating the principle of virtue, the importance given to ritual has played a significant one, because in the Chinese ancient book of rites, the governance and giving were linked to ritual. It was believed that gift giving as a ritual was filled with reverence and sense of generosity and also it was expected to receive blessings from the receiver.
The Confucian ethics prevailed in imperial China reached its nadir after the formation of People's Republic of China grounded on Communism. Yet, its importance came back to the practice with steeping growth of China as a global political, economic and military power in the late 20th century. In particular, the famous gift giving strategy adopted by Chinese leader Deng Xiaoping in the 80's to make comity with the USA was known as Panda Diplomacy which resulted in a considerable diplomatic triumph for China.
From a vantage point the Chinese strategy of sending medical aid and masks to foreign countries, especially to EU states is akin to how Chinese approach to develop foreign relations under Confucian values, but its deeper political expectations seem to have been envisaged by the west with a sense of doubt. Especially, China's act of sending masks and medical aid was seen as a way to extend Beijing's political leverage to other countries and divert world attention from discussing China's culpability for spreading corona virus. The Chief of the European Union Joseph Borell has described this phenomenon as "the politics of generosity", simultaneously the West has lampooned China for conducting provocative campaigns against neighboring countries from Taiwan to Japan by taking the advantage of corona chaos. The criticism focusing on Beijing's actions are been propelled by China's contemporary attitude to increase its participation in global politics contrary to its initial claim on peaceful rise, which used to be the mantra of Chinese depiction of their yearning to become a super power under Hu Jintao.
Given this situation of West's ambivalence to view Chinse "Mask Diplomacy" as an evasive action to change the global attitude towards China, the Confucian ideals need to be reexamined as it guides foreigners to fathom how Chinese vision works. As I stated above gift giving culture played a dominant role in ancient China under Confucian ethics to underpin the social harmony. Throughout its civilizational saga, China always called herself the middle kingdom and kept paternal relations with the neighboring states. Thus, it is justifiable to argue the way Chinese have been using the the Mask Diplomacy is not entirely an act of manipulation of opportunities as it has been vehemently critiqued by the West. Indeed, its roots have derived from China's unique civilizational approach to international affairs.