Battling for independence: Small states stake their claim
The Gulf crisis that pits a United Arab Emirates-Saudi-led alliance against Qatar has emerged about more than a regional spat. It is part of a global battle whose outcome will determine the ability of small states to chart their own course in the shadow of a regional behemoth whether that is Saudi Arabia in the Middle East or China in Asia.
It also has parallels with efforts by peoples like the Catalans in Spain, the Kurds in Iraq or Ambazonians in Cameroon to secede and form independent small states of their own that is likely to mushroom with Kurds in Syria and others likely to put forward similar demands.
The battle for the ability to make independent choices is easier for existing small states like Qatar, the UAE and Singapore that are fending off varying degrees of political and economic pressure from Big Brothers. Groups like the Catalans and the Iraqi Kurds grapple with a more fundamental obstacle: resistance by nation states like Spain and Iraq to cede economically valuable territory and an international community whose Pavlov reflex is to oppose secession.
Political scientists Alberto Alesino and Enrico Spolaore argued in a book published more than a decade ago, The Size of Nations, that both large and small states have to make cost/benefit trade-offs that determine their ability to provide populations with public goods and services and carve out their place in an international order. The integrity of larger states like Iraq and Spain whose size means that their populations are more heterogeneous is called into question by groups who feel that the state does not serve their interests and needs. Small states are either more homogenous or like Singapore find it easier to cater to different segments of a heterogeneous population but need to manoeuvre more nimbly internationally to ensure their independence.
The struggle of smaller states to escape the yoke of a regional behemoth and various groups to carve out small states of their own may have gained pace because of a realization that the benefits of being big have decreased and an expectation articulated by political scientists Sverrir Steinsson and Baldur Thorallsson that big states will grow increasingly smaller. "Thankfully for small states, it has never been as easy being small as it is in the current international system with its unprecedented degree of peace, economic openness and institutionalization," Steinsson and Thorallsson said in a recent study entitled The Small-State Survival Guide to Foreign Policy Success.
The Gulf crisis fits the mould of smaller states seeking to carve out their place in the regional and international order, but also breaks it. At stake in the Gulf is more than just the ability of small states to chart their own course. No doubt, that is one aspect of Qatar's refusal to bow to demands by the UAE-Saudi-led alliance that it radically alter its foreign and security policies that embraces political change for others and align them with those of others in the region.
Yet, the root of the dispute goes beyond that. The Gulf crisis is a clash of diametrically opposed strategies for the survival of autocratic rule fought in ways that threaten independence of choice of others as well as regional stability. It is a battle between two small states with massive war chests garnered from energy exports that have megalomaniac ambitions to shape a swath of land that stretches from North and East Africa into Asia in their own mould. To achieve their goals the UAE and Qatar act not as small states but as big powers, using the kind of tools big powers use: financial muscle, support of opposition forces to stimulate or engineer regime change, foreign military bases, military coups, covert wars, and cyberwar. Buried in their megalomania is a naïve belief that the consequences of their actions will not come to haunt them.
As a result, the parameters of debate sparked by the Gulf crisis about the place of small states in the international order is different when it comes to the ambitions of Qatar and the UAE as opposed to countries like Singapore who rely more on soft power, opt to fly more under the radar, and stick more to strategies generally associated with small state efforts to ensure their independence of choice.
What Singapore, Qatar and the UAE have in common however, is that their quest to jealously guard their ability to chart their own course is driven by fear. Singapore's fear, unlike that of Qatar and the UAE that face very different demographic challenges involving citizenries that account for only a small percentage of the population, is grounded in race riots surrounding its birth, the perception of living in a volatile neighbourhood, and concern resulting from the fallout of convoluted transitions that have wracked the Middle East and North Africa and fuelled religiously-inspired militancy.
While all three states are in some ways corporations, Singapore in contrast to Qatar and the UAE, has institutionalized its system of government to a far greater degree than the Gulf states in terms of institutions, the rule of law, and checks and balances irrespective of its warts. Qatar has so far ignored the opportunity offered it by the wave of unprecedented nationalism unleashed by the Gulf crisis as Qataris rallied around the ruling Al Thani family that accounts for 20 percent of the citizenry in a nation of 300,000 nationals. As a result, debate in Singapore focuses on survival as an independent state rather than survival of a ruling family. In Singapore, the debate about what it can and should do to stand up for its interests is public; in Qatar and the UAE far more repressive restrictions on freedom of expression stymie debate or drive it into clandestinity.
Similarly, Qatar and the UAE project themselves as regional and global hubs that are building cutting-edge, 21st century knowledge societies on top of tribally-based autocracies in which education, in contrast to Singapore, is designed to ensure that citizens have marketable skills and can interact globally rather than develop the skills of critical thinking that could result in criticism of their regimes. While there is no public debate in either Gulf state about governance, Singapore's transition away from the Lee family's dominance and to a post-Lee generation is one that is cushioned by discussion and expression of aspirations.
Both Qatar and the UAE have glimmering and bold skylines that rival that of Singapore. But beyond the trappings of modernity, neither are states that empower their citizens. The limitations of modernity are evident. Criticism after Qatar won the 2022 World Cup hosting rights of its controversial labour regime that governs the lives of migrant workers, a majority of the country's population, did not resonate among Qataris, largely because of the country's demographic deficit. In fact, Qataris protested in 2009, when some households hired Saudis as maids, yet never raised their voice about the widespread abuse of Asian maids. Saudi unlike Asian maids were too close to home. If Saudis could be reduced to the status of a maid, so could one day Qataris pampered by a cradle-to-grave welfare state.
Qatar and the UAE share building blocks of soft power creation and the manufacturing of national identity some of which are also employed by Singapore. They include foreign military bases; world class airlines that service global hubs; museums that both attract tourism and manufacture a national heritage; high profile investments in blue chips, real estate and the arts, sports and the ambition of becoming centres of excellence in multiple fields.
While political Islam plays a less important role in Singapore's management of its heterogeneity, Qatar and the UAE have adopted radically different approaches even though both have developed societies in which religious scholars have relatively little say and Islamic mores and norms are relatively liberally interpreted. This, however, is where the communalities in their survival strategies stop. Whereas Qatar embraced support of political Islam, the UAE has opted to suppress it. Nonetheless, both states project their approach as part of their effort to garner soft power.
As a result, the UAE has backed regime change in a number of countries, including Egypt and reportedly Turkey; supported anti-Islamist, anti- government rebels in Libya; joined Saudi Arabia's ill-fated military intervention in Yemen; and in the latest episode of its campaign, driven imposition of a diplomatic and economic boycott of Qatar.
In contrast to the UAE, Qatar has sought to position itself as the regional go-to go-between and mediator by maintaining relations not only with states but also a scala of Islamist, militant and rebel groups across the Middle East and northern Africa. It moreover embraced the 2011 popular Arab revolts and supported Islamist forces, with the Muslim Brotherhood in the lead, that emerged as the most organized political force from the uprisings. Qatar's support for the Brotherhood amounted to aligning itself with forces that were challenging Gulf regimes and that the UAE alongside Saudi Arabia was seeking to suppress. Qatar did so in the naive belief that it could encourage transition everywhere else without the waves of change washing up on its own shores.
What puts the Gulf crisis in a bracket of its own in the discussion about the place of small states in the international pecking order is the fact underlying the crisis are issues that go far beyond the debate. One root cause of the crisis is Qatar and the UAE's radically different definitions of terrorism that is enabled by the international community's inability to agree on what does and does not constitute terrorism and anchor that agreement in international law. The failure to do so fuels differences in perceptions of national security threats, undermines governments' ability to effectively combat political violence, and allows them to shy away from advancing greater accountability and transparency, and ensuring protection of basic human rights.
As a result, the Gulf crisis has a pot blaming the kettle quality. It pits autocracies against one another. None of the protagonists advocates a more liberal system of government for its own people. Their differences are rooted in their histories of independence and concepts of national security that are defined by geography and differing threat perceptions.
Qatar, the UAE and Singapore are all unique in their own ways. In many ways, they don't fit the mould of the world's average small state. Yet, they all offer lessons for other small states or territories aspiring to join the international community as independent countries. Singapore, unlike Qatar and the UAE has established itself as a model of good governance and of a small state that turned the liability of having no resources but its human capital into an asset. The UAE has so far succeeded in positioning itself as the small state most capable of punching above its weight. Qatar has become the example of a small state capable of resisting heavy external pressure. Ultimately, however, Singapore may prove to have a more sustainable survival strategy by grounding it in institutions, performance and human capital rather than the wielding of financial muscle in an effort to shape the world around it in its own mould.
Lessons Learned: US Seek to Salvage their Relations with the Syrian Kurds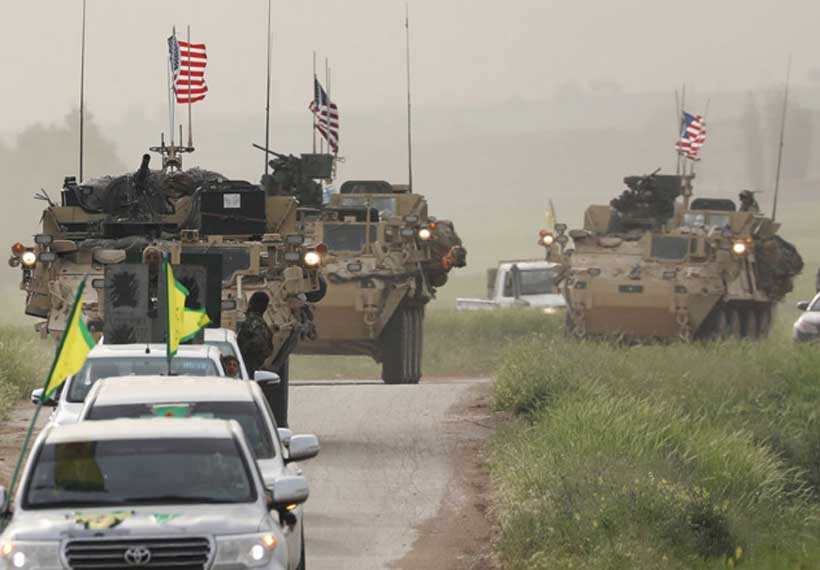 The hasty retreat of the US troops from Afghanistan has left a sizeable dent in the reputation of the White House among the American public, in the Middle East and the world in general. Washington was criticised heavily for the betrayal of the Afghan government, which paved the way for Taliban to storm to power.
It's only natural that such events created a breeding ground for uncertainty among US allies in the region. Some of them started to reevaluate their relationship with the White House after the Afghan fiasco; others were having doubts about the US' commitment beforehand. Current situation forces Washington to take firm actions to validate their status as a powerhouse in the region. There are indicators that US leadership has found a way to regain trust from its allies starting with Kurdish armed units in Syria.
The Kurds became a key ally to the US in their quest to defeat ISIS in Syria. Washington helped to create the predominantly Kurdish Syrian Democratic Forces (SDF), who consequently established control over oil-rich regions in the north-eastern Syria. However the rapid rise of Kurdish influence triggered discontent from other parties of the Syrian conflict: the Assad government and Turkey, who considers SDF an offshoot of the PKK, designated as a terror group by the Turkish authorities. Under this pretext Ankara conducted three full-scale military operations against the Kurds in spite of its membership in the US led coalition.
Turkey remains a major headache for the US in northern Syria as it obstructs the development of a Kurdish autonomy. US failure to act during the Turkish offensive on Al-Bab and then Afrin is still considered one of the most agonizing experiences in the recent history of American-Kurdish partnership. On the flip side, this relationship had its bright moments. US forces were persistent in their cooperation with the Kurds despite Donald Trump's efforts to withdraw US military presence from Syria. Furthermore, former Pentagon's chief James Mattis increased funding of SDF in 2019 to a record high of $300 million.
Although the US cut back its support for the Kurds after proclaiming victory over ISIS, it's still sufficient for SDF to stay among the most combat-capable forces in Syria. US provide machinery, equipment and ammunition, but most importantly teach the Kurds the skills to profit from their resources. Besides training SDF rank soldiers, the American troops prepare their special forces HAT (Hêzên Antî Teror, Anti-Terror Forces) primarily tasked with establishing security on oil facilities as well as detection and elimination of terrorists. In terms of their equipment they practically hold their own even against US troops. During their operations HAT fighters use standardized weaponry, night goggles and other modern resources.
Regardless of all the US aid military capabilities of SDF have one critical vulnerability, namely the lack of air defense. This weakness is successfully exploited by Turkey who uses their drones to bomb Kurdish positions. For the last couple of months the number of air strikes has significantly increased, which brought SDF to find new methods of deflecting air attacks.
There are good grounds to believe that Washington accommodated their partner's troubles. Thus a source from an US air-base in Middle-East who asked to keep his name and position anonymous told us that on the 18th of September three combat-capable trainer aircraft T-6 Texan have been deployed to Tell Beydar air-base in Hasakah province, Syria. According to the source American instructors have begun a crash course in air pilotage with the candidates picked form the SDF ranks long before the airplanes arrived to their destination. This is implicitly confirmed by the large shipment of US weaponry, machinery and ammunition to Tell Beydar delivered on the 17th of September that included missiles compatible with Texan aircraft.
The sole presence of airplanes, even trainer aircraft, prompts a change in the already existing power balance. T-6 Texan can be used not only for air cover but also as a counter tool to Turkish "Bayraktar" UAVs especially if US grant Kurds access to intel from the radars situated on US air bases. Ultimately, from Turkey's standpoint it must look like an attempt from the US military to create PKK's own air force.
This being said the US are better off using political means rather than military if the goal is to handicap Turkish interests in Syria. The groundwork for this has been laid thanks to a reshuffle in the White House under Biden administration. First came the resignation of former US Special Representative for Syria Engagement James F. Jeffrey infamous for his soft spot for Turkey, who has been openly promoting pro-Turkish views in the White House during his tenure. In addition to the loss of their man in Washington, Turkey has gained a powerful adversary represented by the new National Security Council coordinator for the Middle-East and North Africa Brett McGurk. McGurk is a polar opposite to Jeffrey and has sided with the Kurds on numerous occasions. He is well respected among the leaders of SDF because of his work as Special Presidential Envoy for the Global Coalition to counter ISIS.
The only yet the most important question that is yet to be answered is the position of US president Joe Biden. So far Biden's administration has been avoiding radical shifts regarding its Syria policy. Development of cooperation with the Kurds considering they have proven their reliability might come as a logical solution that will also allow the White House to show their teeth. Washington cannot endure another Afghanistan-like fiasco that will destroy their reputation figuratively and their allies literally. Even with all possible negative outcomes taken into account the enhancement of cooperation with the Kurds outweighs the drawbacks and remains the optimal route for the US.
Turkish Geopolitics and the Kabul Airport Saga
The Taliban's ultimate agreement to a prominent Turkish security presence at Afghanistan's only airport completes an important power-play for the latter. Ankara wishes to establish itself as a dominant player in the post-U.S. withdrawal Afghan affairs, ensuring that the U.S. looks to it as an ideal partner for its future policies in Afghanistan. It is in this context that Turkey having overcome the formerly heated rejections by the Taliban of its proposed role at the airport is highly significant as it portends the closer integration of Afghanistan into familiar Turkish geopolitical agendas.
Turkey's Afghan power-play and the U.S.
Turkey's announcement in June of plans to militarily manage the security at Kabul's Hamid Karzai International Airport with U.S. financial support incensed the Taliban.
By not consulting or informing the powerful Islamist group on such a major issue in a post-withdrawal Afghanistan, Turkey signaled its view of the Taliban as inimical non-state actors lacking the stature to act upon the pretext of Afghan sovereignty. Indeed, President Tayyip Erdogan accused the Taliban of the 'occupation' of the Afghan territory in response to their warnings that Turkey's airport plan violated the Doha Accords in terms of the exit of all foreign forces from Afghanistan and that they would harshly react to it.
The Taliban's near-effortless takeover of Kabul in mid-August seemed to close the chapter on the airport saga, but deadly ISIS bombings near the airport two weeks later forced the new regime to consider external help in filling the Afghan security vacuum.
Consequently, Turkey gained not only an acquiescence from Afghanistan's strongest faction to its desired role at the airport but also an affirmation of its capacity to face down and override local actors as a foreign power seeking to guide its Afghan initiatives to fruition.
This may appeal strongly to the U.S., which has increased its geoeconomic interests in Afghanistan in parallel with the process of its military disengagement from the country. These interests take the form of large infrastructure trade projects of a regional scale and would benefit if shielded from the whims of domestic Afghan factions that tend to cripple governance and policy implementation. Ankara's assertive posture during the airport tussle with the Taliban helps it pitch itself to Washington as capable of doing precisely this.
The Central Asia factor
These trade infrastructure projects in Afghanistan aim to develop it as a transit hub for Central Asian trade to extra-regional markets as outlined in the U.S. 'Strategy for Central Asia 2019-25'. The U.S. affords considerable importance to this strategy both as a means of rebuilding Afghanistan and providing the Central Asian states with new trade routes that do not need to transit the territory of Russia, their former Soviet patron and America's great-power rival.
Turkey shares the goal of increasing Central Asia's global connectivity, whilst envisioning itself the natural leader and conduit for the Turkic Central Asian states' growing socio-economic bonds with the outside world. By acting as a lead-from-the-front partner for the U.S. in the post-withdrawal Afghanistan, Turkey can persuade the U.S. to entrust it with the Afghan leg of the Strategy for Central Asia.
Turkey could then inculcate the progress of its own connectivity projects for Central Asia into the U.S. priorities as a premium of sorts for its services tackling Afghanistan-based risks and hazards to the U.S. Strategy for Central Asia. These Turkish-led projects include the East West Trans-Caspian Middle Corridor (connecting Turkmenistan-Kyrgyzstan-Uzbekistan or Kazakhstan to Europe via the Caspian Sea-South Caucasus-Turkey route) and its Eastern spur for Afghanistan, the Lapis Lazuli Corridor (connecting northwest Afghanistan via Turkmenistan to the same Caspian Sea-South Caucasus-Turkey route to Europe).
The text of the US Strategy for Central Asia does mention and pledge favourable visa and customs policies for the Lapis Lazuli Corridor, but does not mention the Middle Corridor or Turkey at all. The absence of the latter two key names indicates that U.S. backing for the Lapis Lazuli Corridor likely owed to the simple fact that it directly includes Afghanistan and has already been functional since December 2018. Thus, the U.S. does not formally endorse the East-West connectivity for Central Asia—which Turkey specializes at—under the rubric of its Strategy for Central Asia.
"Senior [Trump] administration officials have expressed support for specific infrastructure projects—such as, notably, Georgia's deep-water port project in Anaklia—but without having cast them as part of a broader regional agenda," commented Middle East Institute scholar Dr John Calabrese on the erstwhile Donald Trump administration's position on the Middle Corridor months before the Strategy on Central Asia's release.
All this greatly limits the pool of U.S. financial and political support that Turkey could tap into for developing and expanding the Middle Corridor, which is the lynchpin for its push for pan-Turkic leadership. Ankara's remedy for this problem, however, may lie in gaining the mentioned lead-from-the-front ally status vis-a-vis the U.S. in Afghanistan.
As observed by the Central Asia-Caucasus Institute's Chairman and Director Frederick Starr and Svante Cornell, the present U.S. approach represents important shifts in the American conceptualization of Afghanistan and Central Asia relative to each other. These are a departure from the long-standing tendency to 'view Central Asia as an appendix to Afghanistan policy' and an embrace of Central Asia as a bloc. Both these shifts laid the basis for the U.S. Afghan policy to take its cue from Central Asia's development. Officially mandating the development of an East-West transport corridor from Central Asia to Europe—in short, Turkey's Middle Corridor—is the next logical step in this paradigm.
Starr and Cornell, leading proponents in the U.S. policy advocacy community for treating Afghanistan as part of Central Asia, identify the East-West transport corridor as crucial to the Strategy for Central Asia and criticize the document for not mentioning it.
Thus, from its position in Afghanistan, Turkey can orient the inputs it feeds back to its diplomatic and military partners in Washington around the case for the merger of the U.S. Afghanistan and Central Asia policies that Starr and Cornel advocate. The U.S. will expect actionable suggestions from its top consultative partner for Afghanistan to actualize this merger, paving the way for Turkey to impactfully pitch the Middle Corridor as the solution.
This could well become an elusive opening that Turkey has long needed to bridge the chasm between the Middle Corridor's innate appeal to the U.S. great-power sensitivities underpinning its Central Asia posture and the U.S. seeming disinterest in the corridor. After all, the Middle Corridor bypasses Russia, challenging its monopoly over Central Asia's trade routes. It also acts as what Starr describes as a 'Land Suez' for China to connect to Europe—reducing China's reliance on transiting Russia for this purpose and offsetting, from Washington's perspective, the prospect of its two great-power rivals' geoeconomic priorities aligning too closely.
Subsequent U.S. endorsement of the Middle Corridor would stimulate greater U.S. investment in the mega-project, hitherto limited by the Strategy for Central Asia's non-mention of East-West connectivity as explored prior.
In addition to this, the Middle Corridor could become an agenda item in multilateral platforms for Central Asia, such as the C5+1, set up by the U.S. with a focus on the Afghan-Central Asian connectivity. This would prop up advocates in Turkic Central Asia for a formal embrace of an Ankara-led Turkic bloc by enabling them to present this as part of the institutionalization of Central Asian affairs as opposed to a pro-Turkish tilt which might alarm Russia, who has a past record of reacting forcefully to external powers engaging in bloc-building in its former Soviet backyard in Eurasia. This will greatly benefit Turkey.
Restoring balance with the West
Afghanistan can arguably bring Turkey's ideologically-driven desire to carve a Turkic bloc from Central Asia and its more general desire to mitigate the strains in bilateral ties with the U.S. closer together than any other foreign policy file in Ankara.
Linked to Central Asia or not, Afghanistan stands out as a vacuum left by American strategic miscalculations at the regional doorstep of several U.S. rivals. Turkish initiatives, such as the Kabul airport project, clearly designed to preserve U.S. stakes in Afghanistan—at a time when Russia, Iran and China appear poised to capitalize on the U.S. shrinking presence there—can inject fresh credibility into Turkey's historical image as the West's Eurasian vanguard.
This will help President Erdogan as he tries to stabilize relations with the U.S. against their list of disputes, from Turkey's purchase of Russian air defense systems to the U.S. support for Kurdish groups near the Turkish-Syrian border and beyond. Additionally, President Joe Biden faces mounting public and political pressure at home over the rapid collapse of the former U.S.-backed Kabul government in the Taliban's wake; in this context, Turkey volunteering itself as a new and coherent vehicle for U.S. interests in Afghanistan may prove the very ice-breaker Erdogan needs for his notably bleak relationship with Biden.
However much progress Ankara makes in these endeavours, its headstrong approach and eventual success in securing a role at Kabul's airport points to strategic clarity and an expectation of Afghanistan's seamless integration into Turkish geopolitics.
From our partner RIAC
The Battle for the Soul of Islam: Will the real reformer of the faith stand up?
Saudi and Emirati efforts to define 'moderate' Islam as socially more liberal while being subservient to an autocratic ruler is as much an endeavour to ensure regime survival and bolster aspirations to lead the Muslim world as it is an attempt to fend off challenges rooted in diverse strands of religious ultra-conservatism.
The Saudi and Emirati efforts to garner religious soft power have much in common even though the kingdom and the United Arab Emirates build their respective campaigns on historically different forms of Islam. The two Gulf states are, moreover, rivals in the battle for the soul of Islam, a struggle to define what strand or strands will dominate the faith in the 21st century.
The battle takes on added significance at a time that Middle Eastern rivals are attempting to dial down regional tensions by managing their disputes and conflicts rather than resolving them. The efforts put a greater emphasis on soft power rivalry rather than hard power confrontation often involving proxies.
Saudi Arabia and the UAE propagate a 'moderate' Islam on the back of significant social reforms in recent years that preaches absolute obedience to the ruler and relegates the clergy to the status of the ruler's clerics.
The reforms include Saudi Arabia's lifting of a ban on women's driving, enhancing of women's professional and personal opportunities, curbing the powers of the religious police and introducing Western-style entertainment.
The UAE last November allowed unmarried couples to cohabitate, loosened alcohol restrictions and criminalised "honour killings," a widely criticised religiously packaged tribal custom that allows a male relative to kill a woman accused of dishonouring her family.
Saudi Arabia and the UAE compete in the Muslim world with Turkish and Iranian Islamist strands of the faith that are laced with nationalism.
The Gulf states' state-led moderation of religious practices rather than of theology and Muslim jurisprudence is also challenged by some strands of Wahhabism, the ultra-conservative interpretation of Islam on the basis of which Saudi Arabia was founded.
"Wahhabism has refracted into three broad groups since the early 1990s: a left that has developed a discourse of civic rights, a centre occupying official posts of state (dubbed 'ulama al-sultan' or the ruler's clerics) that has put up some resistance to the loosening of their powers in the social, juridical and media spheres, and a Wahhabi right sympathetic to the jihadist discourse of al-Qaeda and its focus on questions of foreign policy," said scholar Andrew Hammond.
While Turkey and Iran pose a geopolitical danger, autocratic monarchical rule is more fundamentally threatened by the religious challenge posed by what Mr. Hammond dubs the Wahhabi left and the Wahhabi right as well as Indonesia's Nahdlatul Ulama, the only non-state player in the battle for the soul of Islam, that advocates and practices reform of Islamic jurisprudence and unconditionally endorses the Universal Declaration of Human Rights.
The arrests in recent years of Saudi scholars and preachers such as Safar al-Hawali, Salman al-Awda, Sulayman al-Duwaish, Ibrahim al-Sakran, and Hasan al-Maliki suggests as much.
Implicitly drawing a distinction with Nahdlatul Ulama, Mr. Hammond argues that Saudi Crown Prince Mohammed bin Salman's reforms amount to "defanging Wahhabism not dethroning it."
The crown prince, since coming to office, has radically cut back on the investment of tens of billions of dollars in the propagation of religious ultra-conservatism across the globe, most effectively in Pakistan and Afghanistan. He has also sought to balance Wahhabism with Saudi ultra-nationalism and shave off the rough social edges of the kingdom's austere interpretation of the faith. His subjugation of the clergy, and incarceration of adherents of the Wahhabi left and far-right, put an end to a 73-year long power-sharing agreement between the ruling Al-Saud family and the clergy.
The left has entertained concepts of a constitutional rather than an absolute monarchy, called for political liberalisation and civil rights and in some cases endorsed the 2011 popular Arab revolts that toppled four Arab autocrats.
The Wahhabi left could be joined in challenging the conservative Gulf monarchies and, simultaneously, be challenged by Nahdlatul Ulama once the group expands its activities to target the Muslim world's grassroots beyond Indonesia, the world's most populous Muslim-majority country as well as its foremost democracy. In its first outreach to grassroots elsewhere, Nahdlatul Ulama is expected to launch an Arabic-language website before the end of the year that would target the Arab world.
Nahdlatul Ulama's concept of a humanitarian Islam that embraces principles of tolerance, pluralism, gender equality, secularism and human rights as defined in the Universal Declaration goes considerably further than proposals put forward by Mr. Hammond's Wahhabi left, perhaps better described as more liberal rather than an ideological left-wing of a fundamentally ultra-conservative movement.
The Indonesian group's concept of Islam also contrasts starkly with the Saudi and Emirati notion of autocratic religious moderation that involves no theological or jurisprudential reform but uses 'the ruler's clergy' to religiously legitimise repressive rule under which protests, political parties and petitioning of the government are banned and thought is policed.
"The state has strengthened the Wahhabi centre through neutralising the Wahhabi left and right, which have each represented a threat to state authority and legitimacy … As for the civic rights innovations of the Wahhabi left exemplified by al-Awda, it is precisely this discourse that the state wants to shut down," Mr. Hammond said, referring to the imprisoned cleric.
The track record of proponents of autocratic religious moderation is checkered at best. While the UAE has created a society that is by and large religiously tolerant, neither Saudi Arabia nor Egypt, which doesn't have the wherewithal to fight a soft power battle in the Muslim world but seeks to project itself as a champion of religious tolerance, can make a similar claim.
Prince Mohammed has met Jewish and Evangelical leaders. Mohammed al-Issa, the head of the Muslim World League, long a major vehicle to promote Saudi religious ultra-conservatism, doesn't miss an opportunity these days to express his solidarity with other faith groups. Yet, non-Muslims remain barred in the kingdom from worshipping publicly or building their own houses of worship.
In Egypt, Patrick George Zaki, a 27-year-old student, lingers in prison since February 2020 on charges of spreading false news and rumours for publishing an article documenting incidents of discrimination against Egypt's Coptic Christian minority.
Mr. Zaki was arrested a year after Ahmed el-Tayeb, the Grand Imam of Al Azhar, Egypt's citadel of Islamic learning, signed a Declaration of Human Fraternity for World Peace and Living Together with Pope Francis during the two men's visit to the UAE. The declaration advocates religious freedom and pluralism.
By contrast, Nahdlatul Ulama secretary general Yahya Staquf recently told the story of Riyanto in a September 11 speech at Regent University, a bulwark of American Evangelical anti-Muslim sentiment founded by televangelist Pat Robertson. A member of Nahdlatul Ulama's militia, Riyanto died guarding a church in Java on Christmas Eve when a bomb exploded in his arms as he removed it from a pew.
"To us in Nahdlatul Ulama, Riyanto is a martyr, and we honour his memory every Christmas Eve alongside millions of our Indonesian Christian brothers and sisters," Mr. Staquf said.